When Anna and Jakob Busch met in Graz, Austria, almost five years ago, their connection was undeniable. Anna was traveling and so moving often, everything she owned fit in two backpacks ("It was easier that way," she says.) Jakob had a spartan approach to life, too. "He was born a minimalist," Anna attests. "He only buys stuff he needs and is reluctant to collect anything that's unnecessary."

The adventurer and the minimalist fell madly in love, and together, they dreamed of building a tiny cabin: "We wanted something that suited our characters-something small and transportable," Anna says.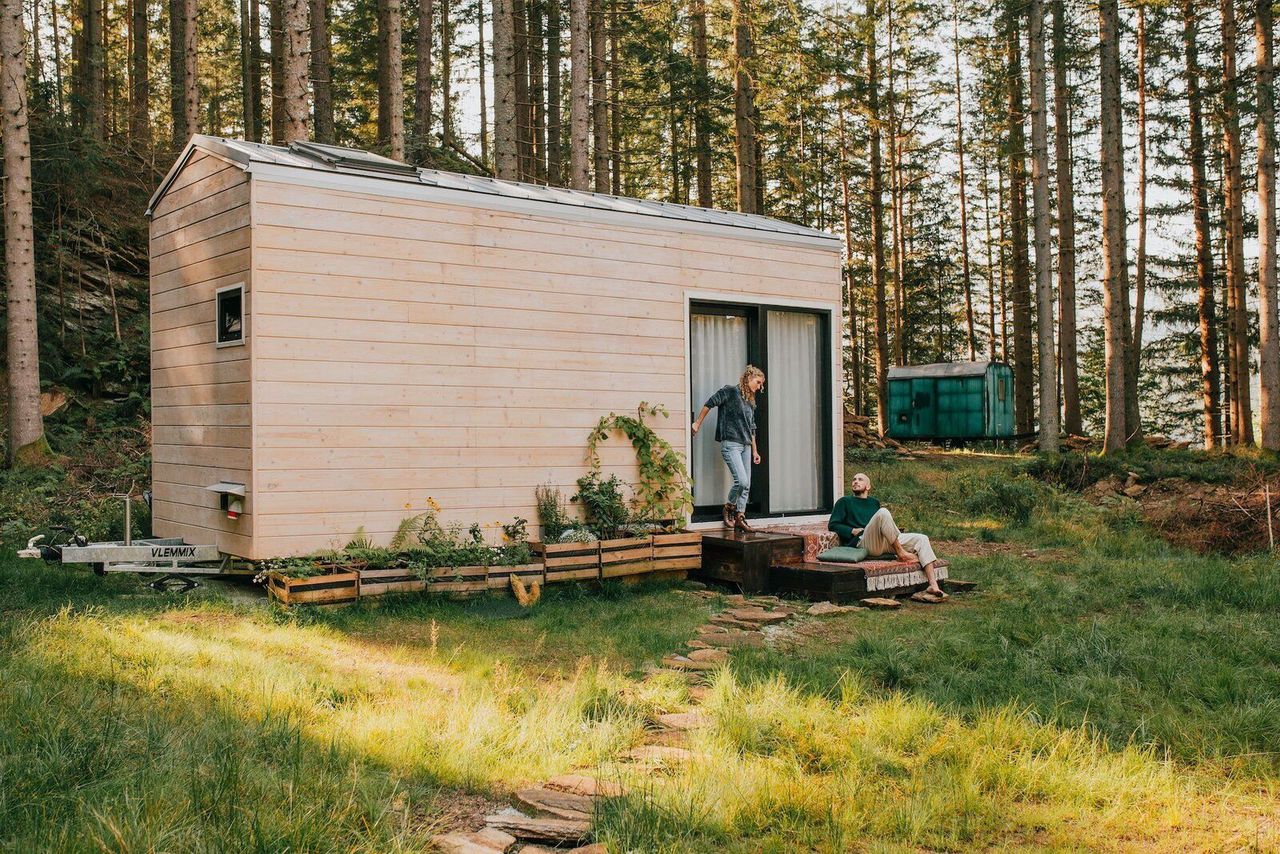 Datscha, the 194-square-foot cabin that Anna and Jakob Busch built with the help of family and friends, is clad with spruce siding and capped with a standing-seam metal roof.

In May 2019, the couple decided to turn their dream into reality. Anna, a manager at a creative agency, took three months of unpaid leave to focus on the build; Jakob, a medical practitioner, took a one-month break. They temporarily relocated to Krakow, Poland, where Anna grew up, and enlisted the help of loved ones.

"I studied industrial design, so I have a basic understanding of construction, but neither of us had much practical experience," says Anna.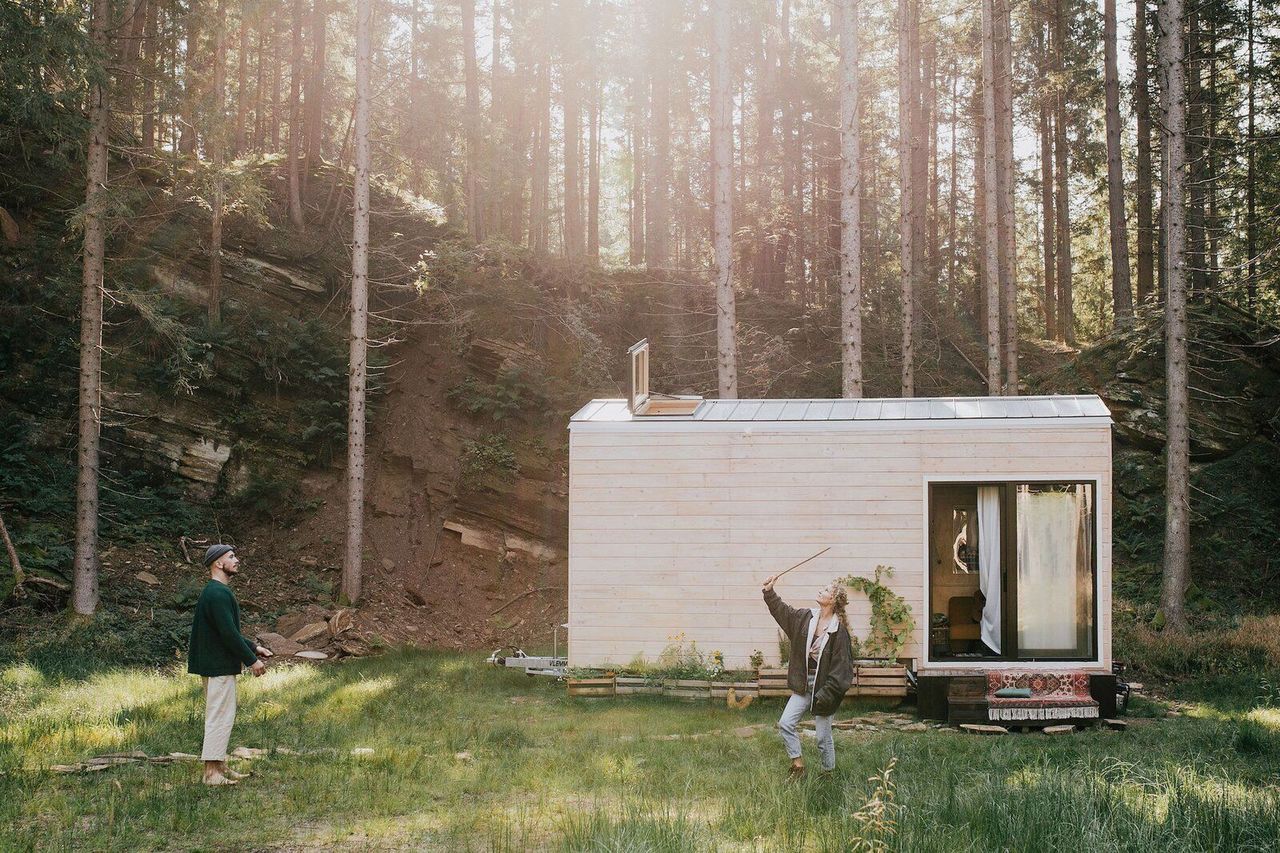 The couple built the cabin in Poland and eventually moved it to near the shore of Packer Lake in Austria.

Anna's friends, architects Monika Binkowska and Barbara and Andrzej Adamczyk, helped design the cabin, and her father was on site for the build. "He worked with us every day for three months," says Anna, who had assumed the project would take no longer than that. In fact, it took almost a year.

When the three-month deadline came and went, Anna and Jakob returned to their jobs. Every weekend for the next seven months, they drove 435 miles back to the site, completing the cabin in a total of 10 months for $35,000.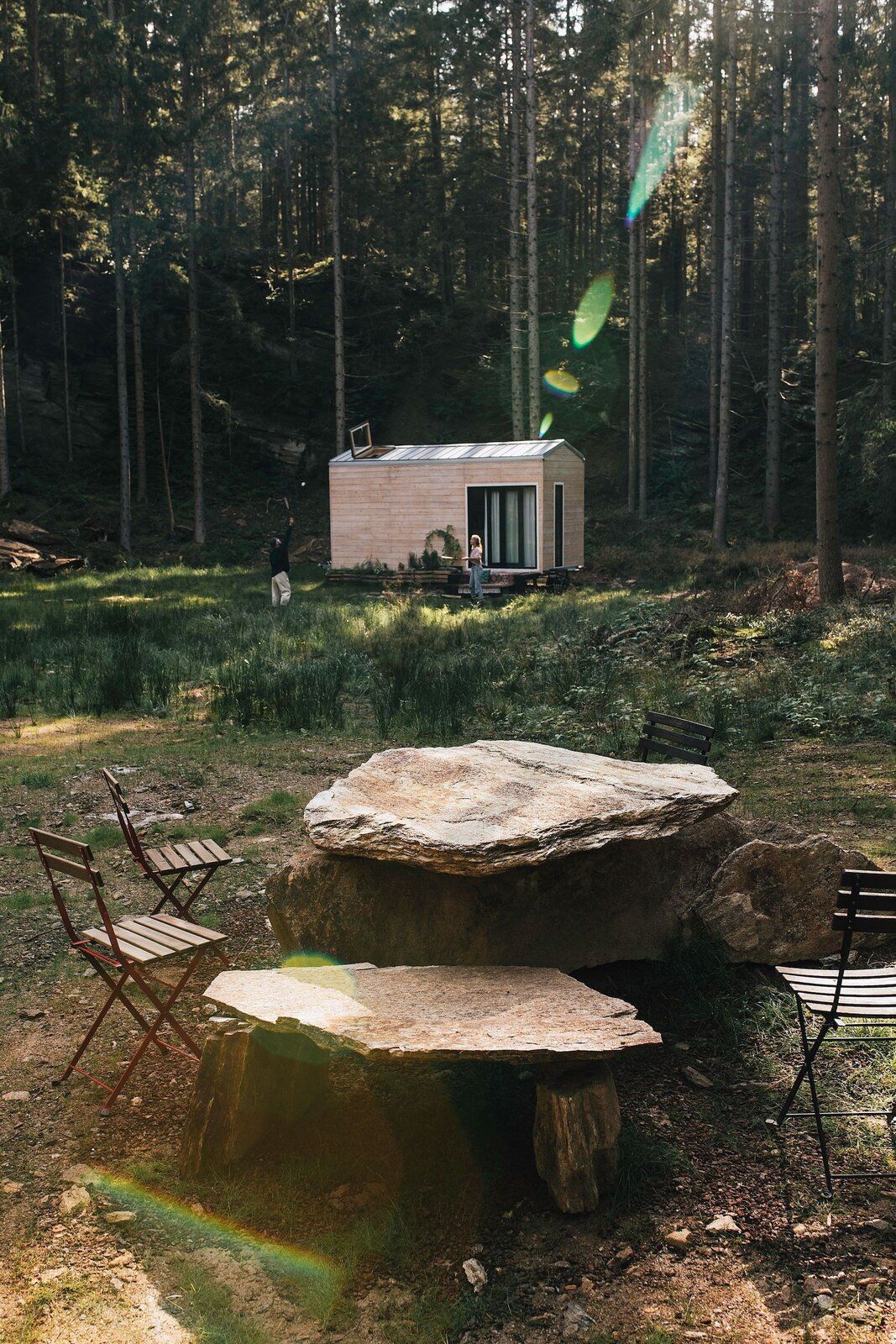 "The tiny home is parked in a forest, where there's an old stone quarry," Anna says. "The land belongs to our friend Andy, who suggested we build outdoor tables with some of the boulders."

Anna and Jakob named their tiny home Datscha. "It's a post-Soviet word used to describe a holiday house, usually somewhere far away in the nature," Anna says. "It describes the essence of our cabin in one word."

The 194-square-foot cabin features a gray, standing-seam metal roof and is wrapped in pale spruce, which is both light and easily accessible. "Choosing lightweight materials was our number-one priority in order to keep the tiny house within the permitted weight of three to five tons," Anna explains. The couple painted the exterior a semitransparent shade of white to achieve the look of untreated wood.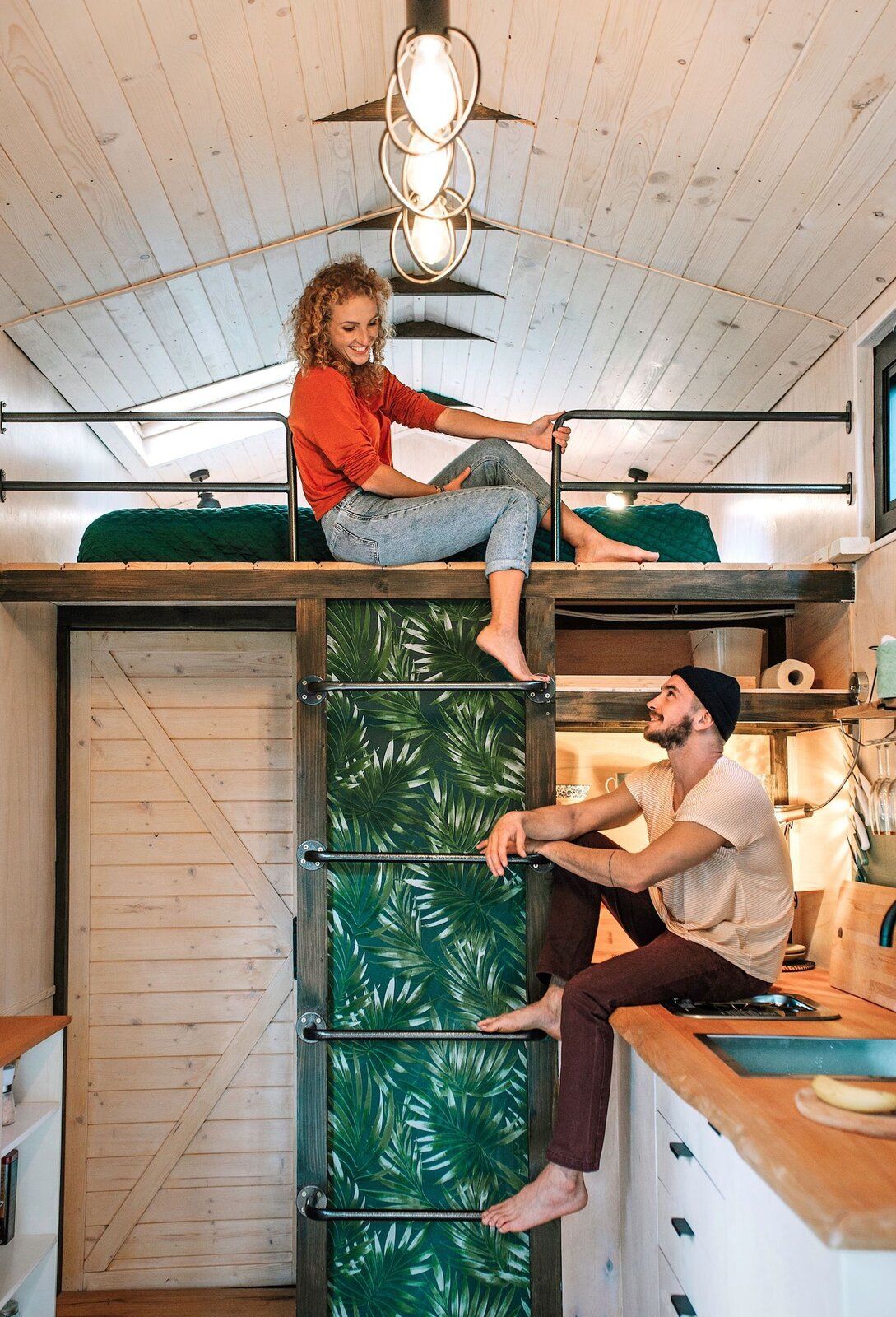 Anna and Jakob chat on the ladder that accesses the sleeping loft. Made from cast iron piping and backed with botanical wallpaper, it was designed by Anna's mother, Barbara, and built by family friend Wieslaw Siola.

Inside, floors are wood panels produced by Barlinek, a Polish company, and the ceiling is crafted from spruce. Plywood walls, with its pronounced natural grain, lend subtle pattern and interest.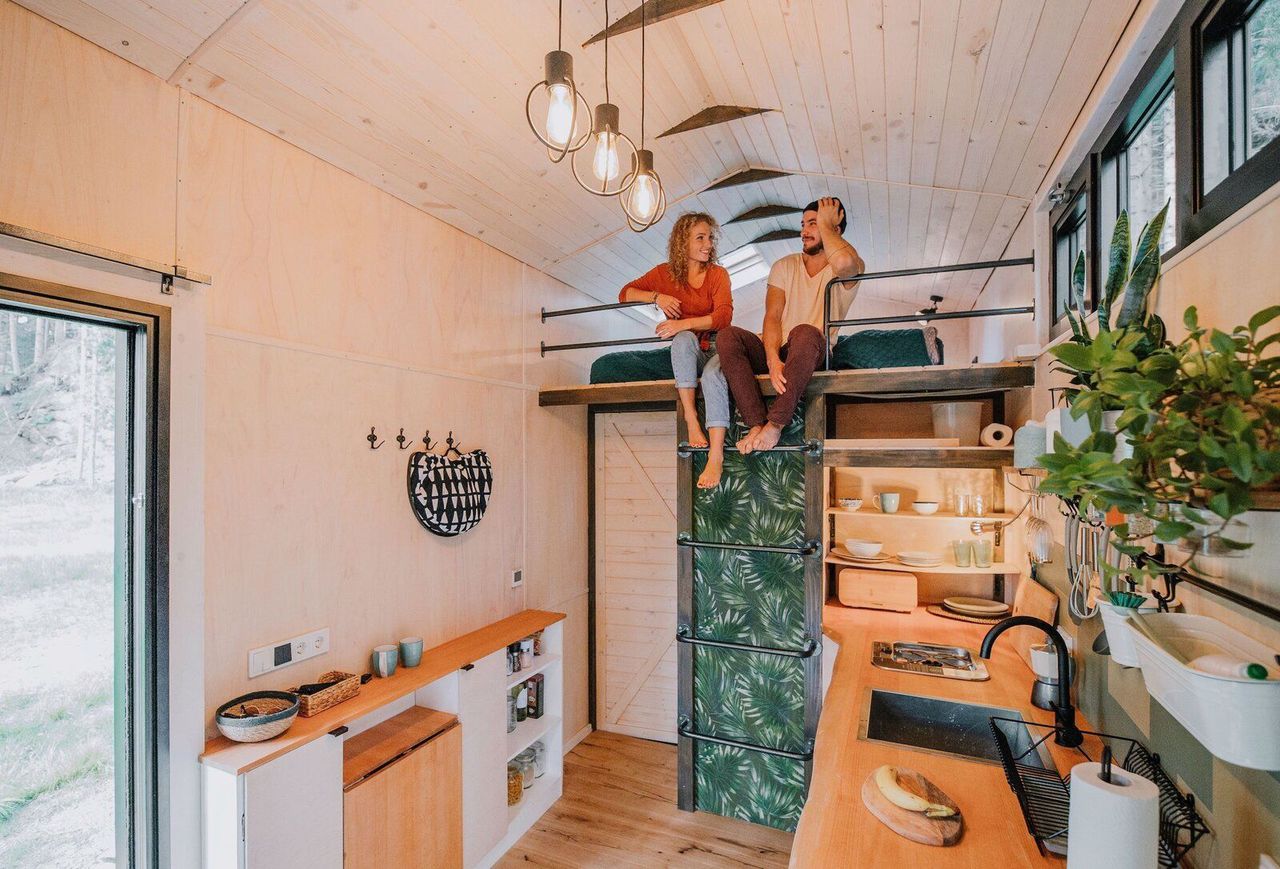 Anna's cousin, Marek, made the spruce sliding door that leads to the bathroom. To preserve floor space, a beechwood dining table built into the kitchen cabinetry folds down when it's not in use.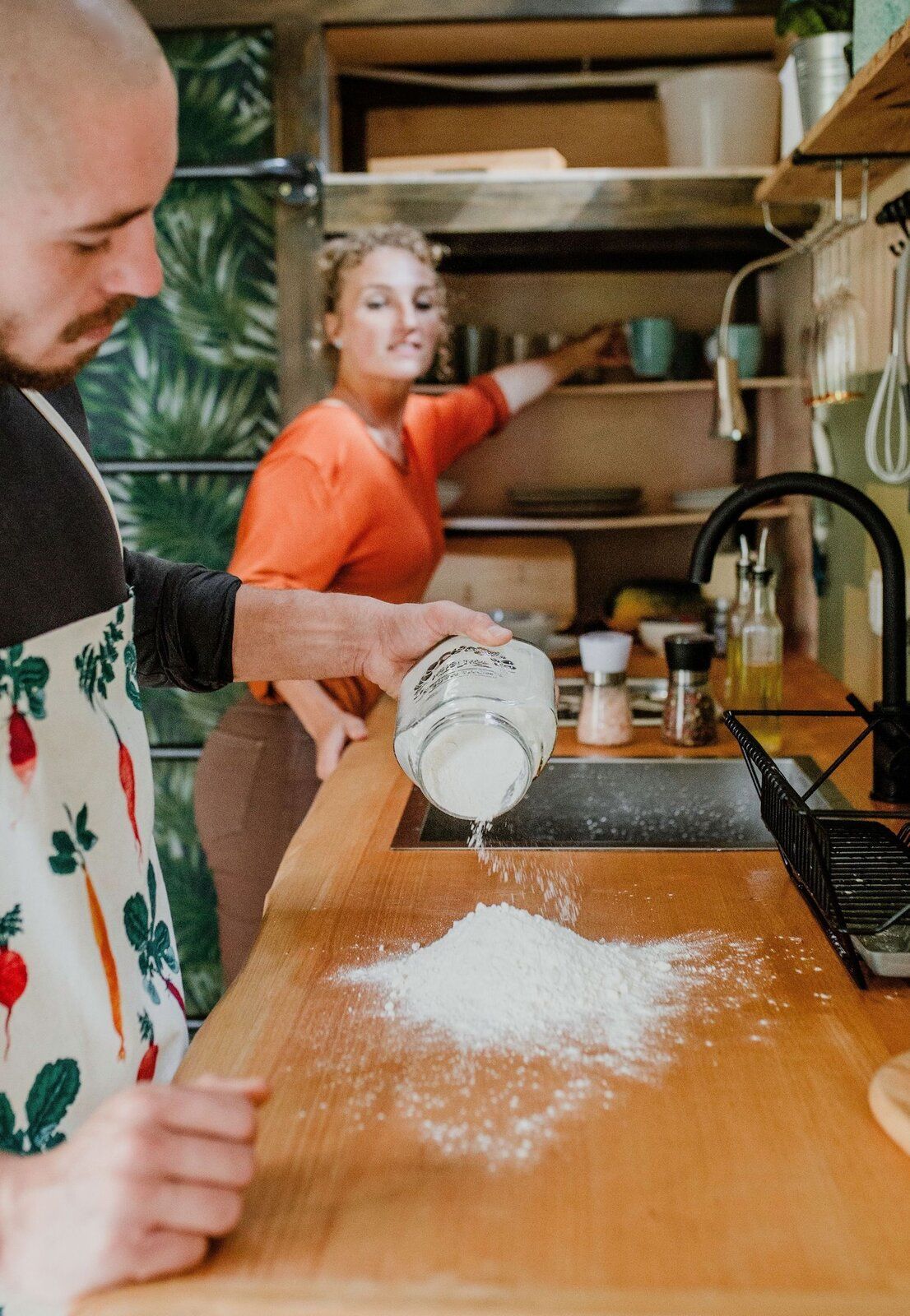 Anna and Jakob prepare a meal on the live-edge beechwood counter that was also crafted by Anna's cousin, Marek.

For the kitchen, Anna's cousin, Marek, crafted a beechwood dining table that folds out from the cabinetry and a live-edge beechwood counter on the opposite side. "The counter is higher than usual," says Anna. "I lost a battle with Jakob, who is six-foot-two and promised he'd do the dishes if the counter was adjusted to his height. He lied!"

Anna installed open plywood shelves at one end of the counter and hung a 50-year-old plank she found in her grandmother's house above for additional storage.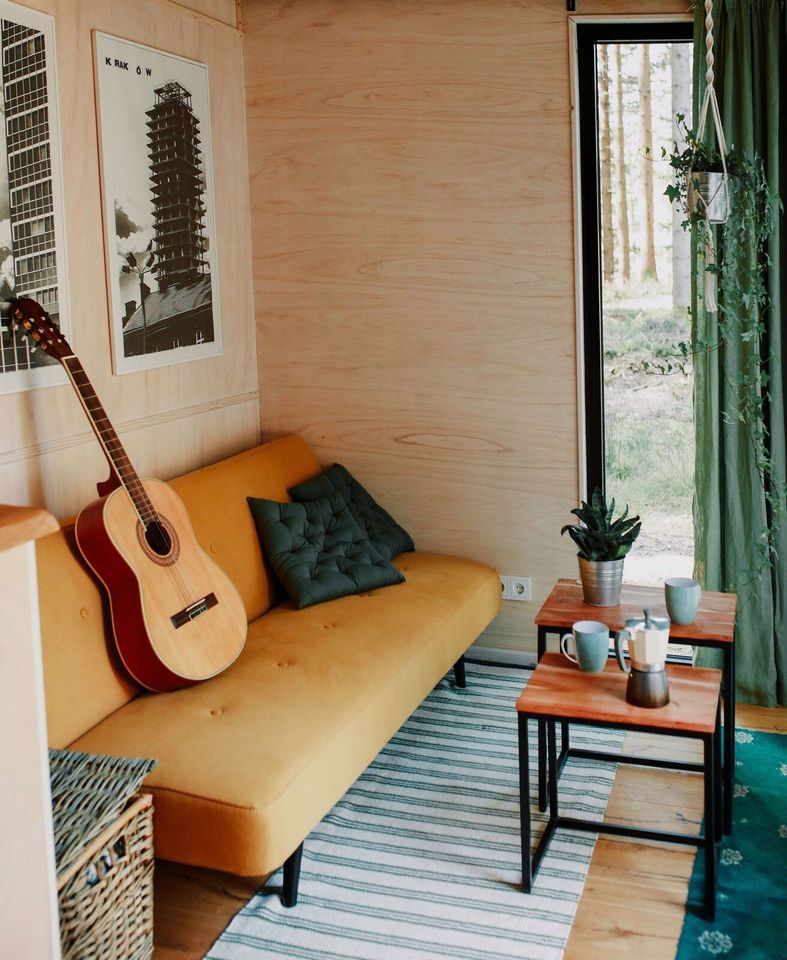 The living area is outfitted with a compact sofa, nesting coffee tables, and a green rug and drapery that reference the lush, wooded landscape.

A cast-iron ladder-designed by Anna's mother, Barbara, and built by family friend Wieslaw Siola-leads up to the sleeping loft, which has an operable skylight. "Our favorite part of the cabin is the roof window," Anna says. "We can stargaze and feel the breeze without leaving our bed."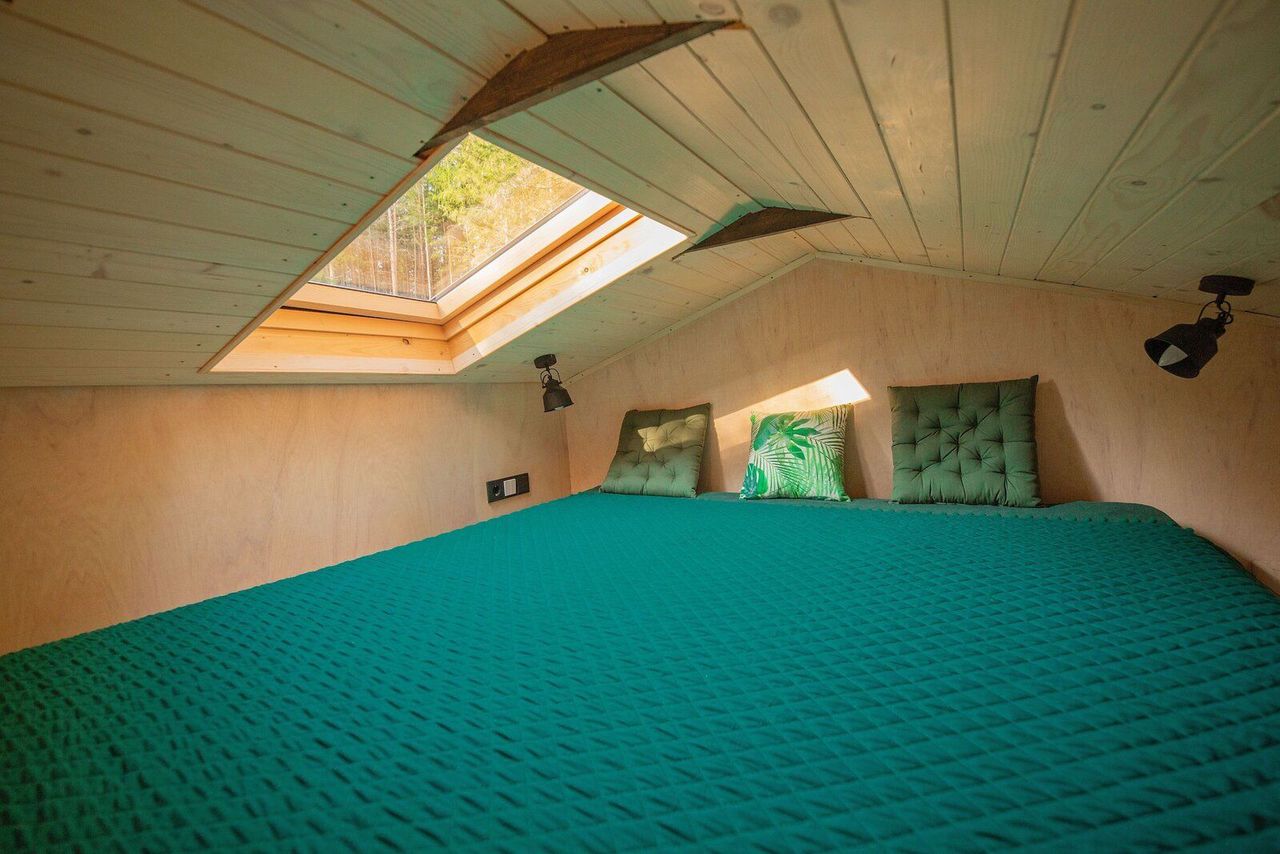 The sleeping loft features an operable skylight that affords views of treetops and the sky.




"There are lots of deer and fireflies, and the forest is full of mushrooms, berries, and needle-bearing trees," says Anna of the landscape. "We're able to pick the mushrooms and berries and prepare meals with them. Somehow, they taste better than the ones in stores."

Before Anna and Jakob began building their tiny cabin, they studied similar projects and watched DIY videos online. "On Instagram, it looks like great fun," Anna says. "You invite your friends over, paint a little, and then you all grill together. It sounds silly, but this is true! We wouldn't have been able to do this without the help of our family and friends."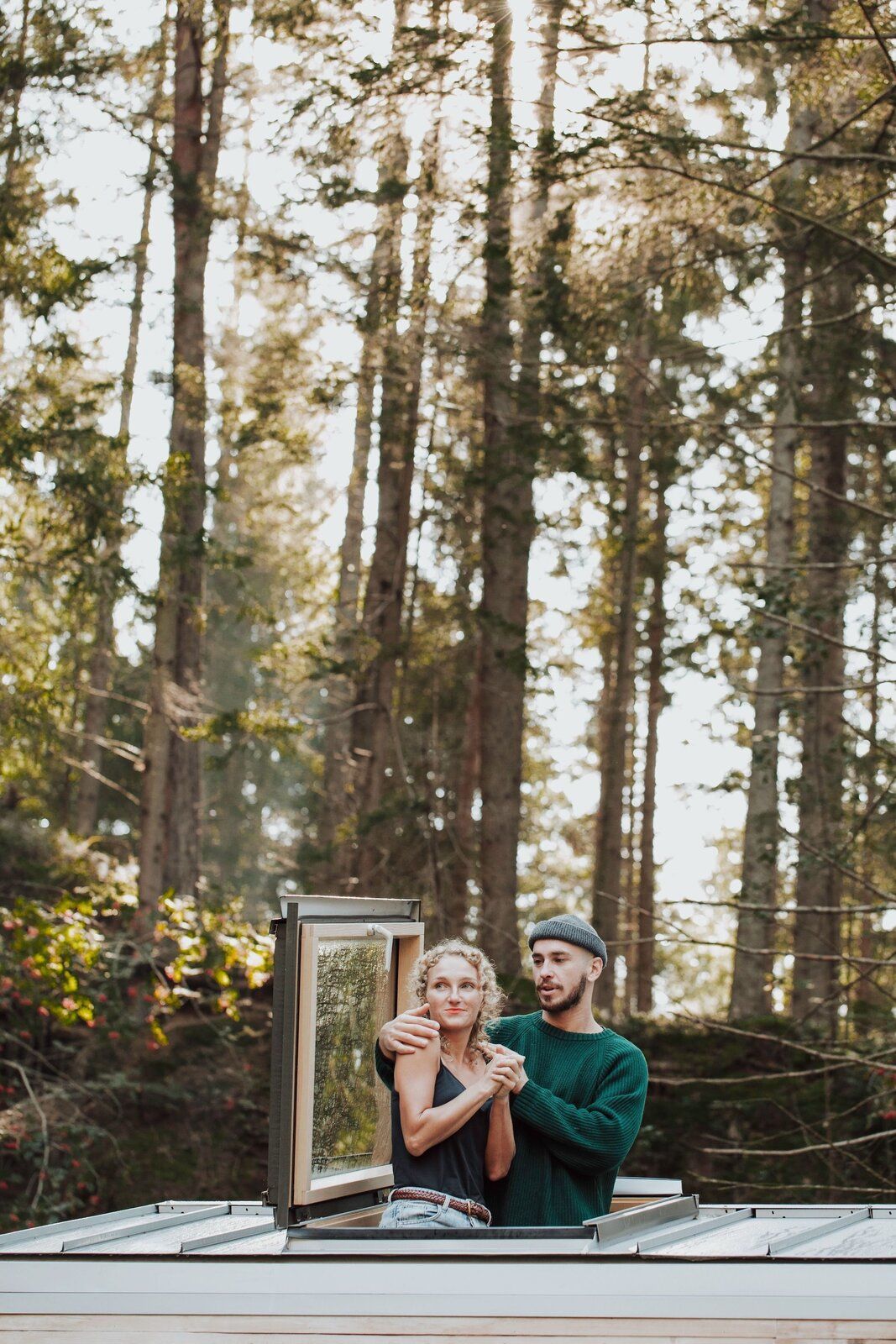 The hatch-like roof window connects the cabin to the outdoors.

The couple will soon move the cabin to a mountainous area in central Austria, where they'll offer it to others as a vacation rental. "Datscha allows us to be close to nature, giving us a sense of peace," Anna says. "We definitely need time to recharge away from people and civilization."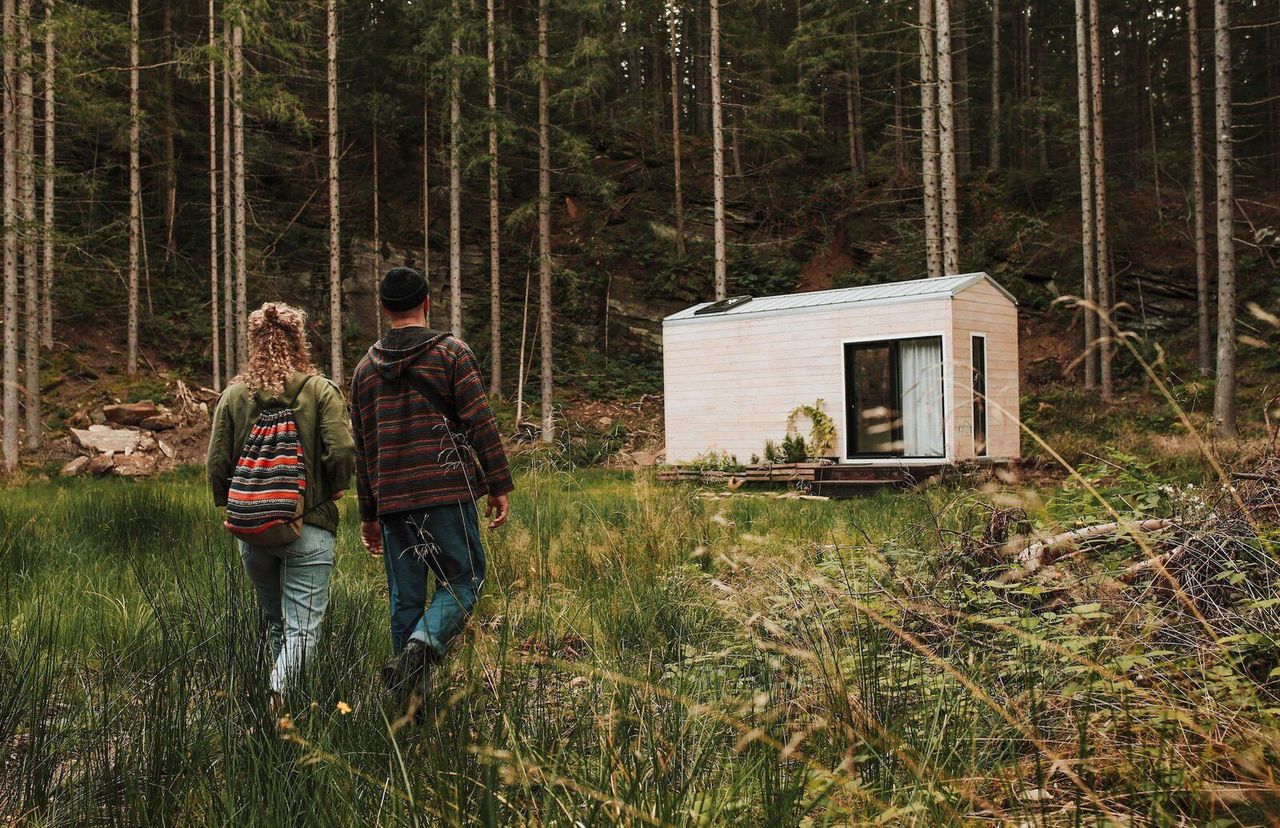 The Busches explore the wooded area that surrounds the cabin together. "We love hiking, climbing, and canoeing in nature," Anna says.