Architect's description:
The carriage house's historic designation meant that the existing exterior had to be maintained, so it was stripped and restored to its original Douglas fir finish. Architects Stone and Donatella Cusma then developed ways to introduce more natural light into the 1886 building by creating sources that do double duty. In the kitchen, light was integrated underneath the cabinets for task lighting and above to illuminate the ceiling. Translucent panels can be used to close off the kitchen, while their lighting acts as a "lantern" for the rest of the house. In the upstairs bedroom, the back of the headboard was topped by a light track, which illuminates the ceiling. In the bathroom, light from one of the carriage house's few windows passes through a horizontal slat wall, becoming a light source for the adjoining bedroom.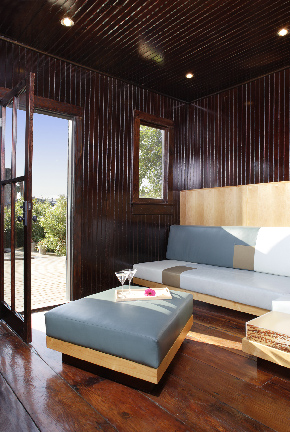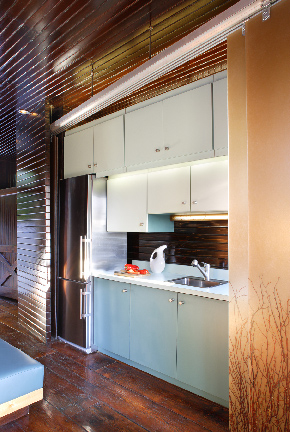 Photo: The original redwood floors and siding were refinished in the sitting area off the pool deck. A light strip on top of the custom banquette illuminates the space without having to pierce the walls.
Photo: Translucent resin and birch panels, at right, can slide on a suspended track to conceal the kitchenette. The custom cabinets are plastic laminate.