Going outdoors once meant you were getting away from it all. In our current reality, however, it might just entail taking a much-needed break from the confines of home. To that end, prefab startup Jupe has revealed a new, flat-pack shelter that provides a place to go without having to fully let go.

"Experiencing the natural wonders of the world shouldn't mean being forced to disconnect while staying in a less-than-inspirational living space," says Jeff Wilson, the cofounder and CEO of Jupe. Wilson drew inspiration for the shelters from 2001: A Space Odyssey, collaborating with boutique hotelier Liz Lambert to channel a refined, intergalactic design aesthetic.

Two people can assemble the outer space–inspired shelter in an hour for a fully equipped, glamping-style experience. Aluminum poles frame a voluminous, 111-square-foot canvas tent that includes a queen-size bed, lofty ceilings, and tiled Baltic birch wood flooring that hides ample storage space. Windows open for added ventilation or light, and the entryway provides panoramic views over the desert, mountains, ocean, or whatever natural marvel lies beyond the front door.

Delivering a hotel-like experience, the shelter can be upgraded to include a more robust solar panel array to power four electrical outlets, USB charging stations, a private Wi-Fi network, and dimmable LED lighting. More extras include a speaker with Alexa capabilities, a lock safe, a cooler, and small porch.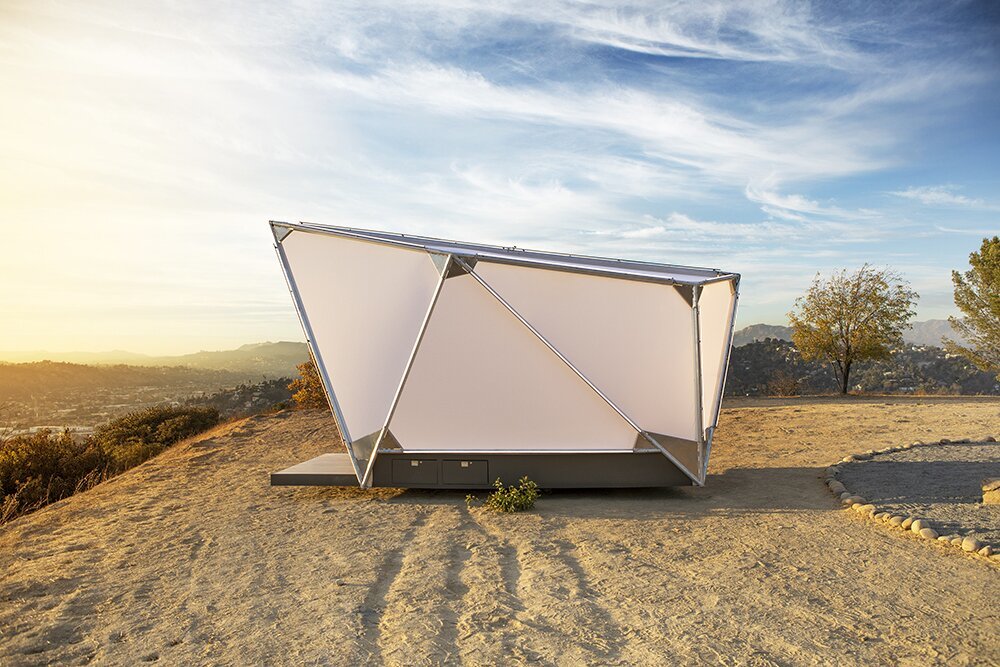 The structure can be assembled in an hour by two people. The canvas is fire-resistant, and provides an airy feel.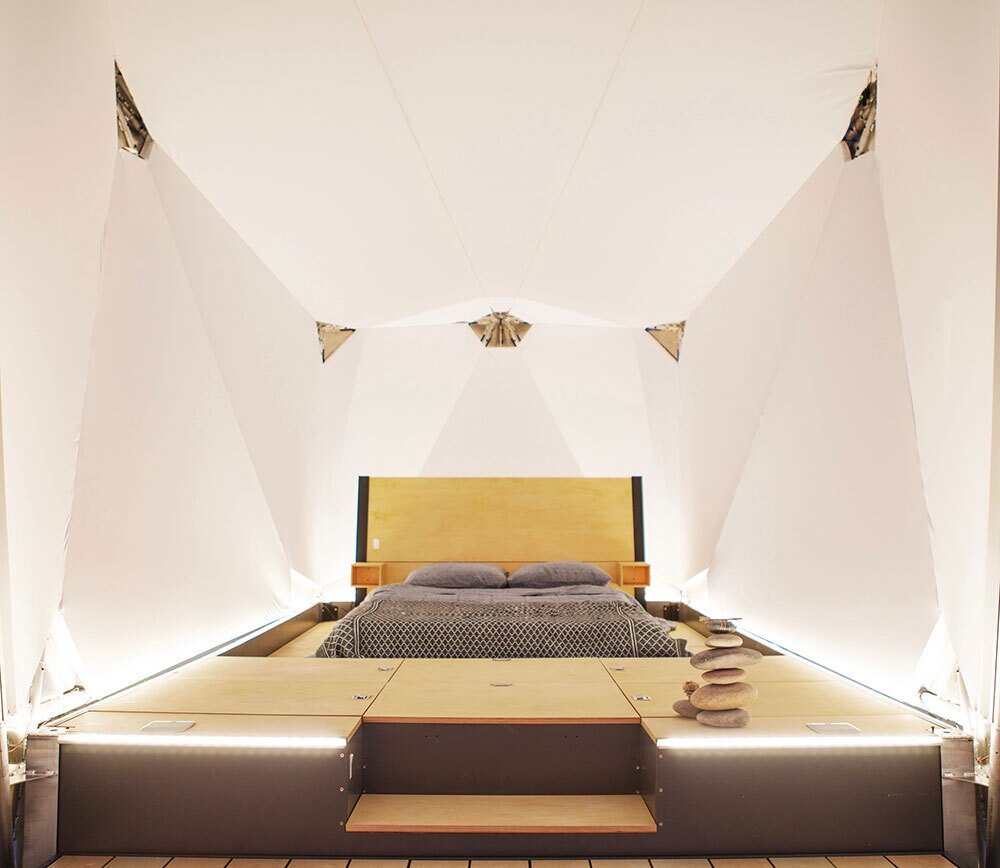 Each unit features a queen-size Nectar mattress, Baltic birch wood flooring, optional LED lighting, and ample storage. Wi-Fi and a single solar-powered battery come stock.

The startup first arrived as Jupe Health in March, aiming to provide rapidly deployable hospital rooms to regions hit hard by the coronavirus. In a new tack, the company now wants to solve for an entirely different effect of the pandemic.

"We found that the hospital overflows expected during the summer didn't materialize," says Wilson. "We took the same technology and design and reapplied them to a use case that's been a result of the pandemic-the desire to get out of the city for short-term stays in nature."

This is at least the second time a humanitarian concept by Wilson has been retooled. In 2015, he founded Kasita-a Texas-based company that garnered national attention by developing modular units as a solution to the affordable housing crisis. Today, Kasita is designing and curating hospitality experiences that are "curated for a new era of self-directed travel," according to the company's website.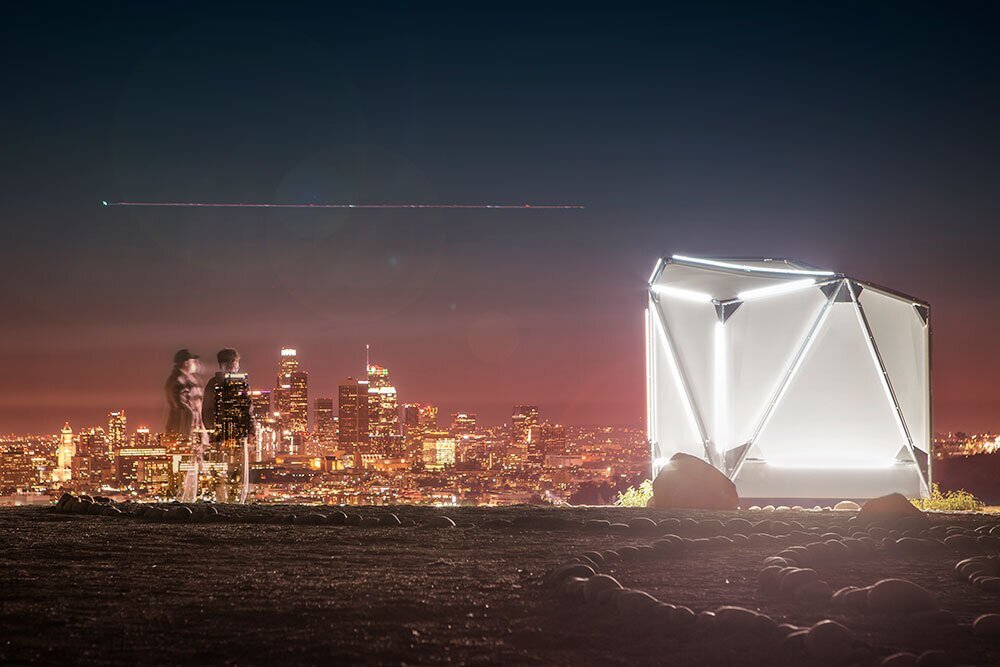 Here, the unit glows atop a hill overlooking Los Angeles.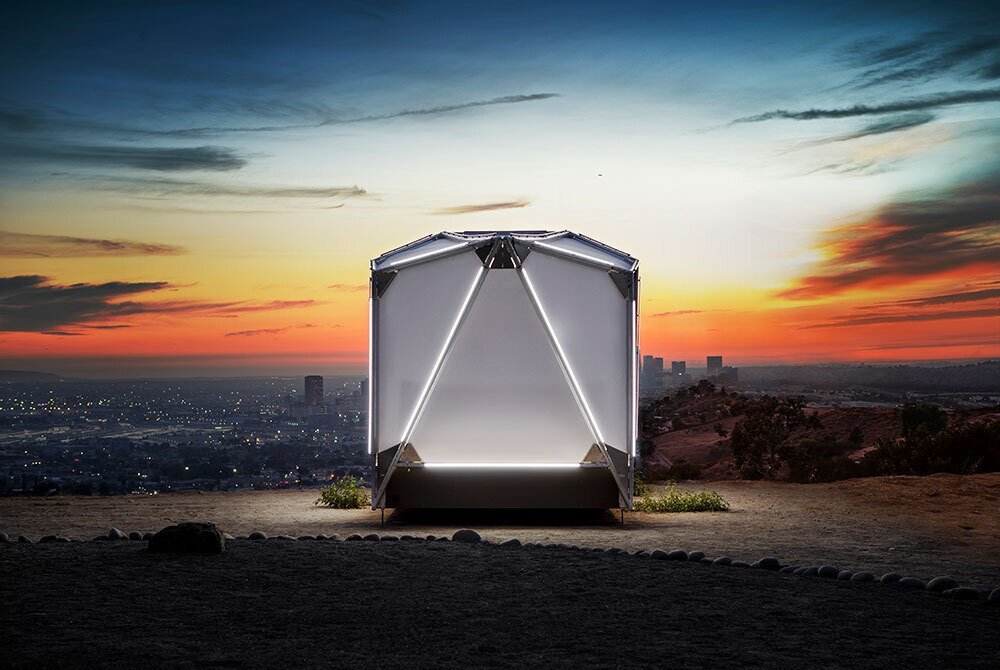 Jupe sees the shelters as a great option for individuals with extra land, or hoteliers looking to expand accommodations.

Individuals or short-term rental operators looking to place the pop-up on their land can place a refundable preorder for $99 starting Monday, December 21; the shelters have a base price of $17,500, and shipping begins this spring. Until then, Jupe will be showcasing the design at select California locations including Yosemite, Big Bear, Tahoe, and Arrowhead Lake.