When my friends Matt and Staci Eddy bought a stunning home in Los Angeles' Angelino Heights, a historic neighborhood that's famous for its Victorian mansions, I couldn't wait to visit. I anticipated lovely evenings in their ornate living room, maybe sipping an old-fashioned, but instead—rain or shine, cold or hot—their functional front yard and porch was the only place to be. Neighbors would walk by and ask the Eddys if we all wanted to order a pizza or share a glass of wine. Kids ran up to play, dogs walked up for pets. Matt and Staci seemed to know everyone, and everyone seemed to know them.

Who lives this way anymore? I thought with a touch of wonder. It felt like we were living in a different era. I got so hooked that Matt and Staci now tell mutual friends that they've come to expect me to invite myself over on a semi-regular basis. "The phone would ring and you'd say, 'I'm in your neighborhood! I need porch time!'" Matt says with a laugh. Honestly? I made that call even when I wasn't out and about—I just wanted to sit on the front porch with my friends and enjoy the feeling of easy connectedness I found there.

So here's some happy news: The front yard—and porch time—is back. Homeowners are adding seating areas, front yard vegetable gardens and even fire pits as they leave the fenced-off privacy of their backyards and move the party to the front. Yardzen, a website that helps customers redesign their landscapes online, reports that 37% of customers want plans for functional front yards.

"It wasn't that long ago that a front yard was a slab of concrete and some grass," says Yardzen CEO and co-founder Allison Messner. "But as people's relationship with their homes changed dramatically over the past year, we saw customers wanting to eat, play, and relax in a front yard where they could see neighbors and socialize."

Even though the trend started during the coronavirus pandemic, Messner says it's here to stay.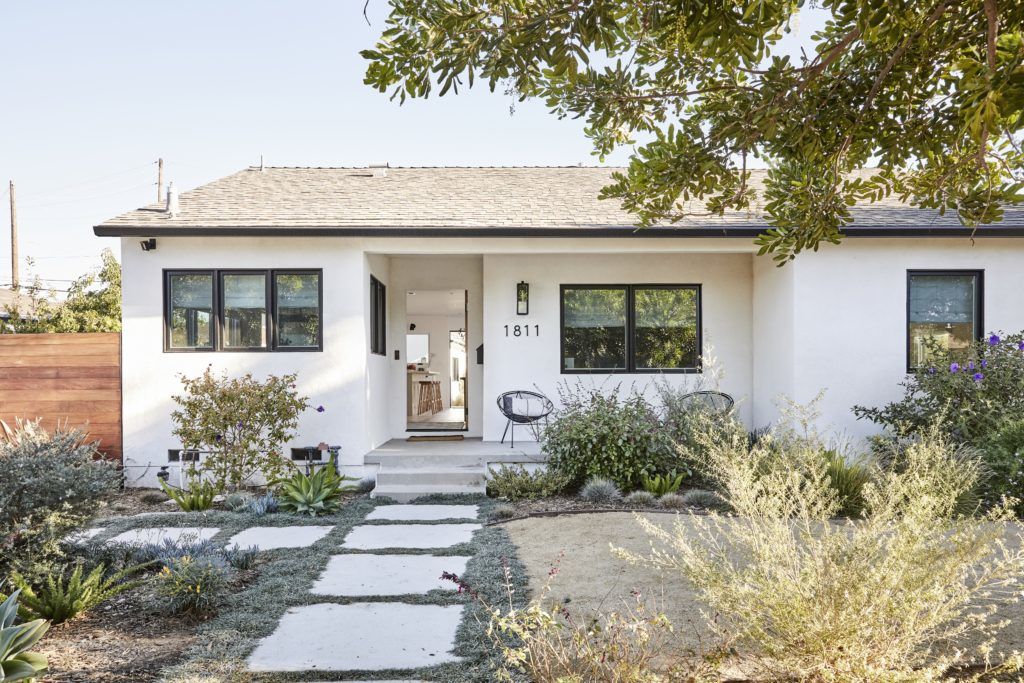 A Mediterranean-inspired front yard has a social area that also ups curb appeal.

Mindy Gayer, a designer in Orange County, agrees. "A lot of our new build clients are asking for these types of spaces," Gayer says. "People have become more neighborly and communal in how they spend their free time. The appeal for a true front yard with seating, whether that's a porch or a landscaped area, has never been higher."

With that in mind, here are five reasons why you should consider taking your front yard from meh to amazing …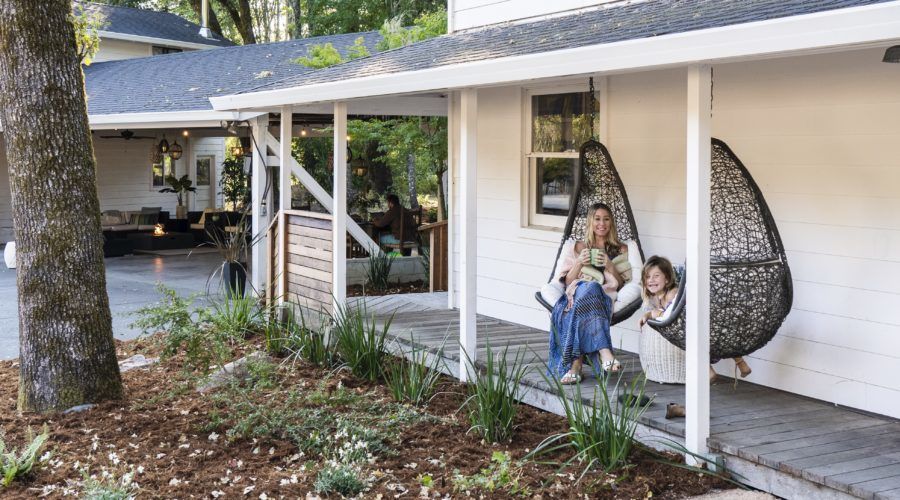 A Yardzen redesign includes porch swing chairs and an outdoor living room.
If You Build It, They Will Come
When the Eddys first moved into their Victorian manse, so many neighbors stopped by that they had to drag dining chairs outside to keep the fun going. "We've since upgraded to lovely Target outdoor furniture that's quite classy, so we have a lovely living room vibe now," Matt says.

In other words, an inviting set of hanging chairs, benches, or Adirondack chairs could be the beginning of a whole new social life. "What's remarkable is if you crave a connection to your world, your friends, and your neighborhood, all you have to do is have seating and make it known," Matt adds. "It's a place that self-fulfills."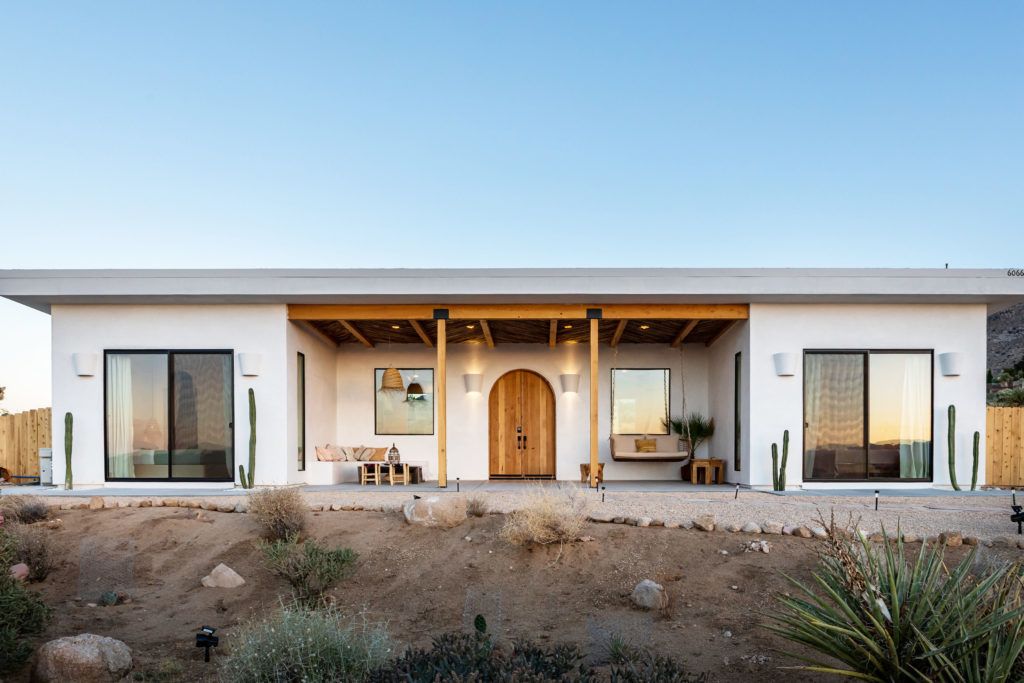 The front porch of a home in Josua Tree boasts a built-in seating area and patio swing.
Edibles for Everyone
Edible front yards are already a thing, especially for those who want a vegetable garden but don't have space. But growing veggies in front of the house can also up the community factor. "I live on a small lot in a dense urban area, and our backyard is tiny while our front yard is large," says Kendra Poppy, Yardzen's growth developer. "I wanted a vegetable garden, and that was the space that really made sense. It became a community gathering spot—my neighbor comes over with a bottle of wine, the kids pick cucumbers, and it's a focal point."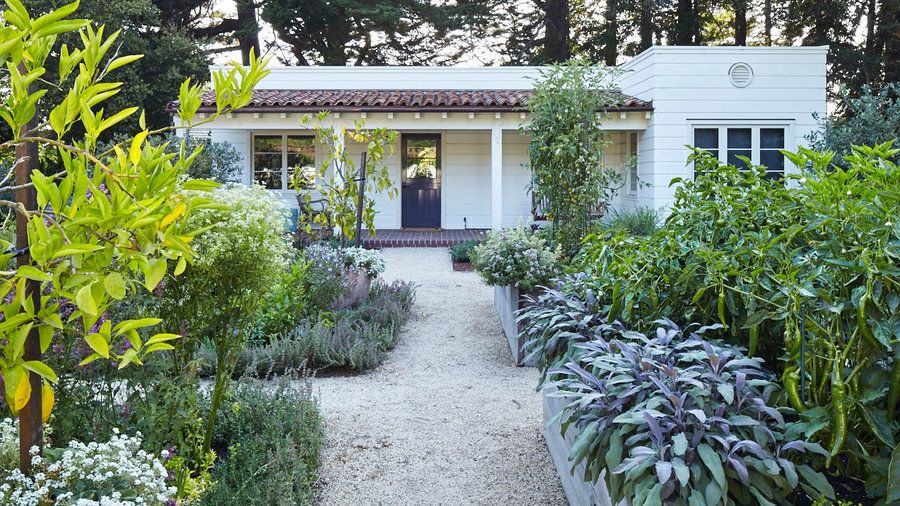 The Kids Are in Sight, the Adults Are Alright
"Kids were really the original front yard socializers," Messner points out, as functional front yards are fertile ground for spontaneous playdates. Play structures aren't common, she says, although lawns are being reduced or even eradicated, space to run around is still popular.

Parents reap benefits, too, Gayer points out. With a front seating area, they can keep an eye on their children while having a nice experience of their own. Which is why, for her clients in Newport Beach, Calif., she decided to keep a pre-existing patio area when updating the facade. "Now, it sits off the French doors in the living room so our clients can enjoy that coastal indoor/outdoor living space both in the front and back yards," she says.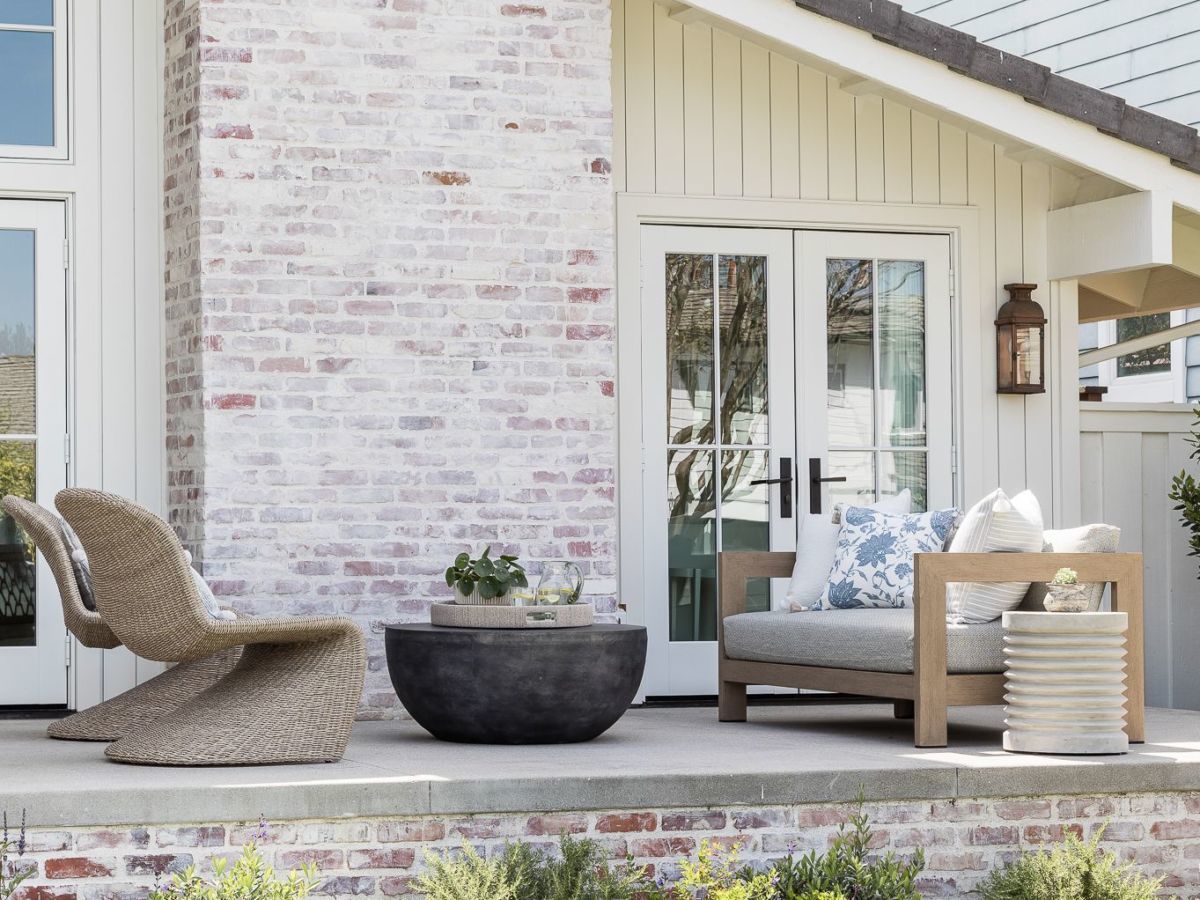 When Mindy Gayer redesigned a client's front yard, she updated the patio to create an outdoor seating area.


You Can Set a Boundary
While the point of a social front yard is to add an inviting space, that doesn't mean you can't cordon off your area—or corral the kids. Messner says row fences work well without blocking a view of the street. Privacy hedges are antithetical, of course, but we like the silvery leaves of Little Ollie Dwarf Olive and low-water Hebe Addenda Variegata.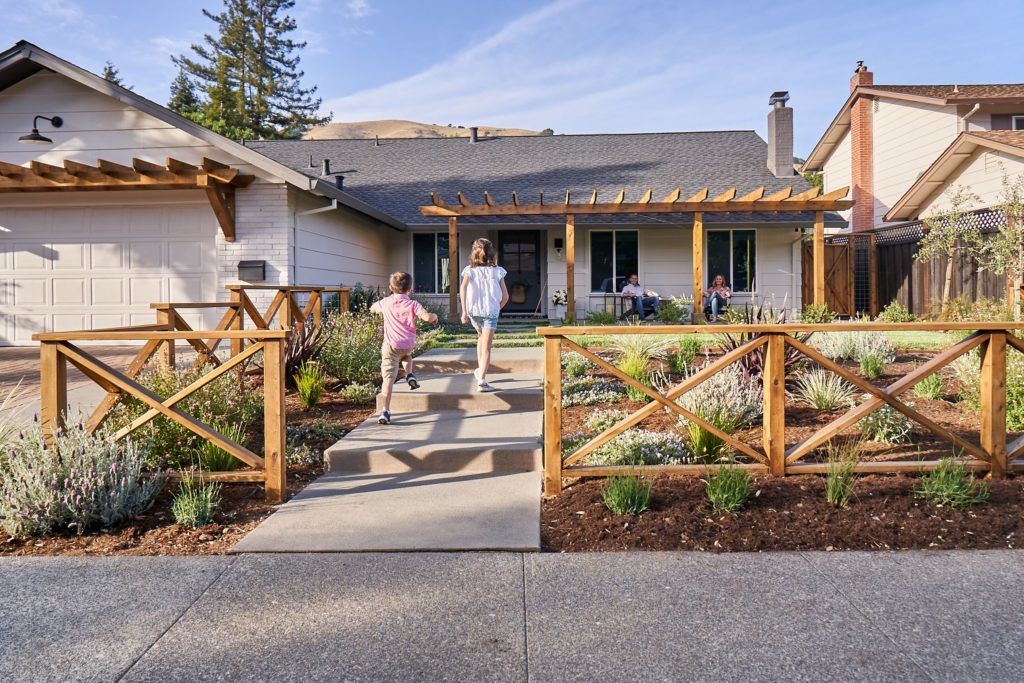 Yardzen recommends a modern farmhouse row fence to add a boundary without blocking the view of the neighborhood.
You Have an Easy Out
Just because you're throwing open the proverbial gates when you decide to make your front yard a social space, that doesn't mean you can't have the best of both worlds—as long as you remember to shut the front door.

"You have your house, and you can hide in it," says Matt. "You have your backyard, and you can hide in that. But if you want to be a part of the world, you can sit on the front porch, see your neighbors, and it's this incredibly fortifying thing."

The best part? The experience is on-demand. "The minute you're tired of seeing your neighbors, you go inside," he says. "So, what is the downside of having a social front yard?"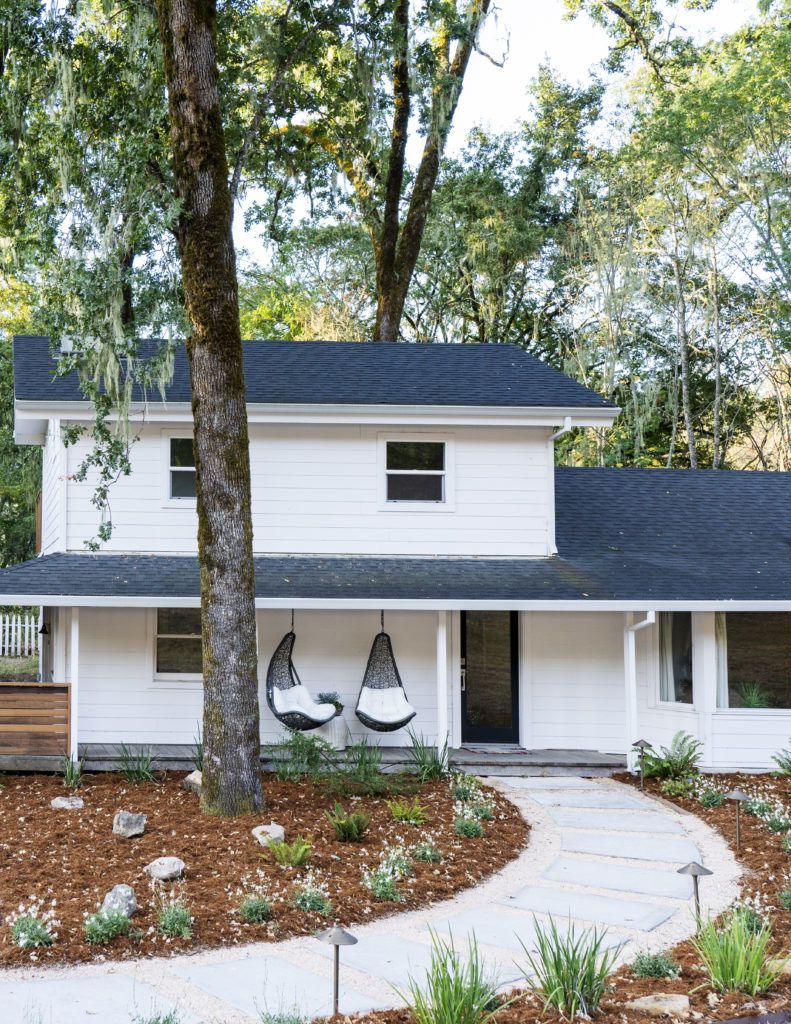 A pair of black hanging chairs asks friends to take a seat.