The time has come to think pink – or to rethink pink, anyway. Once the preserve of girls' bedrooms and boudoir looks, pink is now the colours du jour for any room. These pink living room ideas have it all covered! Use the right shade and it will make any room look fresh, modern and really very grown-up. Banish all thoughts of OTT pink – we're talking sophisticated and sexy.

Less is more, so think petal pinks as an accent and use no more than three tonal shades in your palette. Use white as the base. It's the colour that sets off any pink to its best advantage and other colours are hard to mix with petal tones without looking garish. Most importantly, don't forget to have fun with your selection.

Here are our pick of the best pink living room ideas.


1. Create a welcoming fireside retreat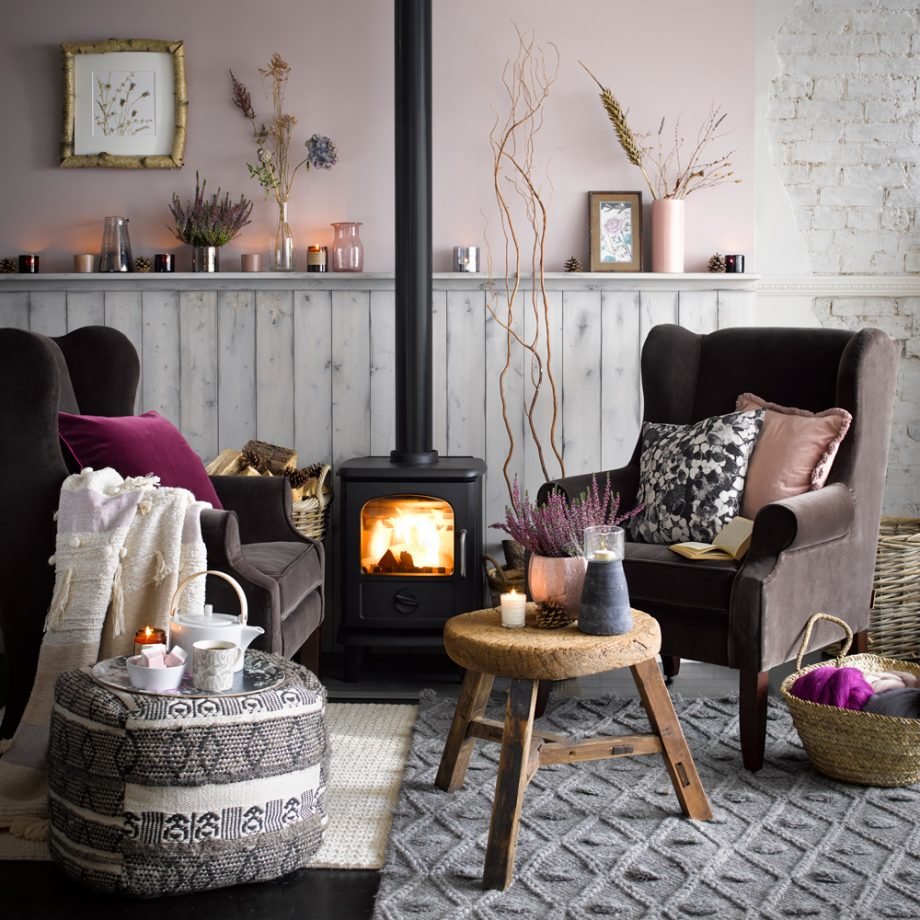 Let ducky pink play the focal point of your cosy living room scheme. Snuggle up with sumptuous shades of dusky pink and fig. Off-set muted pink walls with darker tones on velvet furniture pieces and chunky knits to create a welcoming fireside snug.


2. Mix pink with metallics for a sophisticated look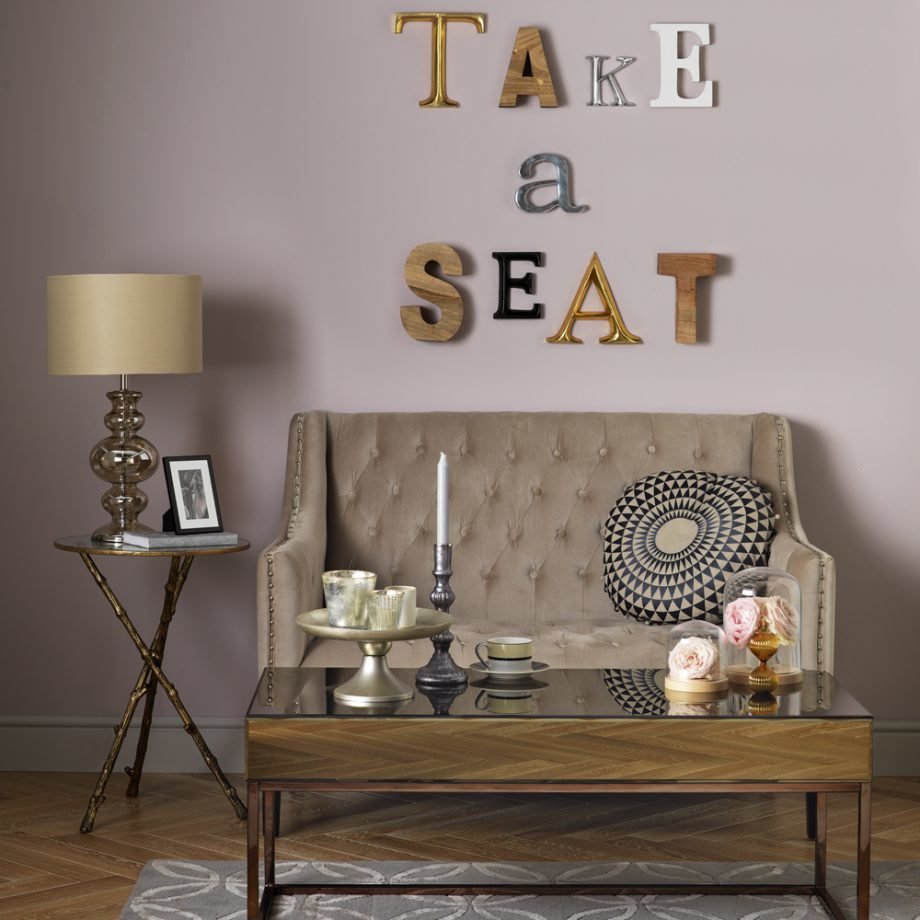 To avoid your pink living room decor looking too sickly sweet, opt for a throughly dusky shade of pink. Take it as dark as you can without losing the lightness of the pink tones, which will be more present in direct daylight. To help add a further touch of sophistication pair with chic taupe upholstery and a plethora of muted metallic accents – from elegant furniture pieces and lamps to fun lettered wall art.


3. Try a balancing act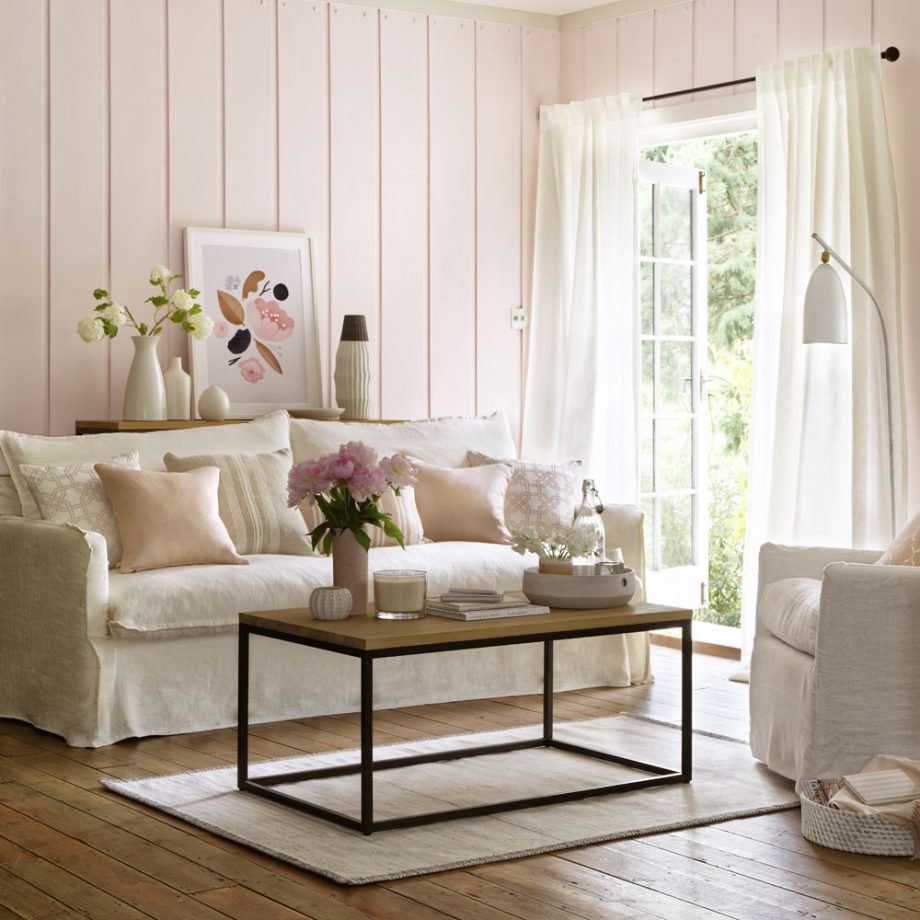 Balance powder pink walls with an equal amount of soft white and touches of warm neutrals – sand, stone, caramel. Powder pink is a cool colour, so natural wood warms it up. We suggest including plenty of texture with linens, woven accessories and ceramics for a contemporary feel that won't date.


4. Pick shades of plastered pink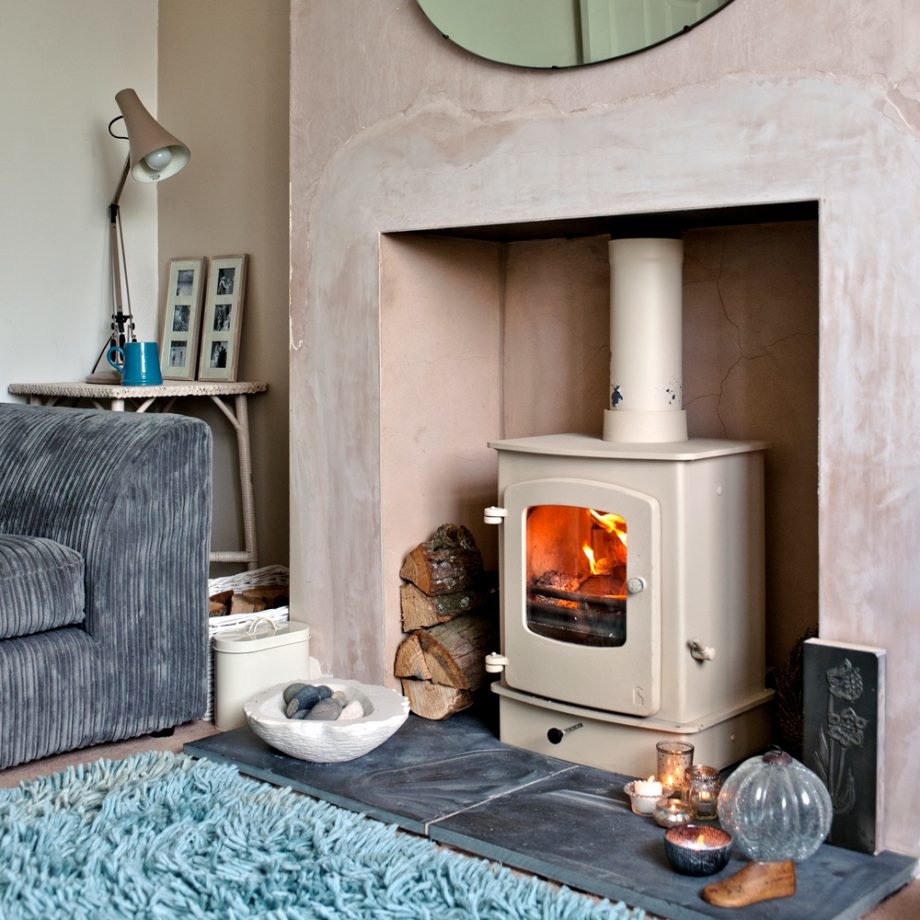 As the trend for plastered pink paint shades goes from strength to strength, how how about embracing actual plastered walls? Not to every ones taste of course, but as demonstrated above it can look effortlessly stylish. Even when used as a feature for a chimney breast, with a matching tonal pink shade of paint for the adjacent walls.


5. Team pink with wood grain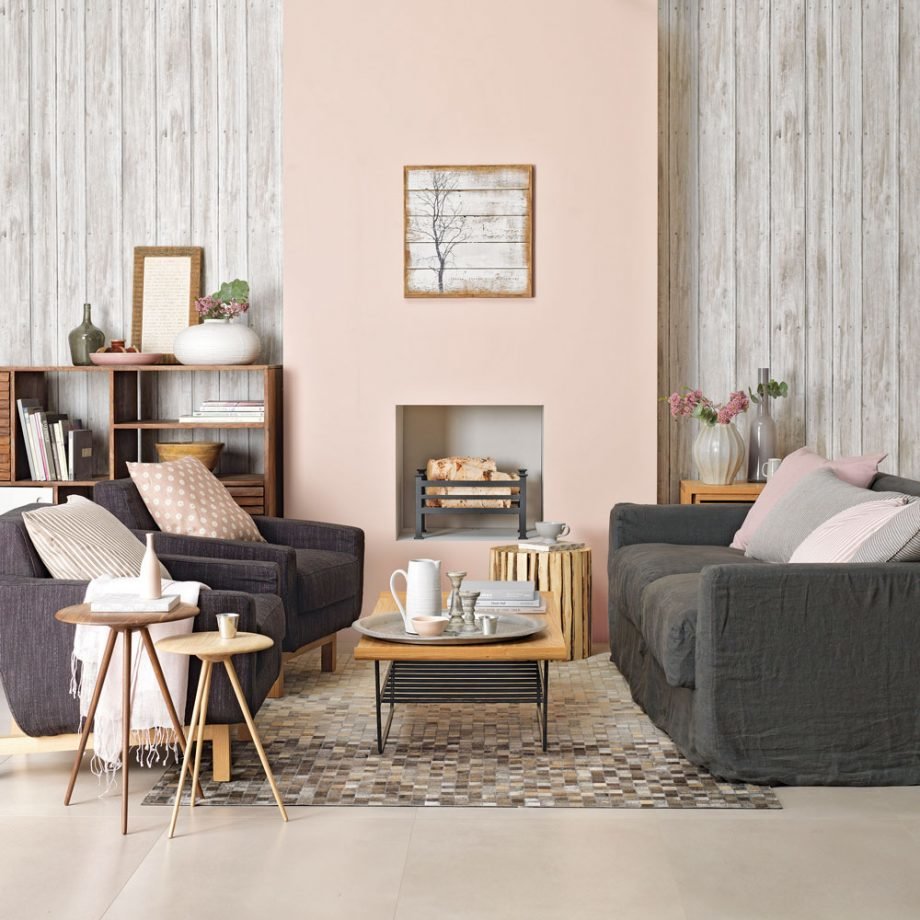 Give your feature wall a lick of rose pink paint. Team this feminine shade with white-washed wood panelling to add further definition. Then add furniture, flooring and soft furnishings in a mix of natural, earthy tones to compliment the look.


6. Enhance a chimney breast with splash of pink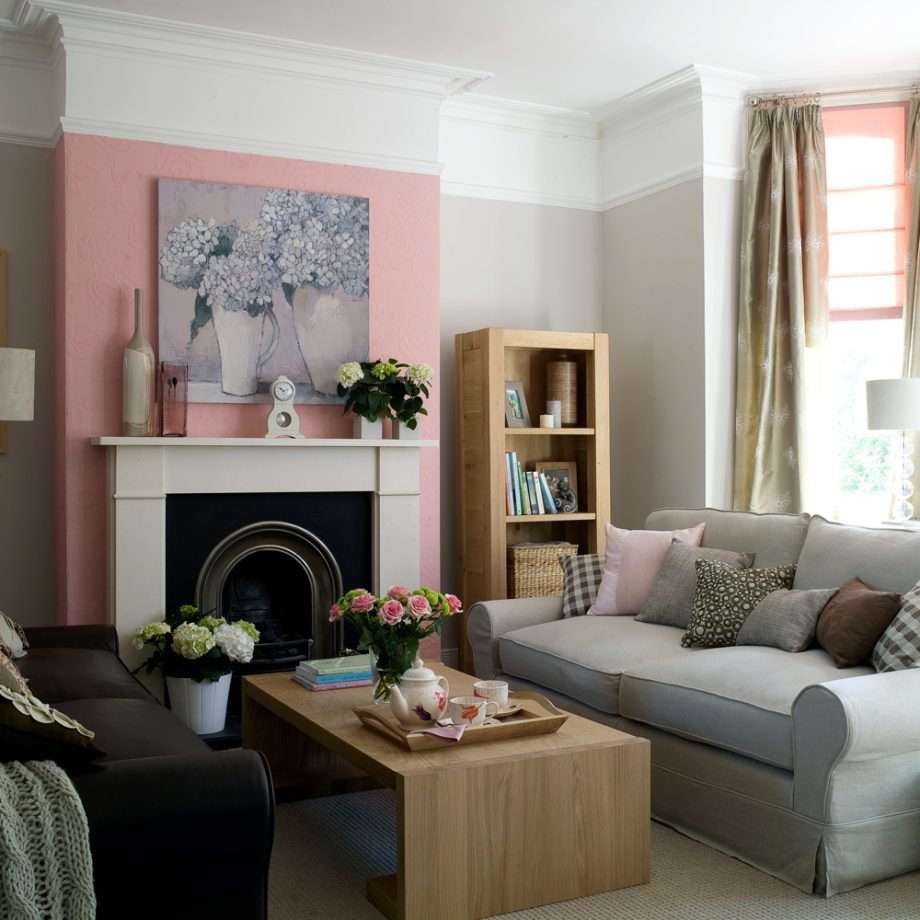 Not keen on painting all four walls in pink? Or even a whole wall even? Why not try picking out an interesting key feature with a splash of your chosen pink colour – here it's the chimney breast. The backdrop is just enough to enhance the architectural feature of interest. In this pink living room the colour is enhanced further by a raised floral pattern, on a Superfresco style paper.

The strong shade of pink is beautifully complimented by natural wood and pale grey tones.


7. Layer pink and delicate silk for laid-back luxury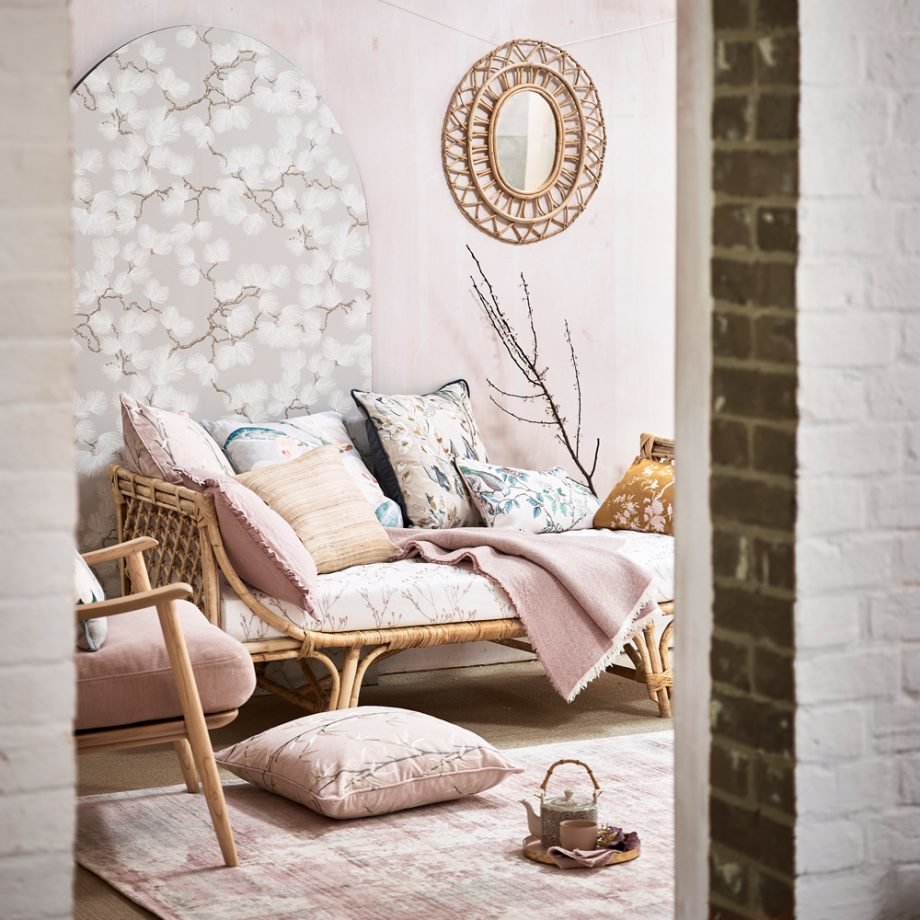 To create a comforting laid-back living room with a touch of decadence try combining petal-soft pinks, tea rose and peach tones with delicate Japanese-inspired patterns. Dress a daybed or sofa with luxurious silks and linens, adorned in soft oriental patterns to add a decorative element to your pink colour scheme.

Take a trick from our stylists an cover a panel in a beautiful wallpaper for an instant feature wall that switches up the scene for the season.


8. Make pink a focal point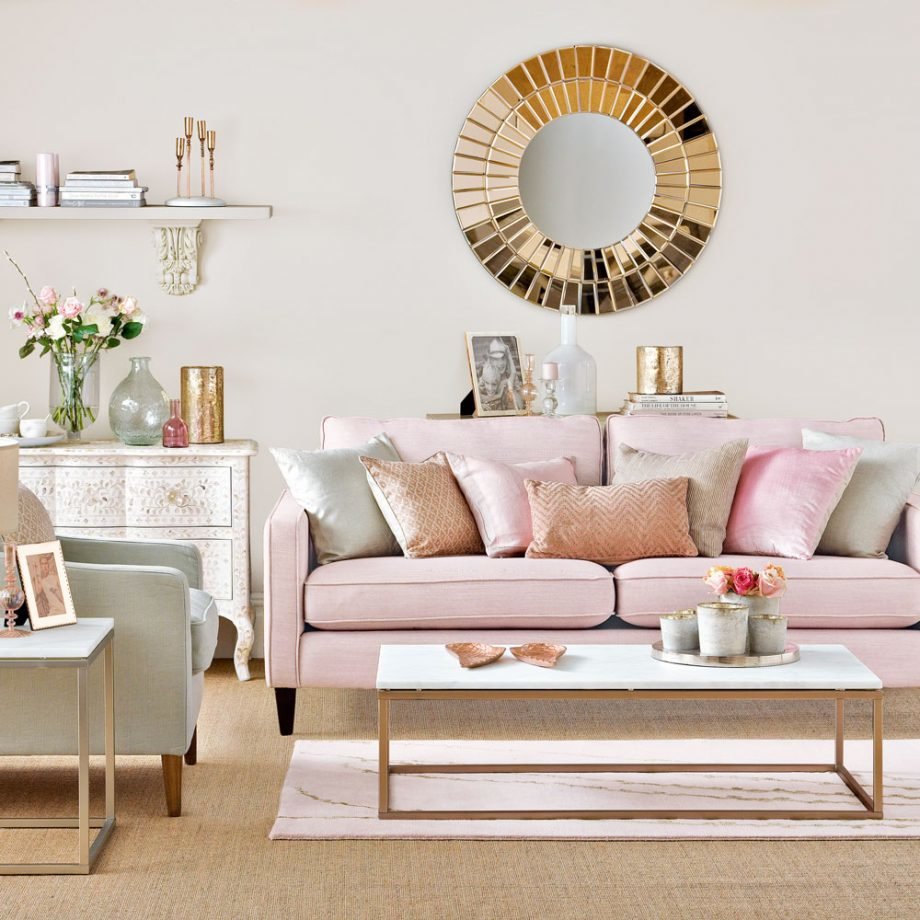 Create a sophisticated scheme with an elegant colour combination of tea rose and soft putty. Set a romantic mood by painting walls in a warm shade of mushroom grey, then team smart upholstery in tea-rose pink with sisal flooring to build a classic look. Cheat period character by fixing ornate corbels to a basic floating shelf and add a hint of old fashioned glamour with a chest of drawers in shimmering mother-of-pearl. Contemporary side tables, copper accessories and a statement mirror will give the scheme a modern edge.


9. Feel at home with blossom pink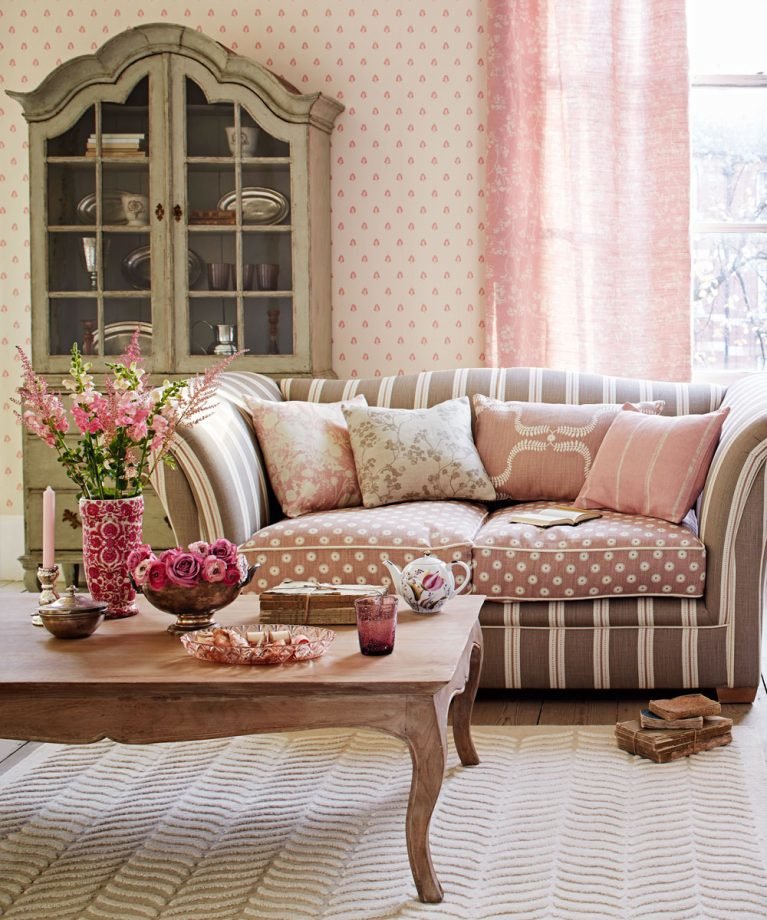 The modern country way to work this trend is to mix blossom pink with taupe, giving it a grown-up edge. Avoid high-impact pink florals and go for gauzy designs, soft graphic leaf shapes or gentle rustic block prints on curtains and wallpapers. Add character to the living room with a statement sofa that bravely mixes the colour palette. Complement with curvaceous wooden furniture styles in pastel-painted or -washed finishes and soft furnishings with classic shapes.


10. Add vibrance with hot pink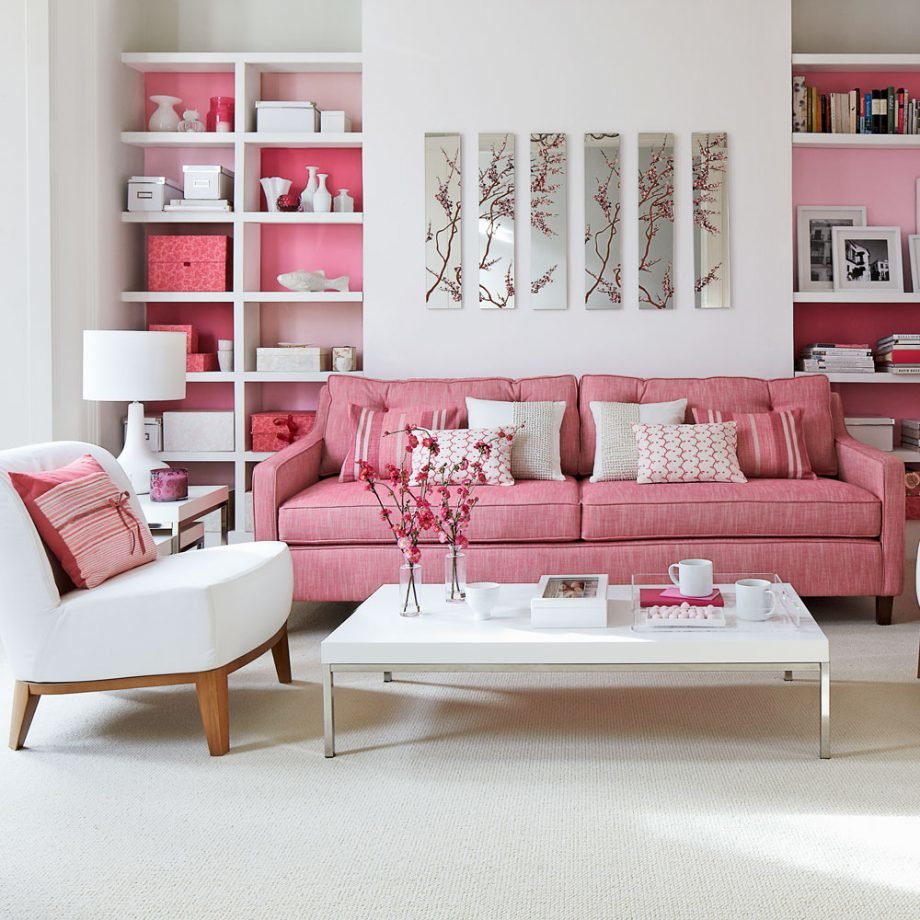 Subtle white-grey walls and hits of wood and metal are fitting foils for vivid and blush pink accents. A wall of storage with cubbyhole-style shelving creates an interesting focal point in this symmetrical scheme. Pick a dark raspberry, a mid-toned bubblegum pink and a light blossom tone and use them behind alcove shelves.

Leave a big gap between each shelf so you can display large frames and pretty trinkets. Finish off the look by choosing one thing that will tie everything together. In this space, the paints and accessories have been matched to the sofa.


11. Mix pinks with deep orange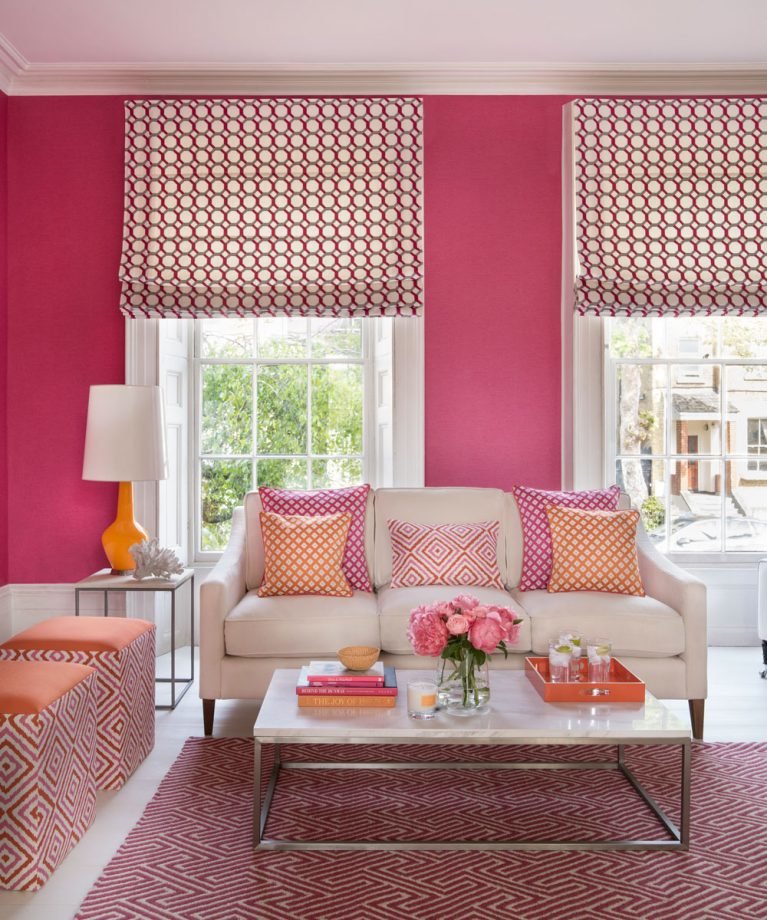 If you don't want to go pink-all-over, why not trying spicing up your living room by teaming hot pink with a vibrant orange hue? Turn up the heat with this fearless duo of dazzling brights. Balance large areas of intense hot pink with accents of zesty orange, then add furniture and accessories in pure white to bring a wash of calm to a bold scheme. Layer cushions two or three deep to re-create the smart-casual feel of Miami boutique hotels, and mix in graphic prints for added impact.


12. Keep your pink tones subdued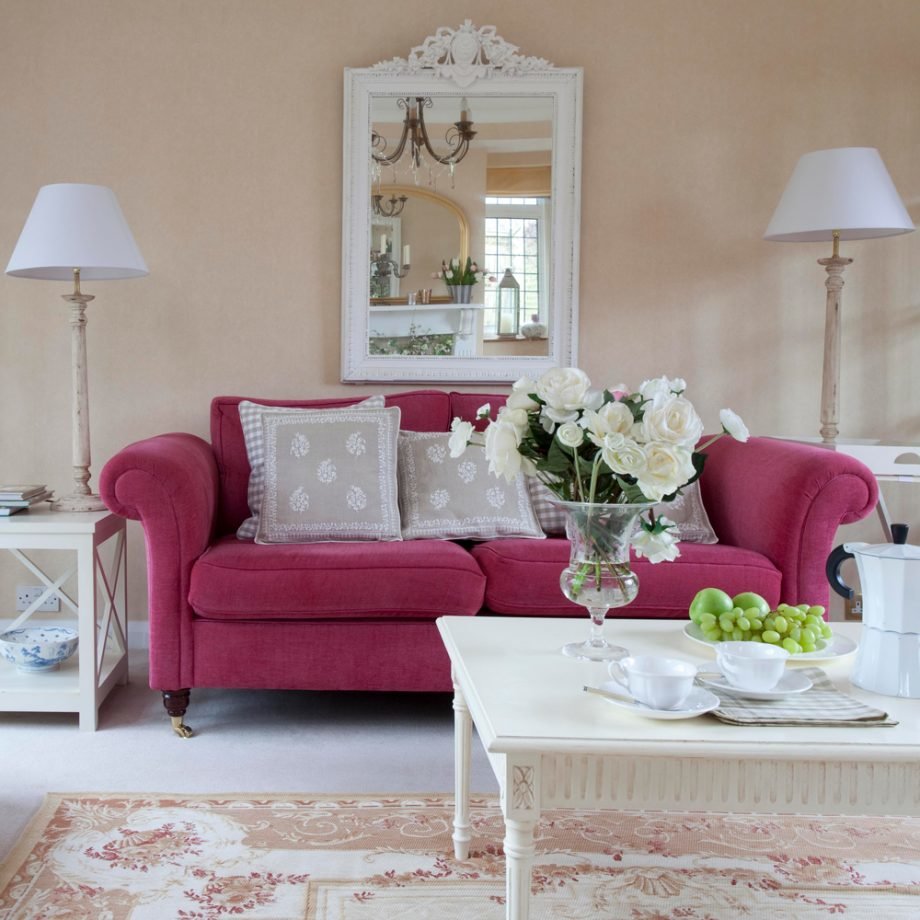 If a hot pink is too punchy for you, why not try a powder pink? Don't think of it as pink, it's really a neutral – a barely-there flush that gives a room a layer of colour and blends in rather than contrasts. Use it to add quiet sophistication and a fresh hint of prettiness that'll upgrade any look, from simple country to upscale glamour.


13. Use pink as a backdrop to natural wood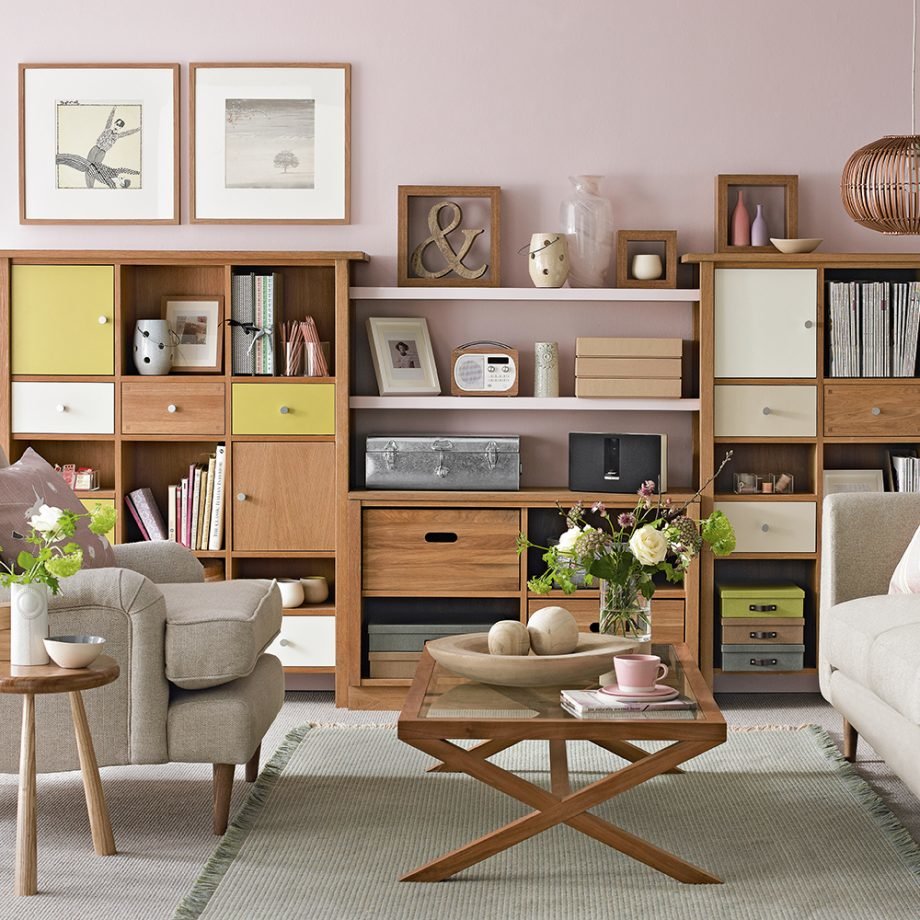 For a light and spacious feel, pale neutrals are your best friend. Try soft pink on the walls with touches of taupe and cream. For a streamlined scheme, build a network of storage combining shelves, drawers and cubbies. Paint sections different colours to break up the expanse of wood.

Love these pink living room ideas? Will you be decorating with pink in your home?