We've rounded up 50 striking patio ideas to get you ready for a spring refresh.

Now is the perfect time to spruce up your patio in time for the warmer months ahead. It's one of those small garden ideas that can make a big difference to a little space.

Patio gardens have the benefit of being relatively low-maintenance compared with other garden designs, meaning that it can be enjoyed year-round and not just in the summer. So why not create a patio you'll enjoy the whole year round? Invest in a warming fire pit or heater lamp, or build a gorgeous brick fireplace or pizza oven. Aside from creating a cosy focal point and an area for enjoying cooler summer evenings, they'll also allow you to use the patio space during cooler spring and autumn months. With the British weather being notoriously unpredictable, it's worth creating some covered areas too, for example a traditional awning or canopy.

Make your patio garden a space you'll love to spend time in, whether that means lazing in a hammock or swing chair, sunbathing on a lounger, planting a vegetable patch (one of the biggest gardening trends we'll have you know), or enjoying a glass of rose in the late afternoon sun.

For extra style points, layer a patio over different heights to create interest and intrigue. Built-in wall-mounted bench seating will maximise floor space. Add custom-made cushion pads in bright colours and patterns to add instant pizazz.

Tiling the floor or the walls provides another opportunity to introduce colour or funky pattern. To blur the boundaries between indoors and out, continue the same flooring you have inside out onto the patio too.

Soft weather-proof furniture will transform a patio into an outdoor living room. Add an over sized lamp like a classic Anglepoise or the Twiggy design from Christopher Wray for an eye-catching scheme.

Got a small patio? One of the best patio ideas for small spaces is to plant up: invest in a striking living wall, or create a low-maintenance alternative by planting climbing plants or trailing plants. Fast-growing plants like bamboo and grasses in a narrow planter box against the wall can also create a wall of green without taking up too much space.

Water features have also surged in popularity over the past year, and there are plenty of affordable options out there. Aside from the soothing trickle background sound they make, they're eye catching focal points too, and add interest to a patio garden.

Ready to get inspired? Here are 50 stunning patio ideas to transform your patio garden into a dreamy outdoor oasis...


1. Consider a tiled patio floor

In this courtyard garden, designed by Barbara Samitier, the bespoke Bauhaus-inspired tiles create a party vibe and distract the eye from the boundaries, making the space appear bigger. A chic black unit creates a practical workstation, while a bistro-style table and chairs would complete the look. They can be easily set to one side when more space is needed.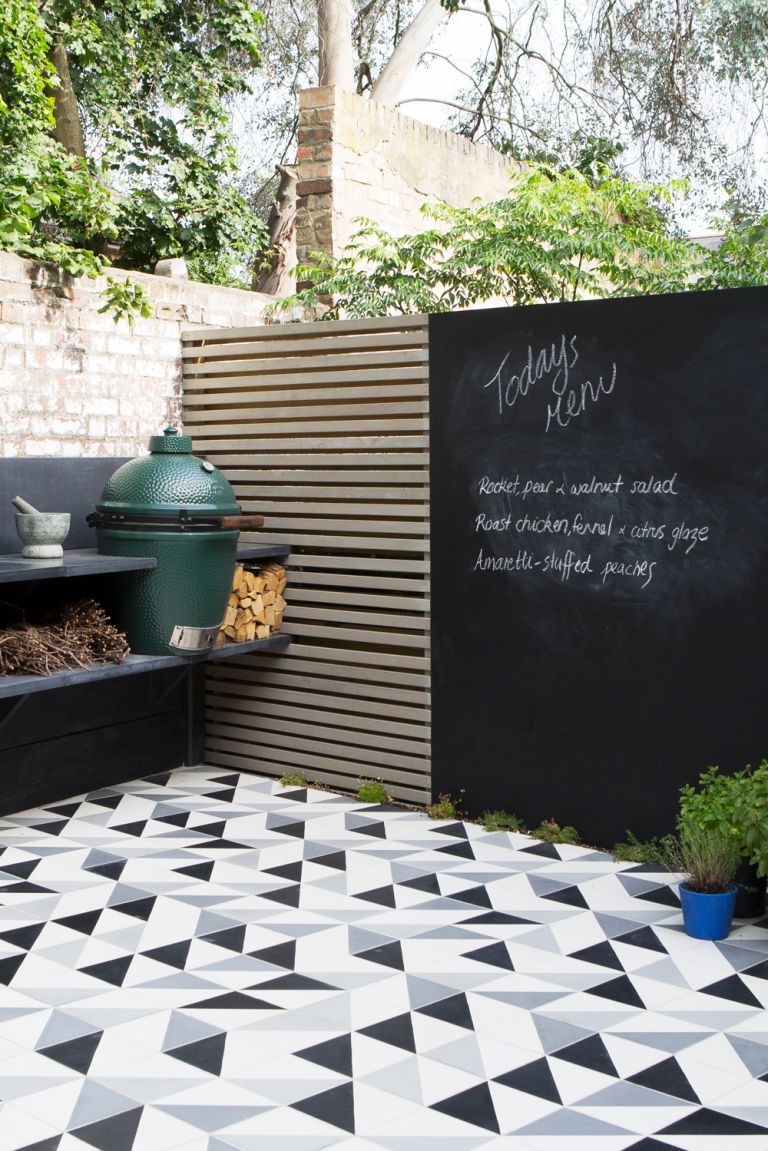 2. Blur the indoors and out with a continuous scheme

Clad in zellige tiles, this kitchen dining area focuses on a cantilevered table that continues through the bifold window to the terrace outside. The tiled bench also starts indoors, and continues out onto the patio garden.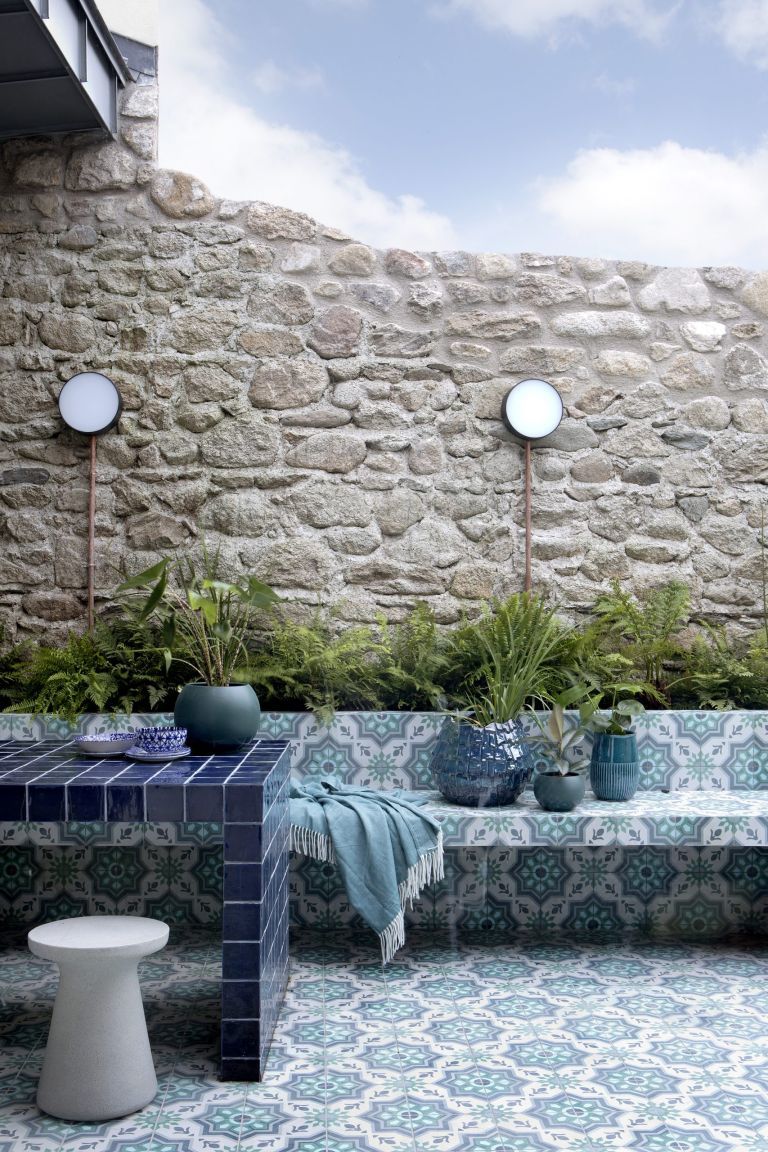 3. Let light into the basement level with a striking sloped display

This garden is cleverly arranged over two levels, with the patio area at the top, and a landscaped slope stretching down to the basement level to let in natural light. Nestled in between the step planters is a a cascading waterfall, that ends in a small rock garden at the bottom. A thousand times more interesting than a plain light-well.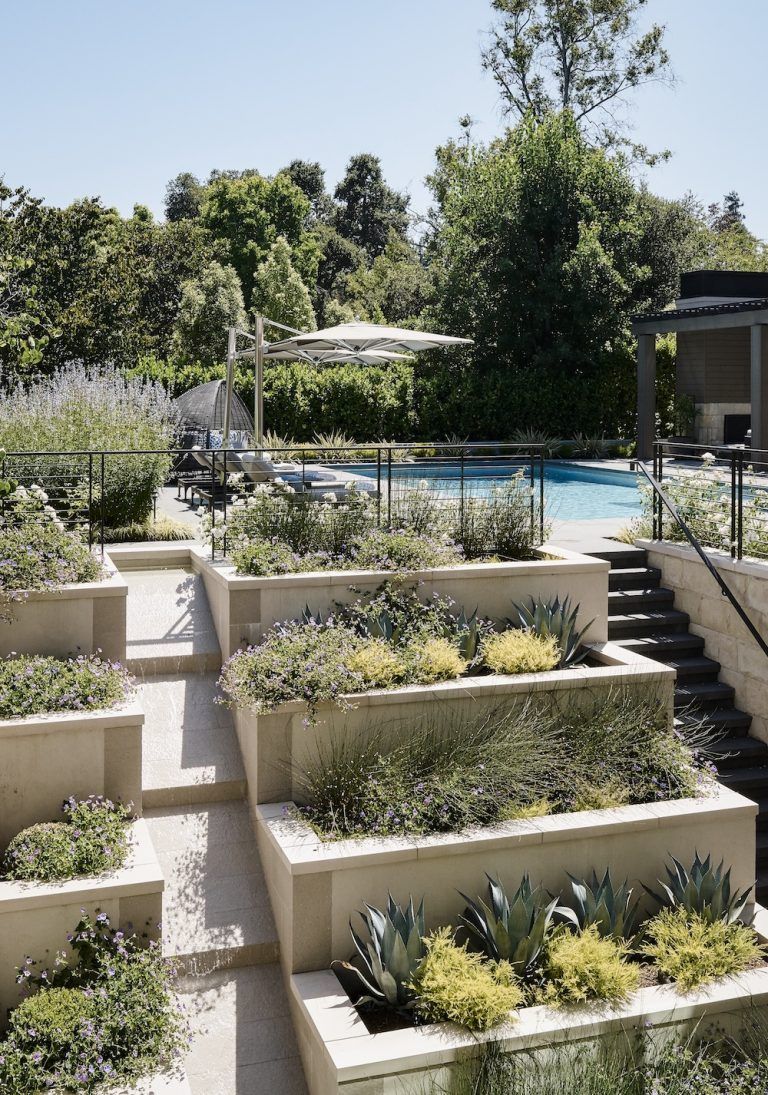 4. Tile the walls to give your garden a clean, glossy and colourful look

It may be set in a lush and lovely garden, but this inspiring outdoor living space could just as well have been created indoors. The metro tiled wall makes this a clean, glossy and colourful space, and is a modern twist on traditional brick.

With its layers of textured tiles and fabulous finishes, it's a great example of how to mix colours and patterns whatever their setting.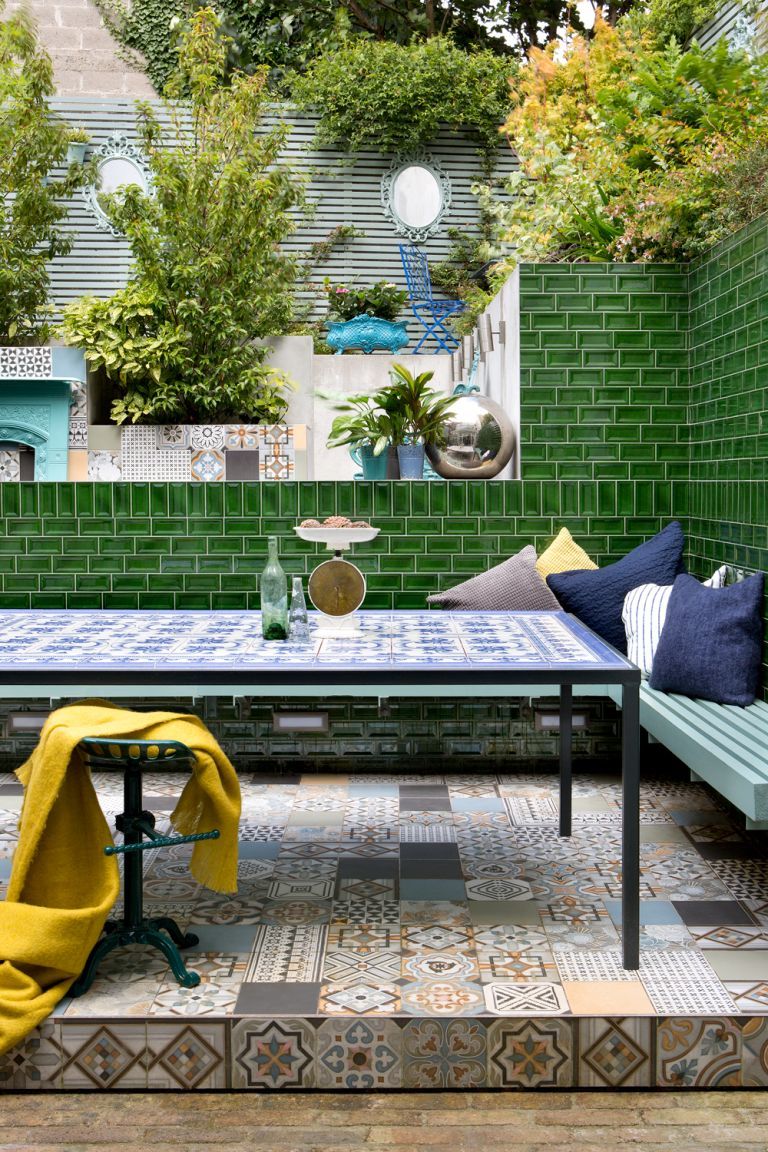 5. Mix materials for an interesting and balanced scheme

This small garden space feels calm and soothing, with clean stone flooring, bedded plants, exposed brickwork and sleek, slatted wood fencing.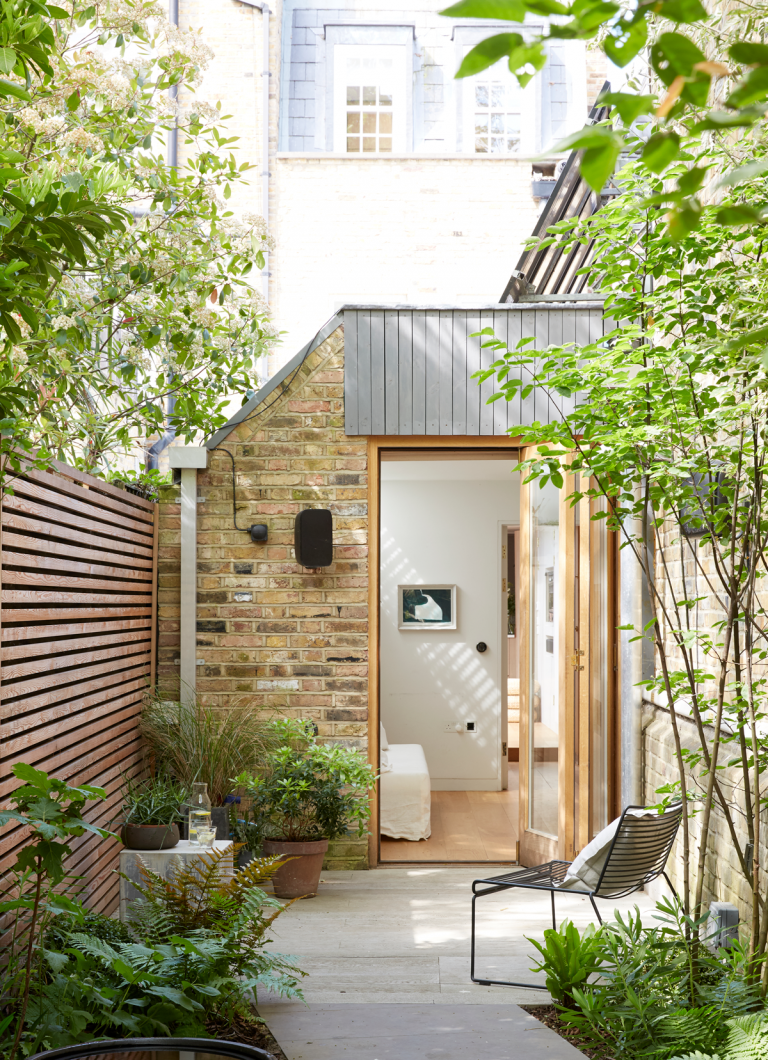 6. Paint your patio walls a bright and unexpected colour

A patio with a turquoise wall draws the eye out to the back and making the space appear larger. A pop of vibrant colour adds interest even in the middle of winter.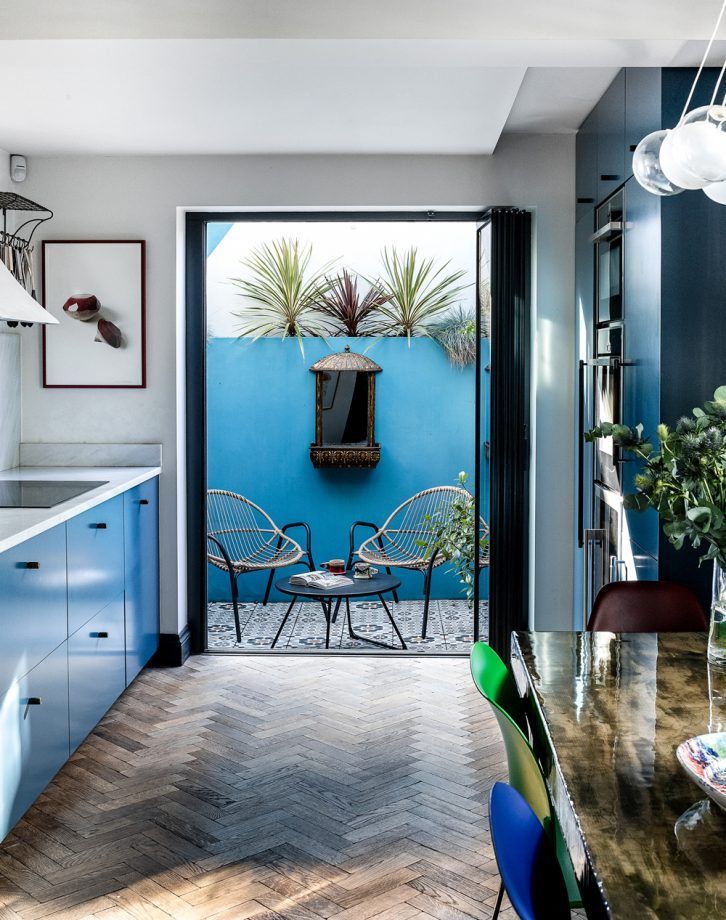 7. Create a designer look with built-in banquette seating

Similarly to the previous example, plants sit on a raised level, with a sunken level for seating. Built-in banquette seating is the piece de resistance, with chic striped upholstery. Featuring lush evergreens, meaning that the space is green all year round, the plants have been arranged in such a way as to appear wild and spontaneous.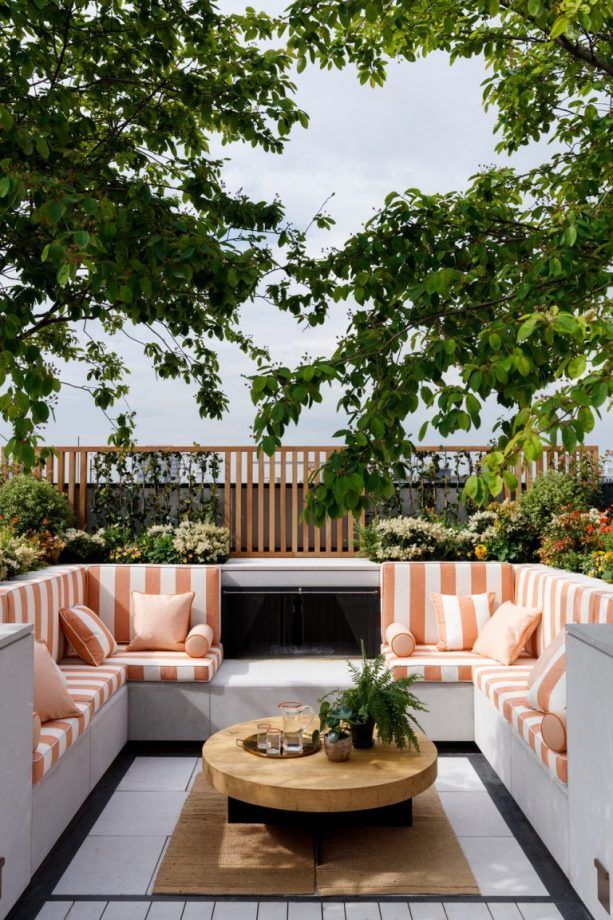 8. Invest in a statement outdoor fireplace

This cool fire feature is particularly dramatic, set inside a concrete column on the patio.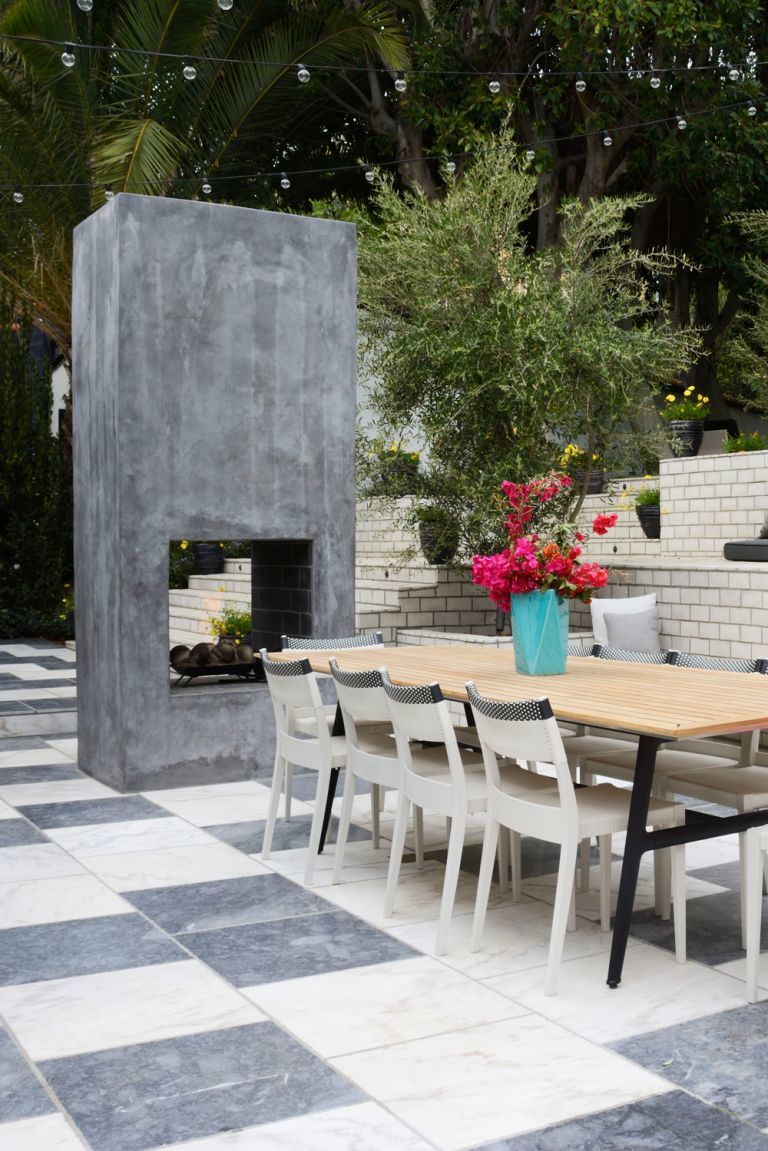 9. Break up a tall wall with tiered seating

Tiered seating draws the eye up, breaks up a tall space, provides additional seating and makes the most of garden views.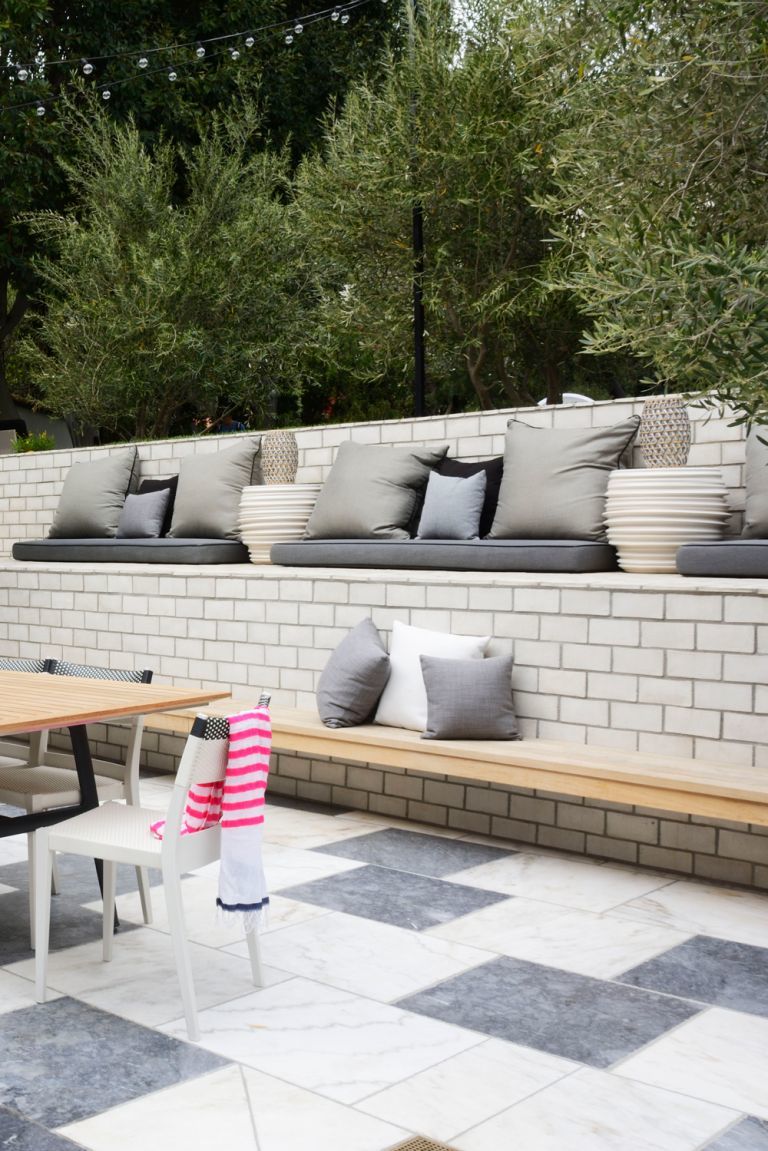 10. Install an outdoor kitchen for al-fresco dining and summer entertaining

The tiled outdoor terraces also features an outdoor kitchen, complete with sink, fridge, barbecue and pizza oven.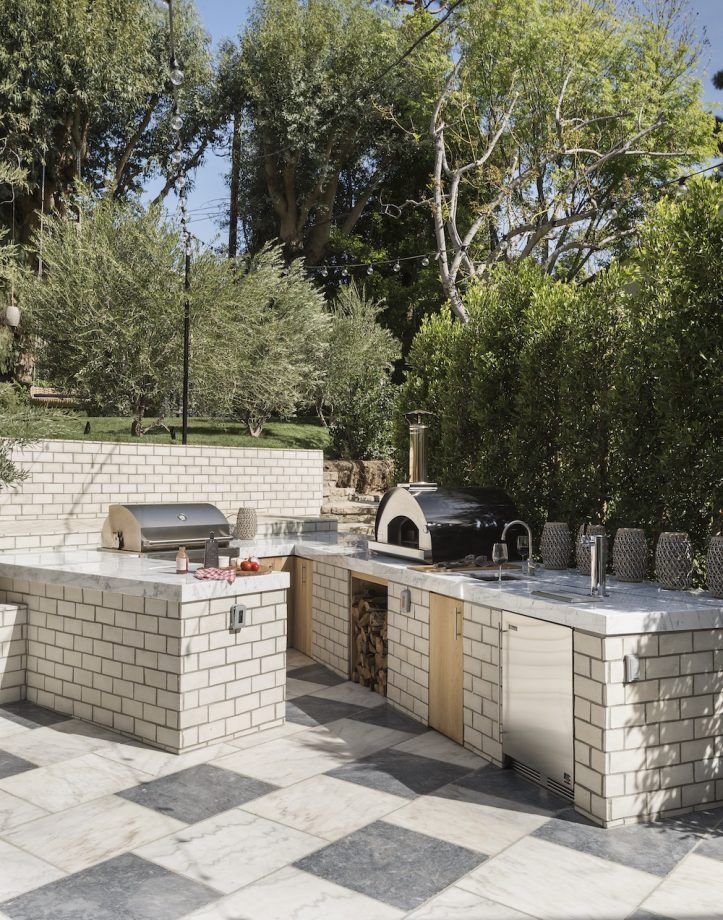 11. Add character and charm with reclaimed vintage tiles

A tiled floor adds instant colour to this patio garden. Design studio Guta Louro gave the unloved patio space a simple refresh, opting for marble-top tables and bright patterned cushions that complement the tiled floor.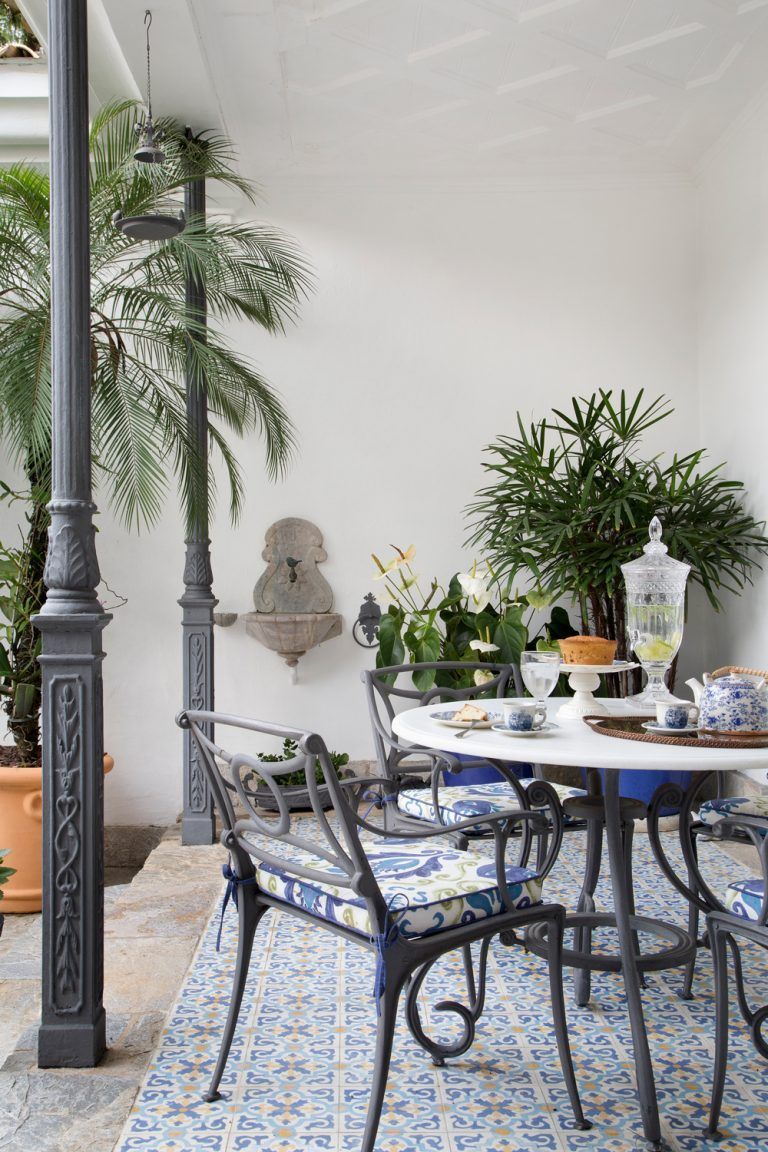 12. Invest in garden spotlights to illuminate and add drama

The modernist-inspired granite and glass-tiled waterfall in this small urban garden creates a bold streamlined statement. Designer Amir Schlezinger has used spotlights to create dramatic shadows as evening falls, while a bench with a lit cavity echoes the fireplace in the adjacent living room. Raised beds double as impromptu seating and the hardwood flooring creates a seamless flow between indoors and out.