One of the biggest 2020 kitchen trends has been pantry organisation - and there are countless styles and designs to choose from.

Kitchen pantries are mostly used purely for storing food and drink and sometimes crockery and kitchen appliances, but for homes that don't have space for a laundry room, the pantry also often doubles up as a more functional utility room, with space for washing machines, linens and even household cleaning supplies. In other words, pantries are extremely useful spaces.

To make the most of your kitchen pantry, opt for floor-to-ceiling storage. Open shelves let you see exactly what you have at a glance. A slightly raised floor creates separation for walk-in pantries, while still being able to see what there is.

Having pantry doors is arguably more space-efficient as you can use the inside of the doors to store oils, herbs and spices. You could disguise the pantry by making the doors look like the rest of the kitchen cabinetry, thus creating a secret room that's hidden behind cupboard doors.

Sliding doors are a sleek option too, and keep pantry-chaos completely out of sight, while Crittall-style glass doors and partitions offer people a glimpse into the pantry space – great if you're able to keep surfaces relatively tidy. Frosted glass doors are also a great way of introducing some natural light without the shelving being visible from the rest of the kitchen.

If you transfer your food from its original packaging to glass jars and canisters, everything will instantly look more elevated. Pretty storage jars or boxes are an easy way of making the space feel pretty and organised, while pull-out drawers keep everything tucked-away so that surfaces can remain clear.

Floor-to-ceiling glass doors make the pantry more of a display area; perfect for showcasing an impressive wine collection, for example.

Designer Dina Bandman shows how wallpaper can make a pantry feel more inviting, while Blakes London has created a seriously stylish pantry space with brass accents, pretty floor tiles and Crittall accents. Plus, a ladder introduces some stylish flair to the space while also helping you access those hard-to-reach upper items.

And pantries aren't reserved for country kitchens alone; the poured concrete floors and minimalistic open shelving in this utilitarian-style pantry design by Design Space London would suit a more urban, industrial-style home.

From Crittall doors to sliding doors, from pretty tiles to patterned paper and from ladders to labelled jars, here are a few kitchen pantry ideas to lust over...


1. Room divide

This stunning pantry design by Blakes London is separated from the main kitchen via a Crittall-style glass partition. The pretty tiled floor flows from the kitchen into the pantry, and the cabinetry style is the same, so this space feels cohesive with the rest of the kitchen design. This look could also be achieved by segregating part of a kitchen behind glass doors, to create the illusion that it's a separate space.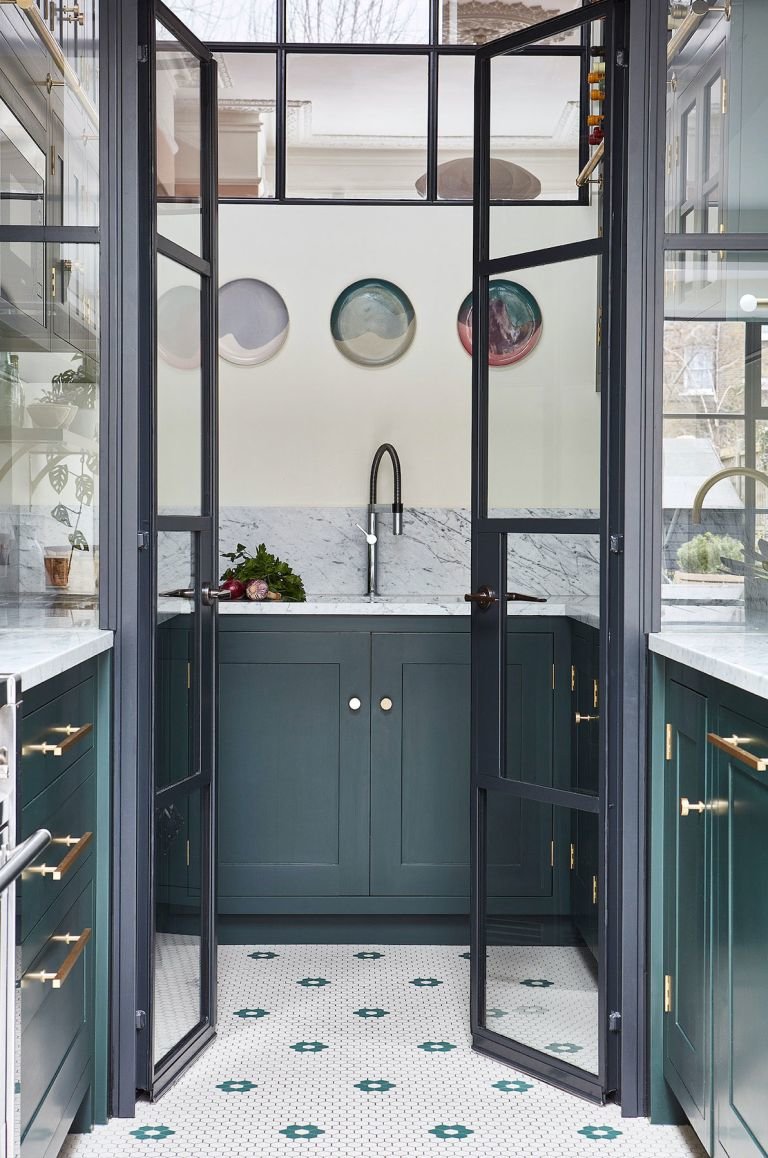 2. Internal window

The room is light and airy thanks to the natural light coming in from the kitchen, but an internal window creates a second light in-let from the dining room on the other side of the wall. Meanwhile a marble countertop and splash back along with brass accents and a pretty ladder makes this pantry feel lovely and luxe.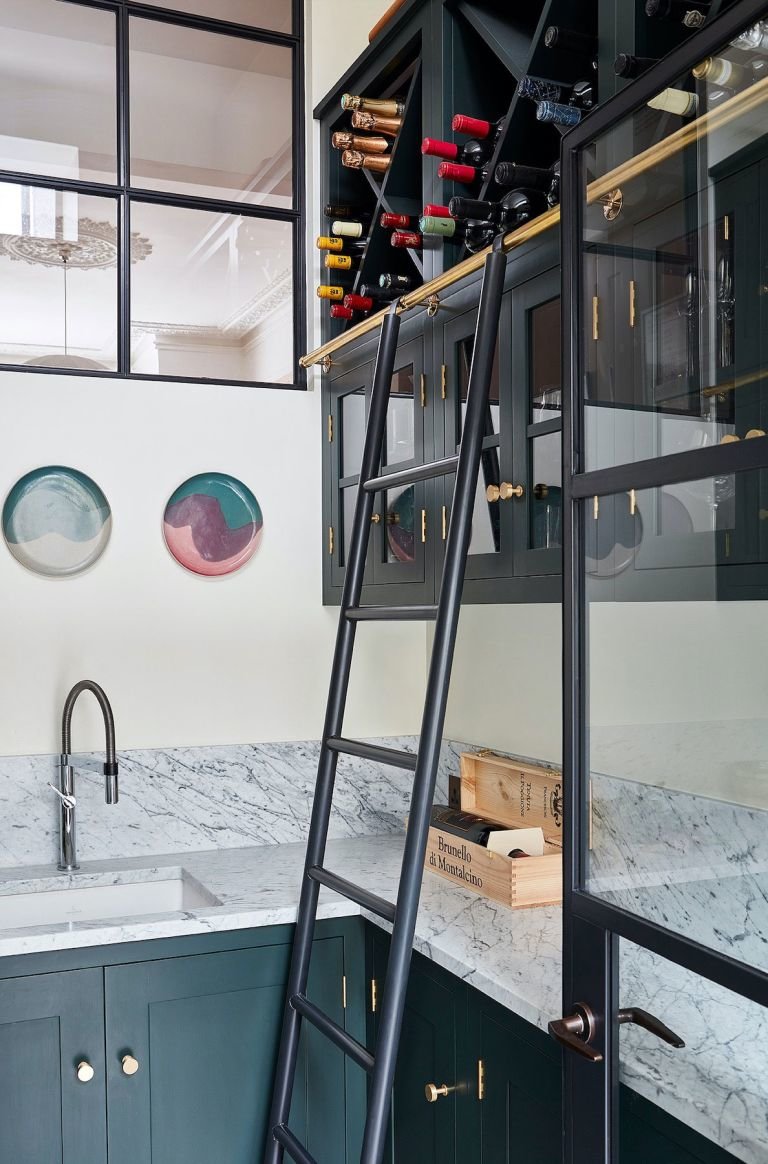 3. Open plan

The pantry is deliberately open plan so it's easy to grab things when cooking. It has concealed, built-in cupboards underneath at the side for basics; everything else is decanted into storage jars.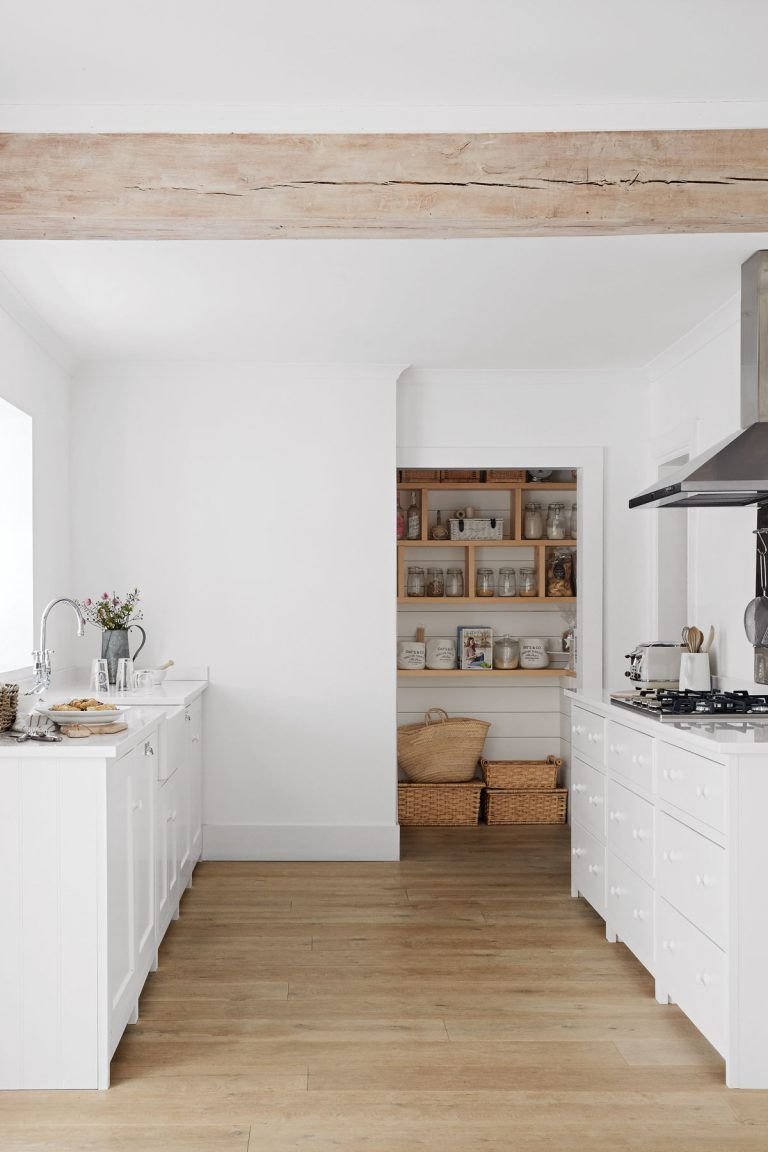 4. Snack pantry

This snack pantry features glass jars of snacks displayed on stainless steel shelves.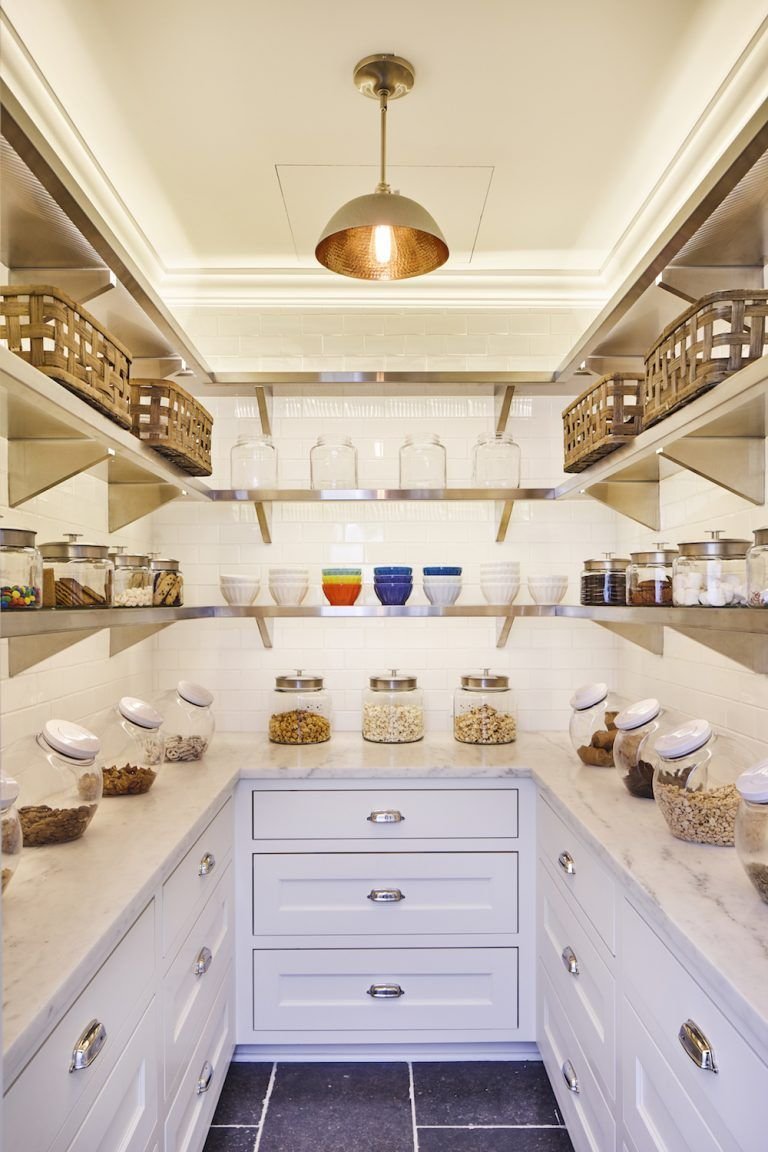 5. Walk-in pantry

The brick wall gives a kick of vibrancy that lifts the whole look.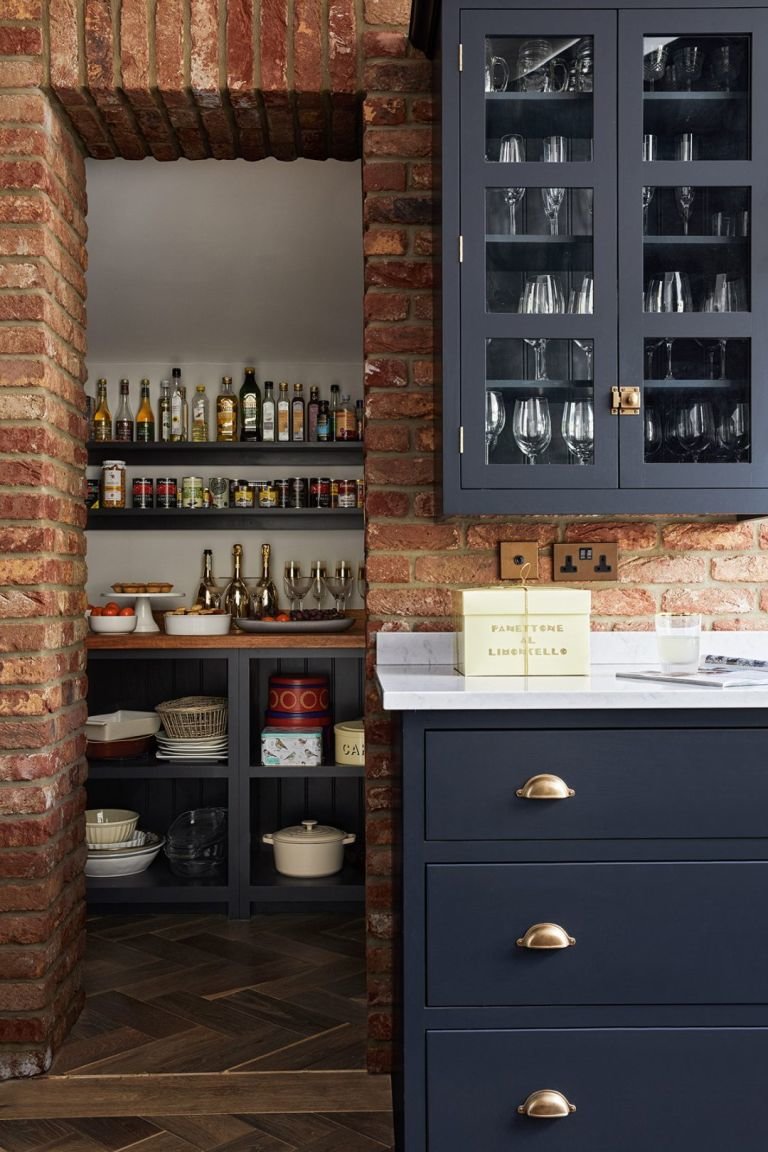 6. Sliding door

A sliding door maximises space and makes this storage area even more practical.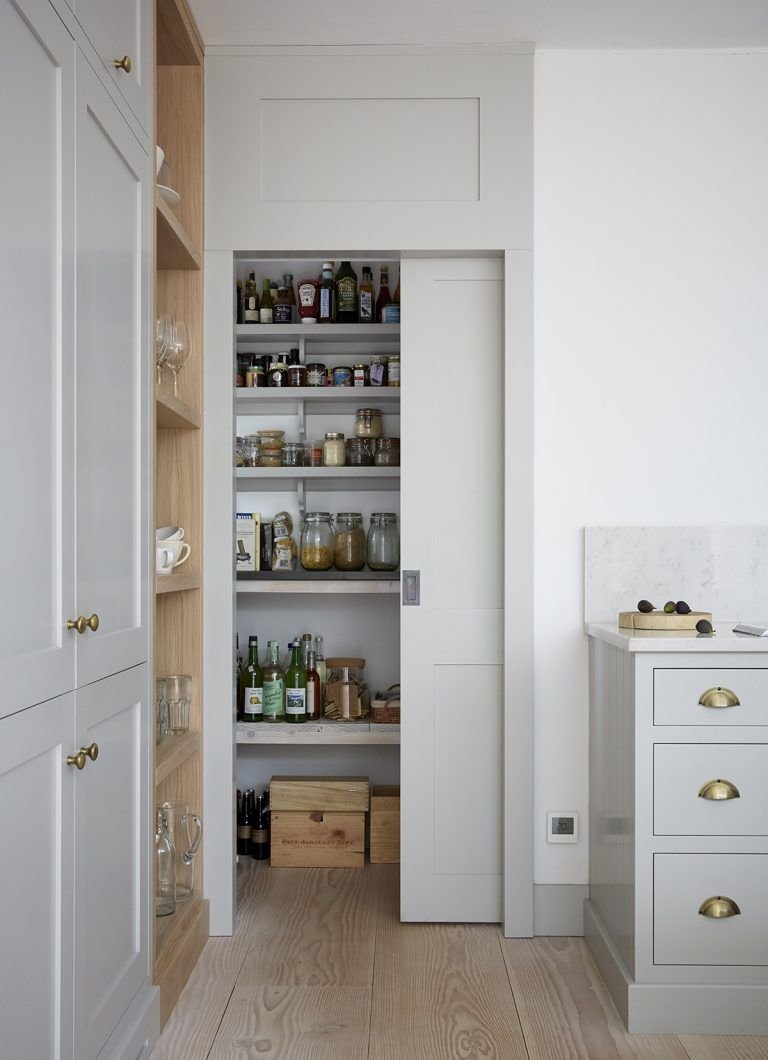 7. Kitchen nook

The designer carved out a nook in the kitchen to create a hard-working storage area. It keeps the open-plan kitchen calm and clutter-free.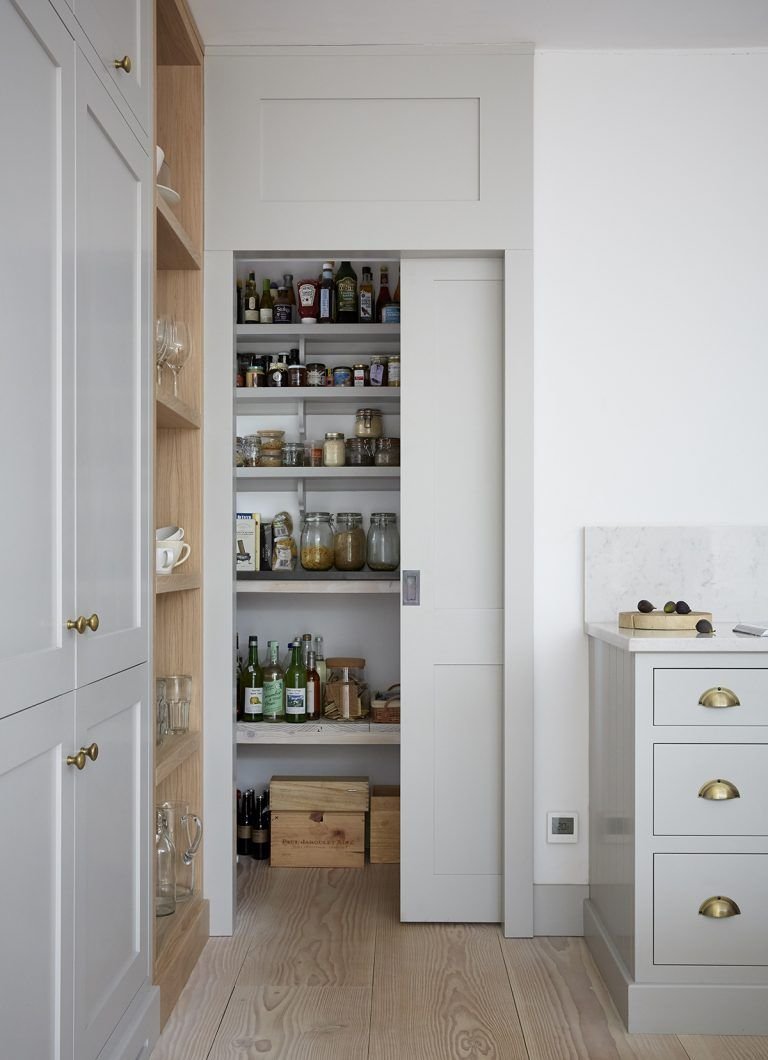 8. Step up

This walk-in pantry is separated from the rest of the kitchen by having the space slightly elevated. This also helps to make the space feel cosier.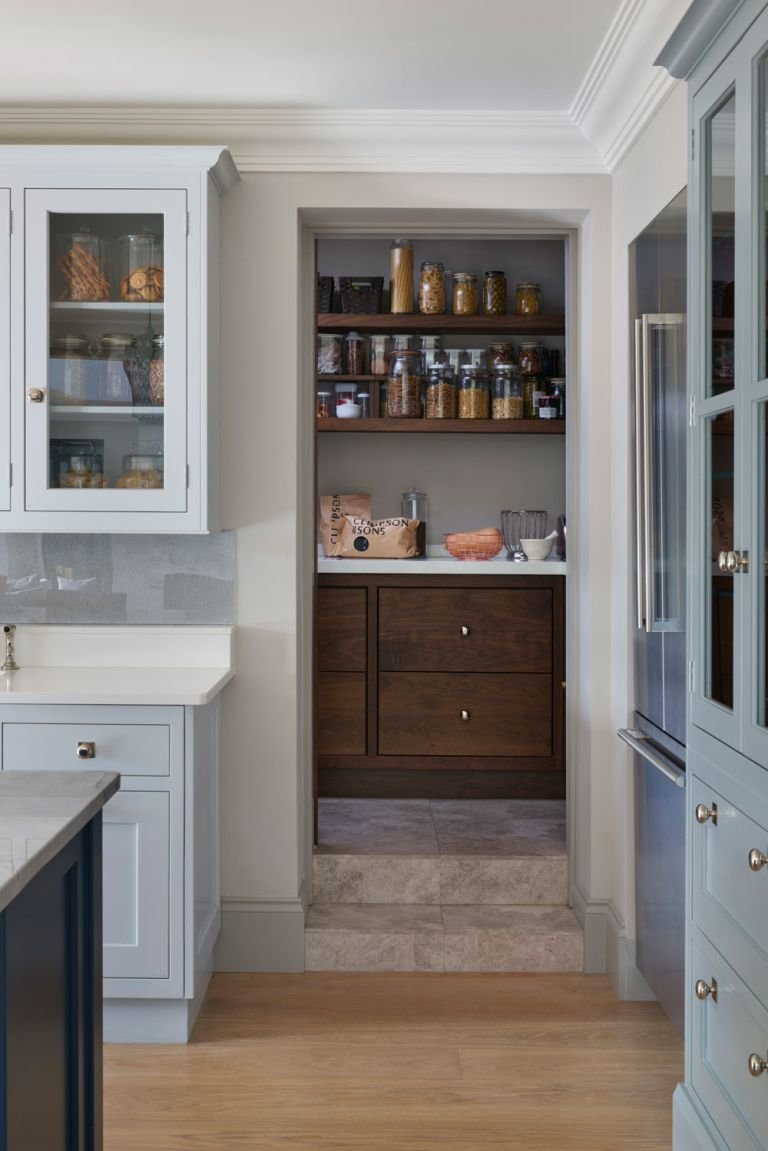 9. Flower sink

A deep sink is perfect for potting plants or arranging flowers in vases.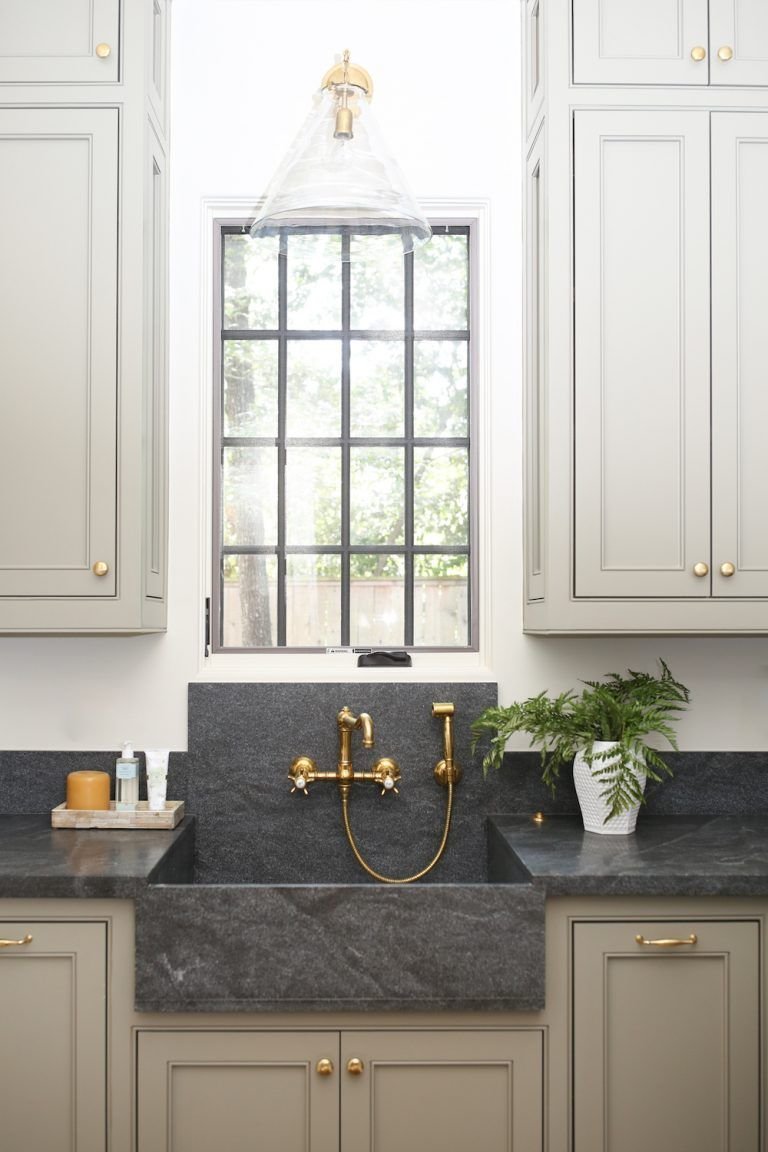 10. Super spacious

This super spacious pantry features open shelving, built-in storage and a handy sink.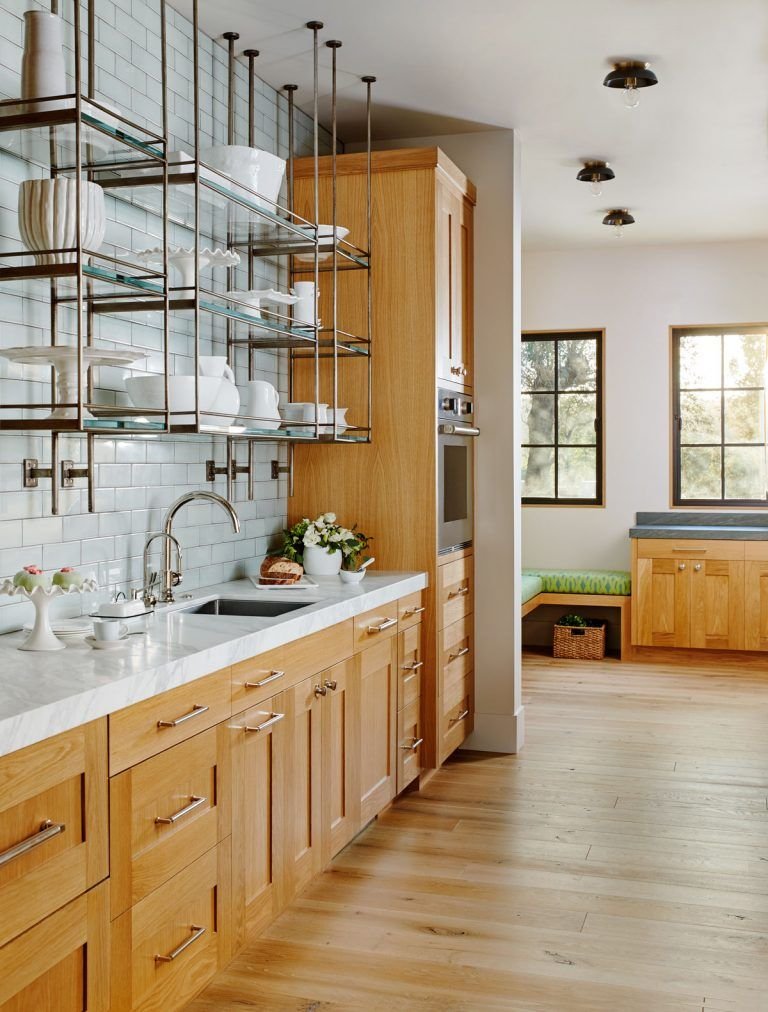 11. Decorated

This stunning utility space designed by Dina Bandman features pretty tiling and wallpaper as well as pretty lighting and window treatments. There's even potted plants dotted around. The lesson here is that even utility spaces like pantries and laundry rooms deserve to be beautiful. If it's a space you're going to end up spending some time, you may as well make it enjoyable.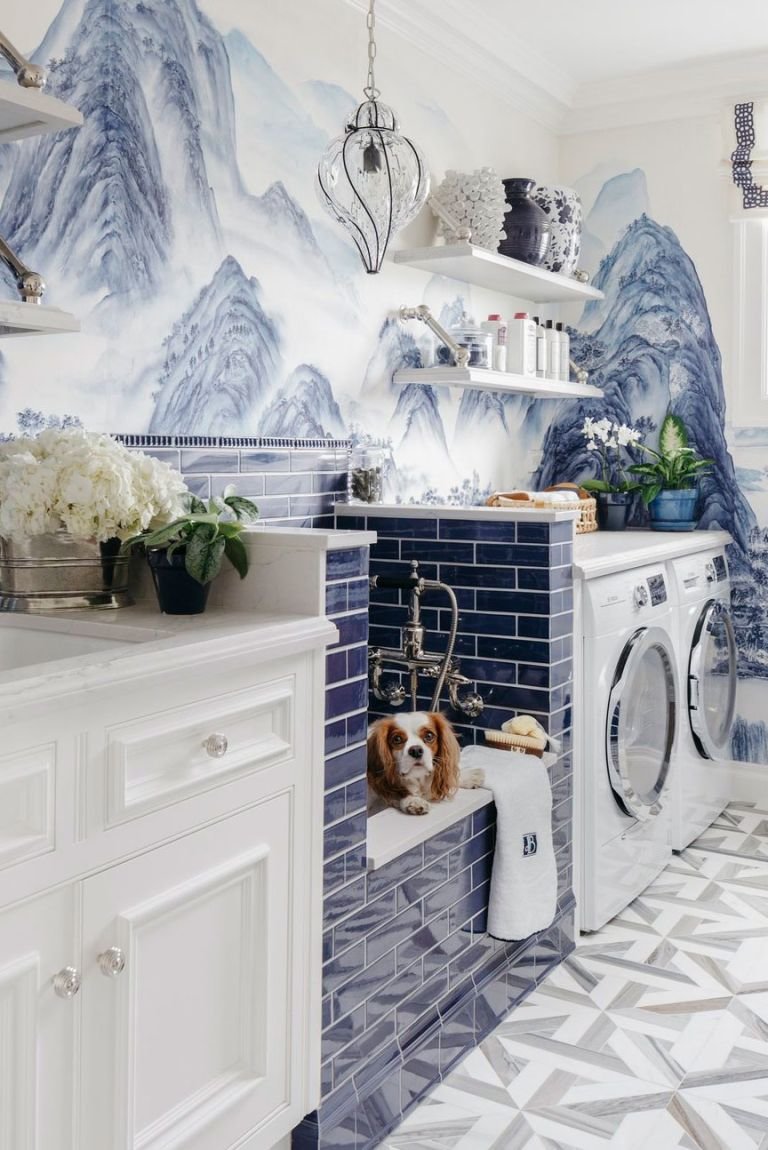 12. Painted

This striking kitchen design by Blakes London shows how a pantry door can be blended into the rest of the kitchen design by painting it the same shade as the cabinets. You could take this idea one step further and make the entrance to the pantry look like cupboard doors, complete with cupboard door knobs and grooving that mimics the rest of the kitchen cabinetry. This will make the pantry feel like a hidden, secret room.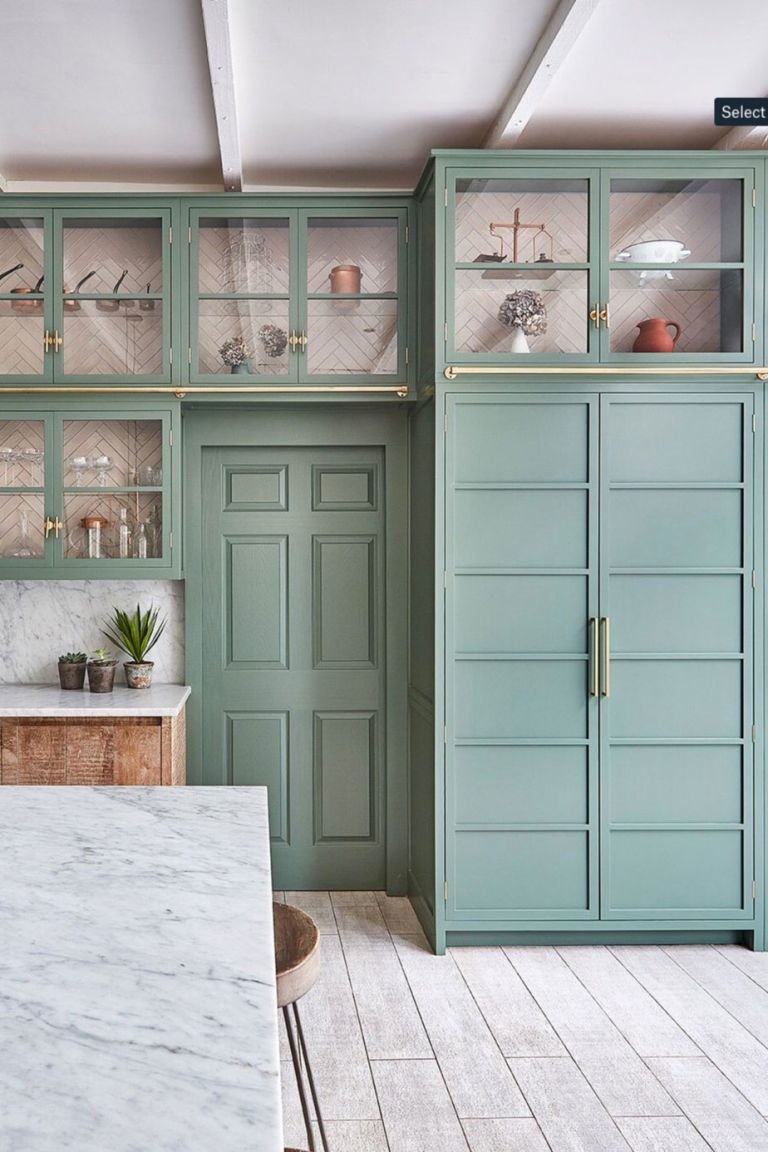 13. Glass door

A corner of this kitchen was used to build a small pantry. The flooring, cabinetry and marble worktops unify it with the rest of the kitchen. The glass door also provides a window into the space while still keeping it separate.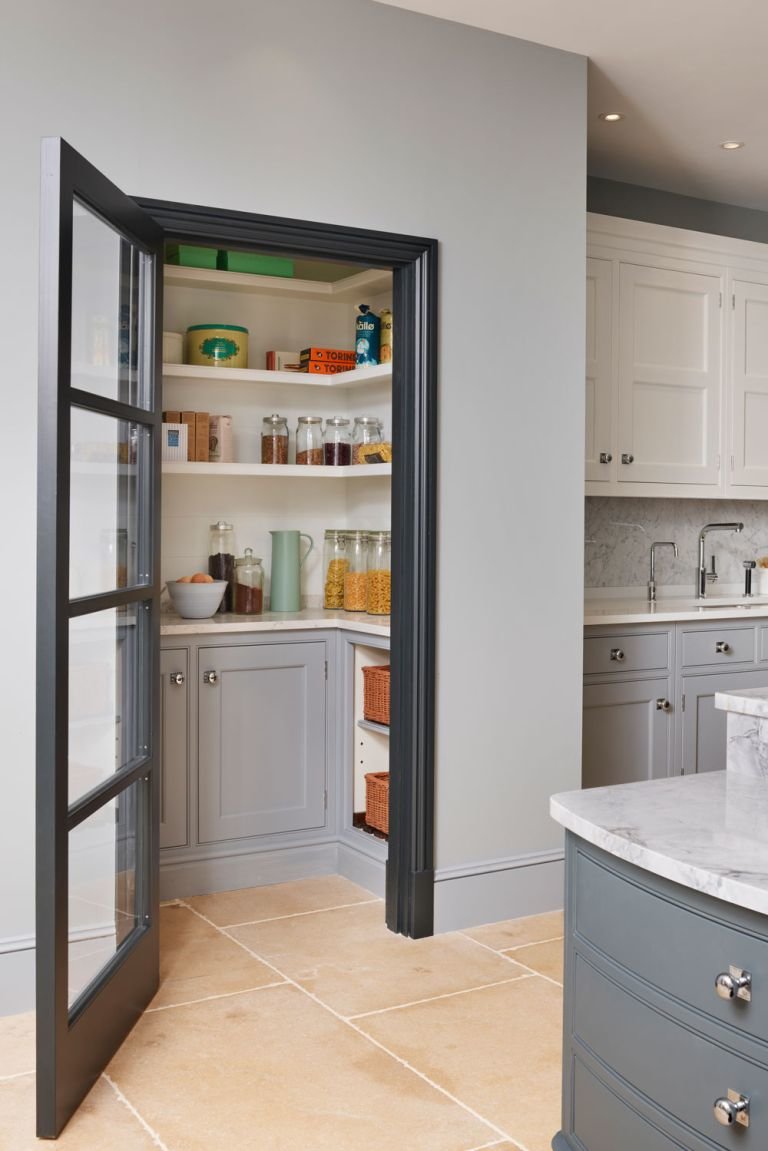 14. Small But Smart

This small but smart walk-in pantry provides ample space for extra food storage.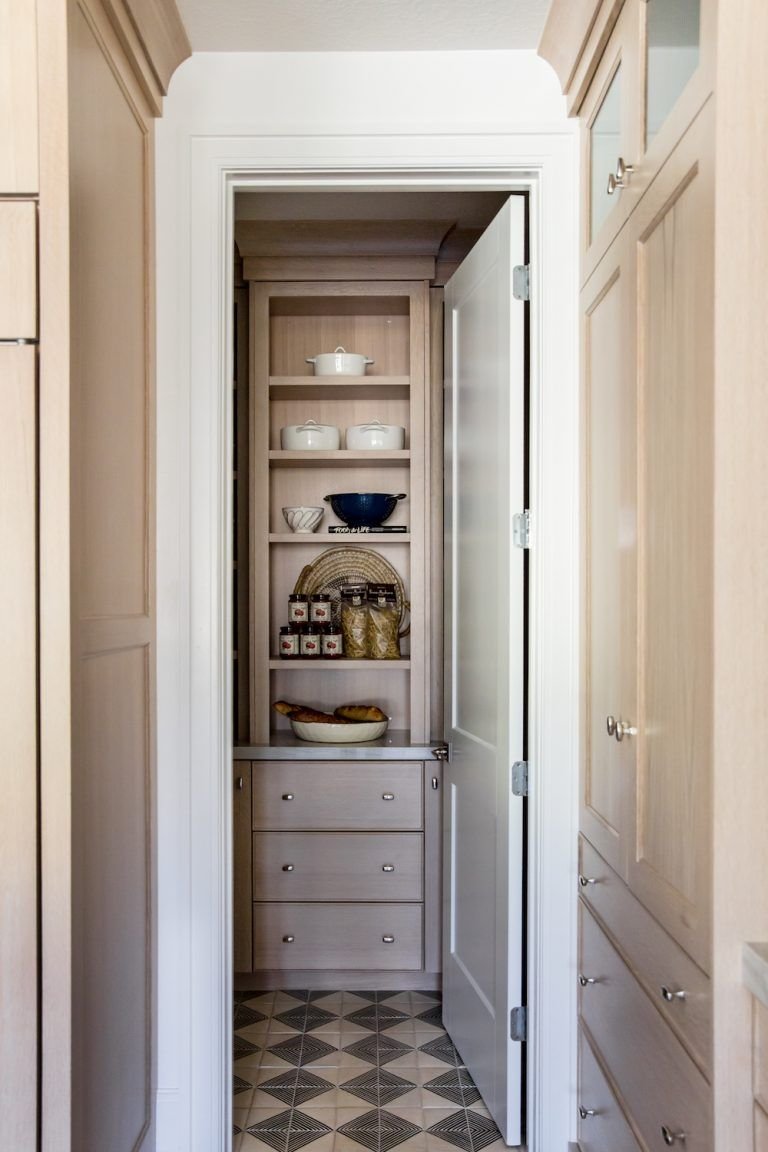 15. Display room

A walk-in pantry by Design Space London makes the most of the height with full height shelving. The space is also climate controlled, offering the ultimate in food and wine storage.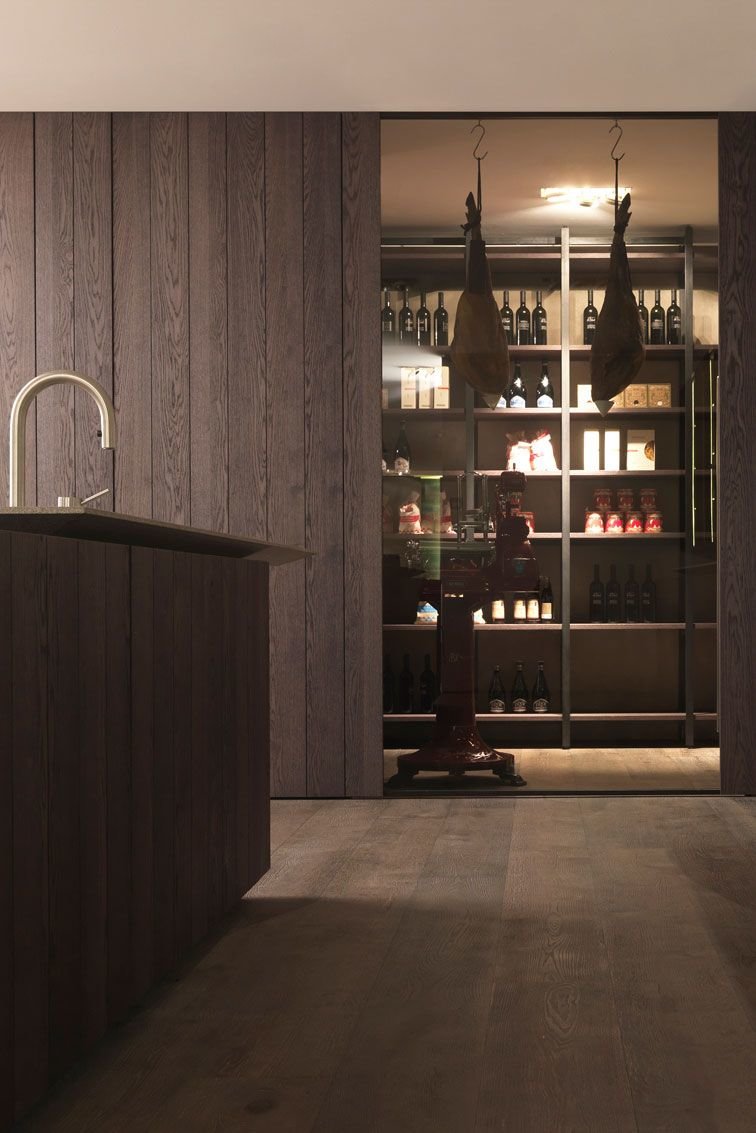 16. Industrial style

Pantries aren't reserved for English country kitchens alone; the poured concrete floors and minimalistic open shelving in this utilitarian-style pantry design by Design Space London would suit a more urban, industrial-style home.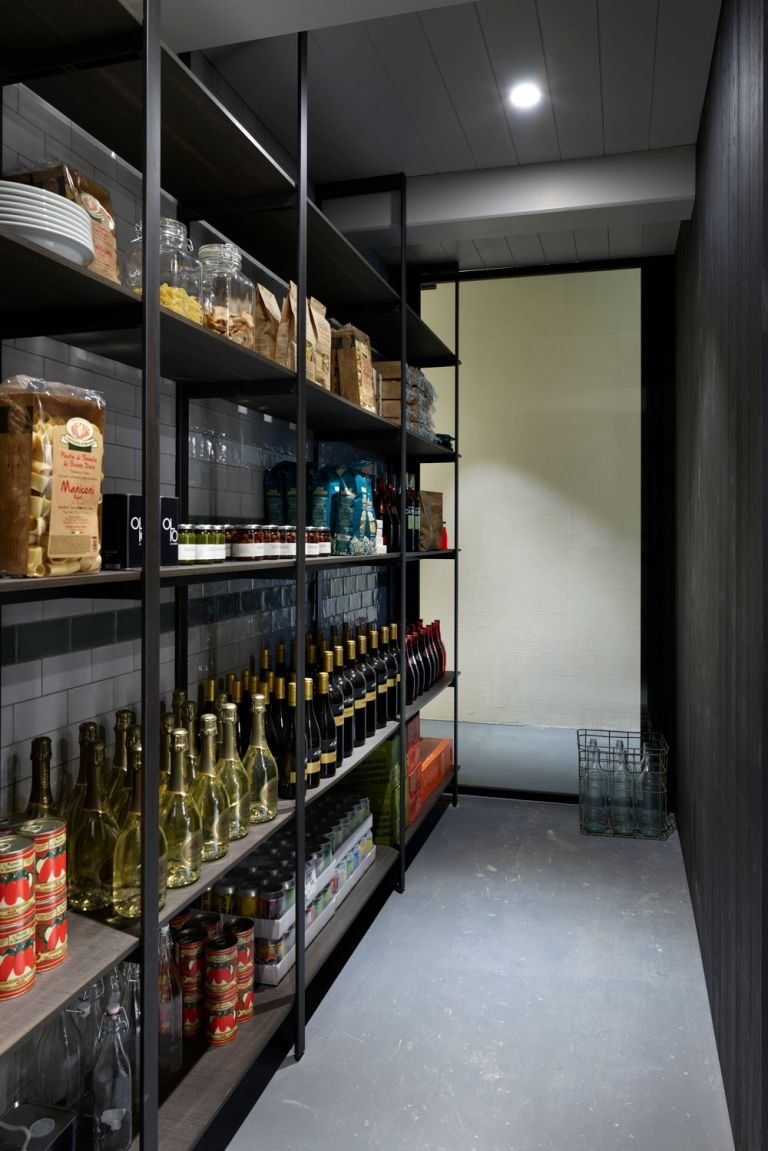 17. Spice door

The full length of these doors have been utilised for keeping spice jars and oils out of sight.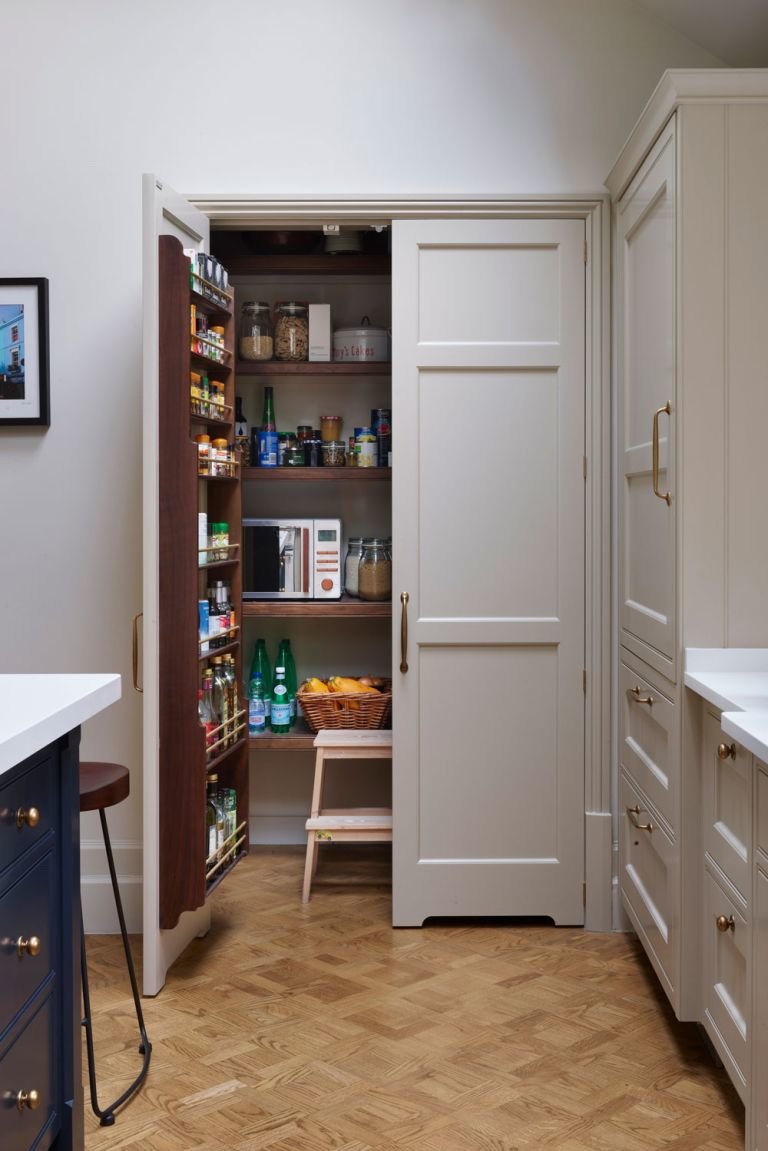 18. Larder cupboard

No space for a pantry? Invest in a larder cupboard, like this Suffolk Larder Cabinet by Neptune.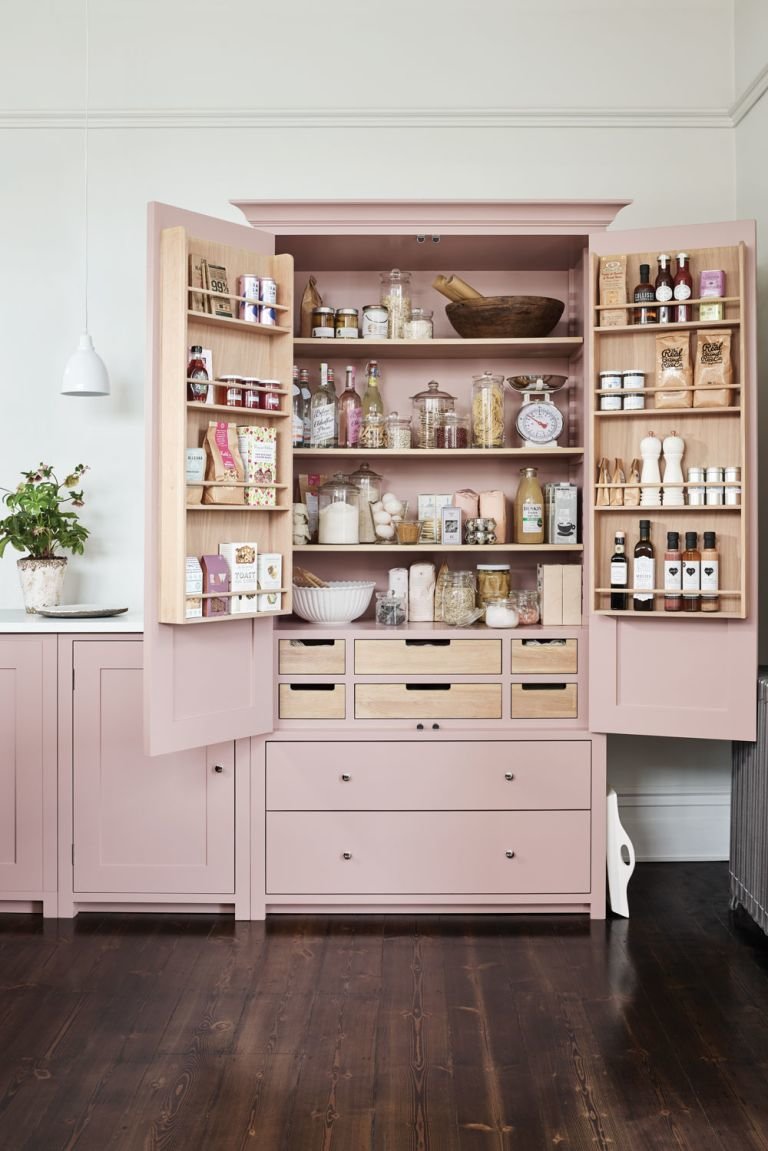 19. Now you see it...

Storage can be concealed or revealed with a perforated screen.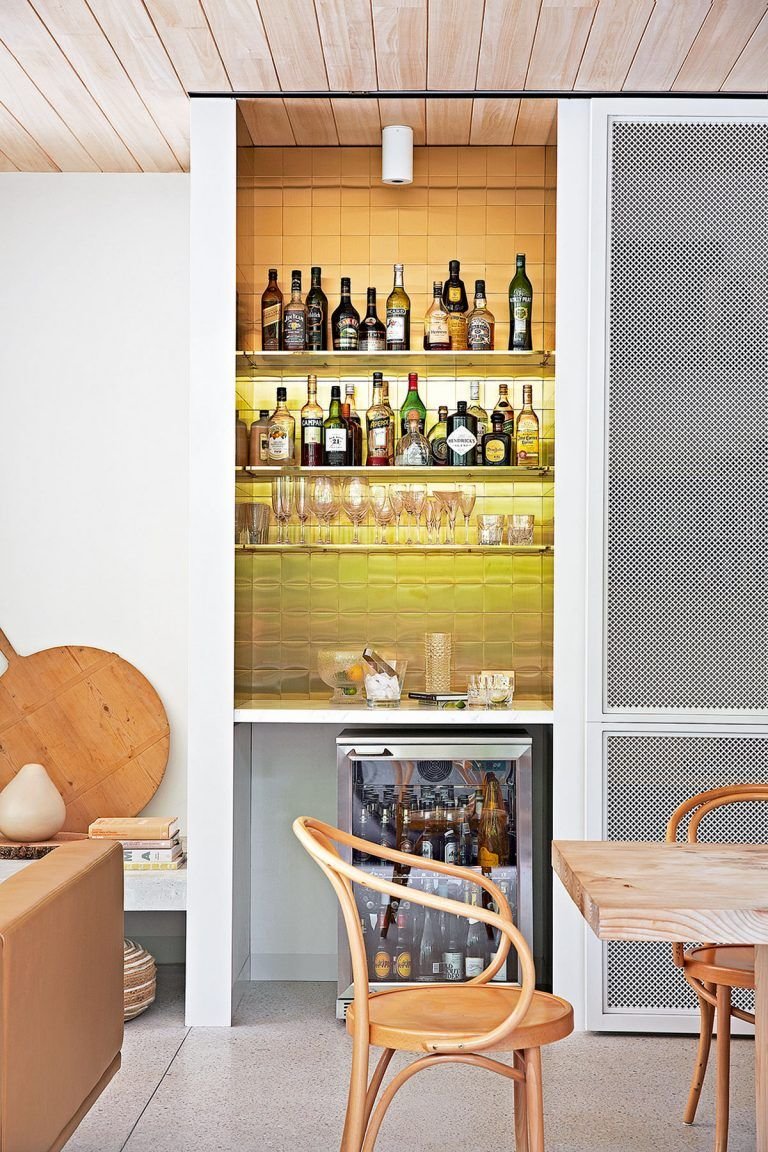 20. Handleless

Gorgeous panelled handleless doors push open to reveal a sleek pantry space, with built-in drawers and lighting.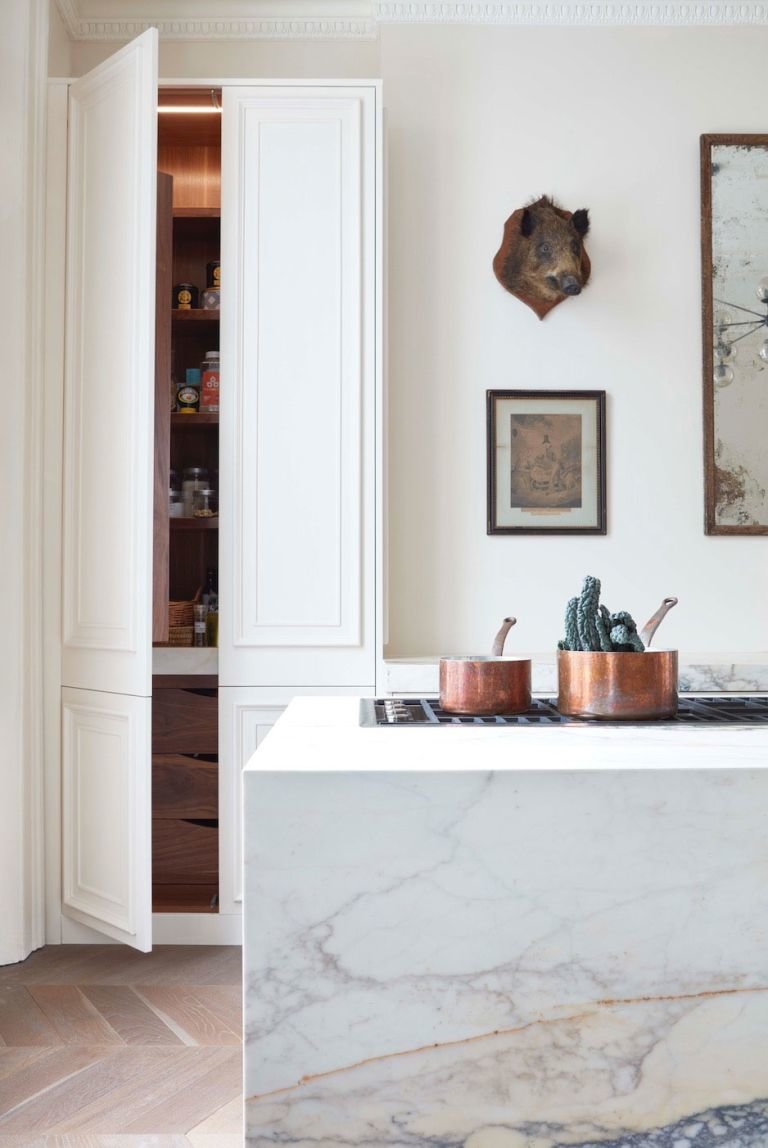 21. Glass box

This kitchen by Blakes London features a glass box; instead of housing a wine collection like these displays usually do, this space is reserved for pantry storage.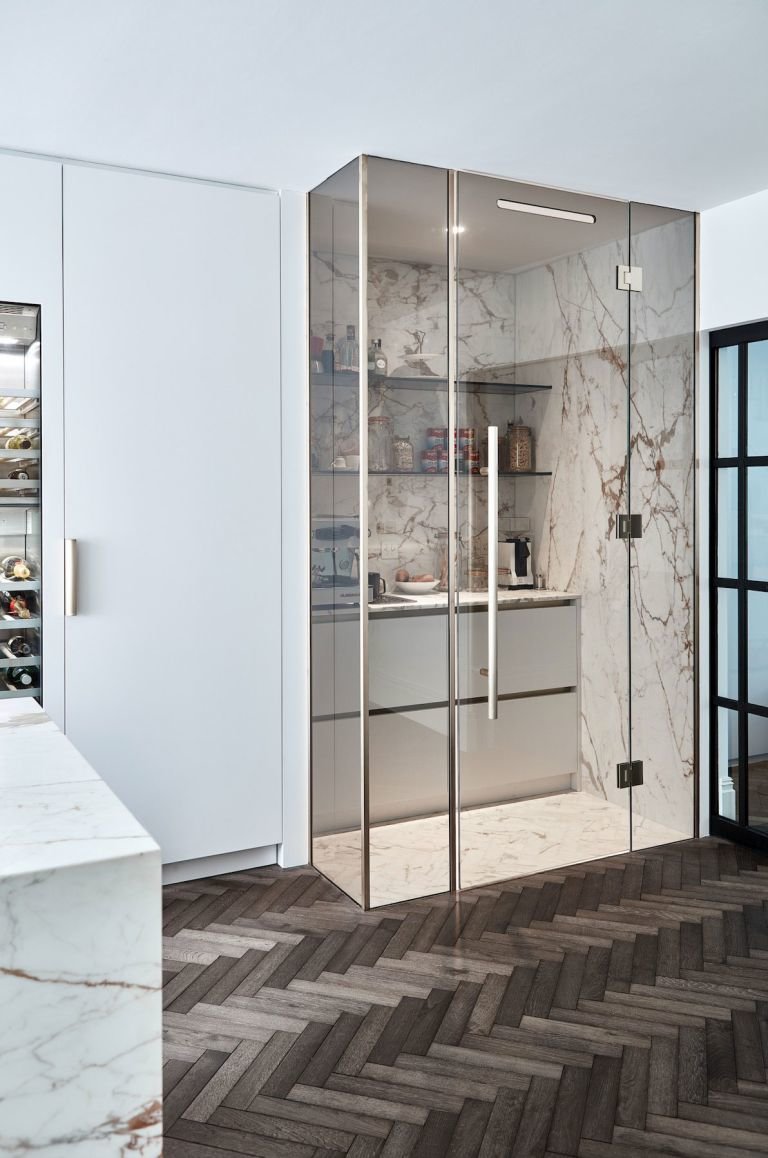 22. Frosted

Frosted windows in these modular steel screens by British Standard are calming on the eye, keeping untidy shelves out of sight.


23. Window shutters

Creating a window in a pantry not only helps to bring in some natural light, but gives you something to look out at so you don't feel like you're standing inside a cupboard.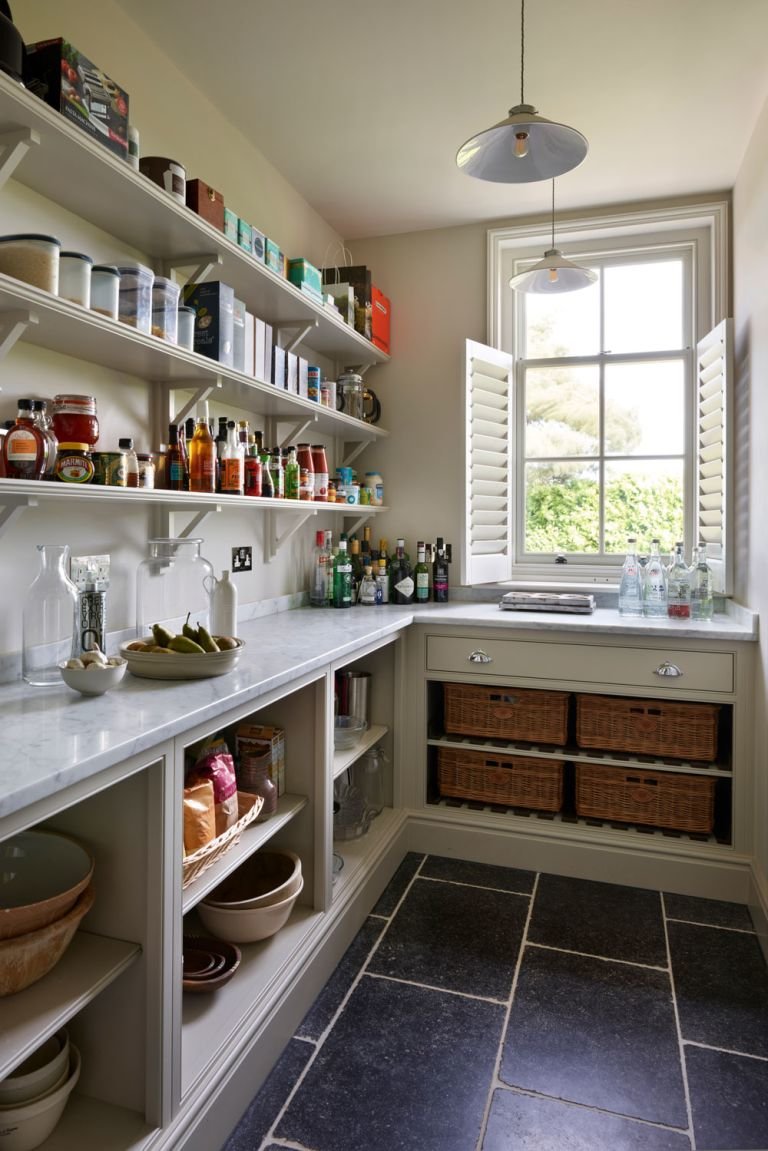 24. Hide & seek

Hidden behind tongue-and-groove panelling, this storage cupboard is almost invisible once the doors are closed.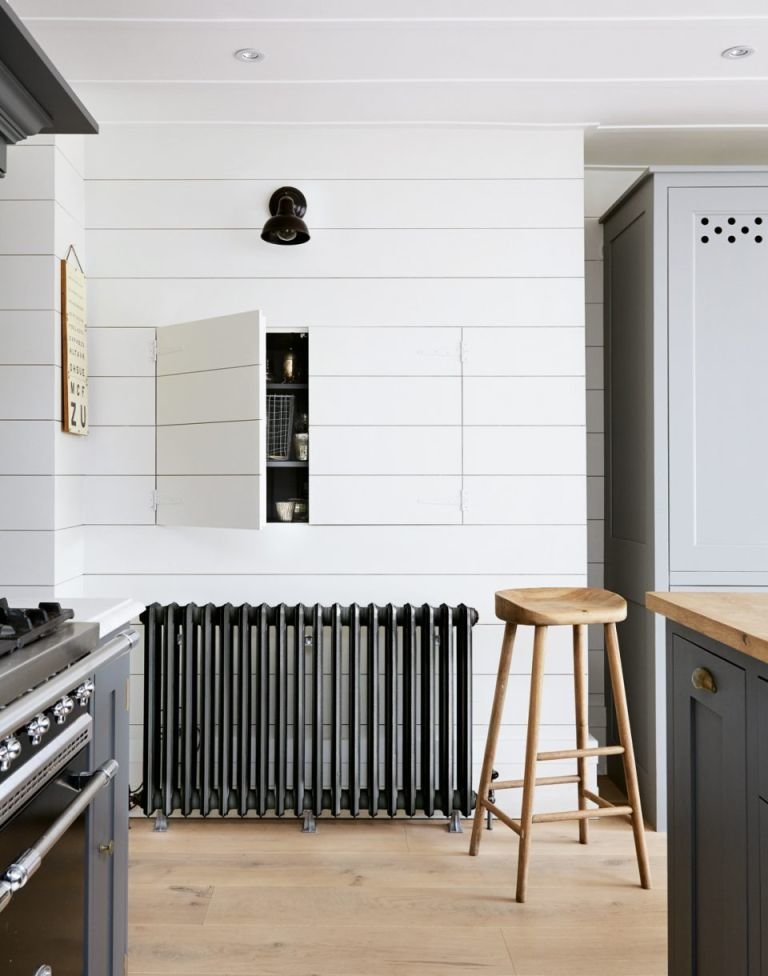 25. In the doors

Heal's have launched their kitchen range, and the designs include larder cupboards with clever additional storage tucked into the inside of the cupboard doors.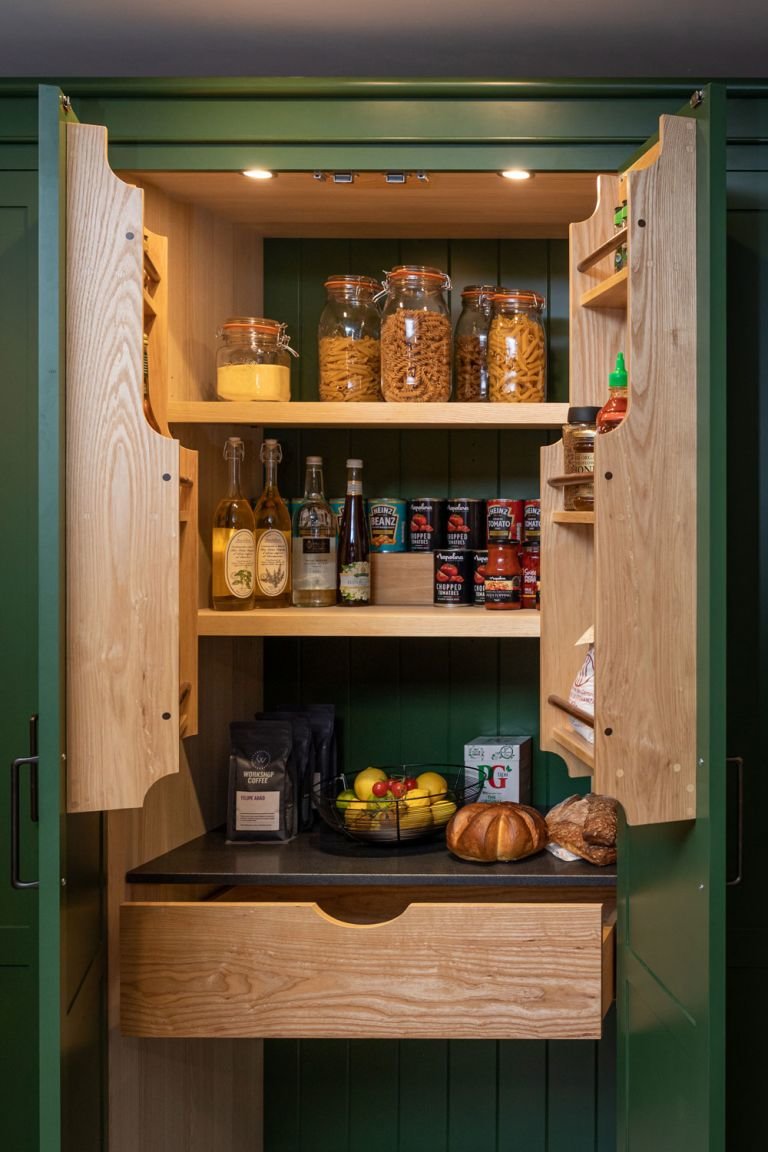 26. Utility

This utility room by British Standard doubles up as a pantry-come-laundry room.