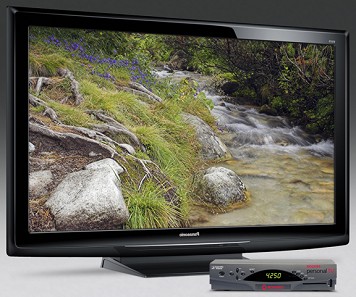 More Details
Finish:
Black

Material:
Mixed Materials

Audio:
Speaker Type: Full range /Stereo: Yes /Surround Sound: Yes /Volume Limiter: Yes /Watts per Channel: 10

Care Instructions
: Refer to owner's operation manual.

Jack Pack
: HDMI In: Yes (3) (TV) ,Analog Audio In: Yes (TV),Composite Video In: Yes (2) (TV),S-Video In: Yes (TV),Audio In (for Video): Yes (TV),
Component Video In: Yes (TV),Digital Audio Out: Yes (TV),Analog Component HDTV Outputs: Yes ,Composite Audio/Video Outputs: Yes ,
S-Video Outputs: Yes,Coaxial Digital Audio Output: Yes ,HDMI Digital HDTV Output: Yes ,Dual IEEE 1394 Digital Outputs: Yes

Product Details : VIERA Link™: Yes (TV),Game Mode: Yes (TV),Remote Control: System (TV),Built-In Closed Caption Decoder: Yes (TV),V-Chip: Yes (TV),Integrated DOCSIS Cable Modem: Yes ,32MB Applications DRAM. ,USB Port: Yes (Back Panel) ,Ability to process all analog and digital services.
Unique Features :
VIERA Image Viewer™ provides a better way to share your digital photos with friends and family.
With a wide viewing angle, you can easily enjoy vivid images anywhere in the room.
High-definition set top box allows you to watch up to 19 different HD channels.
Terminal supports standard 480i or 480p as well as high-definition 720p or 1080i televisions.
Normal stretch and zoom modes fill your screen to suit your viewing needs.
The 600Hz sub-field drive produces crisp, focused images for sports, dramatic action and all other fast-moving scenes.
Warranty:
1 year limited warranty on parts and labour.