When we first laid eyes on the pictures of Kate Rheinstein Brodsky's colorful Hamptons home, we were floored—by the floors! For her family's newly renovated 1901 beach house, the proprietor of Manhattan's Upper East Side homewares emporium KRB tapped decorative painters Chris Pearson and Bob Christian to revamp the residence's unsightly orange-y boards with fresh paint rather than replacing them. A number of eye-popping floor jobs ensued: They covered the living room in grassy green, coated the kitchen in a New England–style speckled cherry red, traced the bedroom in a subtly hued hexagonal pattern, and decked out the sunroom in an unforgettable pink-and-white checkerboard. Nearly all of the walls in the house are painted white, yet each room pulses with color and pattern.

"One of the many things my mother taught me was never be afraid to paint wood," explains Rheinstein Brodsky, daughter of Suzanne Rheinstein, the legendary decorator who ran the cult-favorite L.A. shop Hollyhock.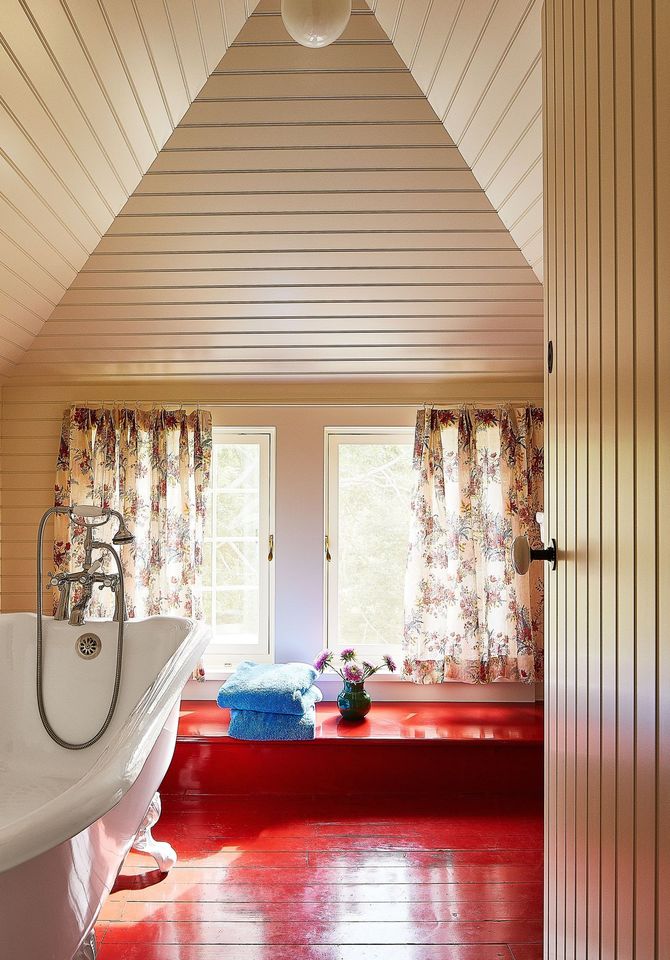 Meanwhile, Will Cooper of the AD100 firm ASH NYC is fond of covering floors with white epoxy paint, as he did in a family home in Tribeca and his own petite Manhattan pad. And who can forget the emerald green and sunflower yellow floors in Brock Forsblom's minimalist color-blocked New York apartment, which ran in New York magazine? AD100 designers Rodman Primack and Rudy Weissenberg used a similar jewel-toned green on the floors of their Mexico City home.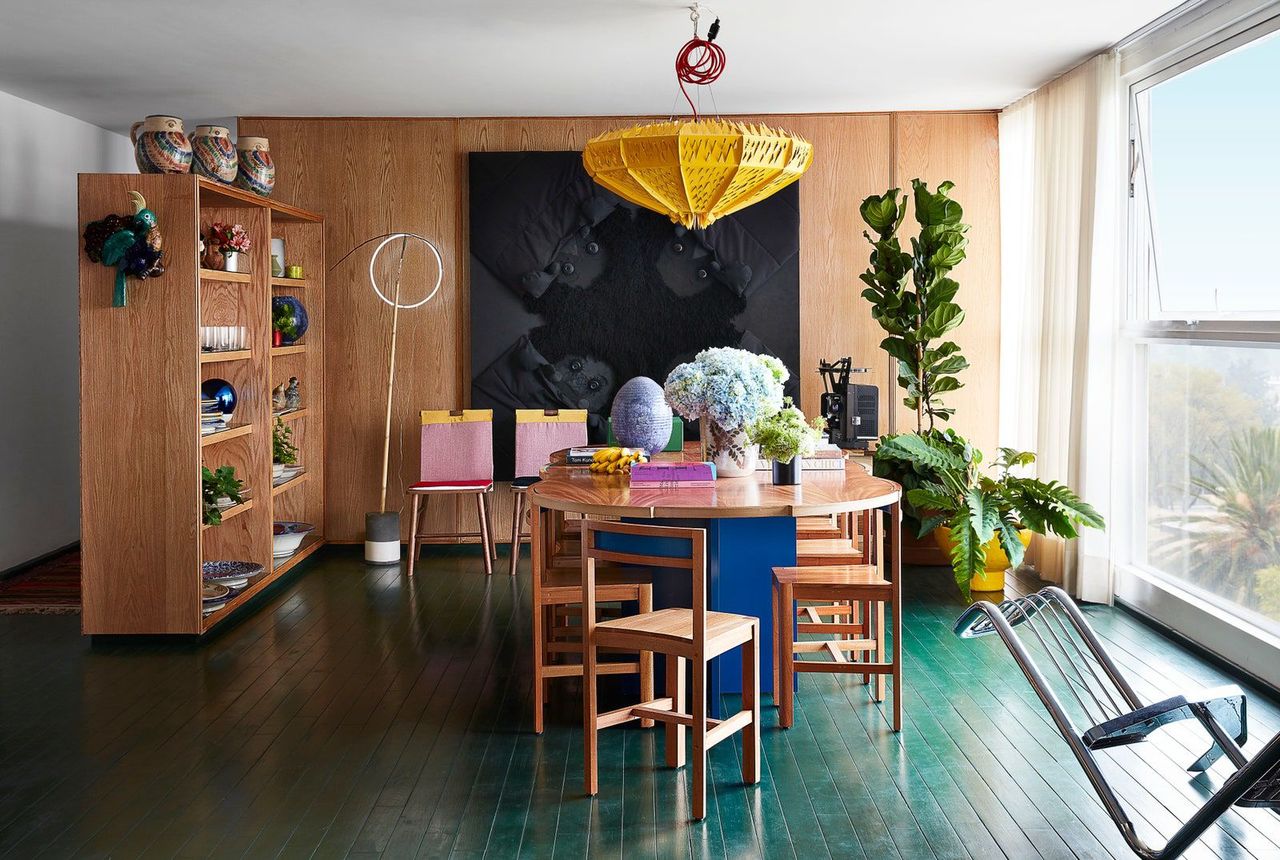 A deep emerald green graces the floor of Rodman Primack and Rudy Weissenberg's Mexico City pad.

Of course, decorators have been painting floors for decades. Centuries even. Bunny Mellon, the legendary gardener and philanthropist, famously commissioned interior decorator and painter Paul Leonard to create imitation inlaid marble floors in her New York City town house. They were modeled after the Swedish imitation of the Italian vogue: "Marble was too expensive and too cold underfoot, so the practical Swedes did a painted checkerboard in imitation of marble," Leonard once told AD. Meanwhile, the great decorator Mario Buatta conjured a veritable pattern book of floors over the course of his career. Nearly all of them were executed, for the past quarter century, by decorative painter Haleh Atabeigi, who swears that a painted floor "somehow always makes your room bigger."

Years of experience have armed her with a wealth of do's and do nots. Rule number one? "Once you've decided on the design, you can't start worrying about the furniture," she advises. Still, there are a few rules of thumb: "Some spaces lend themselves better to a central design," she explains. "Spaces that don't have any furniture—entryways and such. For a room that has a lot of stuff, an overall design and definitely a border makes sense."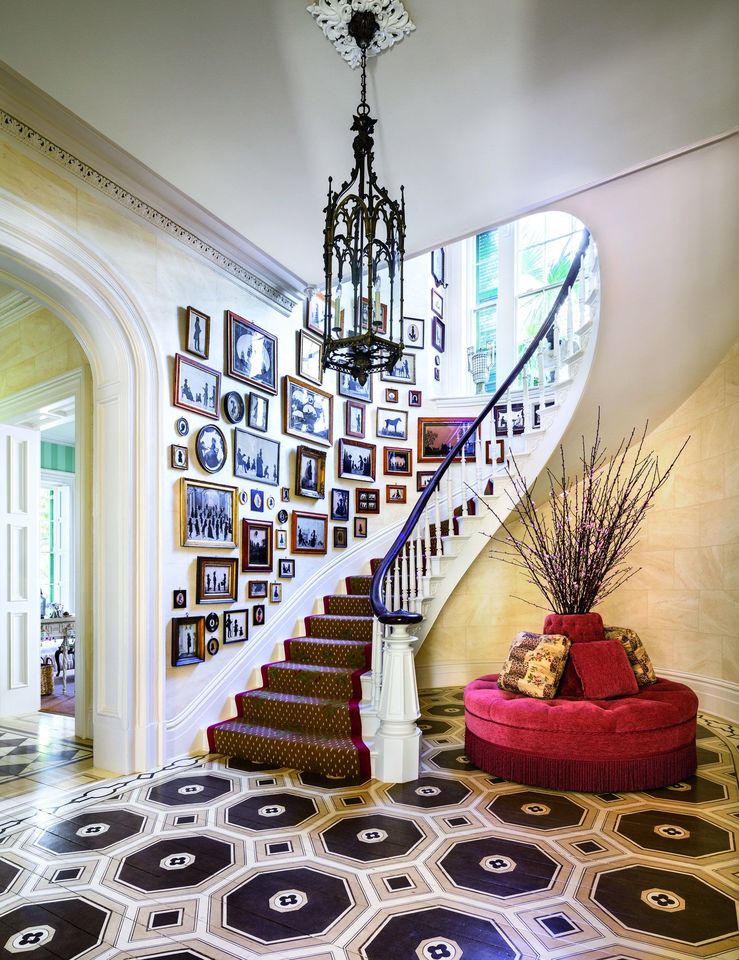 With the help of decorative painter Haleh Atabeigi, interior designer Mario Buatta conjured an octagonal pattern based on Victorian tilework for the entryway of Patricia Altschul's South Carolina mansion.

Atabeigi exclusively paints wood floors, which, she advises, must be sanded and treated, so that whatever sort of paint is being applied will adhere. ("Otherwise, this beautiful painting will peel right off," she adds.) It is possible, though difficult, ​​to paint linoleum, concrete, tile, or plastic flooring, according to Pearson, so long as it is sanded down, vacuumed, and swept thoroughly before it gets a layer of primer, ideally applied with a brush. Regardless of the base material, the paint—you'll usually need two or three coats—gets sandwiched between that primer coat and a top coat of varnish (Atabeigi recommends a brand called Bona).

"Have patience!" Rheinstein Brodsky advises. "Painted floors need to cure between each coat of primer, paint, and sealer." But once you've completed the job, upkeep isn't too complicated. Atabeigi recommends a gentle mop—nothing abrasive—on painted floors or using a spot treatment for individual scuffs, which will inevitably appear.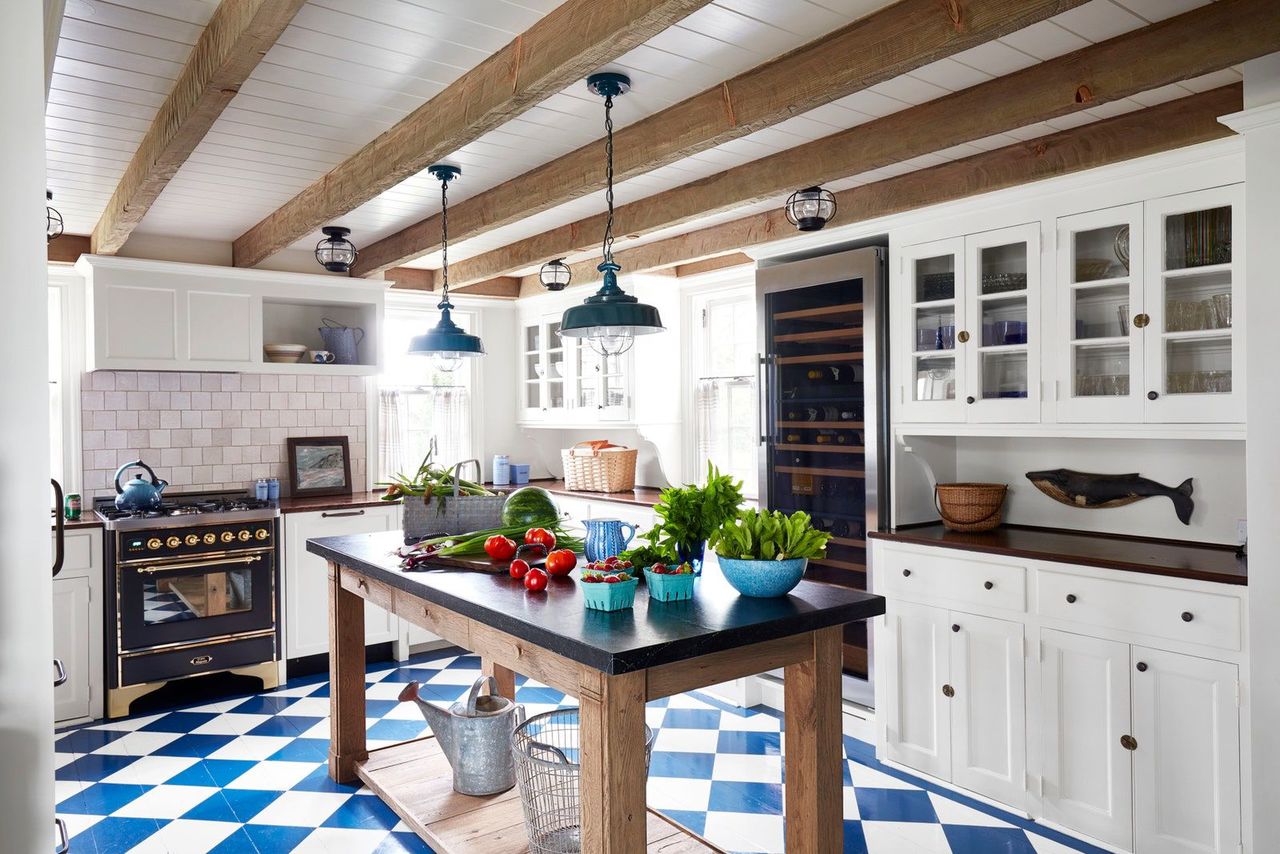 In this 18th-century house on Martha's Vineyard, interior designer Victoria Hagan restored the painted blue-and-white checkerboard floors in the kitchen.

Despite their timeless appeal, today's painted floors feel different from those of yesteryear. In our opinion, modern iterations feature all-over bold color in a not-so-shiny finish, or something bold and geometric like a larger-scale checkerboard. But, heeding the words of Rheinstein Brodsky, who grew up with loads of color underfoot, don't be daunted by the concept, as they can be tailored to your style: "They can be low-key or super glam."