Outdoor heating ideas are at the top of every garden owner's list right now. Whether you own acres of land or just have a courtyard to call your own, some form of heat source is key to enjoying the long summer evenings (without having to bring out the slippers, the gloves, the second jumpers, the extra blankets, we could go on...).

And there are loads of options to choose from too, from sleek fire bowls for a modern garden look to more rustic stone chimineas if you like a more traditional feel. Plus, even patio heaters have had a glow up and now come in very sleek lamp-like forms that won't be an eyesore on your otherwise beautiful patio. And as outdoor living rooms only increase in popularity we are seeing more and more built-in outdoor fireplaces that are taking the concept to the next level.

As Declan Kingsley-Walsh of Morso explains, 'Entertaining outdoors has really taken off in the past year, and we expect this trend to only increase. Outdoor fireplaces are always a crowd-pleaser, used to create an inviting ambiance at a get-together. Integrating an outdoor fireplace can help zone a garden, creating a comfortable, fully functional space and defining a clear area for social gathering and allowing those and their guests to sit into the evening as they ward off the cold.'

'Because we're now becoming much more design-conscious with regards to our gardens and outdoor spaces, an outdoor fireplace is now more popular than ever. The popularity of fire pits has increased tenfold over the last couple of years.'


1. Build a fire into your garden wall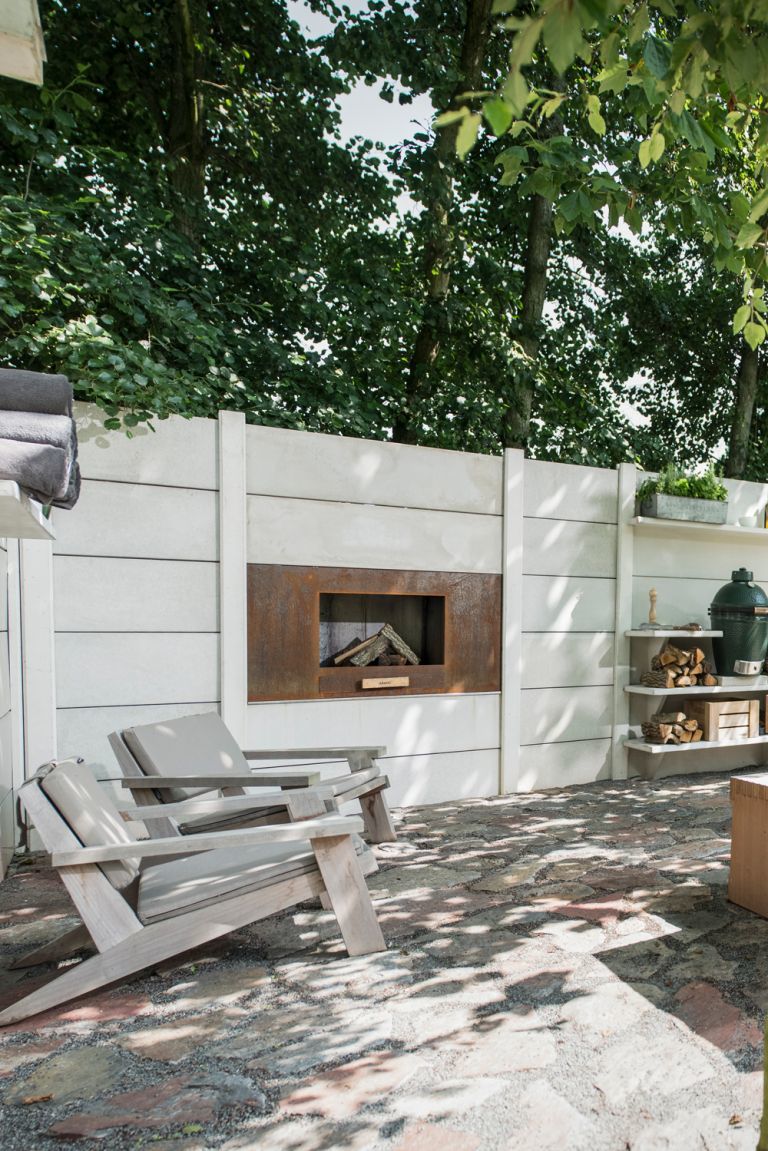 If you love spending time outdoors all year round, why not make your outdoor heating a permanent fixture in your garden? Installing a fire pit into a boundary wall will not only give you that much needed temperature boost, it also adds a stylish focal point to the space.

Plus this wall-mounted option is ideal if you are dealing with a small garden as it will take up zero floor space, but you still get all the benefits of having a firepit.


2. Make an outdoor fireplace a focal point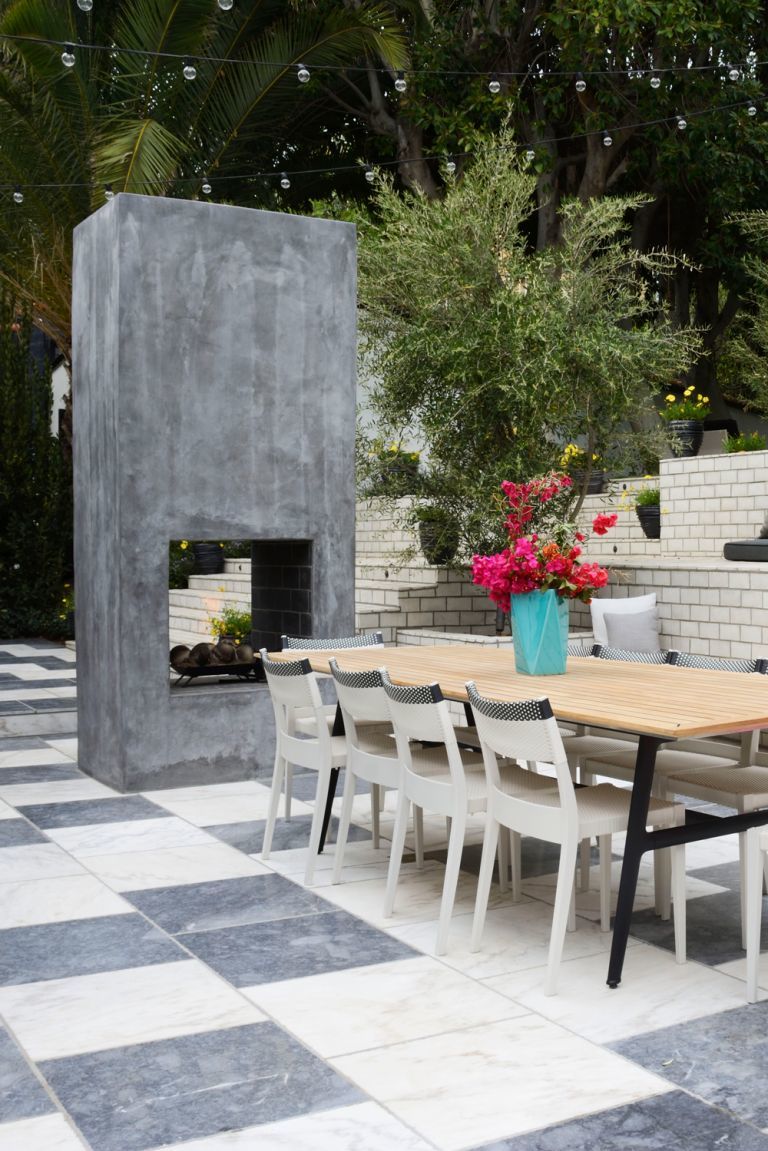 And if you have got the space, why not make more of your outdoor heating and turn it into a real focal point in your garden. You could go bespoke and have something really beautiful designed specifically for your space, or if you are on a tighter budget there are loads of stylish pre-fab options.

When it comes to choosing materials, brick or stone is the most used but for a really contemporary look, concrete, as you can see above, gives a very sleek finish. And think about positioning too, make sure your outdoor fireplace isn't too close to any low hanging branches or properties. And consider the smoke too, you want far away enough so it won't blow smoke into your, or your neighbors, home.


3. Turn your patio into a living room with a stone chimney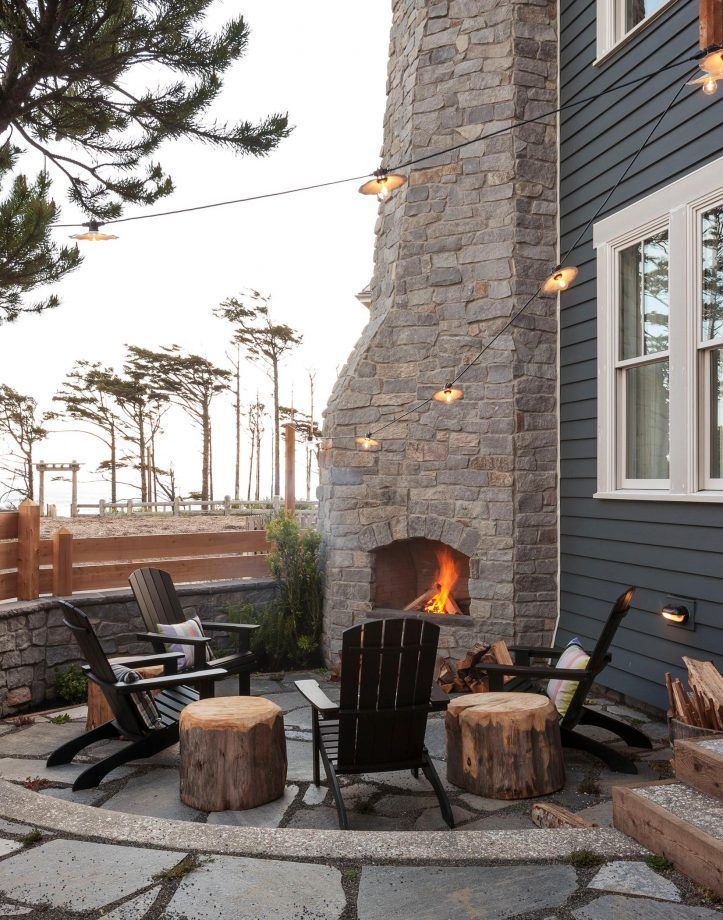 Outdoor heating ideas are of course a must if you want to create that cozy outdoor living room feel. Of course, you could opt for a fire pit, but having a built-in stone fire really takes it to the next level. Add a few extra blankets and some throw cushions and this space could really be used all year round.

Also loving the traditional (but making a huge comeback) Adirondack chairs and the wooden stumps used as side tables, we are getting all the camp-out vibes, but in a stylish, more sophisticated way.


4. Pick a fire that doubles as furniture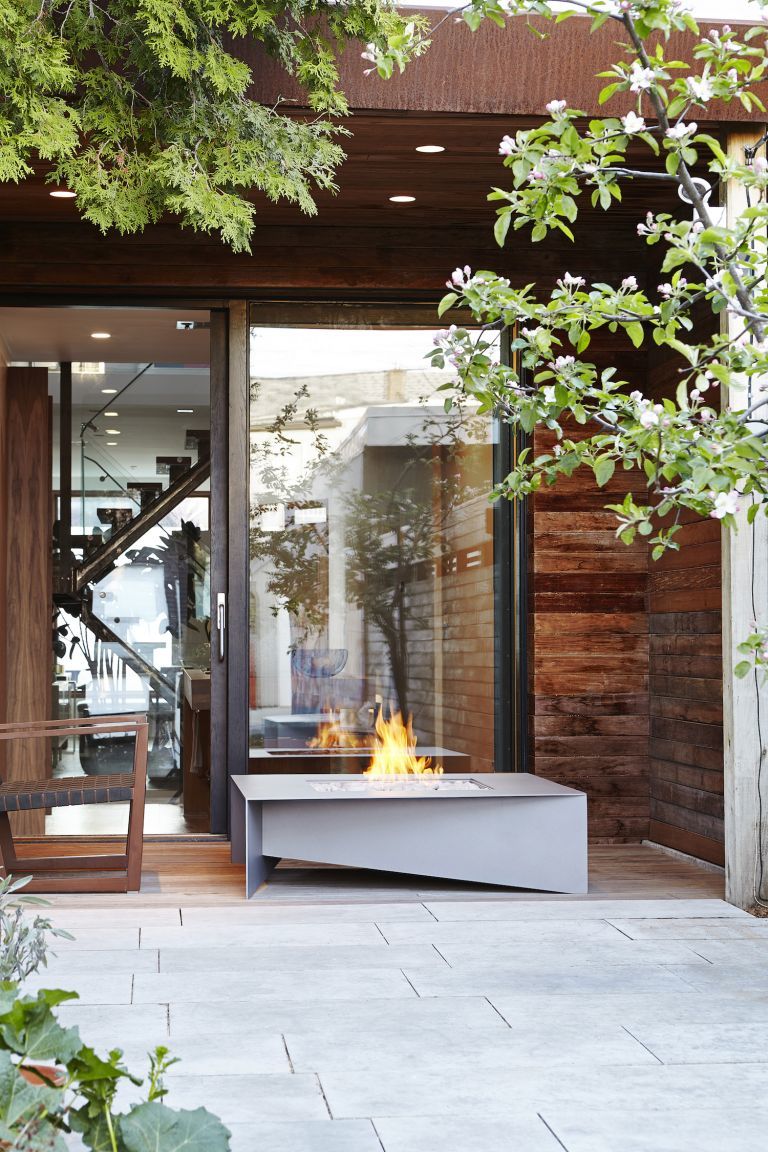 Take a fire pit to the next level and add a table with a built-in fire to your garden. This modern outdoor furniture idea provides a cozy heat source for when the nights draw in, a hand place to perch drinks and an instant garden centerpiece.

You can pick from so many different styles too, depending on the look you are going for and the size of your space. Pick a large rectangular design to sit in the center of a snug corner sofa or go for something smaller and slimline with just a couple of lounge chairs surrounding it.


5. Position furniture around a fire pit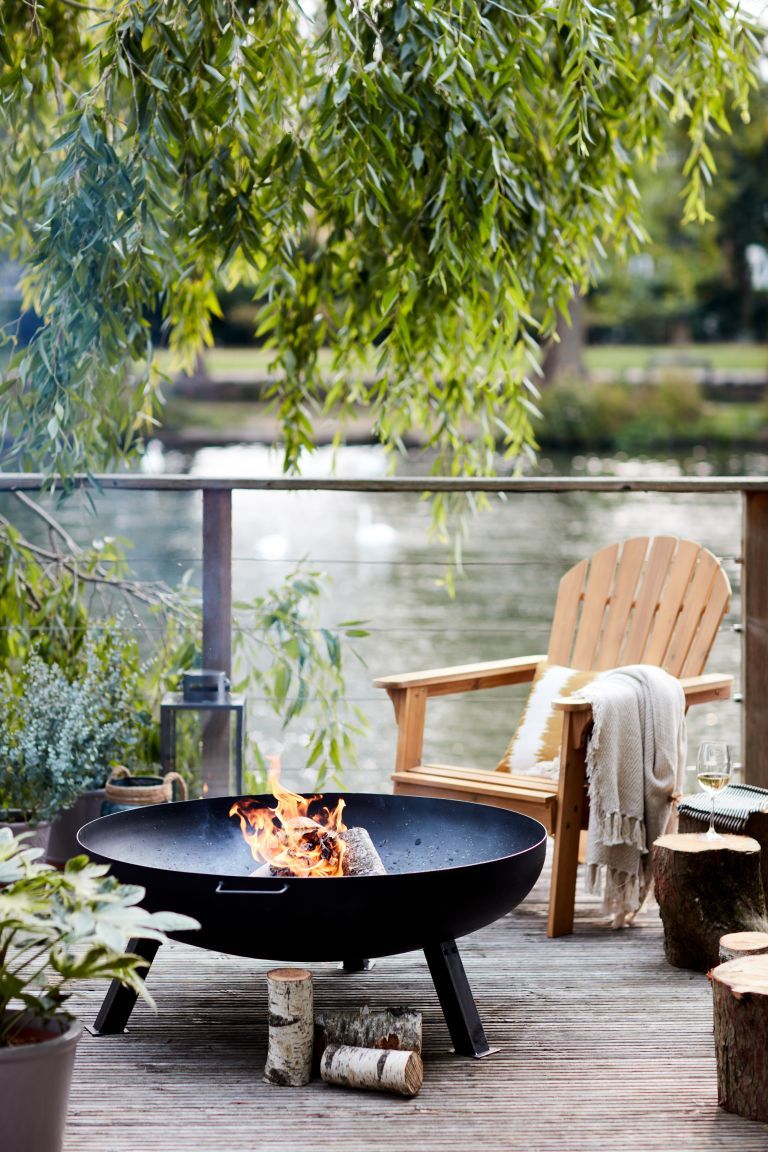 If you are after a quick and easy outdoor heating idea, you can't go wrong with a simple fire pit. Take inspiration from this lovely, cozy scene and position a fire pit at in the center of your seating area, it adds the perfect focal point and everyone benefits from its toastiness.

'A fire pit can be easily styled with comfortable seating surrounding the heater.' says Joe Reeve, Head of Design at Planika. 'Think about adding sumptuous cushions and throws for an extra layer of warmth especially as the sun starts to set when spending time with loved ones.'

Complete the look by dotting around a few lanterns around the edges of the seating area to add to the lovely glow of the fire for extra cozy vibes.


6. Add extra warmth with a contemporary chiminea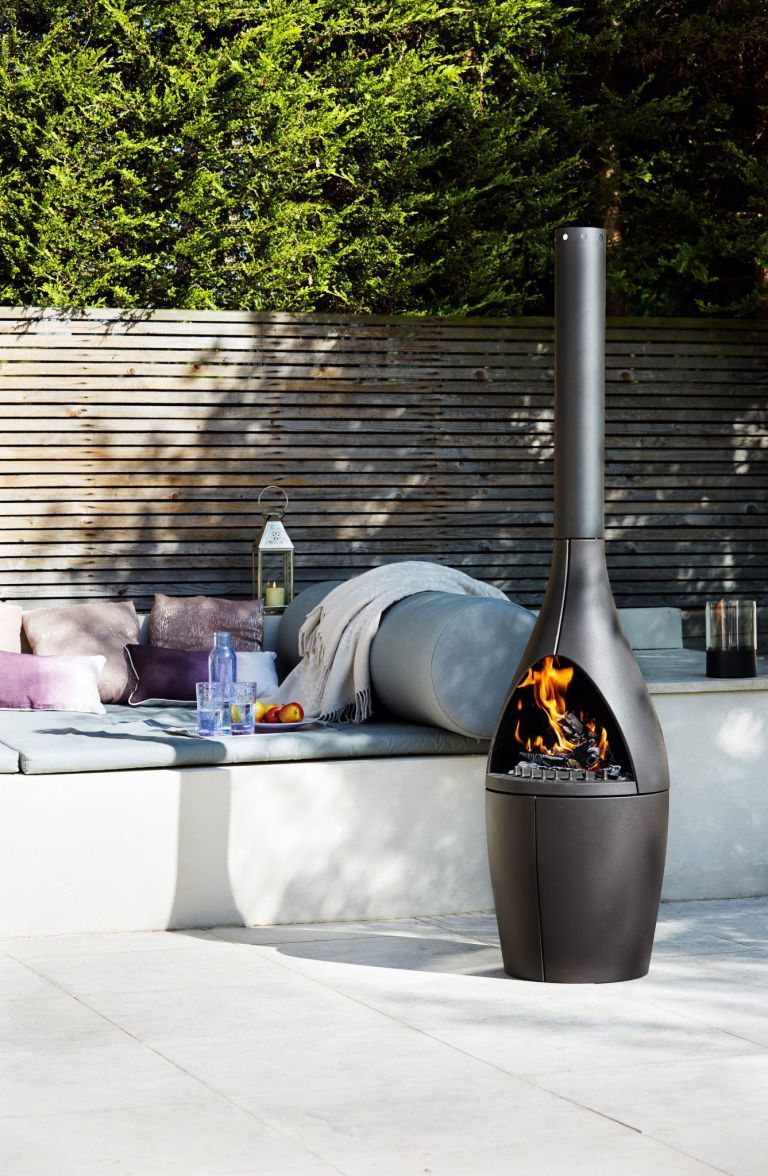 A chiminea is another very easy way to heat your patio or decking area, plus because they are free-standing you can move them around the space depending on where you need that extra warmth.

We are loving this very sleek, modern design that would work perfectly in a very contemporary garden. It's almost like a sculpture. But if you do like a more rustic look, there are plenty of options out there in all shapes, sizes and materials.


7. Opt for (stylish) patio heaters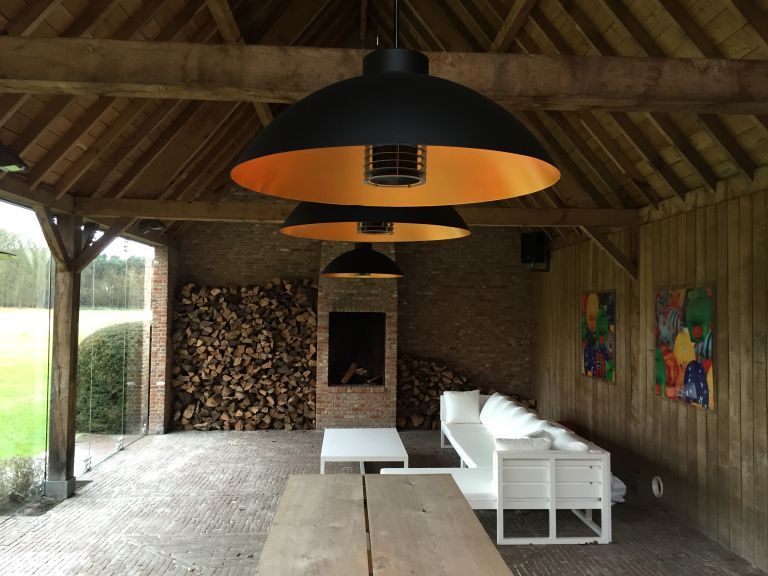 See, what did we say about patio heaters having a glow-up? They are no longer an eyesore that you reluctantly have to drag out when guests start shivering, and can in fact add style to your outdoor space.

Stylish pendant patio heaters can be hung like lights from canopies, pergolas or arbors, while lamp-like standing heaters essentially just look like the floor lamps you would find in your living room. They make the perfect addition to snug sofa areas, formal outdoor dining spaces or as a way to make your garden bar even more inviting.

There are plenty of portable options too, so you no longer have to worry about proximity to a plug. As Joe Reeve explains, 'Portable, freestanding heaters are rapidly growing in popularity, offering maximum flexibility when spending time outdoors. Allowing you to utilize all areas of your garden, outdoor heaters are not fixed and as such, you are not bound to one spot.'


8. Build a fire into a seating area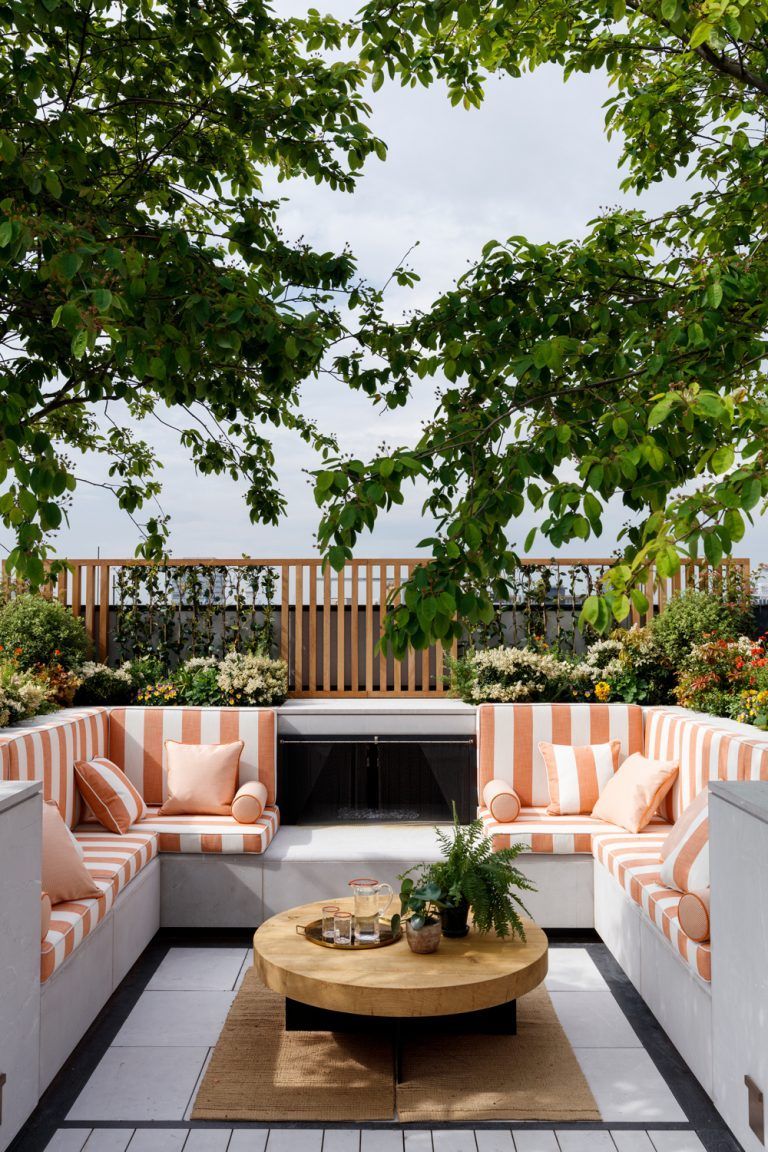 Create the dream set up by adding outdoor heating into a banquette. This stunning sunken snug has all the comfort of your living room – squishy sofas, a rug, a coffee table and right at the end, nestled amongst the seats a fire. If you are looking for a total garden makeover, and have the budget then why not recreate something just as stunning in your own space?


9. Add a simple fire bowl to smaller spaces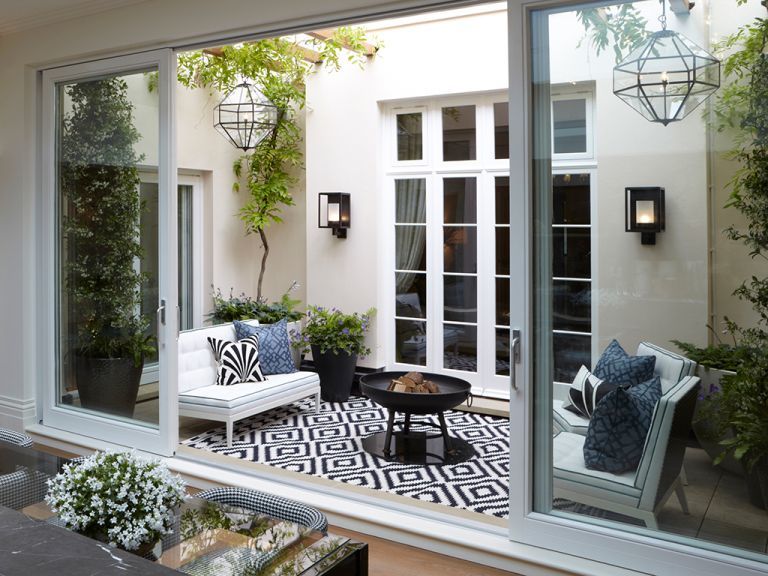 Blessed with a small garden? Or maybe you have a courtyard garden you want to add some warmth to? A compact fire bowl is the way to go. You can easily move them around or store inside should you need to.

Opt for a really simple, cast iron design that will take up minimal space but still look lovely when it's roaring away. And take inspiration from this lovely courtyard garden and throw down a large rug (these are ideal for making small gardens look bigger) and some fuss-free slimline furniture and a couple of large potted plants for greenery and texture.


10. Keep it contemporary with a simple design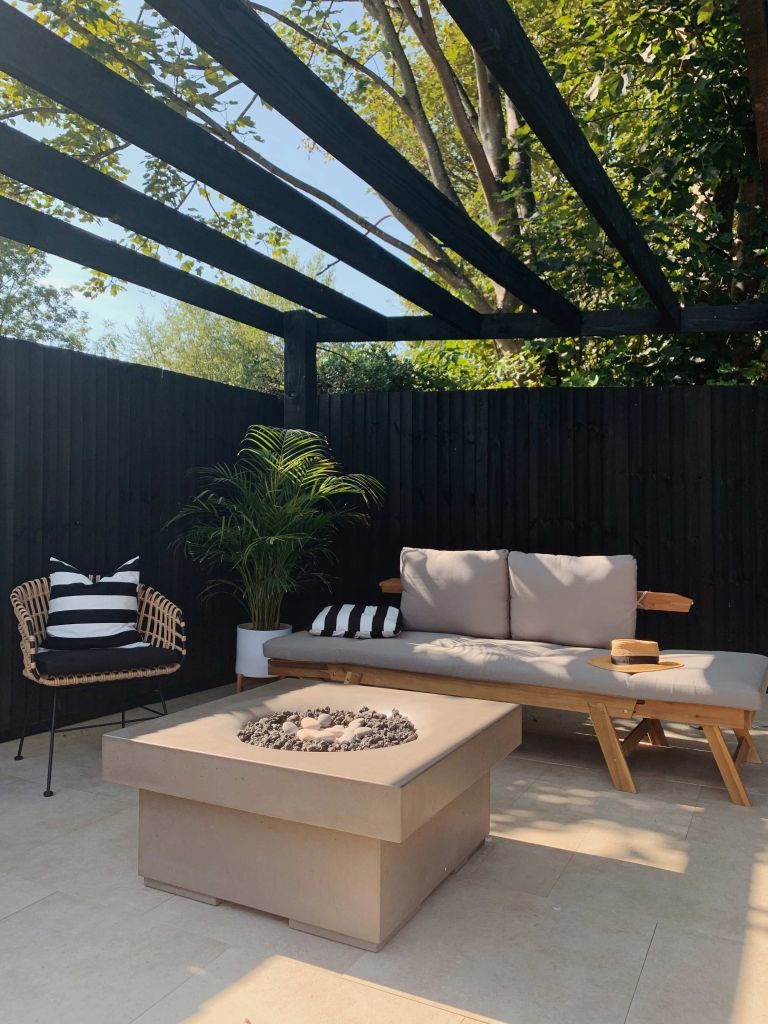 Have your outdoor heating double up as a sculptural focal point of your garden by choosing a simple concrete design. Often square designs like this one double up as tables too so no need to squeeze in both your heat source and a place to perch your drinks.

Also, take note of this patio idea – painted black fences and pergolas are so much more stylish than the reddish wood tones that they usually come in. And the black is the perfect backdrop for the natural textures of wooden or rattan furniture, neutral colors and leafy palms.
What is the best outdoor heater?

Choosing the best outdoor heater will come down to budget, space and of course your personal style.

If you want the coziness and ambiance that comes with an open flame then a fire pit or a chiminea would be your best option, plus with these options, you can double them up as a BBQ for alfresco dinners. If you are looking to invest in something more permanent that you know will get used even in the winter months, a built fire or outdoor chimney would be worth looking into it.

Now, if you live in a city or have a very enclosed outside space, wood-fired options might not be the best outdoor heating idea. Instead, look to a gas alternative so you still get the coziness of a fire but not all the smoke. Word of warning though gas fires can be expensive to run and if you are running on propane gas they aren't the most eco-friendly either.

And if having an actual fire isn't top of your garden wishlist, an electric patio heater would be your best pick.