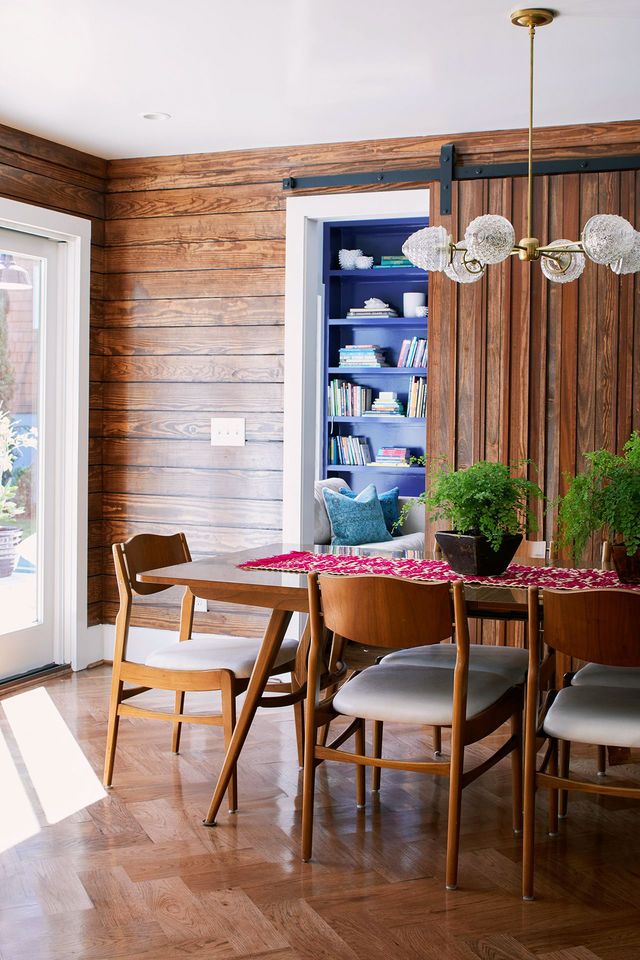 Monochromatic Style

Pick a theme and run with it. That's what the owners of this dining room did when they chose to cover their walls in wood paneling. A mid-century modern table and matching chairs provide a nonchalant look to the space, and wood floors keep it warm and inviting.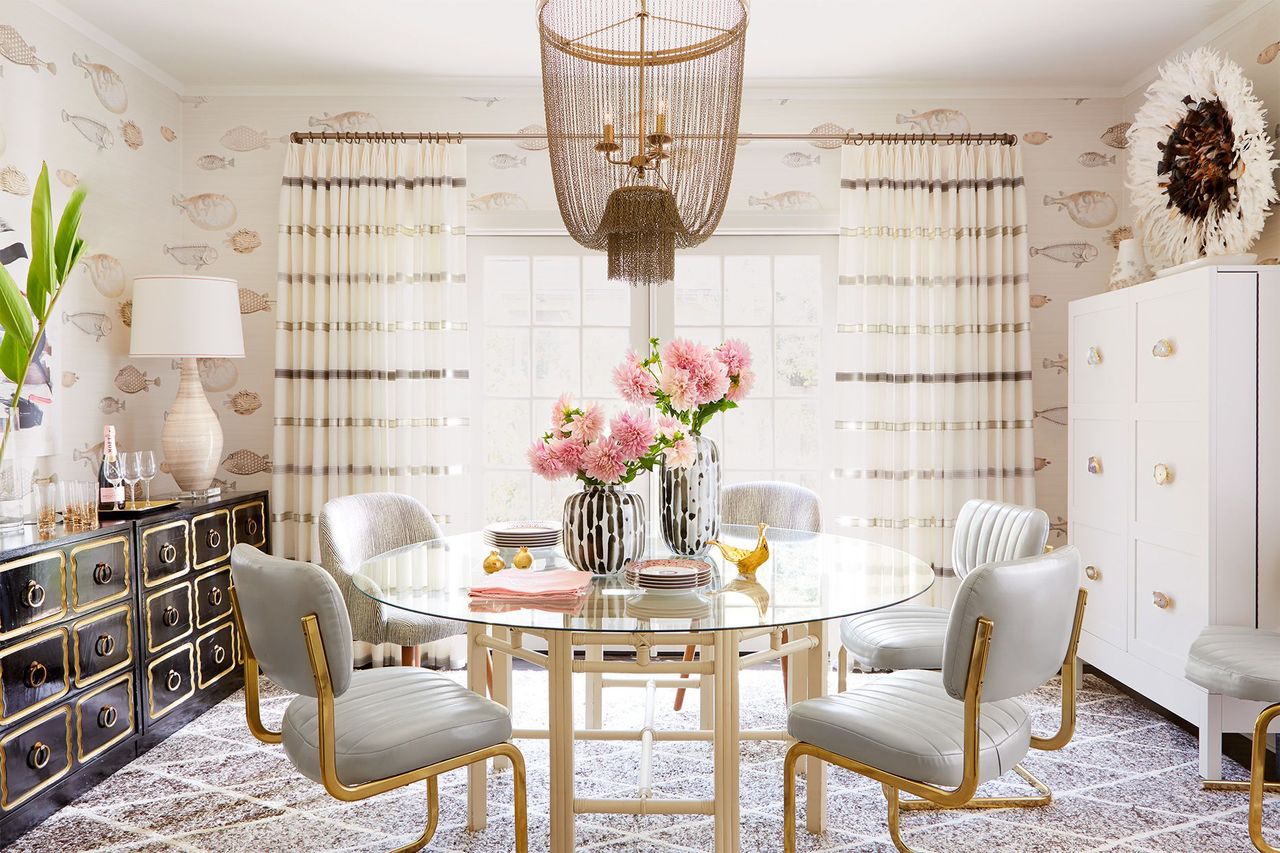 Glam Dining

If you prefer fancy restaurants over more casual affairs, turn your dining room into a dream dining experience. Load up on gold accents to create that glamour feel of a 5-star establishment. An extra large area rug brings added warmth to the space.


Vibrant Designs

Blue and yellow is a common color combination for kitchens and adjacent breakfast nooks, but a little variety can spice up this standby scheme. In this nook, fire-orange leather chairs and bold printed pillows contrast the pale yellow walls and blue accents and bring a burst of energy to the space. The blue medallion-print window valances and the angular design of the table base also add vibrancy to the space.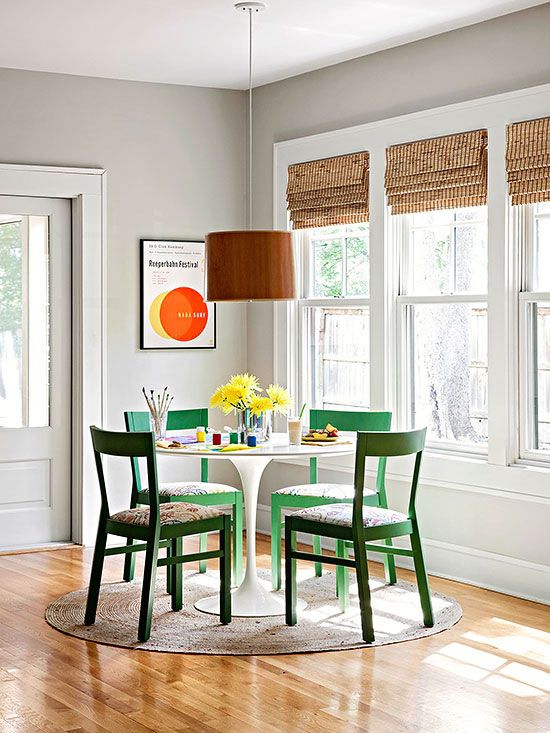 Vivid Accent

A bright, bold color can bring a cheery vibe to a neutral space or a room that just needs a little facelift. This dining room is brought to life with vivid green chairs upholstered with a colorful floral print. Consider updating existing chairs with paint and fabric, or scour for secondhand finds that you can give the same sort of treatment.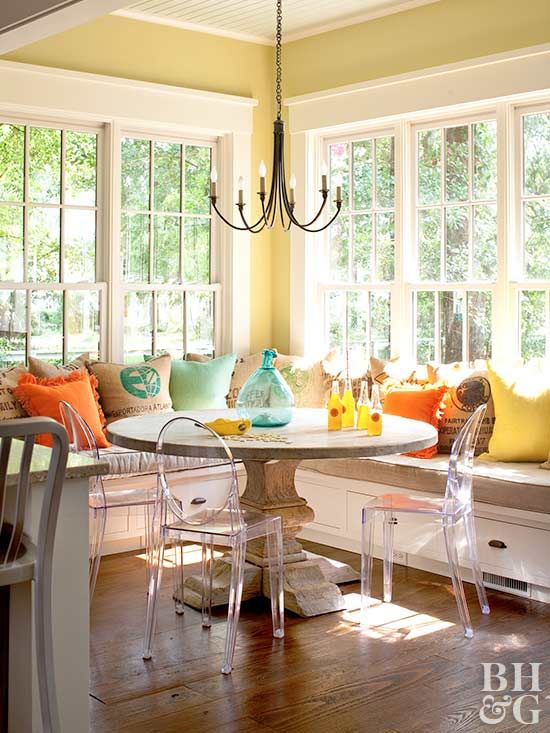 Style Shift

Dining room sets, with a table and matching chairs, provide uniform style. But mixing and matching asserts personalized flair. Pair a traditional pedestal table with modern seating, such as the clear acrylic chairs in this fresh dining nook. A oil-rubbed bronze chandelier solidifies the room's traditional ties, while the brightly colored pillows bring out the flair.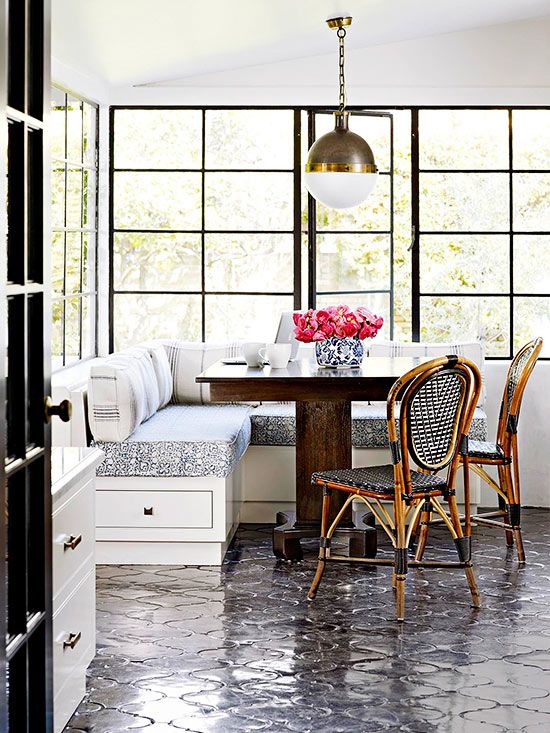 Try Tile

Wood and carpet are common dining room flooring options, but taking a cue from Spanish casas and Italian villas, where tile flooring prevails, can be just as appropriate. Here, the flooring continues from the adjacent kitchen for a seamless flow, and the shiny finish of the black arabesque tiles reflects light, keeping the room from seeming too dark. Wooden chairs add a warm touch to the room, and white walls bring a modern touch.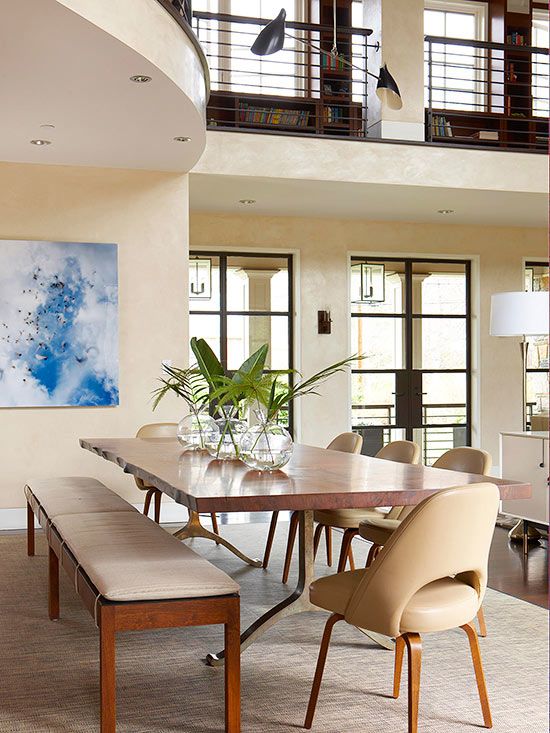 Bring In a Bench

Adding a bench to a dining room table, rather than more chairs, provides extra room for seating for a large group. Perfect for entertaining, a bench allows more people to sit together at the table and is especially perfect for children. Modern, curved chairs mirror the curved ceiling above and give the space a contemporary look. The neutral and wood tones color scheme accentuate the room's simplicity and unique architecture.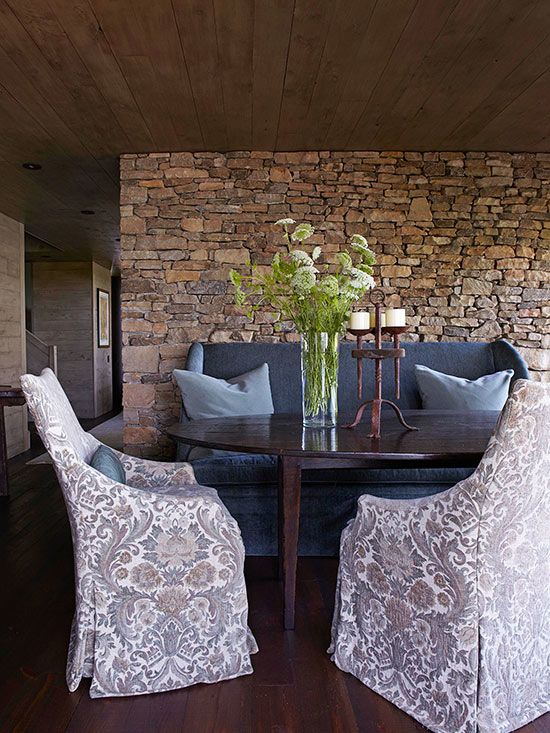 Comfort in Darkness

Instead of going light and bright, aim for dark and cozy. Use rich colors and deep, saturated finishes, such as walnut. The foundation and scheme of this dining area is dark and solid. The stone wall, wood floor, and wood-paneled ceiling bring a dark tone to the space and also bring varying hard textures. Cushioned chairs and a love seat bring a sense of comfort and a softer feel to the room, but the muted gray and blue upholstery maintains the room's commitment to cozy.


Light and Dark

Another way to mix and match in a dining room is to pair ethereal elements with solid silhouettes. Large windows fill this dining room with an abundance of natural light, giving it an airy and open feel. White paneled walls and a white ceiling, along with the floor-length powder blue curtains, accentuate the light and make the room seem larger. Clear gray chairs give a unique reflection of the light and contribute to the airy tone in the room. The dark wood table and its curvy base contrast the light aspects throughout the room, and the upholstered wooden chairs at the head of the table add a classic, traditional touch. An antique brass-and-crystal chandelier culminates the dark-light dichotomy and crowns the room with grace.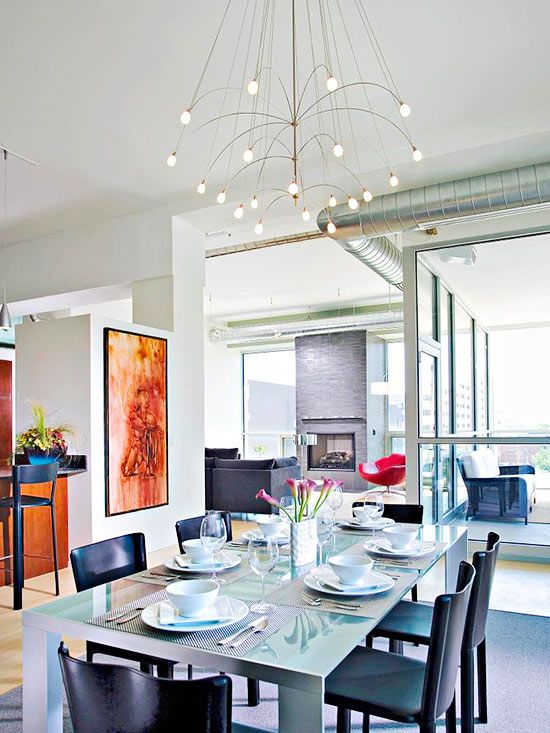 Sleek and Solid

Good lighting is essential in a dining room because it sets the mood. Draw attention to the mood with a standout light fixture, whether it's an antique chandelier dripping with crystals or a feat of engineering, such as the tubular wire light fixture in this dining room. A gray color palette and solid, simple furniture and decor complete the modern look.