Looking for open-plan living room ideas? Open-plan living has slowly become part of our everyday lives, from a home office within a living room to a kitchen-diner.

These spaces should be well designed and able to utilise the best of the overall room in their function. Clever decorating and styling ideas will keep the spaces looking separate but seamless.

Sounds complicated? Well fear not as we have compiled our top tips for making the most of your open-plan space, without breaking the bank. You'll be the envy of your friends and family.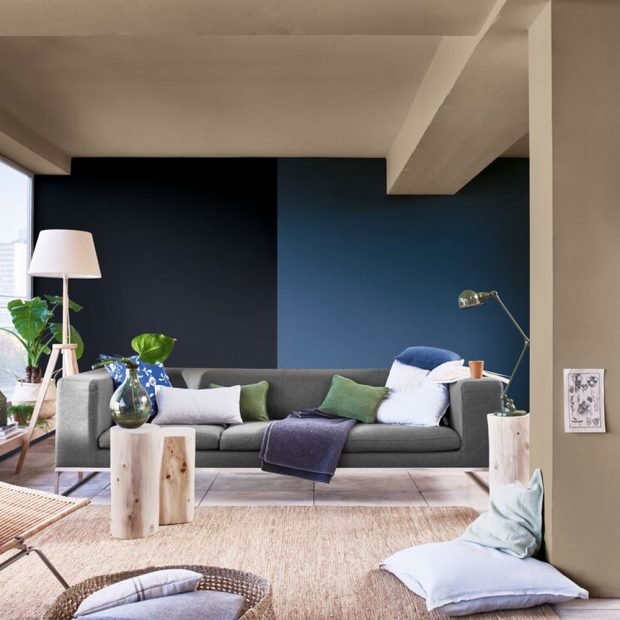 1. Add personality with painted zones

Open-plan needn't be devoid of different personalities for different purposes. While lounging, eating and working may all take place in one large open-plan area, it doesn't mean you can't zone each area with a different colour. Signify a change of purpose with a splash of colour. Create a feature wall behind the sofa, perhaps using a cocooning dark shade such as Dulux 'Cobalt Night' (left).

Paint a block of colour to zone a home office space, within the open-plan layout – working with an engaging colour such as Dulux 'Night Seas'. Using a light neutral on the remaining walls, one such as versatile colour of the year 'Brave Ground' to harmonise and create a seamless flow with accessories and furniture pieces.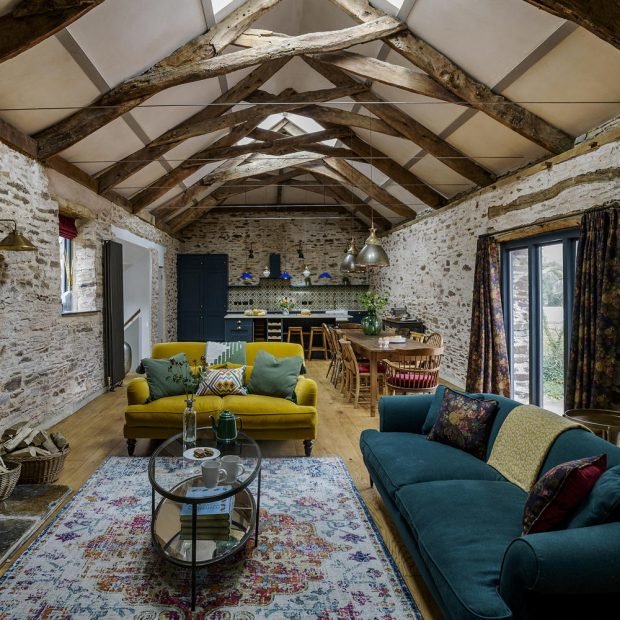 2. Create distinct areas with different textures

This barn has been converted into one long open-plan living space. It is light and airy and has a dark blue and green colour scheme running throughout the space. However, different textures and materials have been used to create a distinct divide between the dining area and living space. The area surrounding the wood-burning stove, features plush crushed velvet sofas in turquoise and mustard with an aged rug underfoot. In contrast, the dining area is tied together by the natural wood of the table and the wooden bar stools lined up by the kitchen breakfast bar at the far end.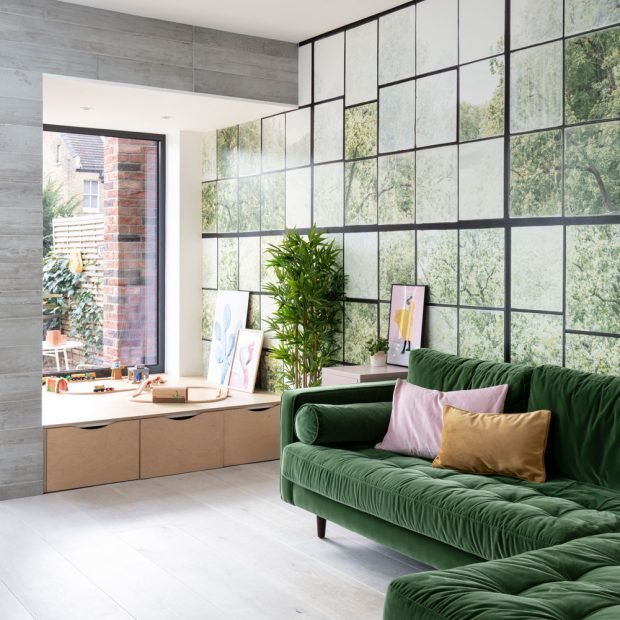 3. Go green indoors

Conjure the illusion of an amazing landscape with a trompe-l'oiel feature wall. A wall mural depicting a lush green forest or meadow can help to welcome the greenery of the garden in, adding to the illusion of extra space. Give the space a further botanical feel with luxe green velvet upholstery and an array of houseplants.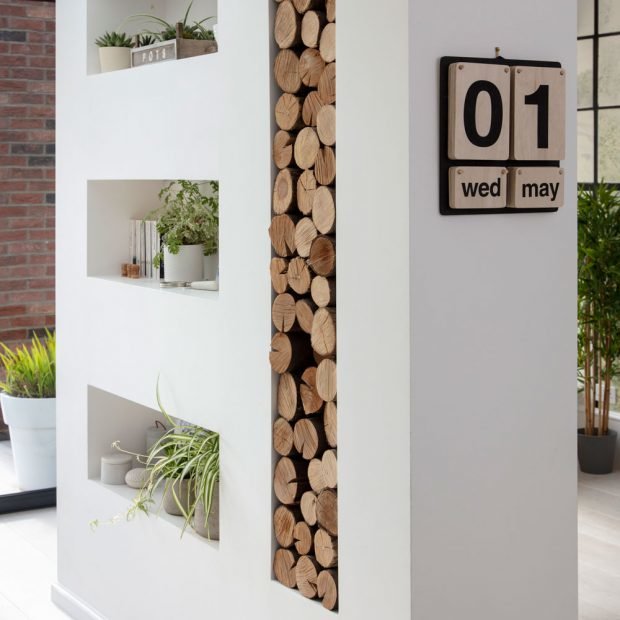 4. Define areas with platforms and partitions

Partially divide an open-plan space with a central column. Within that partition wall add handy alcoves to provide extra storage. This also helps to add a decorative touch to the living room decor. If you have the layout try raising the floor level in an awkward nook and add storage beneath it.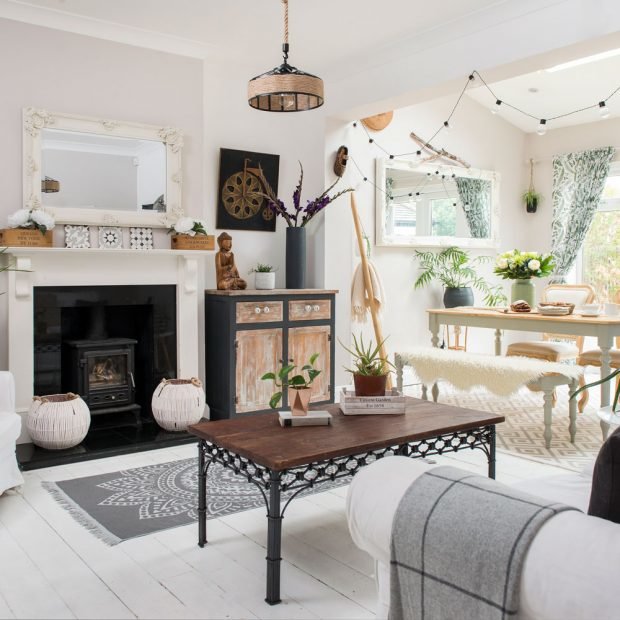 5. Open up your period property

Don't let the age of your property deter you from making modern alterations. Formal front rooms in older properties can often feel dark and enclosed, so knocking through to form an open-plan living room is a popular choice.

Removing a wall between rooms offers greater flexibility for the space and enhances the light in townhouses and terraces particularly.

Before undertaking any work make sure to consult a structural engineer and research any permissions required.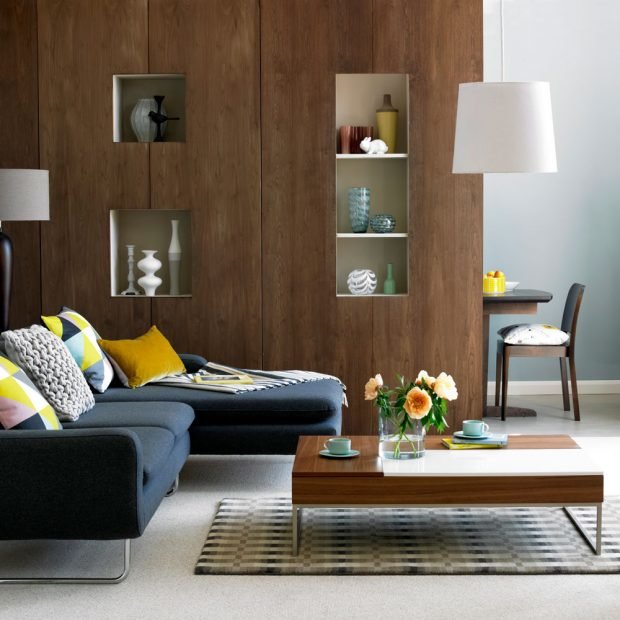 6. Be smart with colour and shapes

Use bold prints and patterns to zone spaces. Use graphic mid-century shapes and strong lines to define areas of an open-plan space.Trying varying the flooring to help further the separation of the spaces. Pick a carpet for the main living area and laminate for adjoining kitchen or hallway spaces. Patterned rugs can add to the look and add more clear zonal definition.

Go for a walnut finish on a partition wall to add a classic mid-Century vibe.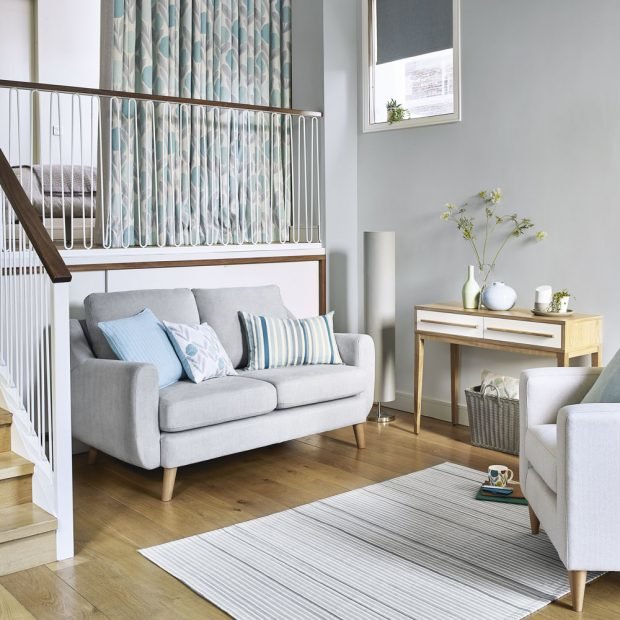 7. Make rooms work on another level

Not all homes have horizontal ceilings and single-level floors. Highlight these features by building clever storage and outside-of-the-box zones. Play with the levels. Be savvy with heigh ceilings and create a mezzanine to act as extra living space – such as a home office or guest bedroom. Using a tonal colour palette throughout will help tie the areas together.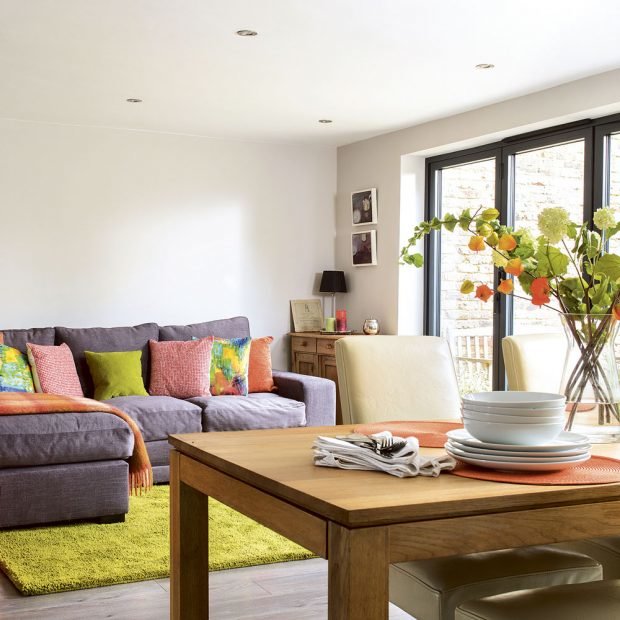 8. Get in the zone

Open–plan living is a great choice as the social aspect is perfect for family interaction. Design allocated zones for lounging, dining and working to keep the room organised. Use soft textures and calm colours to create a welcoming, relaxed vibe while a long-pile rug and pouf are comfortable for little ones. Arrange your room around a large window or French doors to make the most of the natural light.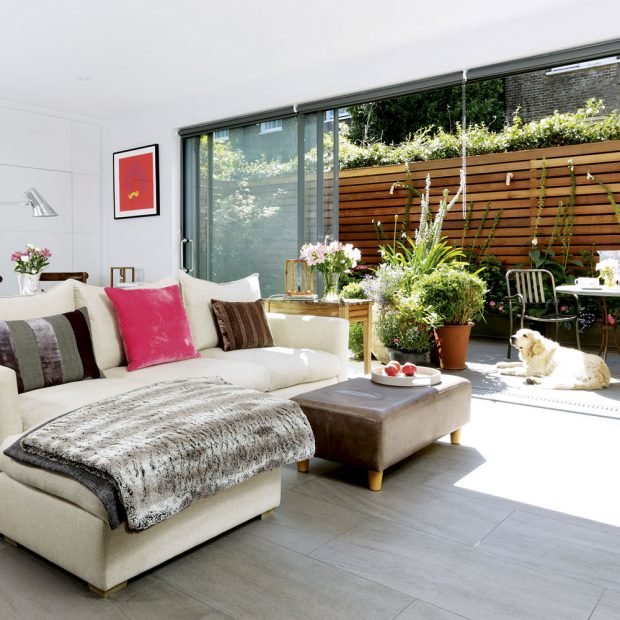 9. Let the light in

Think about natural light sources to ensure the room stays bright. Making the most of natural light is a great way to keep a room feeling vibrant and lively and can even help a space feel larger than it actually is. Here, a run of sliding doors leads directly on to a patio area, providing a seamless connection to the outdoors.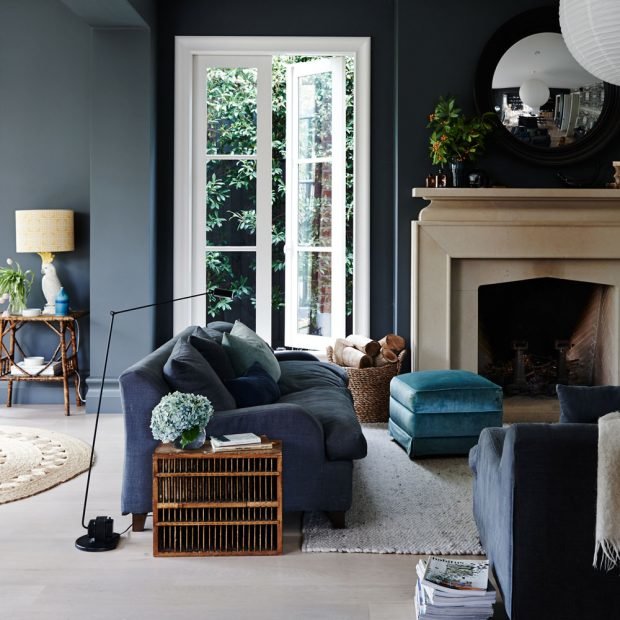 10. Get smart with furniture

Section off the living area of an open-plan space with careful placement of furniture. The benefit of a large, open-plan space is that everyone can spend time together without being on top of each other. Not only that, but as there's direct access to the garden, children can happily head outside to get some fresh air. Aside from its spacious layout, this room's winning features are the dramatic walls and beautiful fireplace, which contrast perfectly.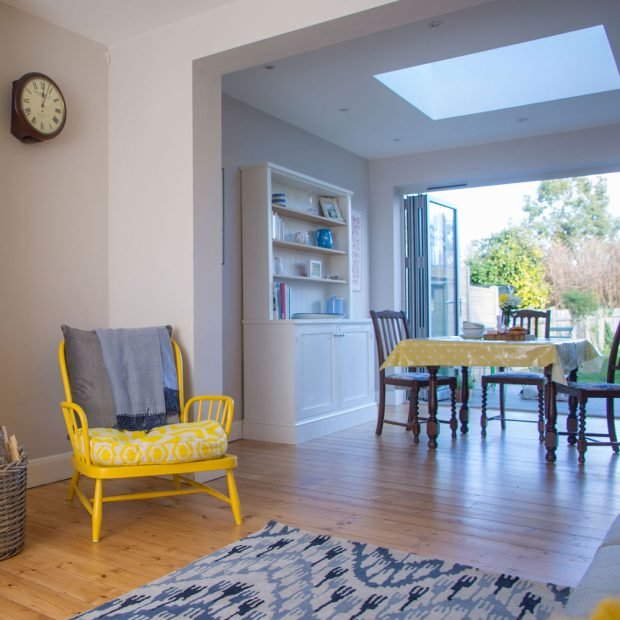 11. Look to the sky

The beauty of open-plan living room is the sense of space, keeping the mood as light and airy as possible aids this effect. A skylight is the ideal solution for single-floor spaces. Spotlights have a clean, modern feel that add to the ambience.

Here, an elegant fusion of old and new gives a timeless feel to a living room. A painted yellow chair brings a splash of bright colour to this minimal space. A pale wood floor reflects light from the opening to the garden and the hits of strong yellow and bright and cheery touches.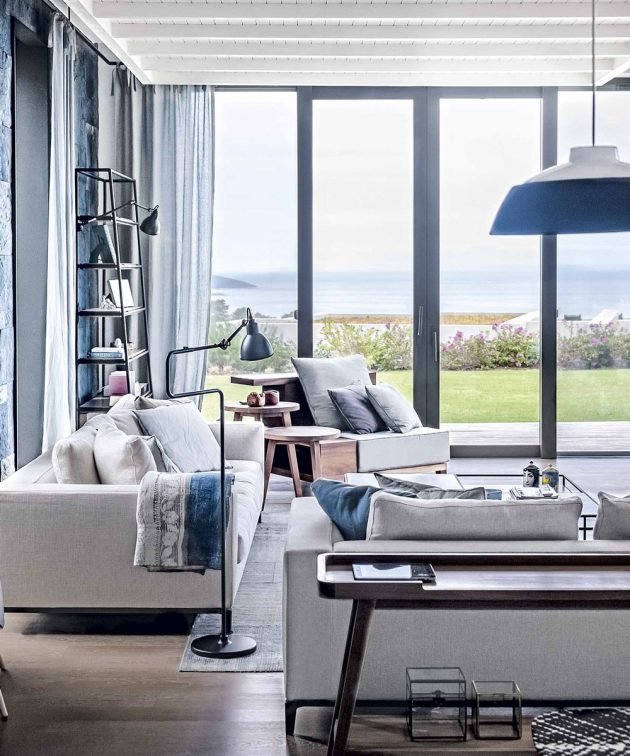 12. Connect with the garden

Optimise your open-plan living room by designing it to flow seamlessly out to an adjacent outdoor space. Consider wall-to-wall, floor-to-ceiling patio doors – they will extend your room and optimise light. Make the transition from inside to out seamless by colour-matching internal flooring with external decking. Choose a decorating palette that complements the garden and position all your furniture to take in the views so it's easy to supervise little ones when they are outside.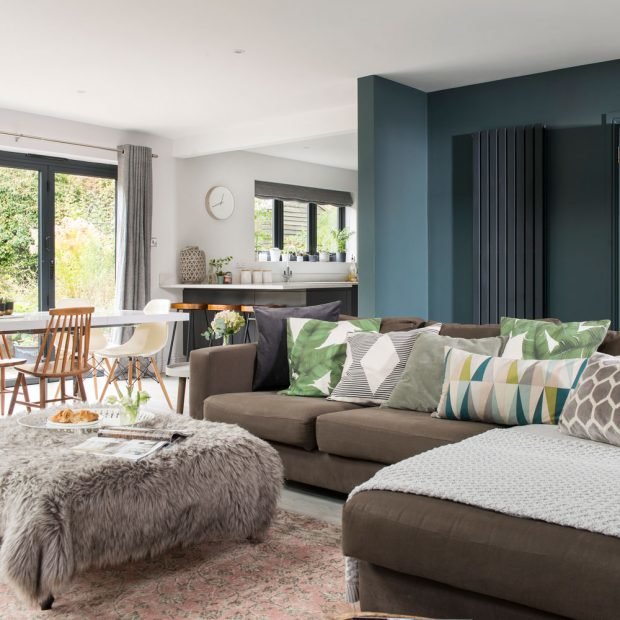 13. Choose an L-shaped sofa

Use a corner sofa to define the seating area in a multi-functional open-plan living space, and add a sense of intimacy to a large room. Create a comfy haven and nestle a rug and coffee table into the gap made in front of the sofa to give a friendly, more cosy feel. To further enhance the warm mood and create a cosy feel, paint the wall in this area a darker shade than used in the rest of the room. The moody colour behind the sofa helps to enhance it and make it even more inviting.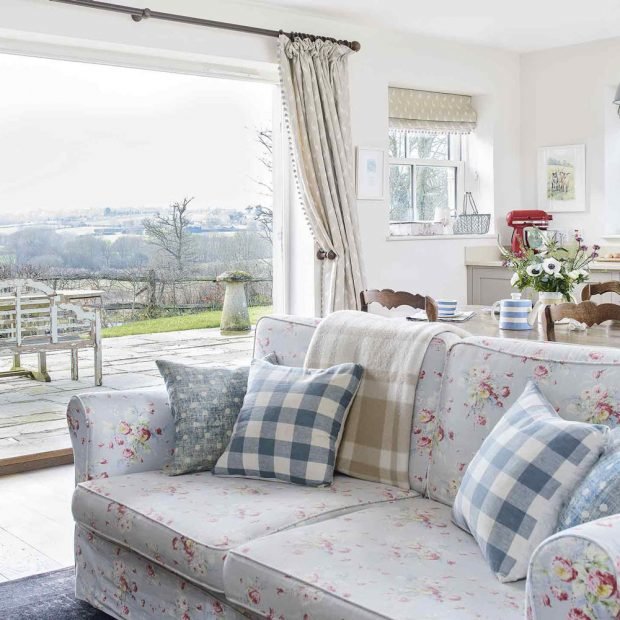 14. Keep it tonal

Let the outdoors become part of your home with a natural palette. Large windows enhance the light in this open-plan living room. Neutral-toned blinds and curtains with a restful hare motif frame the windows and pick out the stone-coloured kitchen cabinets. In the foreground an uplifting soft blue sofa creates a year-round summery feel in this welcoming room.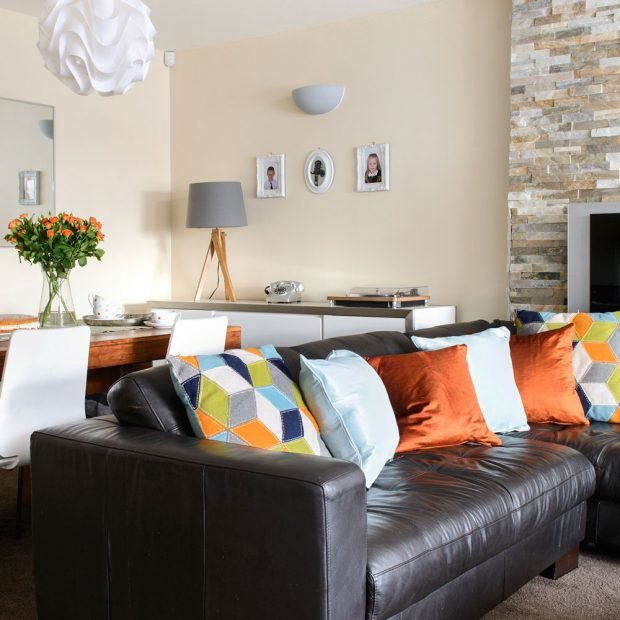 15. Make it family-friendly

Living rooms are meant to be lived in, so make sure your space is somewhere that everyone in the family will enjoy. This cosy open-plan living room combines modern and traditional furniture to create a welcoming, family-friendly space. The solid wood dining table is complemented by modern white chairs, which tie in with the white of the large sideboard. The fireplace tiles introduce a rustic, tactile edge, while a large wall-hung mirror helps to open out what is a very busy, multifunctional space.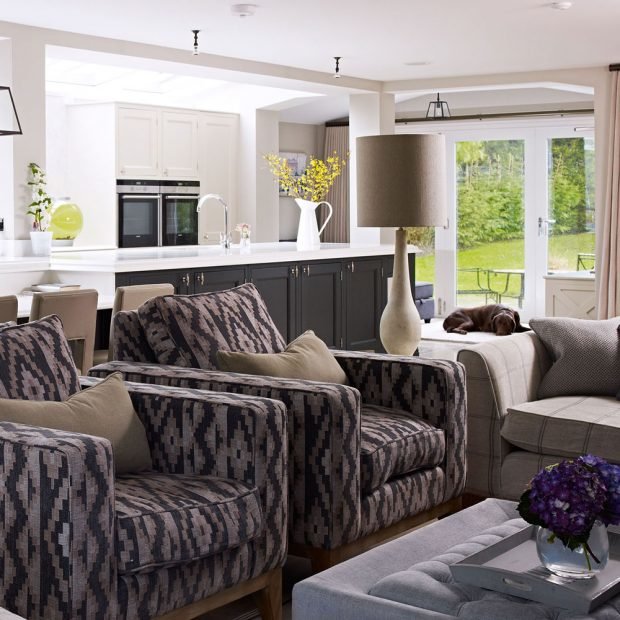 16. Consider placement

As one of the most social spaces in the house, your living room needs to look good, work hard and function well. Before you begin any work, take a little time to work out how the space functions for you. Is it a relaxing haven, and entertaining space of family central? A sophisticated neutral palette helps create a comfortable feel in this kitchen living area.

The trick is to pay attention to balancing the colour scheme and keeping everything in proportion. An open-plan layout is a fundamental part of modern family schemes and this one incorporates all aspects of living.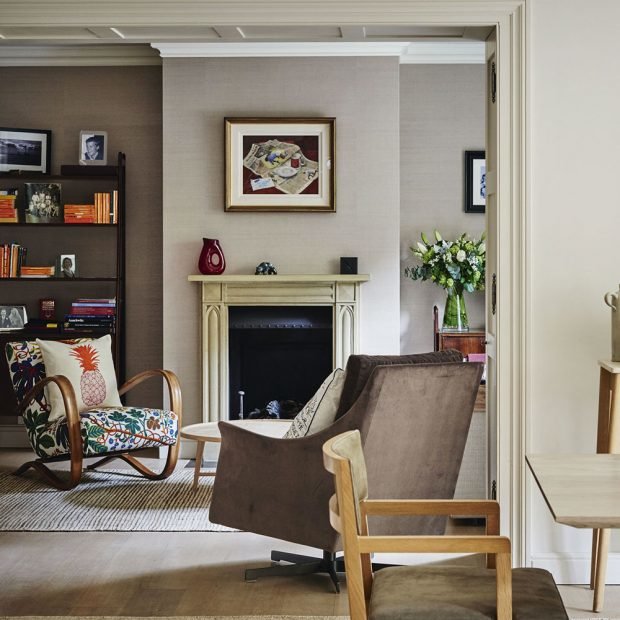 17. Join two rooms with cohesive colour

Where two rooms are linked but not entirely open, create flow by painting both the same shade. A neutral colour scheme allows the freedom to ring the changes using accessories, giving each room its own personality without the risk of jarring. Turn an open plan space into a functional family living area with clear zones for relaxing and dining. Soft taupe walls in a matt finish unites the two rooms and forms an elegant base for this traditional neutral decorating scheme. The space has been cleverly divided up with two textural rugs and the positioning of the furniture.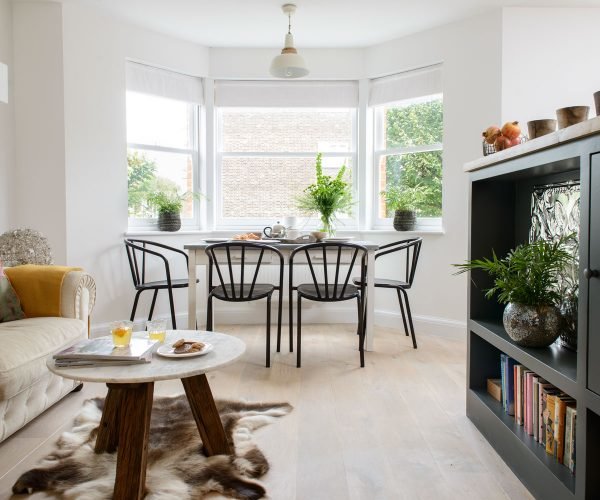 18. Keep the scheme light and airy

Open-plan living works especially well in a small home, as by breaking walls, you can make even the tiniest room appear much larger. If you love entertaining, we recommend positioning your dining table and chairs by the window with the most light. Choose furniture that can double up as say a desk, or a bookcase as seen here. And keep colour to a minimum, only highlighting one key piece of furniture.