DOUX
derives directly from the pen sketching freely: organic, spontaneous, friendly, and colorful. The zoomorphic forms are to engage, to touch, to sit, to enjoy. . .One of the peculiarity of this product family is the multifunctionality of the table – when laying down, it carries out the function as table and there has a hole works as room for storage; when raising up, the hole used as flower pot or as a cool ice-tray for champagne or wines etc.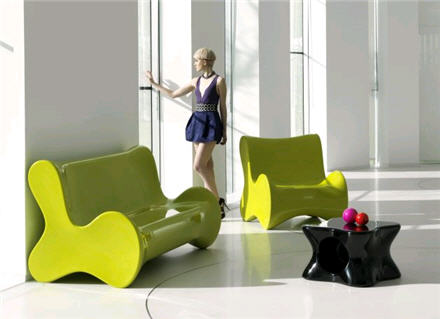 LAVA is really a huge organic blobular sculpture. The object is an undulating, cloud-like bench. LAVA is a pleasant, natural and relaxing gathering spot or connection in any interior & exterior space. For giving a more special touch in mentioned space, we can obtain it integrating to LAVA a energy saving or LED RGB lamps. This option surely will leave fascinated a who observes it… a more spectacular and pleasure environment.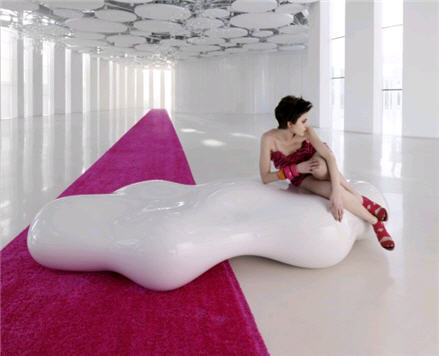 The flowing wave that composes the Lounge Chair SURF alludes to a sense of calm. It is a soft swell in flux, a fluid gesture that changes to vary light. The method of its creator is the overriding canvas of the world for a new well-being that evokes calmness, casualness, driven by vibrant forms that are refreshing, awakening, and elevating and are metaphors for a new global dynamism.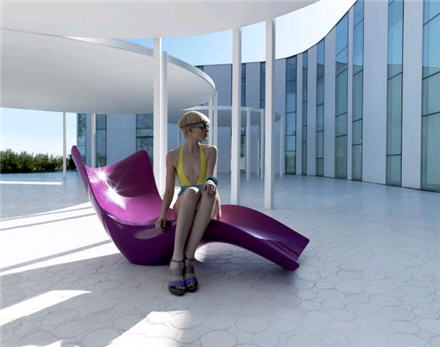 VERTEX is a family of ultra-contemporary sculpted outdoor/indoor furniture. Triangular planes meet dynamically to create comfortable forms suitable for dining, meeting rooms, casual needs, or even banquet and lecture halls. VERTEX looks as if it were chiseled from a single block of material, what is left is structural yet, beautiful.