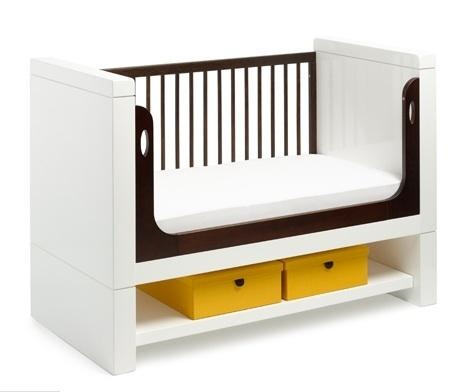 Verily, Mr. Netto has vanquished any trepidation you might otherwise feel at investing fair sums in nursery furniture, as his lavish invention has effloresced with such multifariously functional items that they continue to serve long after the investment has been recouped. (You can use them for a long time, in lots of different ways.) Fixed side rails for added stability and adjustable mattress platform for flexibility. Sliding shelf below. Ebonized ash and white lacquer. Shown with optional accessories. Daybed conversion kit available. Assembly required.
Please Note: Retail price includes white glove delivery fee.

Brand
Netto Collection
Designer
David Netto
Materials
Ebony stained ash wood. White lacquer.
Features
Made in the E.U. Sustainably harvested wood certified by the Forest Stewardship Council. All composite materials meet the stringent European "E1" toxicity standards. Finishes are non-toxic and non-VOC emitting. Safety certified by the Juvenile. Products Manufacturing Association (JPMA).