Russian landscape architect Alexandre Grivko has transformed a 1905 French estate into Les Jardins D'Étretat-a garden laboratory that combines experimental topiaries with open-air sculptures and UNESCO World Heritage-listed views.

Perched above the alabaster cliffs at Étretat in Northwestern France, the property once belonged to French actress Madame Thébault, who created the garden to reflect the artwork of her friend Claude Monet. In 2017, Grivko updated and expanded the grounds into a world-renowned attraction that has earned a Green Guide Michelin star.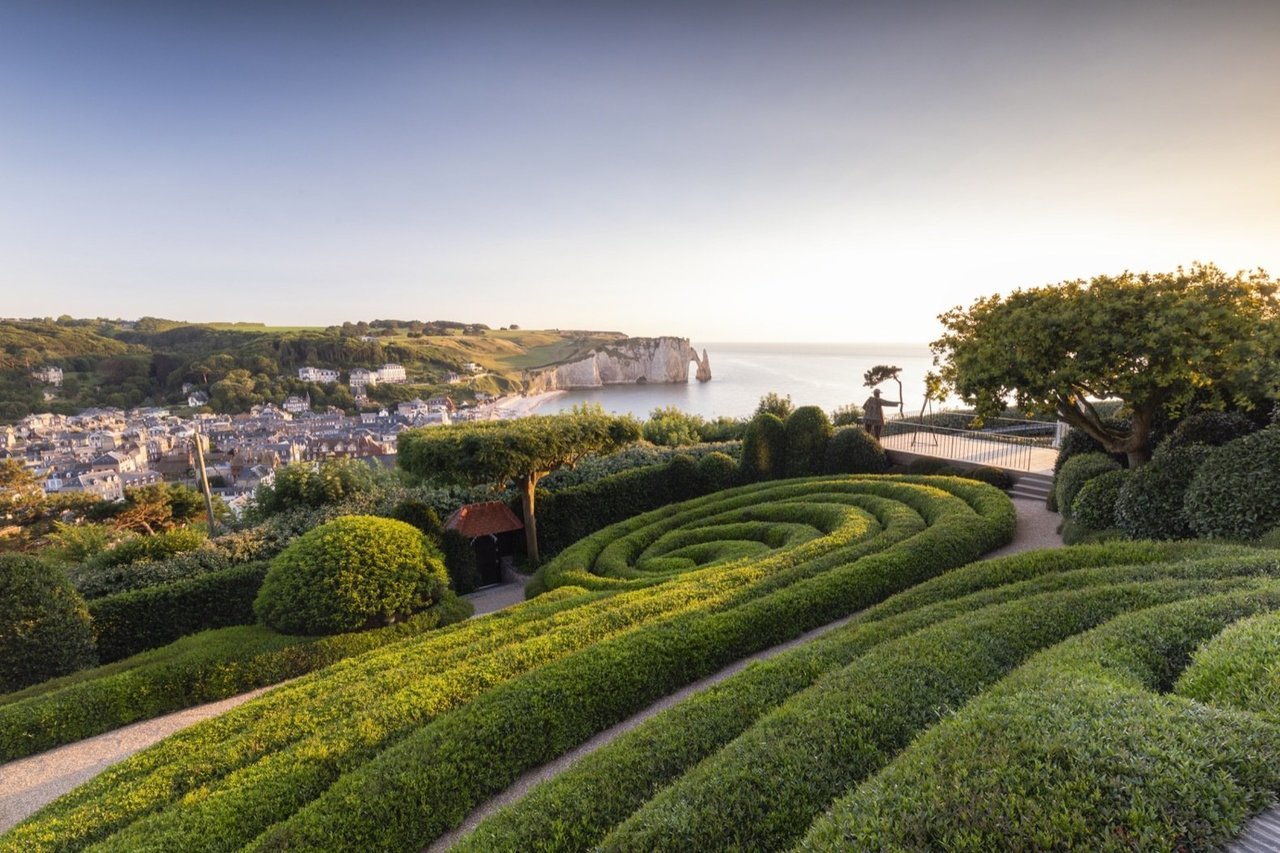 "The idea was to create in Étretat an experimental, avant-garde garden," says Grivko. "There are many local varieties of plants in the garden, and the topiary's shape reflects Normandy's coastline."

"When I found out about an opportunity to buy this piece of land, there was zero doubts," says Grivko, who had visited the grounds decades prior and recognized the enormous potential of the site.

"This is a magical location on the rock d'Aumont. It has a breathtaking view on the ancient town and the surrounding cliffs. Claude Monet has said: 'Such cliffs cannot be found anywhere.'"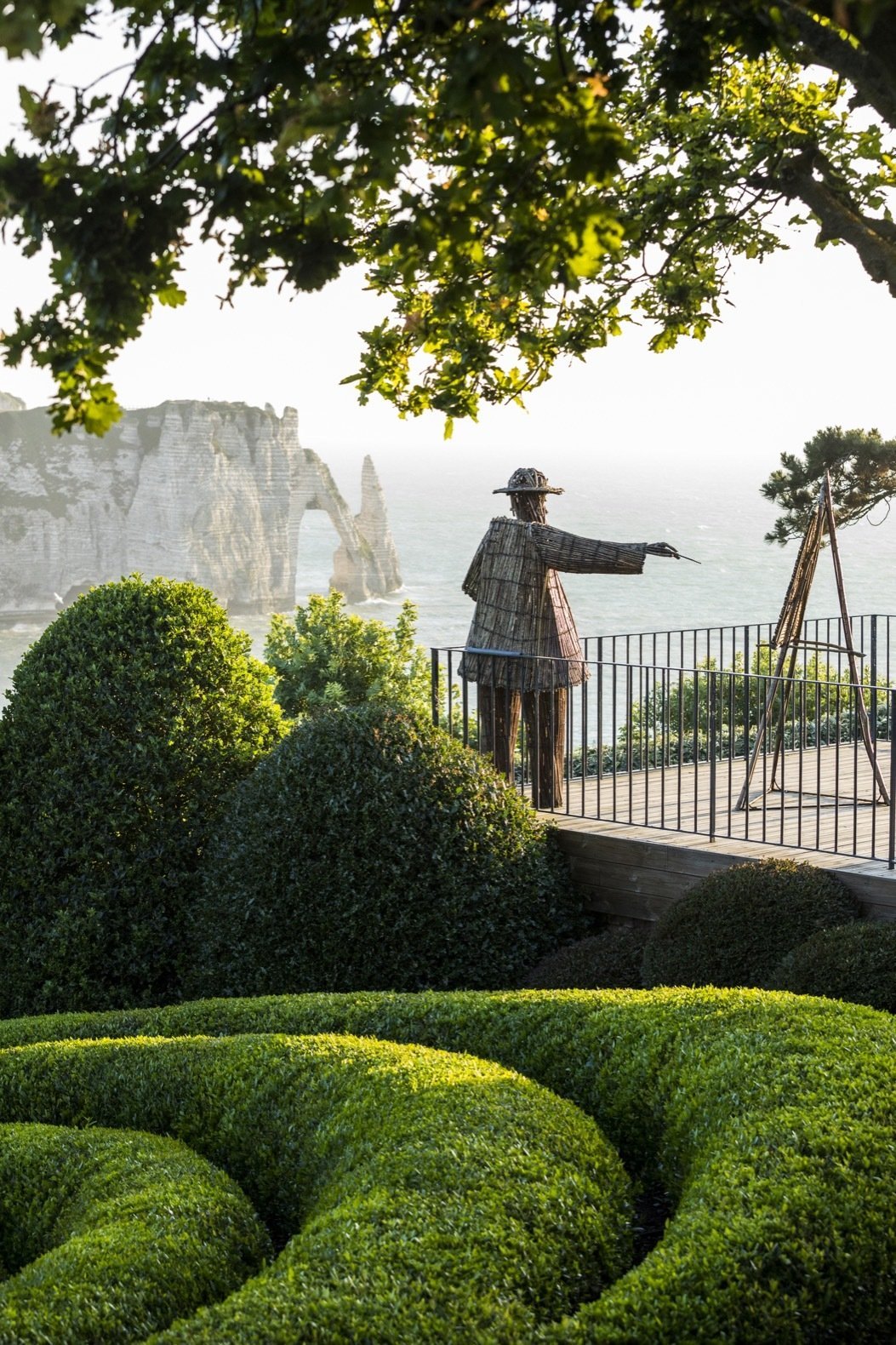 This sculpture of Claude Monet made entirely from natural materials is part of the Tree Hugger Project by Agnieszka Gradzik and Wiktor Szostalo.

Drawing inspiration from André Le Nôtre, an 18th-century French landscape architect best known for his work at the Palace of Versailles, Grivko envisioned a new type of garden with large-scale topiaries that merge classic garden styles with contemporary and experimental features. "Les Jardins d'Étretat does not slot into a particular style of a garden, but maybe sets a new neo-futuristic vision," says Grivko. He notes that Vito di Bari's 2007 Neo-Futuristic City Manifesto champions a blend of art, technology, ethical values, and nature.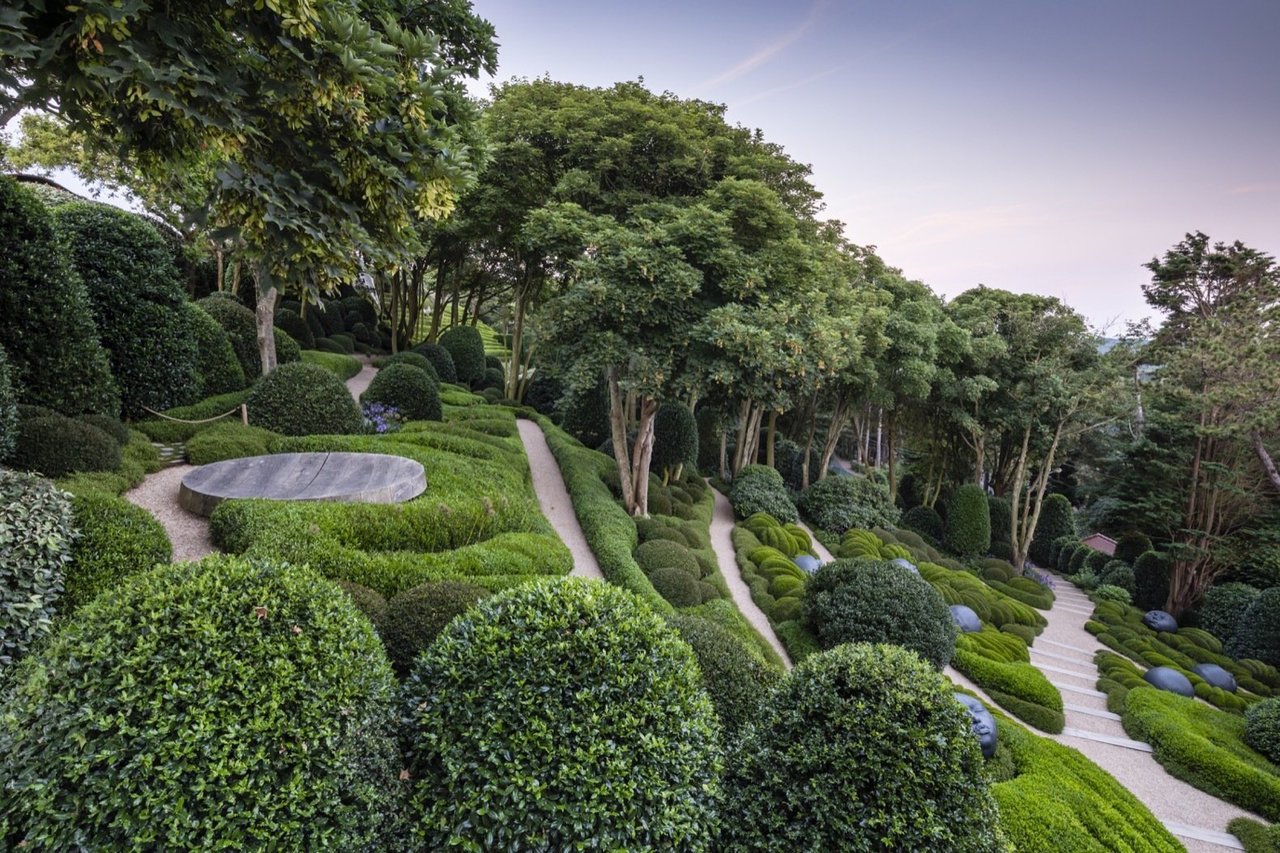 Zigzagging pathways take visitors down the steep slopes of Les Jardins d'Étretat.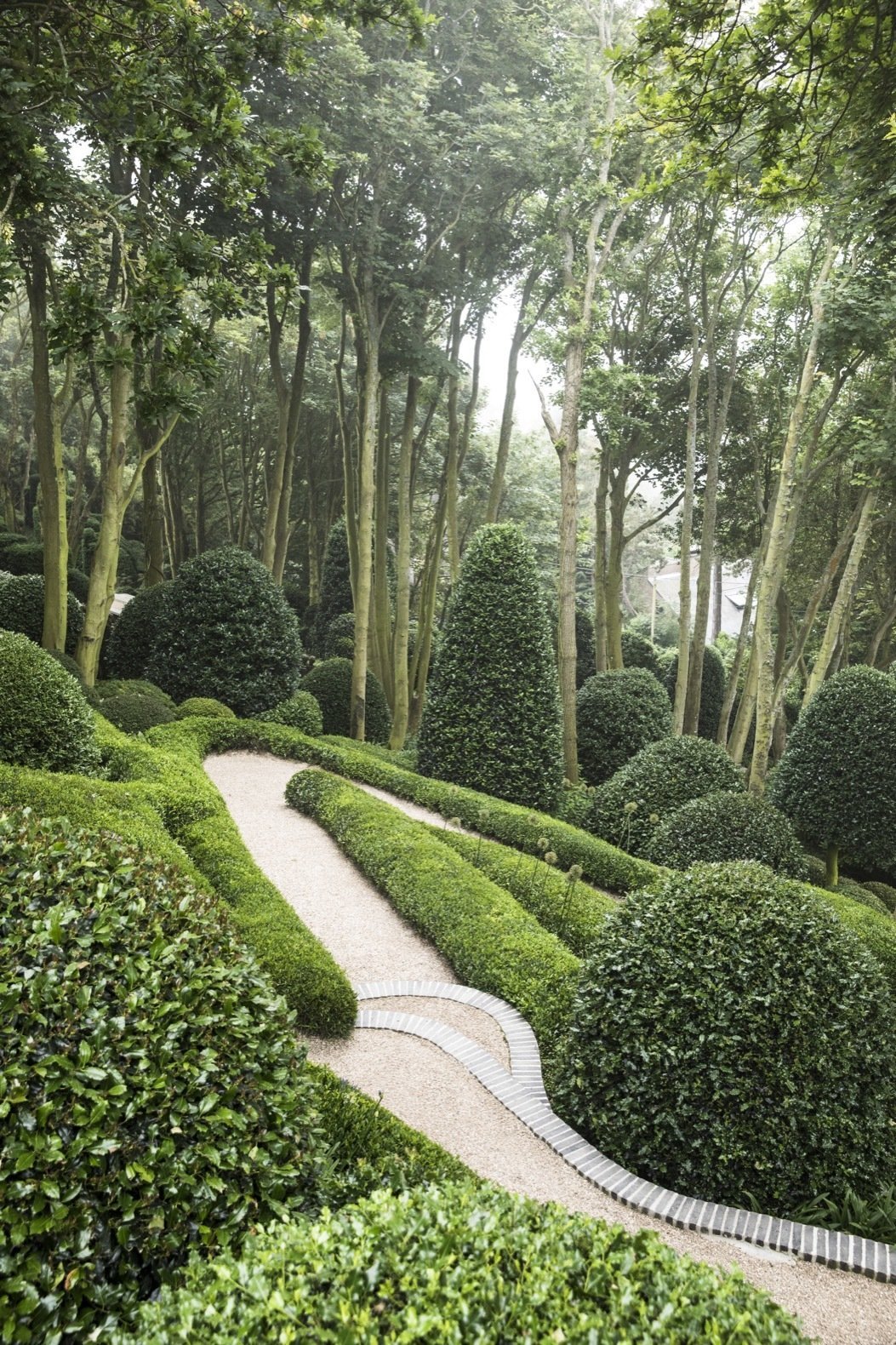 The gardens were expanded with two kilometers of gravel paths, and they're now home to approximately 150,000 different plants selected to provide year-round appeal.

Since Les Jardins d'Étretat was technically Grivko's first public-facing garden, he saw the project as a new opportunity for experimentation. "The whole process of creation was altered-it was a pure fantasy with absolute freedom of expression," he explains. "I planned everything differently, considering all kind of people, their interests, and points of attraction for them."

Acutely aware of Étretat's UNESCO World heritage status, Grivko and his partners at London-based garden design firm IL NATURE created a masterplan with meticulous precision to account for everything from the reconstruction of the villa to the individual trees. The property was expanded to 3.7 acres, which necessitated the transportation of tons of soil to the rocky cliff, and the introduction of over 100,000 evergreen plants.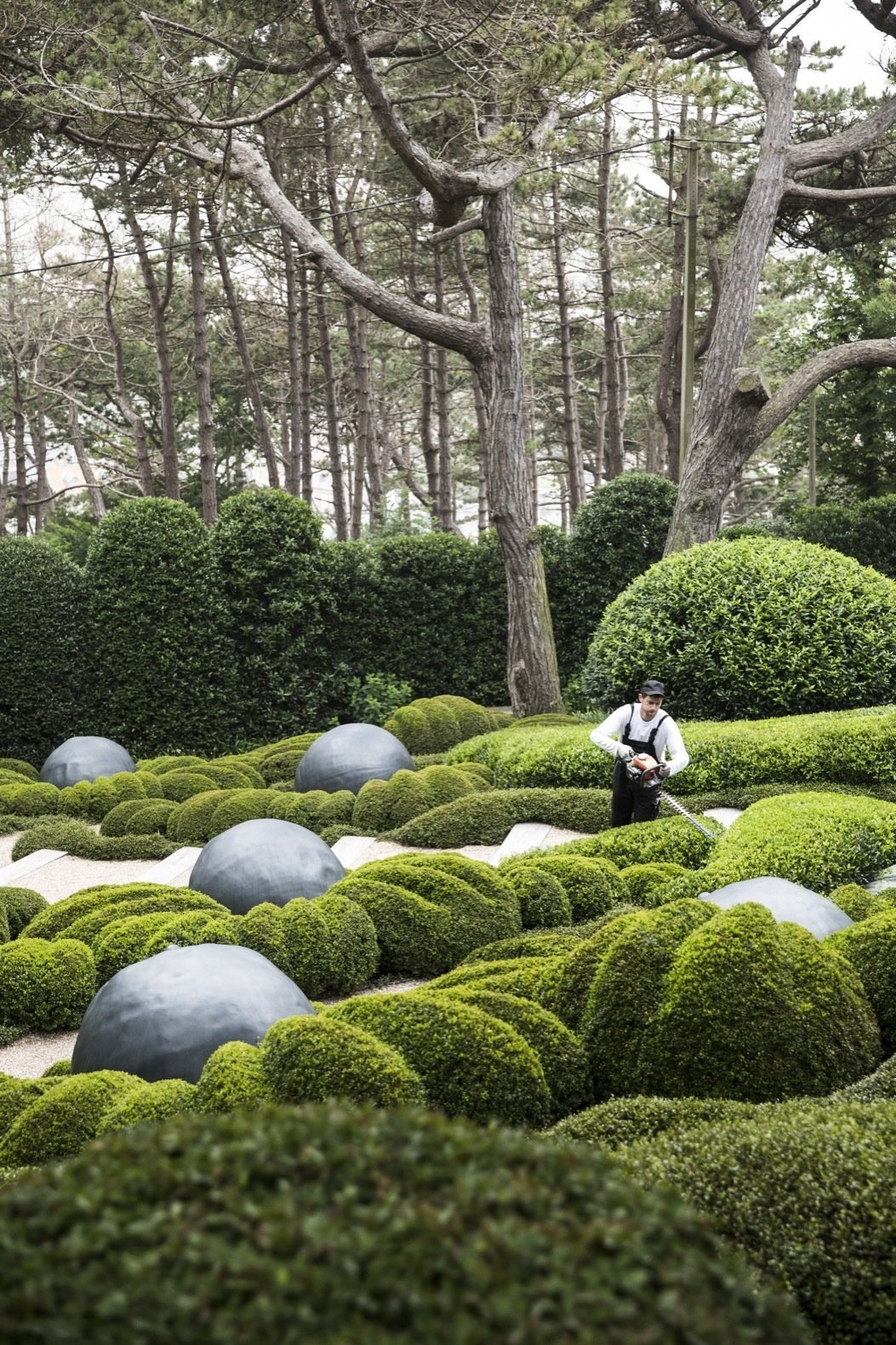 Les Jardins d'Étretat is maintained by a team of three gardeners.

Madame Thébault's original rare orchid collection at the front of the villa was also faithfully restored to the best of the team's abilities, and it includes many of the specimens Thébault once grew, including Cypripedium Memoriam Shawna Austin, Victoria, Queen White, and Lady Dorine. "It is a fitting way to remember Madame Thébault and celebrate her talent and love of art and nature," notes Grivko.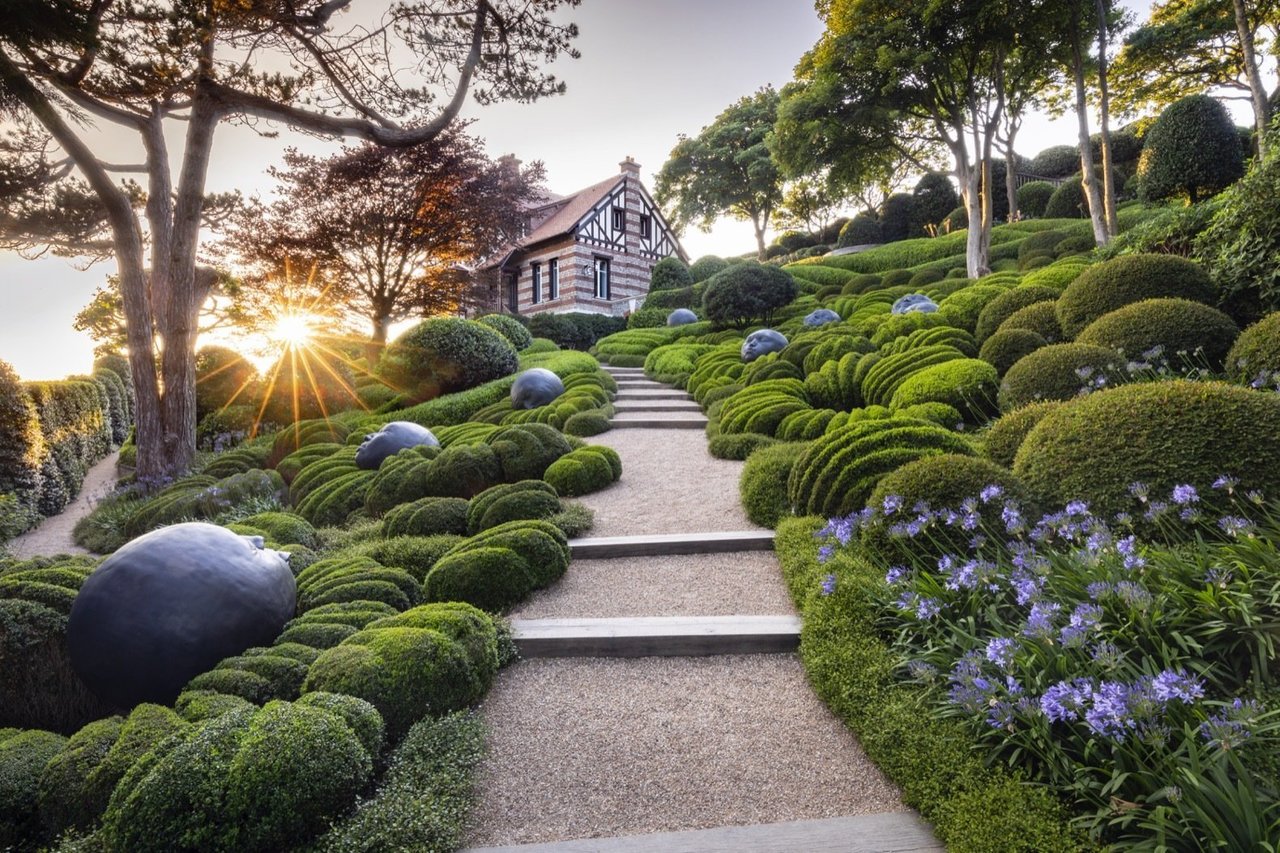 A view toward the restored Villa Roxelane. The sensuous garden is designed to be enjoyed year-round.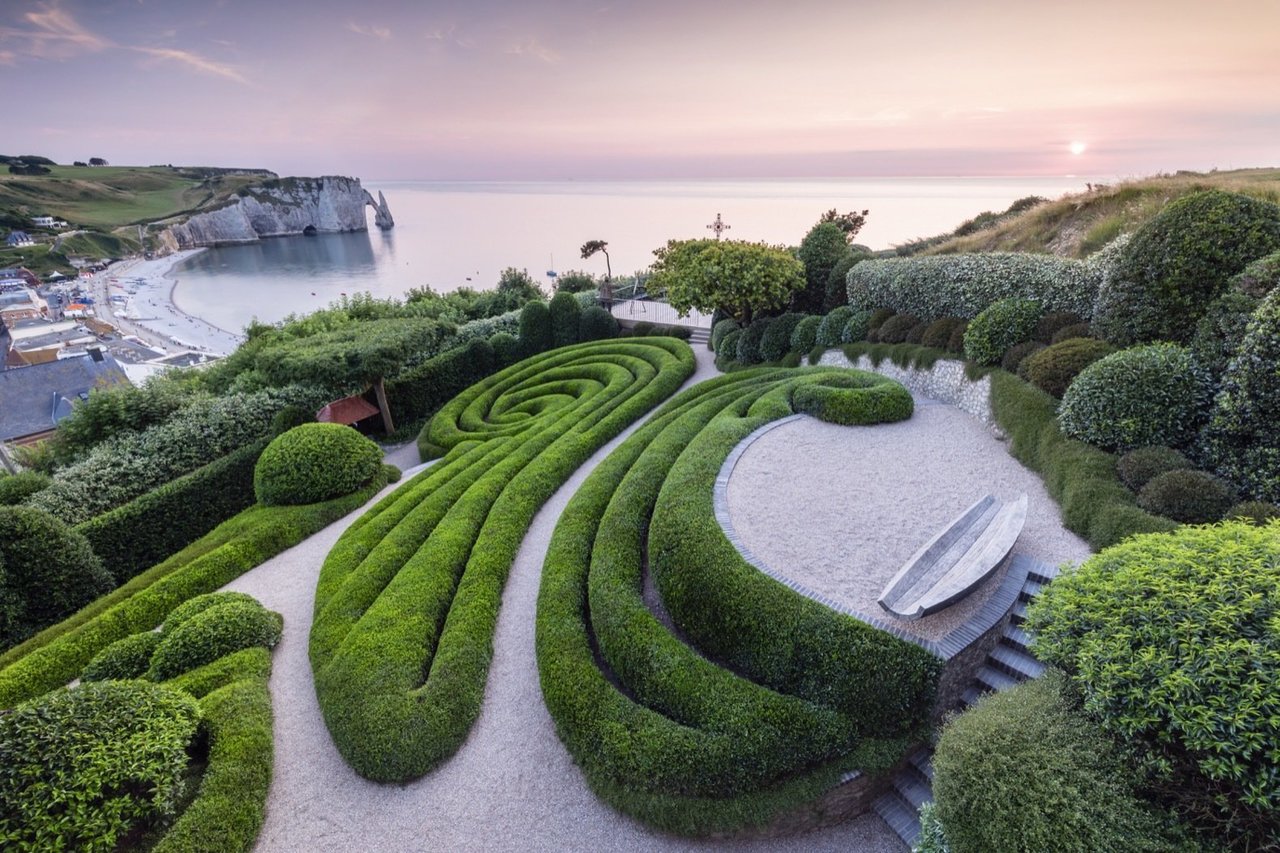 Grivko's favorite place to watch the sunset at the garden is at this bench-an artwork called Boat by German artist Thomas Rösler in the Jardin Impressions area. "It's a perfect spot that gives a magnificent view of the cliffs," Grivko says. "Keep in mind that the sea color is different every day-I've never seen the same thus far."

Les Jardins d'Étretat comprises seven parts: Jardin Avatar at the garden entrance; the ocean-inspired Jardin Émotions modeled after the first French oyster farm; Jardin Impressions, which overlooks the ocean and the cliffs of Étretat; the surreal Jardin d'Aval inspired by Alice in Wonderland; Jardin Zen for meditative pause; Jardin La Manche with topiary mazes; and Jardin d'Amont-the highest point on the site, with cliff-shaped topiaries that mimic the White Cliffs of Normandy's Alabaster Coast.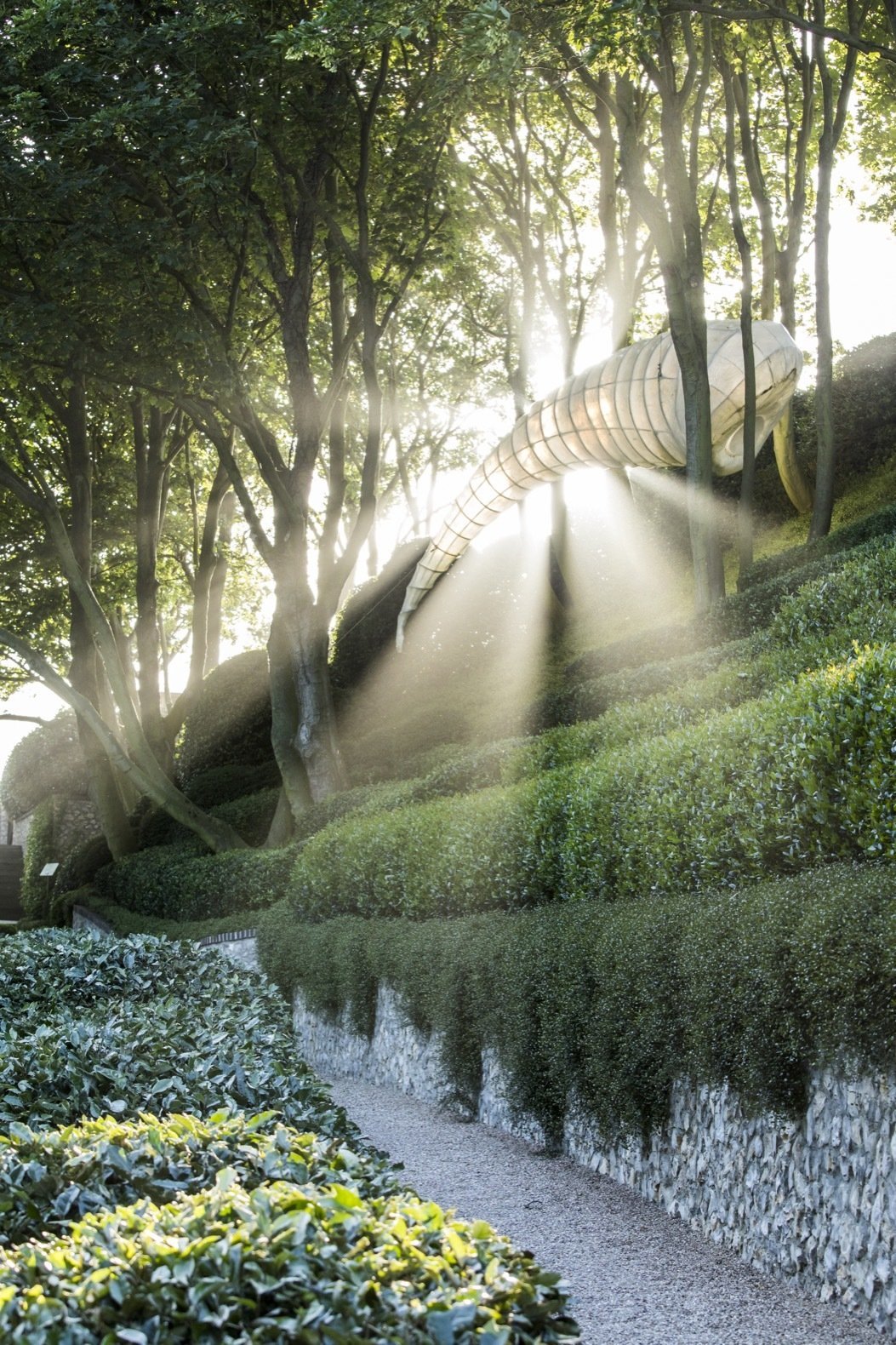 Seashell by St. Petersburg–based artist Alyona Kogan is a site-specific installation made with a plastic membrane in Jardin Avatar.

The sculptural topiaries complement an open-air array of contemporary art, and a permanent sculpture collection marks the garden's core. Every summer, new art is showcased as part of the temporary Double Jeu collection.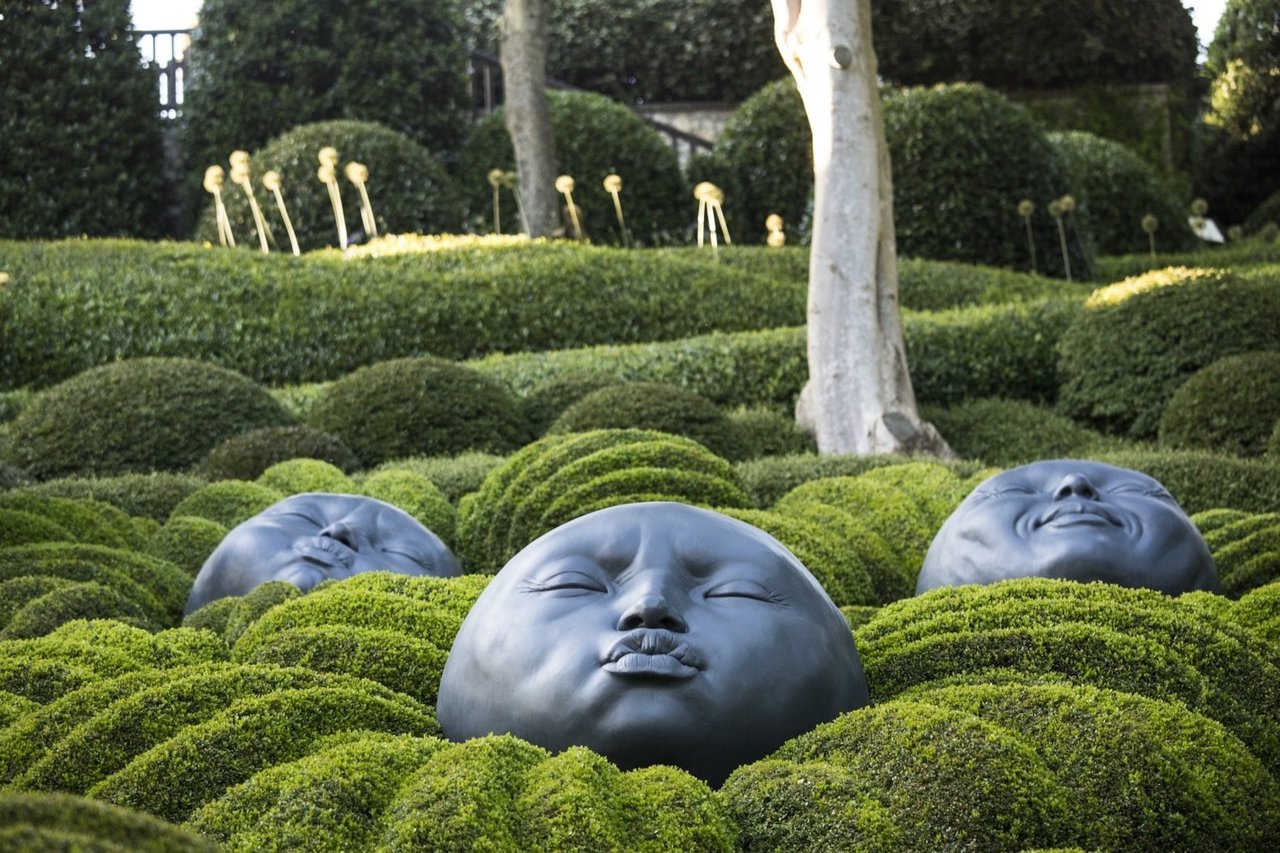 Punctuating the topiaries are Spanish artist Samuel Salcedo's Rain Drops-a collection of expressive sculptures meant to capture the entire range of emotions and evoke the various "moods" of the oceans.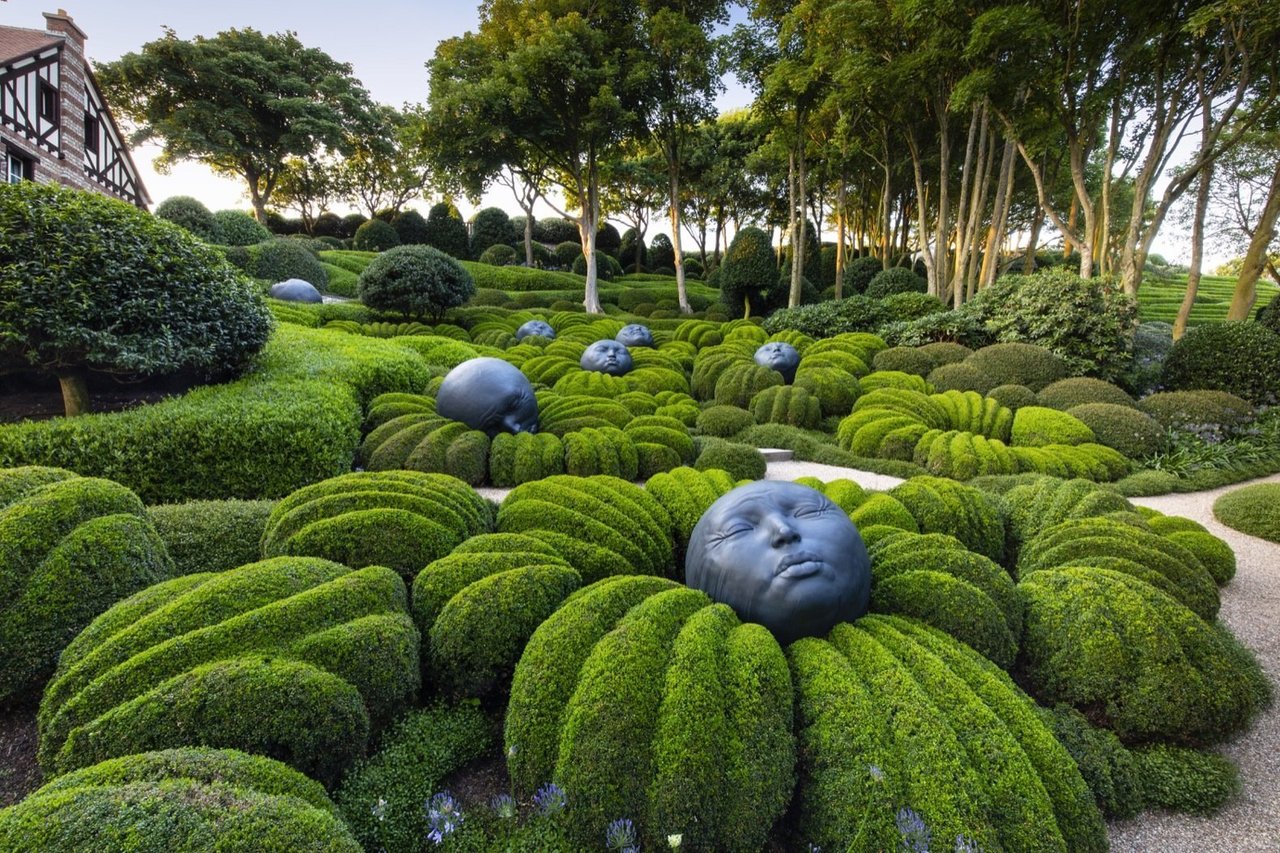 Jardin Émotions takes inspiration from the first French oyster farm, which was owned by Queen Marie Antoinette, that sits at the foot of the garden in the English Channel. Moon coral inspired the shape of the Buxus sempervirens and Enkianthus japonicas bushes.

"I observe people leaving in silence with a smile on their faces," says Grivko. "They come out slightly surprised. It makes me happy to see such an impact; the garden lets you think and ponder. It's a place of inspiration open to everyone. It's an example of what humans are capable of."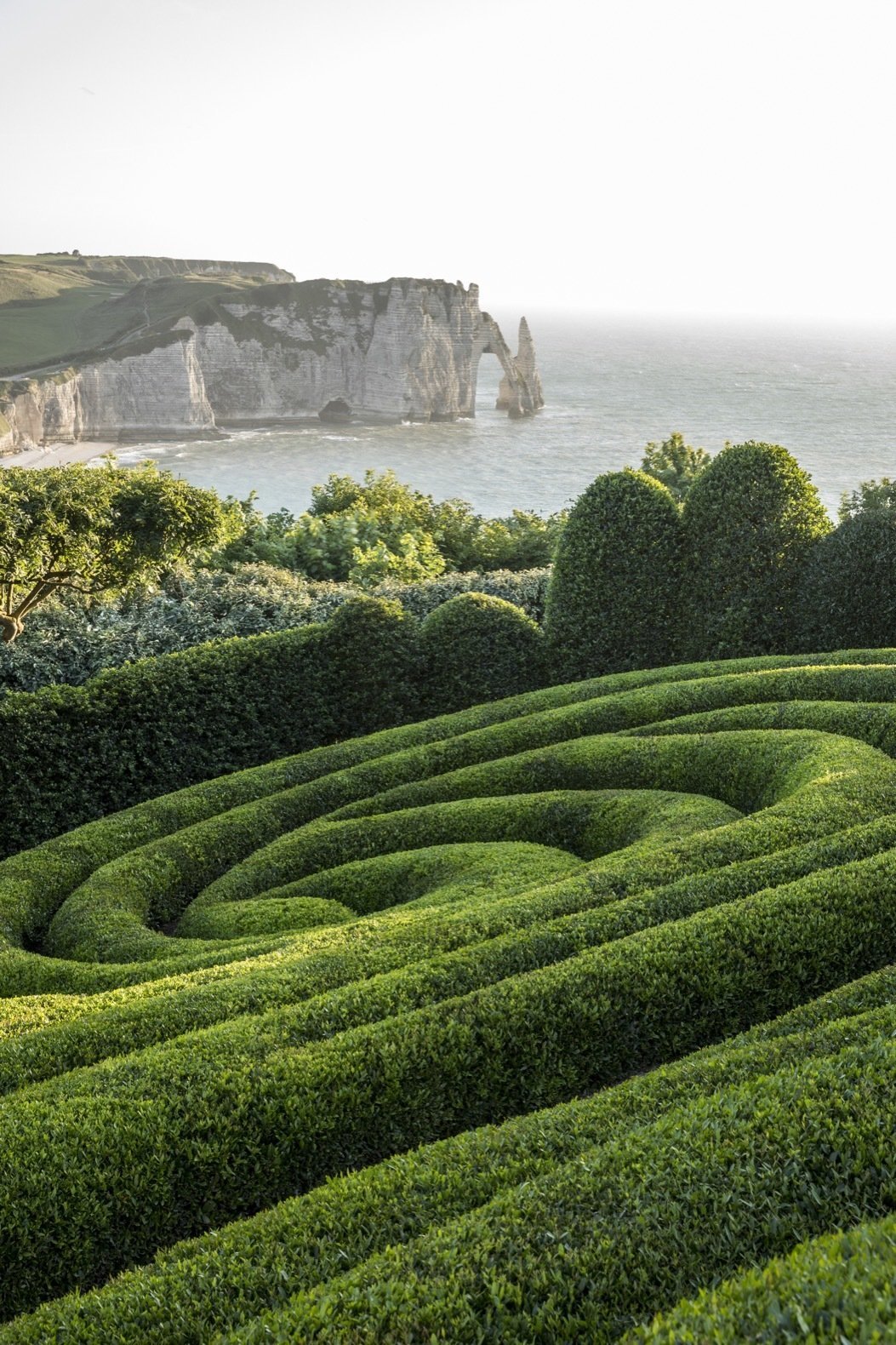 Jardin Impressions, the heart of Les Jardins d'Étretat, features panoramic views of the ocean and cliffs, including Porte d'Aval, a natural stone arch that has drawn the attention of many artists, including Claude Monet.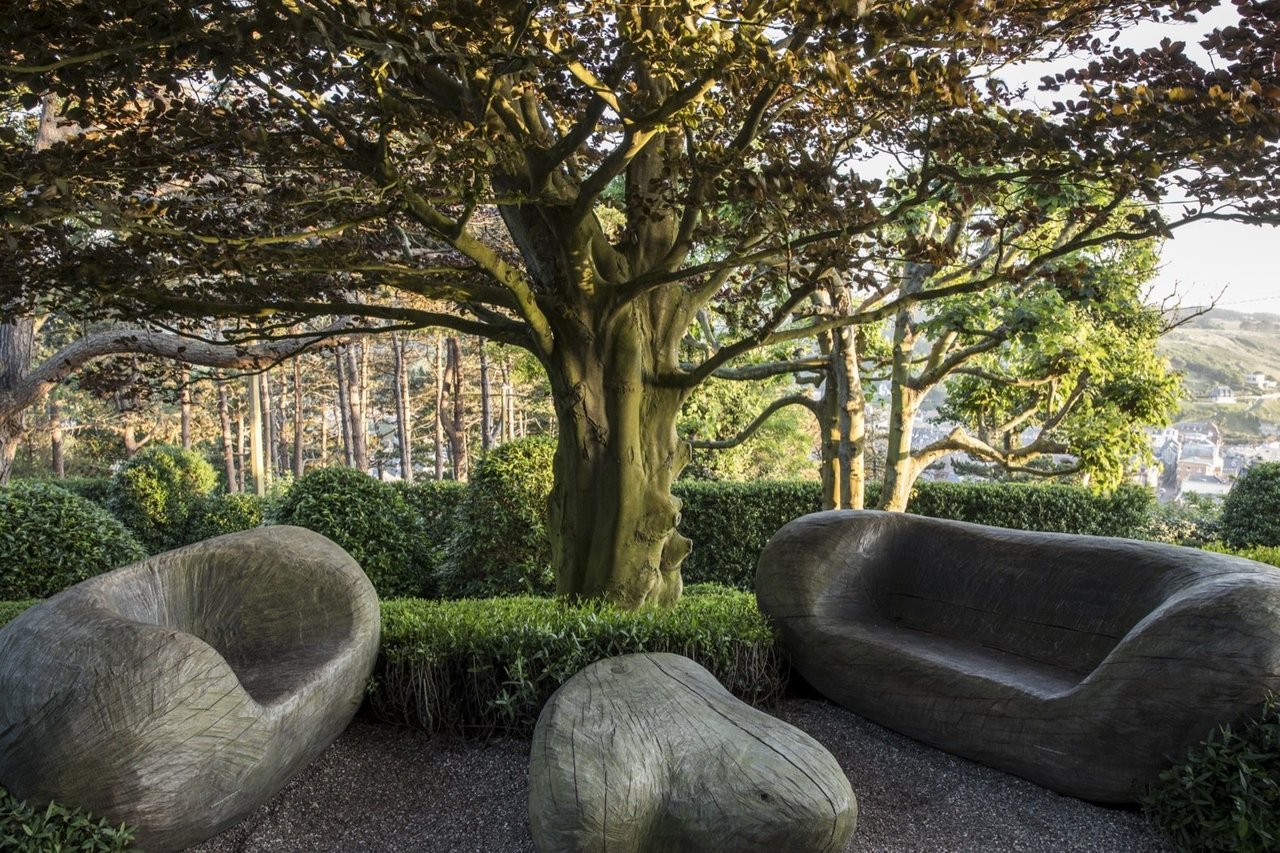 Jardin Impressions holds German artist Thomas Rösler's Lounge Stones-a seating area that blends in with its surroundings.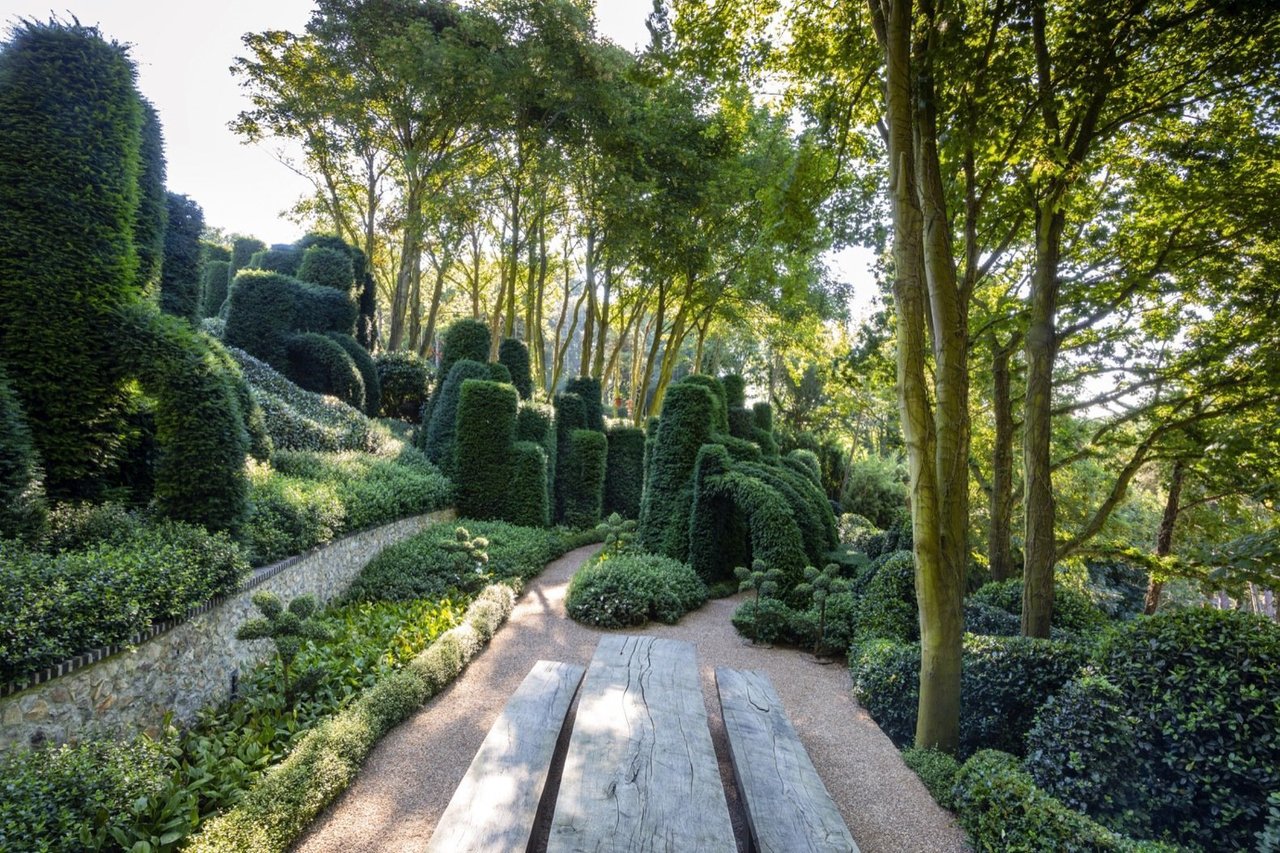 Jardin d'Aval serves as a resting point for visitors. Inspired by Alice in Wonderland, this part of the garden features large yew arches and mounds symbolizing the Normandy cliffs.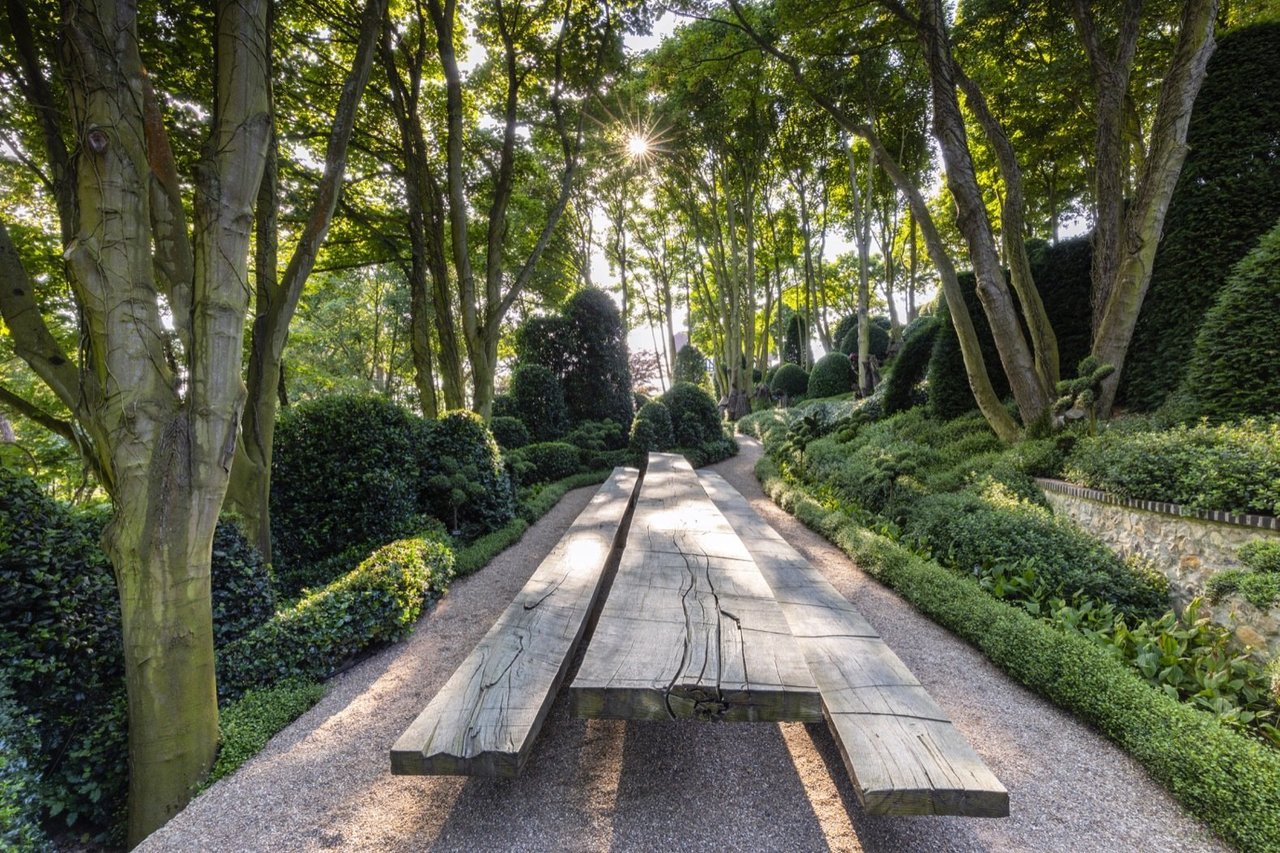 The Table and Two Benches by German sculptor Thomas Rösler is made from a solid oak block.




A glimpse of Jardin Zen, a section of the garden where only plants with white blossoms grow to symbolize unity with nature.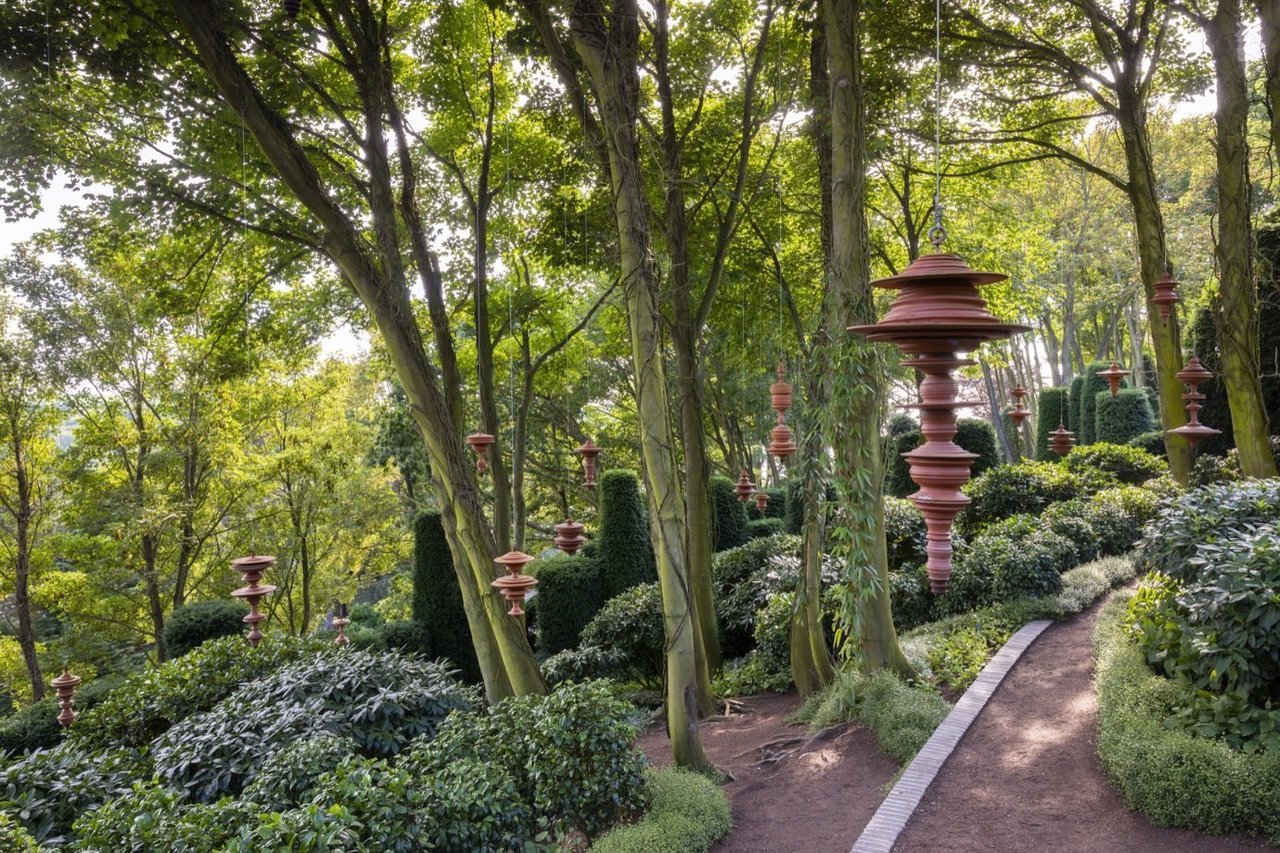 In Jardin Zen, Until the World is Gone is an installation by Russian artist Sergey Katran that comprises terra-cotta sculptures shaped like the sound waves of the word "art" when said in different languages.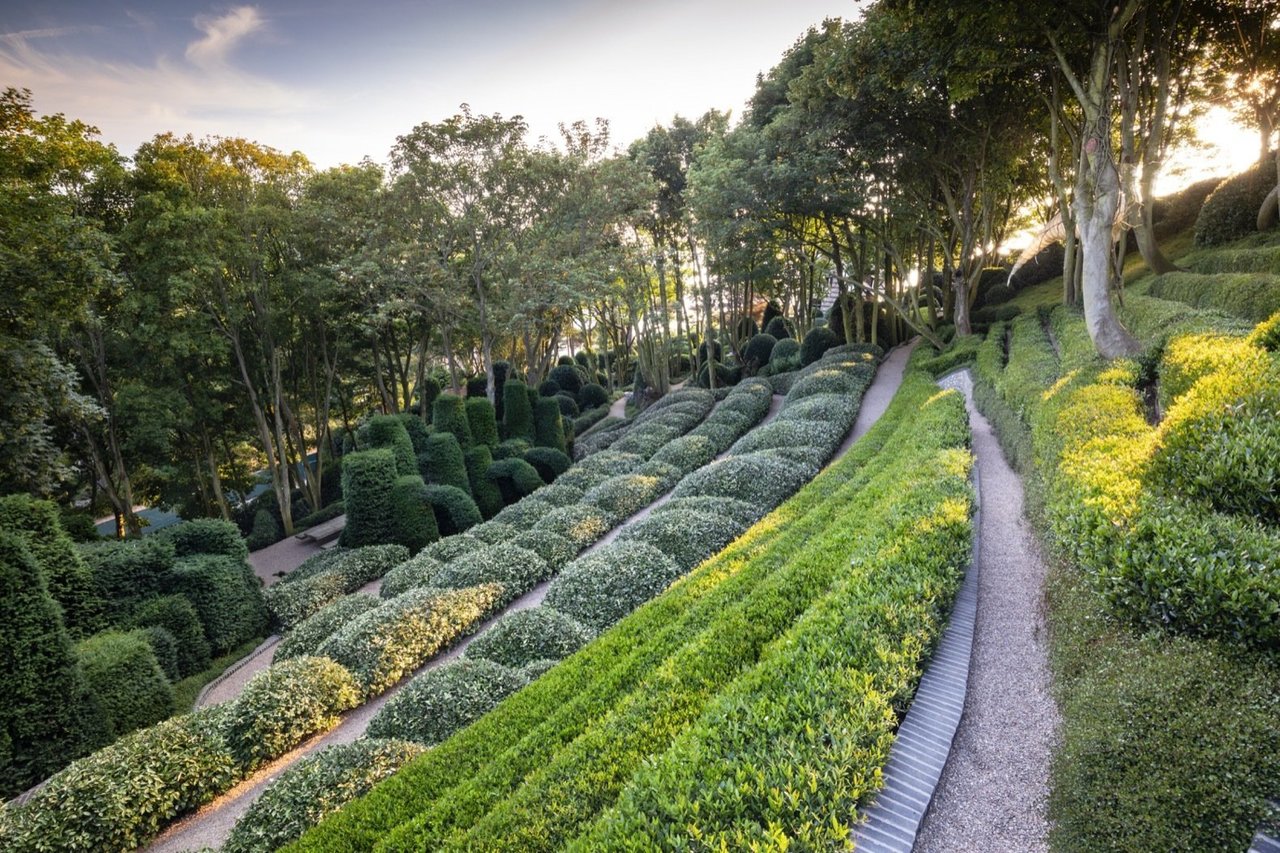 Located at the center of the garden, Jardin La Manche was created to inspire vivid emotions with large-scale topiaries that evoke waves crashing against the cliffs of Étretat in a storm. The silvery leaves are meant to evoke sea-foam on the crest of waves.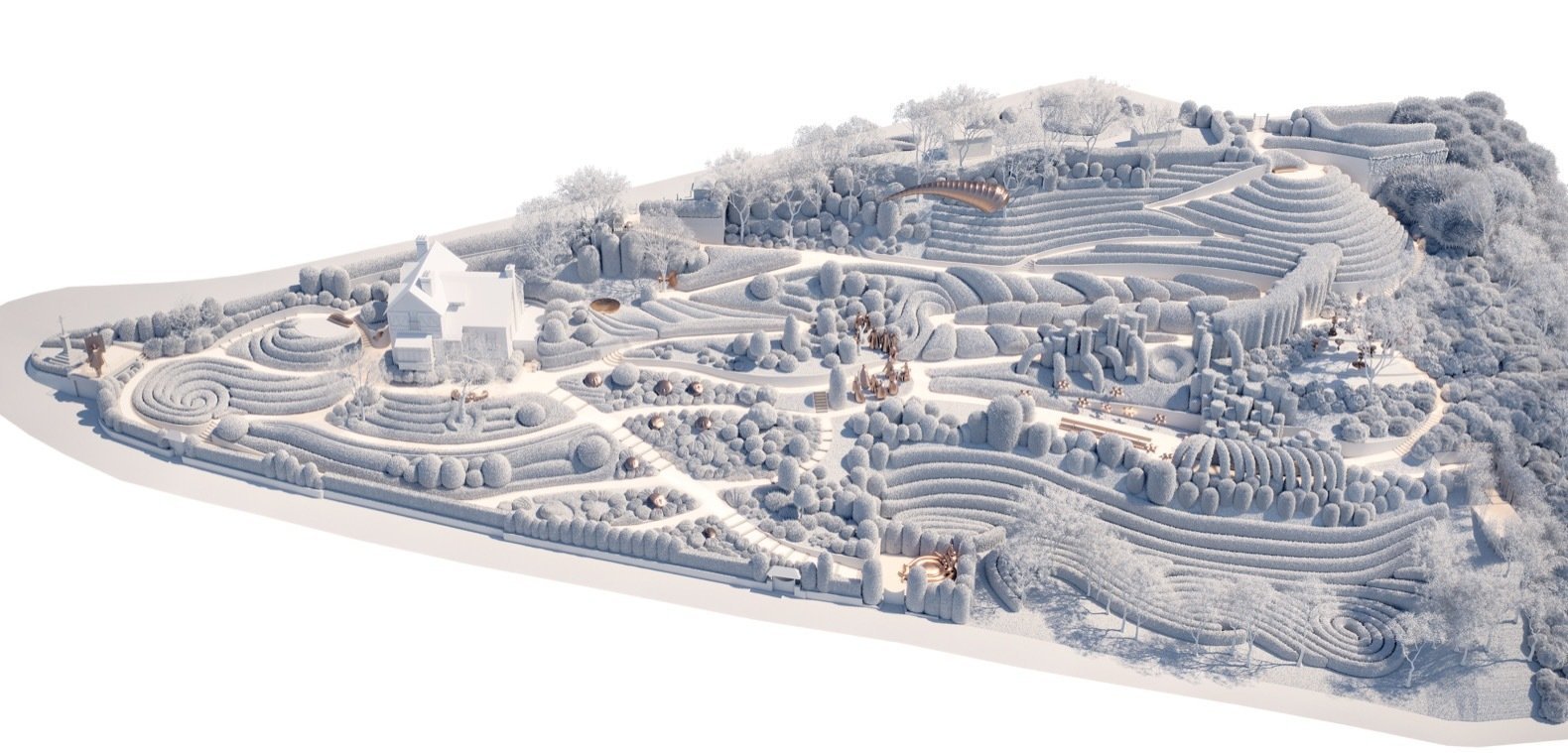 Les Jardins D'Étretat 3D Model