Spring brings new beginnings and spring 2021 is absolutely no exception. Whether discovering new aspects of self as we continue to slow down or additional meanings of home as we cocoon indoors, this spring offers an opportunity to delve deeper into our whole selves. It is this idea of deep adaptation and growth that inspired Mitchell Gold + Bob Williams' spring collection, "The Comfort of Being You."

With more than 500 new arrivals for the entire home, the brand's spring collection will help you define and design your space for the ways you live it. Seeking comfort is not merely physical; comfort in our space allows us to breathe in, nestle, and embody our truest selves. "When we speak about 'The Comfort of Being You' we are speaking about helping you make home become the place you imagine, the place where you can stand in love with your life, with the people who you love," says Allison O'Connor, company president & CEO.

This season presents new artisan-crafted, environmentally conscious pieces created to elevate your space, including the brand's new European Bedding Collection with soft, inviting natural textures that offer versatility and easy care, letting you create cozy layered looks for a relaxing bedroom retreat.
For a statement all your own, you can customize upholstery on any piece. Choose from 500+ fabrics and 30+ leathers, including performance fabrics, all made in the brand's North Carolina factory. You can select up to 10 fabric swatches online at www.mgbwhome.com or in their stores and they'll ship them to you for free. You can also join the Comfort Club to save 25% on everything, every day.

Here is a glimpse into the brand's latest collection of consciously crafted pieces made to complement you. See the collection in their stores or online at www.mgbwhome.com. To arrange a complimentary virtual design consultation, email virtualinhome@mgbwhome.com.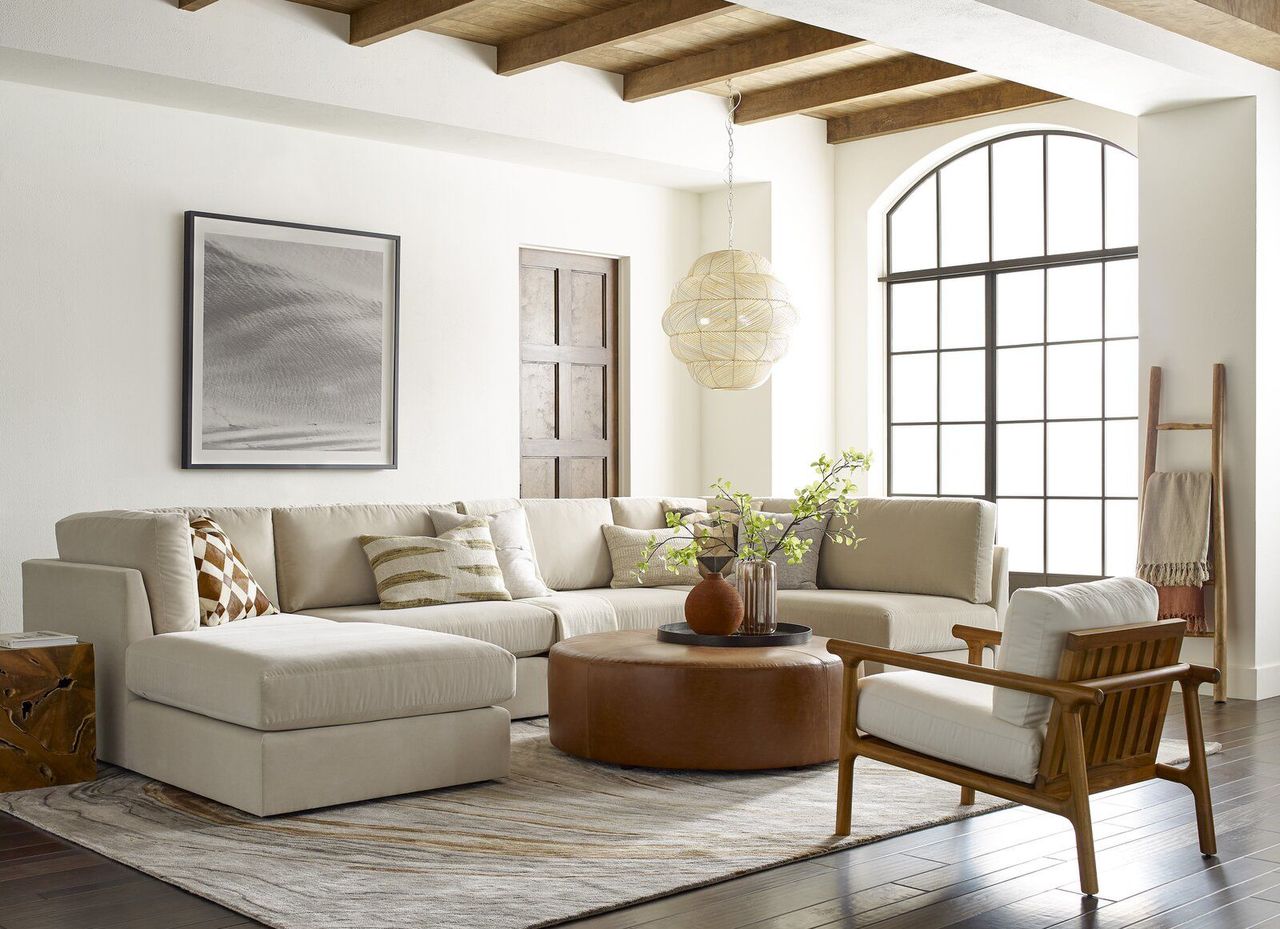 Create a sense of calm with contrasting natural materials and textures. Here, the modular, artisan-crafted Franco II Sectional offers soft sophistication set against the clean lines of the Franny Cocktail Ottoman in leather. Hand-upholstered, the Franco II architects a refined and cozy space to relax around those you love. Both the Franco II Sectional and Franny Cocktail Ottoman are customizable in fabric and leather.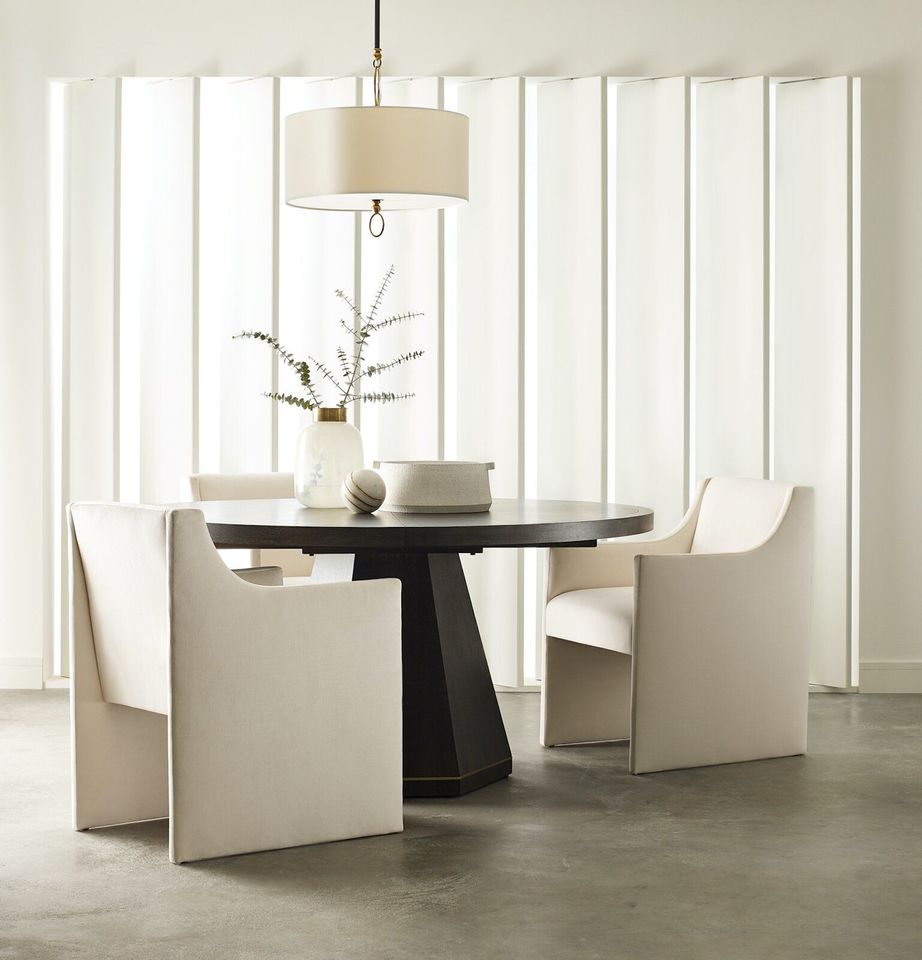 Elevate your mealtime rituals with a moment of juxtaposition-like pairing the soft and sleek Edie Dining Chair with a sculptural dining table, such as the Emerson Round Extension Dining Table seen here. We love how the Edie Dining Chairs present curves and clean lines, whilst softening statement making centerpieces. Edie is available in 10 shades of their easy-care Performance Micro Cord Velvet. You can opt for a neutral hue like the cream color seen here, or a pop of color, depending on your personal taste.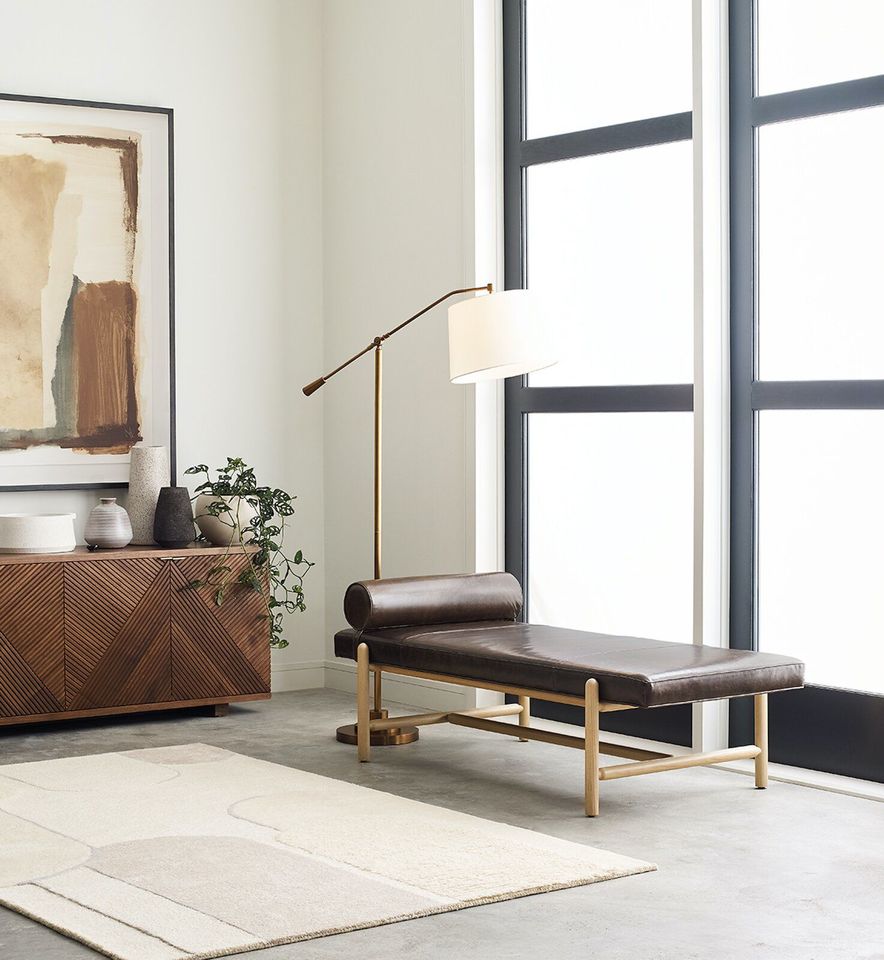 Honor yourself with sacred spaces designed for a moment of respite. The Finn Daybed offers a sophisticated, Scandinavian-inspired setting for slowing down and settling in. We love this take on the classic midcentury modern piece. Shown in leather, it can also be customized in fabric. The Finn Daybed sits beside the versatile Miles Console with carved geometric designs, available in two finishes, and the textural Art Deco-inspired Vivienne hand-tufted wool rug from artisanal maker Obeetee; both providing additional warmth to the space.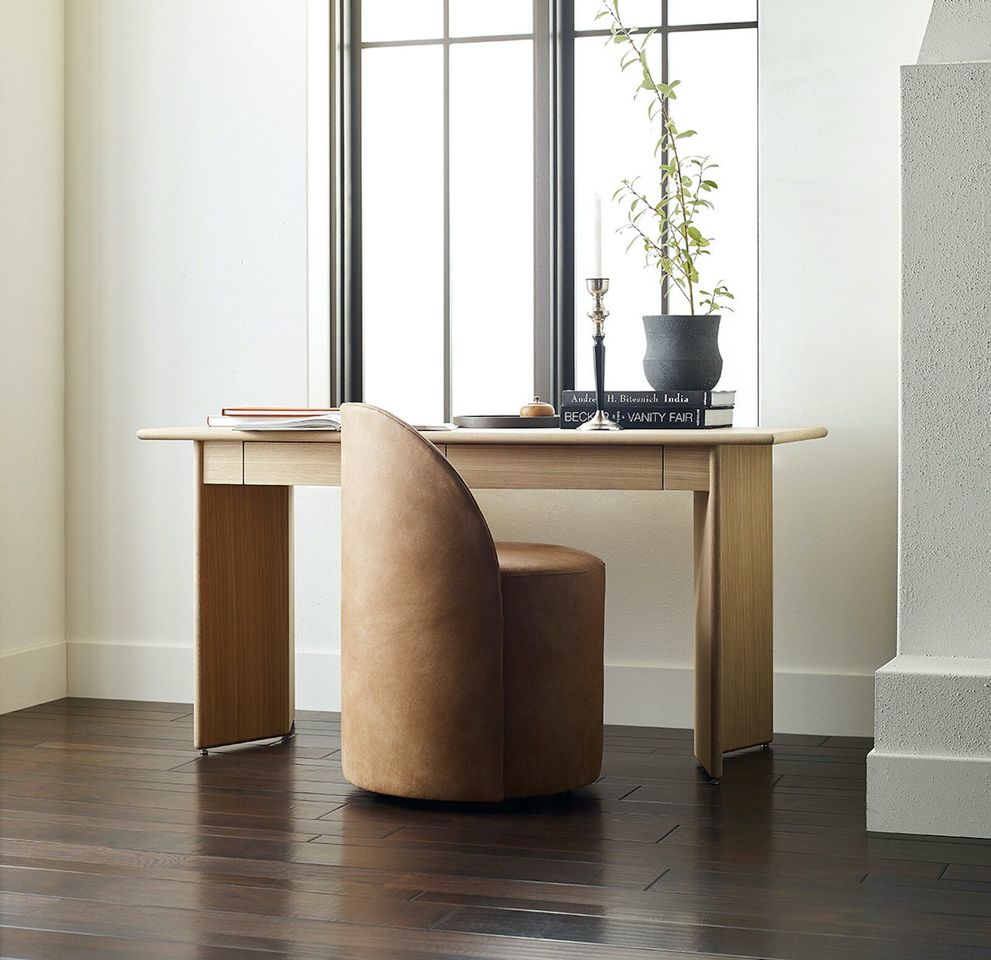 Your workspace should ignite and inspire. Perfect for the office, hallway, or bedroom, the Merritt Desk offers a warm place to center your thoughts and drawers to keep your workspace organized. The natural oak finish and wooden curves mesh with the midcentury Italian-inspired Margaux Dining Chair on casters, as fitting for around a table as at a desk. Shown here in leather, the Margaux is also customizable in fabric.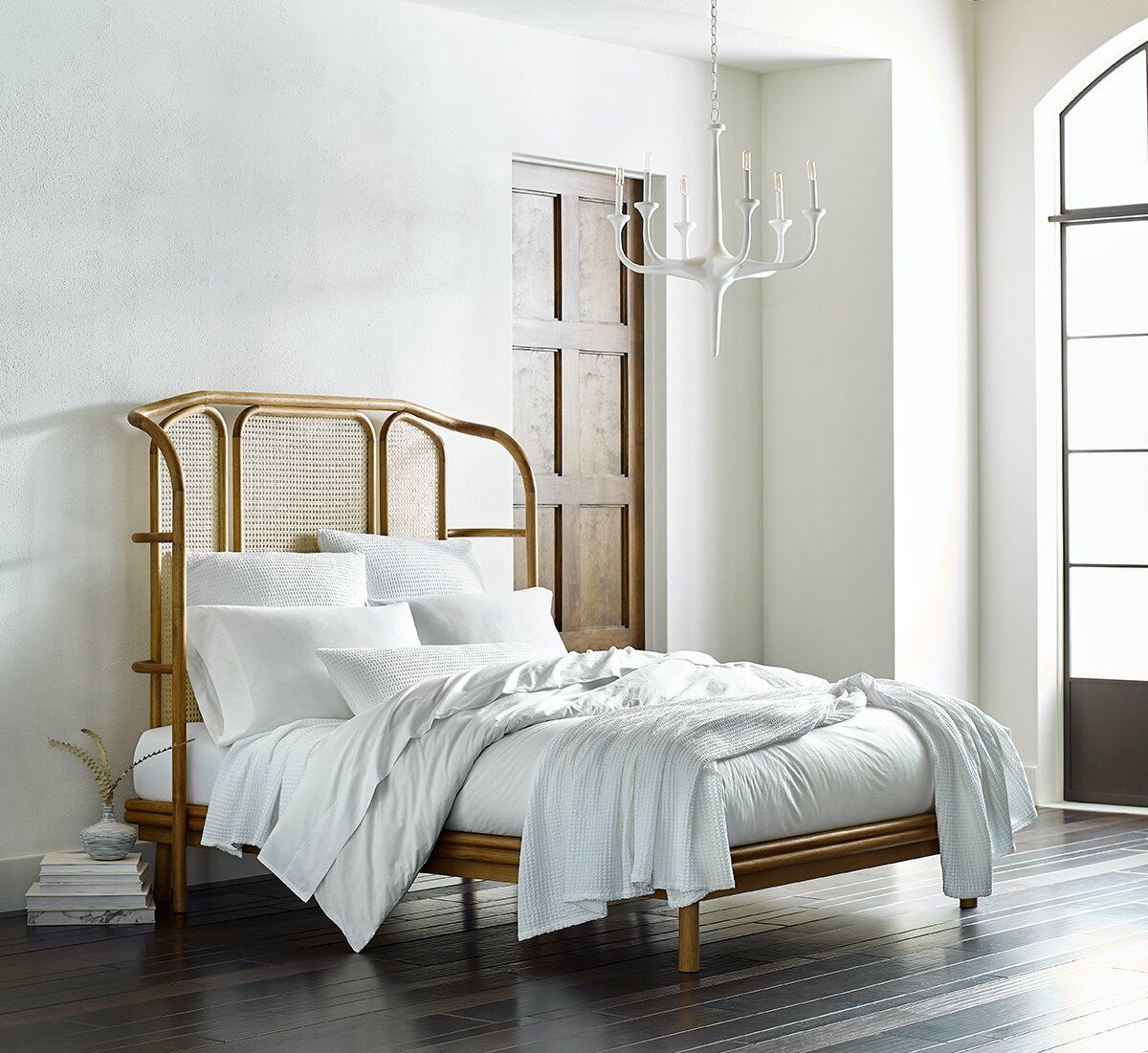 Your bedroom deserves to be the space of your dreams. Curl up in the lush Sedona Platform Bed crafted from natural materials to achieve a calming, coastal-inspired aesthetic. The bed's modern design features airy, woven cane panels inset into a solid, steam-bent oak frame. Cover it with the new European Bed Linens for even more comfort and panache.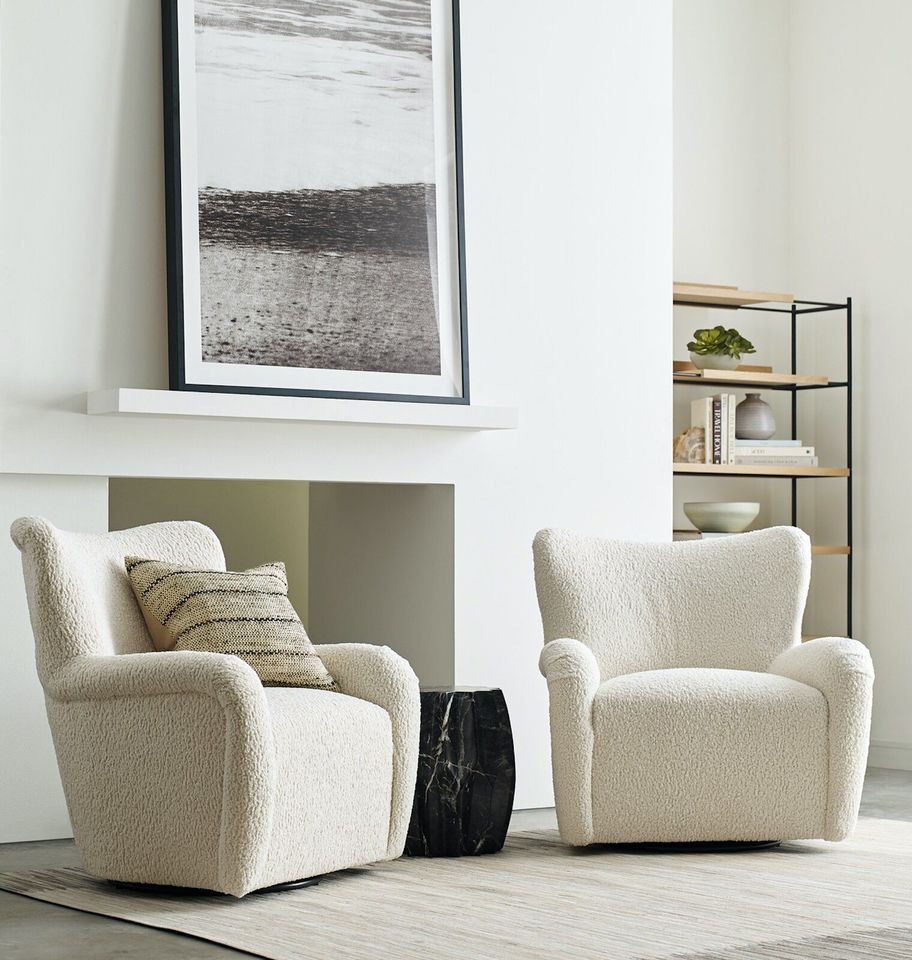 Cozy into this modern take on the classic club chair, the Huxley Swivel Chair. Shown above in Sherpa fabric, the Huxley offers an indulgent seat with soft lines, elevating any space from the living room to the bedroom. The Huxley is available in hundreds of custom fabrics and leathers, so it can fit your space to a tee.