Desiring an escape from the city, Lithuanian architect Ema Butrimaviciute of the Vilnius–based architectural practice Utopium crafted a rentable retreat that would be "as small as possible," yet spacious enough to fit all the comforts of home.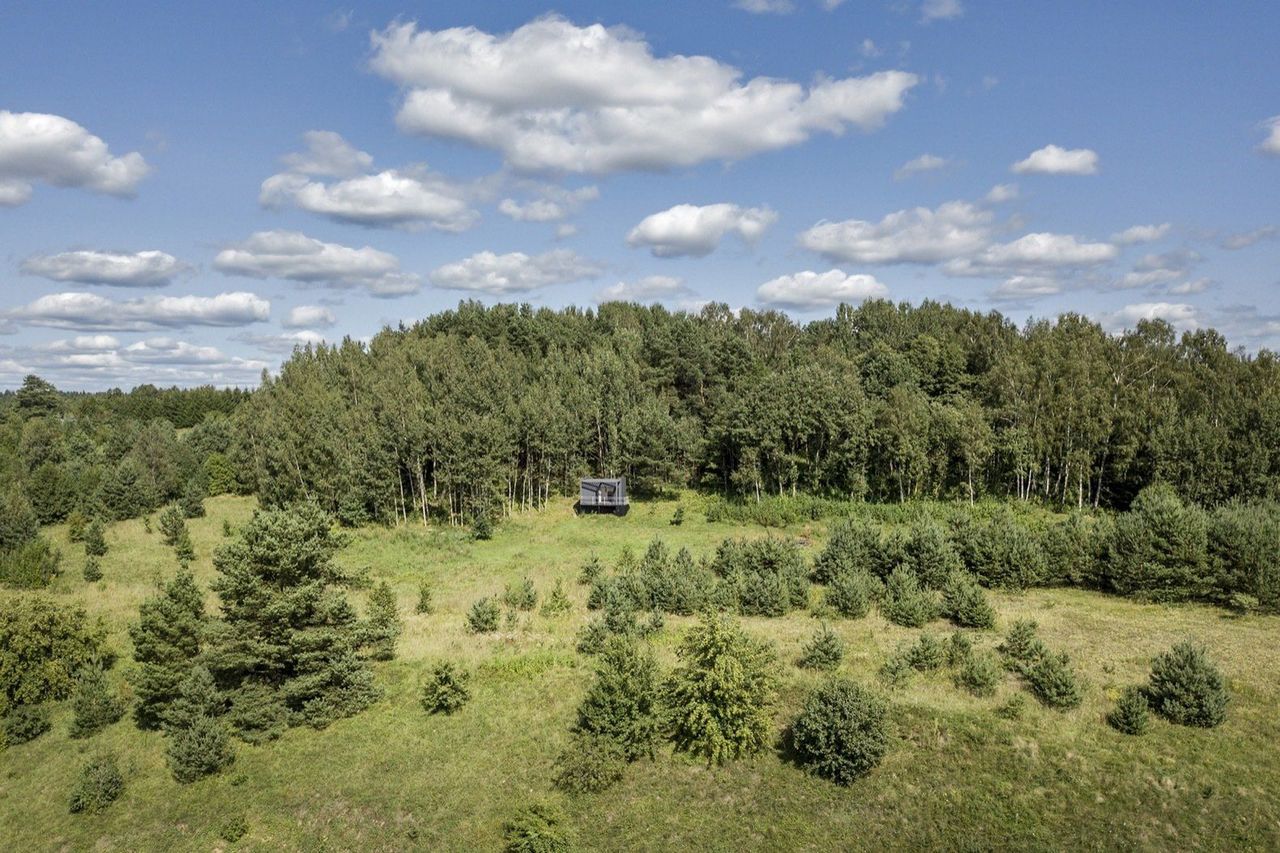 Set on a wild 50-acre property, the Etno Hut is located within easy access from two major Lithuanian cities, Vilnius and Kaunas.

With an ancient forest as a backdrop and beautiful, unfettered views of the Lithuanian countryside in front, the Etno Hut smartly defers to the landscape with its minimalist, compact design of just 150 square feet.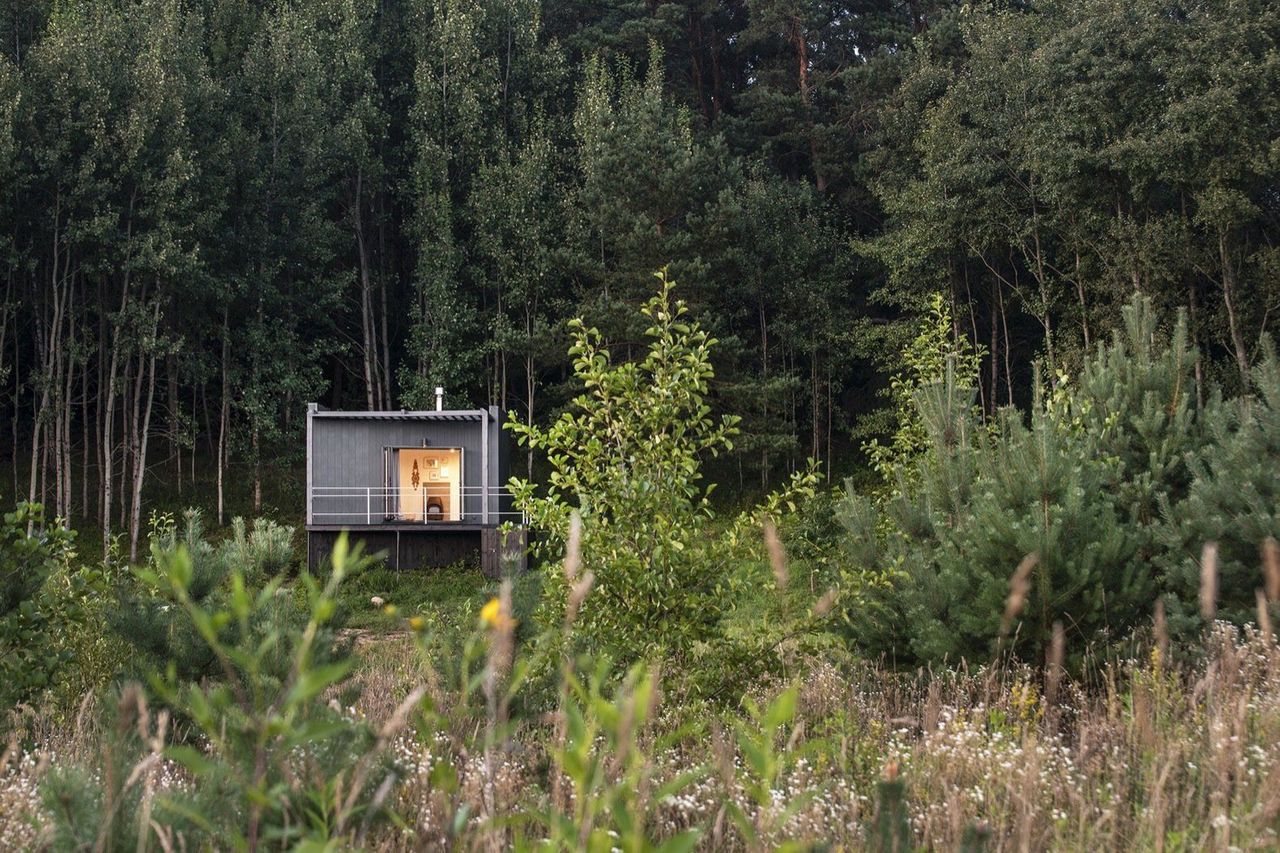 Set on a slope, the property faces the forest to the north and sweeping views of the landscape to the south.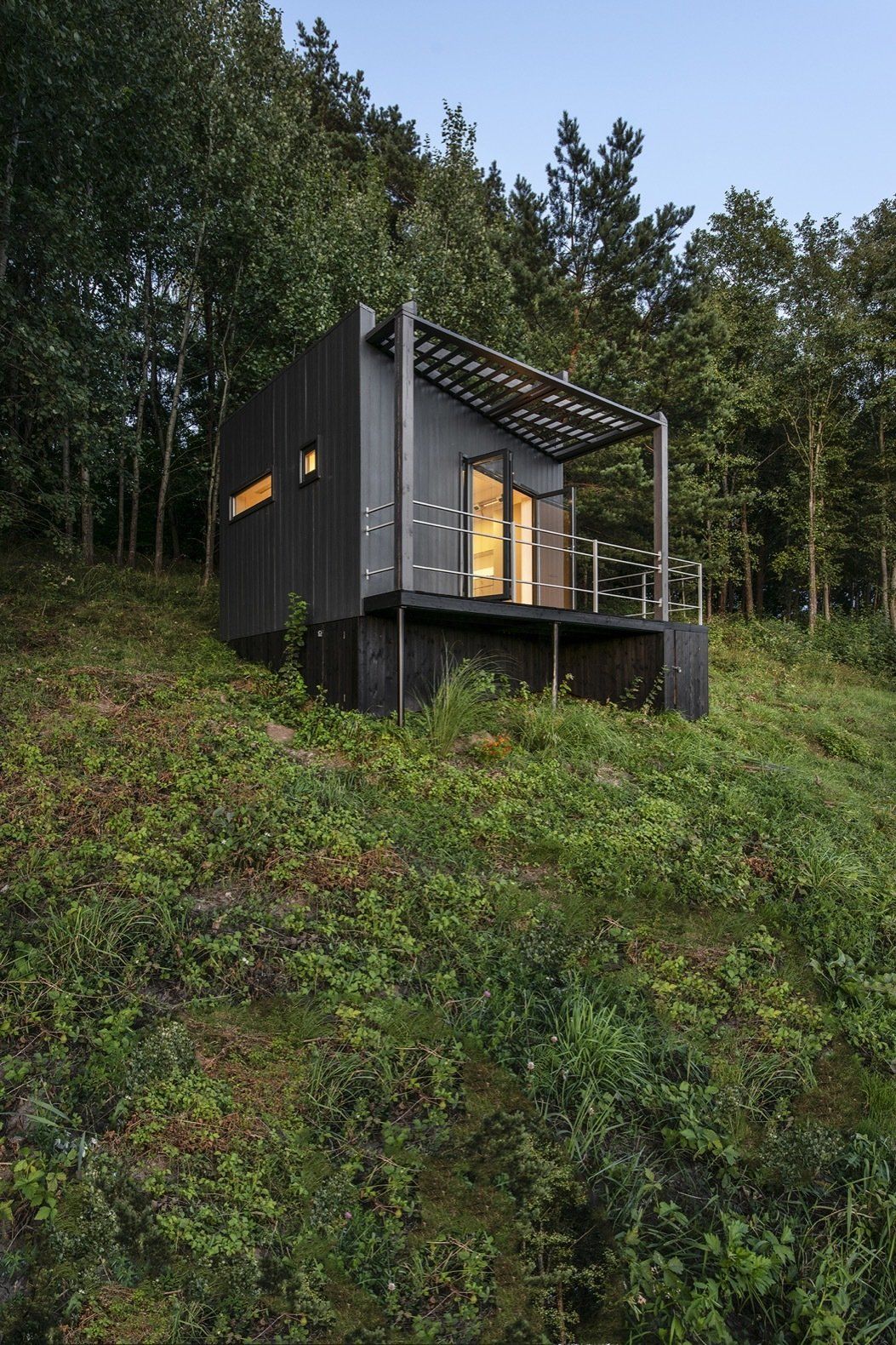 The Etno Hut is elevated on a steel foundation screwed into the ground by hand. The space beneath the main volume was covered to hide cables, piping, and storage.

Minimal site impact was a guiding principle for the streamlined cabin that's elevated off the ground on a steel foundation. SIP construction allowed the project to be assembled in a speedy three days.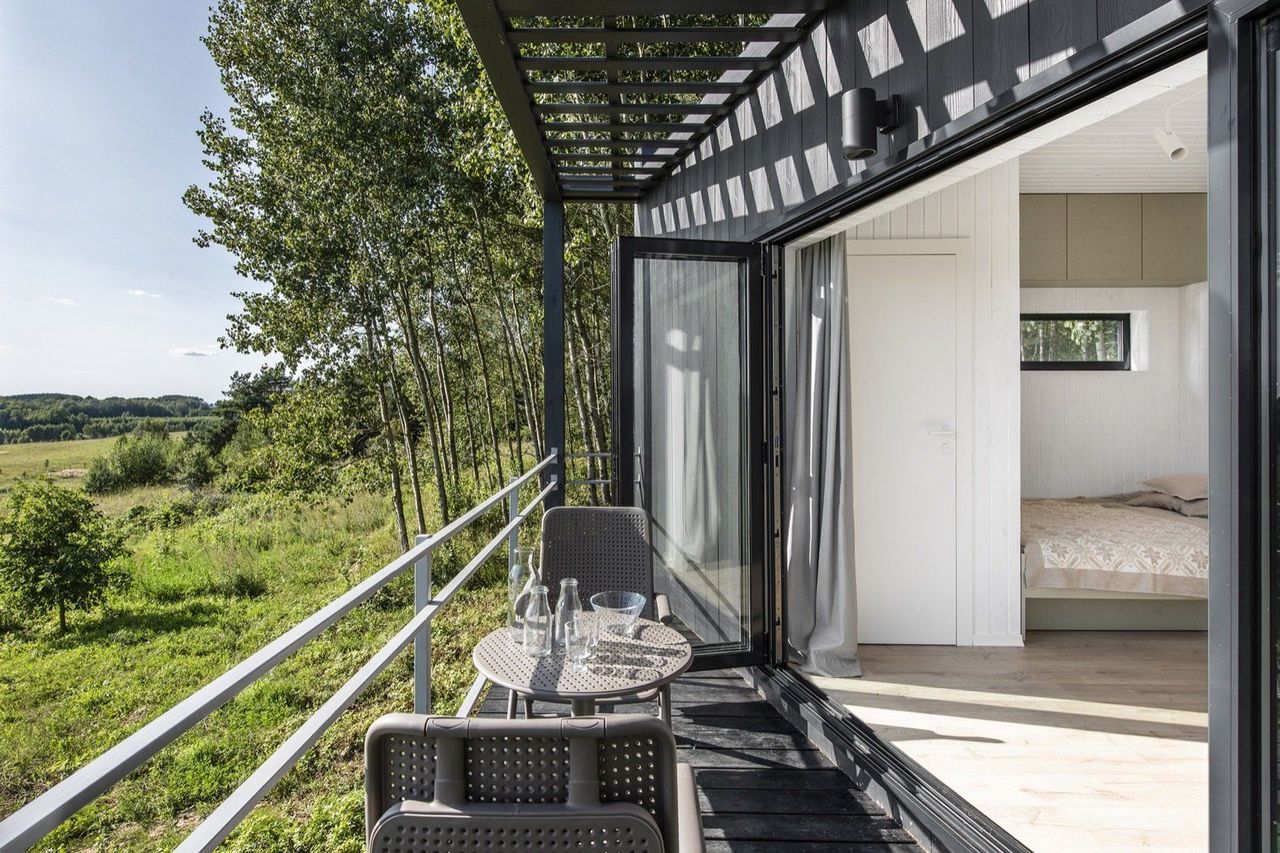 Folding glass doors blur the boundaries between the indoors and out.

Ema also dressed the interiors in a pared-back aesthetic with a natural material palette that keeps focus on the outdoors.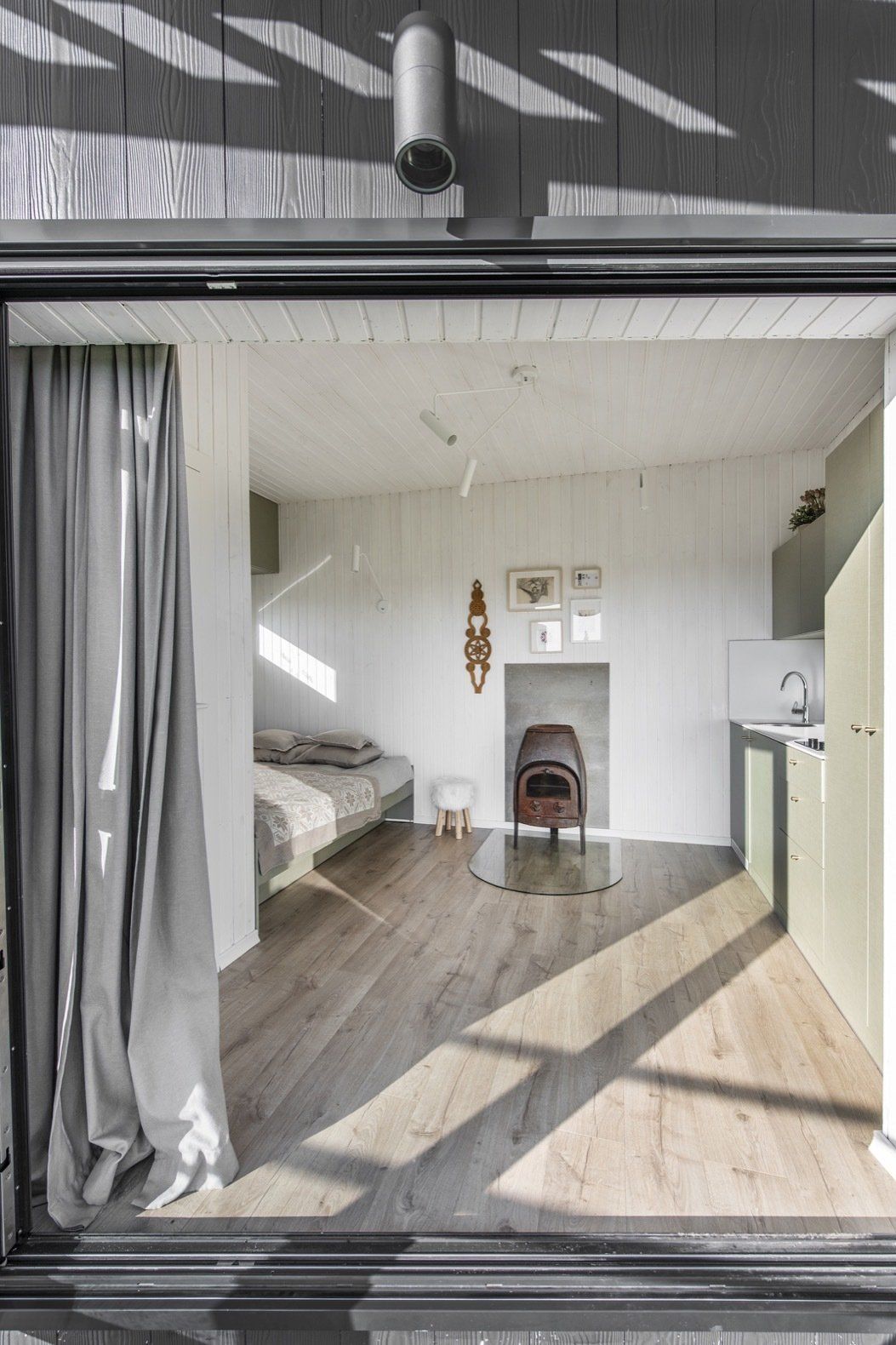 The view of the interior from the terrace. The floors are waterproof laminate and the walls are painted wood siding.

Etno Hut features a fully equipped kitchenette, a bathroom with a spacious shower, a dining area, and a queen-size bed (with an extra pull-out bed) to meet the basic needs of two people. Most of the fittings were custom made for the project.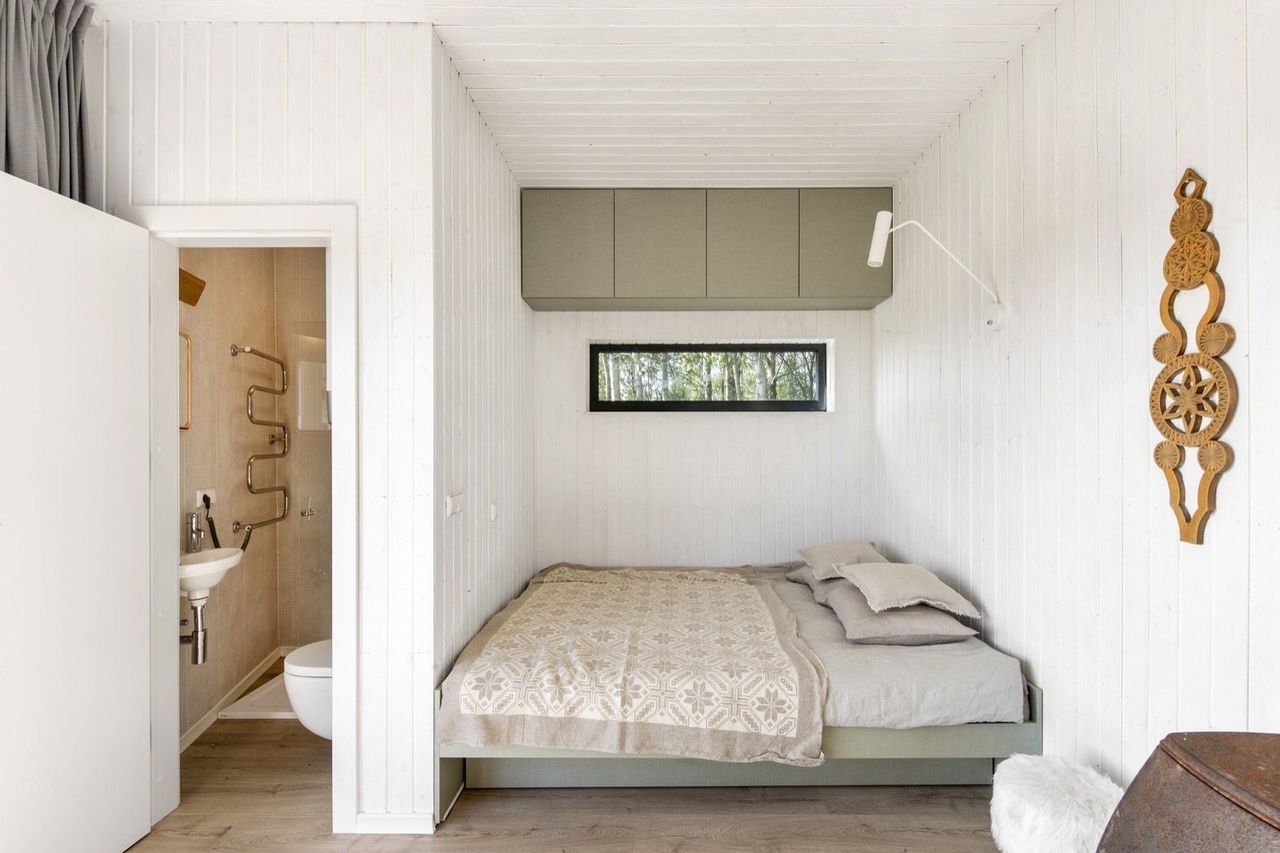 The queen-size bed with natural fiber bedding is perfectly slotted into a corner of the house. The bathroom is fitted with a Gustavsberg basin and tap, as well as a Roca toilet.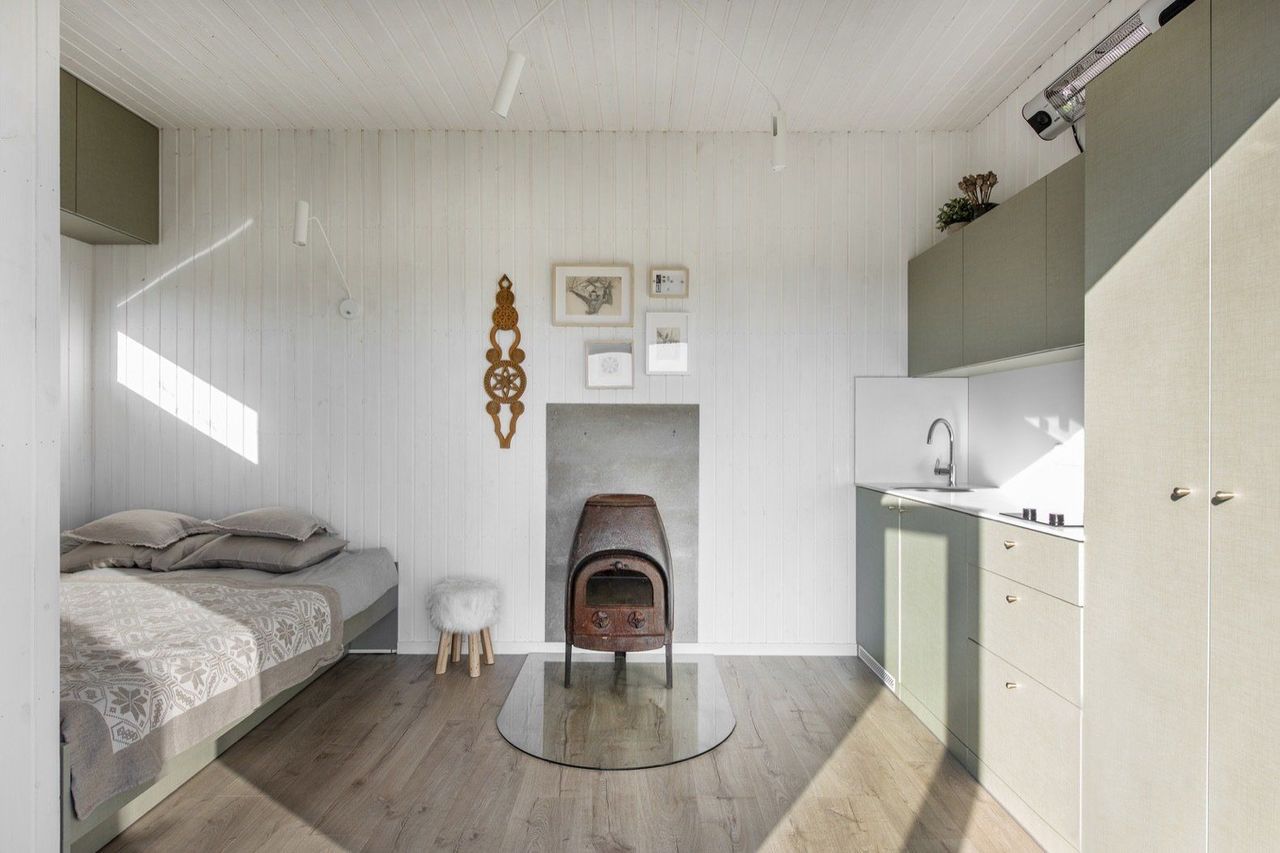 At the heart of the hut is a wood-burning stove. The kitchenette features a Hansgrohe tap, a Franke sink, laminated chipboard cabinets, along with high-pressure laminate counters and backsplashes.

"One of the tasks was to avoid those uncomfortable things that are usually found in tiny houses, such as transformable furniture or ladder stairs," explains Butrimaviciute.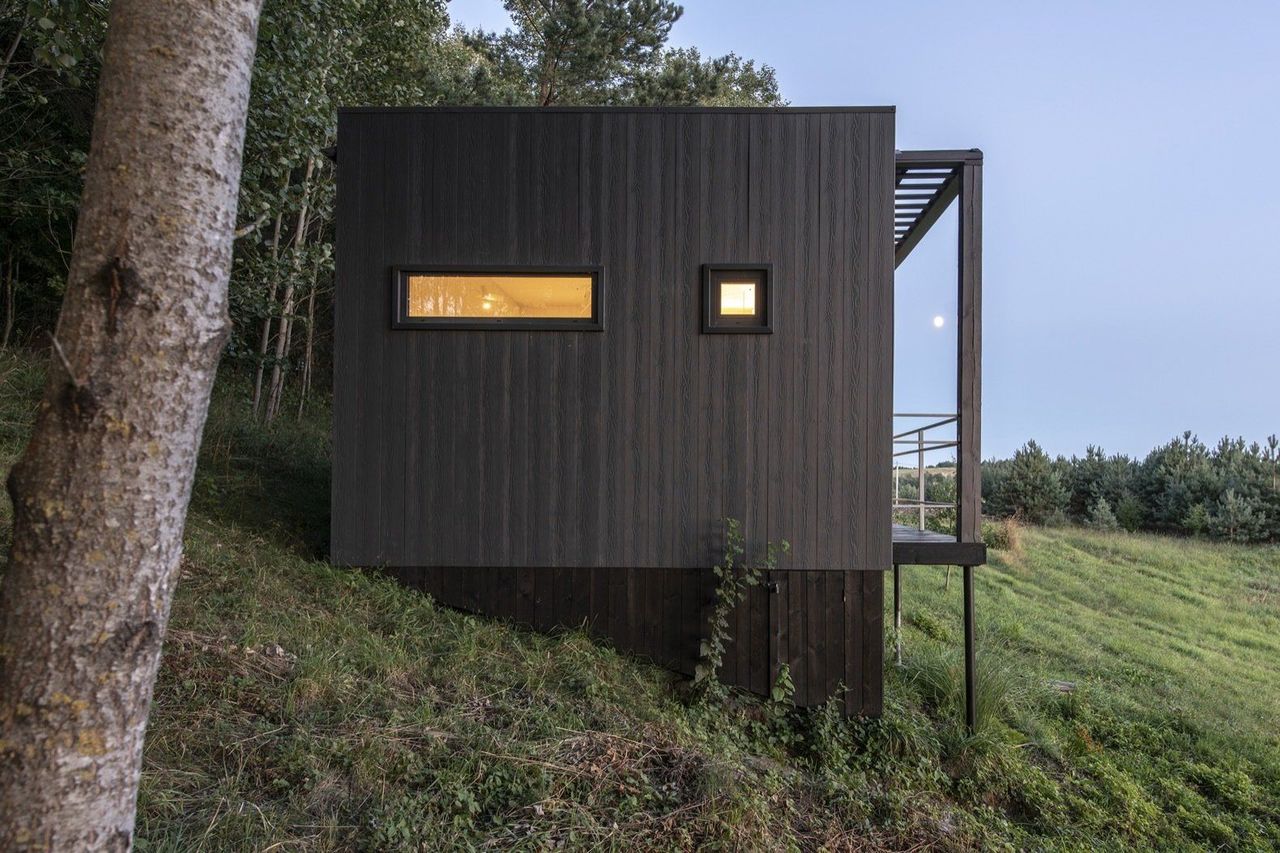 The exterior is clad in fiber-cement panels and topped with a bitumen roof.

The remote beauty of the property proved a drawback during construction however, since finding contractors willing to travel the distance for such a small project was difficult.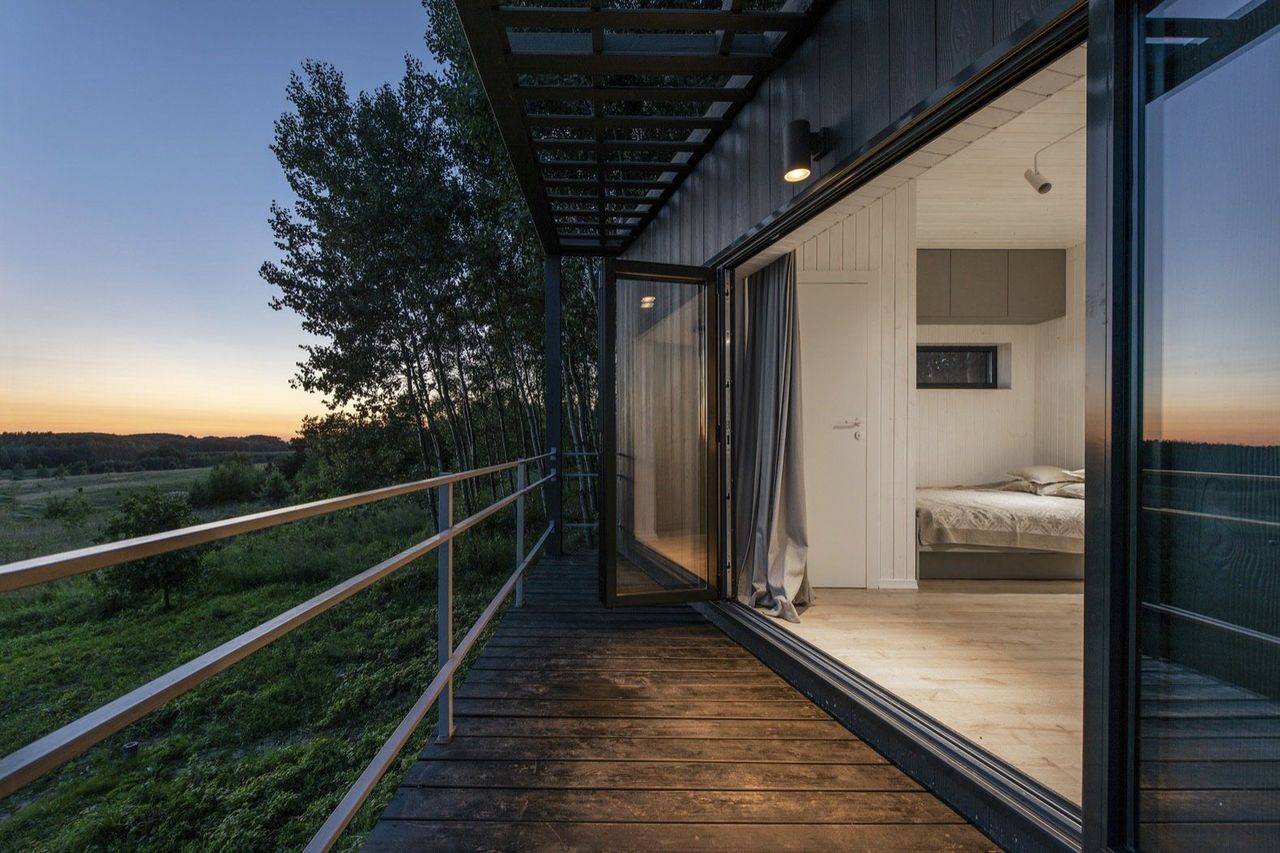 The home is also equipped with an infrared heater and a wireless bluetooth speaker.

"The design of the house is simple and easily adaptable to every site," concludes Butrimaviciute. "It can merge in both: urbanized territory or countryside. In the near future, there is a plan to build bigger units that would look similar in matter of a design, however a little bigger."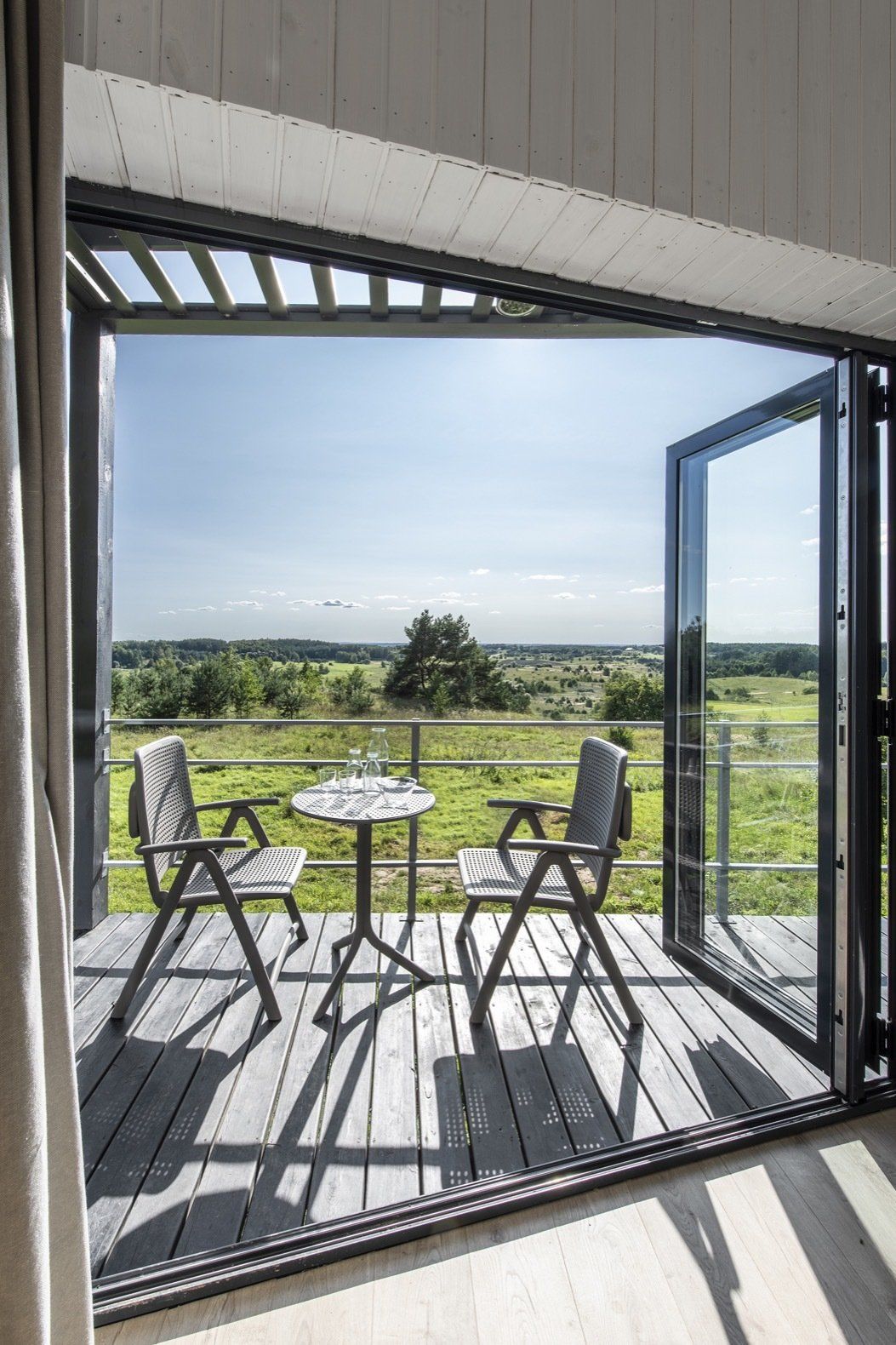 A timber terrace offers the spot for al fresco dining.

The cozy hideaway is available to rent starting at 60€ ($69) a night.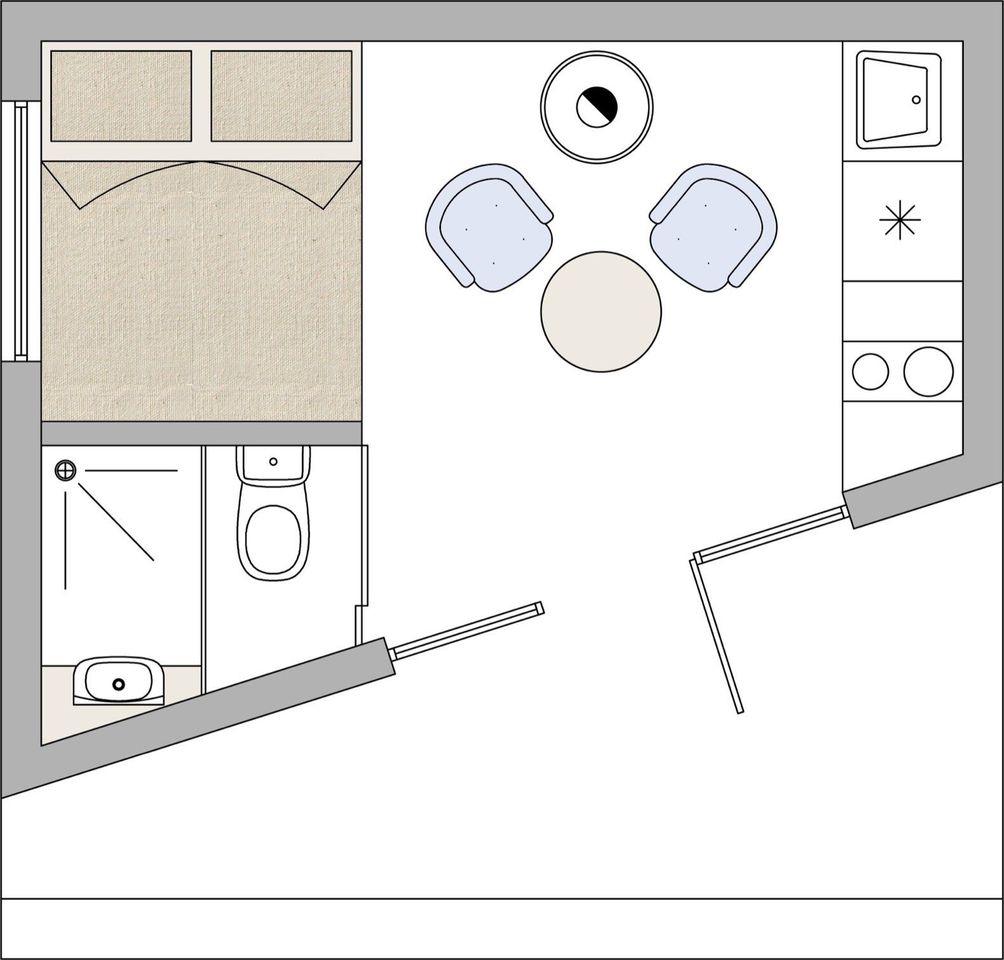 Etno Hut floor plan.