If you're looking for a showstopping conversation piece in the interiors world, few items satisfy quite like the Vestaboard. Equal parts communications tool and wall dressing, the display's 8,448 articulated flaps, which spin and whirr as your instant message or image falls into place, can be operated wirelessly through an app. From the gentle click of the flaps to the delightful shuffle of the letters, Vestaboard is intriguing to see in action. "We wanted the sound to be pleasing, if not soothing," says the product's lead designer, Faiza Moore. Fred Bould, the industrial designer, adds, "We aimed to make the flap-motion experience as pure and plain as it could be."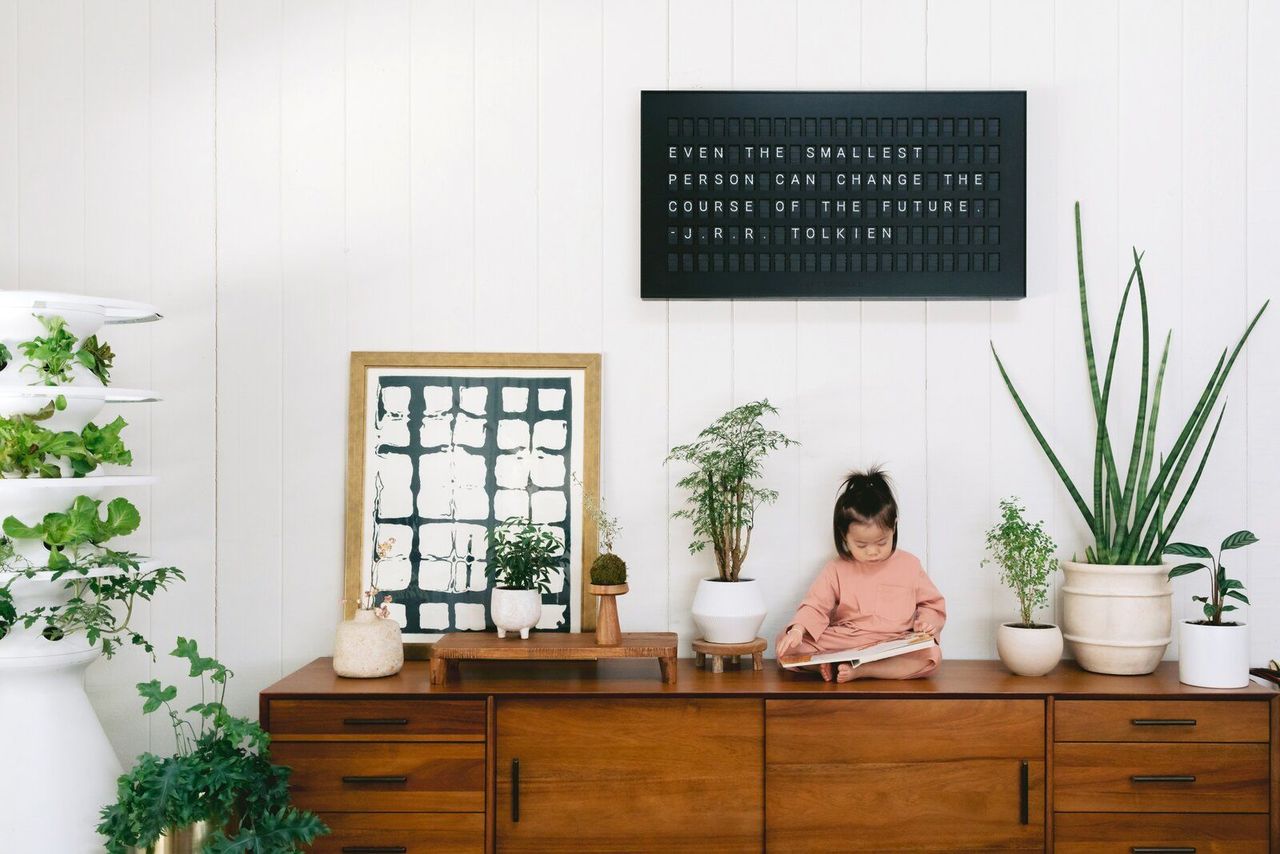 An alternative to the constant bombardment of information from our digital devices, Vestaboard's split-flap design recalls a bygone era. "There's a magic to it that can't be replicated with digital screens," says Moore.

Named after Vesta, Roman goddess of hearth and home, the Vestaboard resulted from an idea its creator, Dorrian Porter, had while meandering through the Gare du Nord train station in Paris, watching the nostalgic split-flap signage of arrivals and departures change. "I wondered what it might be like to send messages like that to my kids from afar," he remembers, noting his desire to connect with loved ones beyond the computer screen or phone, but still instantly-and with more panache. Moore says, "The sensory experience definitely adds intrigue to the message that awaits."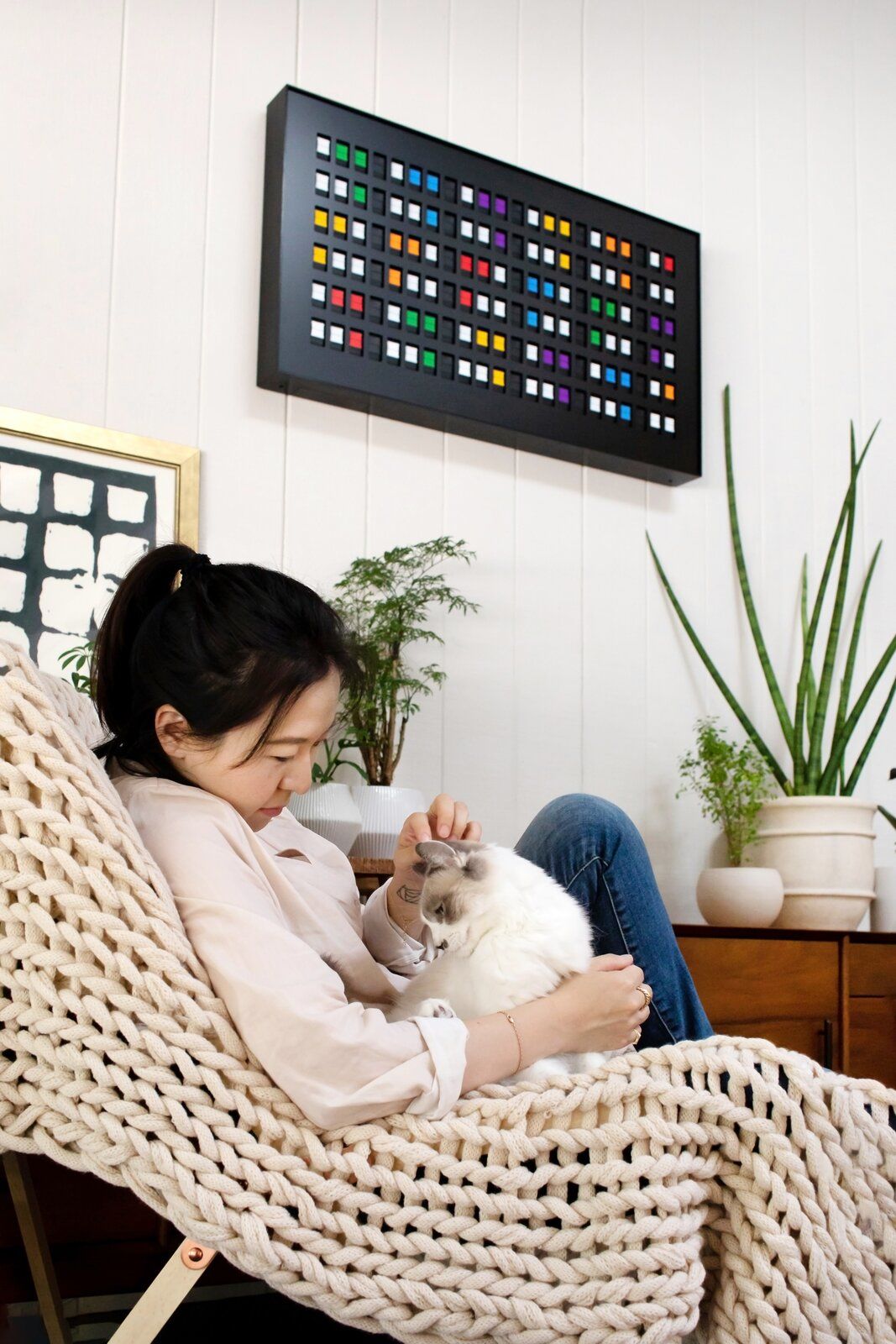 Laura says she first coveted the Vestaboard's beautiful display, then quickly came to appreciate its functionality.

Just ask Southern California–based lifestyle blogger Laura Izumikawa, who says that adding a Vestaboard to her family's Scandinavian-inspired living spaces came naturally and created a new visual focal point. "At first, I wasn't thinking about how the interactive messaging tool would improve our daily life," she says. "It just seemed like more of a beautifully designed object that I wanted in my home."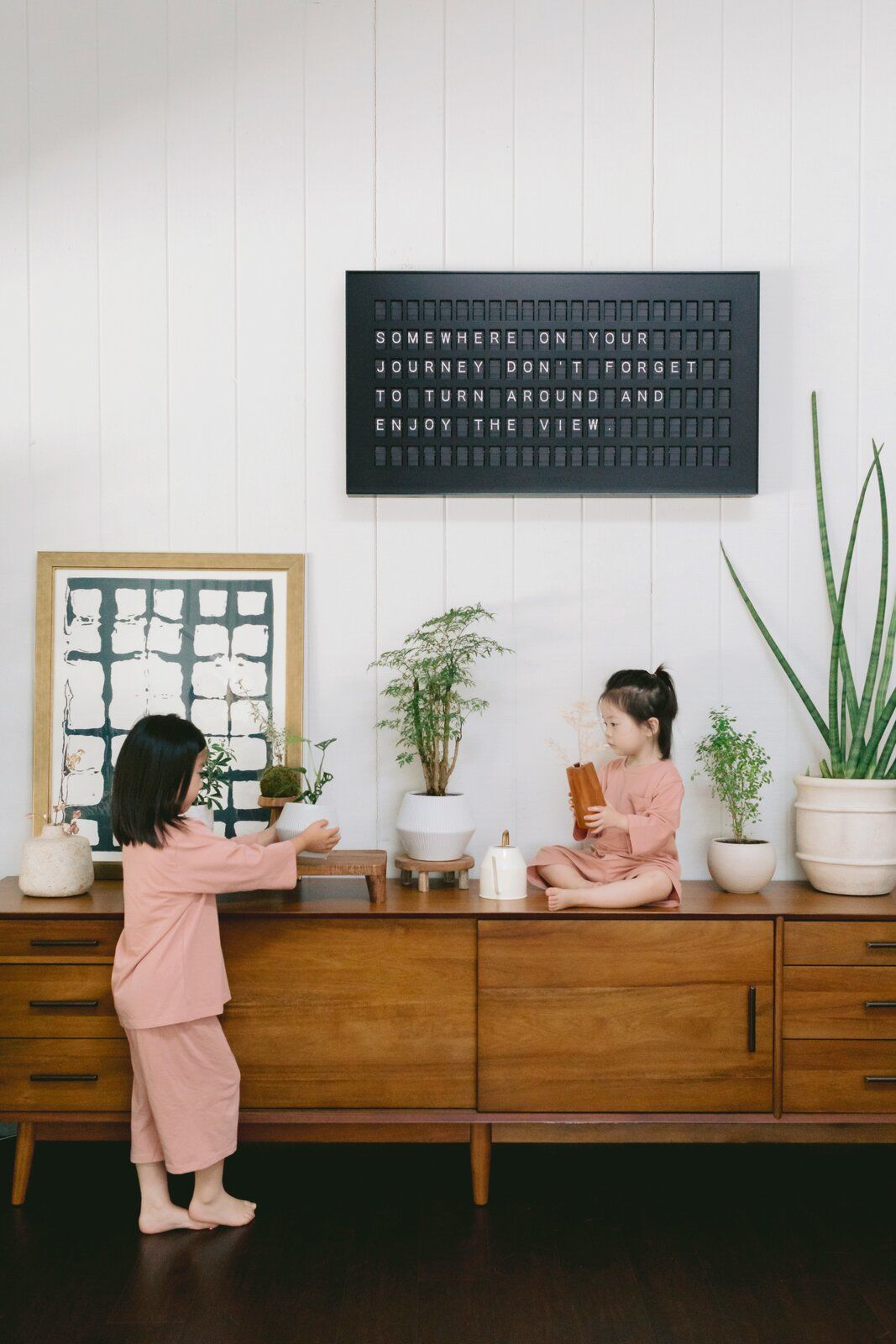 "I love that I am able to stay connected to my family, especially when I'm out of town," Laura notes of the messaging capacity. Vestaboard also integrates with wireless music apps.

But Laura soon noticed the display's effect on her family's two young children. "Whenever they see the ticker board begin to form letters, they run to it and watch until the message appears," she says, noting their Vestaboard has also become a reading and learning tool-a perk she didn't expect. "Our five-year-old enjoys seeing the new word of the week!"




Vestaboard has a grid of 132 characters, or "bits," containing rotating flaps that display user-generated content. The board can be controlled through the Vestaboard app to show anything from stock updates to football scores.

Whether showing an inspirational quote, daily reminder, or vocabulary-building prompt, the main message of Vestaboard is simply to slow down. "At the first sound of the ticker board, we all stop what we're doing," says Laura. "It's a wonderful pause that brings us daily joy."