Everyone has different needs and habits so personalizing the space is the way to go. With that in mind, we're hoping to give you a few ideas in that regard so you can add or adapt them in your own style.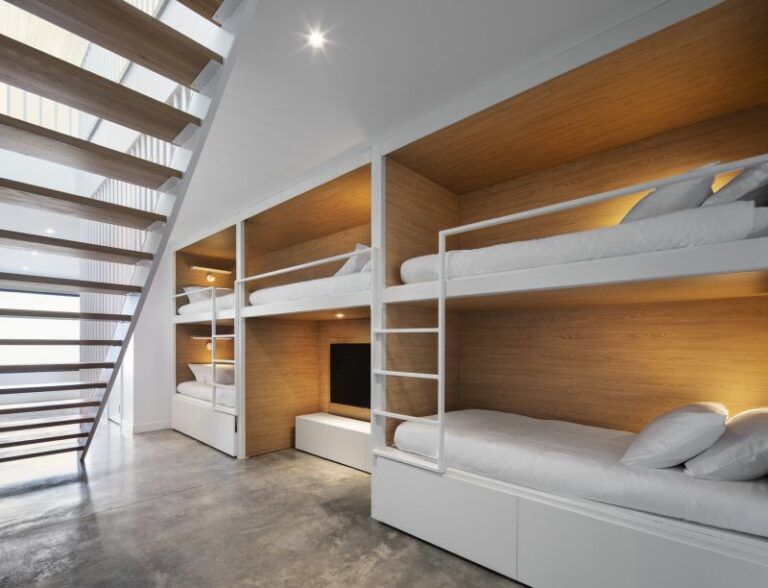 The very first thing that comes to mind is bunk beds and that's because they're a great fit for kids. They're practical and they take up little space and that means you can have several of them in a bedroom. This right here is a collection of 5 individual beds which is definitely plenty for a family with kids and their friends. It's a design by studio Architecture49 Montréal which we find very inspiring.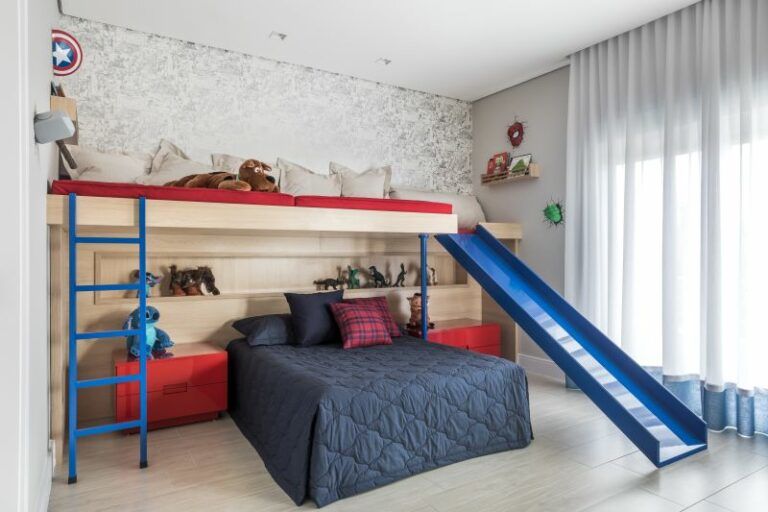 Speaking of kids' beds, another really cool idea is to have either bunk beds or a loft bed with a slide attached to it. This basically turns the room into a playground and makes it fun as well as cozy and inviting. Of course, you can separate the actual sleeping area from this section by having a regular bed at the bottom and a nice little nook at the top with a ladder and a slide. Check out this design by Estúdio DC55 for inspiration.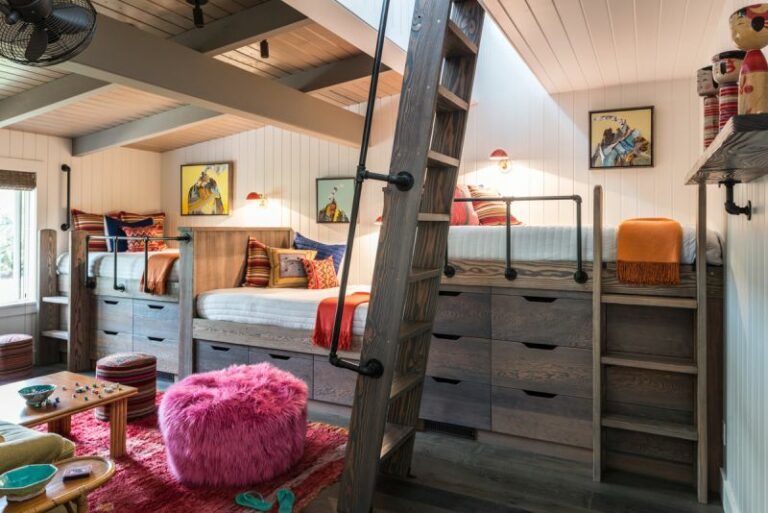 There's of course a multitude of other ways in which you can furnish and organize this room. Another idea is to combine beds and storage and to have something like this where the beds are raised on top of storage units. That way if there's several beds in the room they can each have their own storage module and they can be customized to include different storage solutions. This design by studio Hoedemaker Pfeiffer gives you an idea of how that might look like.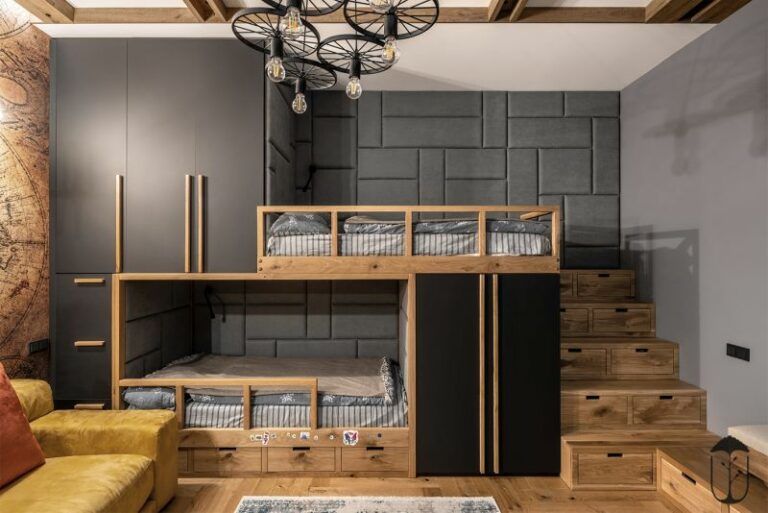 Here's another interesting way of combining the beds with the rest of the furniture in the room, in particular the storage modules. These two beds are positioned at different heights and complemented by a staircase with built-in storage drawers and a series of bigger storage modules as well. There's also under the bed storage for the bottom bunk. This is a design by Dinara Yousupova.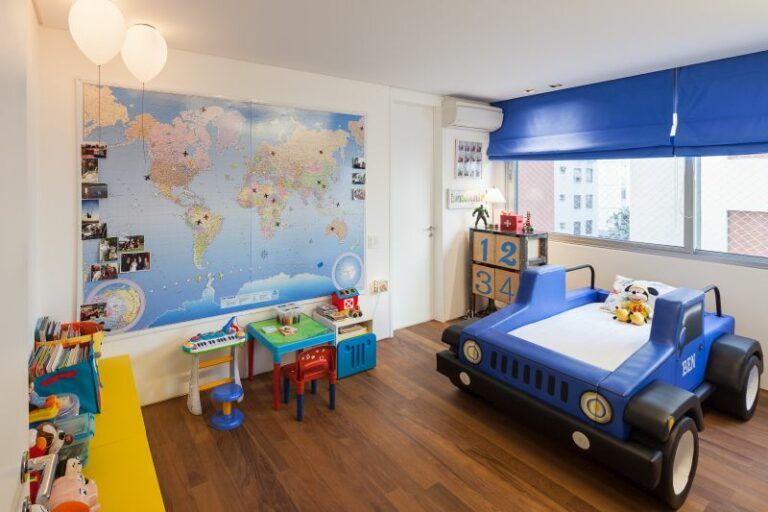 There's also a bunch of different car beds for kids which they surely find very fun and interesting. These can be a nice fit if you're going for a more cartoony kind of decor, with lots of bright and cheerful colors. These beds tend to take up quite a bit of space because of the extra decorations around them. Perhaps you can borrow ideas from this design by studio RSRG Arquitetos.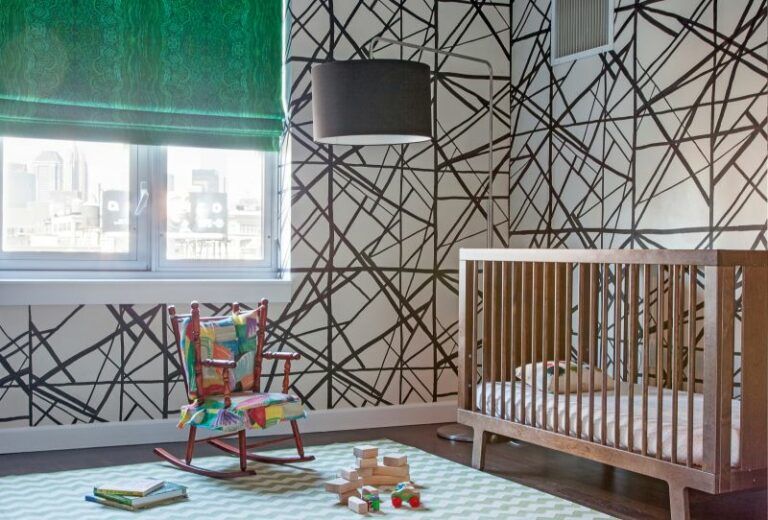 A crib poses fewer issues because it doesn't take up a lot of space. And since we're talking about a baby's room, it could be fun to keep it simple it terms of furniture but to focus more on decorative elements like the wallpaper, window treatments, rug and so on. All these elements allow you to introduce interesting patterns and accent colors into the room. We find this particular design by Angie Hranowsky Studio to be quite interesting in this sense.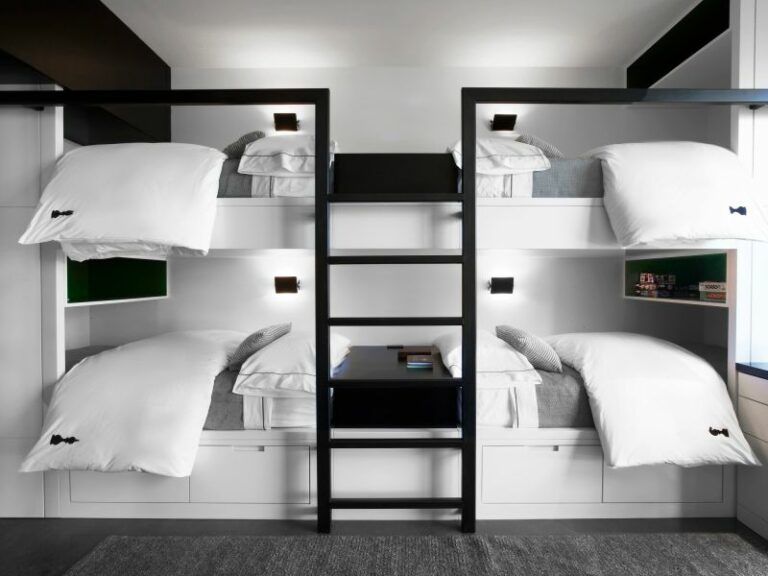 Bunk beds make it quite easy to create a symmetrical design. For example, in this design by Lake Flato Architects we have four beds all on the same side of the room. There's two of them on each side and a little ladder and separator in the middle. Each bed also has its own little storage shelf and there's more storage inside the drawers under the bottom bunks.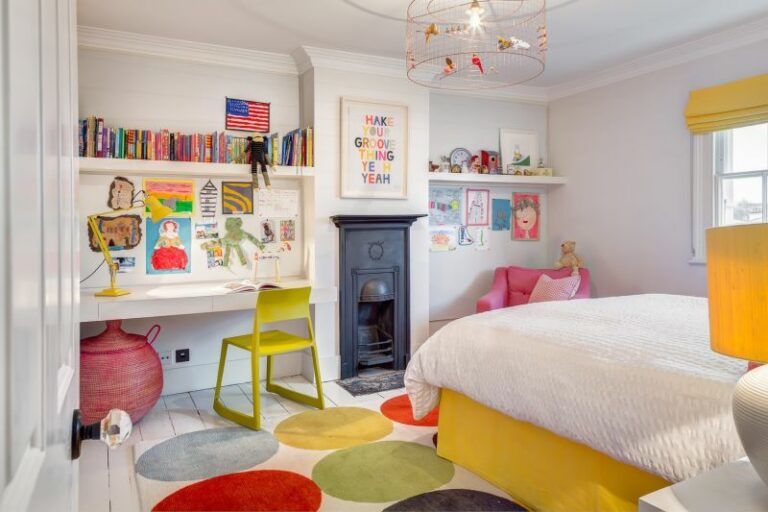 It's not just the big furniture pieces that you should focus on when decorating a kid's room. In fact, many would argue that it's the little things that matter the most. This lovely design by DOSarchitects gives us tons of cool ideas. The birdcage chandelier is absolutely amazing and we also love the little pink armchair in the corner, the colorful polka dot rug and of course that little fireplace as well.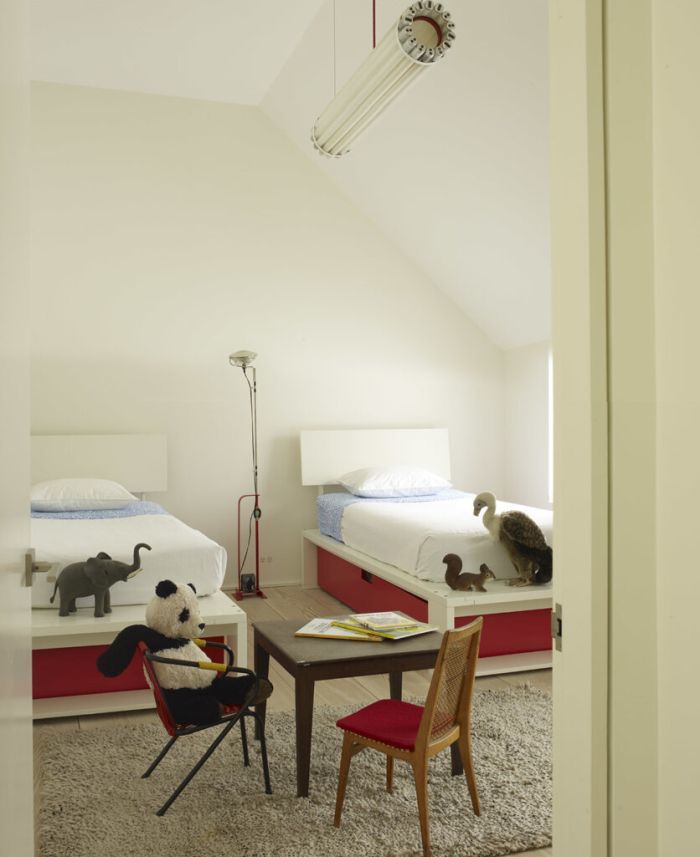 A minimalist aesthetic could turn out to be the best option for a small room. We really like how this kids' bedroom turned out. It's part of a lovely house designed by D'Apostrophe Design and it has an angled ceiling which makes it feel cozy but also gives it an airy feel. It has two matching beds with built-in storage underneath and a little activity table with a couple of little chairs.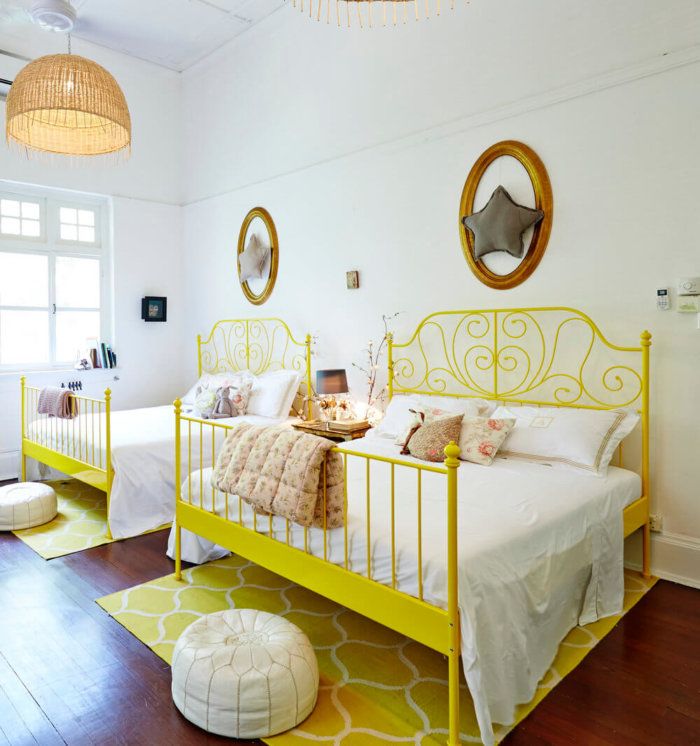 What you could also take into consideration when picking the kids' room furniture and all the decorations is the color palette. A fun color is yellow because it's really bright and cheerful and often consider gender-neutral. Studio Paper + White did a great job here at combining the yellow with soft beige accents and stained wood. This makes the room look very bright, airy and welcoming.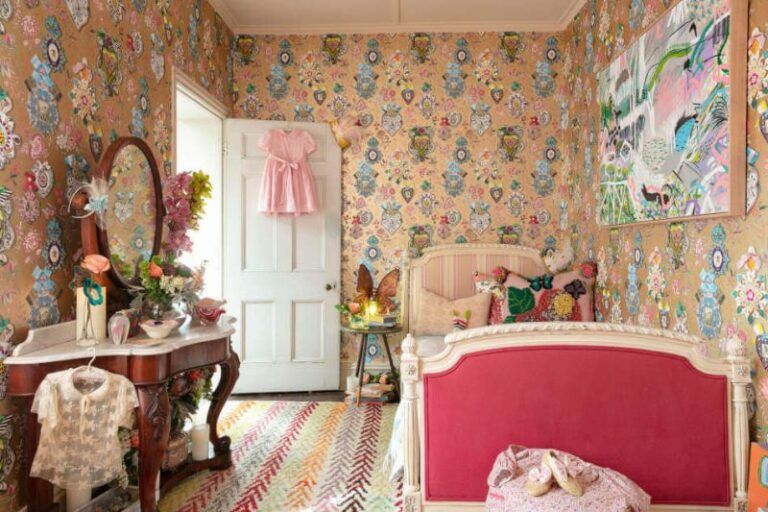 Something a bit more busy could also fit nicely into a kid's bedroom. Here you can see this really eye-catching wallpaper used all around and combined with a colorful area rug that features similar colors. The bed and the rest of the furniture blend in quite nicely and although this is a busy decor it's not actually that complicated.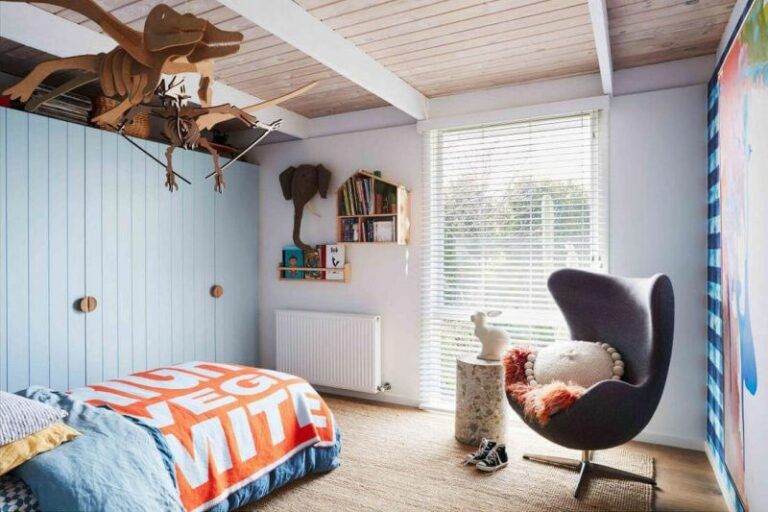 How about a design with a coastal or beach-themed aesthetic? It could feature breezy colors like light blue and driftwood accents with some navy blue and red and white details. This is a nice example of how that might look like. It's nice and soothing but also fun. The window lets in plenty of sunlight and the shades suit the minimalist theme of the room quite well.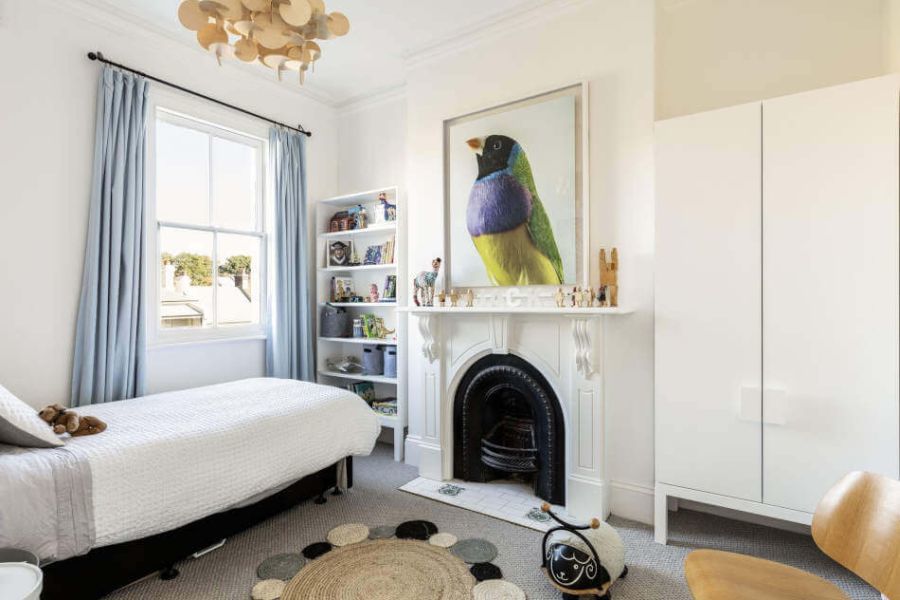 You don't often see a kid's bedroom that has its own fireplace but it's definitely a charming touch. This interior by Madeleine Blanchfield Architects has plenty of other beautiful features too. The color palette is simple and soothing, with shades of grey, light blue, natural wood and a touch of green as well. Although it's a small and simple room it has lots of character.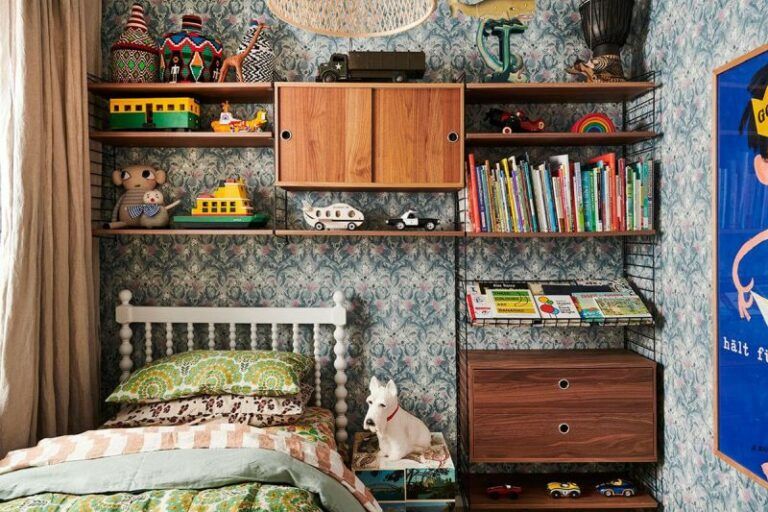 Check out how cozy this room is with this wallpaper backdrop and the custom shelves and furniture placed against it. The bed has a cute headboard and the patterns are embraced throughout the room, adding character to the decor. It's a lovely example of how a small room can look super charming and inviting.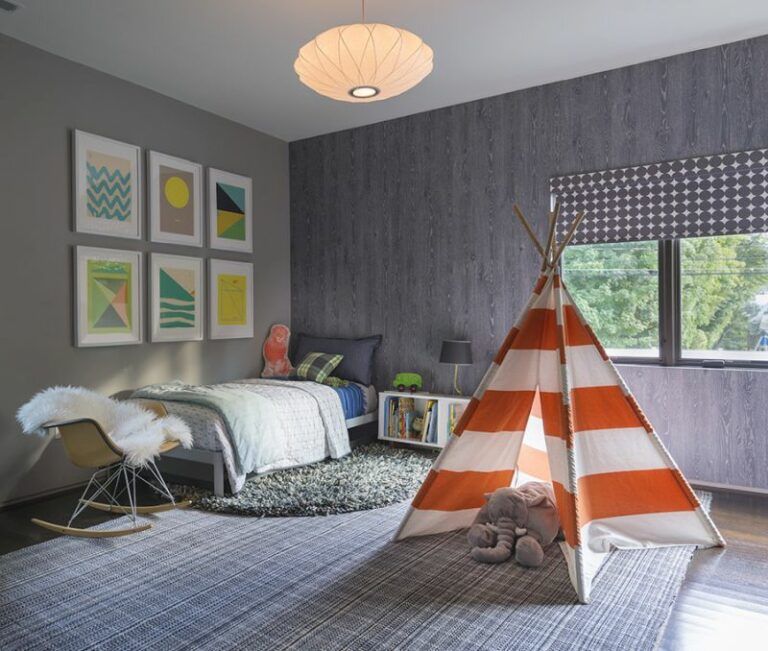 We love the idea of including fun little details in the interior design of a room, especially a kid'a room. Something cute that you can actually even craft yourself is a tent. You can find a spot for it in a corner of the room, next to a window or by the bed and create a cozy nook this way. In this room designed by Thread Art and Design the tent also adds a touch of color to the otherwise very simple decor which is mostly based on grays.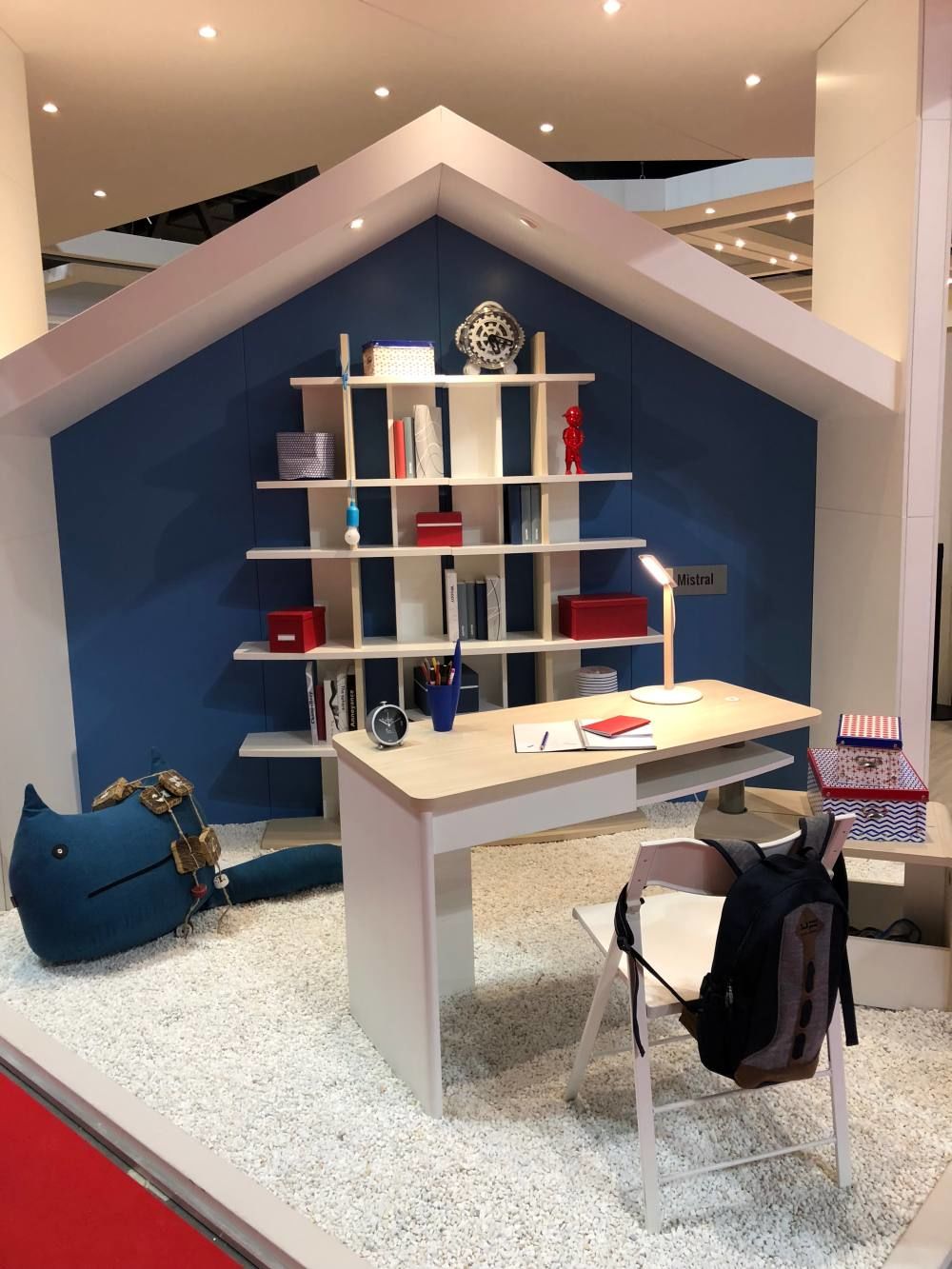 Speaking of fun design details, how about a playhouse-inspired kids' room? There are many different ways to tackle this concept. One idea is to use the actual shape of a house to add little decorative elements to the room. It's an aesthetic detail but it also helps to change the mood in the room.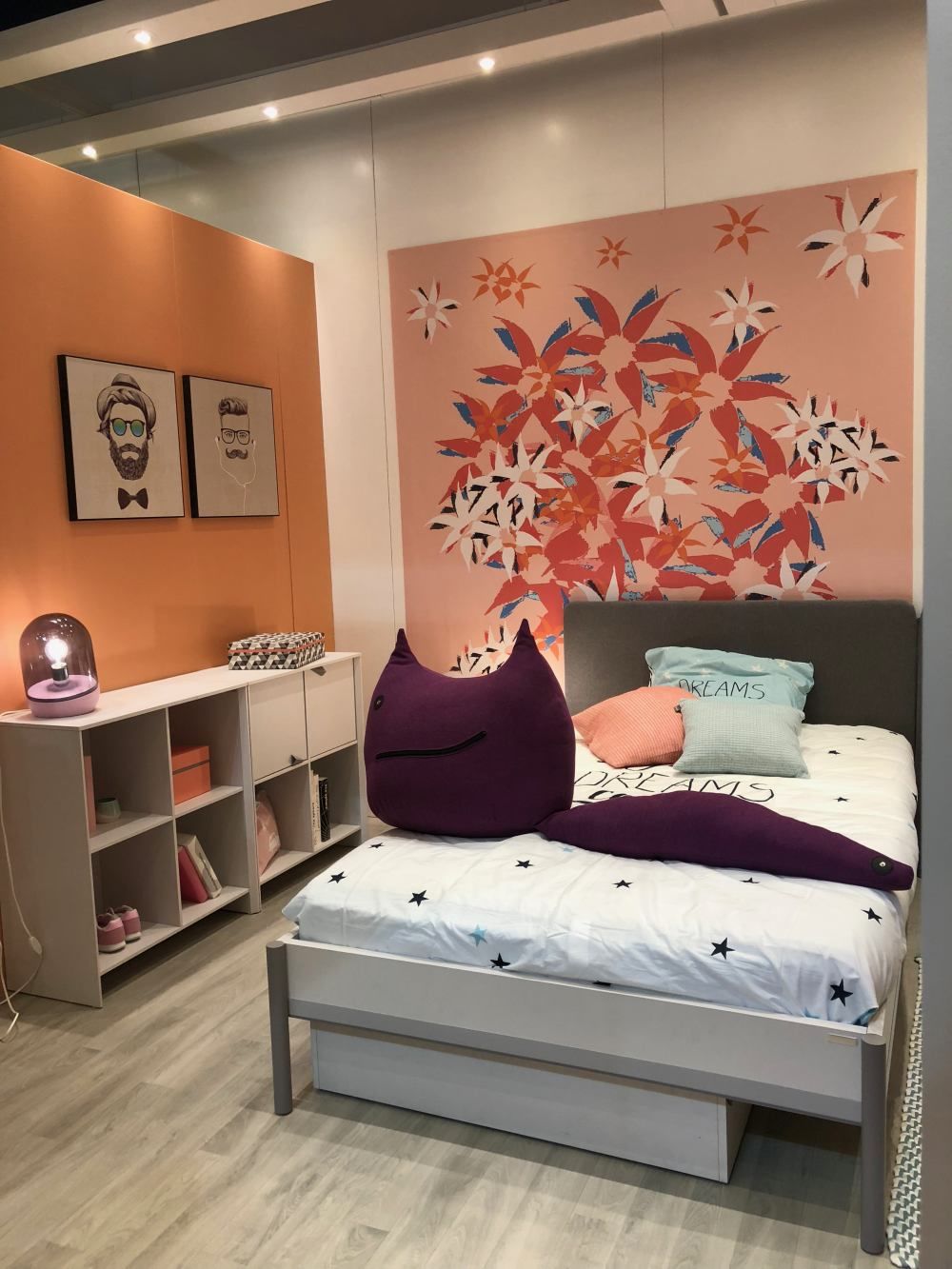 Just decorating the walls can really change the whole room. Whether the strategy is to paint the walls, to create an accent wall or to add wall decorations like posters, paintings and so on, this can add a fun touch to the decor. That way the color can be concentrated on these elements and the furniture can remain simple and basic, giving you more options to choose from.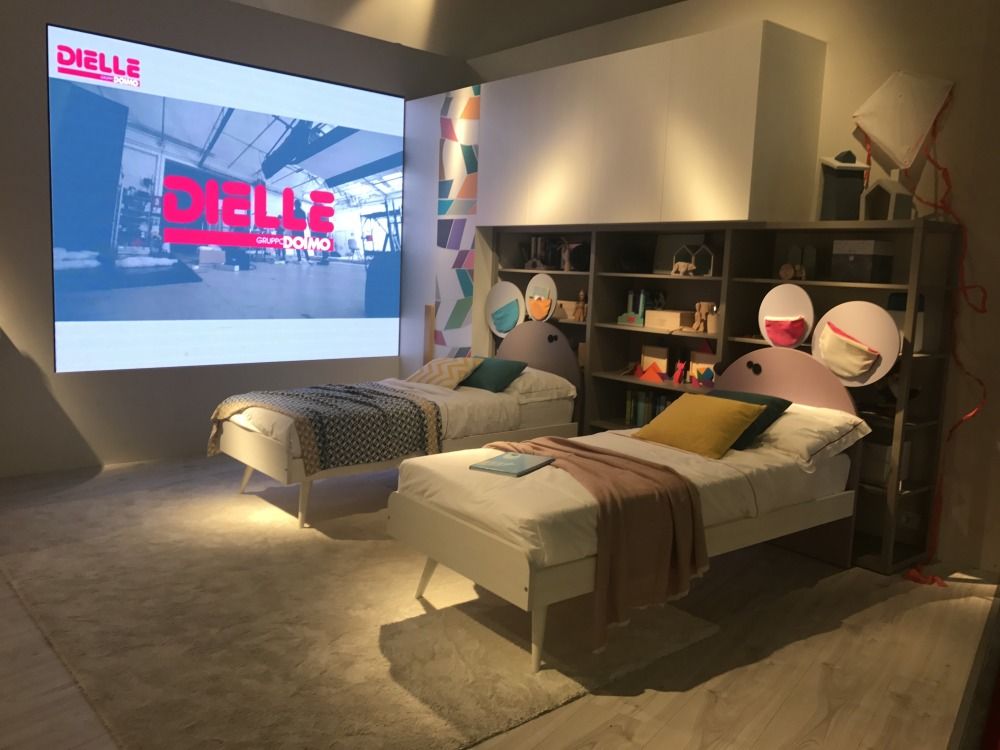 Another little detail that can add character to the bedroom is the headboard. This often gets overlooked when in fact that there are lots and cool ways to take advantage of the headboard and turn it into a focal point or a statement piece for the room. Just look how cute these two beds are!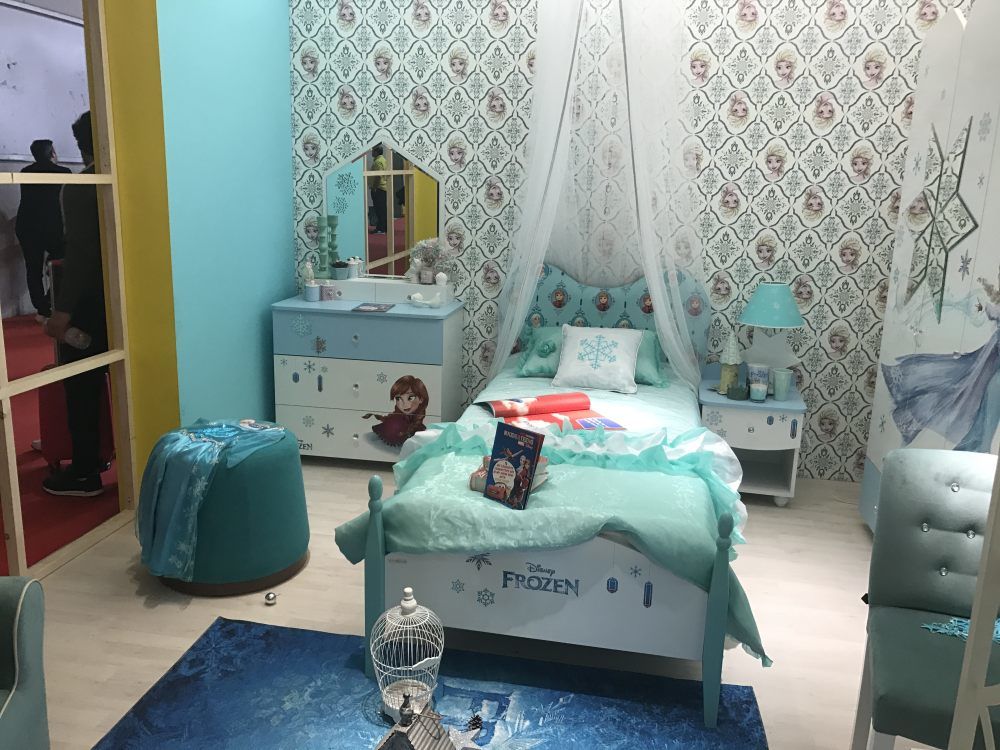 Another idea is also to pick a theme for the kids' room and go with it. For your little princess you could create a Frozen-themed room, with a cute canopy for the bed, wallpaper on one of the walls and of course some themed furniture pieces as well. The colors to keep in mind here are various shades of blue and turquoise.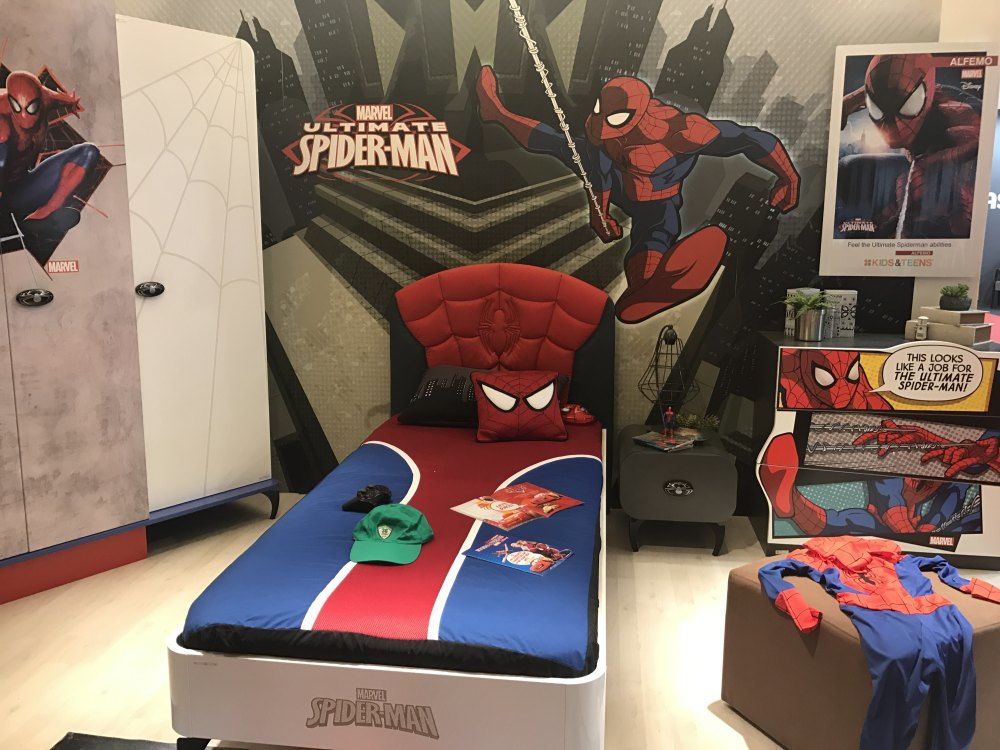 A little boy's room could have a decor inspired by the Spider-Man cartoons, comics and movies. you can find themed furniture for it quite easily since it's a popular motif and you can also just use a combination of red and blue to extend the theme throughout the entire room.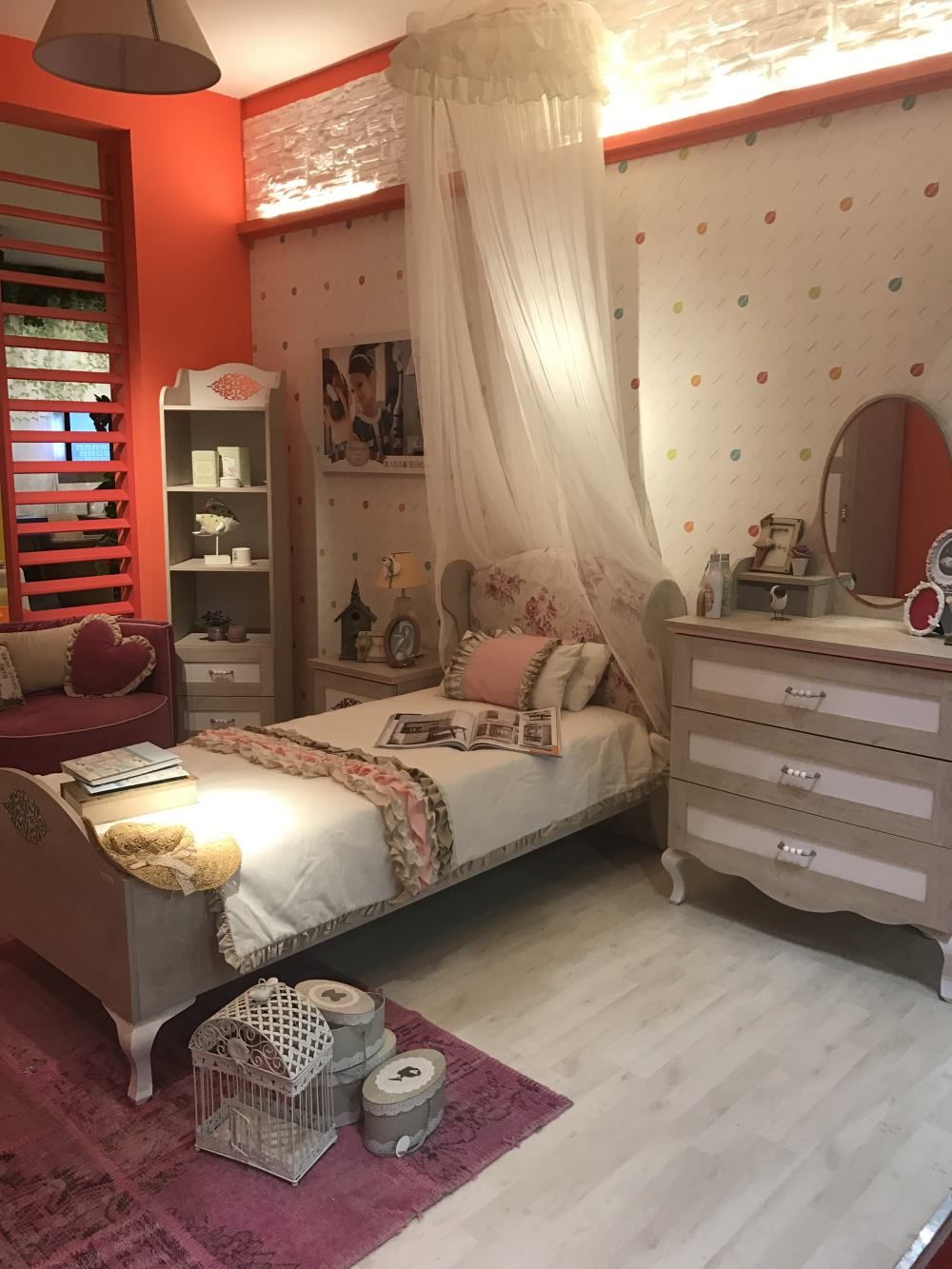 Every princess bedroom needs a canopy bed and various other delicate and lady-like features. You can actually add a little decorative canopy to any bed. As for the furniture in general a slightly retro theme could work well in this case, with this sort of ornate legs and trims and so on.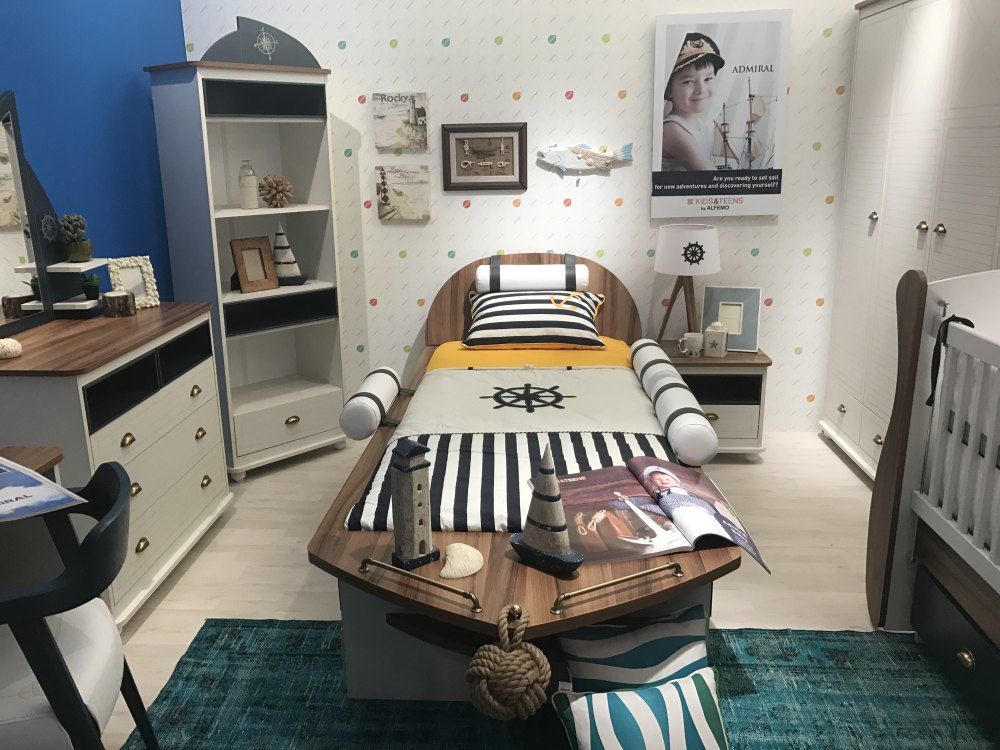 A nautical-themed bedroom could have a really cool boat bed like this one and a bunch of little details based around that. This entire furniture set is ocean-themed. The cabinets have shark fins and even the lamp matches the theme as well.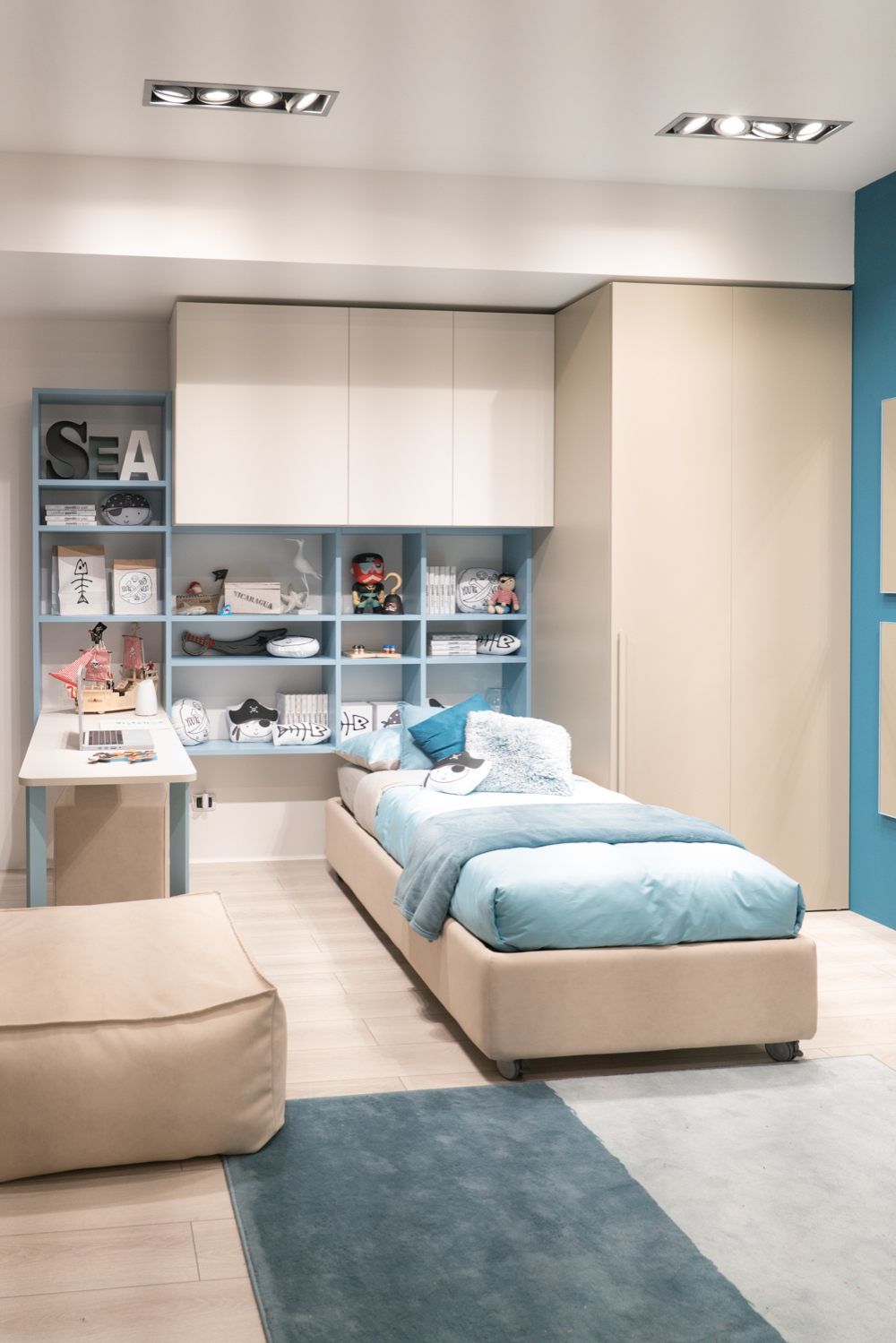 You can also make a lovely sea-themed bedroom without any obvious additions like the boat bed. The colors alone can help a lot. This bedroom for instance has all these subtle details like the decorations on the shelves but otherwise this is a minimalistic room.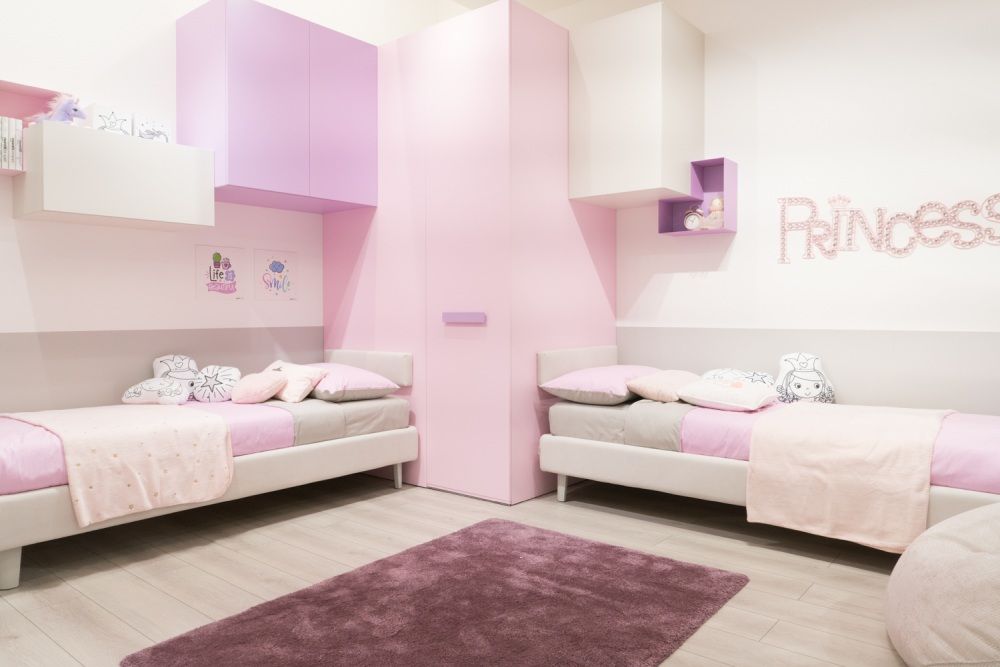 In terms of colors, a little princess bedroom could be based around various shades of pink and pastels, violets, and on mixed in with white, light grays, ivory and other neutrals. This is a nice example of how all these colors can be combined in a harmonious and stylish manner.