Ask any interior designer about one of their favorite ways to inject personality into a room and chances are they'll recommend wallpaper. Whether it's an eye-catching removable design or a traditional style that requires more of a commitment, wallpaper can freshen up just about any space.

If you've been torn about the transformative power of this design solution, consider this roundup of 20 living room wallpaper ideas.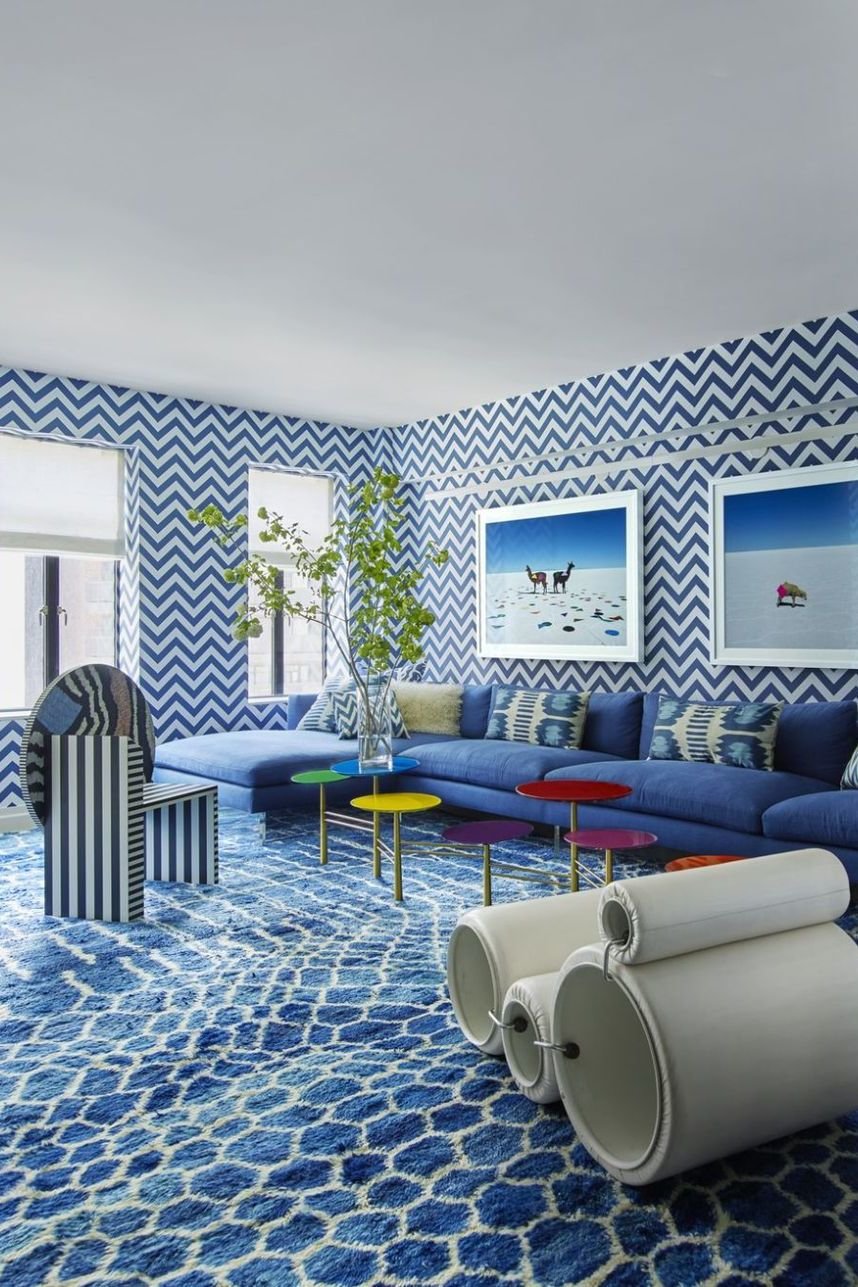 Dramatic Chevron Wallpaper

A palette of blues fills this Park Avenue living room designed by Kelly Behun. The bold chevron wallpaper by Schumacher complements the graphic carpet from Marrakech. A custom sectional covered in a Pindler linen, a cocktail table by Nada Debs, a striped chair by Kelly Behun Studio, and a vintage tubular chair by Joe Colombo for Flexform complete the look.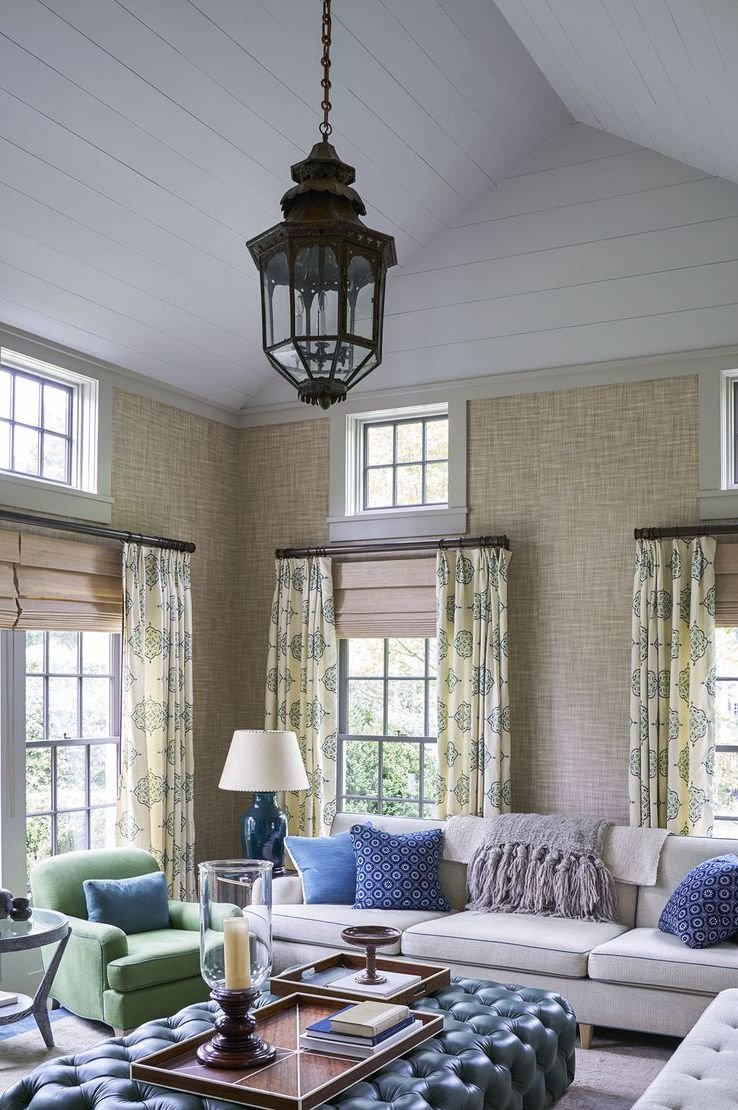 Textured Neutral Wallpaper

Inside the living space of a historic Long Island farmhouse, the curtains are made from a Home Couture fabric and the textured sandy wallpaper is by Phillip Jeffries.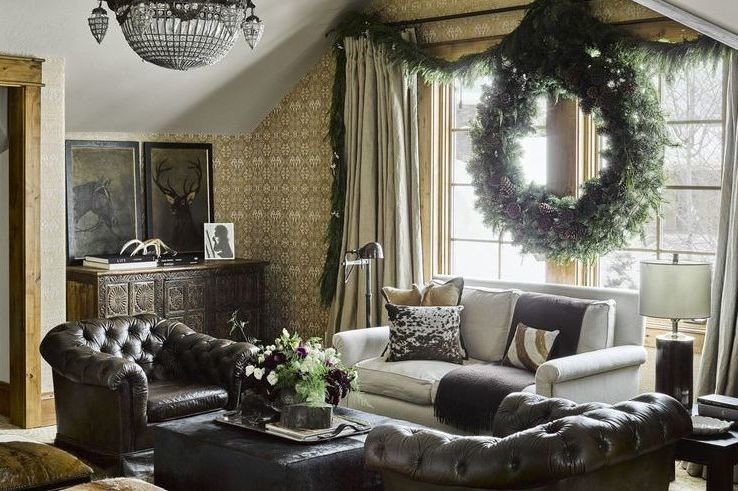 Yellow Wallpaper

In a Montana guesthouse by Ken Fulk, the charming yellow wallcovering is from Sloan Miyasato, the carpet by Mark Nelson Designs is topped with a buffalo-hide rug, and the artworks are from the 19th century.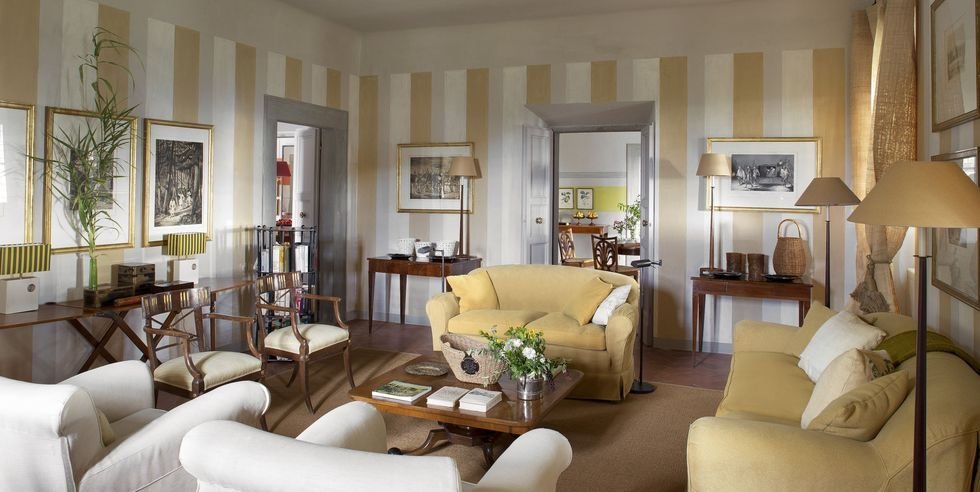 Classic Striped Wallpaper

An estate outside Florence features a wall covering in a classic striped pattern. The pair of 18th-century inlaid Tuscan tables flanks a doorway, the wooden armchairs are 18th-century Venetian, the floor lamps and straw curtains are by Ilaria Miani, and the 19th-century lithographs depict scenes of India.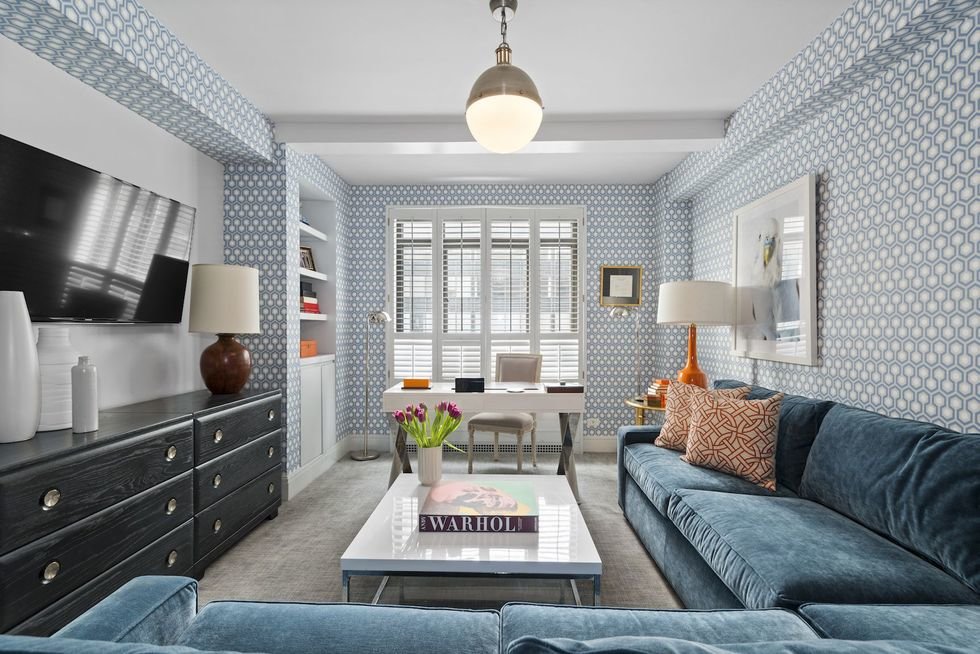 Blue Grasscloth Wallpaper

A living room space in Wilhelmina Models CEO Bill Wackermann's New York home features grasscloth in a light blue-gray tone. Accessories with pops of color add to the cozy vibe.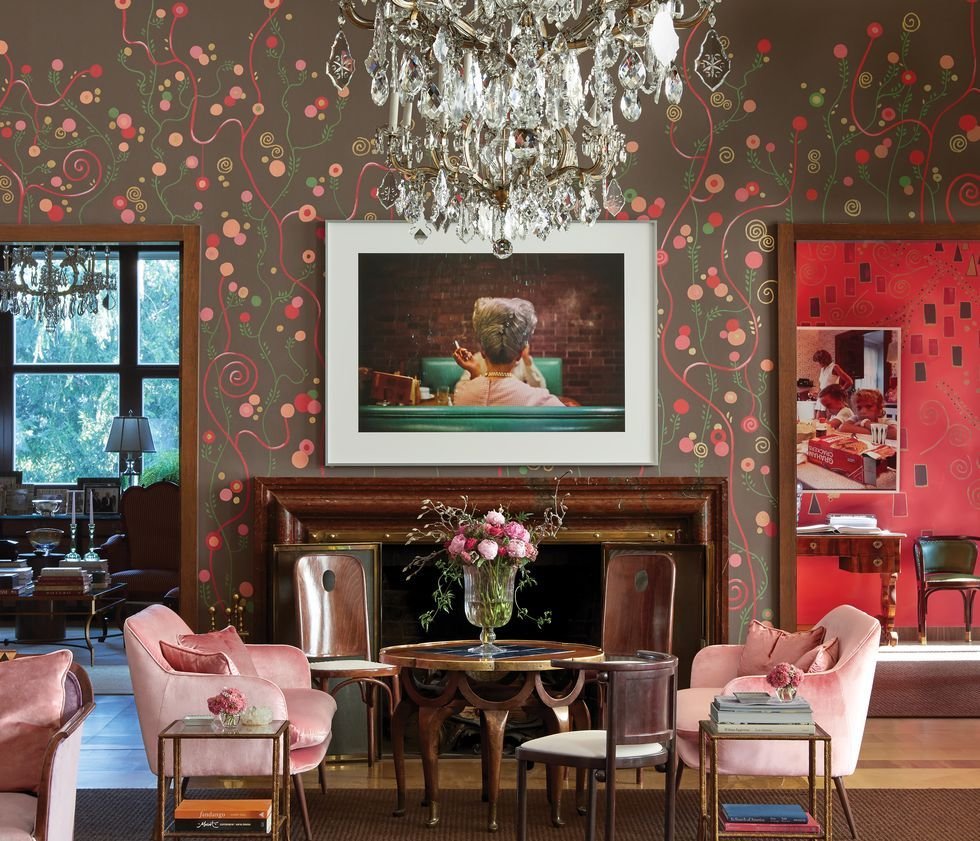 Modern Botanical-Inspired Wallpaper

A whimsical wallpaper steals the show in this Ken Fulk design, which also includes armchairs upholstered in a Jab Anstoetz velvet, J. & J. Kohn dining chairs, an antique Adolf Loos cocktail table, and carpet by Stark. Over the original 1930s mantel is a photograph by William Eggleston.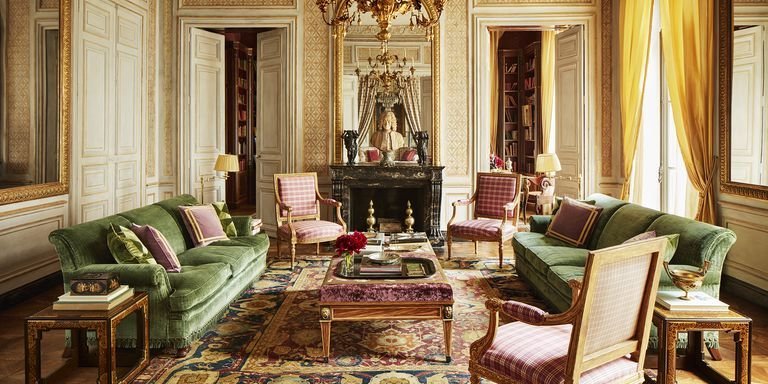 Subtle Neutral Wallpaper

A subtle neutral pattern graces the walls in an inviting pied-à-terre in Paris designed by the firm Studio Peregalli. Pops of green and red seating add balance to the elegant home, which is owned by American socialite Katherine Bryan.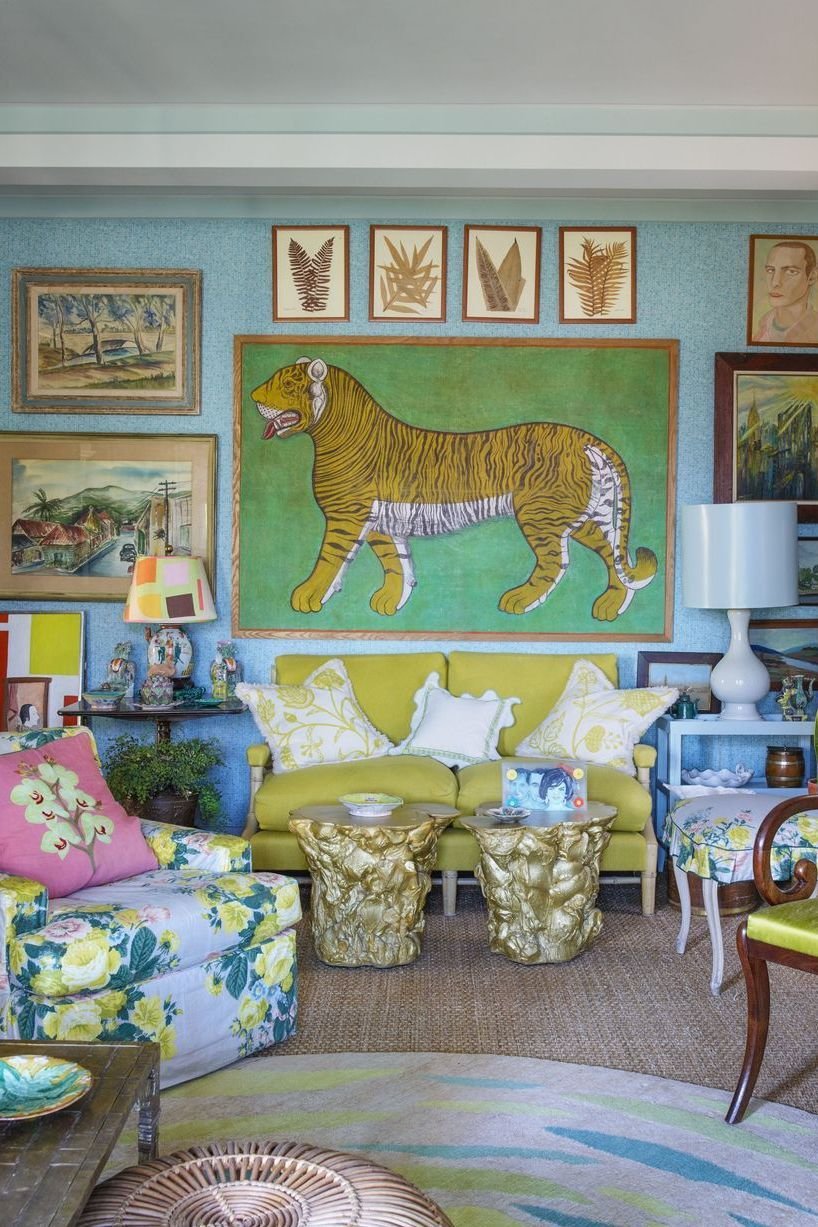 Mini-Pattern Wallpaper

A maximalist space, like this living room crafted by New York-based designer Frank de Biasi, calls for an understated wall covering. The designer opted for a blue mini-pattern wallpaper by Doug & Gene Meyer to keep the focus on the mix of art, colorful seating, and a circular rug by Niba Collections.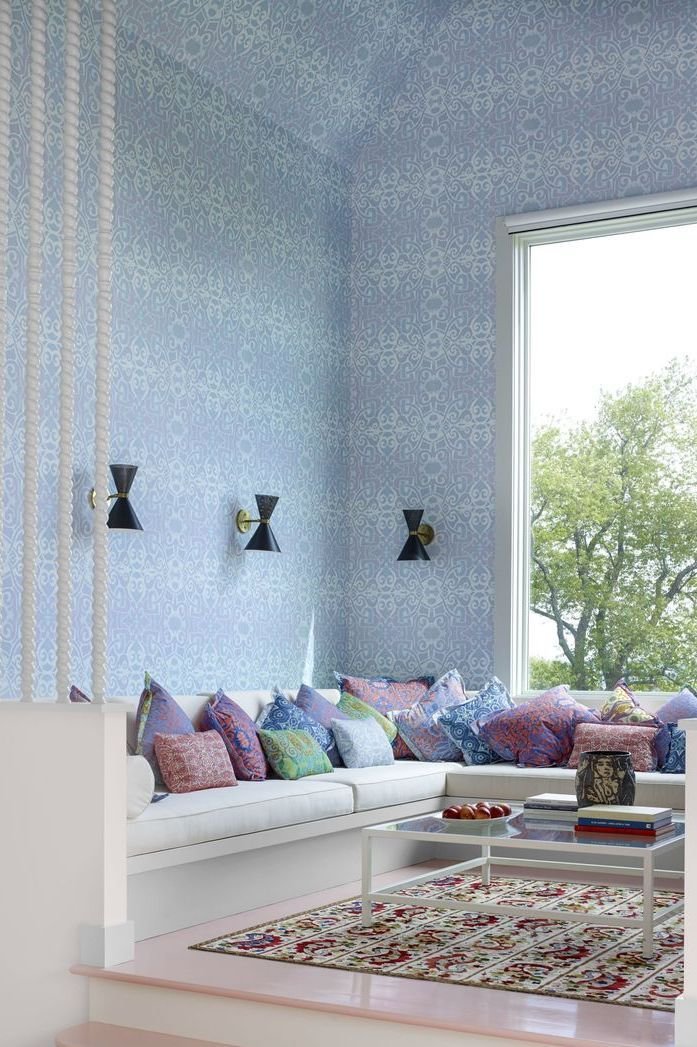 Moroccan-Inspired Wallpaper

Patterned blue wallpaper and cushion fabrics by Nancy Kintisch, along with sconces by Atelier de Troupe, add charm to a Moroccan-inspired room.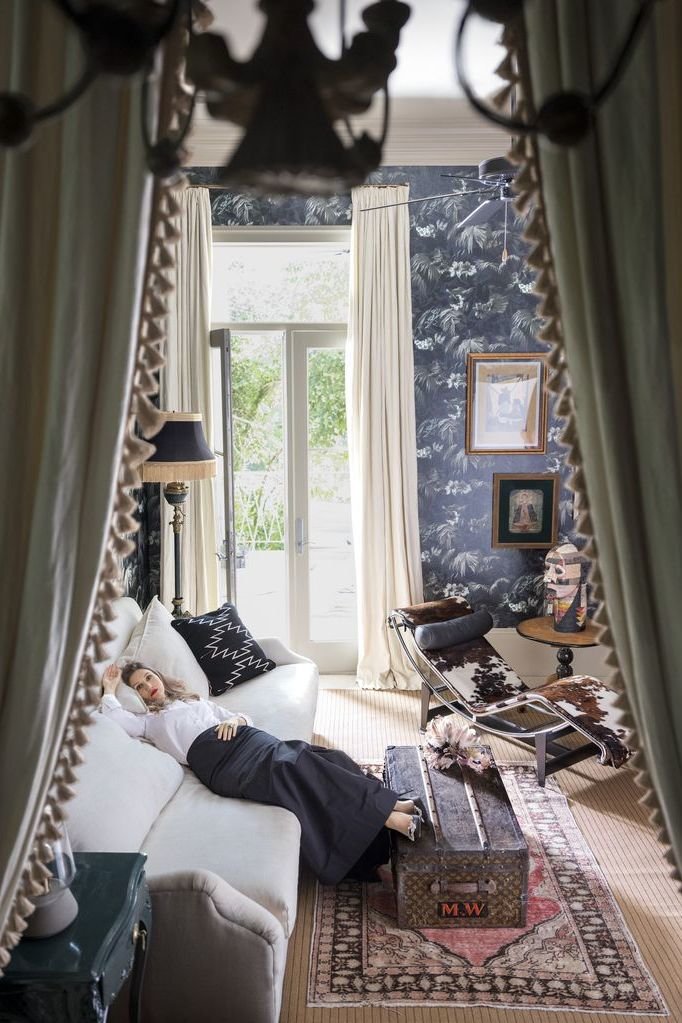 Black and White Botanical Wallpaper

A black and white botanical wallpaper by House of Hackney elevates CeCe Colhoun's New Orleans manse. The Cassina chaise longue is from Design Within Reach and the Louis Vuitton trunk is vintage.