The patio is surrounded and scented by culinary herbs, like oregano, rosemary and sage, that smell wonderful in the breeze and sun.
We designed the patio in a "natural modern" style. So, there are lots of hard lines that define the space, but the plantings are largely naturalistic and a bit wild. Many of the plants are native, such as inland sea oats, turk's cap, feather grass and desert willow. Southern wax myrtle and bay trees line the edge, and as they grow and fill in, are beginning to create a nice green enclosing wall for the patio.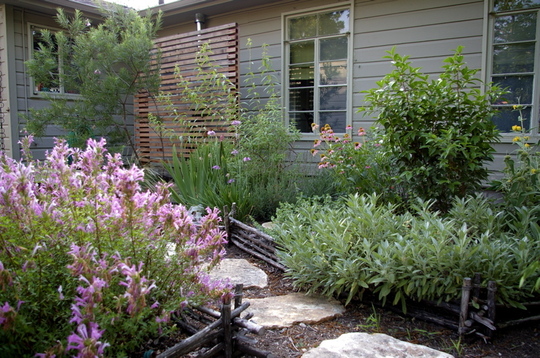 How did you create it? When we moved to this house three years ago there was already a well established garden, but it didn't quite suit our outdoor entertainment needs because the patio was too small. The previous owners had installed a really cool brick inlay that they had used as their patio. There was also an old cement foundation from a room that needed to be removed.
We decided to keep the circular brick inlay, but to expand the patio outward into a more modern square shape to fit more people. The patio is edged with steel and filled with pea gravel.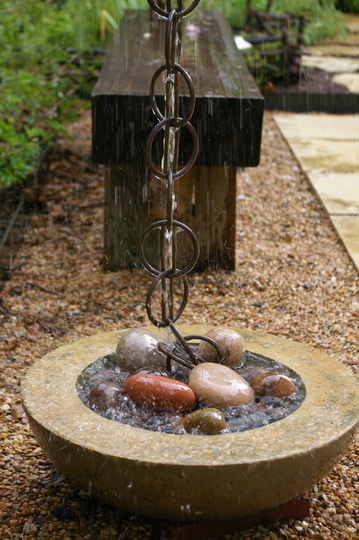 The walkway brings people into the space, doglegs around the garage and connects the house to the patio with the vegetable garden out back. It's made of local sawn limestone, and the pattern is based on Japanese path design. In Japanese garden design, I believe the style would be called "shin," which is highly controlled and clean. We were sure to design the limestone walk so as not to ever have four corners come together. A meeting of three is more aesthetically pleasing.
The low waddle fence surrounding the herb and perennial garden closest to the house (and kitchen) is made of local juniper branches (Texans call it cedar) that we harvested from a friend's country property. Largely, this is meant to be a sensory barrier for our blind dog. And, largely, it works, though sometimes she finds herself tromping through the middle of the garden anyway...