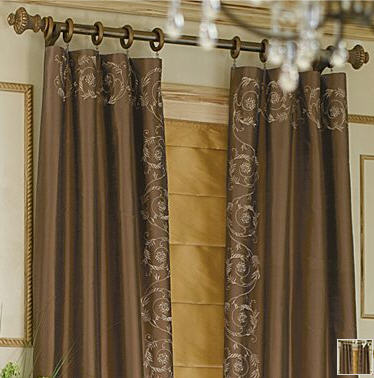 More Details

* gorgeous silk fabric in wide array of colors
* flannel interlining enhances the color, luxurious feel and drapability of the fabric
* interlining helps reduce window-related energy loss for year-round comfort
* exquisite embroidery at top, center and bottom
* 4" bottom hem has weighted and mitered corners so drapes hang beautifully
* available in lengths up to 120"; for puddling effect, purchase drapes 8-10" past floor

From the JCPenney Home Collection®. Panel is sold individually. Measured from top of the rod pocket down, exclusive of header. Shirr on up to a 1½" decorative rod, or hang with clip rings, sold at jcp.com. Silk with cotton/polyester lining and cotton flannel interlining. Dry clean. Imported.