Last week, North Hollywood welcomed its first residents to the Chandler Boulevard Bridge Home Village, a pilot interim housing project for people in L.A. who lack shelter. The community, designed by Lehrer Architects and the Bureau of Engineering, is comprised of 4o cheerfully colored prefabs with a total of 75 beds.

The City of Los Angeles developed and funded the project as part of an emergency response to the ongoing homelessness crisis that has been further exacerbated by the pandemic. According to the Los Angeles Homeless Services Authority's 2020 Homeless Count, the number of people lacking shelter in the city has increased by more than 16 percent from the previous year.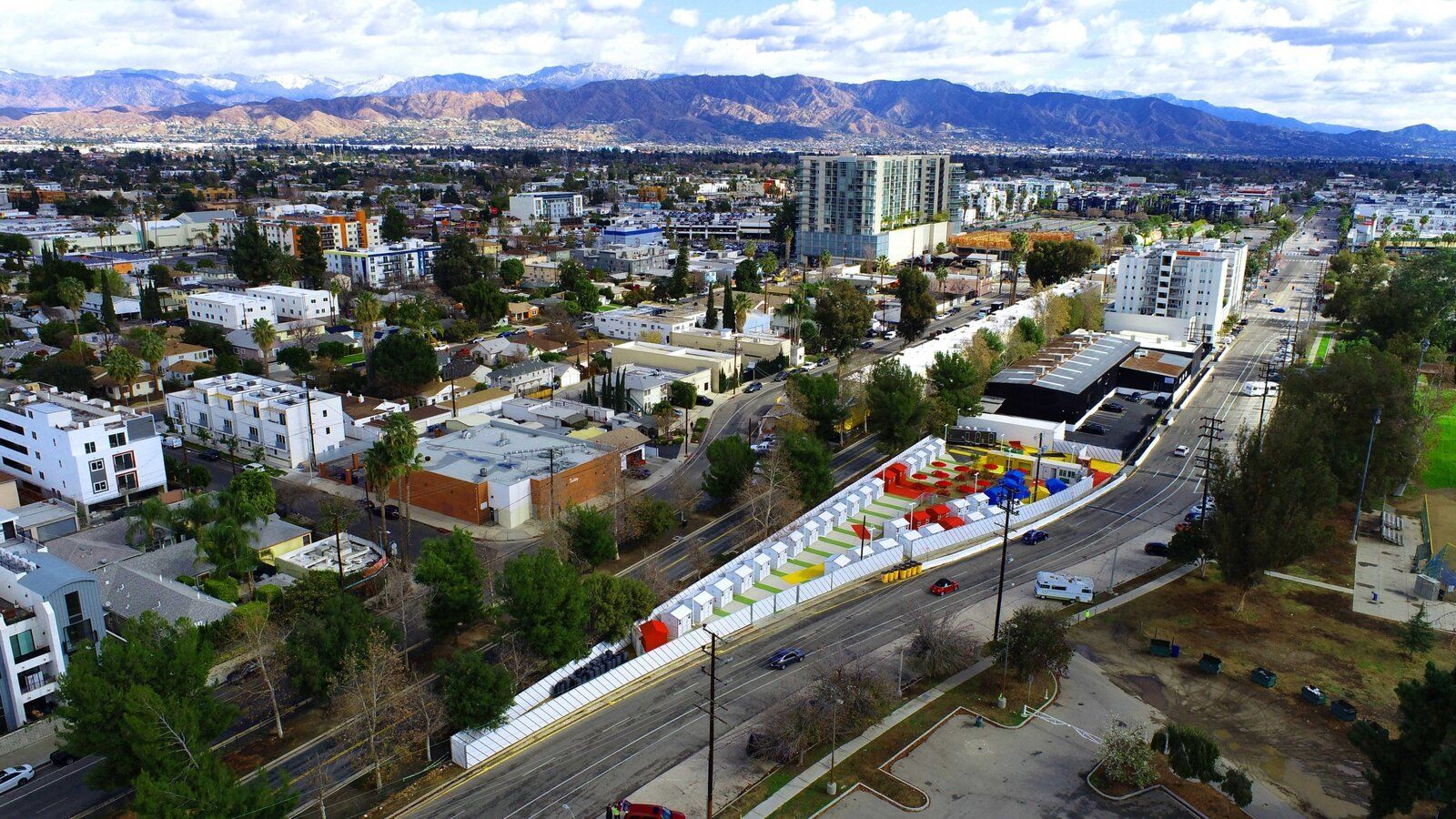 Located across the street from North Hollywood Park, the 40-unit prefab tiny home village is the first of its kind in Los Angeles. The village has already reached full capacity after opening last week.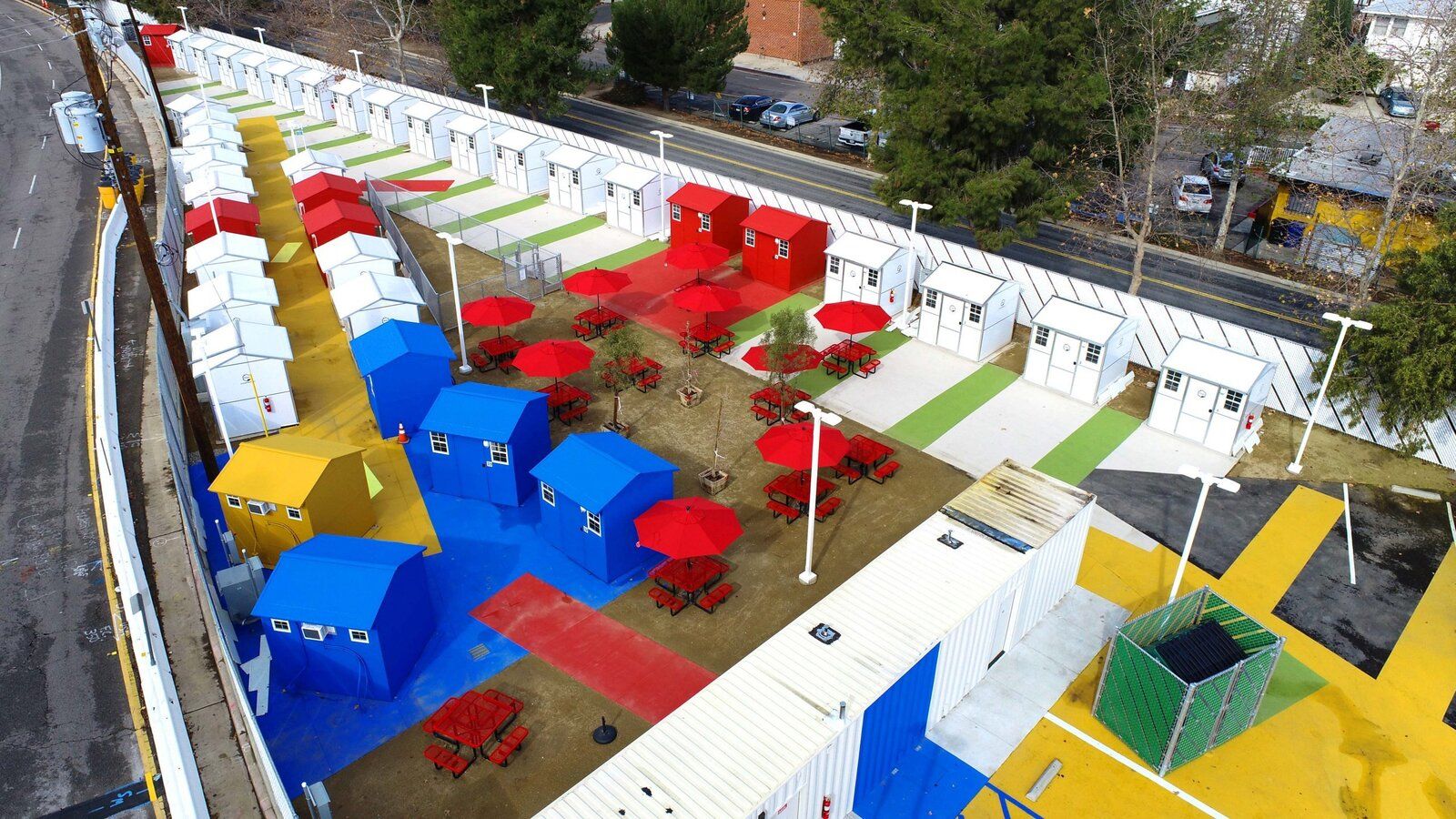 In order to live here, residents must be without shelter, be 18 years of age or older, and reside within a three-mile radius.

For an efficient and affordable solution, the city turned to prefabrication. Pallet Shelter, a prefab builder out of Everett, Washington, shipped the units as stacks of panels that arrived on site ready for assembly. Each unit cost $7,500 including labor and materials, and each was put together in less than an hour.

Though this is L.A.'s first tiny home village, Pallet has helped set up tiny home communities for the homeless across the nation, from Waimanalo, Hawaii, to Riverside, California.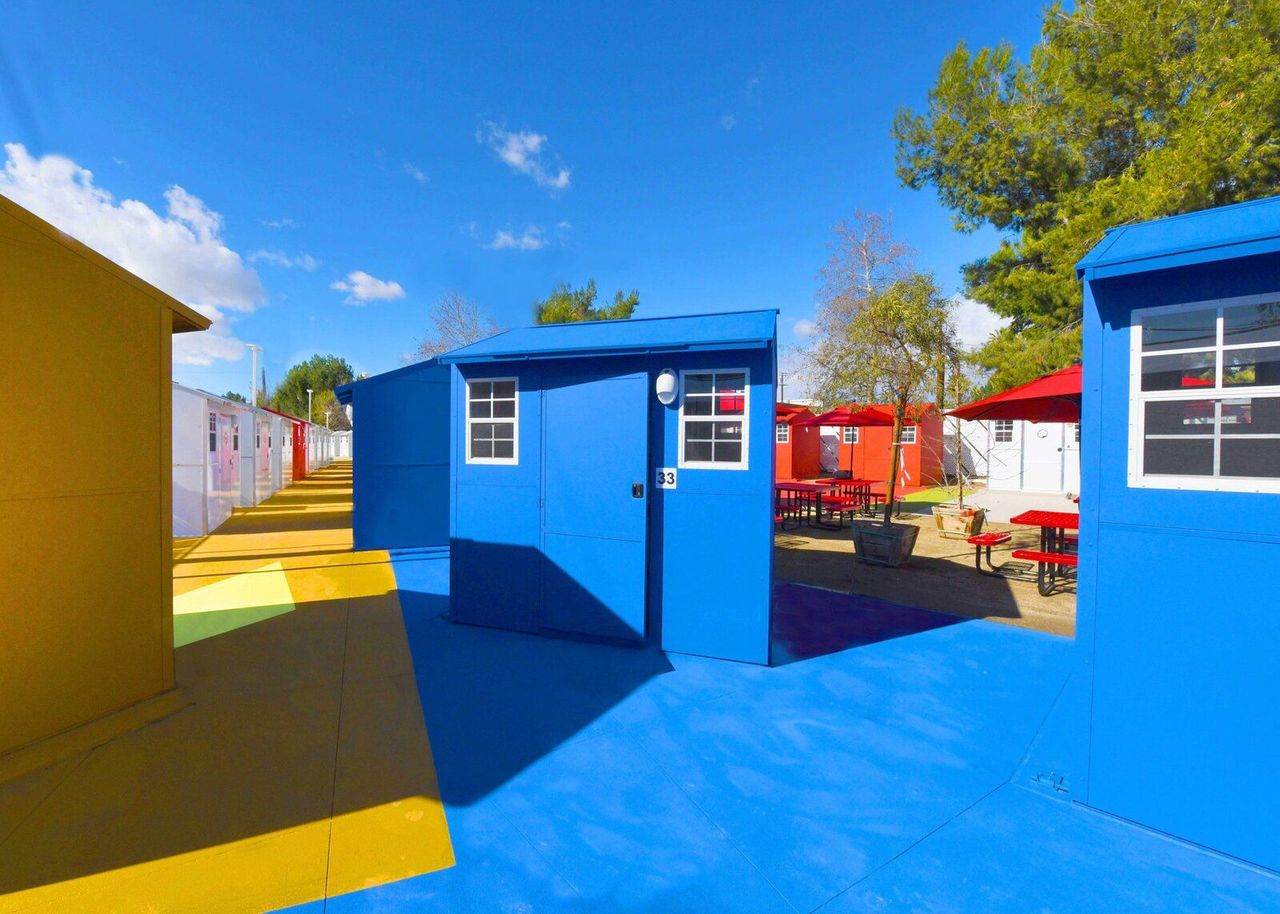 Pallet Shelter's aluminum-framed prefab homes are built of durable, easy-to-clean composite materials. The units are well insulated, and are rated for 110 mile-per-hour winds and 25 pound-per-square-foot snow loads.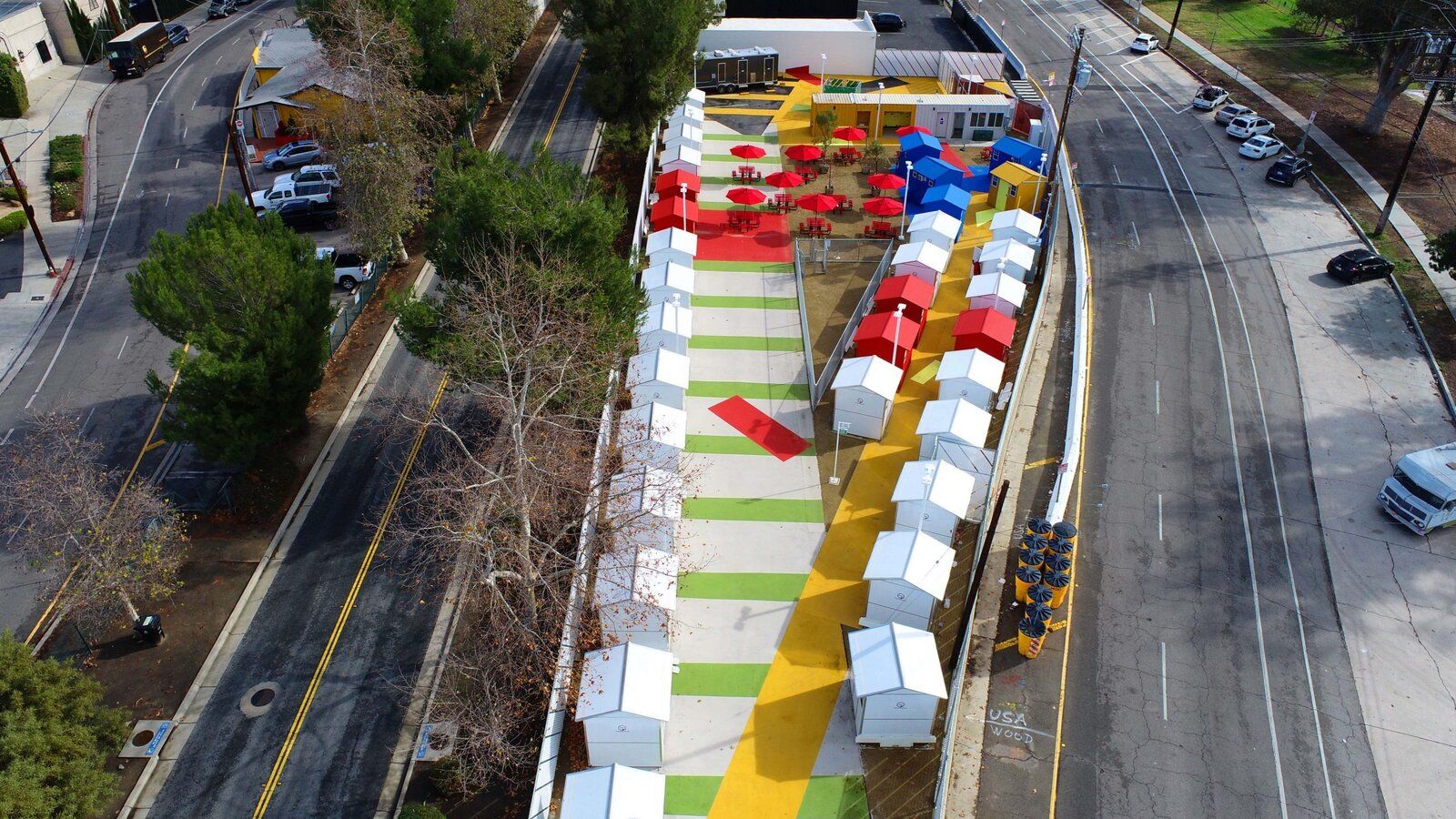 The prefabs were pre-approved by the state to simplify permitting, which allowed the city of Los Angeles to fast-track deployment and construction. The project site, which is fully equipped with utilities and amenities, was completed in just 13 weeks.




Each prefab includes fold-out beds, storage space, electrical outlets, lighting, heating and air conditioning units, as well as a locking door and windows.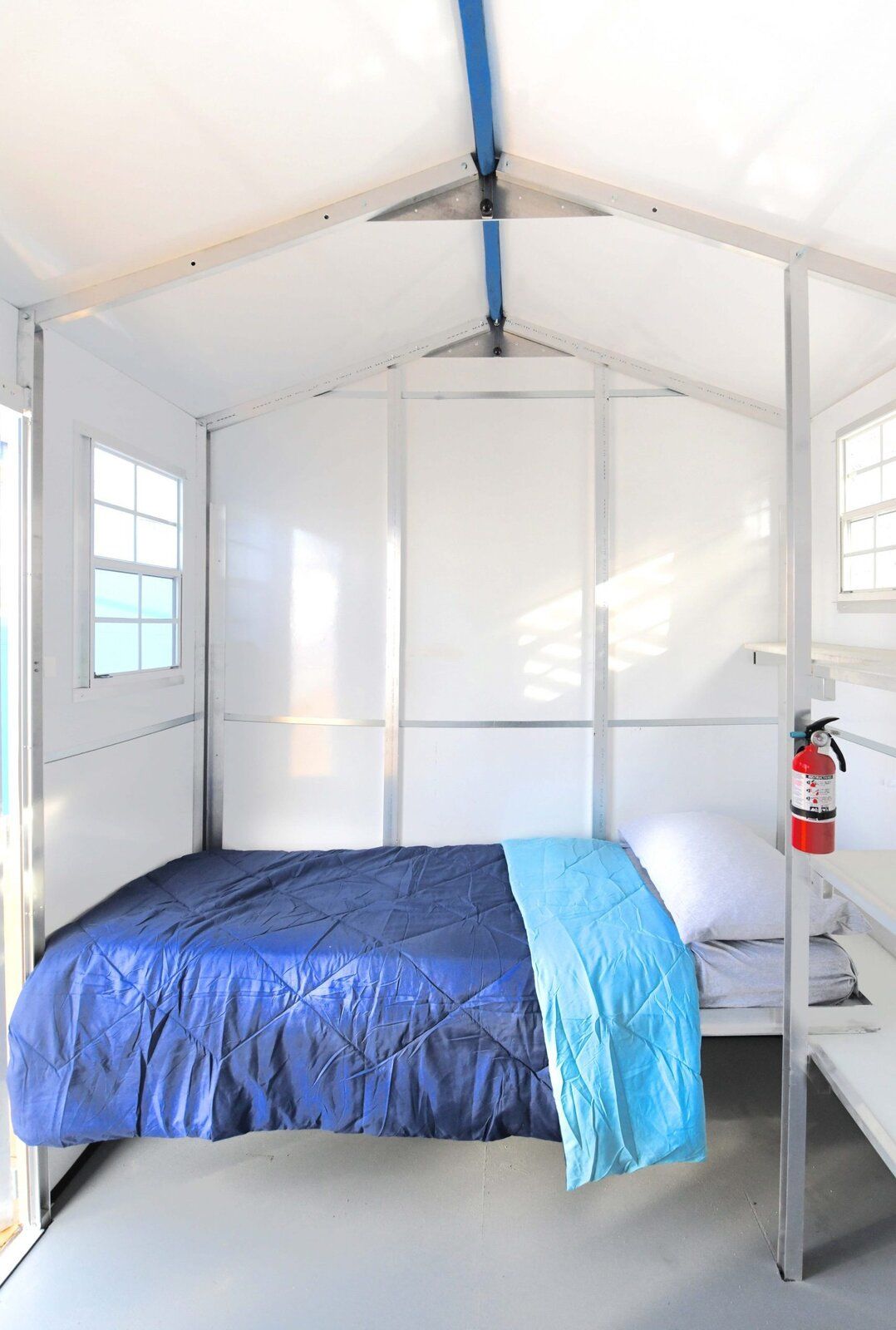 Due to the pandemic, each unit will only house one person with exceptions made for couples and a parent or parents with a child.

To give the community a sense of identity and vibrancy, Lehrer Architects painted the homes and communal facilities with bold and bright colors. This low-cost technique has become one of the firm's favorite tools in its decades-long experience in working on housing solutions for the homeless across Los Angeles.

"Every move is conceived to add significant value and be cost-neutral," says architect Michael B. Lehrer, founding partner of Lehrer Architects. "In that vein, color is used extensively to create a sense of community and places of respect, dignity, and joy. Projects for people at all levels of the social ladder, but particularly those near the bottom, remind us again and again that beauty is a rudiment of human dignity."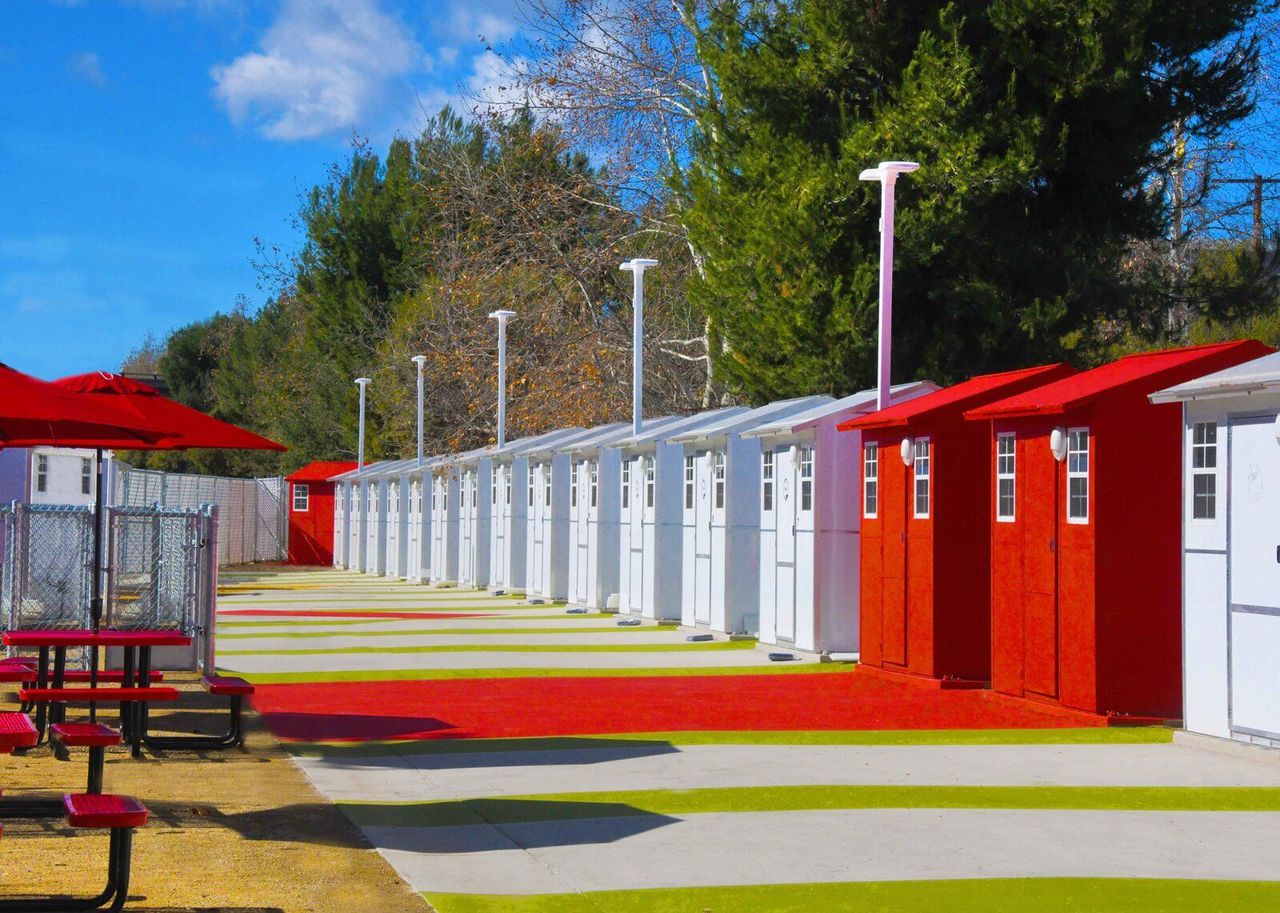 The Chandler Boulevard prefabs measure eight-feet-by-eight-feet each, and can be dismantled and reassembled at least 40 times for storage or relocation.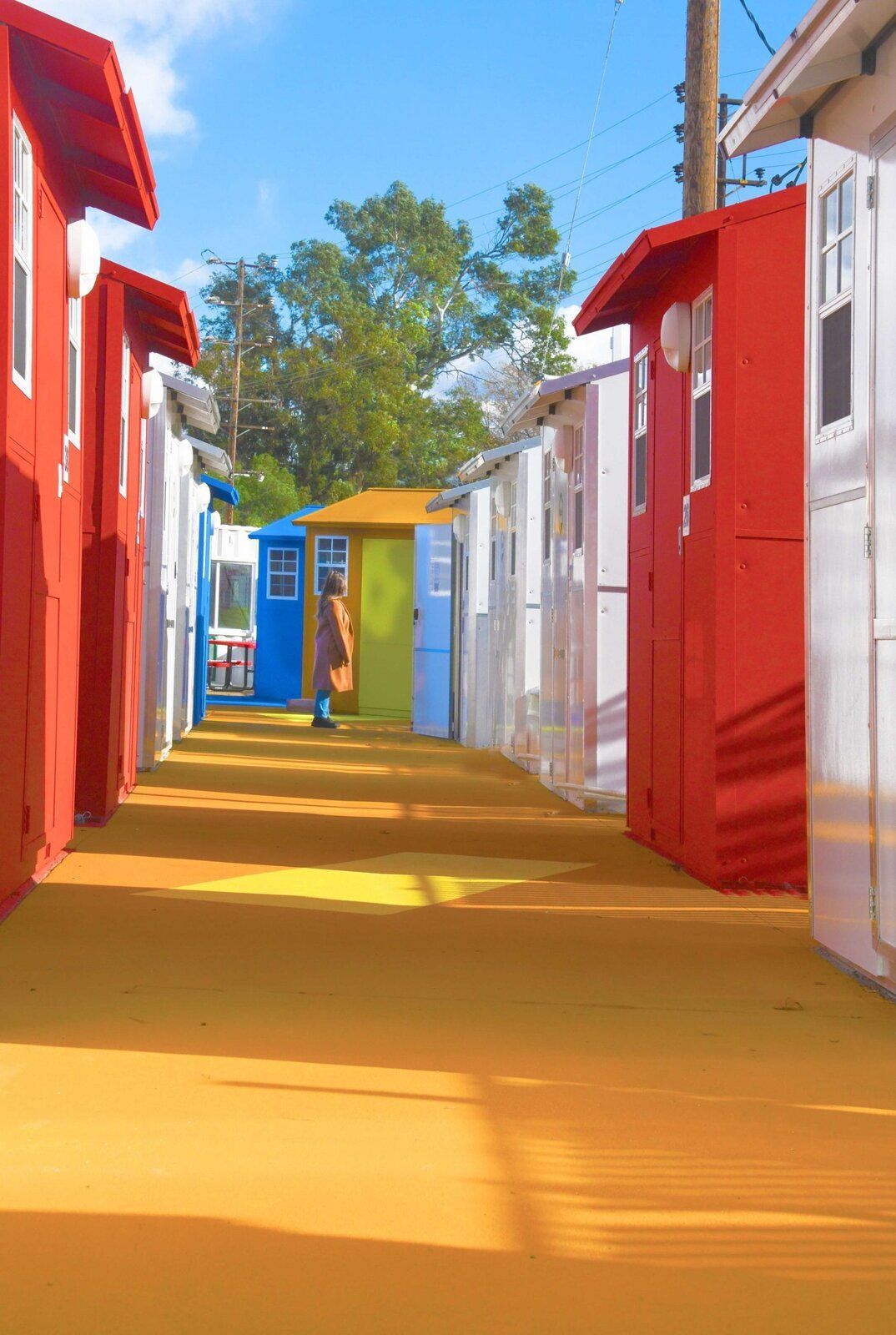 The tiny house community also has ADA units to accommodate people with wheelchairs.
Lehrer has long-championed socially conscious housing solutions, and in the past has taken on building prompts from the city to design and construct starter homes that cost less to purchase than the area average. To design the tiny home village was a welcome challenge for the firm. "Projects like this are exhilarating," says Lehrer. "Political, time, and cost constraints were severe-demanding extreme design discipline and chops. Our focus was to honor, nurture, and restore a modicum of wholeness and delight to our fellow citizens without homes."

The Chandler Boulevard tiny home village is managed by Hope of the Valley Rescue Mission, a faith-based nonprofit that currently operates nine homeless shelters in and around the San Fernando Valley. At each location, the nonprofit provides three on-site meals daily, and access to mental health services and job training.

Although there is no time limit for how long residents are allowed to stay at the village, the community is intended as interim housing to help each resident transition to permanent housing-a process that Hope of the Valley president and CEO Ken Craft says can take between four to six months.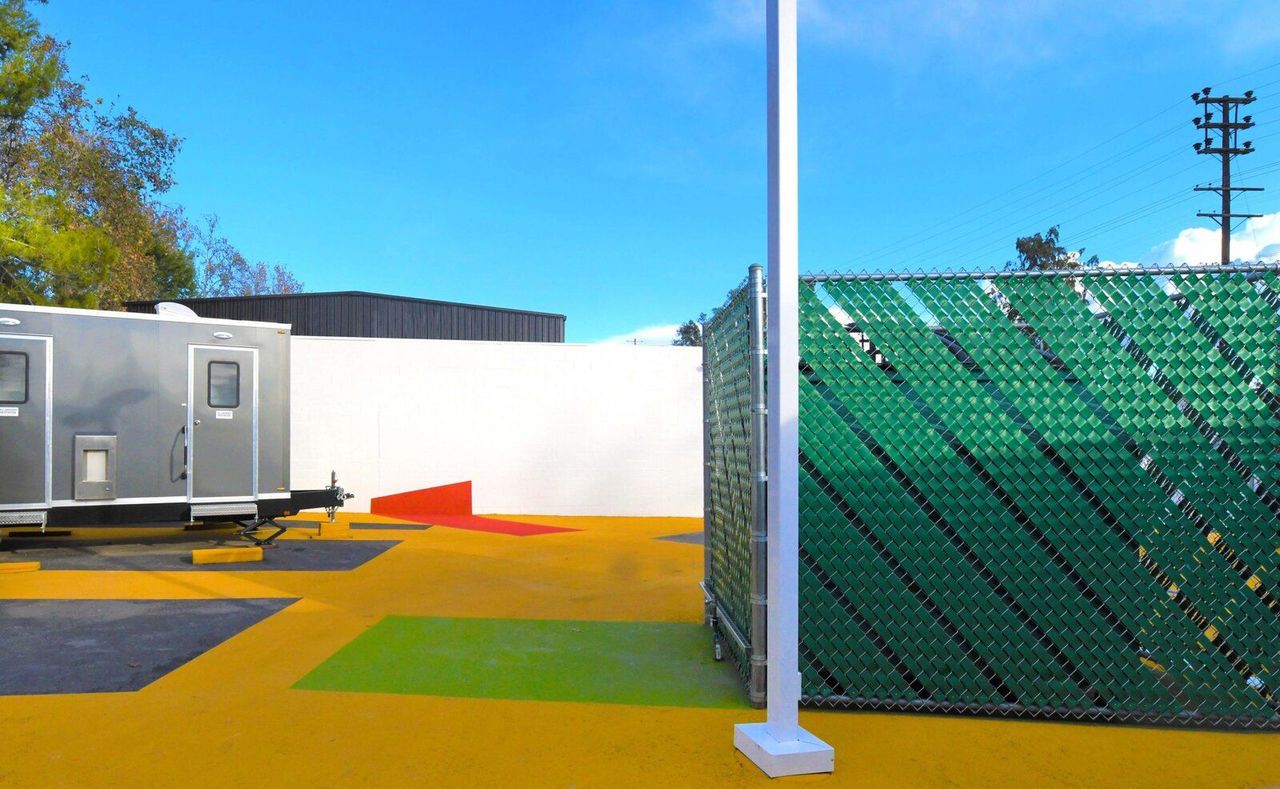 Colorful vinyl strips woven into the tall chain link fences are another low-cost way of creating a visually stimulating space.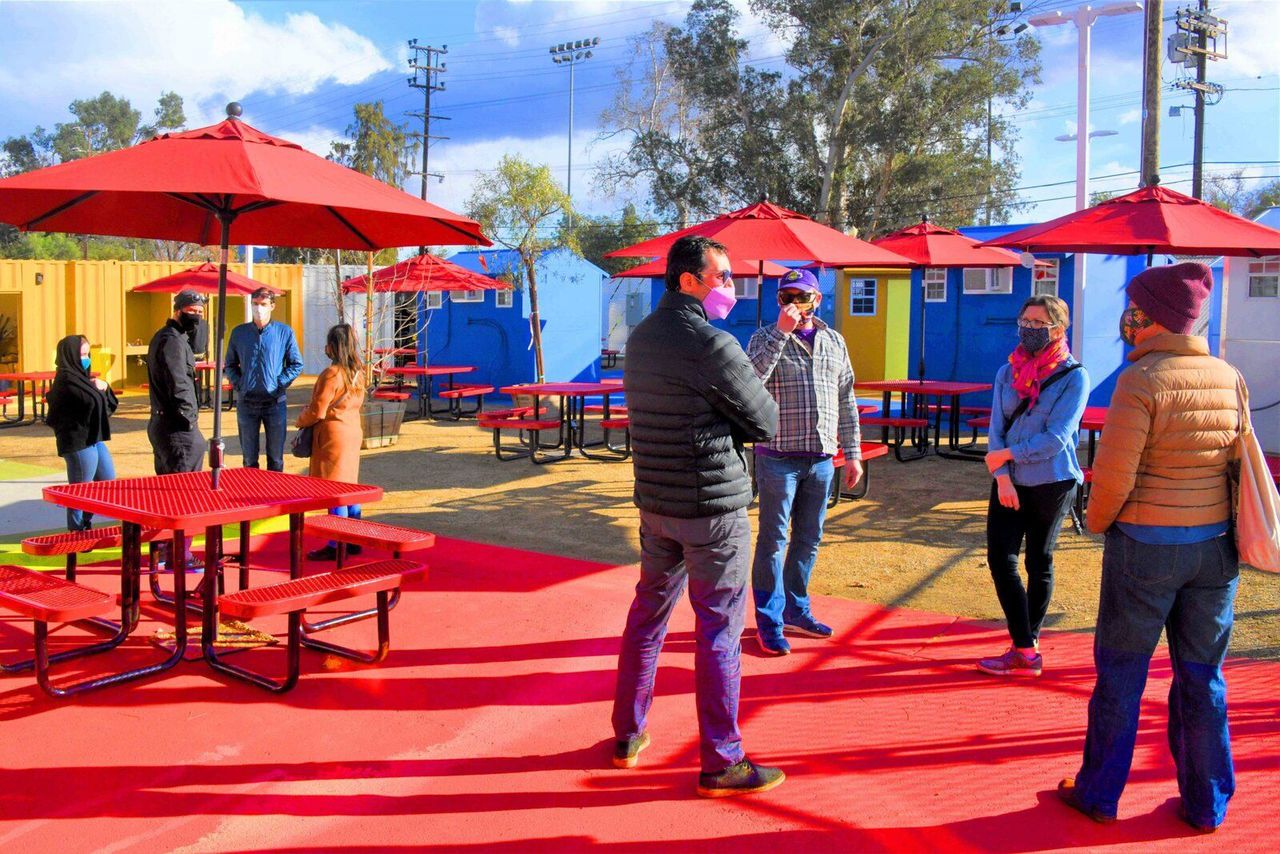 Communal amenities include a shared dining-and-gathering space, a pet play area, five portable showers, restrooms, laundry facilities, pest control, Wi-Fi access, secure storage and on-site social services.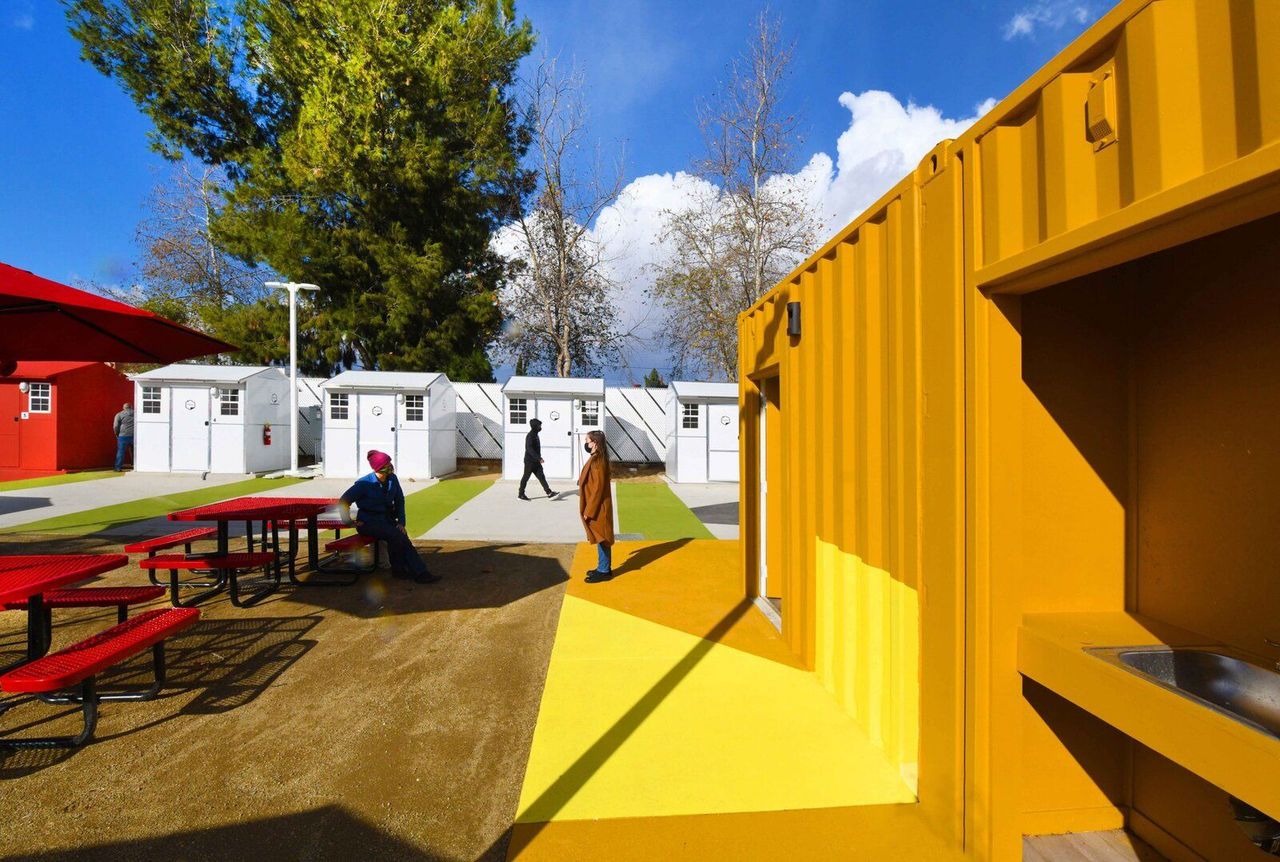 The village will be under video surveillance and 24-hour security for the safety of residents. No alcohol is allowed on site and there is a curfew.



Even though the Pallet Shelter prefabs were affordably built, the development as a whole arrives with a multimillion-dollar price tag that has stirred up controversy.

According to The San Fernando Valley Sun, L.A. councilman Paul Krekorian said the project totaled $3.5 million, chalking up expenses to outfitting the undeveloped site with concrete foundations, utilities for sewage, water, and electricity, and other site amenities. He told the paper that the project still cost less than the average shelter facility, and is "money well spent."

"The biggest cost contributors were the new 550-foot-long sewer line extension, protective barriers for pedestrians, leveling the street for ADA due to lack of sidewalks, and adding a fire lane throughout the entire site. But this upfront investment means that the site is now developed in perpetuity, and will continue to serve the city after it has completed serving the houseless residents," explains Nerin Kadribegovic, partner at Lehrer Architects.

In April, Los Angeles's second tiny home community, which will also be built with Pallet Shelter prefabs, is expected to open in Alexandria Park with 103 homes and 200 beds.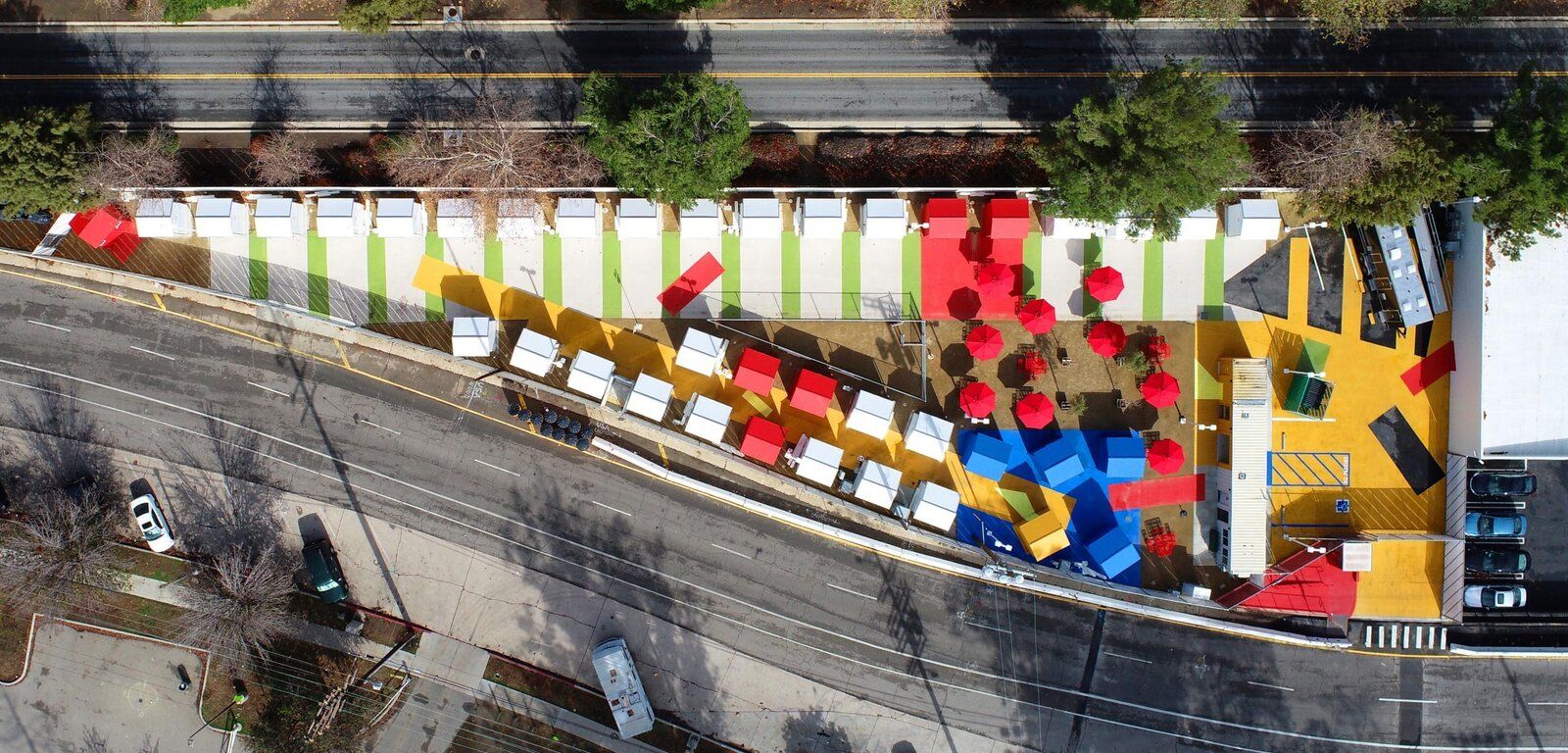 The Chandler Boulevard Bridge Home Village at 11478 Chandler Boulevard in North Hollywood opened its doors to its first residents on February 2, 2021.