Photographs of funk and jazz greats like Fela Kuti, the works of Matisse and Picasso, African textile traditions, brutalist architecture, and Yves Saint Laurent's Moroccan-inspired period are just a few of the influences that musician and designer Lenny Kravitz drew on when planning his second home furnishings line for CB2, which launches this month with all the zest and swagger we've come to expect from the star.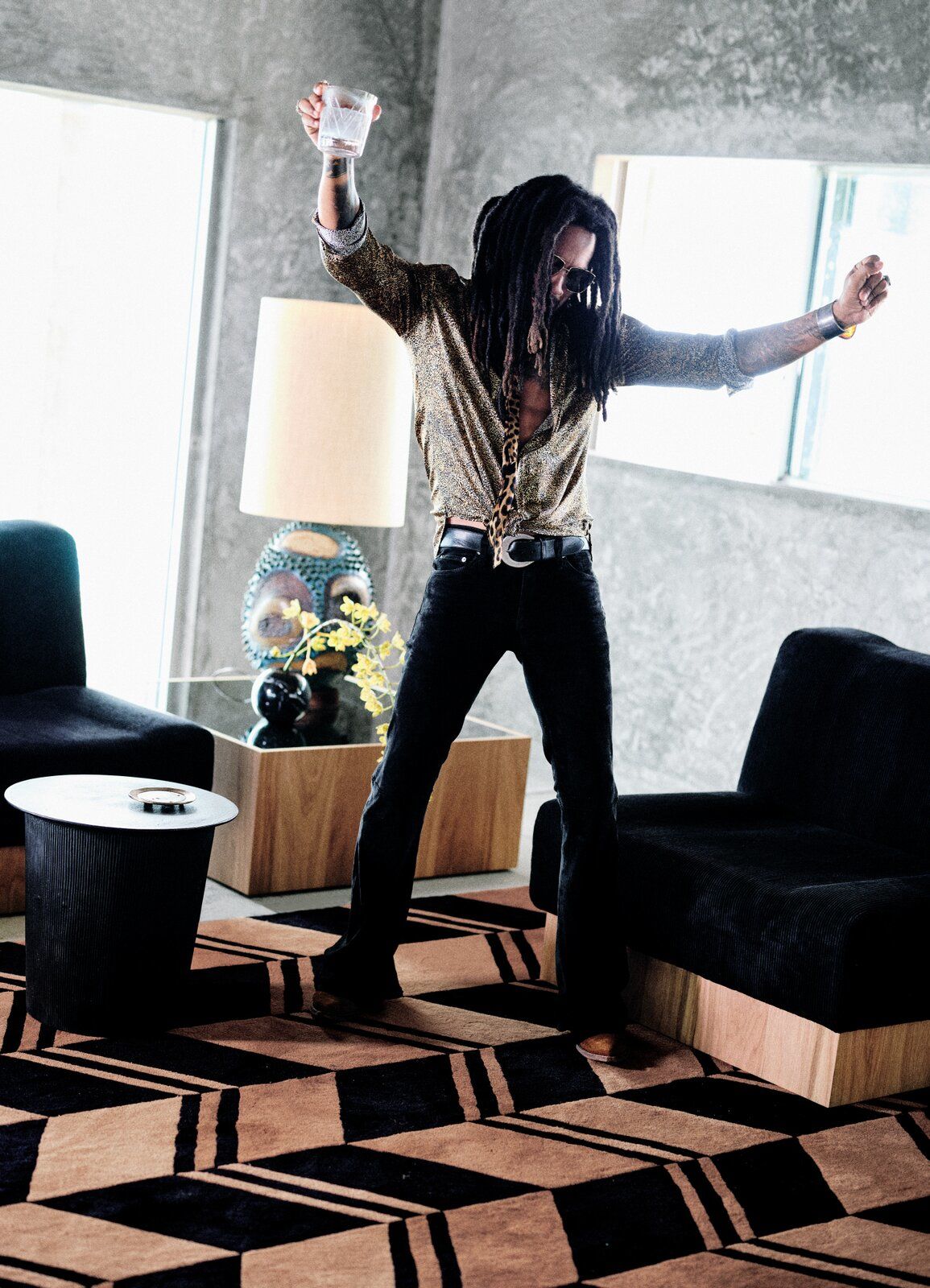 Kravitz (pictured) was involved in every aspect of creating the collection for CB2, including the photography sessions, which show the pieces installed at his home in the Bahamas

"We hope that when people see this collection, they'll have a strong emotional reaction," says Kravitz of the line. "Some pieces are rough, some are refined-that is intentional. We want you to walk into a space and feel something."

Building upon Kravitz's inaugural partnership with CB2 in 2015, the latest pieces similarly focus on materiality, contrasting textures, and bold geometry, but now they carry a distinctly global vibe, which the designer says is shaped by his nomadic career as a musician and all the design influences he has absorbed along the way.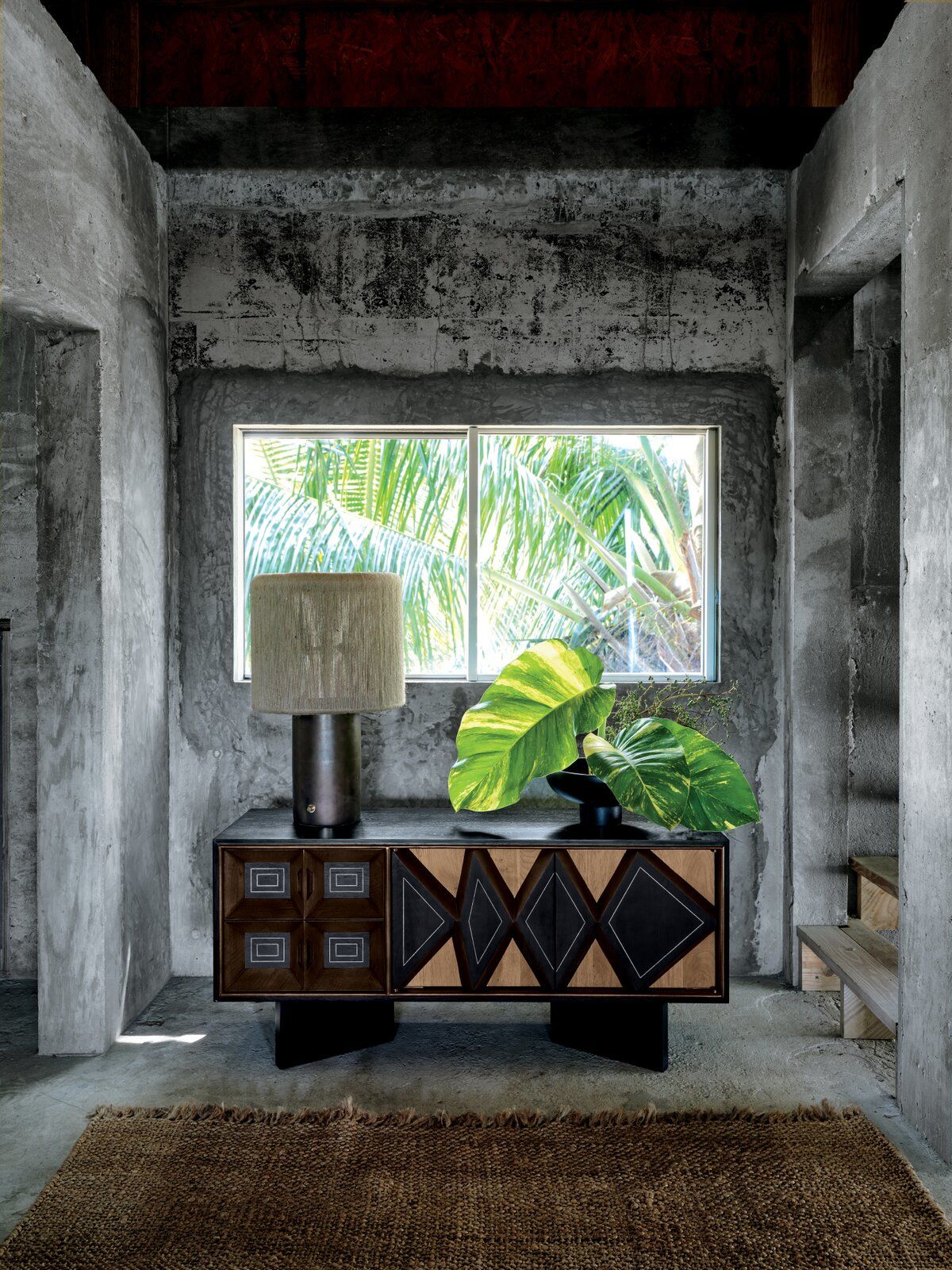 The Paseo credenza is made from FSC-certified white oak, and its bold pattern is created with different stains.

At first glance, the new collection is even more raw and seductive. The Kravitz Design team experimented with sand casting techniques and different combinations of metals, fabrics, and wood. "One of my personal favorites is the Paseo carved wood credenza, which drew inspiration from a brutalist-style console that I have in my own home," says Kravitz, calling the piece "imperfectly perfect" for its asymmetry and mix of rough-hewn and polished details.

The Sojourn Ogo bed, which Kravitz describes as "refined yet glamorous," is another standout piece. Its sleek metal frame is embellished with short-pile velvet upholstery in a bold, 1970s-inspired pattern designed by Kravitz after traditional ikat and batik textiles.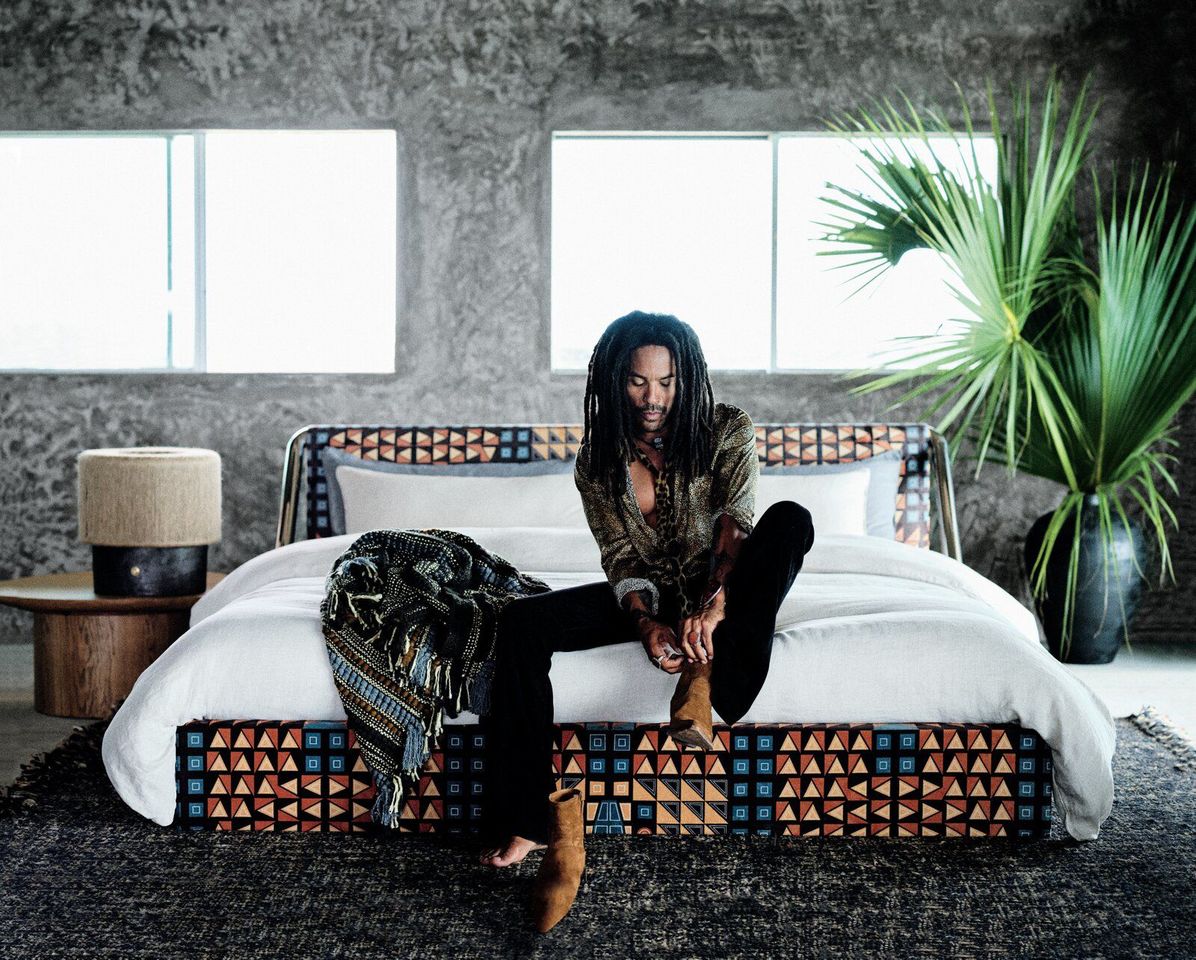 With its polished nickel frame and vivid pattern, the Sojourn Ogo bed is among the bolder pieces in the collection. For those still aspiring to rock-star swagger, many pieces in the line also come in neutral bouclé.

A strength of the new Kravitz Design collection is its synthesis of diverse materials into cohesive pieces with personality. The metal base of the Hakka lighting collection, for instance, provides a sleek counterpoint to the leather, rattan, and walnut accents. The monolithic Origin dining table's bronze finish enhances its cast-aluminum form and pairs elegantly with the velvet-upholstered seat and Danish cord rushing of the collection's Caravan dining chairs.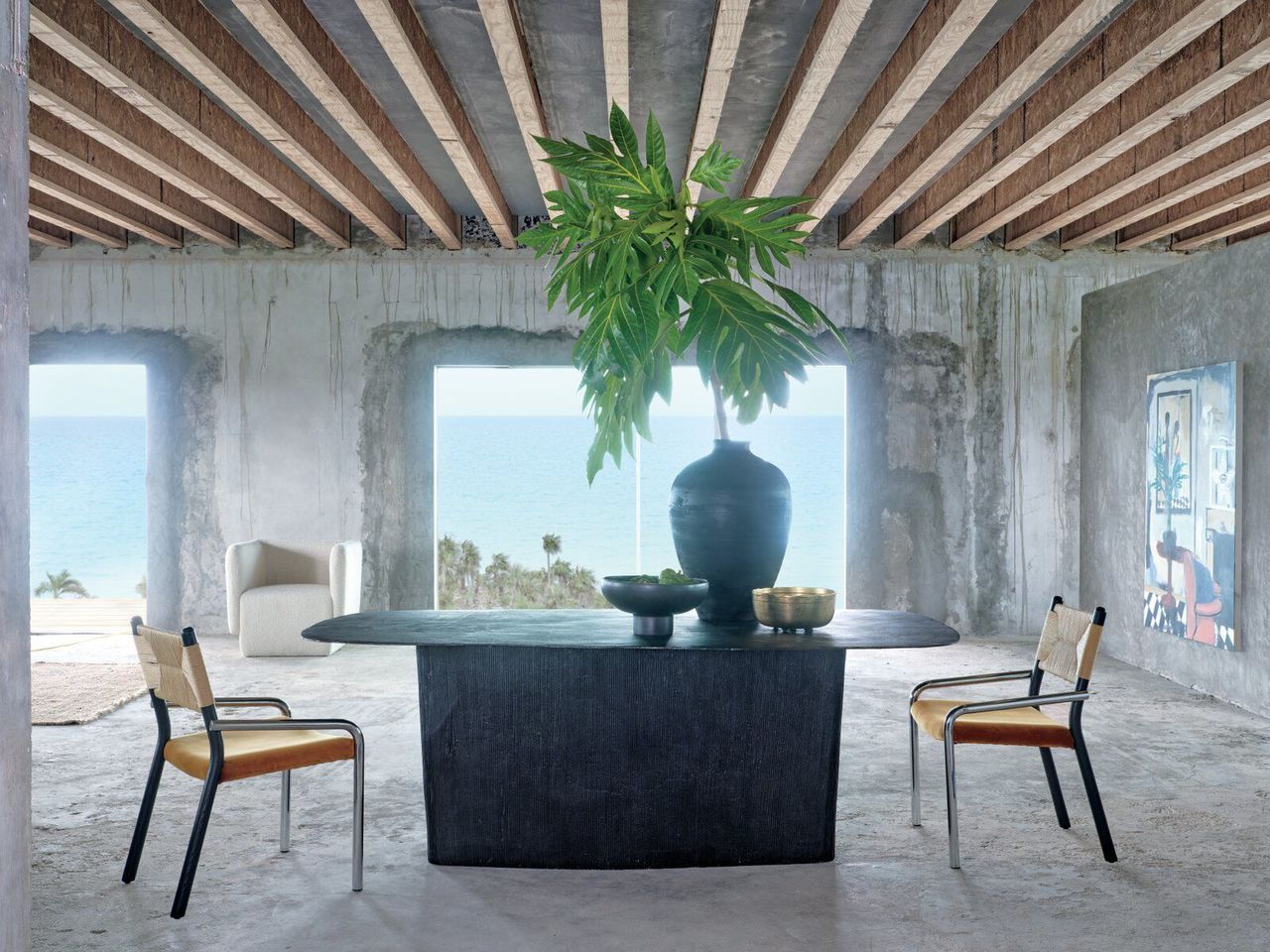 The Caravan chair and Origin dining table are shown in Kravitz's home in the Bahamas. "I'm proud of the moments where we brought together different materials in an innovative way," the designer says.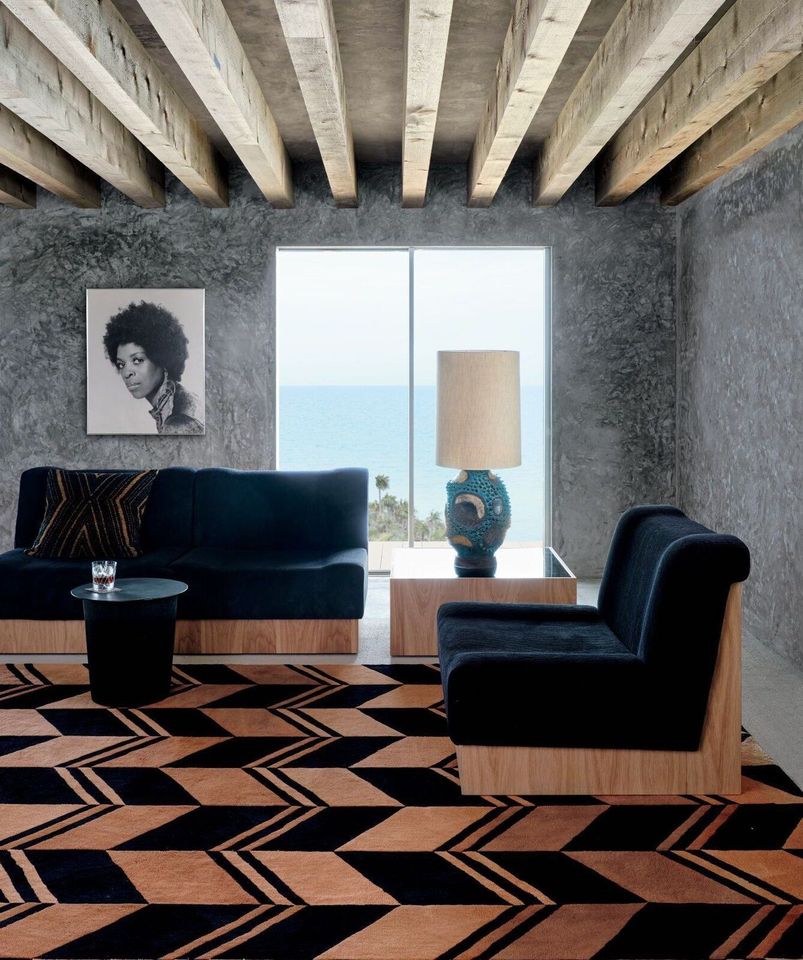 Pieces like the low-slung Vaneri seating collection and graphic Traverse rug combine to create an edgy 1970s vibe.

"We know this collection is evocative," Kravitz reiterates. "To put it simply, we think design should be thought-provoking. Our approach has always been about soulful elegance-something that evokes an emotion in its purest form. As we travel and experience new people, places and things, it expands our visual palette and those influences and shared experiences find their way into our current aesthetic."