Across the world, many consider coffee to be part of their bare necessities. This sentiment certainly rings true for the creative community in Prague's industrial Kralín neighborhood. GROUNDS, a roastery and café nestled within the inner courtyard of an office building, has become a community hub. Owing to a series of skylights, the team at Czech architectural firm KOGAA constructed an interior duplex structure to harness and distribute the natural brightness overhead throughout the multi-leveled space, highlighting its pared-down aesthetic.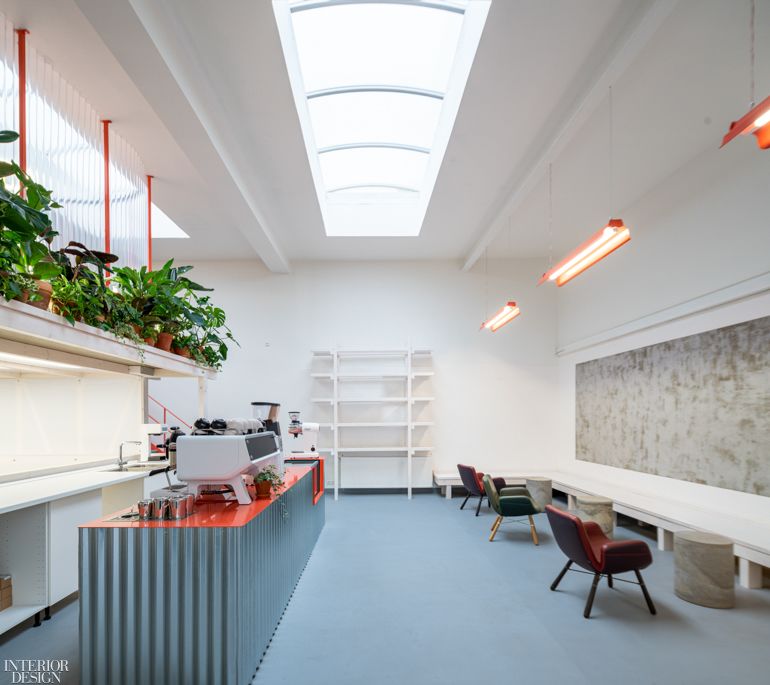 The concrete coffee tables and wooden bench were handmade on site. Photography by Alex Shoots Buildings.

Project lead and KOGAA founding partner Tomas Kozelsky focused on repurposing materials wherever possible to reduce building waste, collaborating closely with coffee roaster Rene Kralovic and his team. The majority of the interior structure is comprised of wood beams and panels from a previously dismantled architectural installation that enabled Kozelsky to create a variety of nooks. The nooks house air-purifying plants, creating a halo over the service counter. Repainted industrial lamps from an inactive weapons factory match the tangerine hue of the suspended staircase that leads to a workspace above.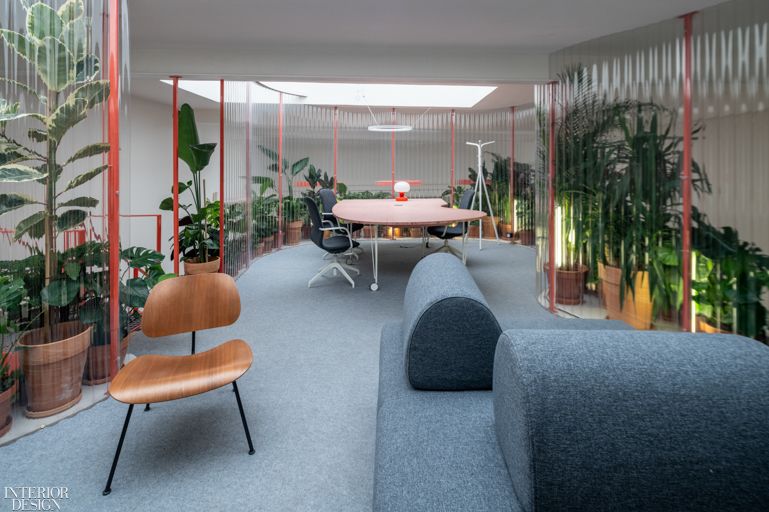 The upstairs work space is surrounded by a corrugated plastic wall. Photography by Alex Shoots Buildings.

Beyond beverages, GROUNDS offers educational workshops and hosts competitions to cultivate a clientele of likeminded baristas and coffee enthusiasts. Hidden from diners in the entrance, and across from the back production and packaging area, a testing room built into the duplex functions as a barista machine showroom and event venue. Those making and serving the coffee at GROUNDS and KOGAA architects stand by the brand's ethos: Something doesn't have to be incredibly fancy to be extremely good.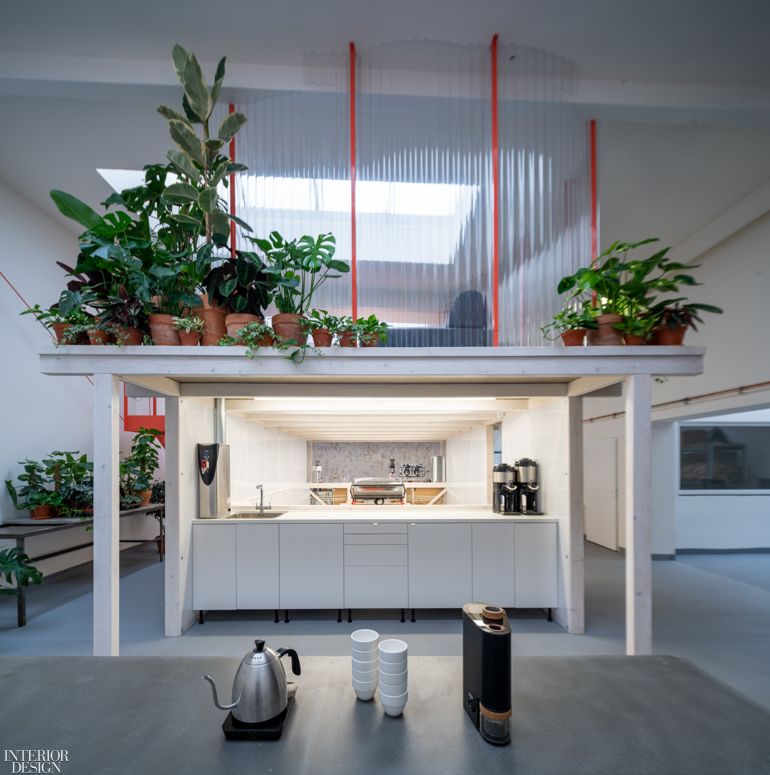 A multipurpose room is tucked away from the dining area. Photography by Alex Shoots Buildings.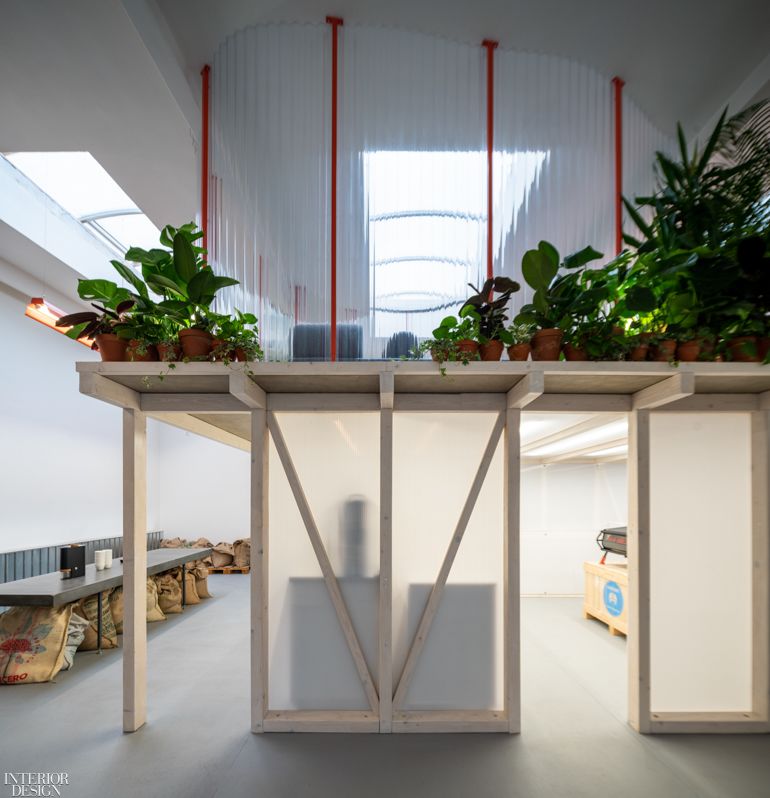 Clean lines organize the structure and the space, ensuring enough room for storage. Photography by Alex Shoots Buildings.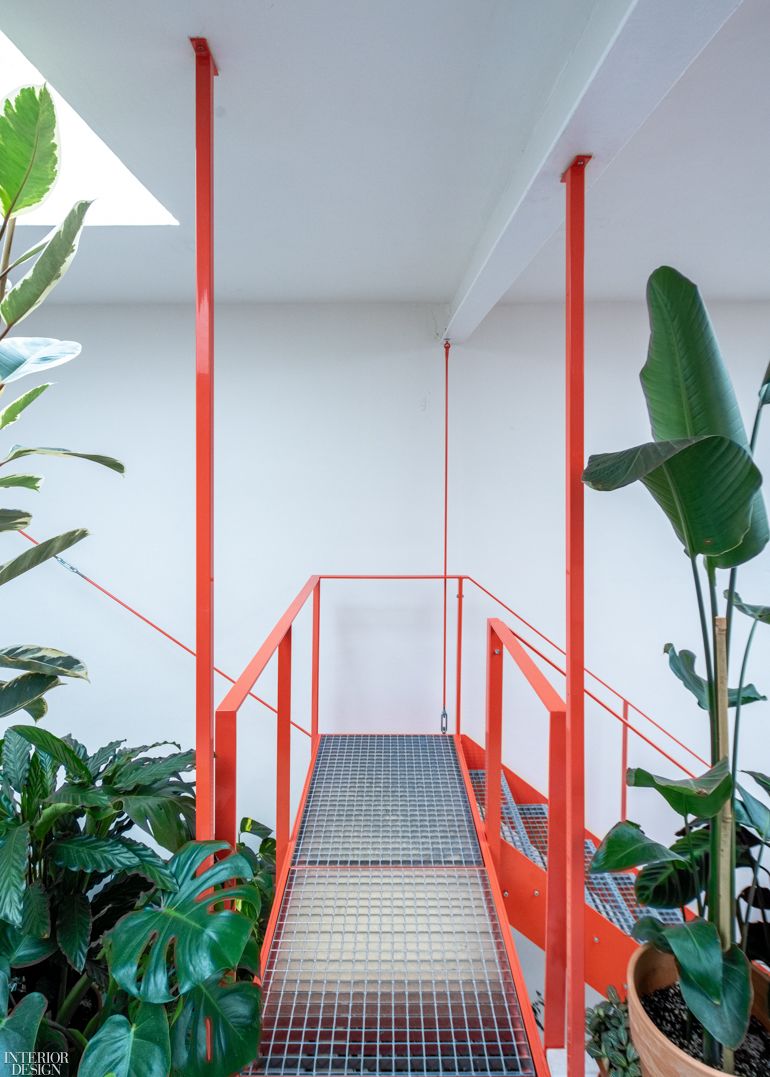 Plants line the suspended walkway that leads into the work area. Photography by Alex Shoots Buildings.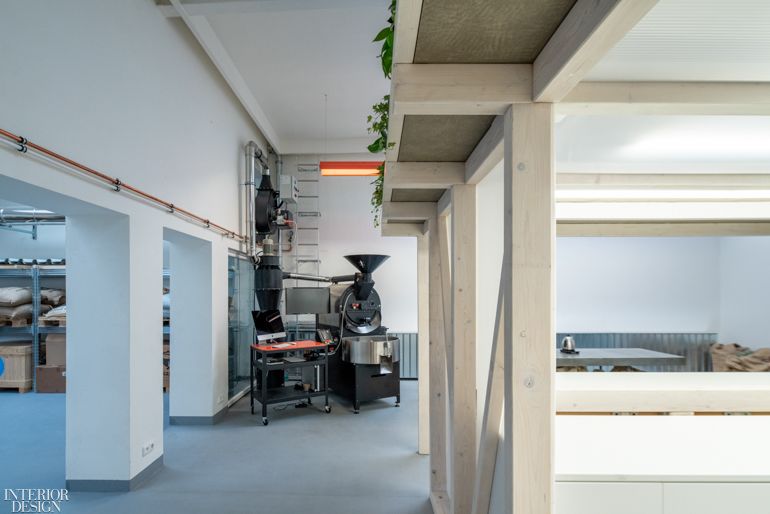 The roasting apparatus is meters away from the freshly served coffee. Photography by Alex Shoots Buildings.