With the move towards larger, open-plan kitchen extensions we're always looking for thoughtful kitchen island ideas. A smart island has become an essential feature in any modern kitchen, and it's not hard to see why given the potential to add useable value to a kitchen design.

The first you need to think about when considering a kitchen island is the main purpose. Are you looking for extra prep space, or to form a boundary between the cooking zone and the living/dining area? Once you have an idea of how you'll use the island you can start exploring different designs to suit your needs.


Kitchen island ideas

A shaped island unit can also help direct the flow of traffic away from busy hotspots. An island can be long and slim, running parallel to the work area; neat and round in a compact room; or big and broad, housing a sink and appliances.

Almost all kitchen ideas about island units incorporate seating – even the smallest space can usually accommodate an overhang of worktop and a set of bar stools. Alternatively, you could pick a long kitchen island with integrated low-level, table-style seating at one end.

Functions aside, the change of pace offered by a kitchen island often encourages a variation in material. You can afford to be braver here with a bolder finish or colour, or perhaps a more expensive material that would be prohibitive across an entire room. For a show-stopping centrepiece, look to luxury materials, from deeply veined marble and mottled granites to exotic timber veneers and gleaming mirrored glass or burnished metal.

There's also a trend towards more textured materials – think raw or rough-sawn wood – as well as a contrast of colour or finish between the island and the rest of the kitchen. And don't forget kitchen island lighting ideas to turn a good-looking unit into a showstopper of a kitchen centrepiece.

Read on for more fabulous kitchen island ideas…


1. Drop in a dedicated dining solution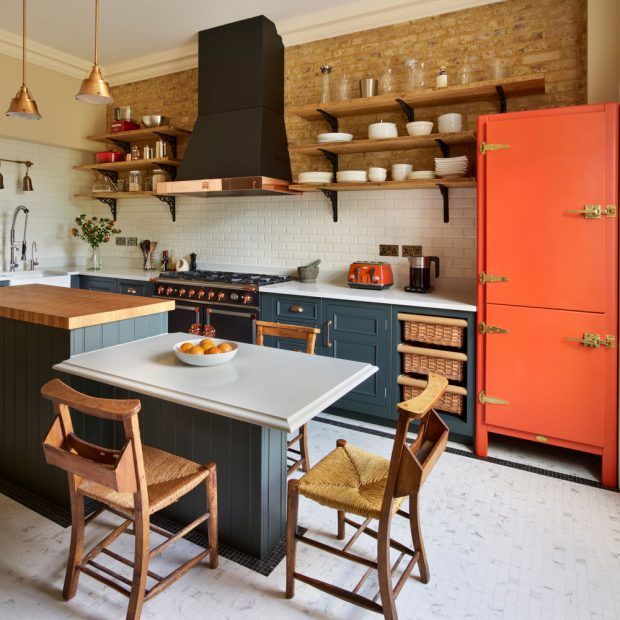 Design a kitchen island that feels inviting for dining by dropping a lower height worktop, meaning you can use standard dining chair rather than high bar stools – a great idea for family kitchens. Use the same colour cabinetry for the dining portion of the kitchen island but drop the height by just enough to make it useable as a dining table. Using an a contrasting worktop to the remainder of the island helps to make its purpose standout even further.


2. Incorporate stylish storage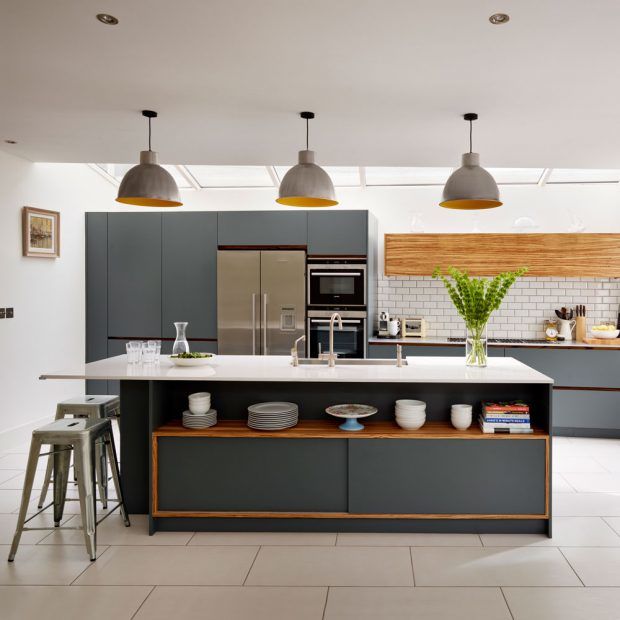 Look to use one side of a large island as a display area for storage, with enough concealed drawers to hide the majority for kitchen accessories but leaving a sideboard-style surface to stack cookbooks and display colourful chinaware.

This idea is especially effective for open-plan living spaces, where you are directly looking at one side of the kitchen island. The broken design helps to make the block kitchen unit feel less imposing on the rest of the space.


3. Maximise the use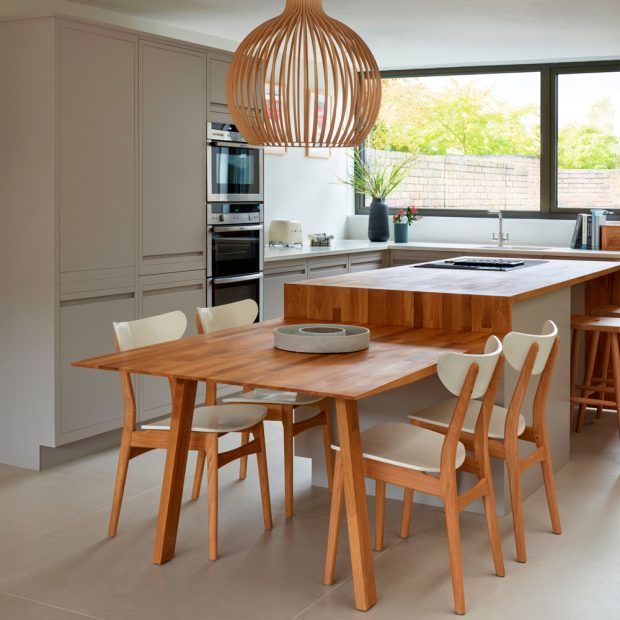 This thoughtfully designed kitchen island offers a dining table and island hybrid. More than a breakfast bar this design extends the wooden worktop down onto a fully-fitted dining table. The wooden worktop is ideal for use on an island where the purpose is primarily entertaining thanks to the softer qualities.

'A wooden worktop is a soft material which can become scratched or scorched during wood preparation. Confine the use of wood to soft-use areas such as breakfast bars for eating or entertaining' advises Melissa Klink at Harvey Jones. 'Use a harder surface which is easy to clean, such as granite or quartz composite, for food prep areas.'


4. Balance practical purposes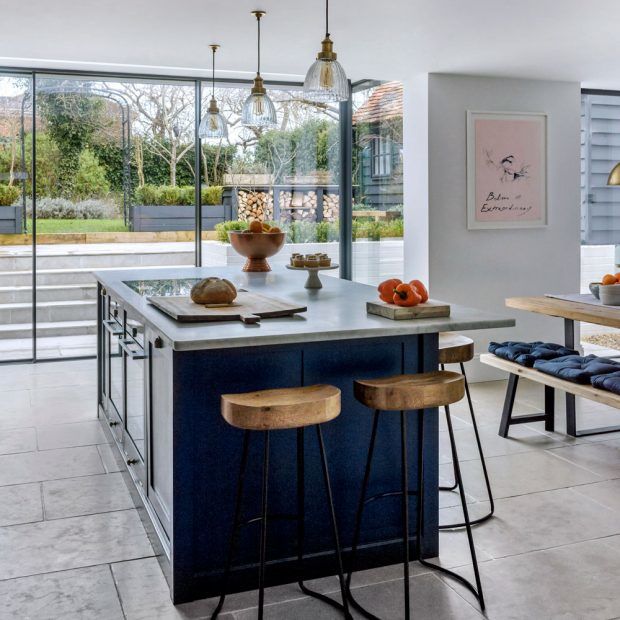 Where you have the space, in the case in this open-plan kitchen extension idea, use a kitchen island to bridge the gap between functional kitchen space and social dining elements. Do this by 'dividing' the island in half in terms of usage, with purposeful kitchen elements such as integrated fridges and induction hobs one side and a breakfast bar with stools on the other.

A multifunctional design helps to unify the different uses within the space, while still clearly zoning each purpose.


5. Go for scale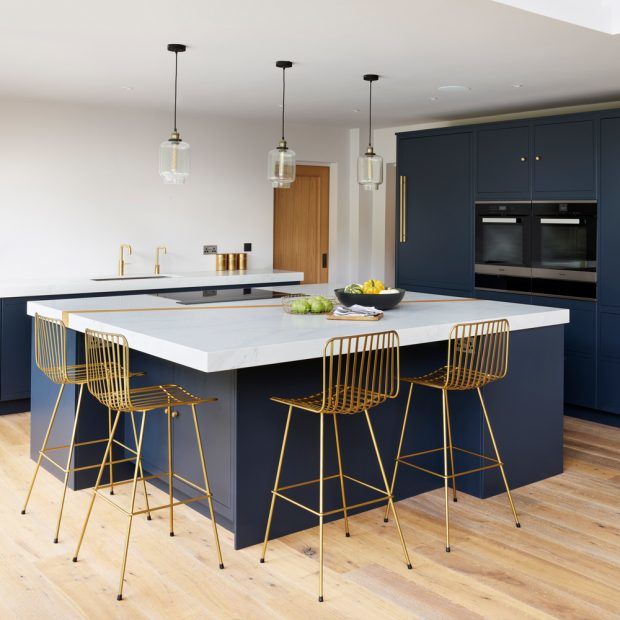 Choosing the right size to scale is key when it comes to planning a kitchen island, because while you want it to be the focal point you don't want it to be overbearing on the layout as a whole. Matt Baker, kitchen designer at Harvey Jones offers his advice, 'The most important element has to be the walkways around the island. As a rule of thumb they need to be 1000mm wide in order to be safe and practical in a kitchen.'

'Many seem to think the bigger the better. Wide islands are sure to make an impact, however they're not the most practical solution because you have to be able to reach the middle when cooking. Try to keep it no deeper than 1400mm front to back.'


6. Thoughtfully position appliances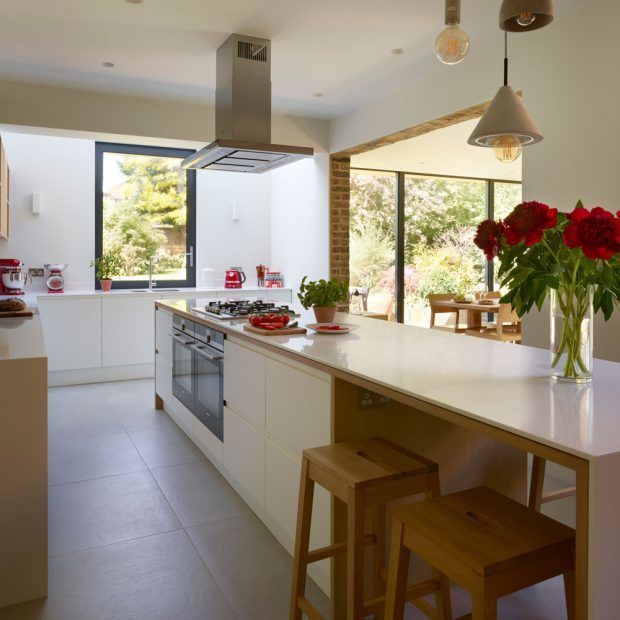 If you're putting an island into an open-plan kitchen you're most likely looking to create an engaging and inviting space for entertaining. It therefore might not make sense to position cooking appliances on the outside facing walls of the space, meaning you'd have your back to guests for the majority of the time while you cook. Incorporating the oven and hob into the island facing towards to the social space will help create a more engaging environment while hosting.


7. Shine a spotlight on the centre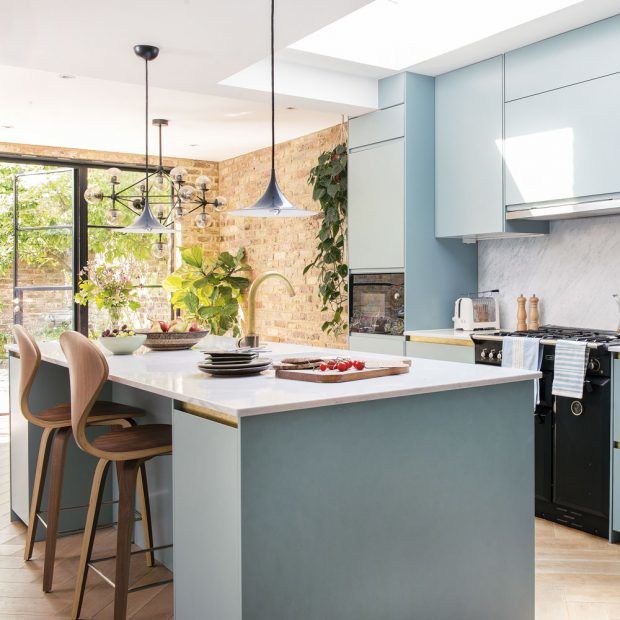 As far as kitchen lighting ideas go the island is one of the most important focal points – some would say the star of the show. While you want the entire kitchen to be lit for your needs it's imperative to make sure the island fits perfectly within the lighting plan. As it often serves as the main food prep station and the hub of entertaining it needs to be well-lit, most likely by multiple lighting options. Whether that's overhead spotlights or lanterns, which you can dim for intimacy or brighten for practical task lighting, ensure the main focus for good lighting is the centre of the island.


8. Contrast with on-trend colour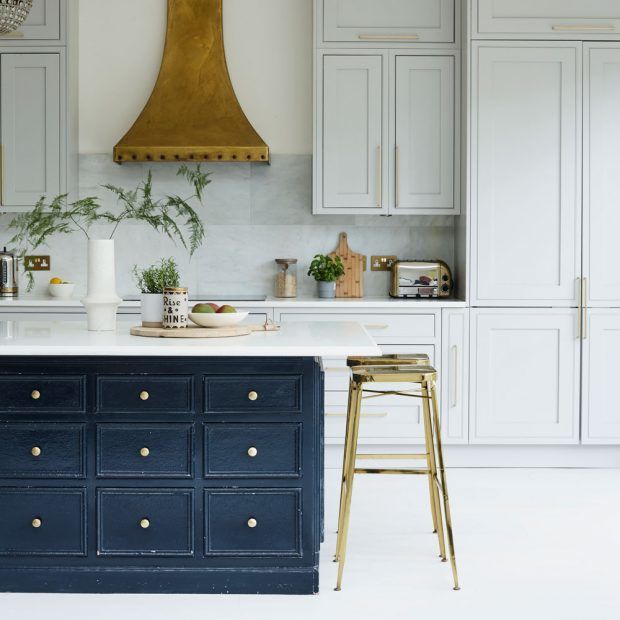 Personalise the space by welcoming an injection of sophisticated colour to highlight a kitchen island. Use this multifunctional kitchen design to invite a warming splash of on-trend colour to uplift an otherwise neutral colour scheme.


9. Balance the layout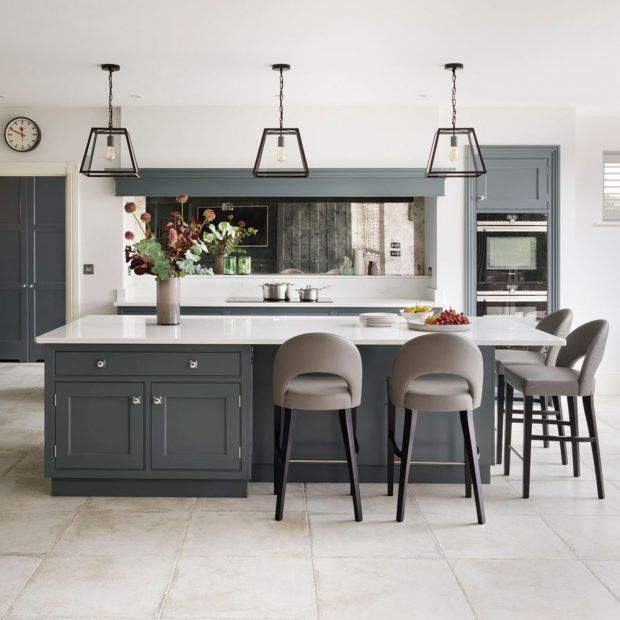 Whether large or small the key to getting a kitchen island scheme right is balance. This sophisticated grey kitchen demonstrates how to do the job perfectly, with a harmonious balance of grey cabinetry throughout with white walls and worktops to soften the look. There's a symmetry with the seating along the island breakfast bar which adds further balance making one end entirely dedicated to entertaining.


10. Blend in a breakfast bar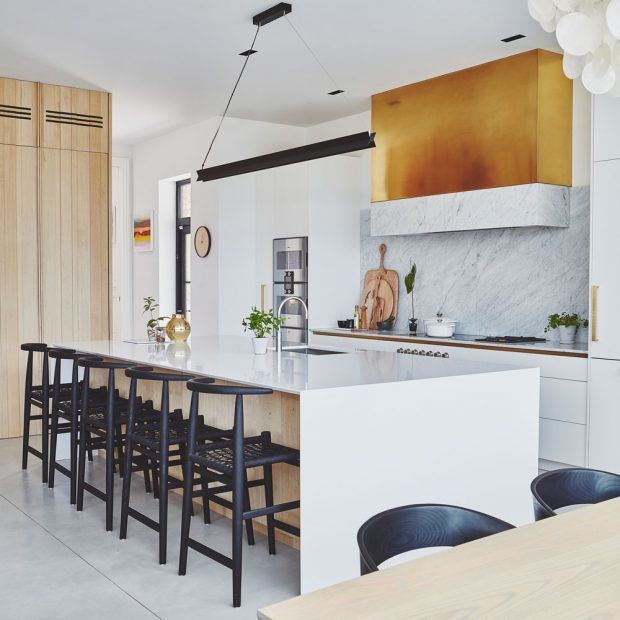 Multifunctional is all-important when it comes to kitchen design, to make the space as efficient as possible – large or small. An ideal multifunctional kitchen island is one that functions as a food prep space with a sink, a storage space and a social space with a breakfast bar.