During the 20th century, the introduction of small kitchen appliances made kitchen cabinets a necessity, and these became an integral part of the kitchen, no longer being considered a secondary need.
Cabinets were most often handmade from solid wood, they had fine details indicating precisely where a set of cabinetry came from. Each region, where the cabinets where made, had it's own style and decorative elements. Cabinets managed to be a main feature of the contemporary home.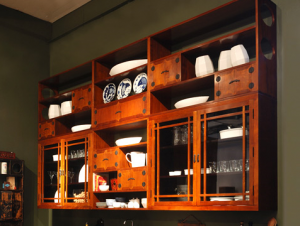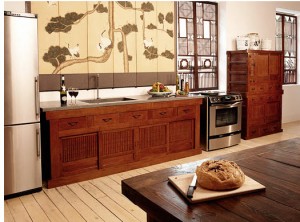 As time went by, handmade cabinets started to be less, as companies began mass producing cabinetry with cheaper materials and cheaper labor. This is where a division between types of cabinets appeared, a division between quality-made cabinetry and lower grade products.
Lower quality cabinetry might seem like a better deal, as many of these cabinets seem durable and solid. The two forces that ruin poorly made cabinetry are general use and the environment. Humidity, temperature changes and too much weight bends or bows the cabinetry over time. Wood cabinets are lasting and durable against these threats. As wood ages, many types of solid wood cabinets will slightly change over time.
Cherry cabinets will subtly darken over time. Maple cabinets are known for the beautiful and unique grains. Oak is a sturdy wood that has pronounced grains, and oak cabinets may even contain what is called a "pin knot." Birch has been labeled a "contemporary" wood and accepts paints and stains well. Alderwood is like cherry when stained. This is a medium hardwood that has a close grain. Rubberwood is also known as Plantation Hardwood. The grain is straight, but this type of wood is also known to have unusual markings that create visual interest.