Suspended in treetops and canopied in leafy branches, a treehouse is just so much dreamier than a regular old street house (Shel Silverstein said it best in Where the Sidewalk Ends). Now, your childhood dream of staying in a totally tricked-out treehouse can come true. From luxury hotels to affordable Airbnbs, we rounded up 32 treehouse rentals around the world. Surrounded by nature, these cozy, lofty treehouses are made for secluded escapes. Whether you're looking to stay in a sleek treehouse with modern amenities or a rustic treehouse for an off-the-grid experience, each lofted home promises breathtaking views. Read on to book your dream treehouse rental.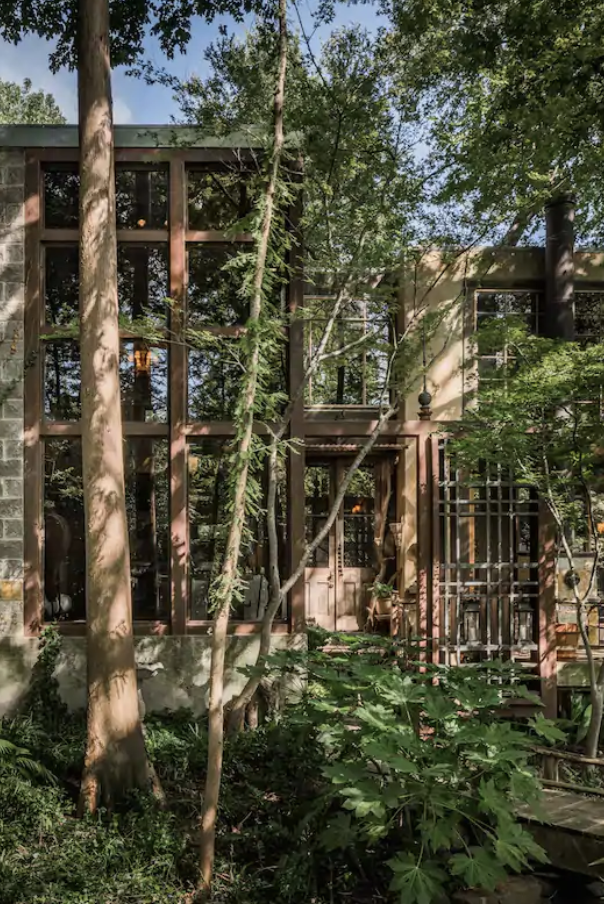 The Extraordinary Treehouse

Secluded near a running brook and treelined gravel footpaths, this Dallas-based rental makes guests forget they're not far from a bustling city. Bonus: There's a lake within walking distance.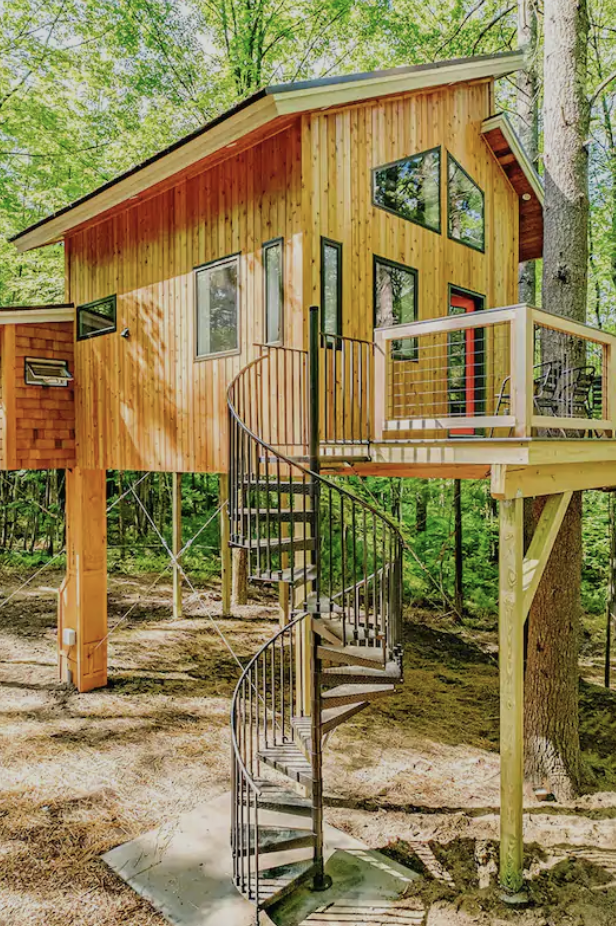 Canopy Treehouse

While only 350 square feet, this eco-friendly tiny home among the trees in Sanford, Maine has everything you need for a relaxing stay. There's a full kitchen equipped with cookware, essential appliances, and more. The loft and attached sleeping pod both feature queen size beds. Not to mention, there are pristine views of trees that the owner describes as "green glass [that filters] the early morning light."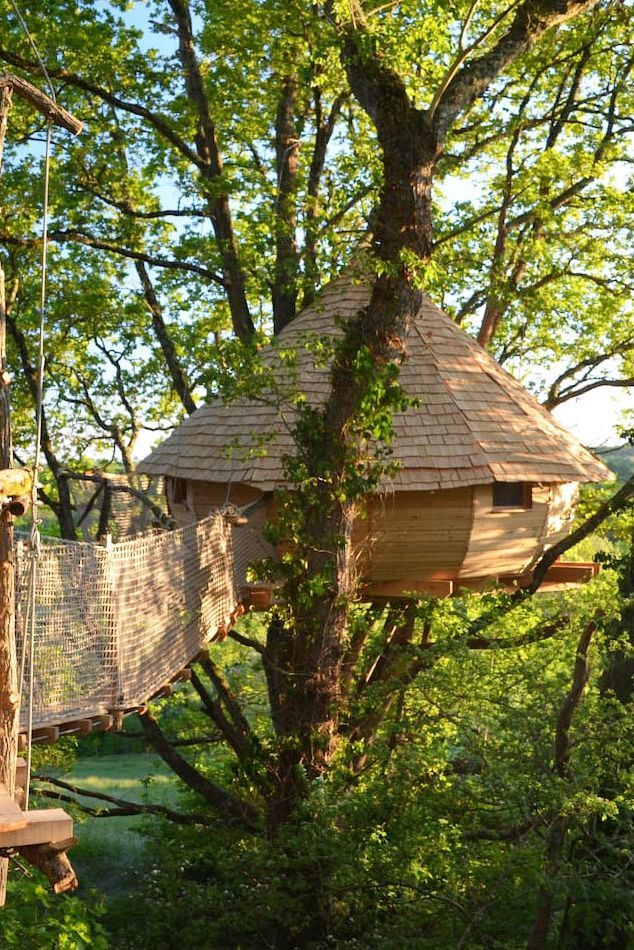 La Cabane Perchée Treehouse

Reminiscent of something out of Disney's Swiss Family Robinson, this quaint little Airbnb treehouse is perfect for anyone looking for a quiet, unique place to stay while visiting France. This little hut overlooks a beautiful view of the countryside.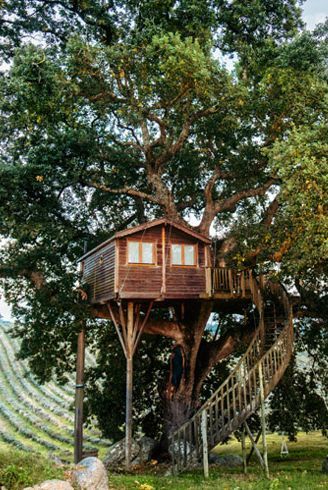 Rural Treehouse

Stay 26 feet above the ground at La Piantata, a high-end Italian bed and breakfast in the rolling countryside of Arlena di Castro. Guests lucky enough to book this room climb a winding staircase for a scenic view of the olive grove.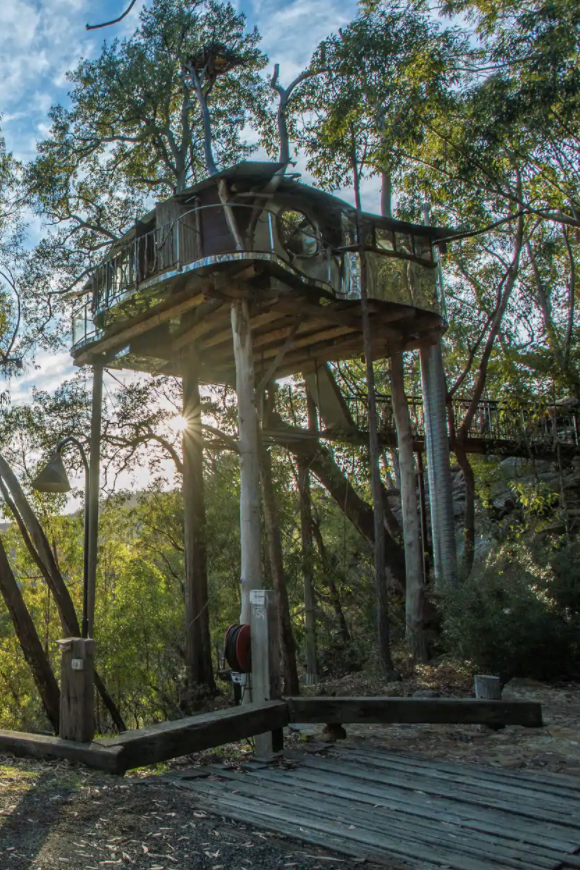 Wilderness Treehouse

This secluded treehouse is perched above 600 acres of private wilderness in Australia's Blue Mountains. Meant for adults, the treehouse features a queen-sized bed, fireplace, and floor-to-ceiling windows with stunning views of Bowen's Creek Gorge.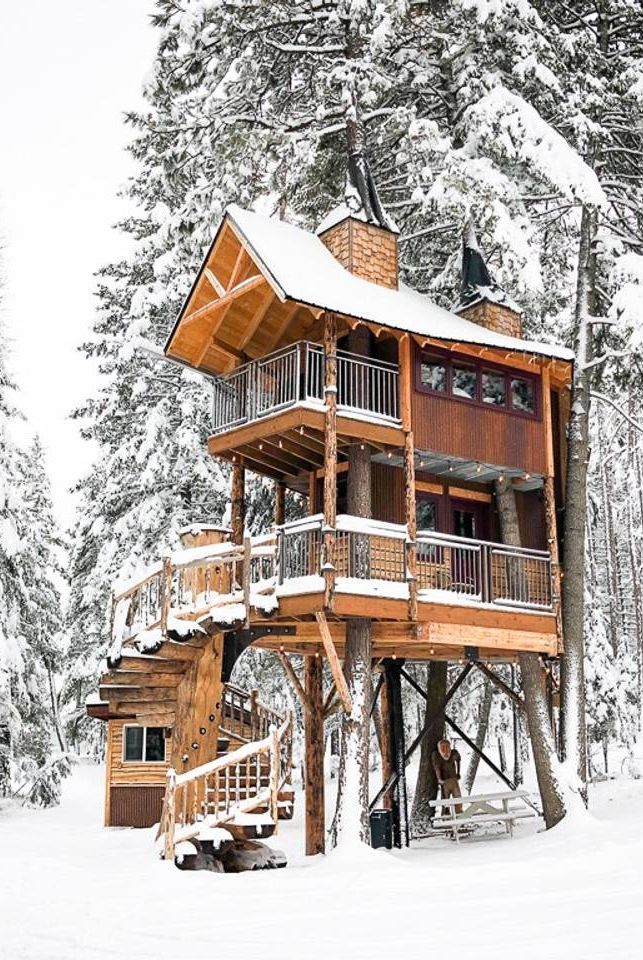 Double Decker Treehouse

Take your fantasy of living in a cabin in the woods to new heights with a stay at this stunning, two-story treehouse retreat at the gateway to Glacier National Park in Montana. The wintry getaway is ideal for outdoor adventurers, and the spacious digs welcome you back from a day of activity with a full kitchen and bathroom.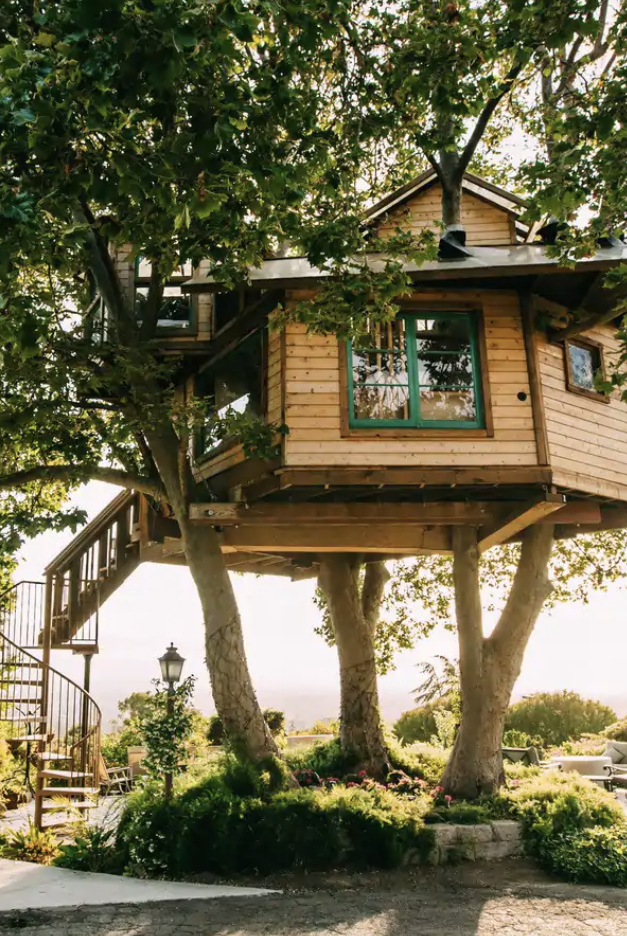 Bali Treehouse

Don't worry about packing snacks. Guests of this popular Airbnb rental in Indonesia can roam the garden and pick fresh coconuts, papayas, and passion fruit during their island escape.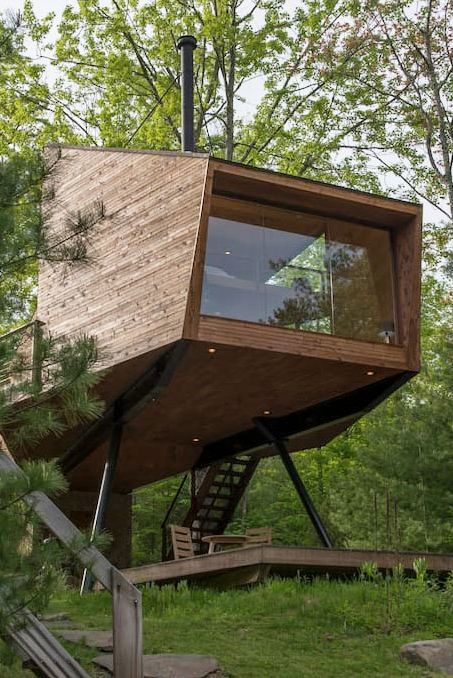 Willow Treehouse

If you want a more low-key treetop experience, book your stay at this Airbnb. It features midcentury modern interiors, a spacious living area, and a panoramic window that overlooks a lake. It's only fifteen minutes outside of Woodstock, New York, too, so you'll be able to explore the cute downtown area while you're here.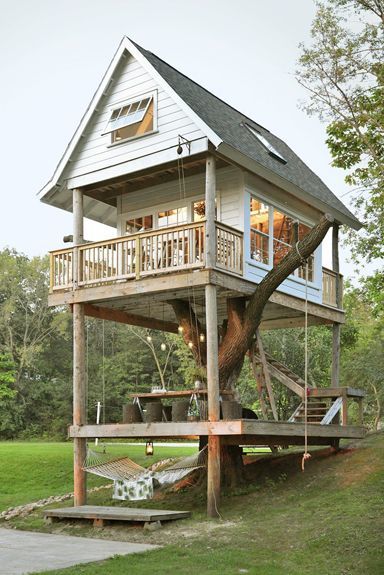 Swing Treehouse

This is clearly not your average treehouse. A part of Camp Wandawega, the three-story tiny house includes multiple swings and and a library, along with other cool surprises.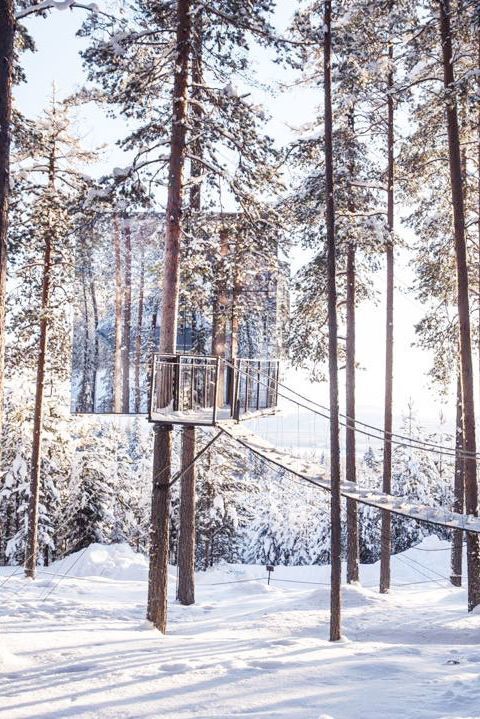 Mirrored Cube Treehouse

At the Treehotel in Harads, Sweden, you can choose from six different contemporary tree rooms located right in the middle of nature. The Mirrorcube includes its own rooftop terrace.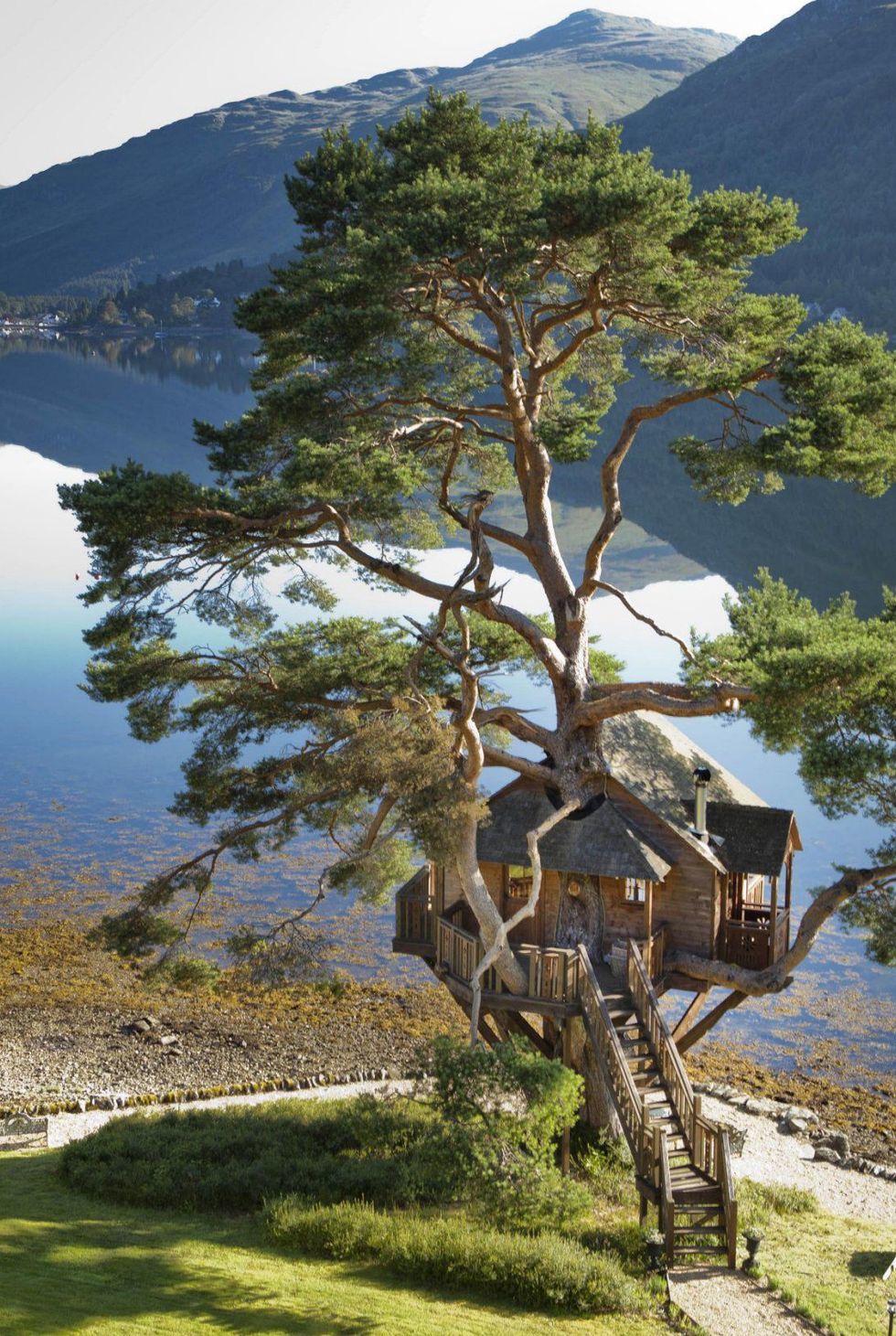 Scottish Treehouse

Here's an excellent excuse to hop across the pond. This dreamy Scottish cottage overlooks an incredibly scenic loch and has hosted hundreds of weddings (it's easy to see why!).