The apartment serves as a second residence for Passebon, who otherwise lives in the nearby Palais-Royal with his longtime partner, Jacques Grange, the esteemed interior designer. "I like the independence of having my own place," says the dealer. Not that he's a loner by any means: Passebon is a tastemaker for such in-the-swim clients as Christian Louboutin, Coco Brandolini, and Princess Caroline of Monaco, and they all show up at his Galerie du Passage now and then in search of unusual 20th-century pieces and what he calls "all elements of design, past and present."
His new home is in a five-story 1826 building that manages to feel quiet despite its location on a lively street in the center of the 1st arrondissement.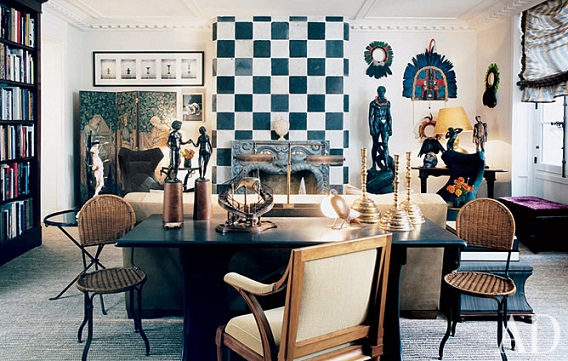 A diverse range of furnishings fills the living room:
The chairs in the foreground are all 1930s designs by Jean-Michel Frank,
a 17th-century slate table serves as a desk,
and the 1880s tapestry screen in the rear is by Edward Burne-Jones;
the abaca floor covering is from Beauvais Carpets.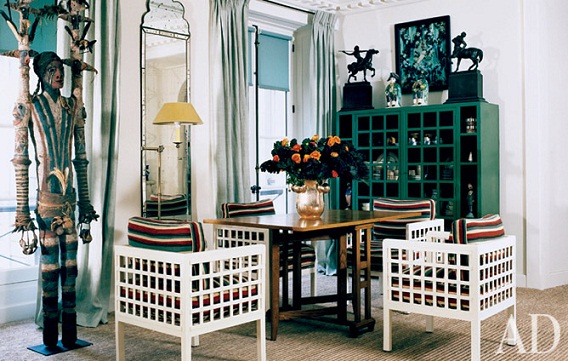 In the living room of antiques dealer Pierre Passebon's new Paris apartment,
circa-1910 chairs by Paul Poiret surround a vintage Jean-Michel Frank table.
The feathered figure is from New Hebrides.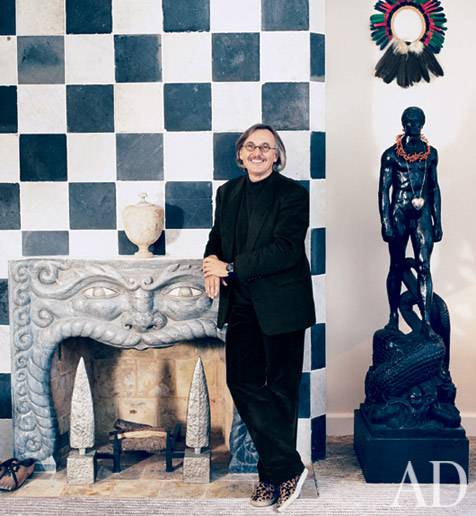 Passebon beside a 16th-century Italian chimneypiece; the ceramic tiles are 17th-century French.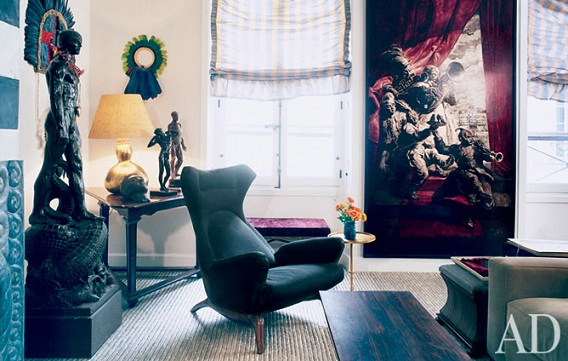 A large 1924 Paul Landowski sculpture overlooks a midcentury Carlo Mollino armchair;
the wall panel is José María Sert's La Reina de Saba, painted in 1924.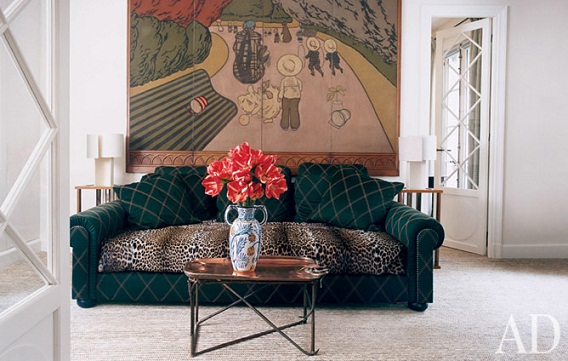 An 1899 Jean-Émile Laboureur painted screen is displayed
above a custom-made sofa in the master bedroom;
the table is by Claude Lalanne, and the antique vase is by André Metthey.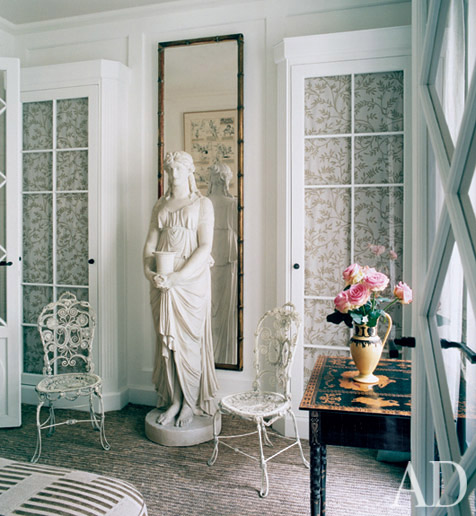 The dressing room features a neoclassical plaster maiden reflected in a 19th-century mirror
that once belonged to Madeleine Castaing; she also owned the wirework chairs.
A fabric from Chelsea Editions lines the Directoire-style cabinets.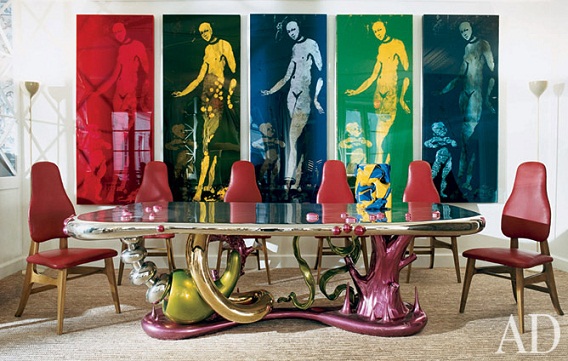 Gino Marotta's Amore Mio, 1968, hangs behind Mattia Bonetti's 2004 Abyss table;
the vintage chairs are by Franco Campo and Carlo Graffi.