As far as I'm concerned, Christmas already came to our household earlier this year when the final piece of the puzzle arrived for our living room.
See, for years now I have been pining for a bookshelf that would extend the length of the room, like a built in, giving us tons of low storage, and serving as the perfect solution to this awkward room.

Well, my dreams finally came true in September, when our Room & Board custom bookcase arrived in all its glory!!!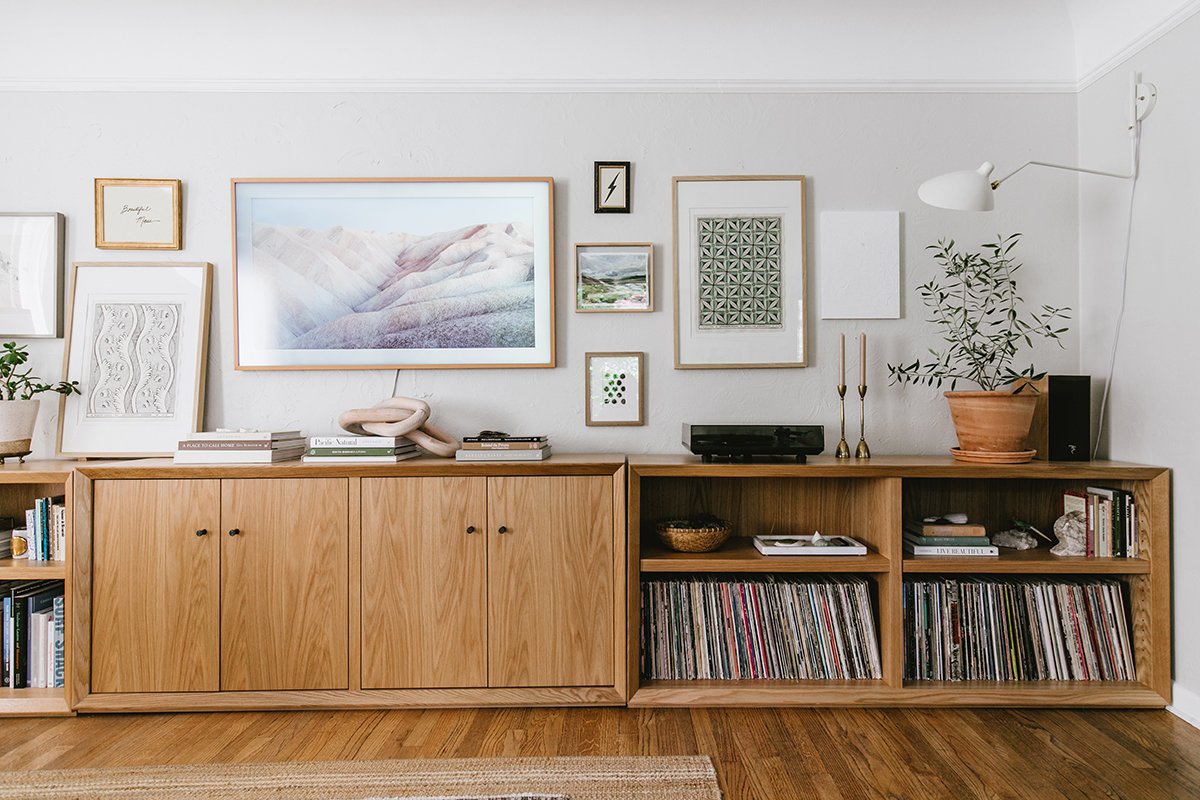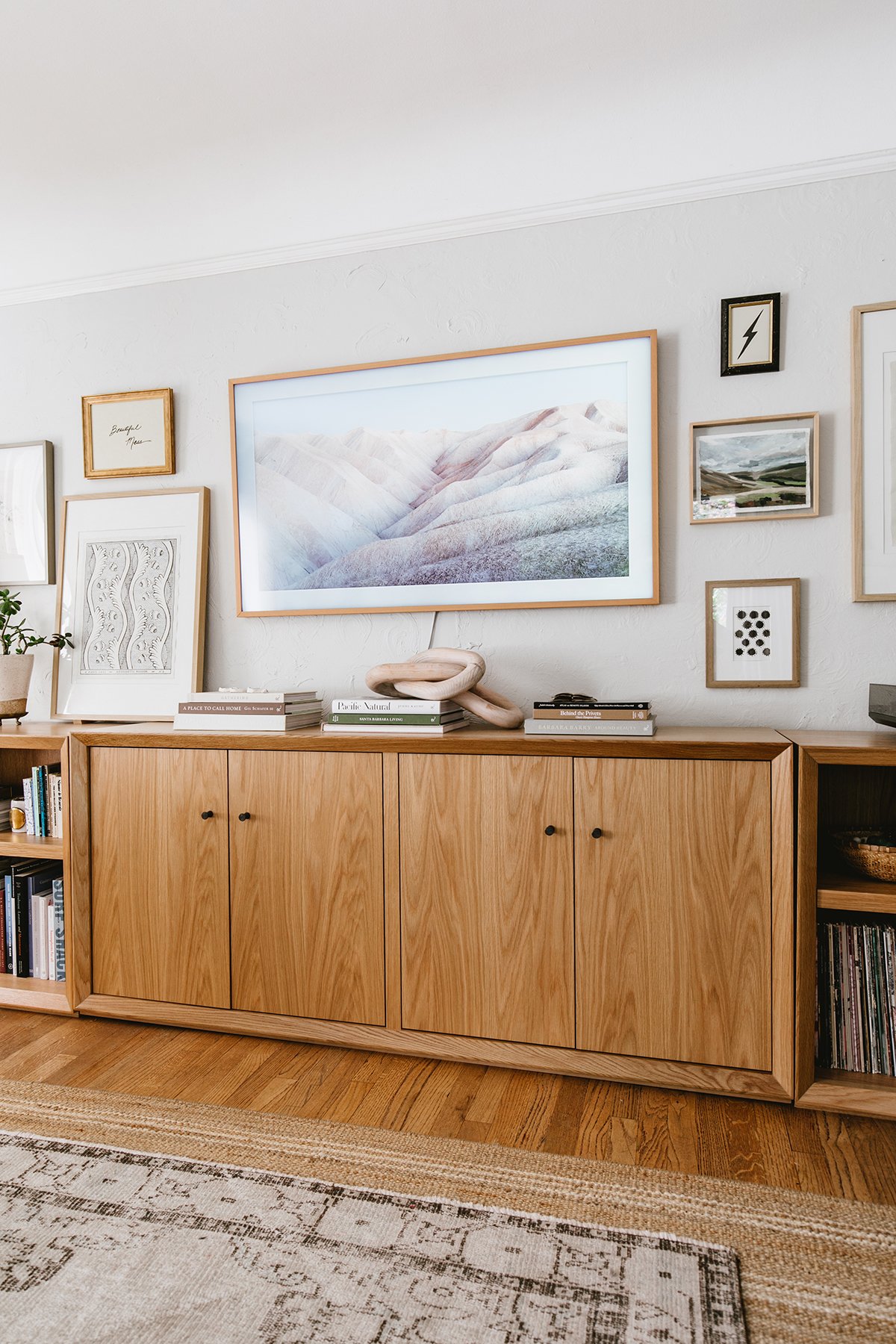 After posting a peek at this piece on instagram, I was a bit surprised learn that many of you had no idea that Room & Board offered a custom program! As a designer, especially, this is a great resource to have in your backpocket for clients. I consider the pricing fairly reasonable in comparison to other custom items, and lead times are pretty typical (6-8 weeks). Even better, for those who don't need a designer, but need a custom piece, the design process for this is super simple.


Here's how it works: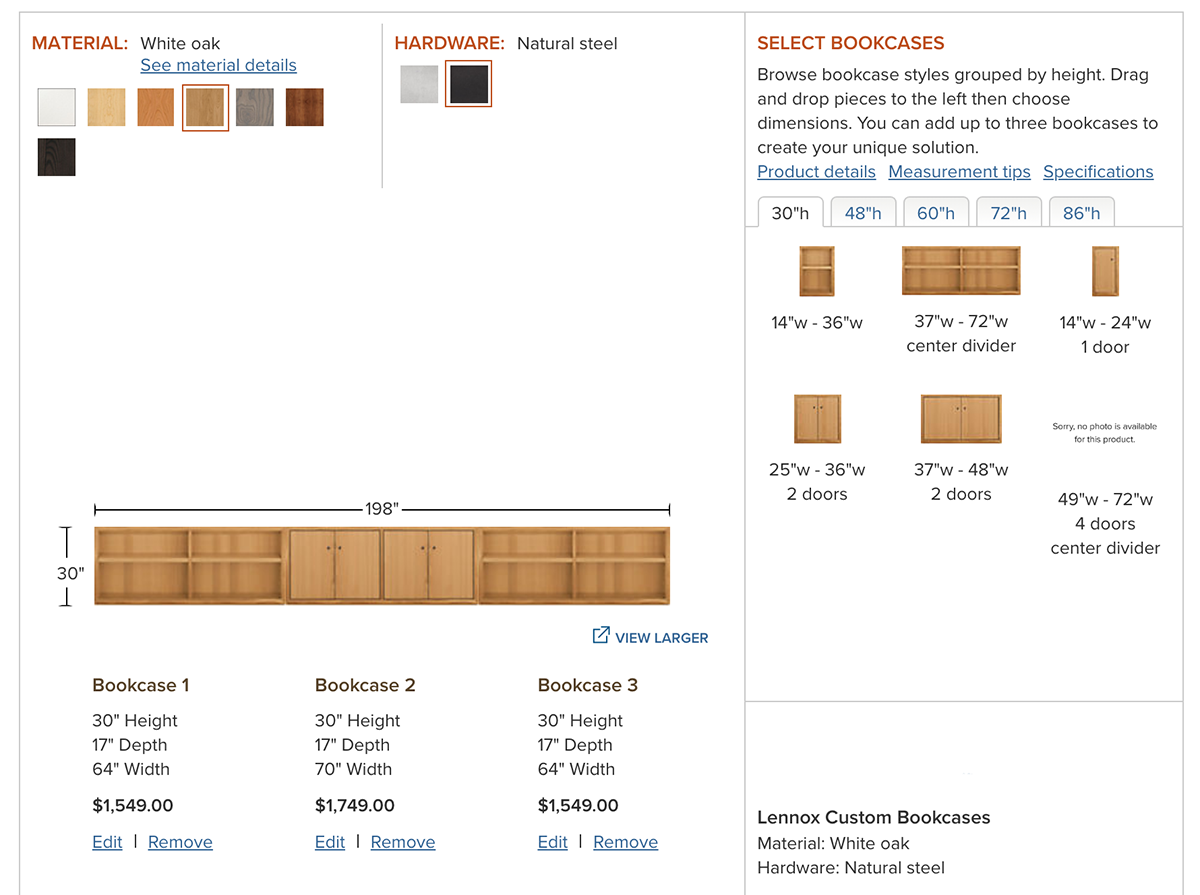 As you can see, you can select different heights on the right hand side, along with style (open or closed, double or single, etc). Then you drag and drop the elements into the design area on the left. When you do this, you can customize the width, as well as the layout of the pieces, material type, and hardware.

We ended up tweaking the design above to make the left open shelving shorter than the right open shelving, so that the closed area (where we store all our media, wifi, etc), was centered to the TV. And here is the final product!!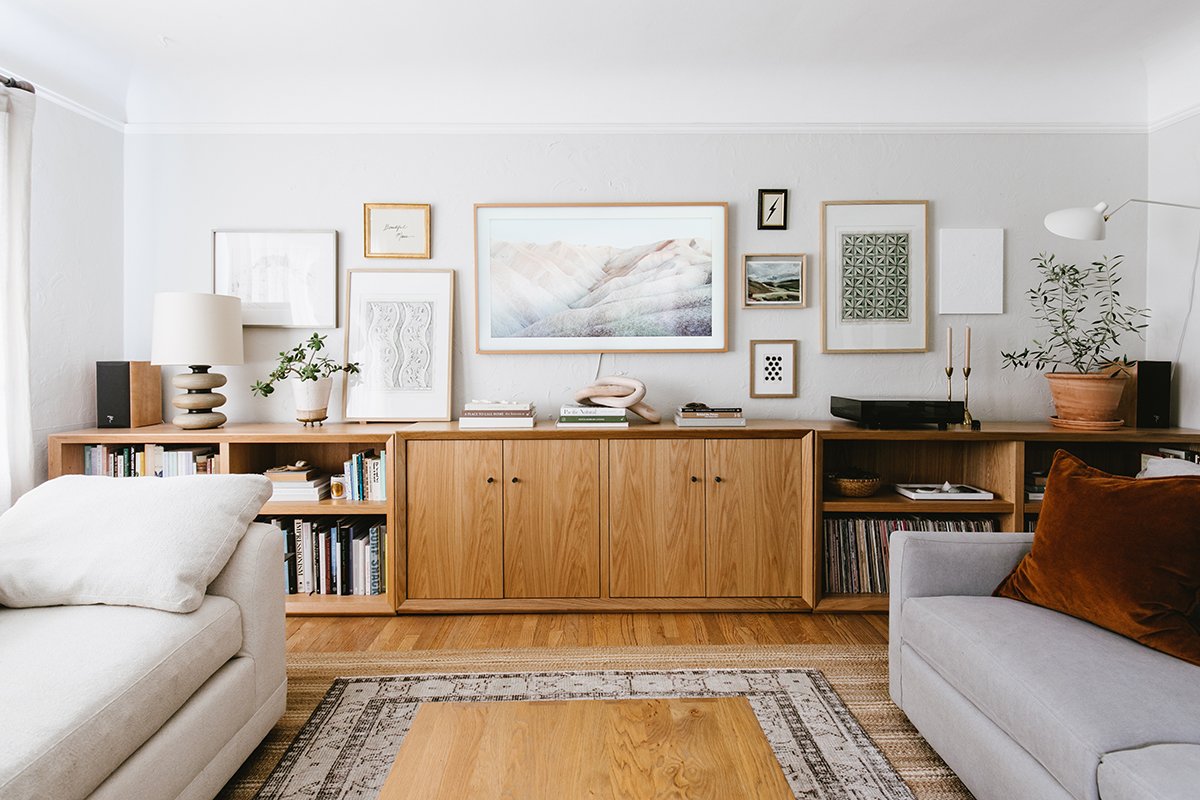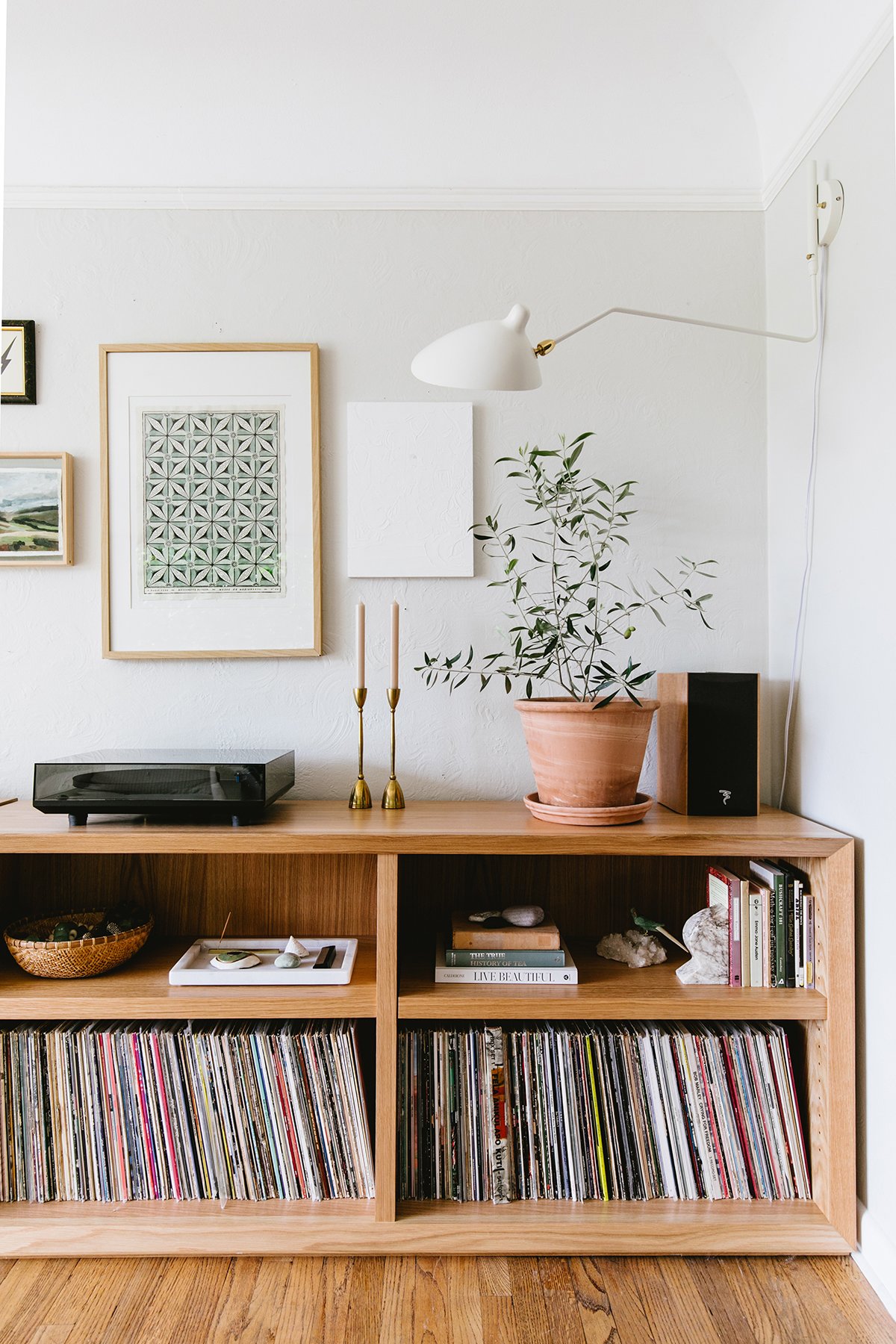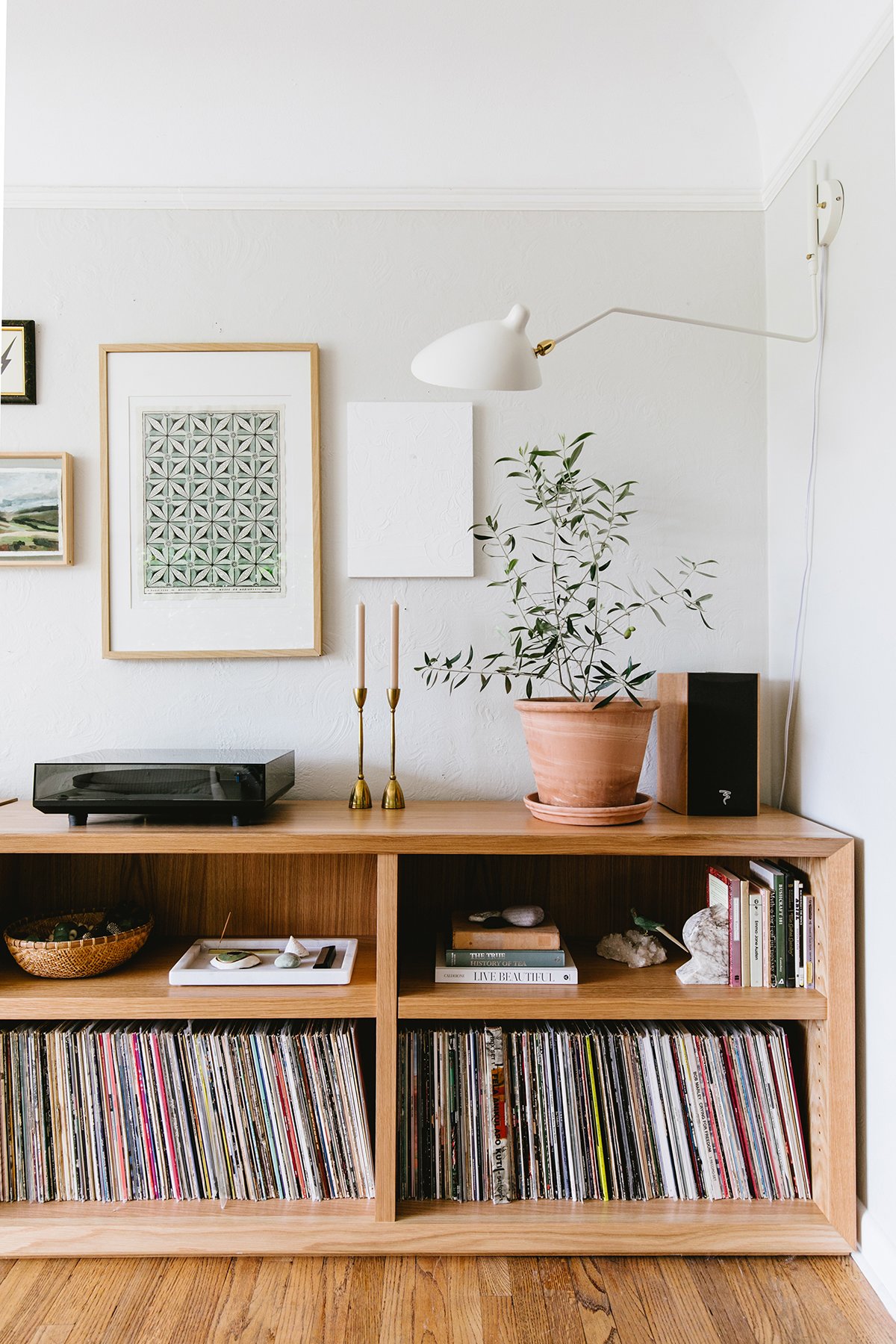 Now, I can honestly say that going with a custom piece was really the best option for us in this space. After searching forever and ever and EVER for something that we could hack together to make work, or was long enough to fill most of the space, it was obvious that nothing was going to be quite right. Could it get the job done? Sure. Would it drive me crazy every day? Yep.

After exhausting every possibility, I can honestly say that this custom piece is 100% worth the investment. We were very grateful that Room & Board sponsored this, but had they not, I would have saved every penny to make it happen.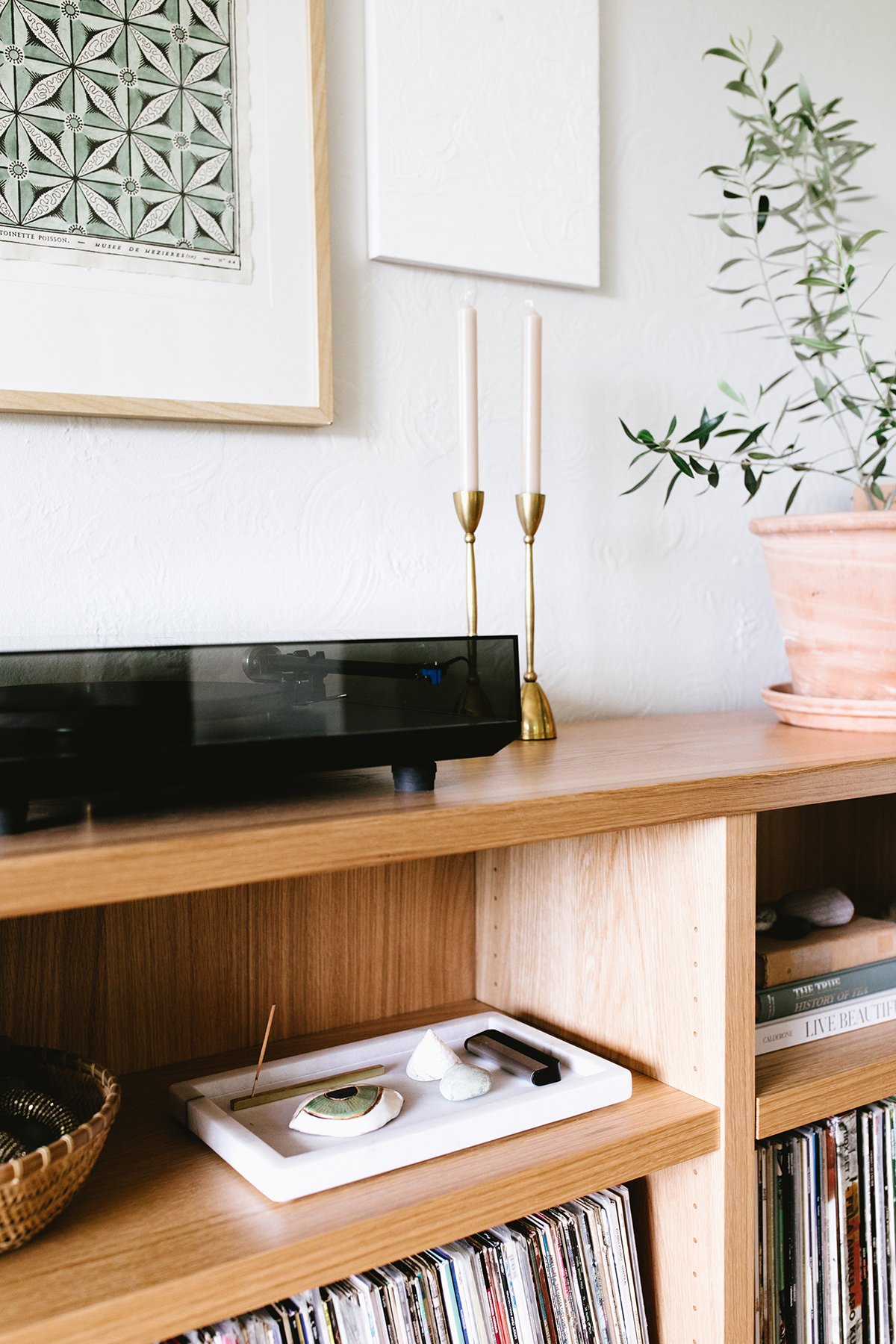 We are in love with all the storage, the beautiful craftsmanship, and the versatility of these shelves!!! For so long my husband has complained about not having a proper surface for his record player and speakers. Adding all this length gave me the ability to tuck the speakers into the corners, and create a perfect spot for a mix of records and objects.

It's also given me the final push I needed to finish off this gallery wall! We're not quite there yet, but in the meantime, this layout will do. I actually love that I now have enough pieces for it to feel 'finished' while still having plenty of room to add to it.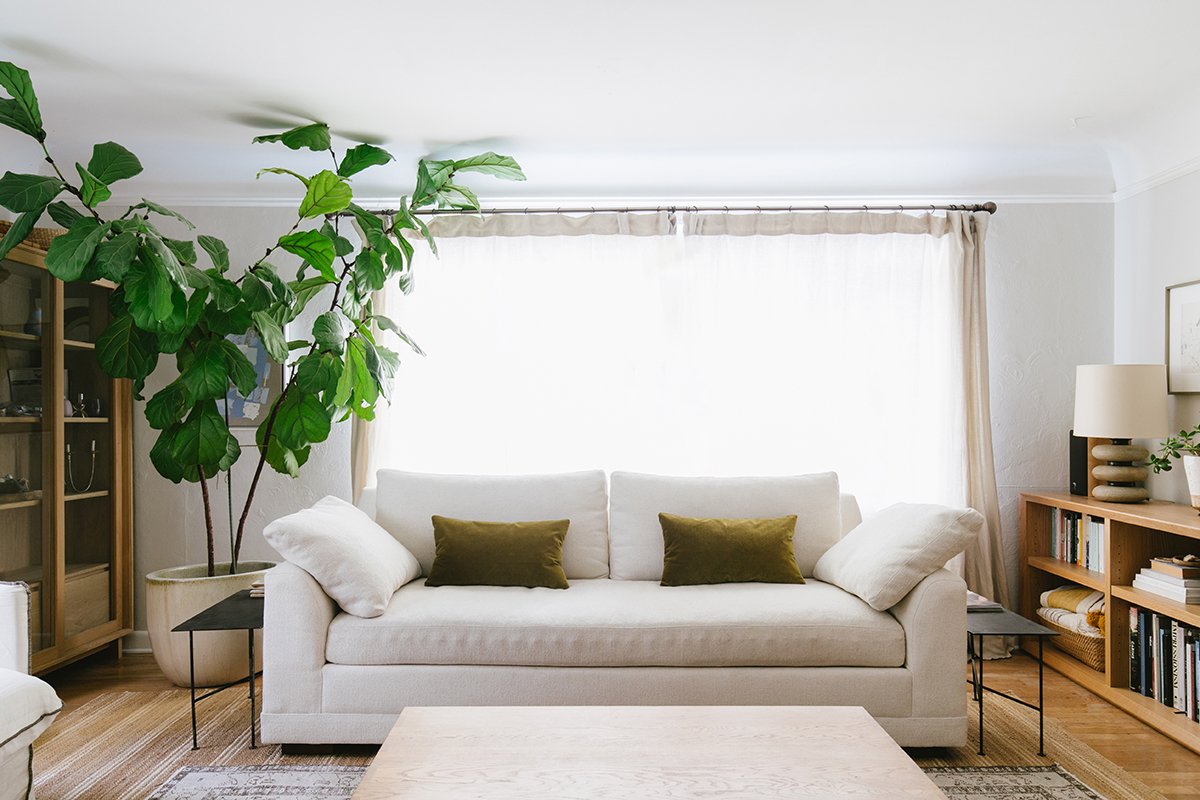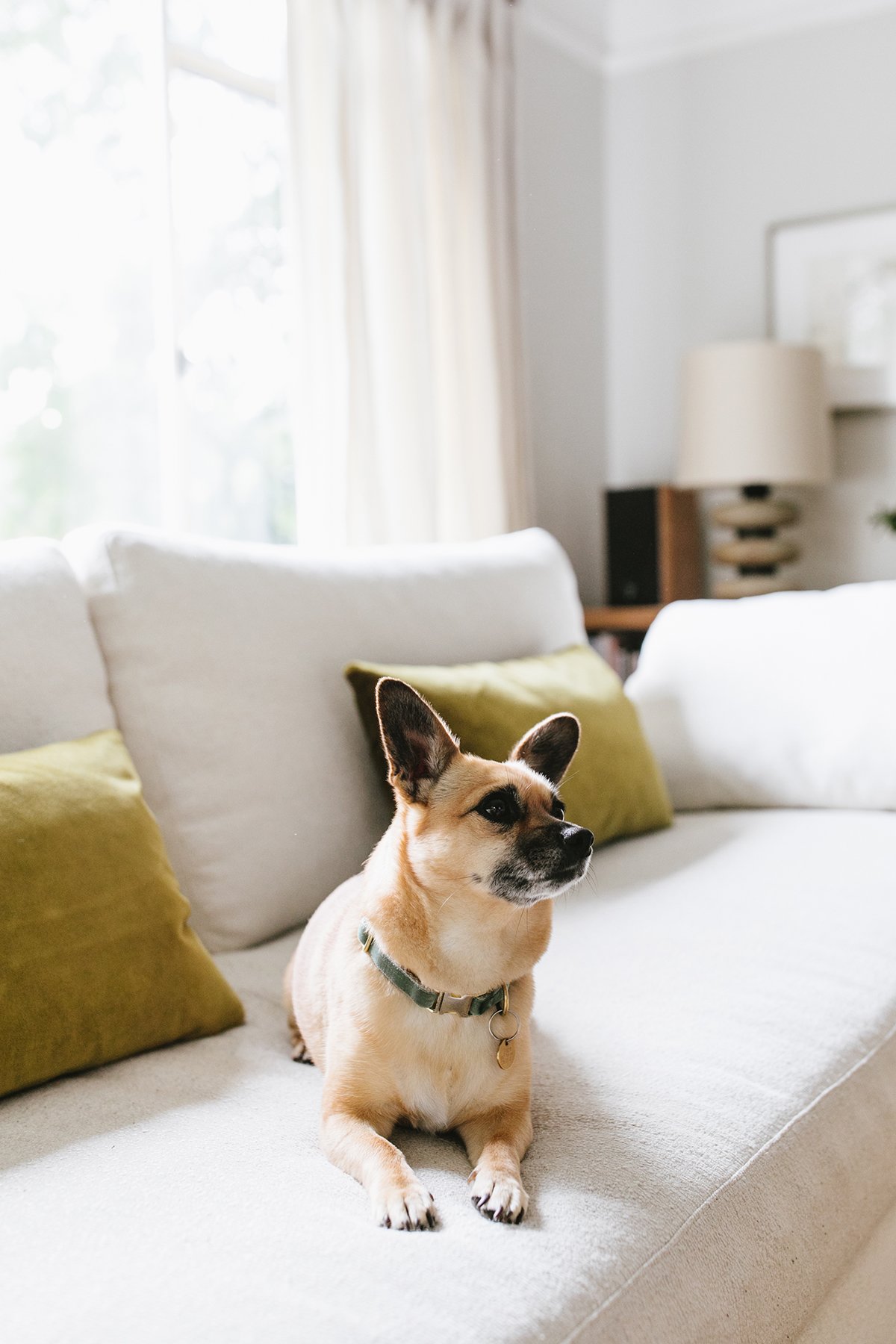 The addition of this piece also finally solved the problem of what to do with these corners!! The struggle there has been real, and now that the shelving goes the full length of the wall, we can finish the final elements of this room. The bookshelf that you see to the left of the white sofa will be going downstairs as soon as our basement renovation is done, the large fiddle fig will move over, and everything will have a bit more breathing room.

Once that happens I feel like I'll have a very clear idea of any last little details for this space (switching around art and lighting, mostly!) before I declare it 100% DONE. At least for now.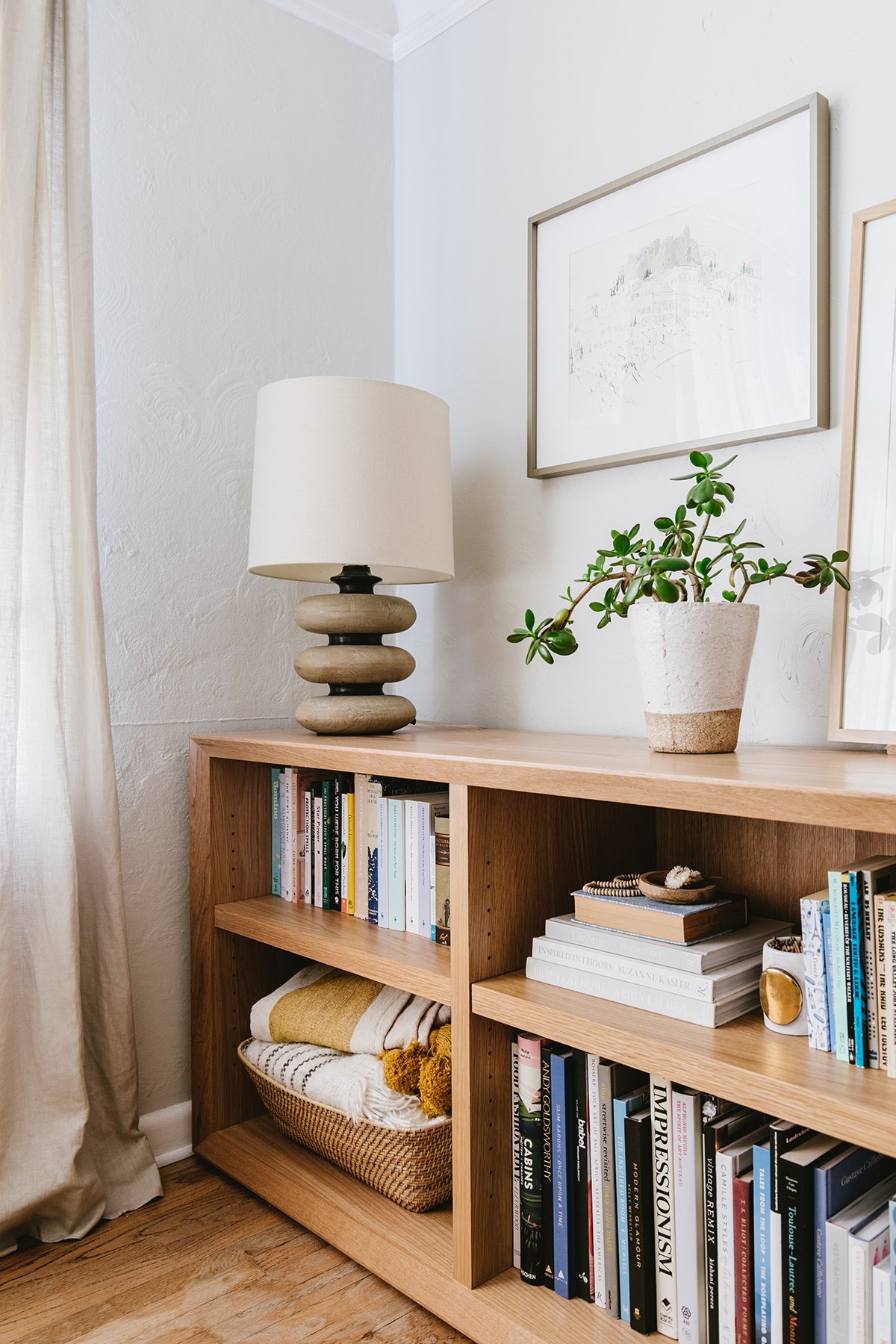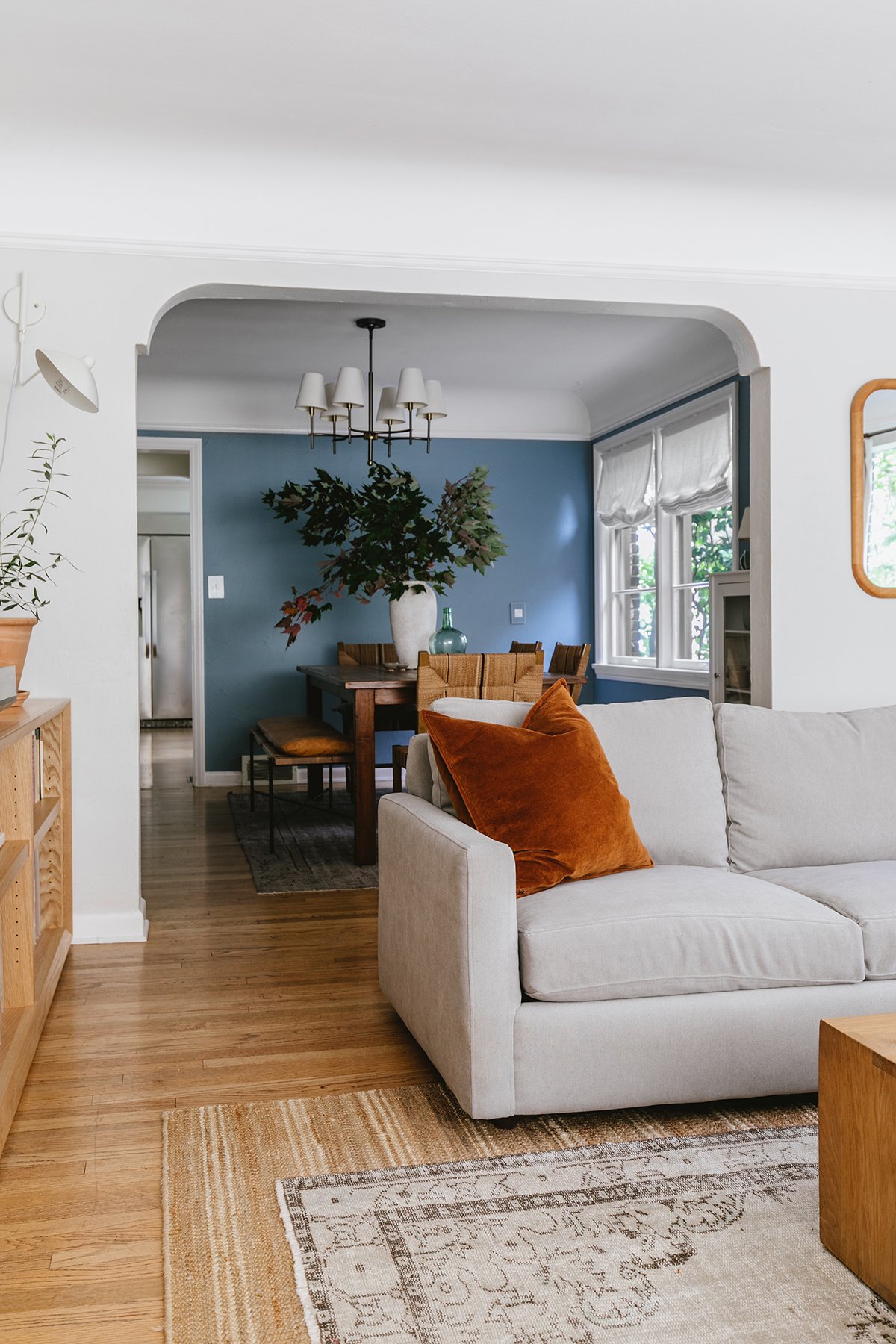 Would you like to see a whole post about styling these shelves?? It's something I'm still playing around with and it's fun, but challenging! Having all this length to work with is a totally different type of styling situation!! Curious to hear what you think of how it is now, and what you might change up!