Whether you need to illuminate a specific task or update your decor, the right lighting makes all the difference in a room. But before you start installing fixtures, it's important to consider what type of light you need. Ambient or overall light, for example, is used for all-purpose illumination, while task lighting focuses light on a specific work area. Accent lighting highlights specific areas and can serve as a decorative element. While certain fixtures are better suited for different lighting needs, pendants can do it all, which makes them a popular choice for kitchen lighting.

Often hung over an island or sink, kitchen pendant lights provide brilliance and make a design statement. They can direct light down toward prep surfaces, define the room's focal point, and bring in a contrasting color or finish, all while contributing to the kitchen's overall brightness. Use our guide to kitchen pendant lighting below to learn about the various styles of pendants and how to use them in your kitchen.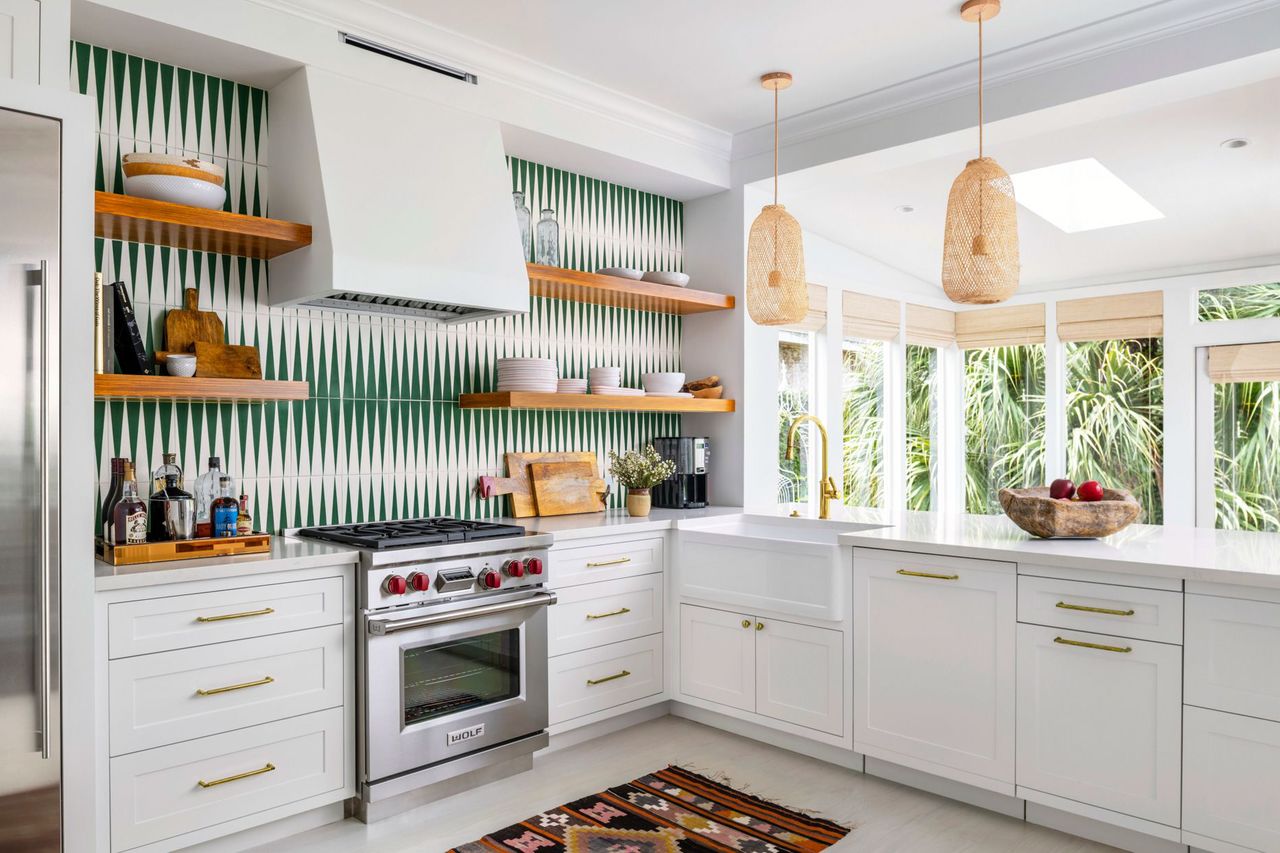 Kitchen Pendant Lighting Styles

Pendants hang down from the ceiling to illuminate spaces from above, and they're available in a wide variety of shapes, styles, and sizes. To help filter and direct light, many feature drums or shades made of materials like glass, metal, fabric, and more. These fixtures often command a prominent presence in the room, so it's best to select a style that reflects your decor. Pendants made of glass or chrome, for example, often exhibit sleek modern style. Fixtures with woven shades can lean into boho or coastal styles. Those with industrial-style metal shades or exposed bulbs fit well in farmhouse-style kitchens. As you shop for pendants to match your kitchen style and lighting needs, keep in mind that most lighting showrooms allow you to customize fixtures.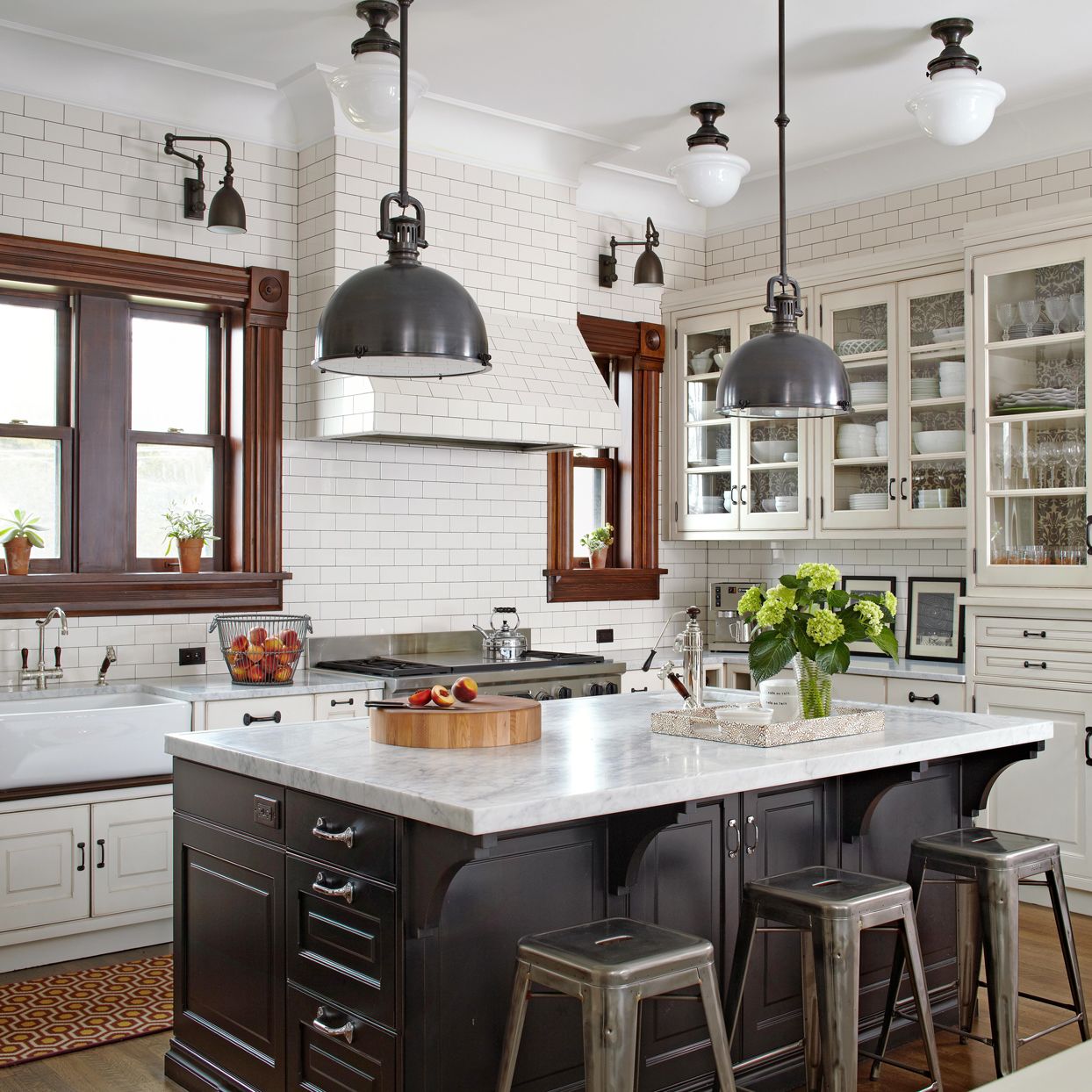 Choosing a Kitchen Pendant Light

For task lighting, choose a pendant that is open at the top, such as one with a traditional drum shade, so the light underneath is not too harsh. Those with translucent-glass shades help reduce distracting glare, while opaque shades will provide a softer glow. To avoid circles of super-bright light, consider a pendant with a light-diffusing shade, or use semi-opaque bulbs.

If you need overall light, space pendants evenly throughout the room or over the work area. Cluster small pendants or choose a pendant with three or more lights over a dining room table or kitchen island. In general, the larger the area you want to light, the bigger the pendant light should be. A small pendant light is effective over a sink or desk area, but you'll need a larger fixture (or a series of pendants) over an island.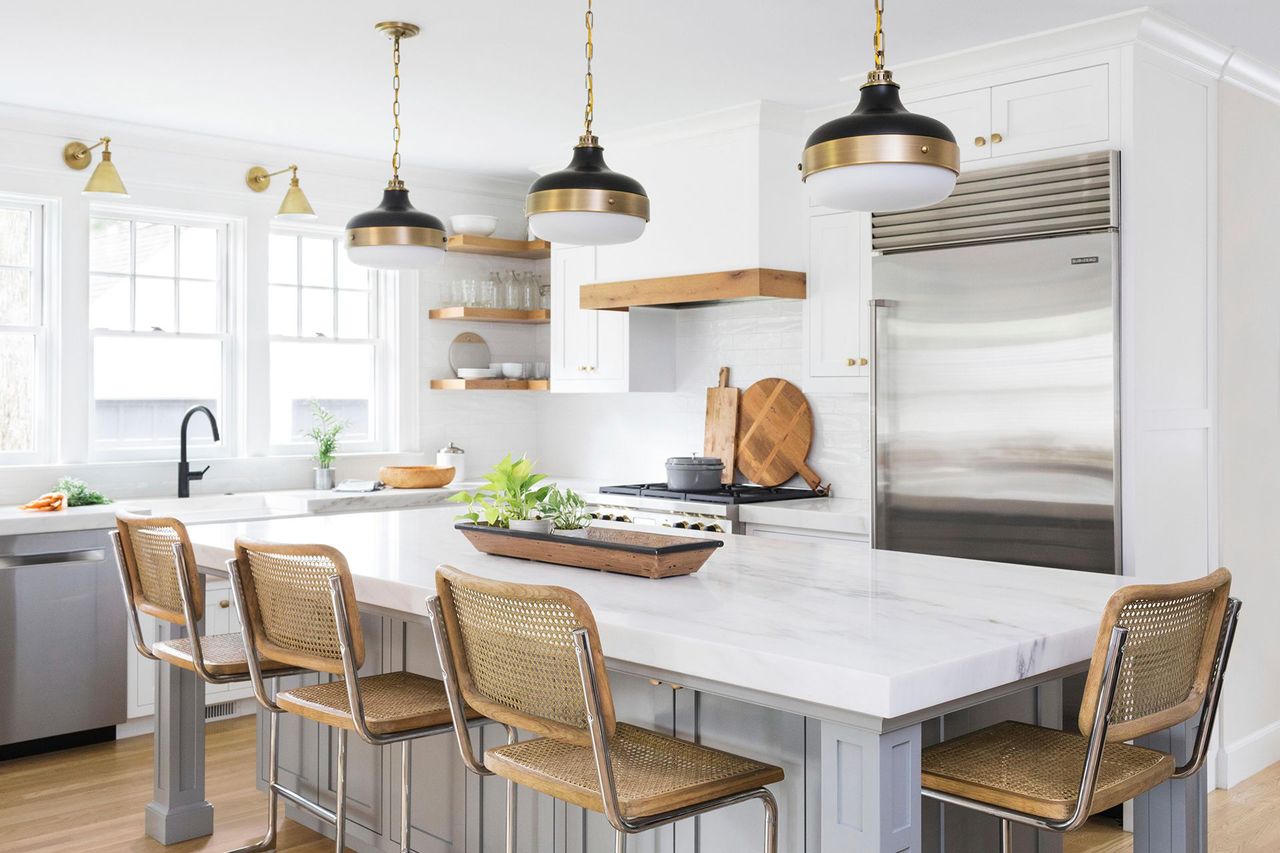 Hanging a Kitchen Pendant Light

While the decorative options for pendant fixtures are vast, installation is also a key factor to consider for kitchen pendant lighting. As a general rule, pendants should hang 12-20 inches below an 8-foot ceiling. For each additional foot of ceiling height, add 3 inches. For example, in kitchens with a 9-foot ceiling, the pendant should hang 15-23 inches below.

The pendant height can also be measured up from the surface below the light. For the most practical height for tasking lighting, provide a 30- to 36-inch clearance above tables and countertops. Additionally, consider sightlines and adjust the chain length as needed. Pendants should hang over work surfaces at a height that doesn't block views across the kitchen.


Kitchen Pendant Lighting Features

Look for features that can help your kitchen pendant lighting better serve your daily needs. For instance, pendant fixtures with retractable cords ($110, Wayfair) are easily adjustable to suit lighting for different tasks. Retract the light for all-over diffused light, or pull it close for intimate dining.

You should also choose lightbulbs that best suit the pendant's function. Color and intensity influence the mood of the kitchen and the effectiveness of the light, whether its purpose is ambient, task, or accent lighting. Dimmable bulbs ($6, Target) offer opportunities to adjust the level of light to adapt to a task or mood. You can find these long-lasting, energy-efficient bulbs in an assortment of attractive styles, as well as some with smart capabilities ($25, Target) that allow you to control the light's temperature and brightness through your phone or voice.