There are so many options when it comes to deciding how to plan a modern garden, and choosing which modern garden ideas to use that you can end up feeling bamboozled without the right help. The key thing to remember is that your dream garden is an extension of your home, so it should complement your interior aesthetic as far as possible in terms of colours and materials to make a harmonious connection.

The next point to consider is how to create a modern outdoor area that's fit for purpose. 'Think about how you will use the space and plan it accordingly,' says award-winning designer John Wyer. 'Assess your priorities, whether it's outdoor dining, sun lounging, a quiet coffee with the weekend papers or an evening gin and tonic. All have different requirements that will strongly influence the design.'

Factor in planning permission and practicalities from the get-go, and definitely before you start working up that moodboard. Paul Hensey regularly speaks on the technical aspects of modern garden design at the English Gardening School. He acknowledges the importance of doing things in the right order. 'It's essential that the correct consents are obtained to make sure that the garden is compliant. Establishing the ownership of boundaries and the location of underground utilities should be among the first tasks, prior even to starting design work.'

Talking of which, when it comes to things like modern garden border ideas, design tends to work best if it's pared down and clutter free. Cool contemporary tones are a popular choice to bring a modern aesthetic to your outdoor space, and a palette of monochrome shades always looks on point. John Wyer again: 'The biggest mistake people make is to try and fit too much in. Keep it simple, and choose accessories such as planters and furniture carefully. A simple design with high quality elements works best.'

Read on for everything you need to know about how to work up your modern garden design plans.


1. How to plan a modern garden? First things first, get planning permission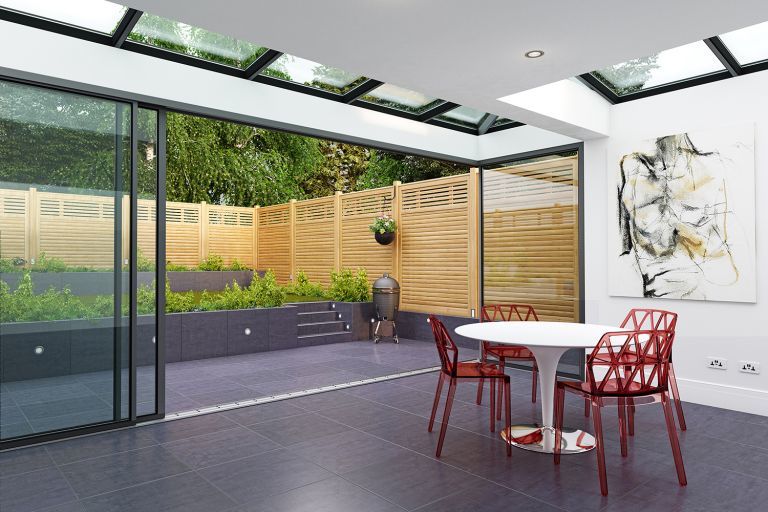 Fortunately, for those pondering how to plan a modern garden, there aren't a lot of restrictions on building works. However, they do exist and any proposed work should be considered with respect to them. So the first thing to do is get planning permission for your project. The rules vary depending on where you live but even deck pools and pergolas may need permission, so always check.

'Permitted development rights allow for certain development to be carried out without having to apply for planning permission,' says Paul Hensey. 'The presence of prior development, type of property and its location will all influence whether the proposed work can be undertaken without a formal application for permission. This might include the construction of a garden room, for example.'

If you want to remove trees and erect structures it's likely you'll need to apply for permission from several parties, so it's best to seek advice from the local planning authority before starting any works. 'The planning process can be time consuming and you may need to consult several people and present various plans and surveys so factor this in,' says landscape architect Neil Jones.


2. Make sure the design complements the property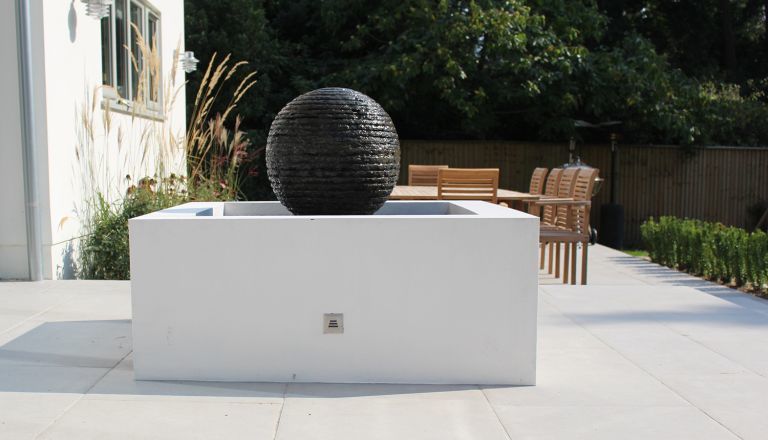 The approach to designing a modern garden requires a confident hand and clear vision. Wherever possible the style of garden should segue with the period and architecture of the property so it doesn't look forced. It may be tempting to go for a low-maintenance paved design on the back of a Victorian terrace or to fill your small urban courtyard with cottage garden planting but the result might look 'tacked on'.

Avoid this by coming up with a clear plan and sticking to it. 'Modern garden layout requires a strong, refined structure that utilises geometric shapes for a bold and coherent plan that can then be softened with planting and textures,' says Neil Jones. 'The use of striking motifs can be carried through vertically with geometric structures such as pergolas and arches, as well as eye catching sculpture to help guide the eye through the space and bring attention to key areas.'


3. Choose the right landscaping materials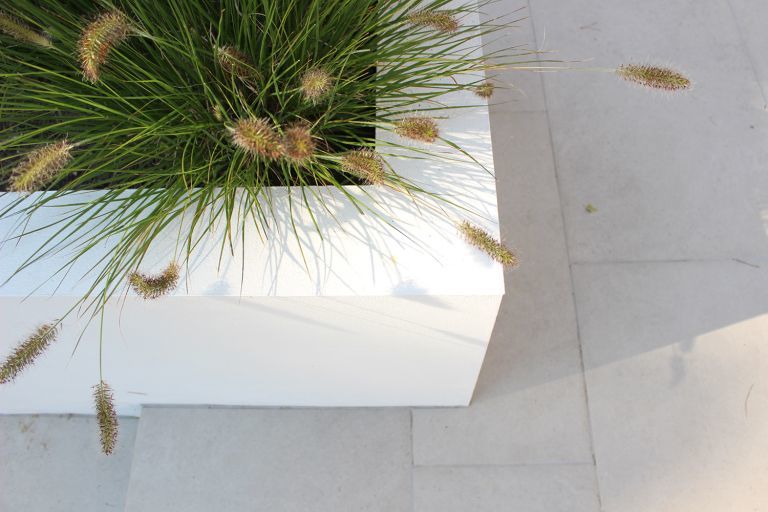 A pared back palette is key to complementing a modern design. A good formula to stick to is using no more than three hard landscaping materials. For a cool minimal look these should be in neutral colours with a refined use of an accent colour or material such as black timber or a feature metal like Corten steel.

'Large format paving units are best as a modern patio idea, and bring subtle textures to add warmth and interest,' says Neil Jones. 'A limited palette of materials in a bold and stripped back layout means that the attention to detail is paramount as there are very few places to hide and everything has to be just so. The emphasis on quality materials but less of them is the key to success if you want a smooth looking result.'


4. Think about boundaries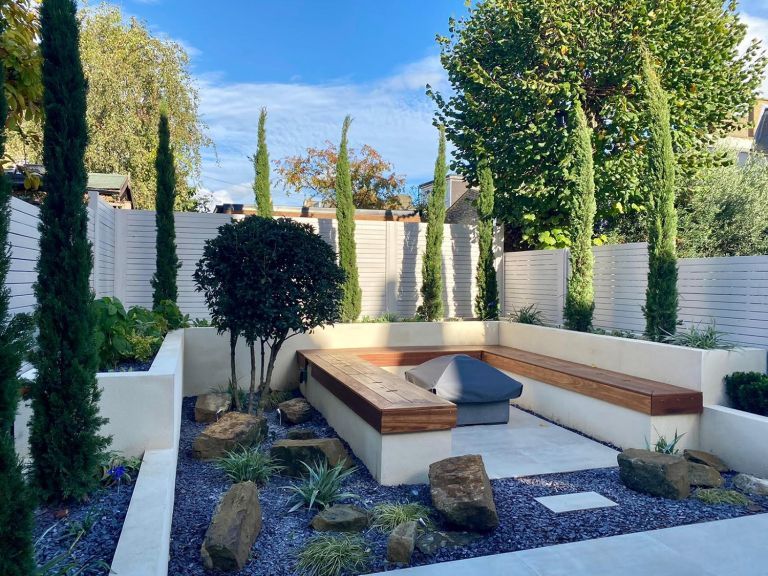 When planning a new garden, establishing the ownership of boundaries is a priority. Most title deeds indicate ownership. If the deeds aren't available it's easy to get a copy from the Land Register. You cannot remove or alter a boundary structure owned by an adjoining property without their permission.

Willow screening and decorative panels look uber modern as an internal 'wrap around' if you want to disguise an ordinary fence that's not yours to alter. 'Gardens that have boundaries with several neighbours are likely to have a mixture of styles,' says Paul Hensey. 'To enclose the space with a uniform structure it can be necessary to add a new fence alongside an existing one.

In modern urban gardens, screens in a range of different finishes can also shield from noise and unwanted traffic pollution. 'But if you want an eco-option a living screen is the way to go,' suggests designer Jack Dunckley, who is known for his strong architectural designs. 'Choose evergreens such as laurel or holly, and don't forget fruit trees can be grown in an espalier fashion on a wall or fence, ensuring that you not only increase your privacy but join the grow your own trend too.'

More permanent boundary divisions such as walls can be problematic. A party wall agreement clarifies the position and location of the structure without the need for legal fees.


5. Get modern planting right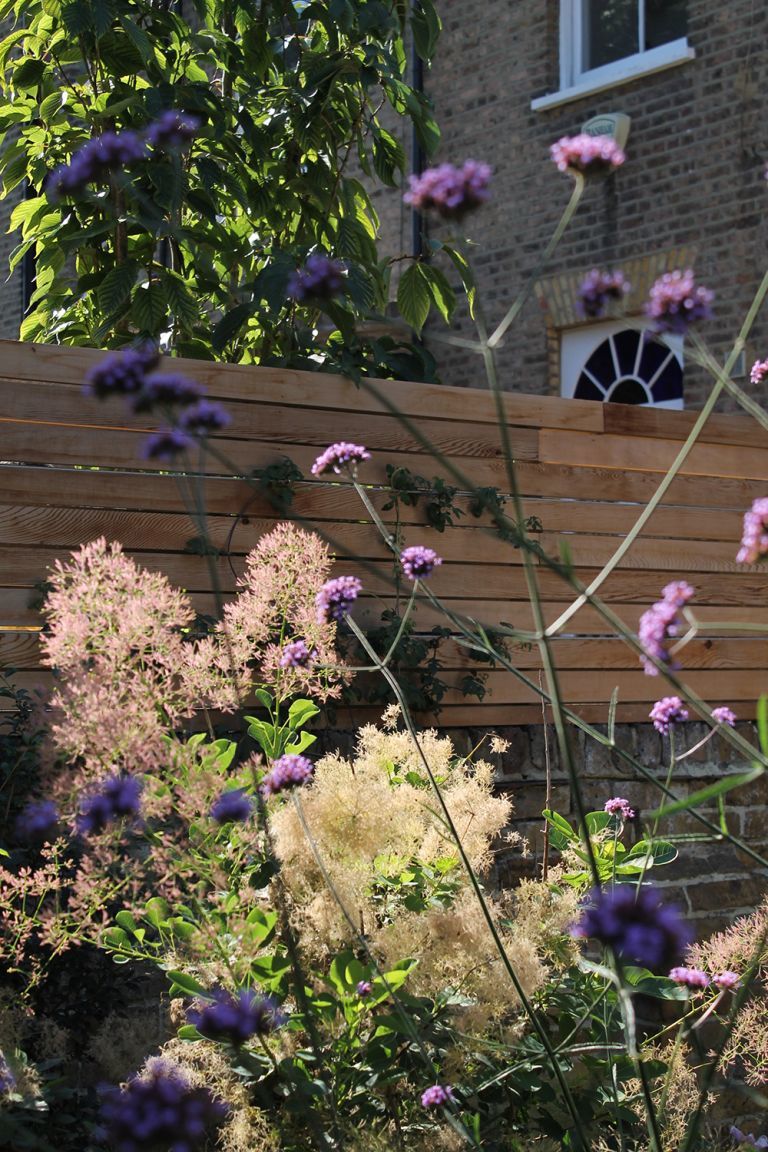 This one is easy if you stick to a few simple rules. Modern planting tends to have a theme where multiples of one variety are repeated at intervals. Grasses and evergreens are popular in modern spaces as they look good throughout the year and simplify the colour scheme. Choose raised, rendered planters (try coloured render for a modern look) and incorporate rendered seating benches in to the plan.

'Don't think that a small garden can't be full of plants. You just need to choose the right plants, ones that create drama and intrigue and the illusion of space,' says Miria Harris, who has a landscape and garden design practice in Hackney. 'A common mistake is to put tall plants at the back of a border and small plants at the front. But plants that have a diaphanous quality, like ornamental grasses or tall perennials with slender stems and small flowers, don't block views. Instead they create movement and vertical accents that lead the eye upwards to the sky.'

Where space is limited, try using tall grasses combined with climbing plants instead of hedges to soften boundaries and green up hard architectural features like fences. If a garden has subtle variations in height, texture and seasonal interest it's less likely to feel enclosed. Or you might how to make a small garden into a flower haven with expert advice from Arthur Parkinson.


6. Create a balanced design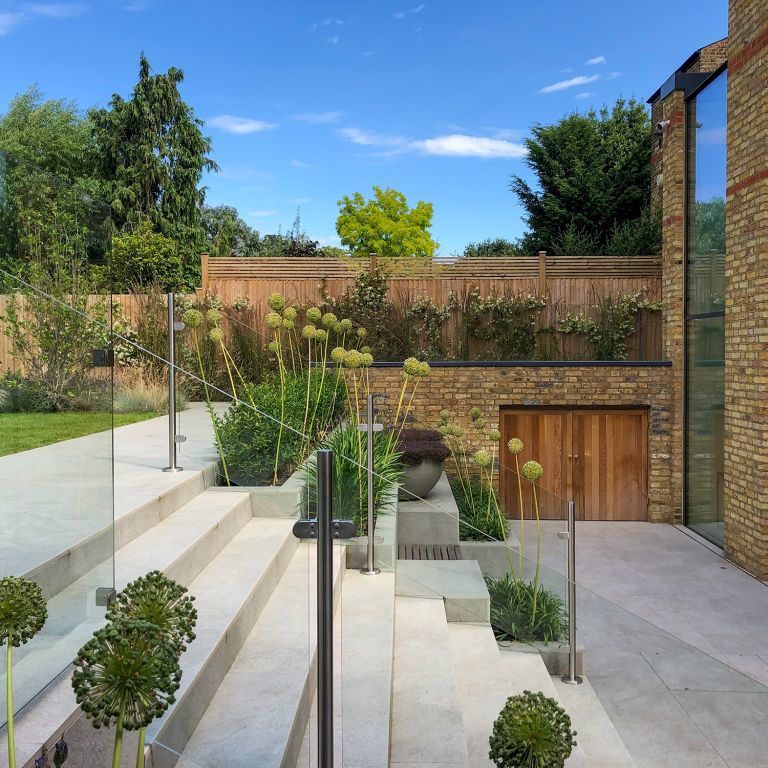 While modern gardens are generally defined by precise geometry, it's important to get the balance right between the hard landscaping elements and the planting, and to create the space for plants to grow without constraint. 'We like to use the junction where different hard landscaping materials butt up to one another as a design feature,' says James Lee, who specialises in contemporary design. 'In smaller gardens this attention to detail can be very important as it's much more likely to be in constant view.'

Porcelain is the stone of the moment. It has many advantages, especially for a modern scheme. 'We've used it in this garden at the terrace level,' explains James, 'and also to clad the vertical faces of the steps and planters that lead to the lawn level, where the pale colour offsets the vibrant greens of the evergreen plants,'

Modern garden lighting ideas are an essential component and can be used to pull together repeat planting and textured hard landscaping. Either choose lighting that blends in or use it as a focal point. Low level LEDs set into the deck always look modern.


7. Plan a roof garden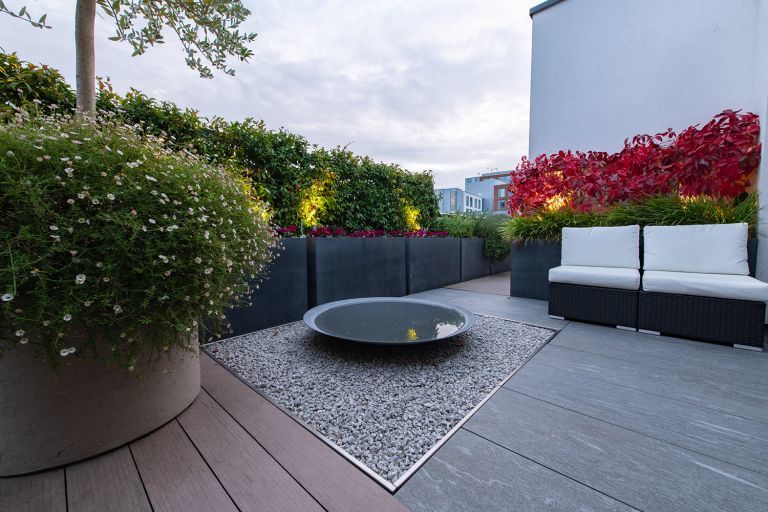 Of all the garden design projects roof garden ideas tend to be the most challenging. First check it's possible to install one. You'll need to get input from an architect and planning consultant at this stage, so have a budget in mind to keep on top of fees. You may also need advice from a crane company when it comes to access issues and lifting hard landscaping materials, which need to be chosen carefully as does the planting. All roof terraces need irrigation but choosing drought tolerant plants is a good idea as it means less watering.

'A roof garden is a much more extreme environment than gardens on terra firma. They're sunnier, windier and generally more exposed,' says John Wyer. 'When choosing the planting, think of clifftops or dry sunny hillsides. Mediterranean-style planting works well.'

Always get professional help from a structural engineer too to remove the risk of overloading the building. Keep the weight around the edges of the space where the load bearing capabilities are generally greatest.


8. Include a modern water feature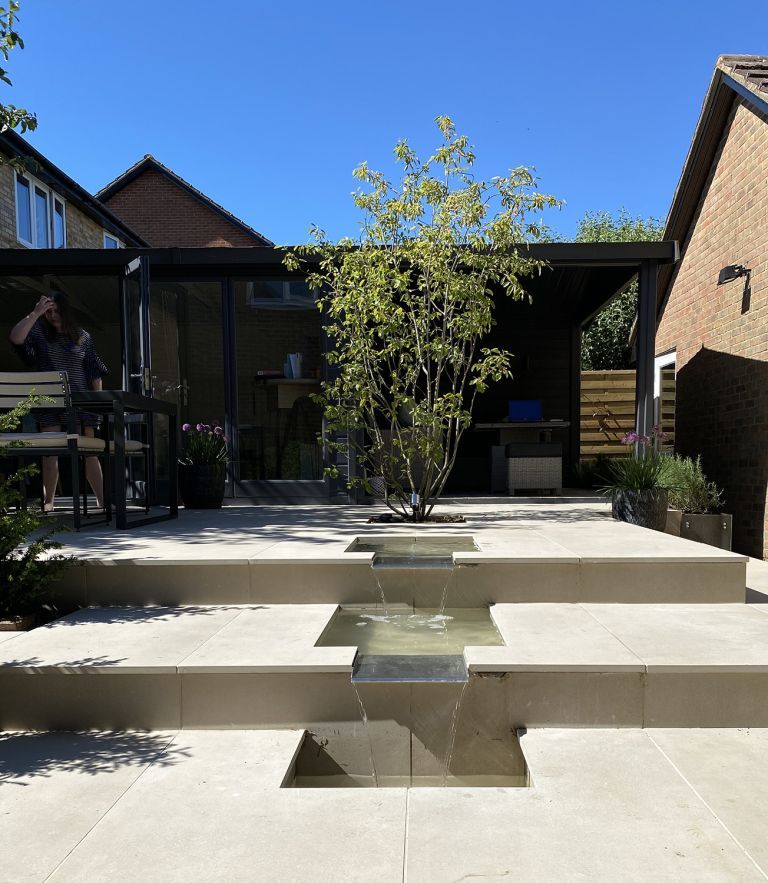 Bring sound, movement and tranquillity into your modern design by adding water to the mix. Rendered raised pools with cascade features like water blades add a contemporary feel that's a million miles away from the 'suburban pond' aesthetic.

Rills work well too. 'This one drops down the levels to provide a focal point from the house,' explains designer Tom Gadsby. 'The water pours down in a sheet and catches the sunlight. At night the flow is back-lit from underneath the water blades. The sound of water also helps to mask traffic noise, especially in an urban setting.'

Choose the right type of lighting and it can be submerged in water to add a stunning evening feature to the garden. Opt for marine-grade LED strip lights that can be fitted into pools but double check the spec is okay if you're planning to include fish.


9. Incorporate an outdoor kitchen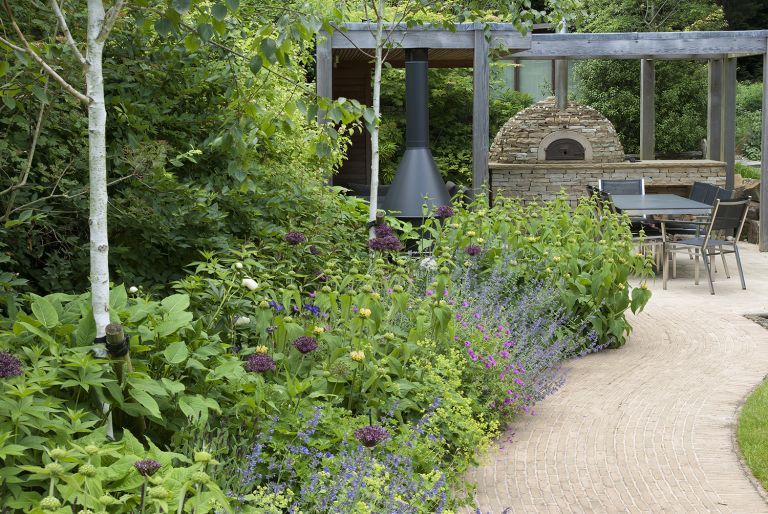 If you love the idea of taking things up a level from your current BBQ dynamic to something more along the lines of these outdoor kitchen ideas, consider incorporating a dedicated space into your design. A built-in outdoor kitchen is a flexible option that can be worked up to match your scheme and individual needs, including hiding away all the ugly stuff like gas canisters. A swish outdoor fridge can also be housed below the worktop.

When it comes to choosing where to position your kitchen, think about what time of day you tend to cook in the garden. 'Evening cooking and daytime cooking are probably best suited to different spots according to light considerations,' says designer Helen Elks-Smith. 'Think about practicalities such as smoke and impact on your neighbours. Consider where the wind hits your garden and position the BBQ upwind of where you'll be sitting.' Think about the hard landscaping as well. 'Cooking can create splashes so consider how easy it to clean up afterwards. Pale colours can be fairly unforgiving.'

Planting can be designed to screen the kitchen too when it's not in use unless you're planning one that's such a design feature it demands to be seen at all times.


10. Factor in an extra 'room'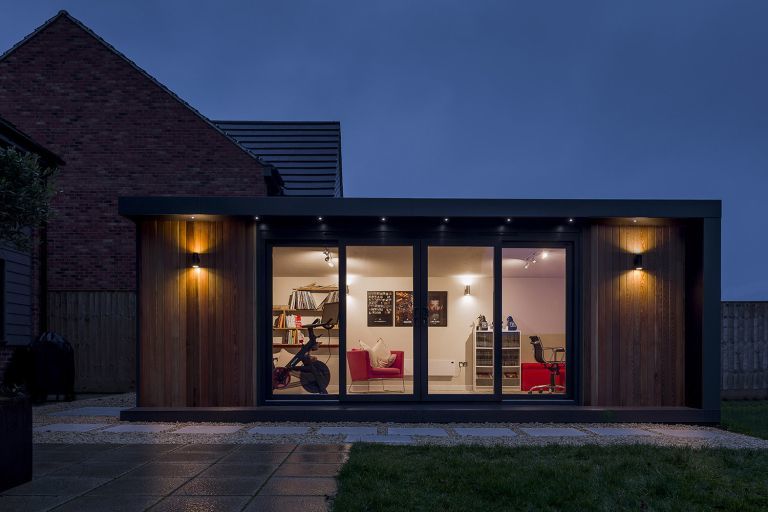 Working from home and working out in the garden are the new norm. So perhaps it's time to formalise your arrangement with a permanent structure like a studio or garden room to add to your space.

Consider where your new garden building will slot in best. 'If it's going to be used as a gym or office but is positioned too far from the house it's less likely to be used in winter, especially if it means trekking across the garden in the cold, dark or rain,' says Helen Elks-Smith. 'To be a good investment it needs to be easily accessible.'

Once you've navigated the parameters of any planning permission that might be necessary move on to design considerations. Make sure it's not positioned in the 'best space' in the garden, as this is where you will want to sit and relax. 'Light, views, privacy, protection from wind, and views to and from the main property all need to be considered,' says Helen, 'until you find the perfect spot.'