Tailor Storage

Busy families benefit from shipshape desktops, which allow many to work at one time. Consider adding built-in shelving or moving a bookcase near your desk. Designate different areas/containers to handle each family member's office goods. Mount expandable wall files or wall pockets on work area walls to manage incoming and outgoing paperwork and temporarily manage receipts awaiting filing.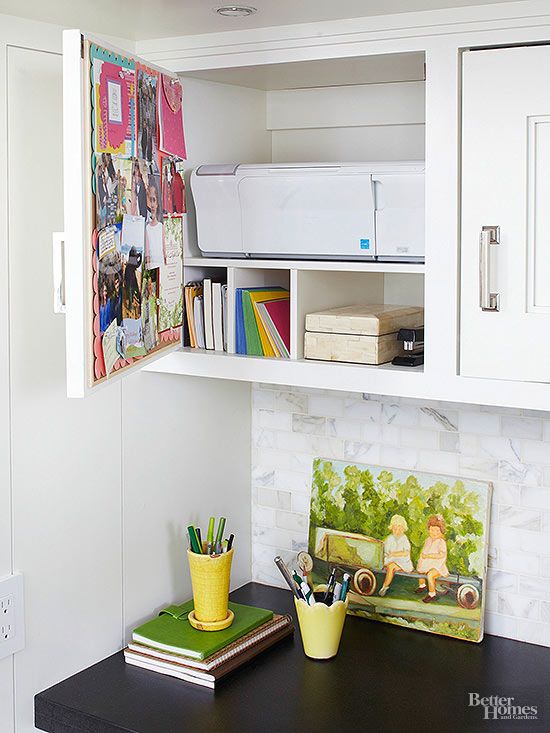 Maximize Cabinetry

Oftentimes stuff piles up on our desks due to our lack of supplemental storage. Keep your work surface clear of superfluous items and computing equipment by hanging storage cabinets within arm's reach of your desktop. Adhere family photos to the back side of a cabinet door to keep your nearest and dearest close without allowing framed photos to clutter up your work surface.


Furnish Wisely

Choose furniture pieces that offer generous storage for everything from office supplies and printer paper to vital records. Outfit file drawers with hanging file systems; choose file folders in cheery colors and print out labels to fashion a high-functioning system that pleases the eye.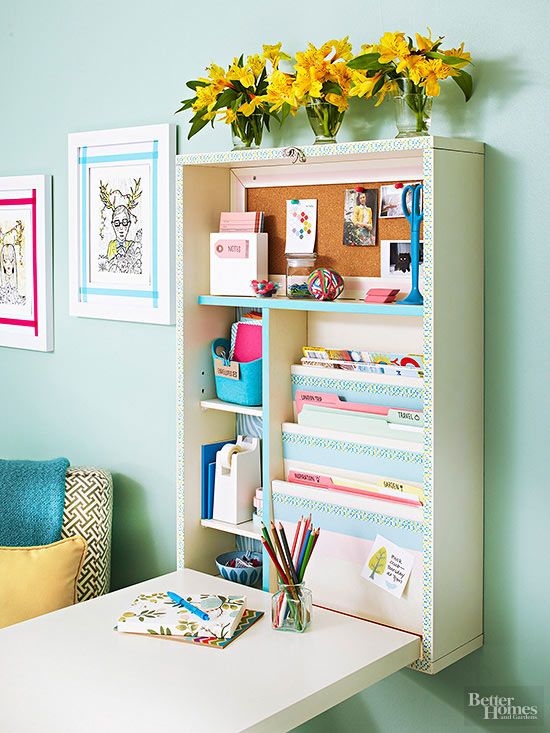 Sort Messy Drawers

Restore order to your junk drawer in no time with these easy organization tips.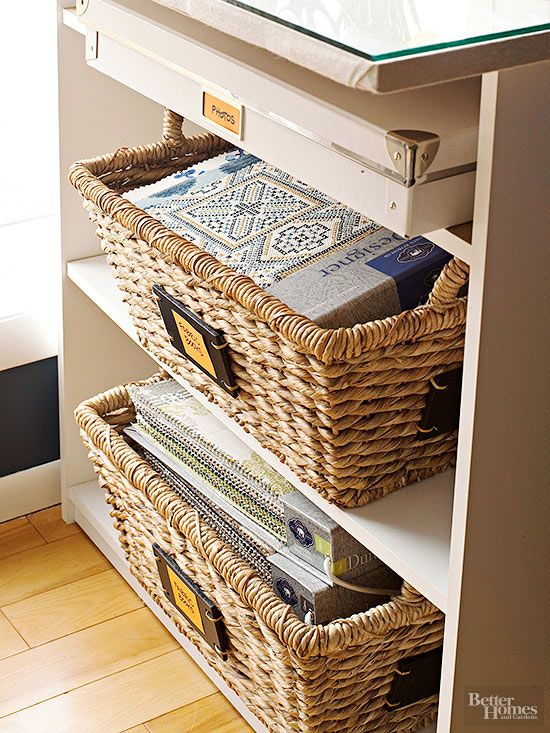 Set Up Shop

Desktops are meant for working, but when surfaces are covered with heaps of stuff little work gets done. Maintain order by hanging a multipurpose unit that stows file folders, office supplies, artistic media, and small storage containers. Add color, pattern, and purpose to the unit using paint, wallpaper, and corkboard.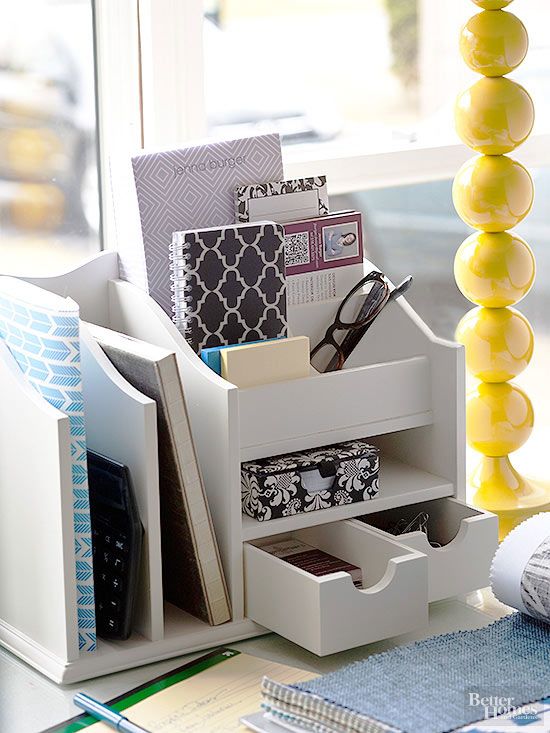 Corral Clutter

Sort like-minded items into good-looking baskets, bins, and boxes tagged with easy-to-read labels. The portable containers are ideally suited to stowing bulky things like fabric decks, stacked file folders, and scrapbooking materials that take up more than their fair share of desktop space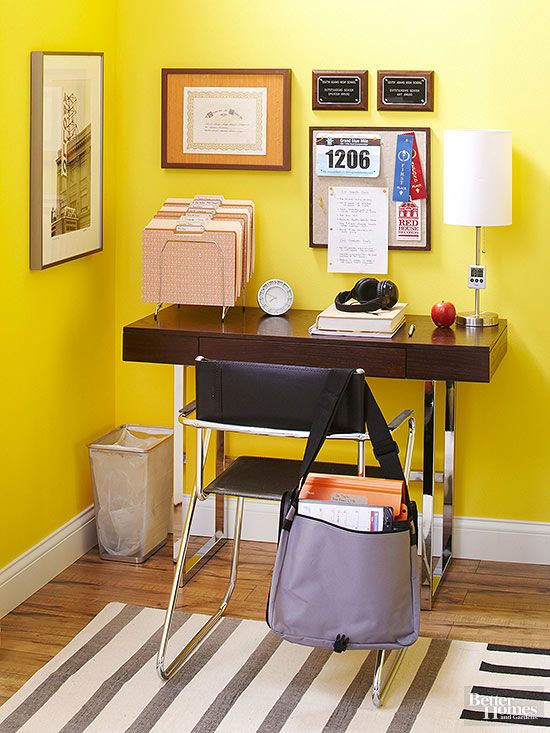 File Under: Organized
Well-organized means you can easily grab what you need when you need it. Use desktop file holders to catalog and control folders holding papers for in-process or upcoming projects. The labels immediately identify folders' contents, while the rack eliminates stacks of teetering files. Hang a large tote bag on your desk chair to hold calendars and reference materials.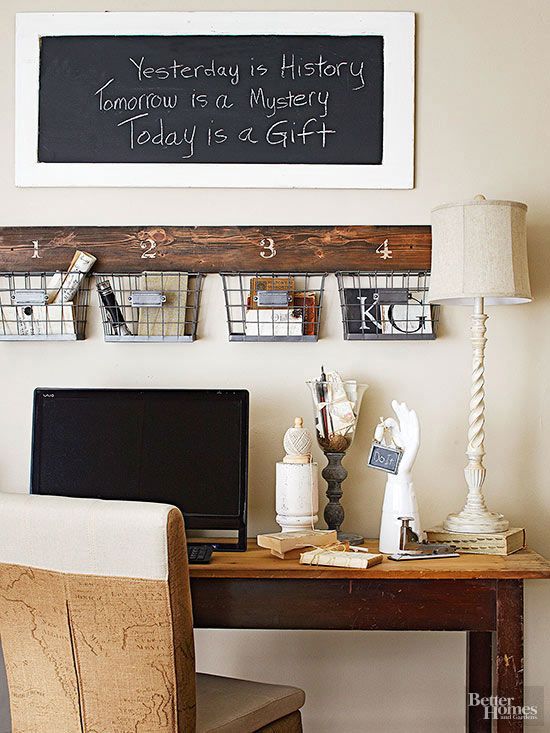 Stow It Stylishly

Like a vintage look? Think of ways you can repurpose handsome relics to keep essentials within reach but off your work surface. Align industrial-style baskets along a reclaimed board mounted to the wall behind your desk. Arrange accessories, such as a string-holding finial, a glass-shaded candleholder replete with mailing supplies, and inspirational signage, off to the side so the desk's center is always open for business.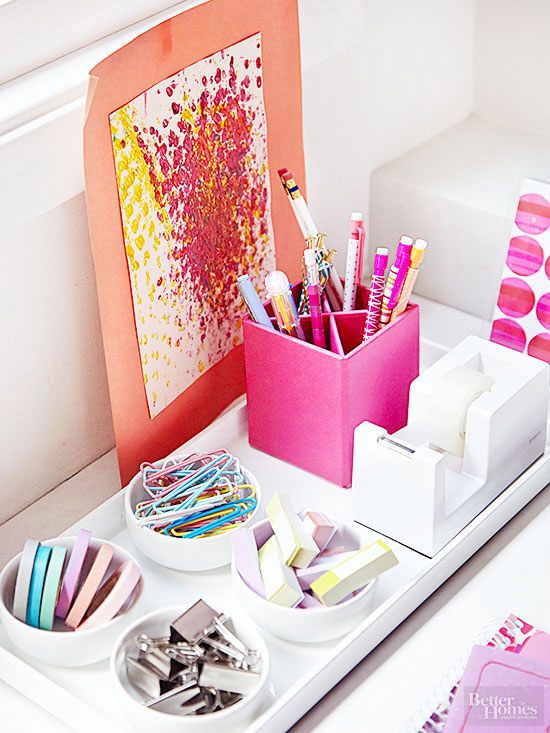 Purposefully Group

Setting a tray atop your desk creates a designated spot for containing mini vessels holding small supplies, as well as pencil holders, tape dispensers, and staplers. The tray prevents things from being scattered across the desktop. The open containers ensure you can swiftly grab what you need and also return supplies to their rightful spots.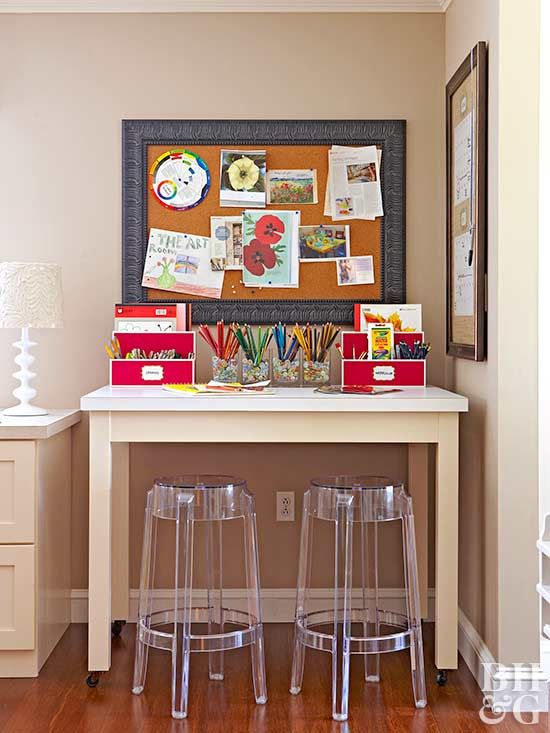 Go to the Wall

Consider neighboring walls as handy-dandy extensions of your desktop space. Convert flea-market frames and corkboard panels into charming bulletin boards that display to-do lists, inspirational imagery, and monthly calendar pages in sight. Create an equally appealing desktop by placing your creative gear in colorful organizers and clear glass vases.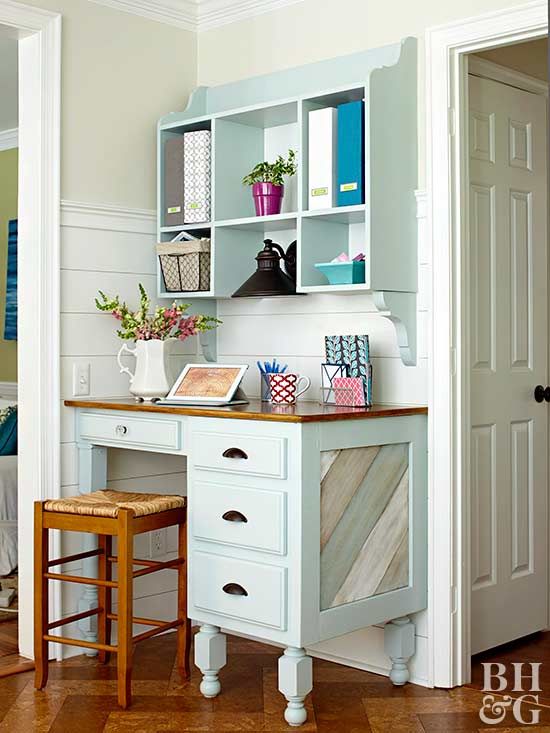 Stay in Synch

Give vintage hutches, corner shelves, school desks, and other practical pieces new life with fresh finishes, updated hardware, and renewed purposes that suit your decorating preferences and your work needs. When shopping flea markets and tag sales, look for pieces that offer drawers, cabinets, and shelves ample enough to house all your gear.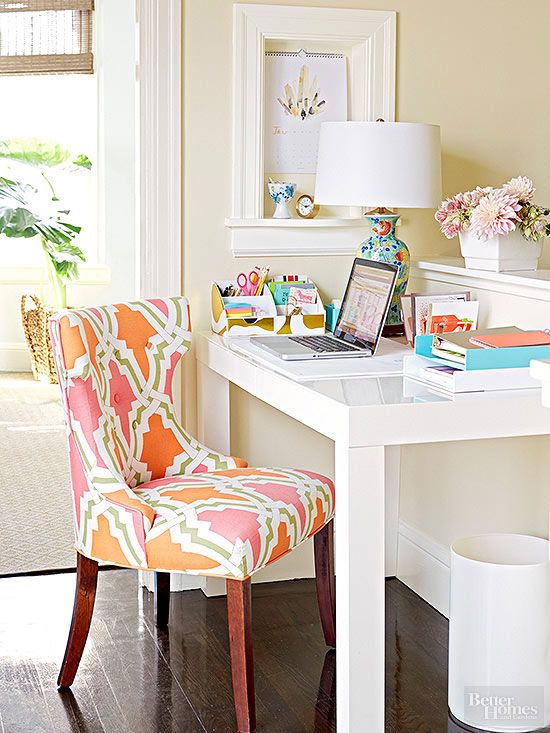 Opt for Stylish Substance

Sometimes a room's available space and one's personal taste rule out the use of bulky desks and storage units. When that's the case, equip your desktop with file boxes, mail holders, and organizers that supply chic silhouettes rendered in hues that suit your home's color palette.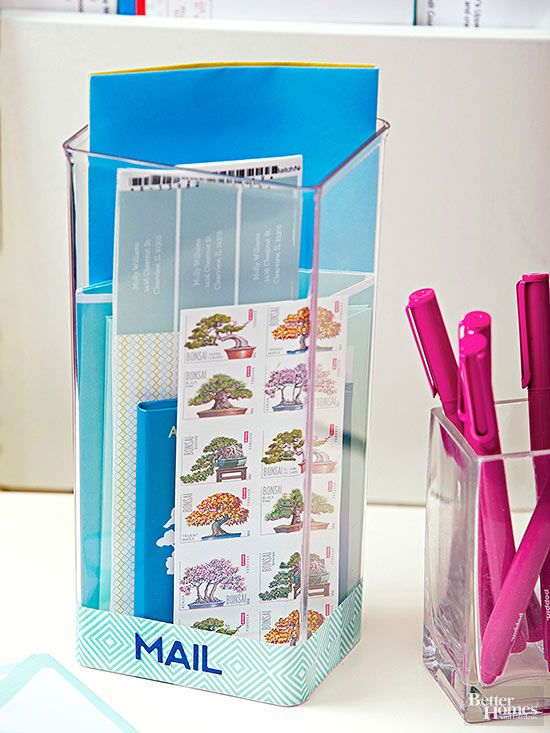 Be Thoughtful

Group things you use for different tasks in different containers so you will have supplies sorted and ready to go when needed. Choose clear containers sized to suit their contents; too-big containers take up too much space on a desk top, while too small containers tend to become messily overstuffed.


Stretch Capacity

Opt for a compartmentalized drawer organizer exactly sized to fit your desk drawer or puzzle together various sizes of organizers to customize storage. You'll find a wealth of organizers in clear acrylic, bamboo, and wire mesh that you can use to tailor-make a catchall system that prevents little items from littering your desktop.