Most of us can recall our childhood bedrooms in vivid detail: When our world was small, our room was at its heart. It was where we slept, read, played, and dreamed, where we brought our friends and adventured into imaginary lands. Far from just another room in the house, our bedroom was central to our emotional and cognitive development. As Maria Montessori, the famous child-centered learning educator, aptly observed, "Adults admire their environment, but a child absorbs it."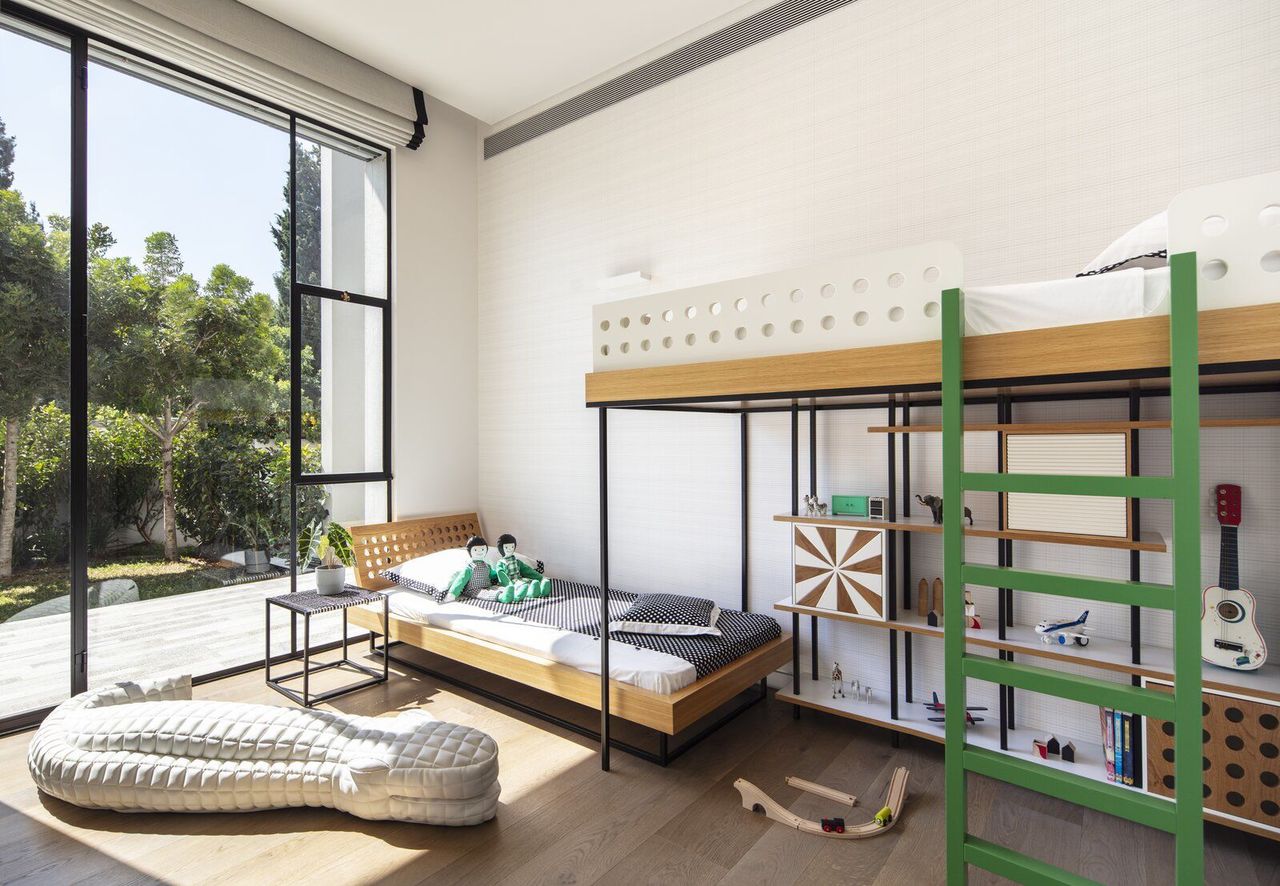 In Herzliya, a suburb of Tel Aviv, designer Sarit Shani Hay created a bedroom for two boys aged three and six. The two beds, arranged at staggered heights, provide the benefits of a bunk bed while allowing storage space.

If you now find yourself on the other side of adulthood, facing a child's bedroom that's ripe for some strategic designing, fear not! Creating a great kids' room is absolutely worth your time and energy, but need not break your spirit-nor your piggy bank. We asked several experts for wise tips that will help ignite both you and your child's sense of play, joy, wonder, and enthusiasm.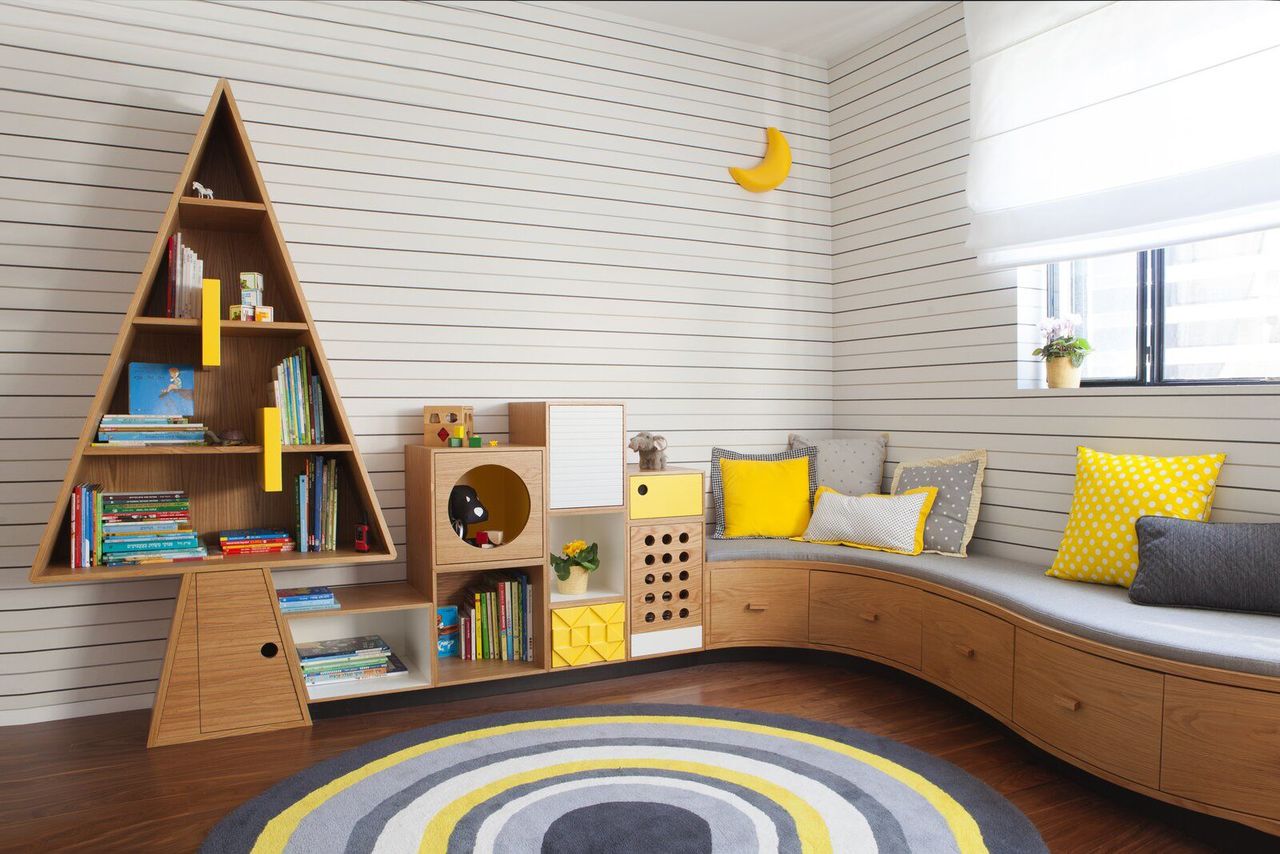 For a family with three kids, Hay fashioned a custom tree-like shelving unit that connects to a curvaceous, built-in sofa—ideal for lounging and reading. Yellow accents brighten up the restrained wooden palette.

For Sarit Shani Hay, a Tel Aviv–based designer who has spent the last 25 years creating award-winning children's environments, a well designed children's space "provides an atmosphere where they can be creative and inspired, develop their sense of autonomy, feel free, safe, and most of all, loved." As a child's bedroom evolves more than any other in the house, it is important to begin by taking stock of the functions that the room needs to serve not only now, but in the next five years. With babies, the space can be designed around the needs of the parent, but as they grow, the room must support their burgeoning wants and interests.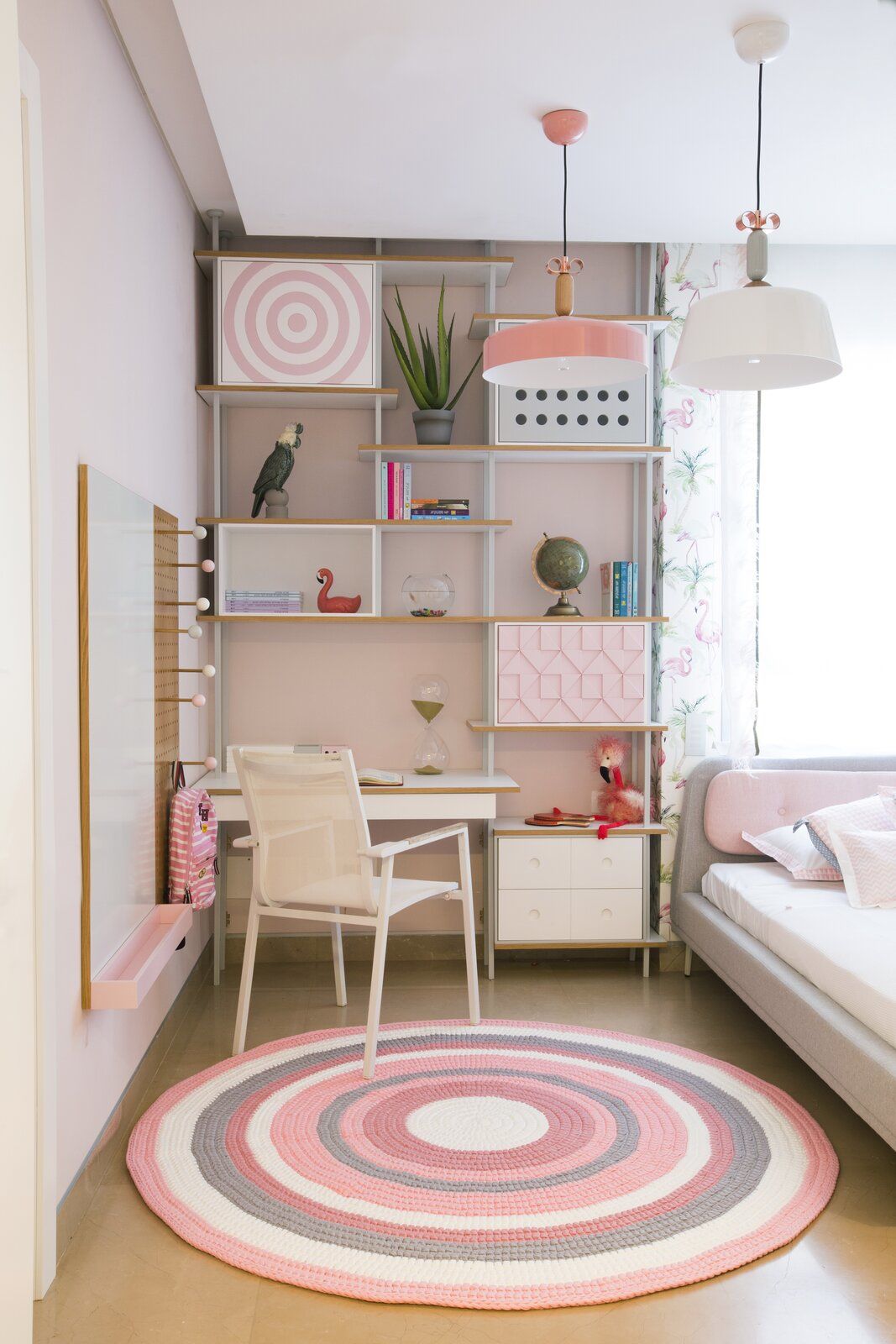 Hay's "Blush Room" was designed for a 12-year-old girl and offers studying, sleeping, and playing areas. Different materials and textures—wood, metal, wool, fabric-add variety while feeling polished.

Toddlers and young children in particular can benefit greatly from the creation of a "Yes Space"-a room or area within the house created specifically to allow them to play and explore with the confidence that they will not be reprimanded or told "no." A good Yes Space caters to your child's interests by containing items that will hold their attention the longest, while also taking into account how its design can help nip those behaviors you're always discouraging-whether it be pulling at things or coloring on the walls-in the bud. Like any other kids' space in your home, a Yes Space needs to evolve with your child. Keeping the design simple and flexible means that you can rearrange the furniture and toys to vary the experience more easily. Though the creation of a fully child-proofed Yes Space requires considered effort, the autonomy it affords your little one-not to mention the benefit of knowing that you can leave them unsupervised for short periods-makes it well worth it.

Whether Yes Space or not, every good children's room facilitates play. With this in mind, Frederick Tang, a father of two and founder of his eponymous architecture and interior design firm, advocates that you start by observing the activities that your child most enjoys.

"Parents will frequently tell me that their child loves his or her play kitchen," he notes, "but oftentimes that is in large part because it is the only surface in their environment that is at their height." Knowing if your kid prefers to sit or stand while they play can be key to creating a space that encourages their curiosity.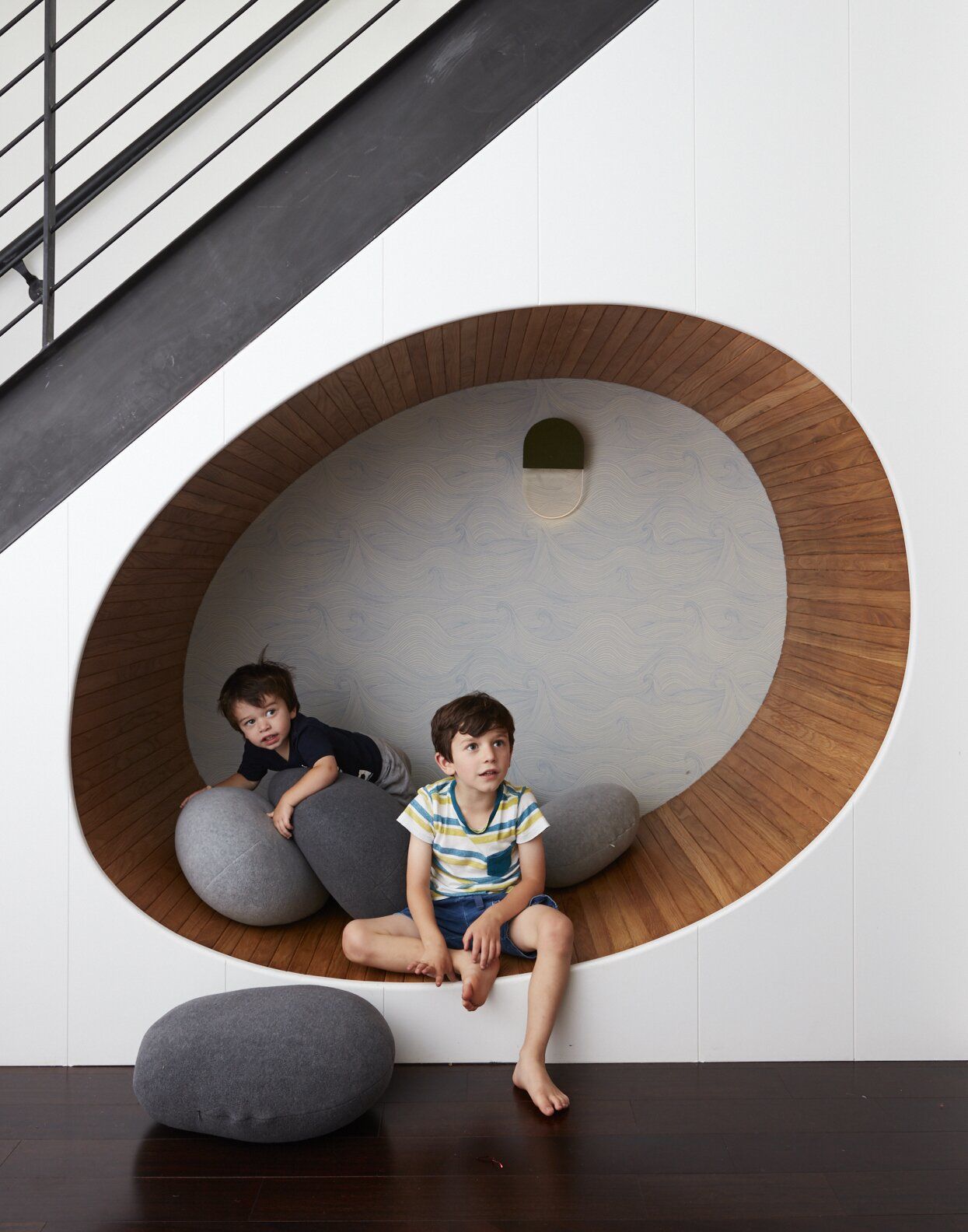 An area underneath a cellar staircase becomes an egg-shaped play area in Tang's hands. The white oak–lined nook features Abigail Edwards wallpaper with a subtle wave pattern.

And just as with good Yes Spaces, designing an environment that encourages tidying up should be a central consideration. Every child is different, so determining whether yours will be more likely to use hooks, drawers, or shelves is important for the success of the space. "The more you can let a kid feel like they are controlling their environment, the more independence they can develop," Tang says.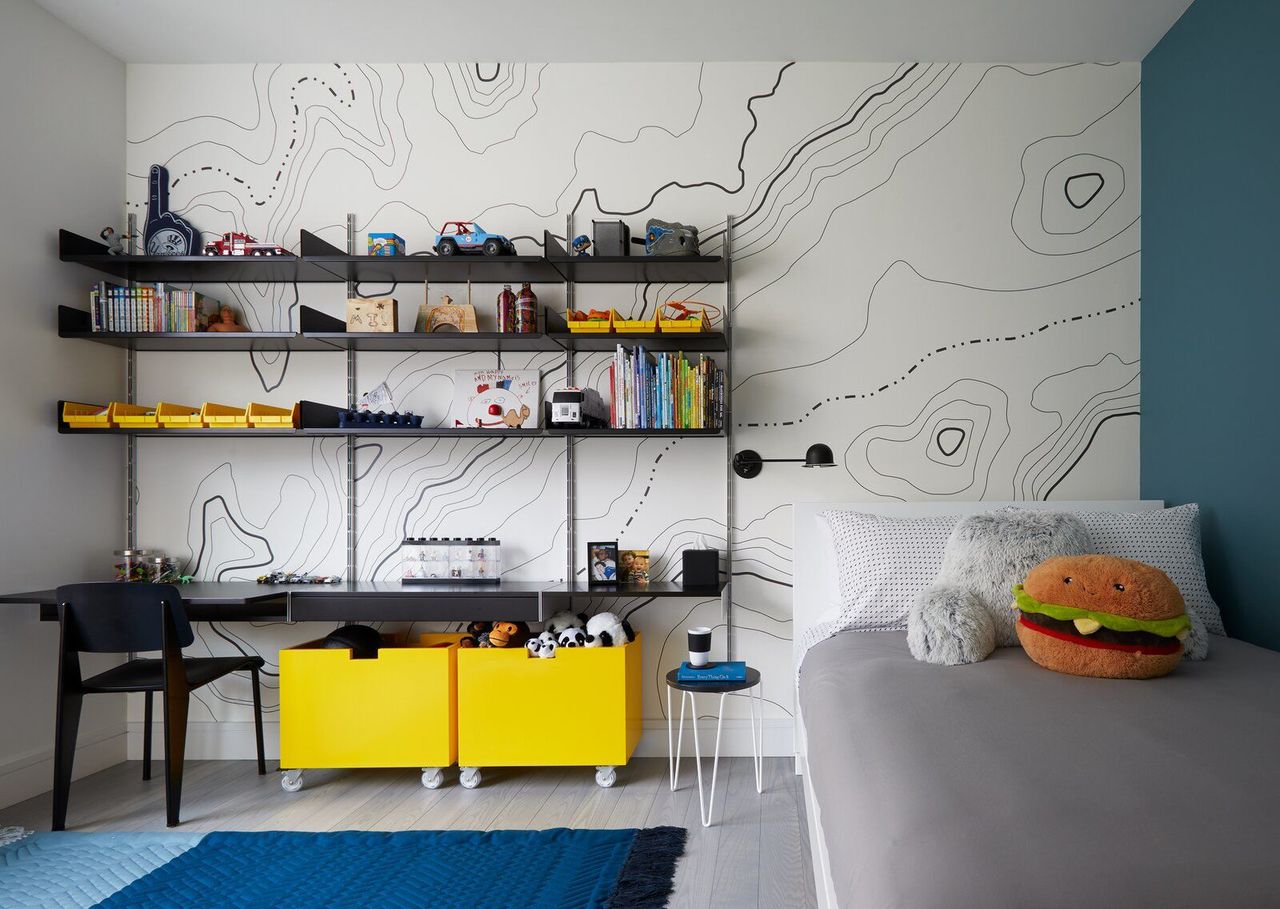 The parents of a five-year-old boy feared that his room would read "too young" when he grew up, so Tang infused the space with elements that would balance fun and flexibility. A graphic topological map from HappyWall and yellow color blocking add youthfulness while Vitsoe modular shelving and custom bins on casters ensure that the room can be adjusted.

As children like to be surrounded by their things, and being able to see and touch their belongings is both comforting and important to their development, Tang recommends wheeled storage bins, which have the added benefit of serving as play area partitions, space dividers, and fort walls.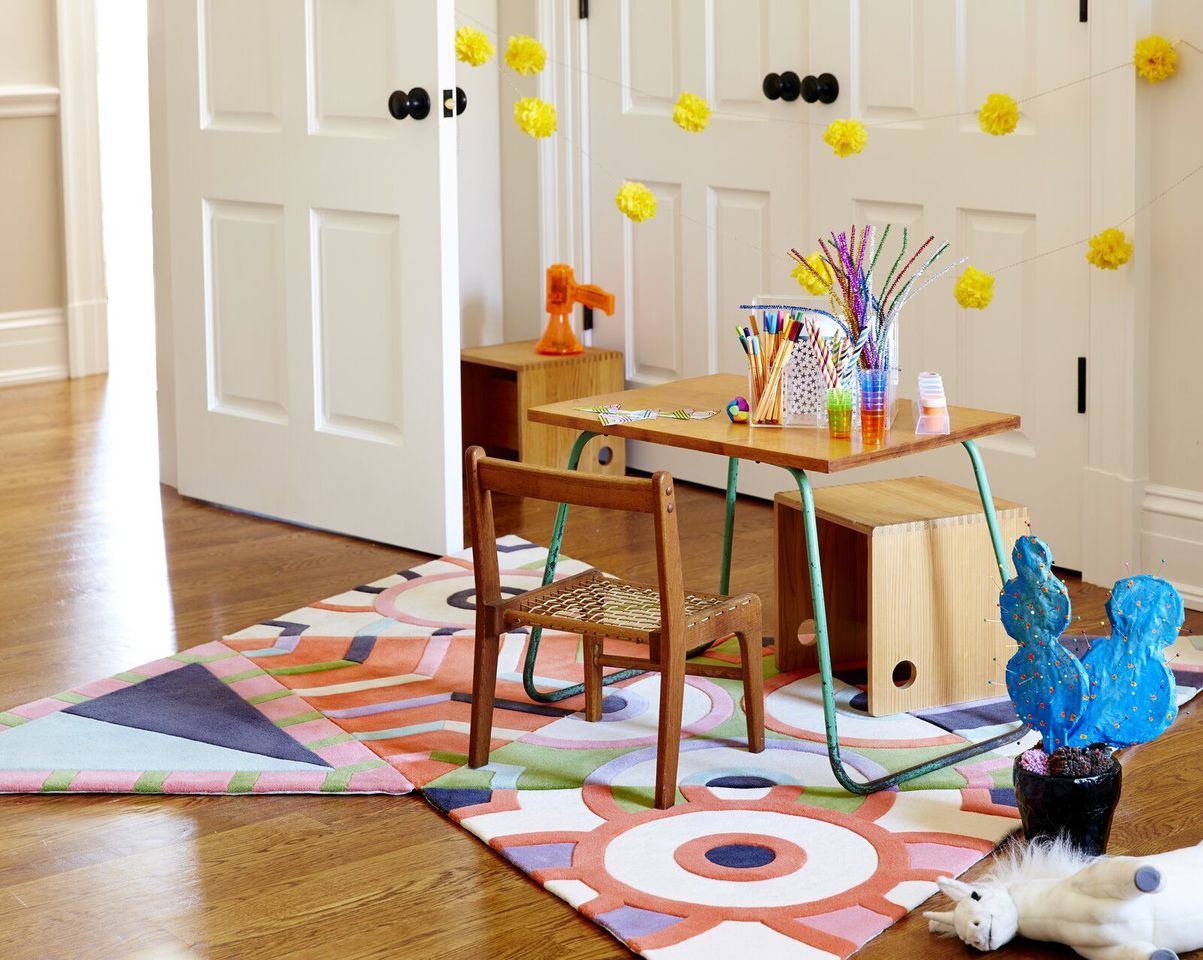 A modular rug by Kinder MODERN adds zest to a petite activity area.

When it comes to choosing furniture, Lora Appleton, founder of the celebrated children's furniture gallery, Kinder MODERN, is your perfect guide. Yet, Appleton is the first to warn against going fully kid-centric, instead advocating for investing in good adult "bones'' (beds, dressers, chairs) that will grow with your child and then infusing the room with a more child-like aesthetic through smaller elements.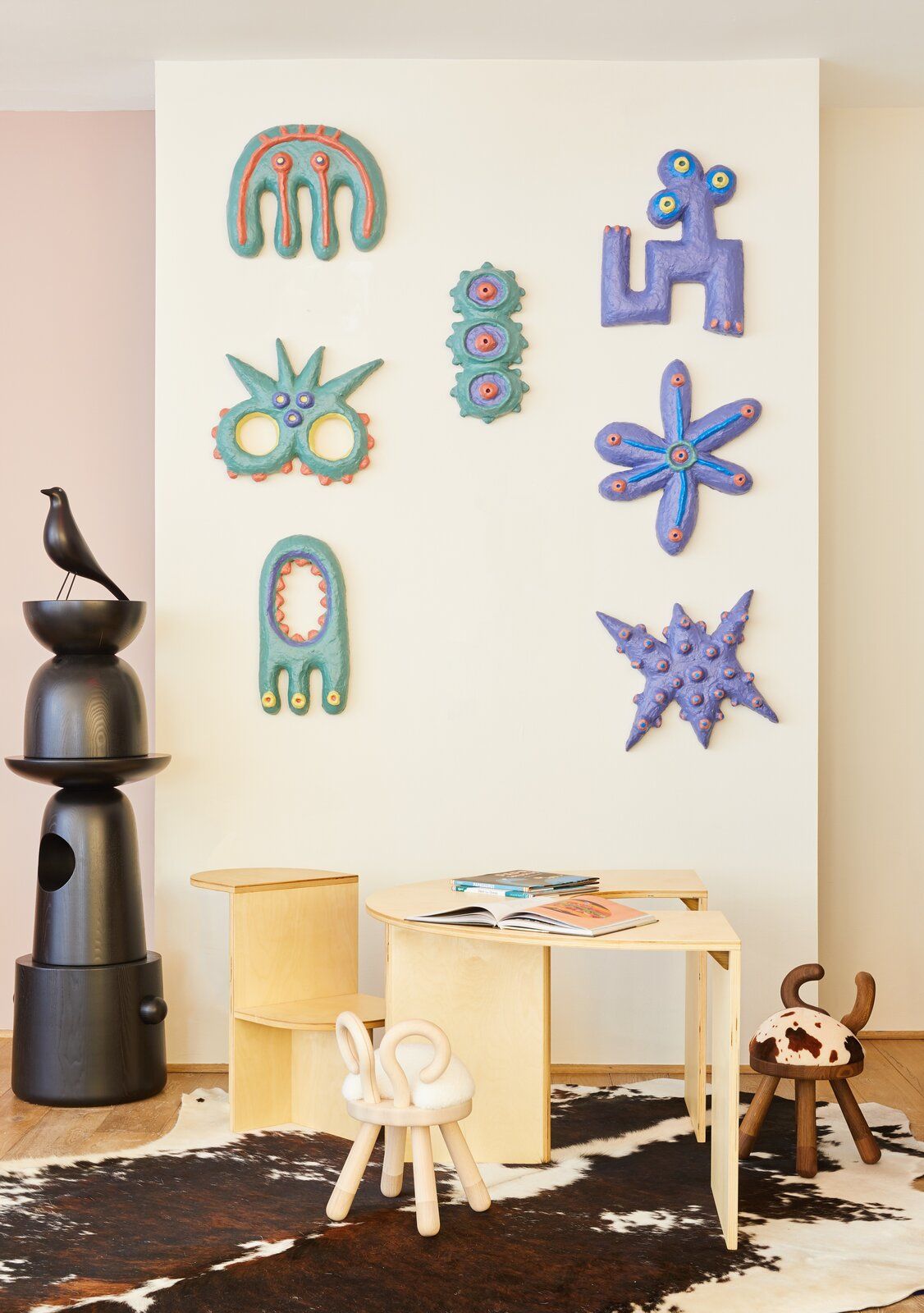 Kinder MODERN and Design Within Reach collaborated on "A Playful Home," a shoppable installation in New York City.

"I always start with key pieces. I'm a vintage person, so I want history in the room," she notes, "whether that's something that was in the family for generations or a beloved item that you found at a flea market when you were pregnant. Elements with personal history bring comfort to the space and a connection to the material world."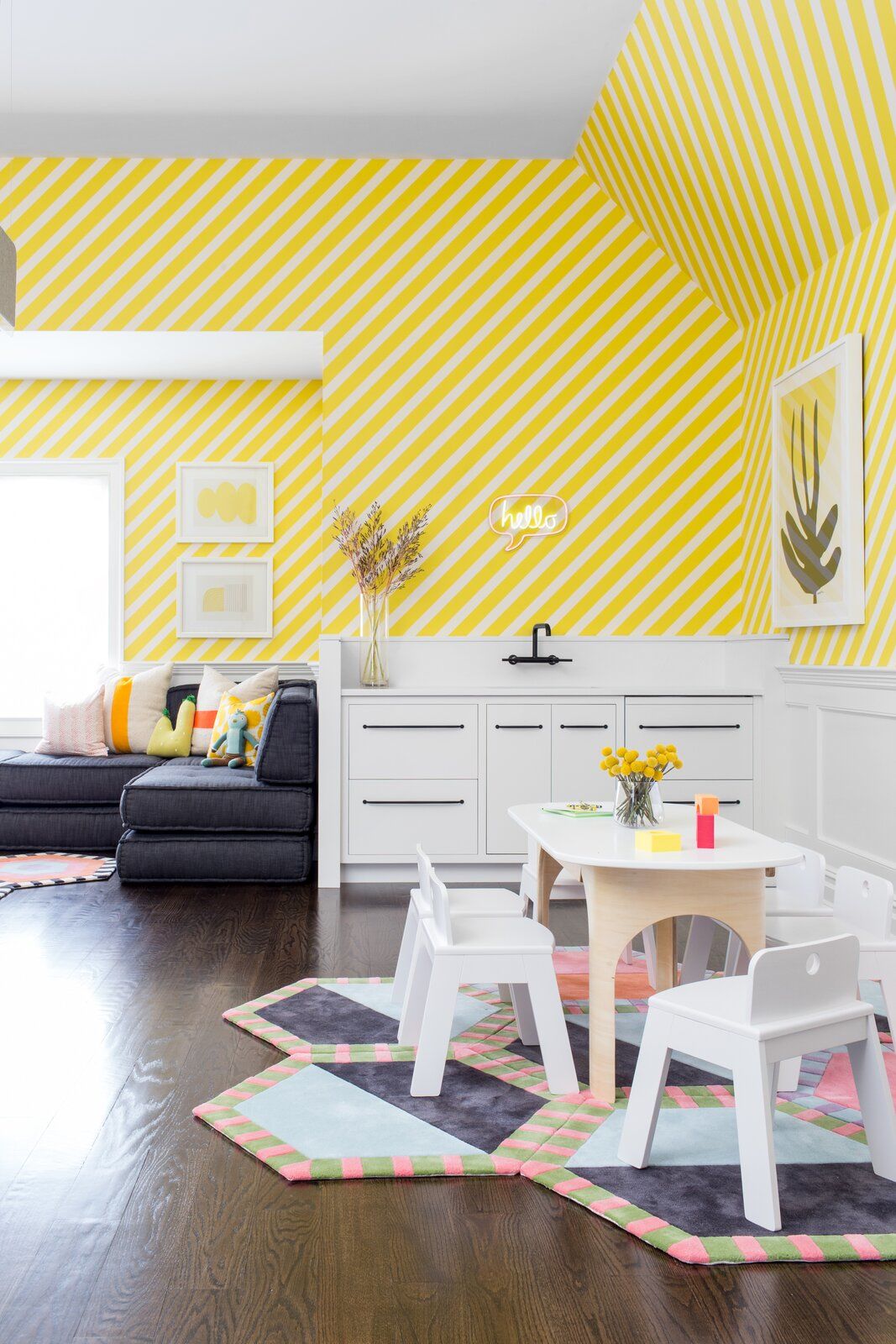 A playroom in Rumson, New Jersey, designed by Chango & Co. features a kitchenette and bold, striped yellow wallpaper. The table and chairs are from Land of Nod, and underfoot is a rug from Kinder MODERN.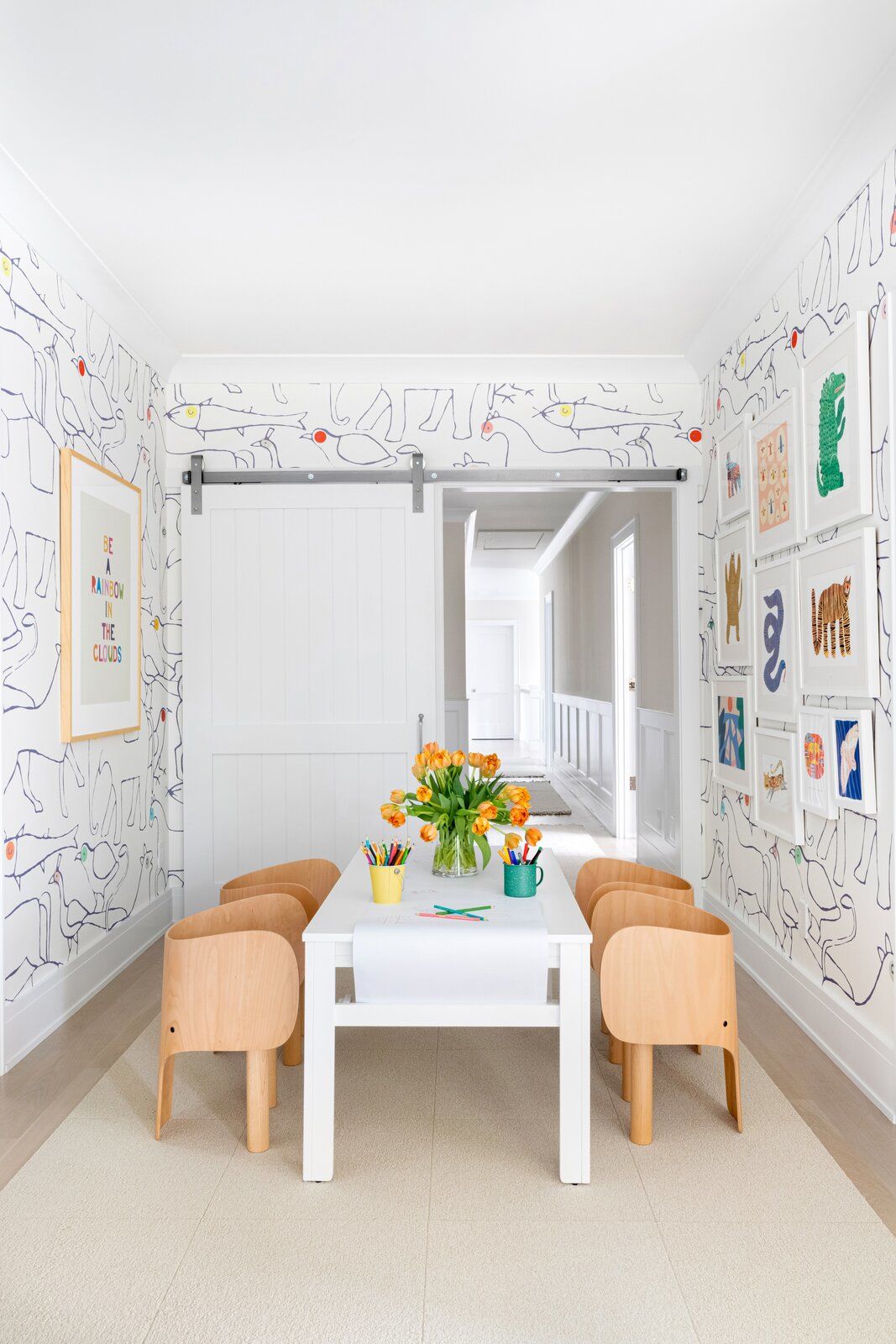 Chango & Co. built a home in Westchester, New York, for a young couple and their newborn baby. Here, the playroom is outfitted with furniture from Finnish Design Shop and Bien Fait wallpaper inspired by childish doodles.

Still, Appleton would be the first to say that designing a room that can stand the test of time should not preclude you from the delight of celebrating childhood. Susana Simonpietri of the Brooklyn-based interior design firm, Chango & Co, agrees. "There are many little tricks you can do to keep kids excited about their room over time," she explains. Accessories like lamps, wallpaper, pillows, and wall art provide the perfect opportunities to be more daring and playful as these smaller items are easier to swap out. "I tell my clients that there is no shame in buying their son Toy Story sheets. You can change two or three things in the room that make it feel different without really having to invest much."

These elements also serve as perfect places to involve your child in the design of their space. "It's not necessarily taking them literally so much as interpreting their interests," Simonpietri advises.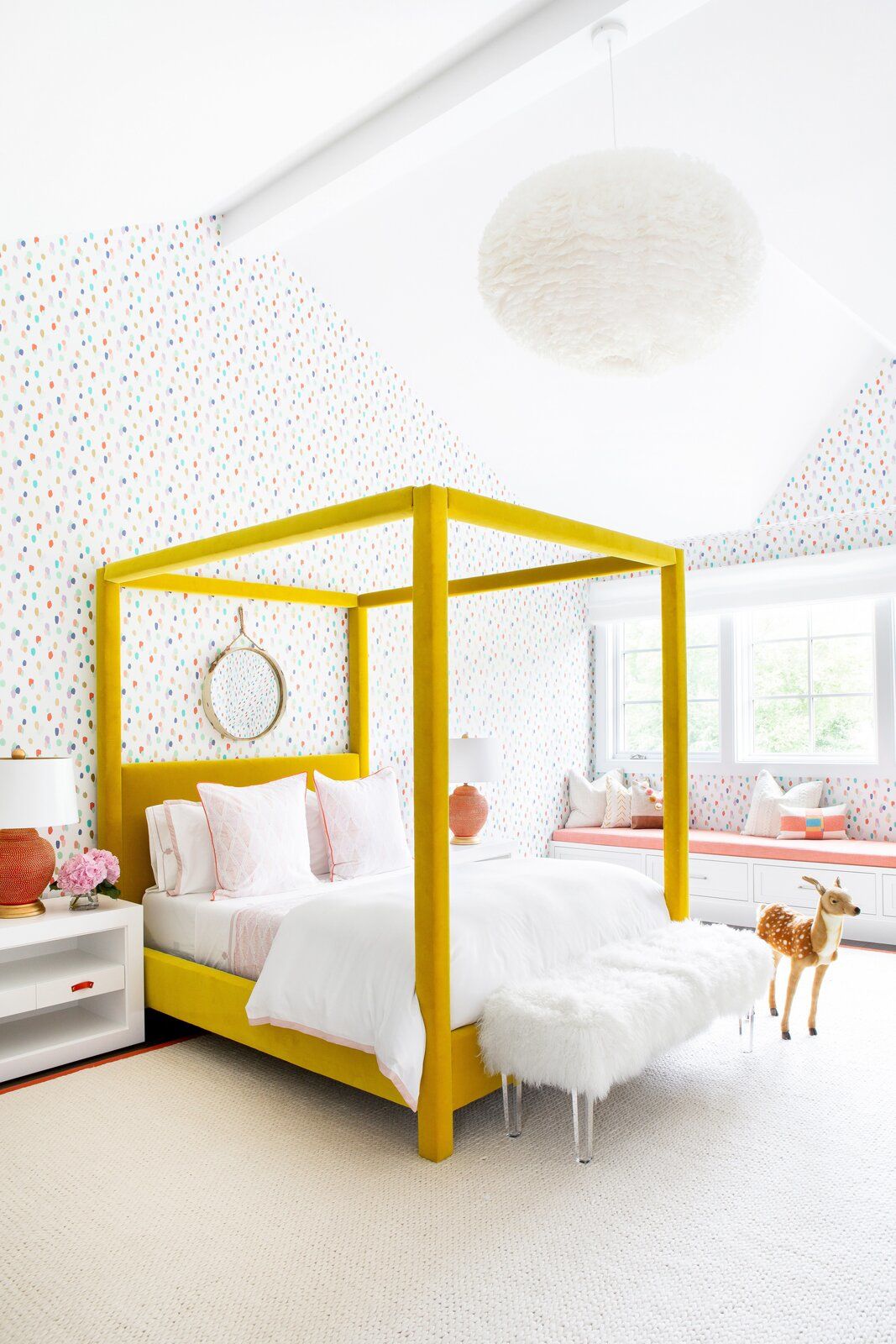 At the Silo Ridge Farmhouse by Chango & Co., a cheery yellow canopy bed by Jayson Home and dotted wallpaper from Brewster Home create a vibrant girl's bedroom.

"Bringing a child into the process doesn't mean doing everything that they say," Tang agrees. "It is also showing them the things you like and hearing what they think and how that encourages them to see beyond what they initially said they wanted."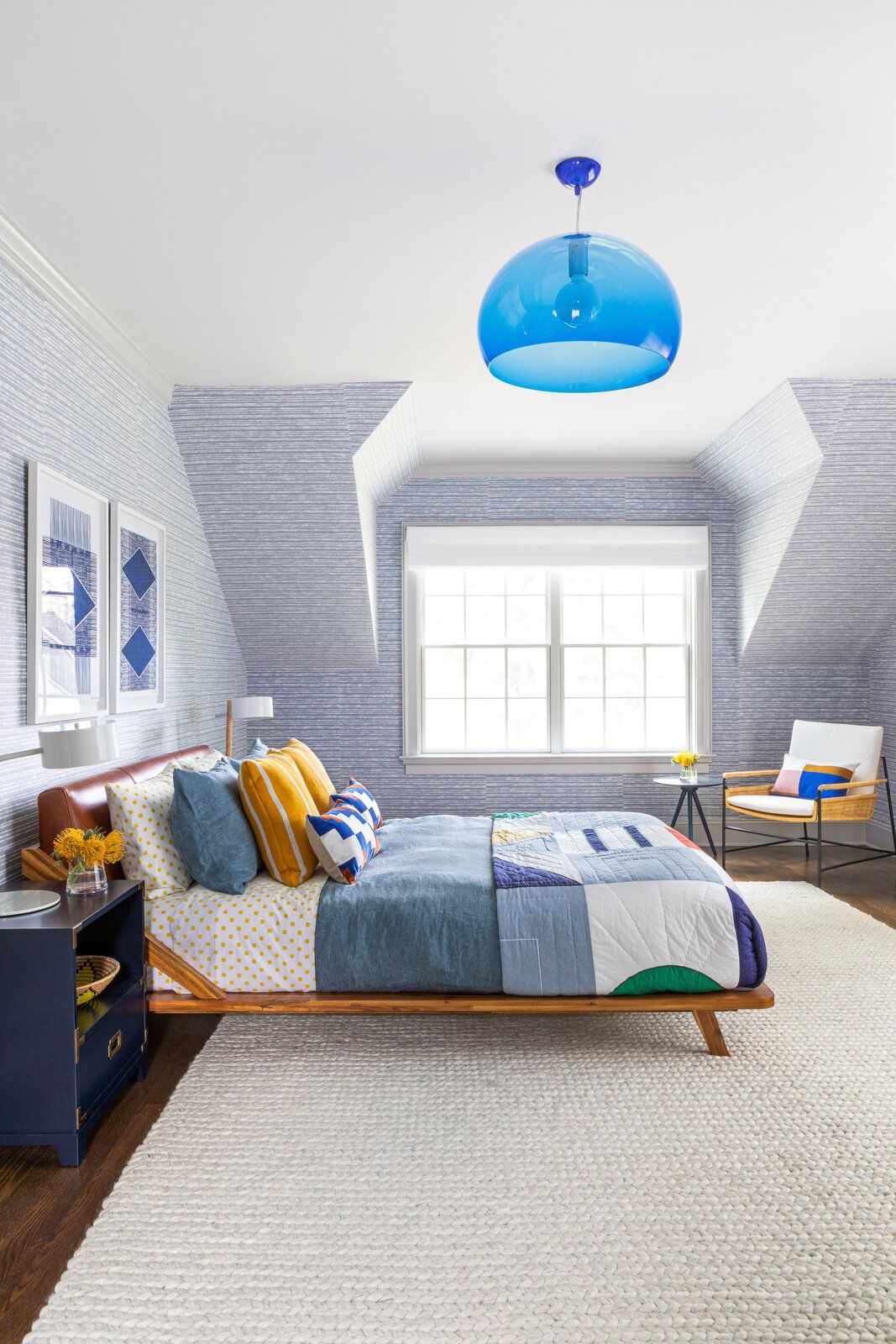 A boy's bedroom by Chango & Co. pairs a queen bed from Crate and Barrel with a bulbous blue light from Hive. The wallpaper is from Holly Hunt.

In reality, designing for children doesn't begin and end at the door of their room. Anyone who lives with children will know that it makes sense to extend the principles of good children's design into all living areas. "It's all about safety and functionality. The furniture in a room should be useful, not ornamental," says Appleton. Tang recommends giving children ownership over small spaces throughout the home with activity nooks or chalkboards and whiteboards. Large trays can also be handy for storing children's toys and transporting them from one room to another.

While expensive rugs and highly prized possessions might need to be put away for a while, Simonpietri is a firm believer that having kids does not mean needing to greatly compromise your aesthetic. Washable paint and hard-wearing fabrics like faux leathers and solution-dyed acrylic, which can be made to feel like cotton or linen, make it possible for white surfaces and children to coexist. "I also recommend slipcovers," she adds, noting that white coverings, unlike cream or colored fabrics, can be easily bleached when washed.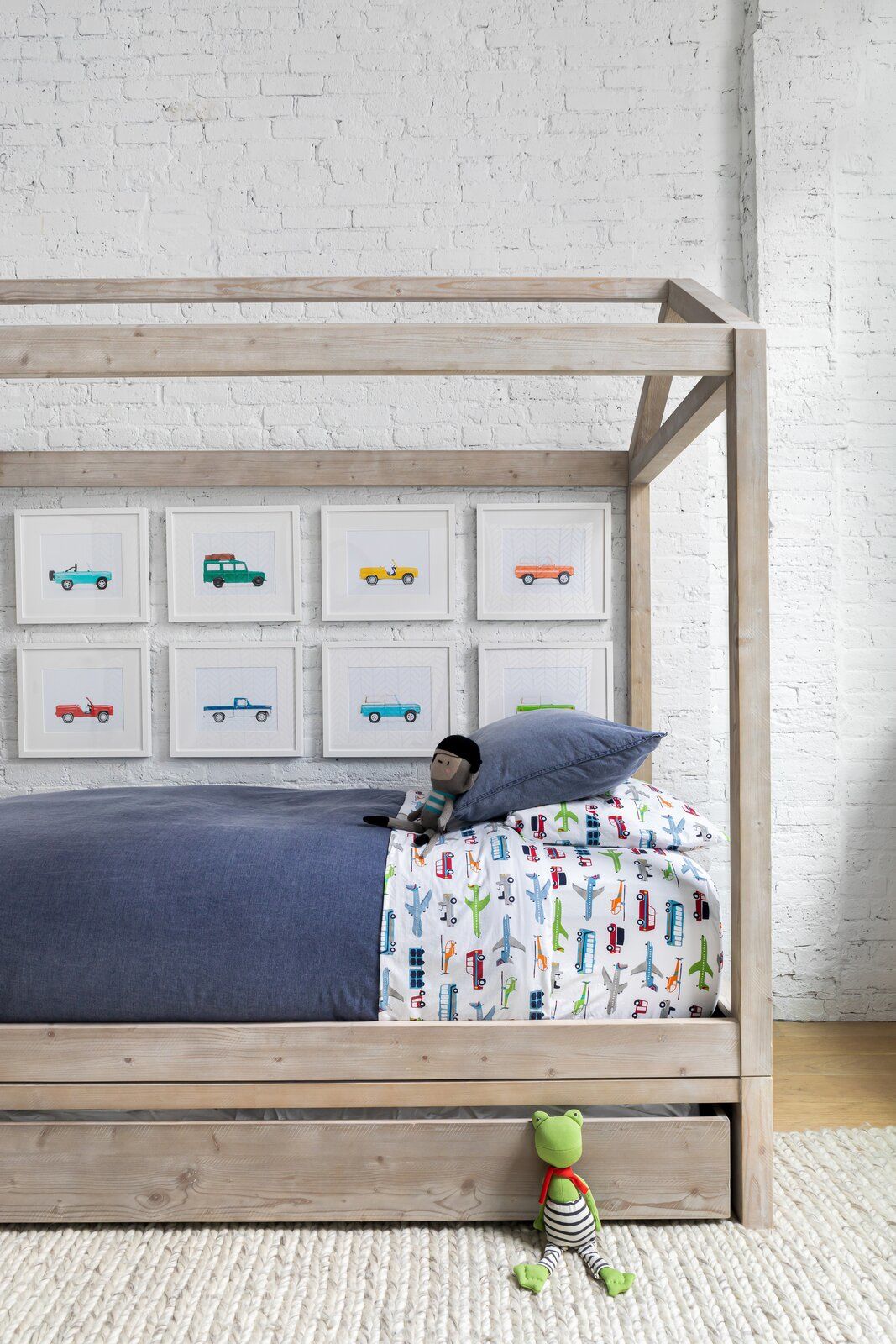 Chango & Co. renovated a young family's loft in Dumbo, Brooklyn, adding a canopy bed from RH Baby & Child and bedding from Pottery Barn Kids in the boy's bedroom. Car artwork from Leslee Mitchell carries out the transportation theme.

Ultimately, a beautiful home is one that is truly lived in. "My mother used to say that if something valuable breaks and you get very angry, it means that you really couldn't afford it in the first place," Simonpietri muses. "I always remember that."