Starting from scratch when designing a living room can be a daunting task, exciting, but daunting. Where do you even start? How do you pick the best living room layout? The right colors? The perfect patterns? The ideal furniture? How do you turn an empty space into a living room that's both practical and reflective of your personal style? Well, we cover all those questions and more in our guide to living room design.

With help from interior designers and experts, we've pulled together the ultimate guide to living rooms, that will help you plan and design your space without getting overwhelmed. From picking a color scheme to suit your room and creating interest with textures, to getting your living room lighting spot on and choosing the right window treatments. And once you are clear on the practicalities, be sure to head over to our living room ideas gallery for all the decorating inspiration you'll need next.


1. Decide on an overall style (or mix of styles)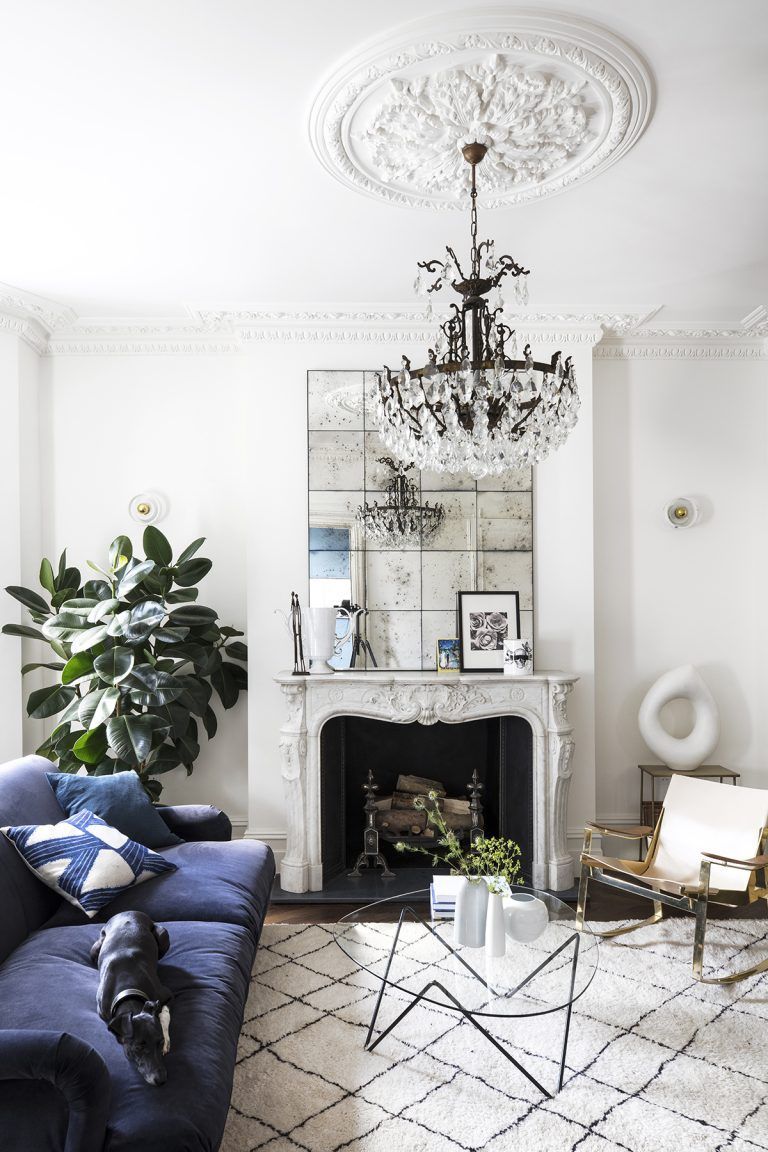 When it comes to designing a living room, the best place to start is with a vision. How would your dream living room look? Then work more realistically from there. Picking the overall style is what will determine so many choices later on down the line from furniture shapes to wall color, so have a clear idea in your head of how you want to room to look before you start investing in furniture or hiring decorators.

We'd recommend going old school with a mood board – create one on Pinterest and tear pages out of magazines too and you'll quite quickly start to see themes and styles forming that you can use to inspire your room's theme. Remember, you don't have to stick to one style either, mixing styles is what gives a room personality and uniqueness, so if you've fallen for a couple of looks see if you can take inspiration from both.

Also, something to consider when choosing your living room style is the style of the rest of your home and the period it was built too. Sometimes it can look really chic to contrast interiors with the architecture of the property, say going uber-modern in a Victorian house, but some styles just weren't meant to mix, like Victorian interiors in a uber-modern home.


2. Pick the right living room layout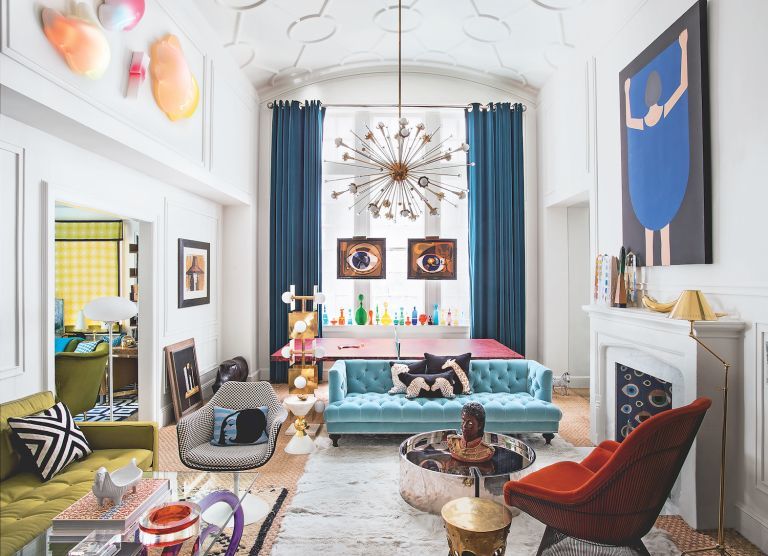 Next, it makes sense to think about layout before going into detail on colors and furniture choices as you might find that the layout you decide on affects these decisions.

Now, when it comes to deciding on the layout first think about how you use the room. Is it a place to relax with a paper while wistfully staring out of the window into the garden? Or is it used for watching TV? Does it sometimes double up as a home office or a playroom? The truth is it probably is used for lots of these things, and more, a living room has to wear many hats and therefore the layout should reflect that.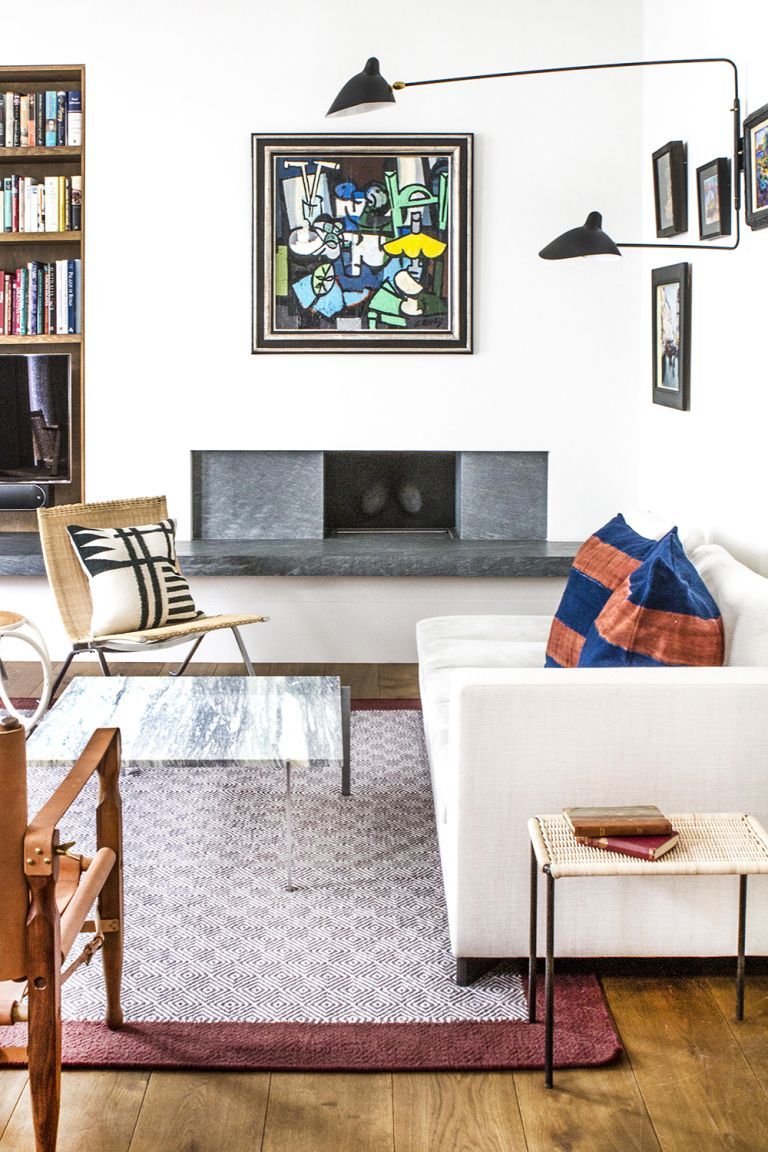 Therefore, if you have the space, the best living room layouts are ones that have a few different zones. A cozy area for lounging about watching TV, a nook for curling up with a book and a workspace if you need one. Separate these spaces using furniture – float a sofa so the back of it acts as a 'wall', or use a console table as a divider – or if space is a bit tighter even small details like rugs and different lighting levels can create zones.

If you are after small living room layout ideas, so can really only opt for one straightforward layout, go back to basics and make a list of only the pieces you really need in your living room. You don't want to cram in too many pieces of furniture and the best layouts are ones that have a nice flow and not everything is squashed up against a wall.


3. Invest in key pieces of living room furniture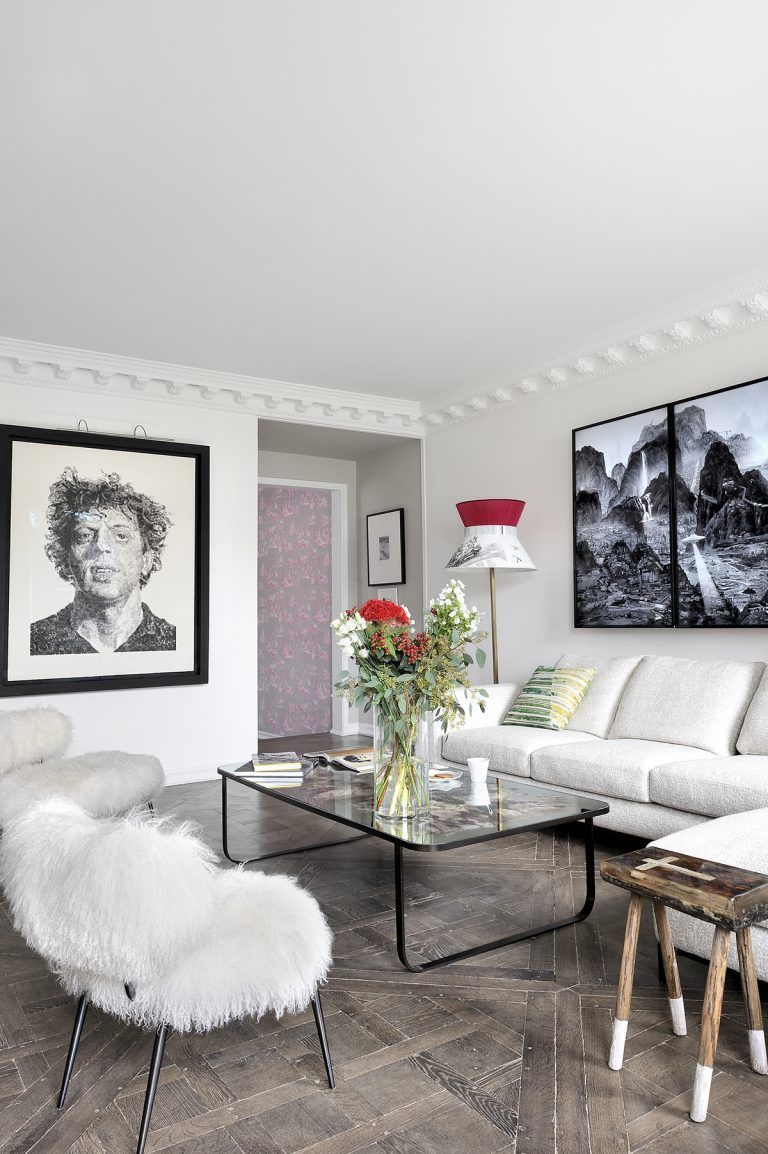 If your living room redesign involves investing in new pieces of furniture be thinking about your choices as you start to consider colors and patterns, it might have even been a piece of furniture that started off this whole project, in that case, let that piece make some decisions for you.

Furniture is potentially going to be the most pricey aspect of designing a modern living room, but of course, it's also the most important aspect and makes up the majority of what's in the room. Living rooms are usually hard-working spaces that could see a lot of wear and tear, so think about this when picking our furniture. This is particularly true of sofas and armchairs, and since these will be the most used pieces in the room, choose the highest quality for your budget and go for styles that have longevity rather than really trend-led pieces.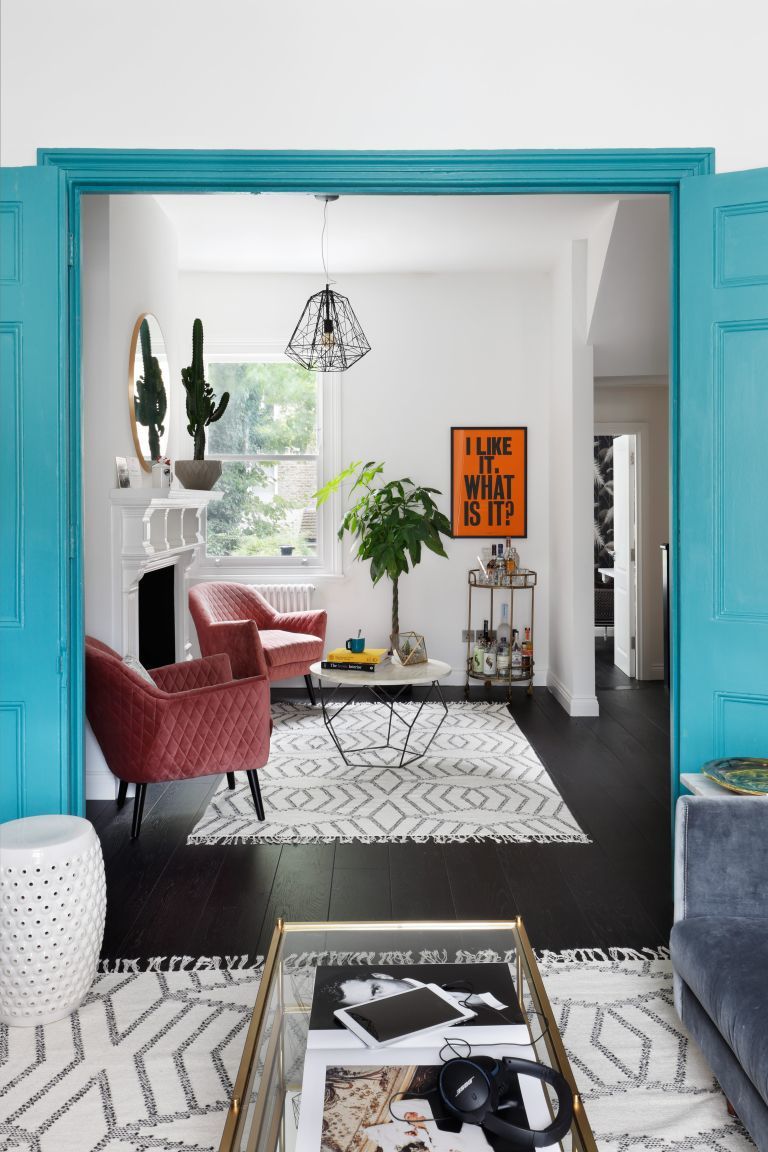 The size of your room will also help you make some decisions on what styles and shapes of living room furniture to go for. If you have a large space to play with then lucky for you the possibilities are endless, but if you are designing a small living room you don't want your furniture to add too much visual bulk so opt for more slimline designs that will still allow for light to flow around the room.


4. Consider living room color schemes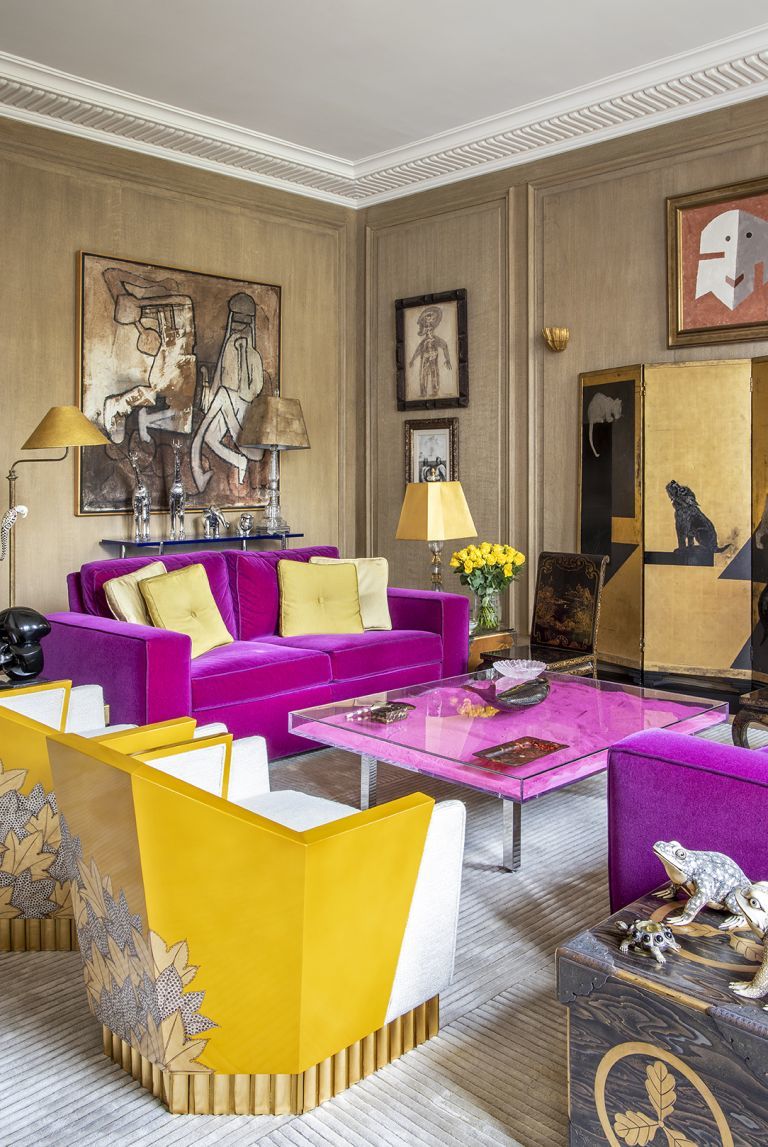 When it comes to choosing living room color ideas the best place to start is by looking at the size, height, and aspect of the room. You might have a color palette in mind but before putting brush to wall consider what colors are going to suit the space. If you have a small living room, for example, the safest option for making it feel bigger and brighter is to opt for a neutral, white-based scheme.

'Decorating with white is one of the easiest ways to create a fresh and cohesive look.' explains Ben Stokes, founder of Kagu Interiors. 'It helps to open up a living space, making it appear much lighter and bigger. To avoid a room feeling washed out, incorporate different textures of linen textiles, wicker lighting, or incorporating occasional antique finds to add character and interest. Layer with complementary shades of neutrals, like off-white, cream, or soft grey.'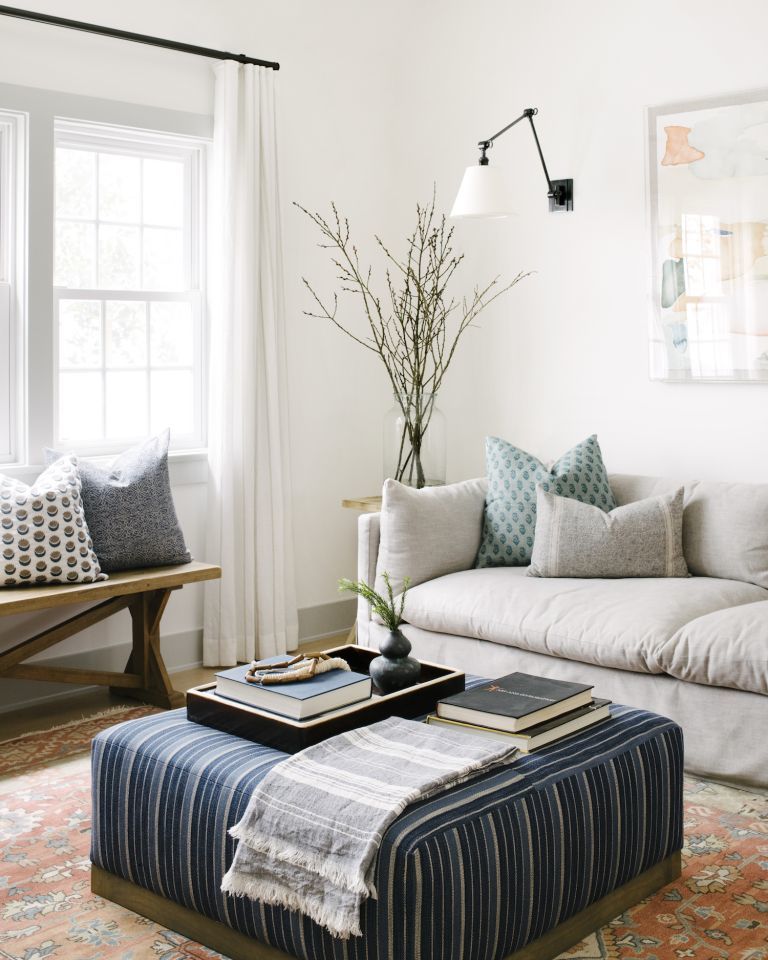 If you have a larger space you don't have to be so careful with the colors you choose but with any size room aspect is important. The amount of natural light (and at what time of day) your living room gets will affect your choice of color. Sunny, light-filled rooms that are either south or west-facing will feel warm and bright, so you can pick from most colors however, opt for cooler tones if you want to counteract the warmth and create a space that feels serene and calming.

North and east-facing rooms receive less light are cooler spaces that would benefit from a warm color scheme if you want to make the space feel warmer and more inviting. Pick soft tones like creams, warm greys, beiges, peaches and pinks. However, if you want your living room to have that modern, lofty feel, embrace the coolness of a north-facing room and opt for cool tones too.

'The living room is a space for socializing and relaxing with family and friends and so it's important to opt for a color scheme that fits with the mood or atmosphere you're looking to create as well as establishing your signature style.' advises Helen Shaw, Director of Benjamin Moore.

'Over the last year, we've seen homeowners opting for dark and moody colors in their living rooms to add ambiance and character to the room. However, for 2021 midtown, sun-baked hues have been introduced into our living rooms which will add a welcomed splash of color and cheeriness from season to season.'

'Perfect for more casual and relaxed schemes when paired with rustic rattan textures and natural materials such as linen, but they work beautifully to add dimension and interest to more traditional, bolder schemes.'


5. And don't just stick with paint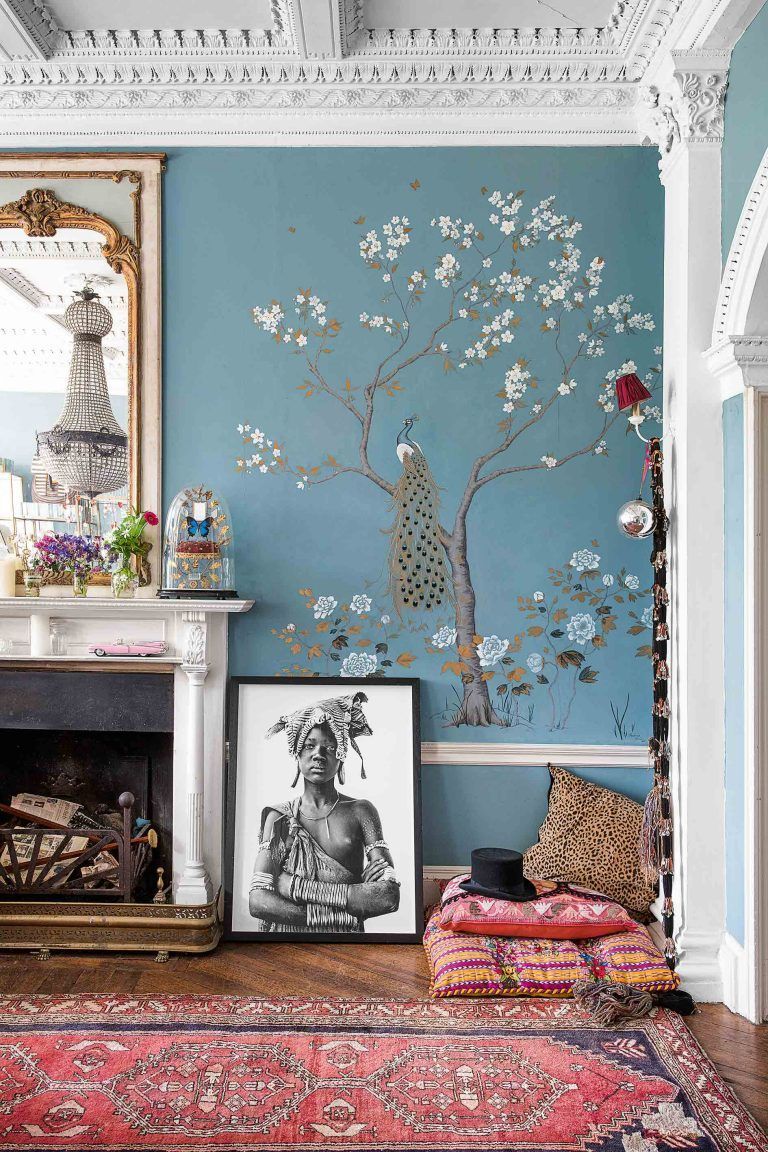 Paint of course isn't the only way to bring color to your walls, living room wallpaper ideas are something else to consider with your living room design. If you find a wallpaper you absolutely love, we say go for it, but if you are still considering your choice there are a few rules of thumb that might help with your decision. The size of the pattern is the main thing to look at – small, busy patterns are likely to overwhelm a smaller room, especially if you want to all over with it, so stick to bigger, simpler patterns that are going to add just as much interest but won't give you a headache each time you work in the room.

But wallpaper can be an asset to a small living room as you can use it cleverly to make the room feel bigger or taller. A striped wallpaper will add height, a vertical stripe can make it feel wider and going bold on all four walls can blur the boundaries too alluding to more space.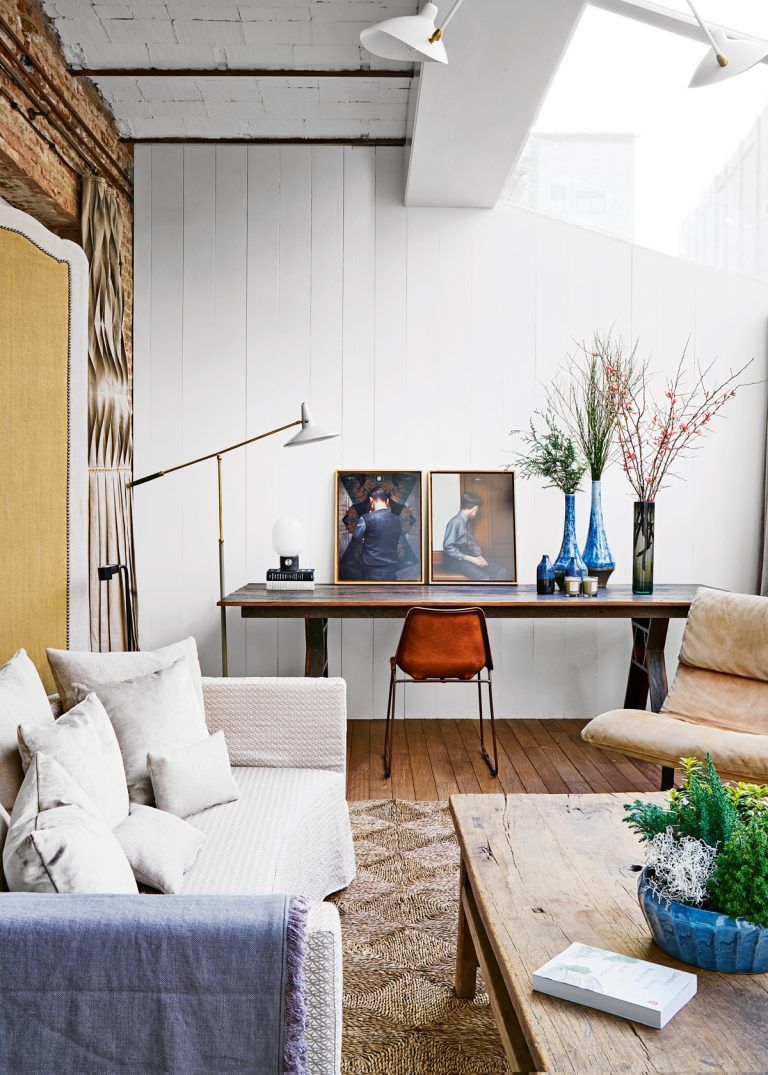 A very on-trend alternative to paint or wallpaper on the walls is paneling. No longer just reserved for period properties, paneling now comes in so many forms to suit all styles and can add just as much of an impact as decorating with bold paint or patterns.

As Jen & Mar, founders of Interior Fox say: 'Panelling is everywhere we look, and although it is showing no signs of slowing down it is evolving into a more modern style, with cladding becoming increasingly popular.'

'It's great at adding texture and color to walls and works in almost any living space. Half-height or full height this decorating style is great for all types of properties, especially new builds as it really helps to add character and interest when architectural features are minimal. This technique is ideal for small rooms when used vertically, as it makes the walls appear taller.'


6. Think about textures and shapes too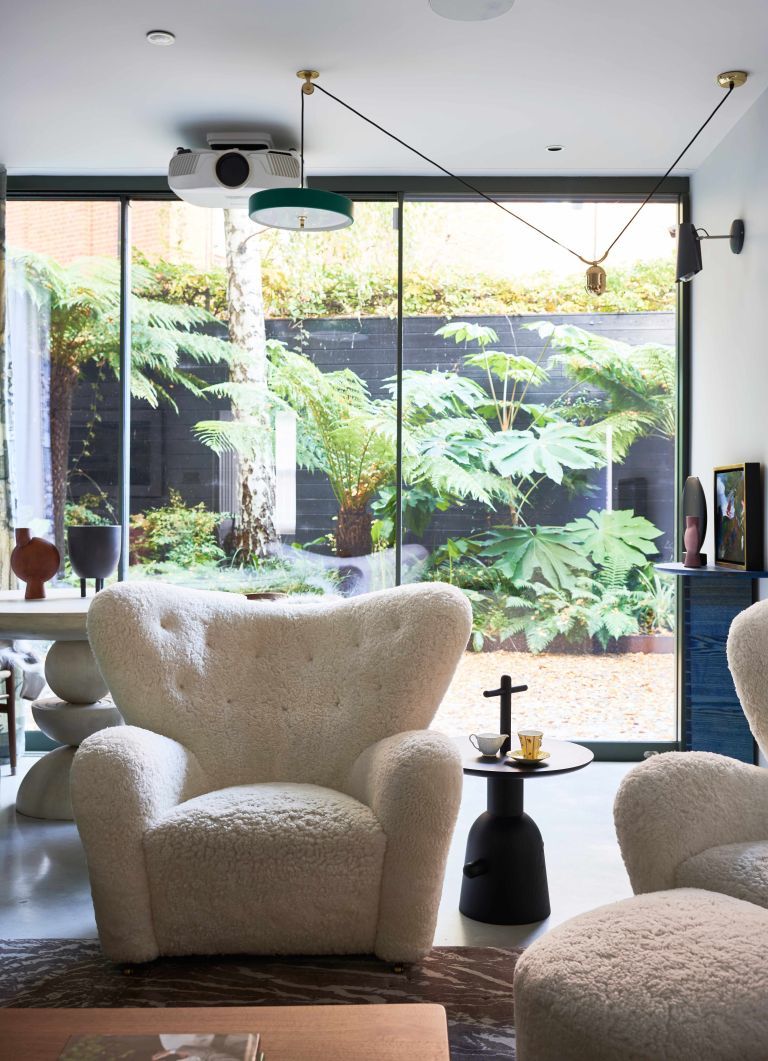 'Consider texture to be as important as color and pattern in living room design.' says Camilla Clarke, Creative Director at Albion Nord. 'There is nothing worse than a flat design. Interiors are all about evoking the senses and therefore texture is a vital ingredient to every design to get our sight and touch senses going. Try mixing different textures such as natural linens with soft velvets or robust leathers with thick wools. We are also obsessed with Boucle wool at the moment. Upholster a chair in it and it is like sitting on a cloud.'

Thinking about the feel of things in the room, and choosing tactile fabrics will add instant interest and is particularly important if you are sticking to minimal colors as it's all that texture that's going to give the room some depth.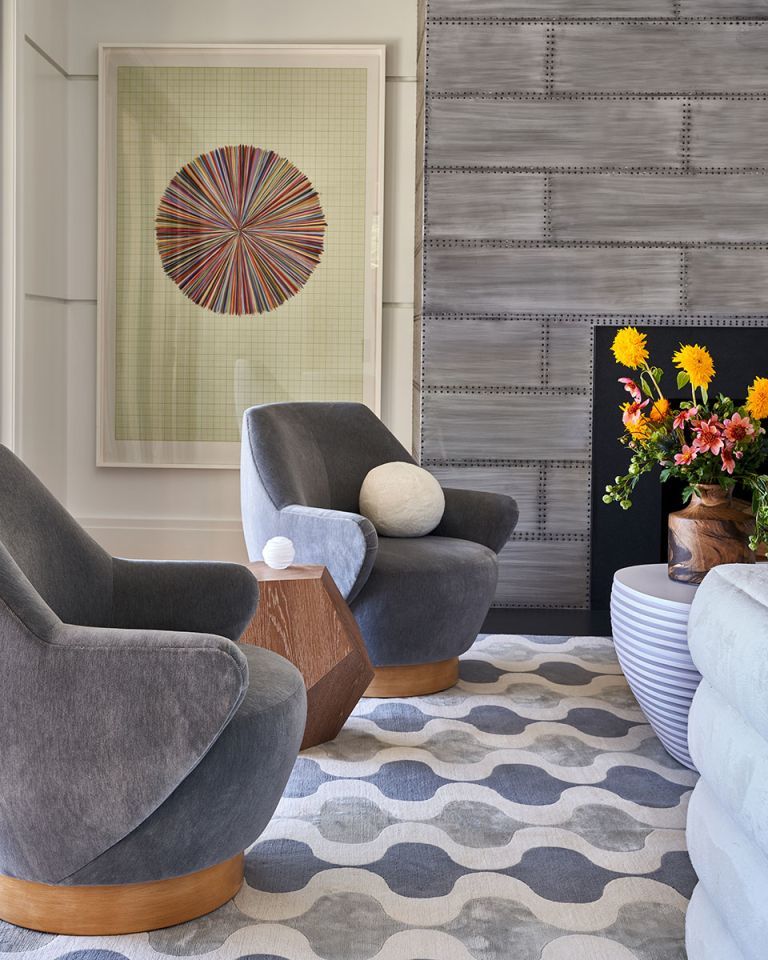 And shapes play a role too. The shapes of furniture, rugs, layouts, decor can all play a part in the overall feel of the room. According to Jen & Mar of Interior Fox, it's curves that are on-trend in living rooms right now. 'Popular in the 60's, curves are having a resurgence and they're here to stay. We are moving away from harsh lines in favor of soft, sumptuous curves as a way of embracing a more relaxed feel. Seen across furniture, rugs and lighting, rounded curves work well contrasted against materials such as brass or even concrete.'

'Adding curves into your living room whether big or small helps soften the feel of the place and it doesn't just stop at décor. Using arches in the doors, windows, or even the ceiling can elevate a room's architectural impact.'


7. Plan your lighting scheme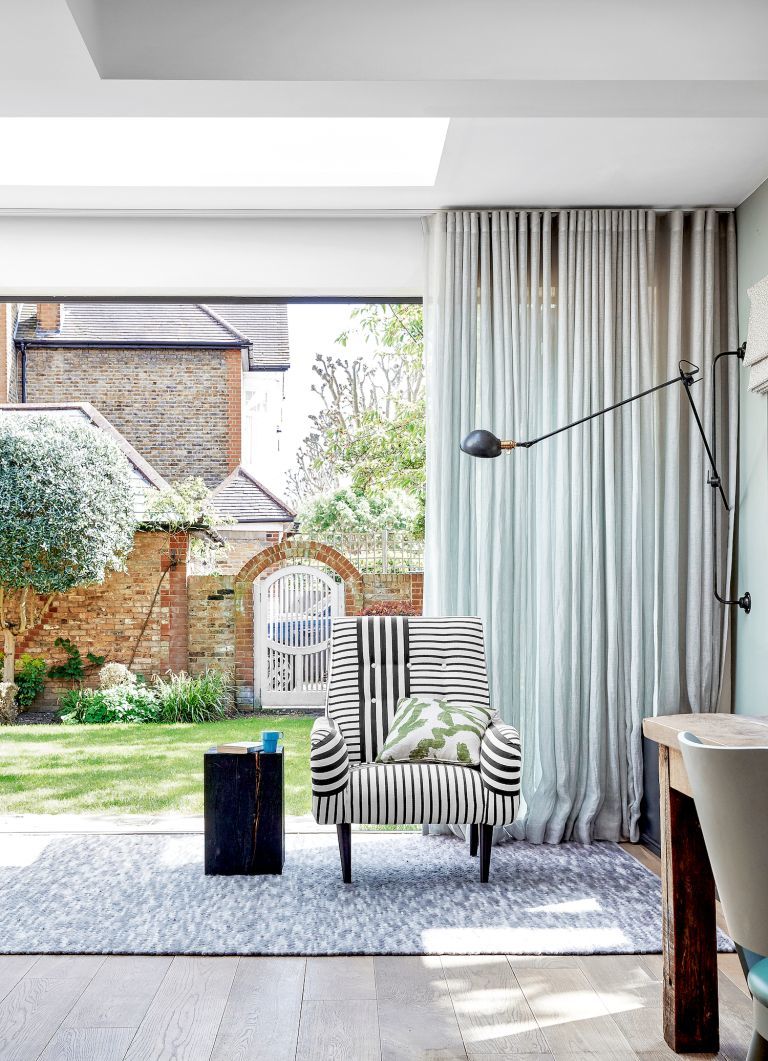 Living room lighting might seem like a small part of your design, but it's so important for creating the right feel to the room. Plus, so much of the time spent in our living room is during the evening so having lighting that works for the space is key. Choose the right lighting and you have a cozy living room with lots of lovely ambiance and brighter task lights should you need them, the wrong lighting however can be harsh and uninviting.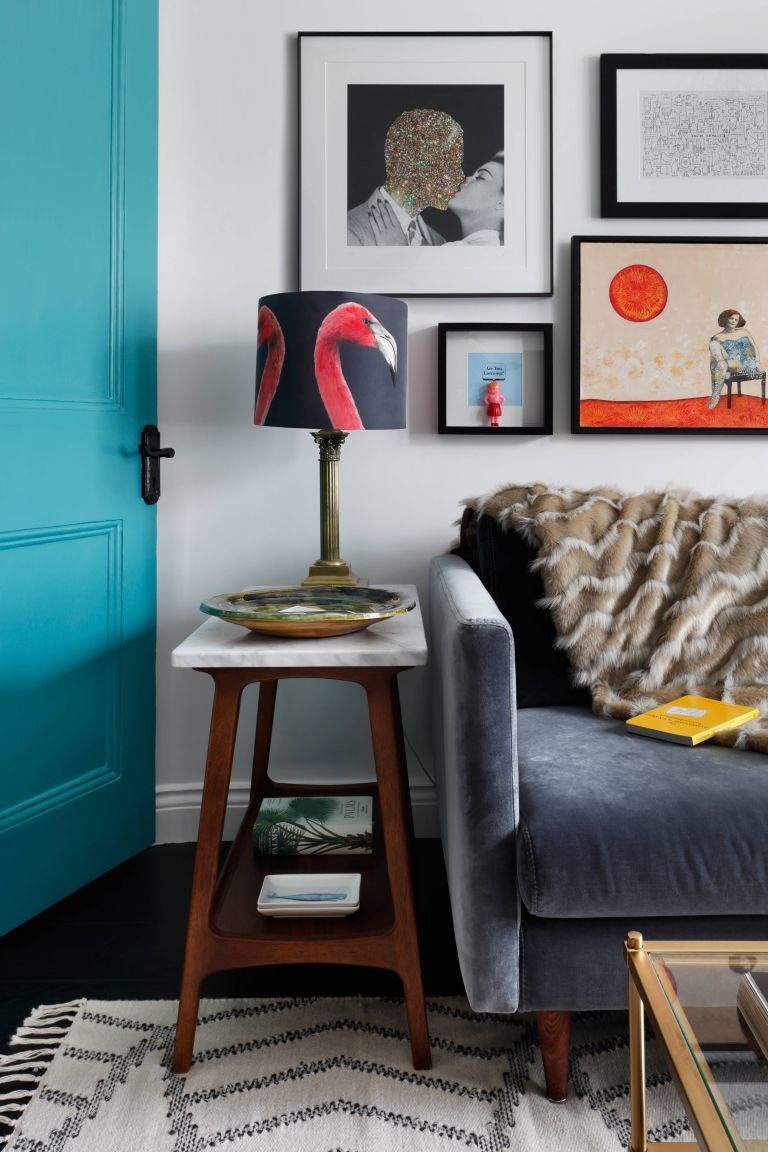 The best approach to living room lighting is to layer it – have lots of different sources so there's an all-over glow to the room rather than a single, intense light source. And think about what you do in different parts of the room too and plan your lighting accordingly.

'Using a mixture of localized lamps, pendant and wall lights in chrome or matte black will give a living room a modern style as metallic and cool chrome tones are inherently more contemporary in aesthetic than warming antique brass or copper.' says Rohan Blacker, founder of Pooky.

'Avoid using gathered fabric lampshades and heavy patterning as these can introduce a more country-esque, traditional look. Instead, opt for simple linens for any lampshade or choose all-metal, all-glass lamps to pair with a statement centerpiece pendant or a cluster of pendants in your living room corner for the ultimate contemporary scheme.;


8. Factor in practical living room storage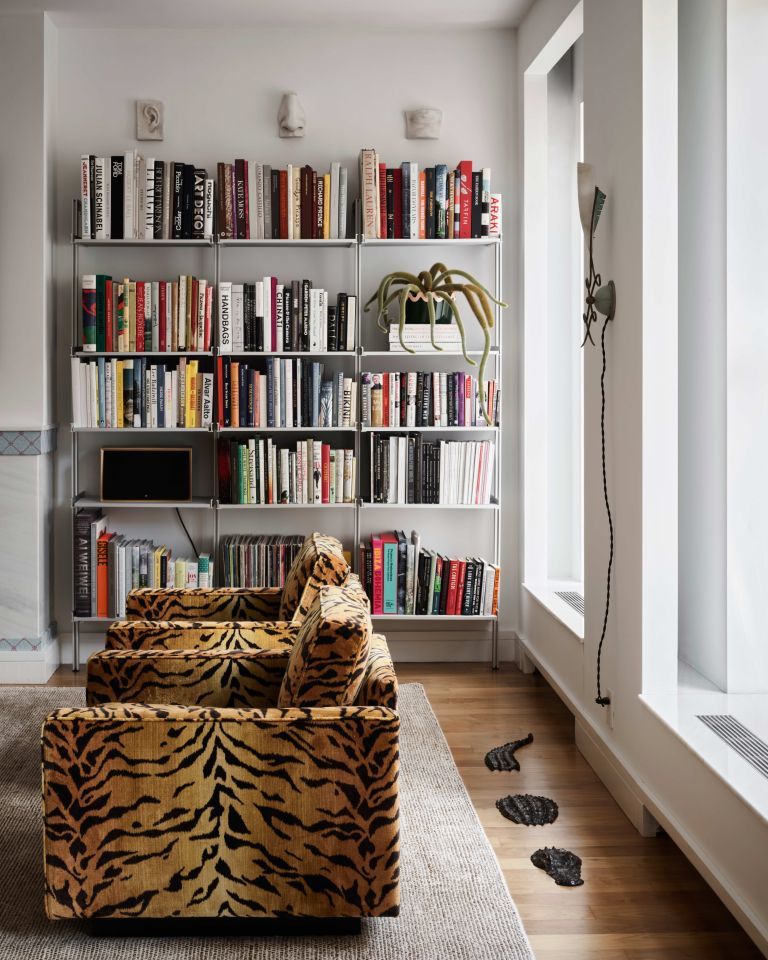 Living room storage might not be the most exciting part of designing a living room, but it's definitely an essential if you want a space that functions well and is free of clutter. But storage can be beautiful as well as practical so pick pieces that are going to add something to the room and compliment the rest of the furniture in the space.

You want your storage to be versatile too, pick pieces that double up as storage, say an ottoman or a coffee table with plenty of shelving or drawers. And make sure you mix both open and closed storage furniture too so you have areas you can hide away mess but also places to keep things on show adding interest and personality.


9. Add definition to the room with rugs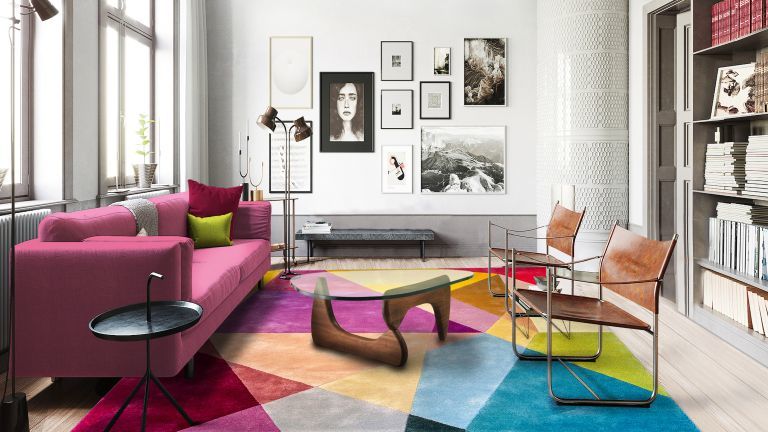 Don't underestimate the power of a rug. Rugs can really finish off a living room, adding pattern, texture, and definition. When picking your living room rug, first look to your flooring – sounds obvious but really think about what colors and style are going to suit the colors and style of the flooring beneath.

For example, if you have minimalist, modern flooring, like tiles or wide plank wood flooring, soften up that with something deep pile like a Berber rug. If you have parquet flooring that's already quite busy, opt for something more minimal. Think about what's going to sit on top of the rug too, will it be right next to the colors and textures of the sofa? How will they look together? Will a coffee table be in the center? If so make sure any pattern going on still looks right if it's interrupted by furniture.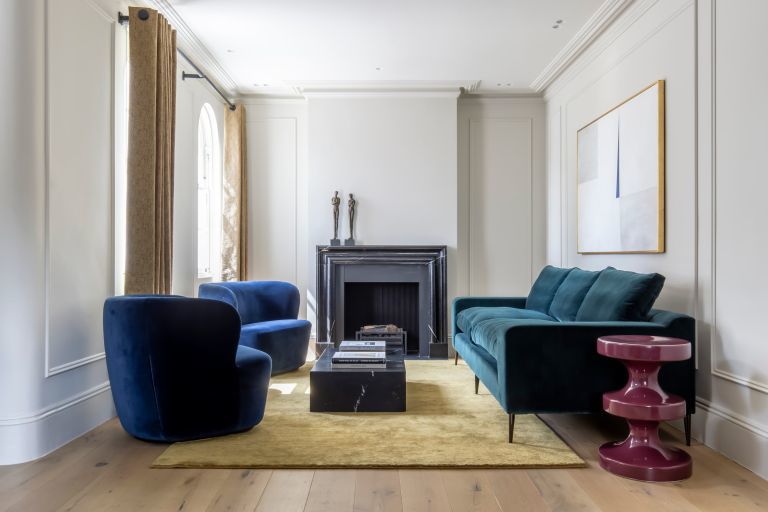 'A rug can anchor a living room.' says Noemie Deed, founder of Cosy Coco. 'It is one of the main pieces used to create a cohesive and stylish space and should therefore be considered at the same stage as choosing your upholstered furniture.'

'When designing a contemporary living room scheme, you'll want a rug to set the tone as the key accessory piece. Choose a minimalist design that still acts as a piece that adds visual interest to a room. You want your rug to draw the eye without overpowering, as it'll be key in tying together your sofa, coffee table and other smaller accessory pieces. Modern decor is all about effortlessly sleek, clean and subtle design.'


10. Don't forget window dressings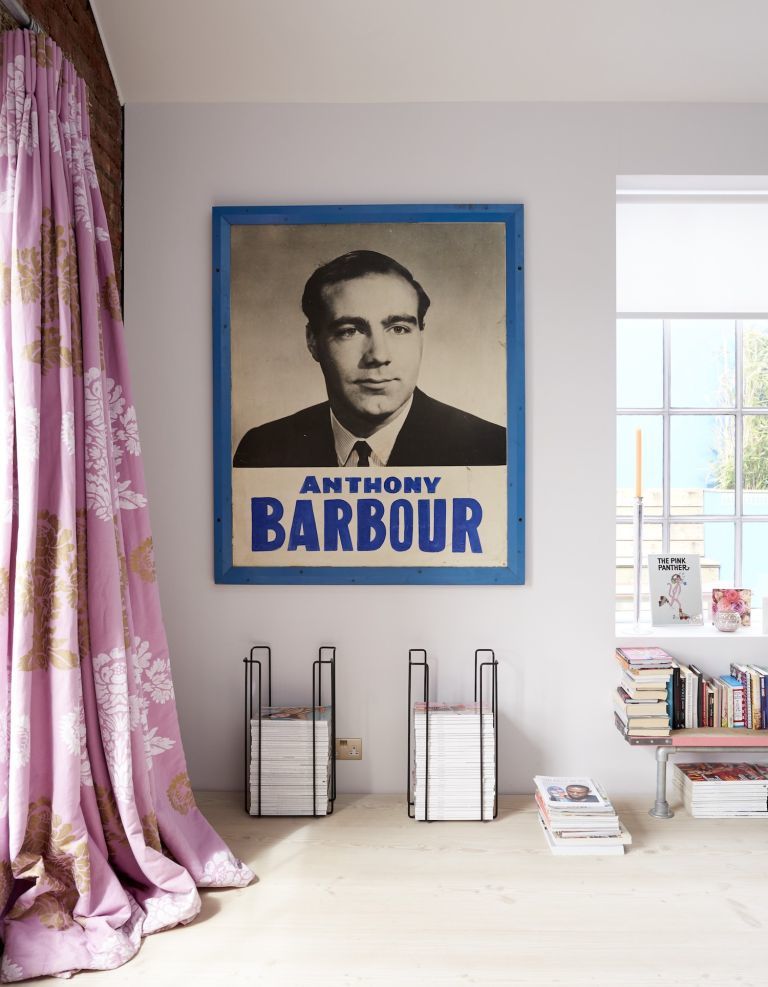 It might be one of the last things you add to the room, but the style and design of your living room window dressings should not be the last thing you decide on. They can make such an impact in a room, adding color, pattern, texture, privacy, warmth.

If you are opting for curtains in your living room, they will add a softness around the window and an elegance too. Just be aware they can add bulk and absorb some of the light that comes into the room, so if your room is small or dark either pick a different window treatment or opt for curtains in a light, gauzy fabric so you won't be blocking any light.

And with curtains, always go floor to ceiling rather them having the hang awkwardly around the square of window. And if you can hang them slightly higher than the window – a little hack for making a room feel loftier.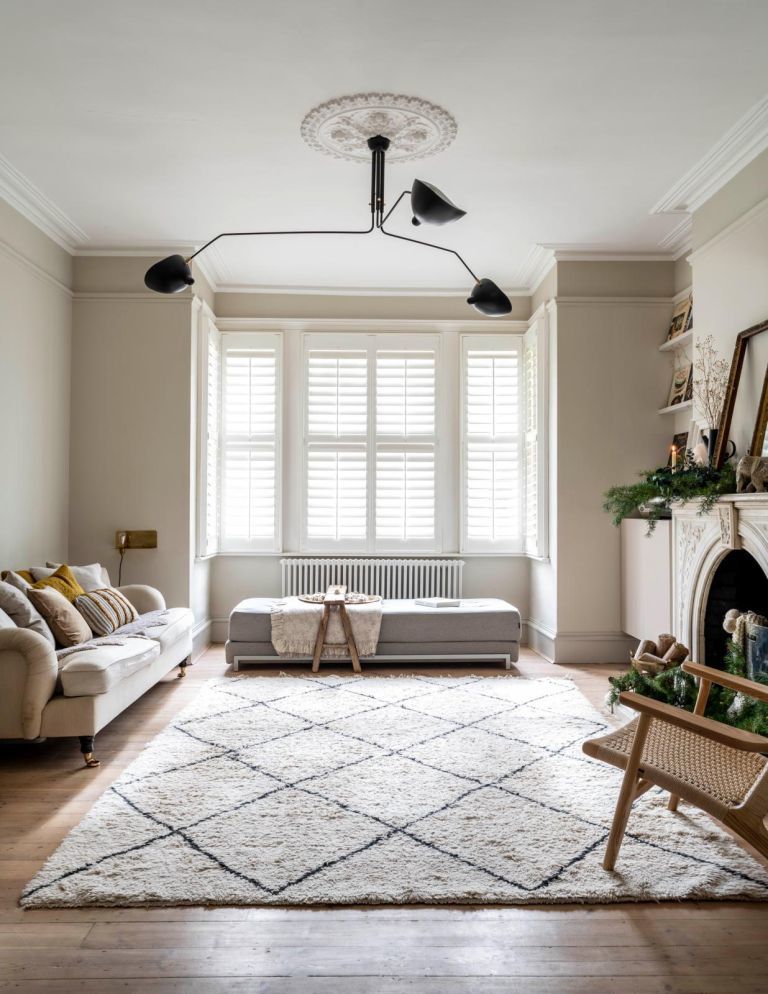 Shutters are a very popular option for living rooms too as they allow for complete privacy but can also let in light. Plus they don't take up any space as curtains do and can have a very clean and contemporary look. If you want to soften up shutters, you could always layer them with a light curtain and just pick shutters for half of the window to maximize light.