Don't overcrowd: If your hallway is at the entrance of your home, entrance of a stairway or leads directly into another room, be careful as not to overcrowd the walkway. Consider using furnishings that 'hug' the wall, rather than protrude into valuable walking area. Also utilize vertical wall space for decorative mirrors, artwork and wall lighting sconces. This way you add decorative touches visually but don't overcrowd the walking area.
Awkward intersections: If your hallway leads to awkward intersections of adjoining rooms, stairs and entry ways, be mindful of traffic patterns when decorating. If the hallway is narrow opt for décor on the walls instead of the floor. Consider decorating open floor plan rooms with furniture adjacent to the hallway. This way the hallway doesn't look bare and visually can borrow décor from adjacent spaces. The eye will be fooled, and your intersection won't seem as awkward.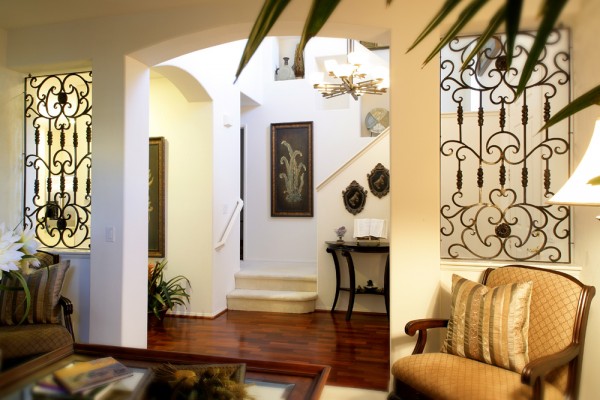 Make it inviting: Whether your hallway is in the front entry, or it is in the back of the house leading to the garage, a hallway can be made inviting with color, instantly. For narrower hallways use lighter colors to open up the dark corridor, and conversely use darker colors where there is ample natural light. Consider painting baseboard trim and door trim in a complimenting neutral tone to bring out the color of the walls. If you have room add a welcoming chair, or a floor vase of natural elements, like bamboo for visual height.