Tucked downstairs in a San Francisco home, you'll find the envy of the neighborhood: what just might be the world's coolest playroom, complete with climbing wall, rope wall, and craft center extraordinaire. "The homeowners wanted their kids to have a place to goof off while they have a party upstairs," explains the room's designer, Regan Baker. The couple had seen an adventure-themed, tented kids' room Baker dreamed up for a show house and enlisted her to transform their wine-storage room into something their three kids would love. It's now known as the Romp Roomขor, the playroom to beat all playrooms.

"The idea was to really engage and activate the space," says the designer. Wine racks became color-blocked art-supply storage, an unused wall was turned into a climbing wall, and soft, modular furniture was brought in to allow for (gentle) roughhousing. And yet, the space still feels orderly and refined. After all, says Baker, "they want it to be a room their kids can grow up in." Jealous yet? Read on for the best takeaways from the spaceขand maybe find a little inspiration to create your own fantastic playspace. Happy romping!


Every item has its place.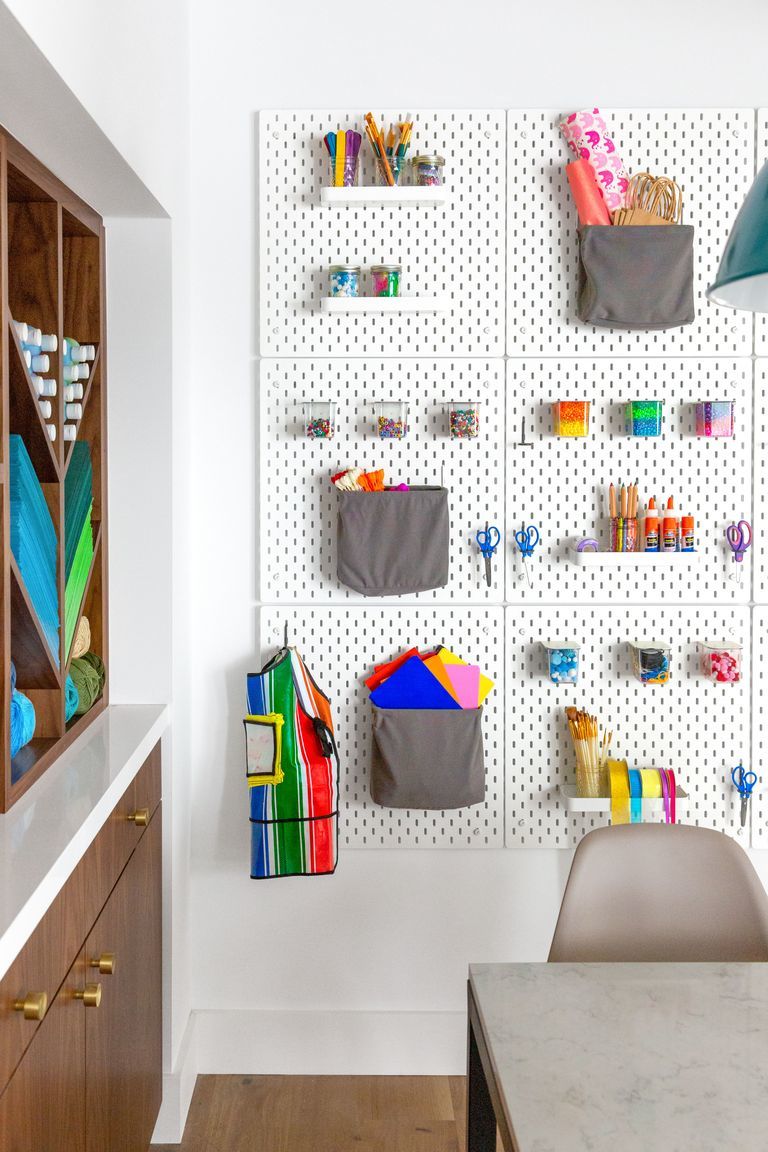 Ikea's SKÅDIS system puts all kinds of art supplies on display. "We're huge fans of organizing," says Baker.

Despite the numerous activities going on in the craft and play spaces, the room is rarely messy (even when it hasn't been styled for a photo shoot). And there's a reason for that: "Having bins teaches kids to pick up after themselves, because everything has its place," says Baker. Storage baskets from the Container Store encourage neatness, while utensil holders on the IKEA SKÅDIS pegboard make it easy to return art supplies to their proper places, teaching kids good behavior while keeping the room spic and span.


Organization can be decor.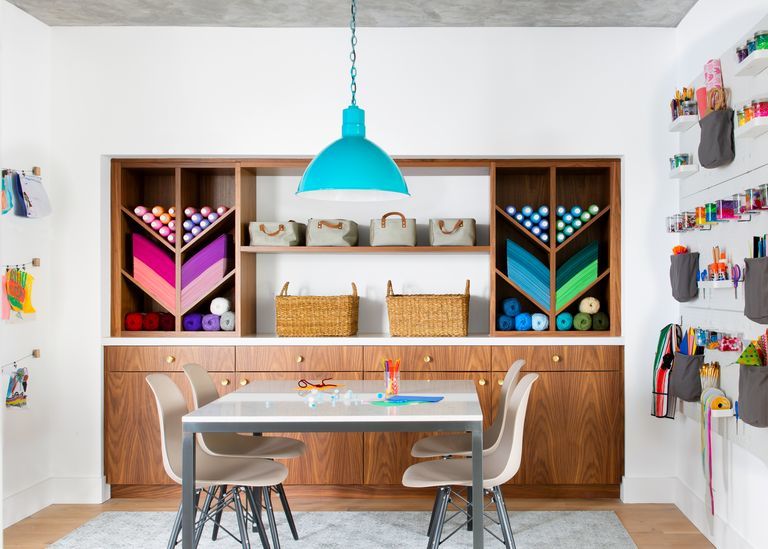 To take that idea one step further, well-organized supplies can even become part of the decor. Take, for example, the color-blocked tilted shelves in the onetime wine unitat the ready for craft projects, and a colorful art installation when not in use.


Keep a blank canvas at the ready.

A wall-mounted roll of kraft paper lets kids get creative without parents having to lug out materials, giving kids an added sense of ownership over their art.

Craft paper and art hangers on the wall near the craft space.


Display art proudly (and easily).

Wire art hangers give proper recogni­tion to mini masterpieces, which can be switched up easilyขkiddos can even hang their own.


Create a crash pad.

Plush furniture in the more active side of the space (like a low, modular sofa from BoConcept and floor cushions from Urban Outfitters) keeps rambunctious toddlers safe, while a restrained palette elevates the overall look.


A climbing wall isn't as complex as it seems.

A climbing wall, like the one Baker created, isn't too hard to create, despite having the effect of an adventure park attraction. Baker installed a plywood backboard (to withstand kicks, scratches, and grip adjustments) then installed grips, which can be unscrewed and rearranged as kids growขor become too adroit with one layout. For safety purposes, be sure to read all grip instructions carefullyขand, unless you're a top-level DIYer, best to play it safe and have a contractor install your wall.


Try a rope wall.

Baker worked with specialists at Jammar to create a custom rope wall, which her contractor installed above the ceiling to avoid the look of anchors. You can also opt for a Swing-N-Slide for a ready-to-use option.


Yoga accessory = kids' dream swing

Baker bought the kind of fabric swing used for aerial yoga, shibori-dyed it, and had it TRX-secured, creating an indoor swing kids of all ages will love.