From timeless whiteware to earthy ceramics, elegant china to modern melamine, what you lay down on your table makes a statement-and sets the scene. Plus, with the current trend of open kitchen shelving showing no signs of abatement, it's likely to be on display at all times.

"Open shelving has brought more consideration to tableware as part of home decor," says Jono Pandolfi, founder of Jono Pandolfi Designs, a New Jersey–based pottery shop that specializes in creating stripped-down, rustic tableware (his client list reads like a "who's who" of the restaurant world).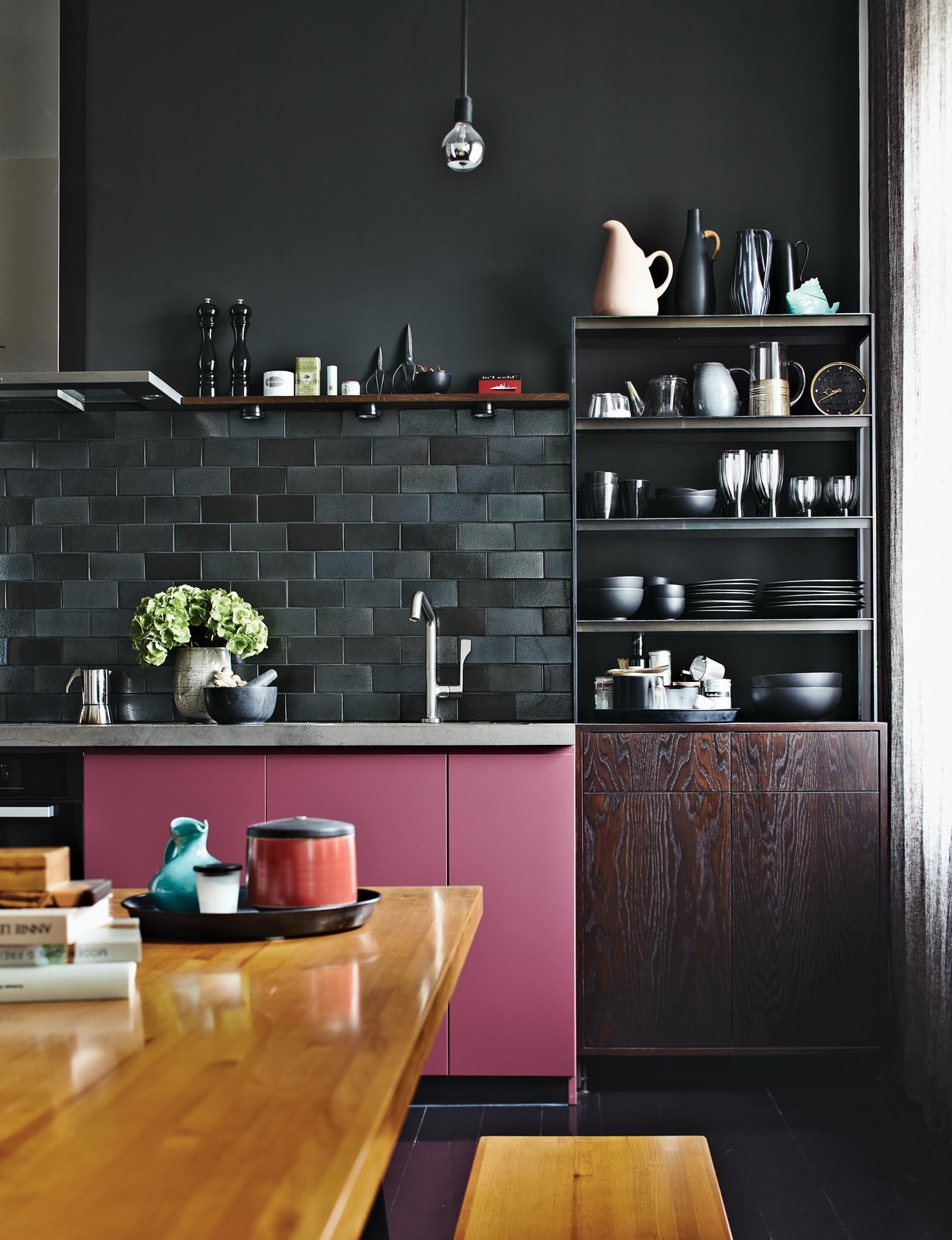 No whiteware here. In this moody apartment in Berlin, multi-toned charcoal gray subway tiles make up the backsplash, which contrasts with the pop of rosy color on the kitchen cabinets.

"Dinnerware with a slightly rustic or handmade quality is popular right now," confirms Ellen Nystrom of Nystrom Design, a San Francisco–based interior design firm. This has prompted a shift toward bolder, more colorful designs, and a move away from the more intricate, fussy look of your grandmother's table.

So, how do you select the perfect place settings for your home, and what should you expect to spend? Nystrom recommends carefully considering your lifestyle and personal style before picking plates. "Since many of our clients desire low-maintenance lives, and have a casual style, I select dinnerware that is not too precious, and easy-to-incorporate replacements as pieces get chipped or broken," she says.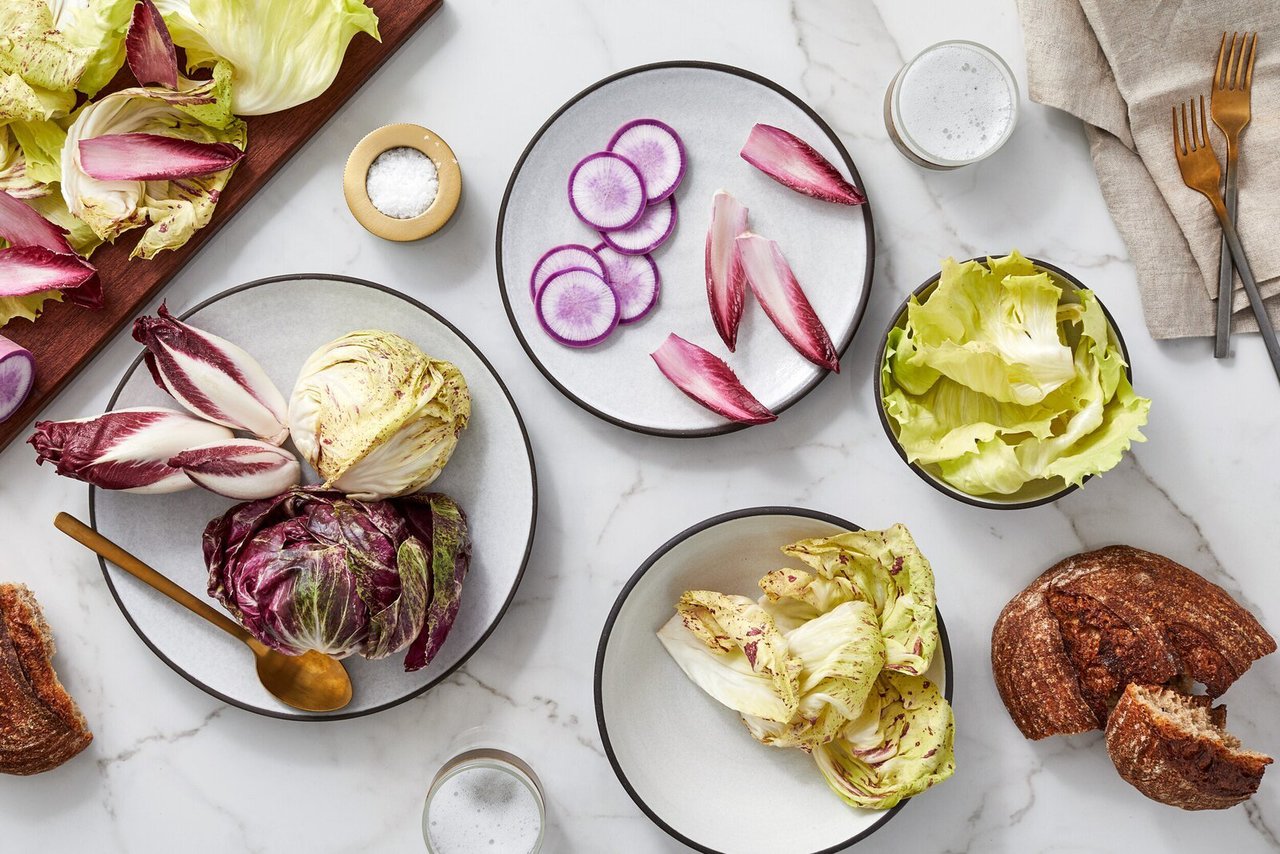 Colorful food on simple, textured plates provides a perfect lunchtime palette.

Also, consider what tone you want to set with your place settings. "Good dinnerware is a luxury that is often overlooked, but it can elevate food, making every meal feel special," says Pandolfi. "It can provide the perfect vessel for something you've spent all day cooking, or add decadence to weeknight takeout."

The price of dinnerware covers a vast range, from $10 to $125 per piece, and even the same per setting. As a best practice, spend as much as you can afford if you want a set that's going to last a lifetime, or consider budget options if you are planning on changing it up with the seasons.
How to Select Dinnerware

Surprisingly, top of mind shouldn't be what look you want, but where you're going to put it. Storage is something to consider when buying dinnerware. Do you have space for multiple sets, or will you need a one-size-serves-all set that can go from cereal to ceviche?

How it's made, and what it's made of, are the next most important features to focus on-but don't get too muddled by material. Essentially, with the exception of glass and melamine dinnerware, most options are ceramic, the basis of which is some form of clay mixed with other materials (the difference is in the ratios and additives).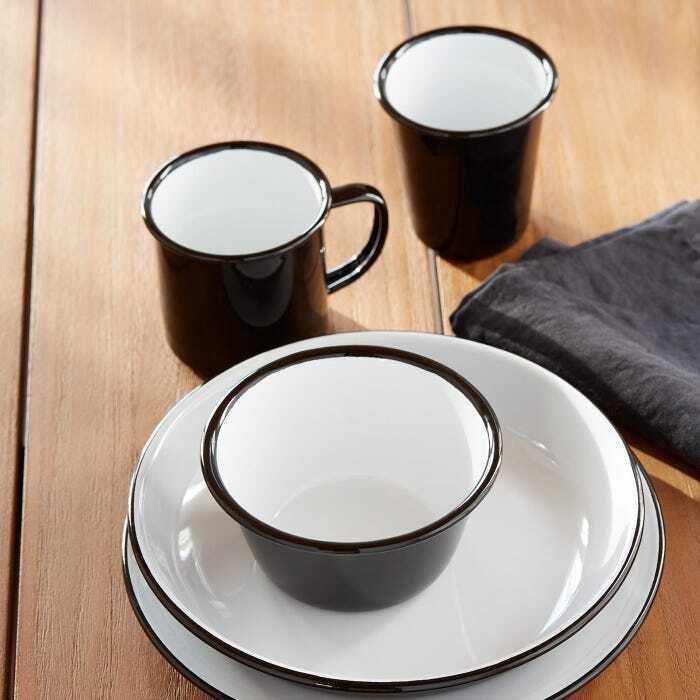 San Francisco–based interior designer Ellen Nystrom likes to select simple, white dinner plates so that the food is the focal point. "I love these Falcon Black enamelware plates from Unison Home because that crisp, black line around the edge adds a subtle graphic element that frames the food," she says. An iconic British material, enamelware features a porcelain enamel coating fused onto heavy-gauge steel, making this material oven-proof, dishwasher-proof, and totally life-proof.

Stoneware is a great option for an all-around choice, as it can easily go from breakfast to dinner, with the more rustic look providing an artisanal, craftsman aesthetic. Porcelain is the most common material you'll come across, incorporating china and bone china-the latter of which is as durable as its name suggests. Porcelain comes in a wide range of price points and has the benefit of being practical, looking good, and holding up well.

Fine china has a slightly different material make-up from porcelain and is more precise and uniform, as well as more delicate and in need of special care, which is why it's largely out of style in the modern world.

Of course, durability is everything nowadays. "As a designer, I think about that first, and everything else second," says Pandolfi. "If a product isn't durable, you're likely to replace it far more frequently, and that has a considerable impact on the environment." The more substantial a piece is, the hardier it will be. Always look for dishwasher-safe options for everyday tableware.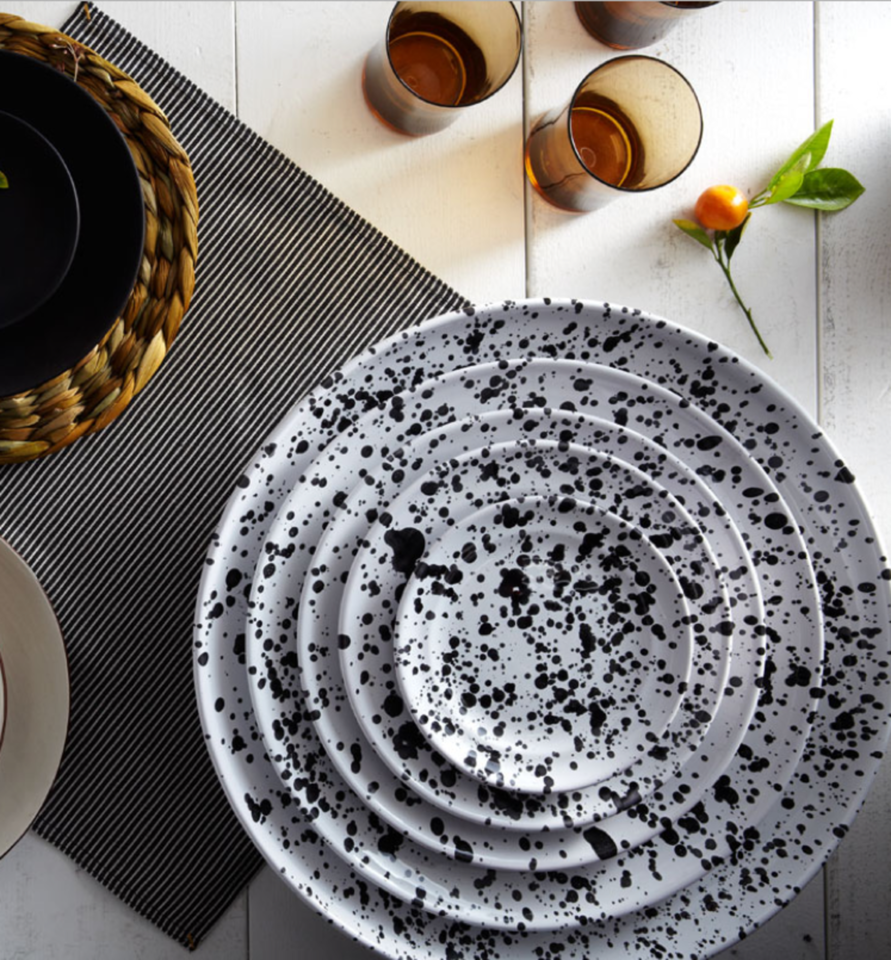 The painterly motif on the Black on White Splatterware from March (marchsf.com) is a little bit Jackson Pollock. The glazed earthenware pieces, which range from $35 to $60, are made in the Pugliese region of Italy and are dishwasher safe at low

Selecting a style is relatively simple, and will be dictated largely by use case. For a more casual set, choose a modern silhouette with a wide rim and a bit more substance. For something more on the elegant side of things, a narrow rim with some sort of detail will elevate the look.

While choosing your china pattern used to be a rite of passage, patterns are rather passé in today's tableware world. Not to say you can't find lots of fun and colorful styles out there, but decorated sets can get dated, warns Nystrom. "A simple, white palette will last a lifetime and provides a neutral canvas for showcasing food," she advises. "I like to buy dinnerware in neutral colors with clean lines that will be easy to mix with more unique and collected linens and serving dishes."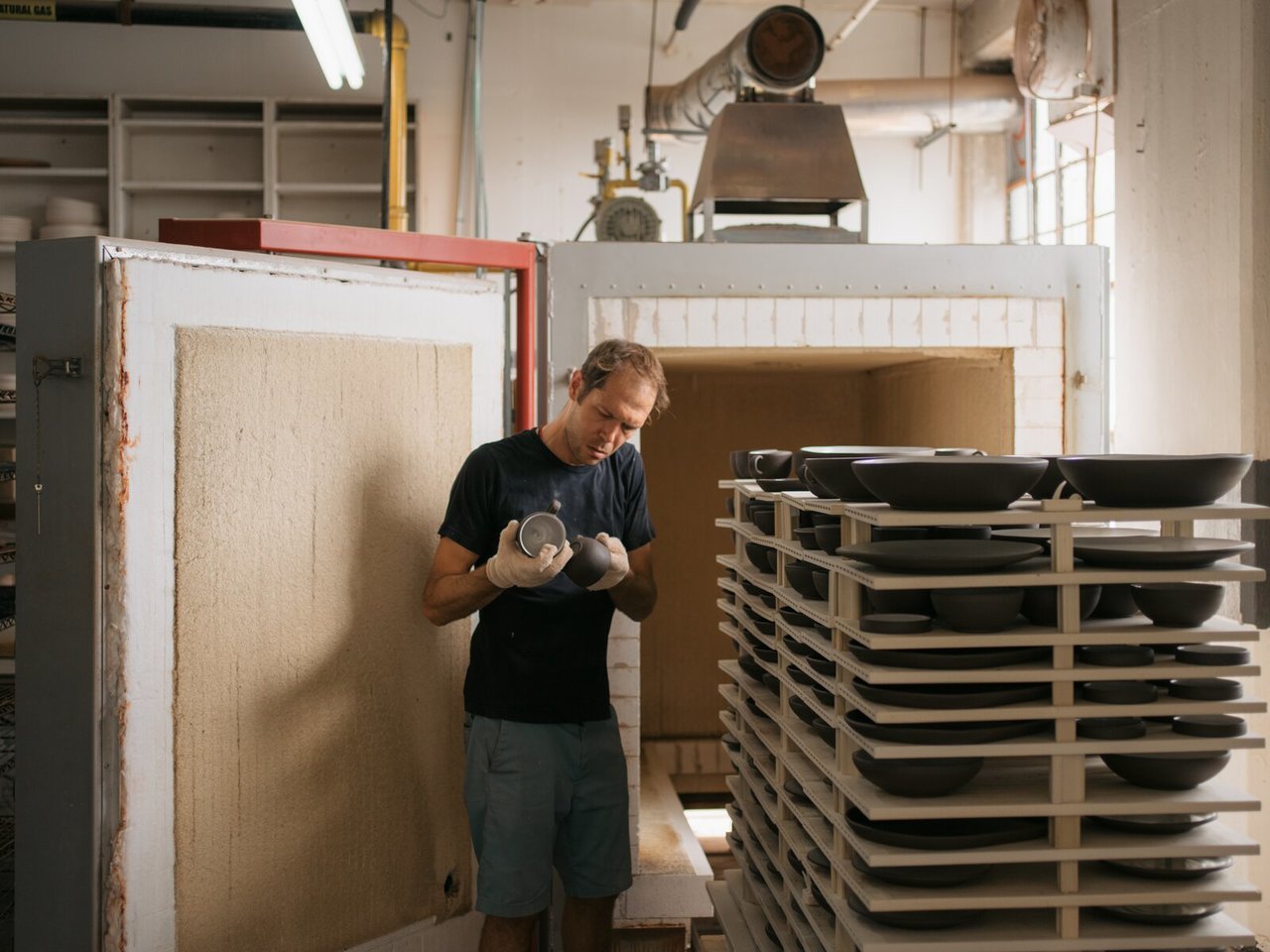 Jono Pandolfi in his Union City, New Jersey, studio where he uses processes such as throwing, casting, handbuilding, pressing, and jiggering to create his signature dinnerware. "Jiggering is kind of our specialty; it's basically a process where you have a mold that fits onto the potter's wheel, and clay is placed into that," he says. "As that spins, a heavy-duty arm swings down with a template attached that corresponds to the cavity in the mold. It cuts away all the excess clay as it turns, and the plate takes shape. From there it dries, comes out of the mold, has its rim trimmed, and is eventually fired two times."

On the flip side, if white is too "blah" for you, delve into the world of earthenware for something with a bit more substance. "Stoneware, in general, is a trend, as opposed to bone china, porcelain, and all the white products that were once the standard options," says Pandolfi. Another non-traditional route is playing with shapes: From oval to square to other geometric options, Pandolfi recommends experimenting with a few different ones to see what resonates with your style.
Do You Need a Full Dinnerware Set?

Traditionally, dinnerware is sold in full sets containing pieces like sugar bowls and gravy boats, but modern options are more flexible. Today it's more common to choose open-stock tableware, where you can piece together your own sets and get exactly what you need.

This also makes it easier to fill in the blanks in case of breakages down the line. "I always recommend open stock," says Nystrom. "That way you can have all-matching dinner plates, but you have the flexibility. Some families need twice as many cereal bowls as they do dinner plates, and they may never use a teacup and saucer. There's no reason to buy the full set when much of it may never get used." Plus, if you're working within a budget, purchasing individual pieces allow you to build a set over time, says Pandolfi.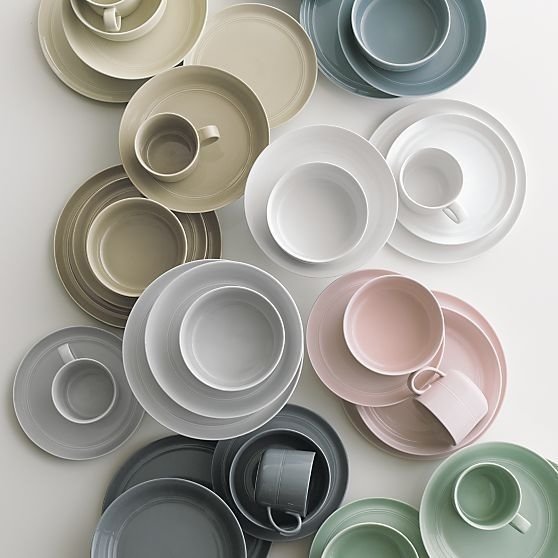 Tableware sets that are open stock, like these from Crate and Barrel, give you the option of building your collection over time.

As a rule of thumb, you need four to six settings for a two-person household, but you'll want 8 to 12 for a family of four or five. A setting commonly includes a dinner plate, salad plate, cereal bowl, and a mug; sometimes a bread-and-butter plate comes in place of a bowl, or a teacup and saucer replace a mug.

If you entertain frequently, you'll want to look for sets that include large serving platters and bowls. And it's worth sourcing sets that include large, shallow soup bowls, which are perfect for salads and pasta too, as well as deep cereal bowls that can do a similar triple duty.


How Much Should You Spend on Dinnerware?

There is tableware for every budget, from clean Scandinavian styles from IKEA for less than $25 a set, to heirloom-quality, handmade pieces from artisans and luxury manufacturers such as Wedgewood and Mikasa.

At the budget end, you can find a four-piece set for less than $30 or four dinner plates for around $35. Nystrom recommends Unison Home and Cost Plus. "Here you can find your basic whites and mix in some fun patterns like the Charcoal and Ivory Alvaro Dinnerware Collection," she says.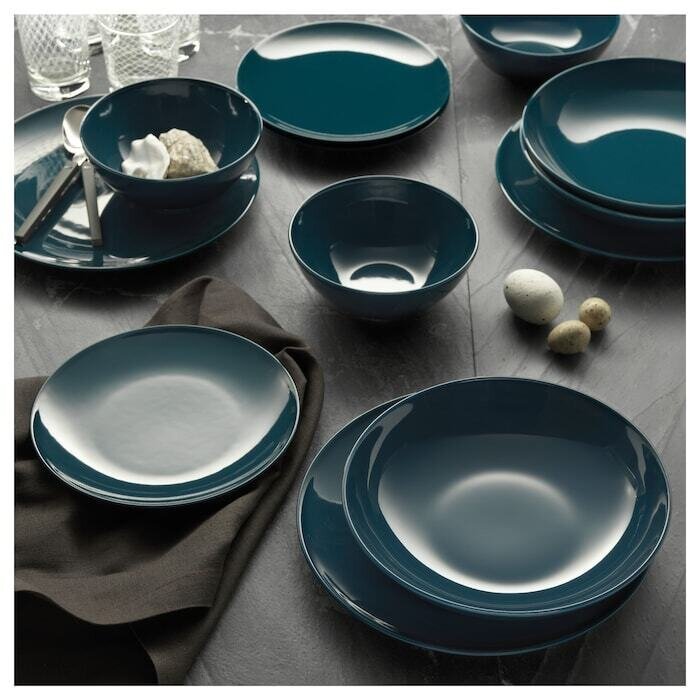 Ikea's FÄRGRIK range of tableware includes a variety of bold solid colors for less than $25 a set.

The mid-range is about $30 to $150 for a four-piece setting and $20 to $35 per dinner plate. Nystrom picks Kate Spade for playful patterns that mix easily, and Pandolfi's handcrafted earthenware collections can be had at the top end of this range.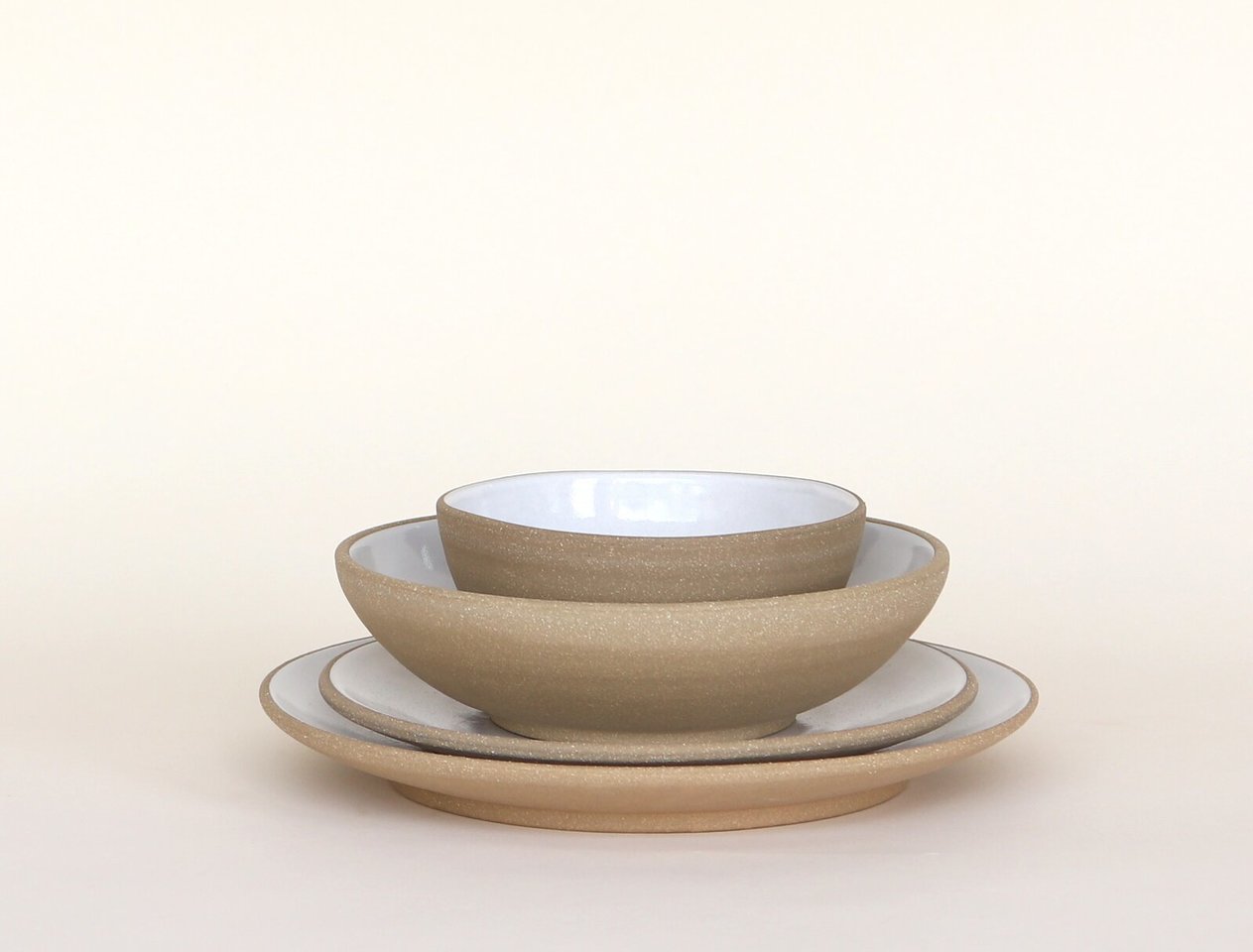 At the high end, expect to spend $150 and up for a four-piece set, or $85 and up per plate. Department stores are still the go-to for choosing fine china, and Nystrom recommends San Francisco's famed Gump's for a wide selection of timeless and elegant designs.

Ultimately, shopping for dinnerware is all about feel, so get your hands on some plates and be sure to pick products that feel good to handle. "Using dinnerware that you really like is a pleasurable experience and will just make your food look better," says Pandolfi.