Tips for Stocking Your Bar

What mixers should be on hand? How about lemons and limes? And don't forget the stemware! Our favorite entertaining bloggers advise on the well-stocked bar cart.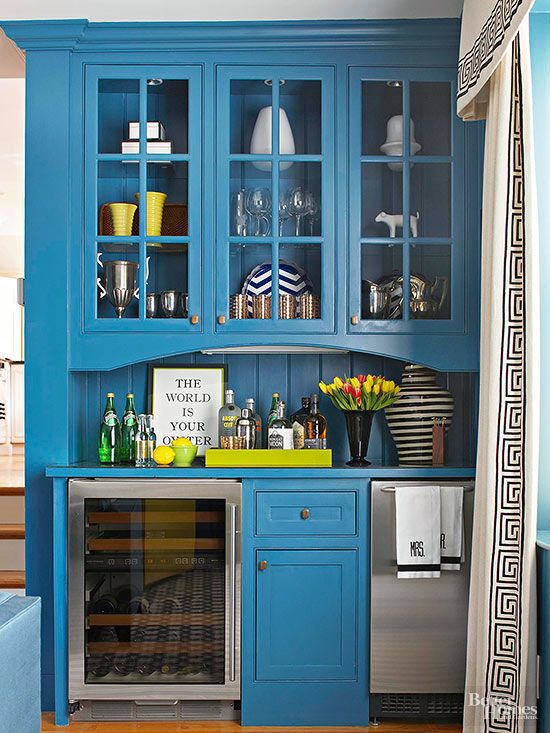 Destination Defined

Guests are sure to find their way to this home bar. Bright blue paint handily differentiates the cocktail center from the adjacent kitchen. Playfully patterned dishware and brightly hued trays partner with two stainless-steel refrigerators to make this a one-stop spot for serving snacks and mixing drinks.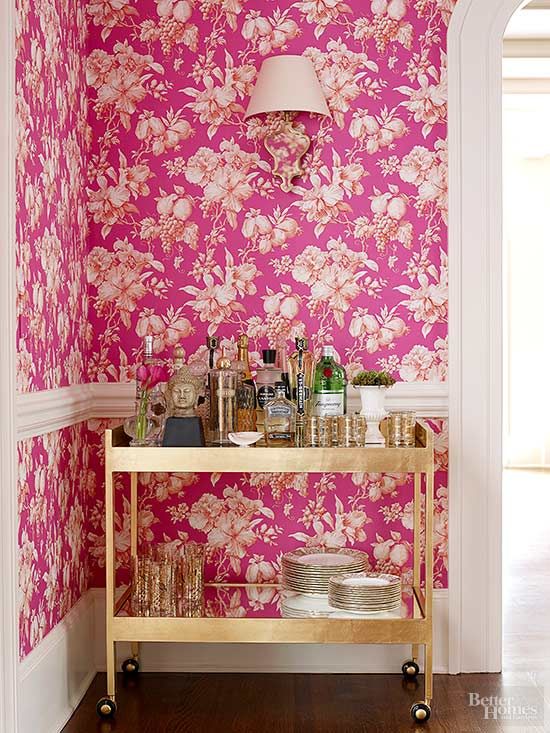 Portable Potables

Setting up a home bar can be as simple as stocking a wheeled bar cart or kitchen cart with liquor, mixers, glassware, and other necessary supplies. Bar carts offer plenty of advantages. They don't take up much room; they supply stylish profiles; and they can be moved from room to room as needed.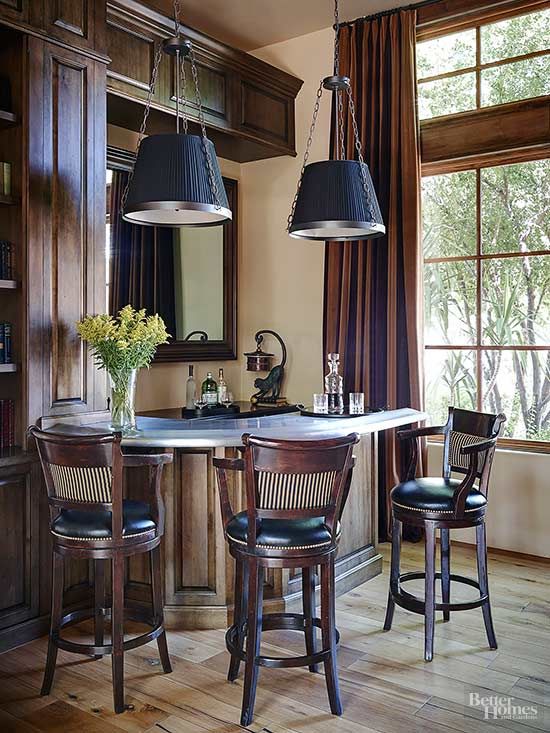 Corner Bar

Extending out from a windowed corner, this handsome home bar takes its cue from the room's British-study leanings and paneled woodwork. A back-bar mirror, strikingly shaded pendant lights, and a white marble bar top draw attention to the drink station, which is outfitted with cozy leather seating.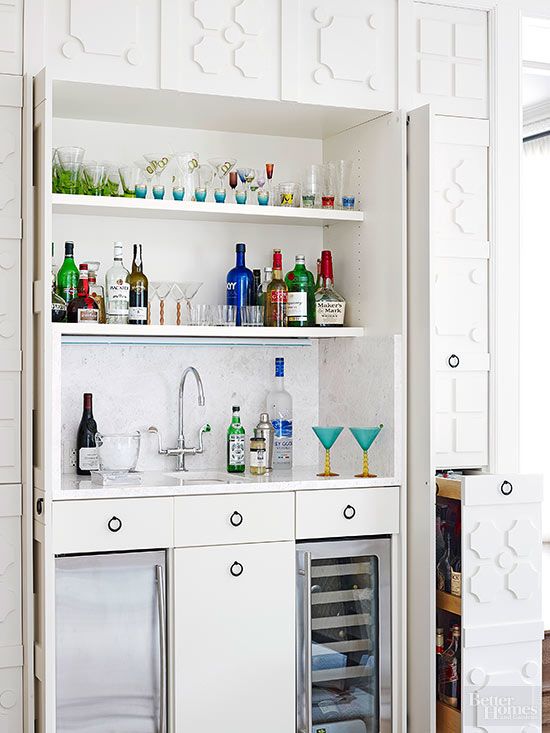 Recreation Station

Retractable doors slide back to reveal this kitchen's entertaining hub; when the party's over, the doors close to put bar functions under wraps. Equipped with a designated wine coolor and an undercounter fridge for holding garnishes, beer, and chilled snacks, this home bar also provides homeowners with a prep sink, easy access to glassware, and gadget storage below. An adjacent pullout pantry keeps chips, paper goods, and extra bar supplies near at hand.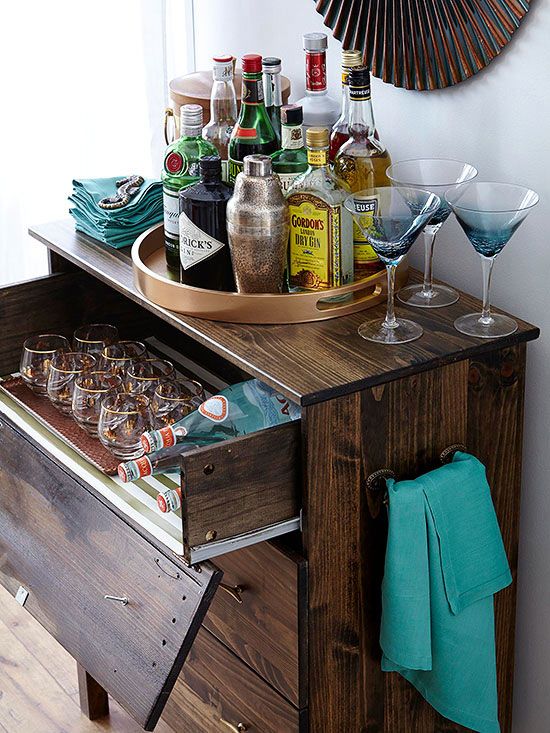 New Purpose

A drawer with a hinged, drop-down front handily converts a chest of drawers into a small home bar. The drawer slides out to act as an easily accessed tray of sorts that holds glassware and extra mixers within easy reach of bar operations arranged on the dresser top.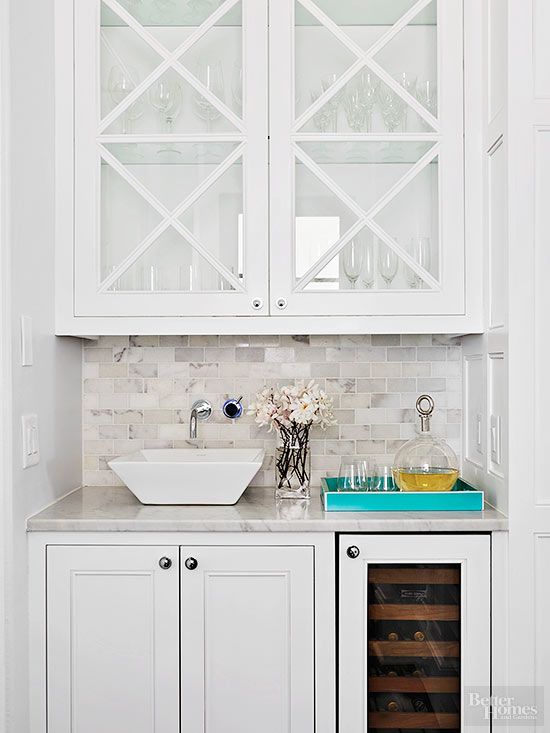 Classic Beauty

This small home bar combines refined forms with hardworking function. The upper cabinets and the marble counter and backsplash provide panache, while a pretty vessel sink and small wine fridge expand the alcove's utility.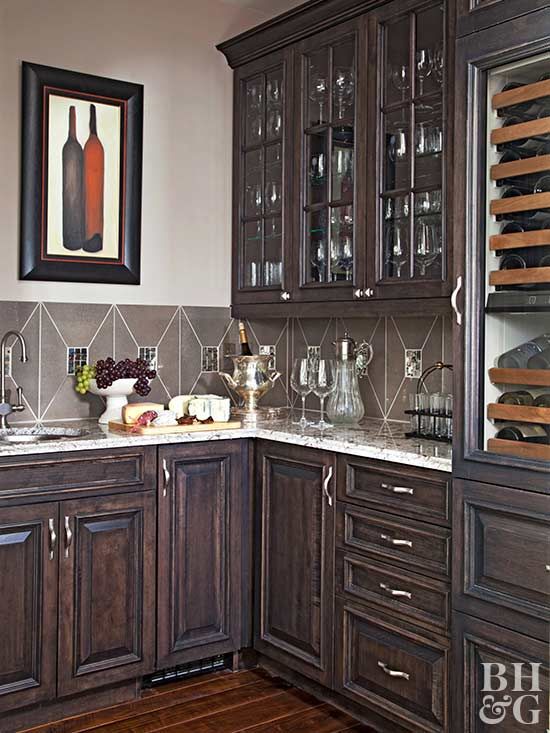 Substantial Statement

Folks will flock to this elegantly appointed home bar that makes the most of a kitchen corner. Arts and Crafts details, custom cabinets, and marble countertops fashion a sophisticated stage for displaying heirloom barware, serving fine wines, and blending fancy cocktails.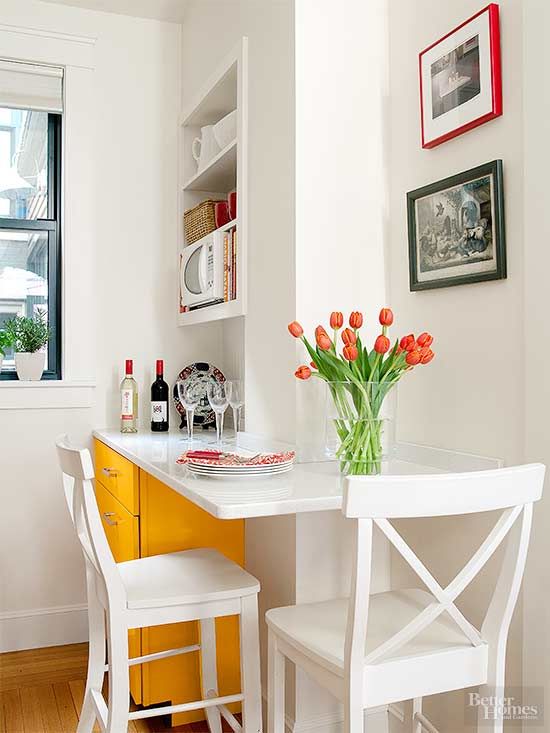 Dual Purpose

A small home bar setup makes the most of a stretch of countertop near this kitchen's microwave and eating area. It tucks into the corner until a party's on tap; then, bartending functions and drink service aligns along the countertop and breakfast bar.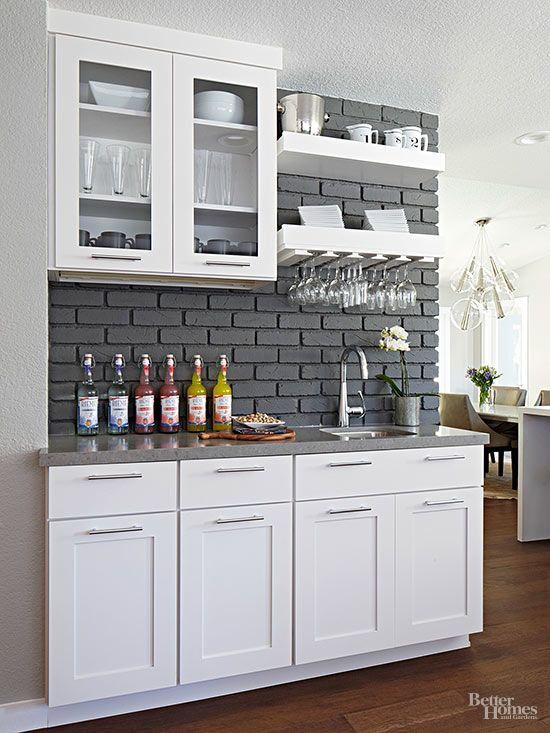 Location Matters

Do like these space-savvy homeowners did: Place your home bar setup outside the kitchen's work core. Guests can serve themselves without intruding in the chef's territory. When possible, include cabinets, counter space, and a sink in your home bar design so you will have everything you need in one spot. Locate the bar between the kitchen and dining area, sitting room, or other space where guests are most likely to gather.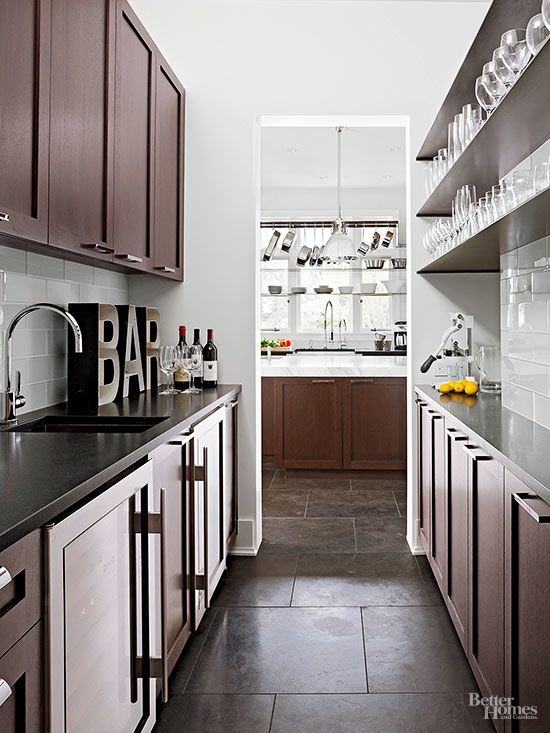 Cocktail Time

Oversize letters spelling out bar direct guests to this spacious home bar. The galley-style butler's pantry puts storage and surfaces on two sides of an aisle that connects to the kitchen. On the right side, shelves rise above shallow cabinets to provide custom storage for glassware and smaller bar accessories. The opposite wall accommodates two refrigerators, a sink, deep countertops, and a bounty of cabinets.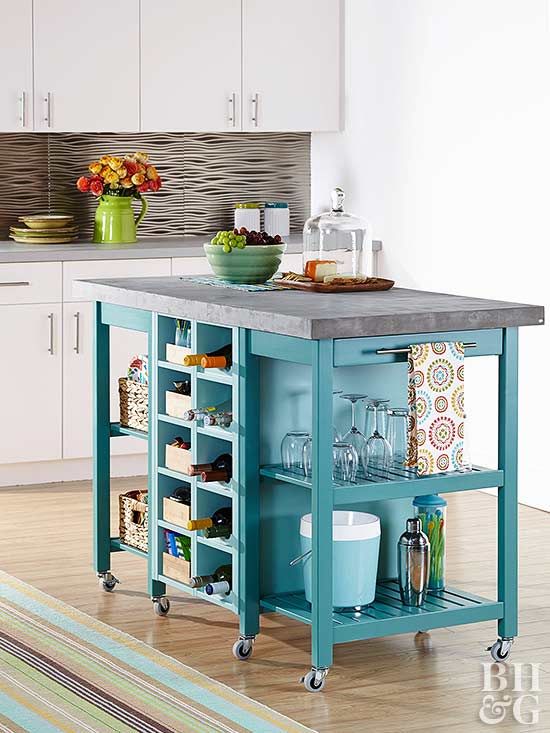 On the Move

Operating as a movable kitchen island and home bar, a vibrant, zinc-top rolling cart makes a splash wherever it's used. Cubbies and shelves corral wine bottles and barware, while baskets and bins organize jiggers, juicers, swizzle sticks, and paper umbrellas.