As the City of Seattle continues to experience explosive growth-and displacement that goes along with it-a disused snippet of land on a major thoroughfare in the Central District neighborhood has become a proving ground for the potential of community-driven design. Atop the small plot is now a micro structure, a neon sign proudly announcing the new location of a significant gathering space within the city: Estelita's Library.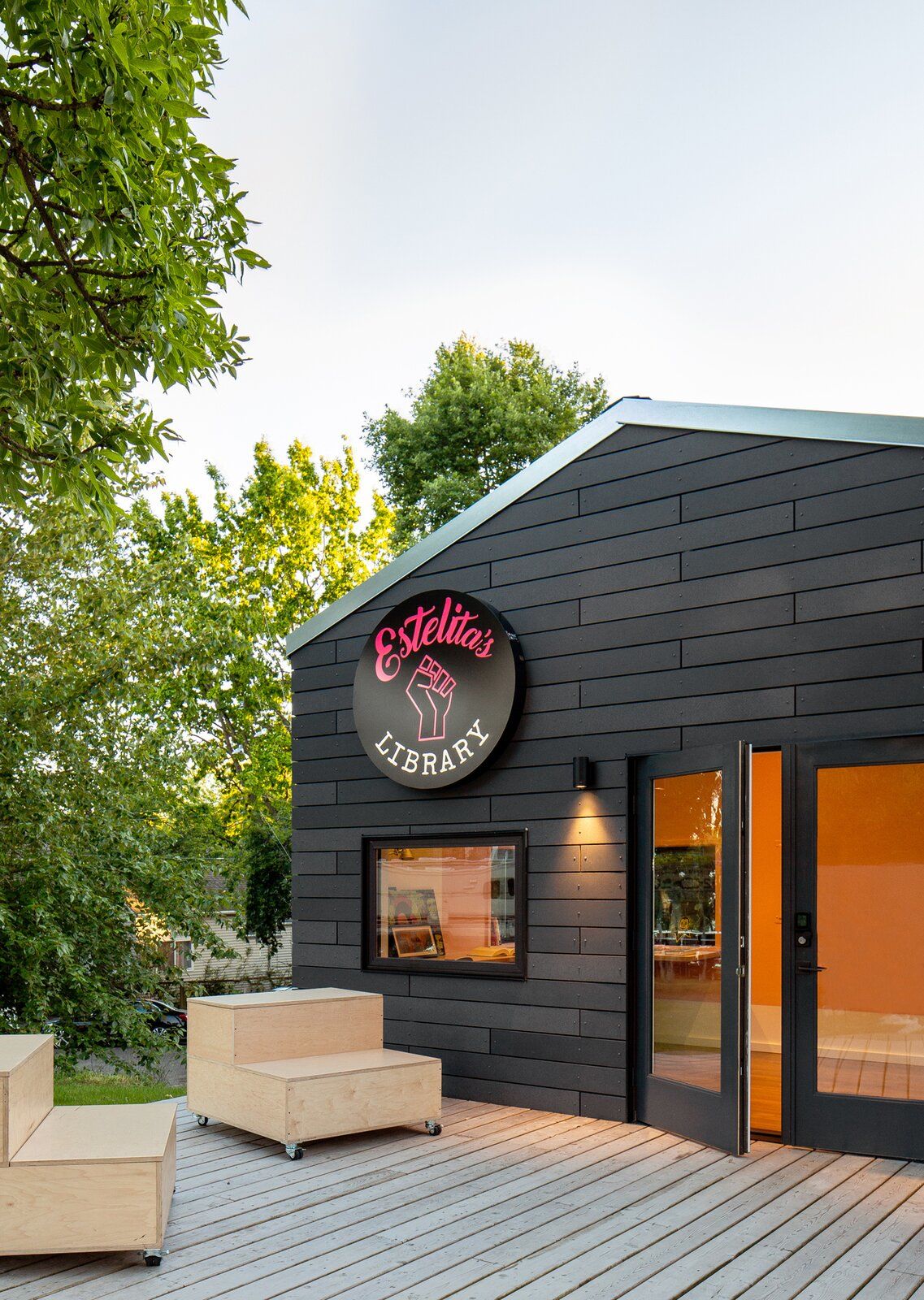 Estelita's Library is a new micro community space in Seattle that doubles as a social justice-focused bookstore and library. The project was designed and built by local high school students through non-profit Sawhorse Revolution, which pairs students with professional architects and carpenters.

Since being founded in 2018 by Edwin Lindo in Seattle's Beacon Hill neighborhood, the justice-focused library has provided free access to more than 1,500 books-a catalogue that features works by Audre Lorde, Malcolm X, and Howard Zinn, along with Lindo's collection of Black Panther newspapers, one of the largest in the country.

After Lindo learned their building was slated for demolition to make way for high-rise apartments, he partnered with Tiny Cultural Spaces, a pioneering City program launched in 2018 that matches deserving cultural groups with unused, city-owned land.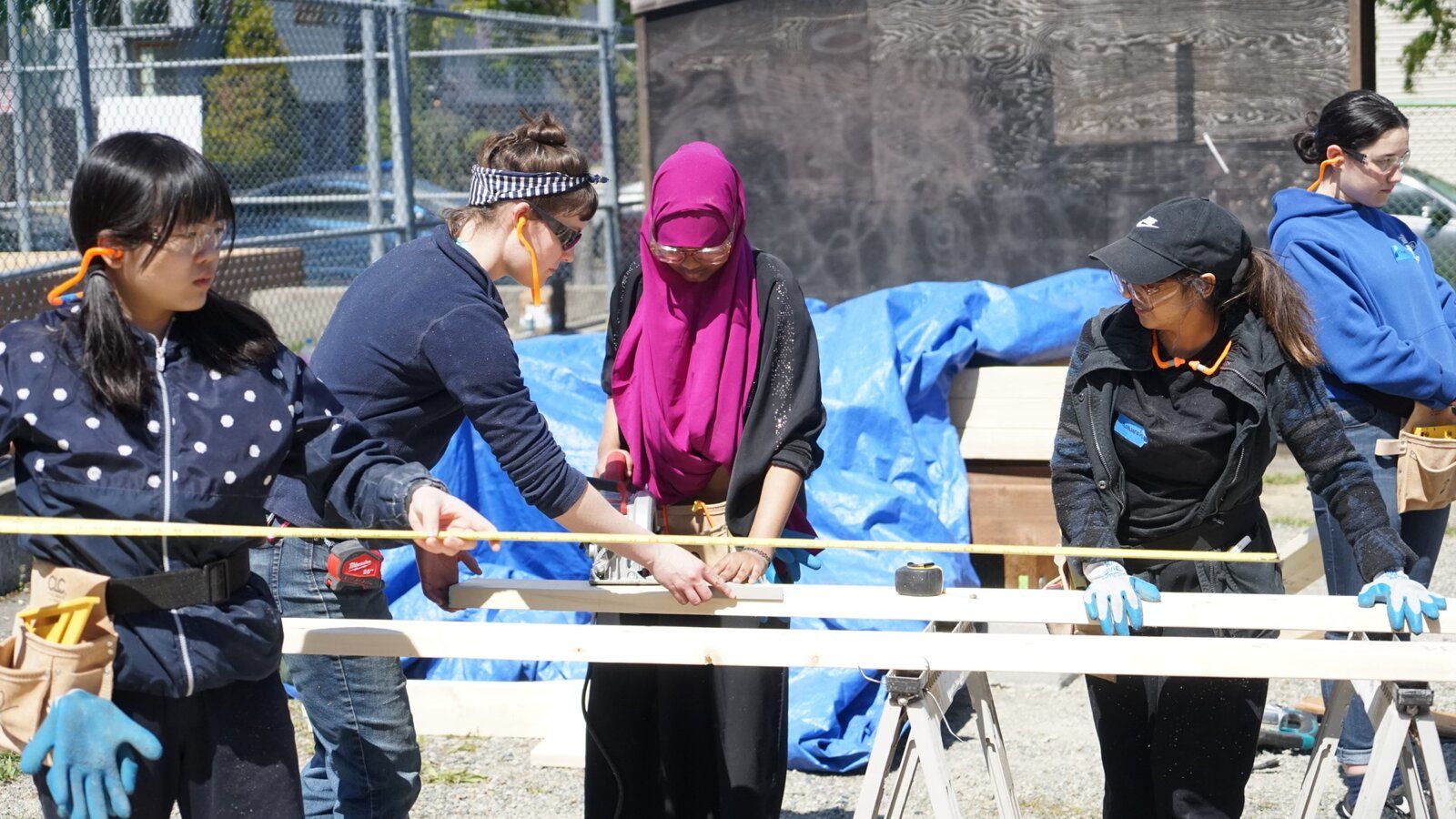 Sawhorse Revolution students designed the space with professional mentorship from Olson Kundig, and then built the structure from the ground up to pass structural review. "At the core of our work is the idea that youth can and should have a hand in shaping their own neighborhoods," says Sawhorse"s executive director, Sarah Smith.




Estelita's Library was part of Sawhorse's all-womxn's program, meaning that all participants including mentors, students, and volunteers identified as women. Two-thirds of the students were youths of color and three-fourths were from low-income backgrounds. "We truly believe in experiential learning and engaging students in the landscape of their community," says Smith.

"The program takes invisible and overlooked municipal liabilities and turns them into living, thriving community assets," says Matthew Richter, the City of Seattle's cultural space liaison. "There was something about Estelita's scale of vision that fit this tiny space in a natural way. They are an organization absolutely hungry to connect to community."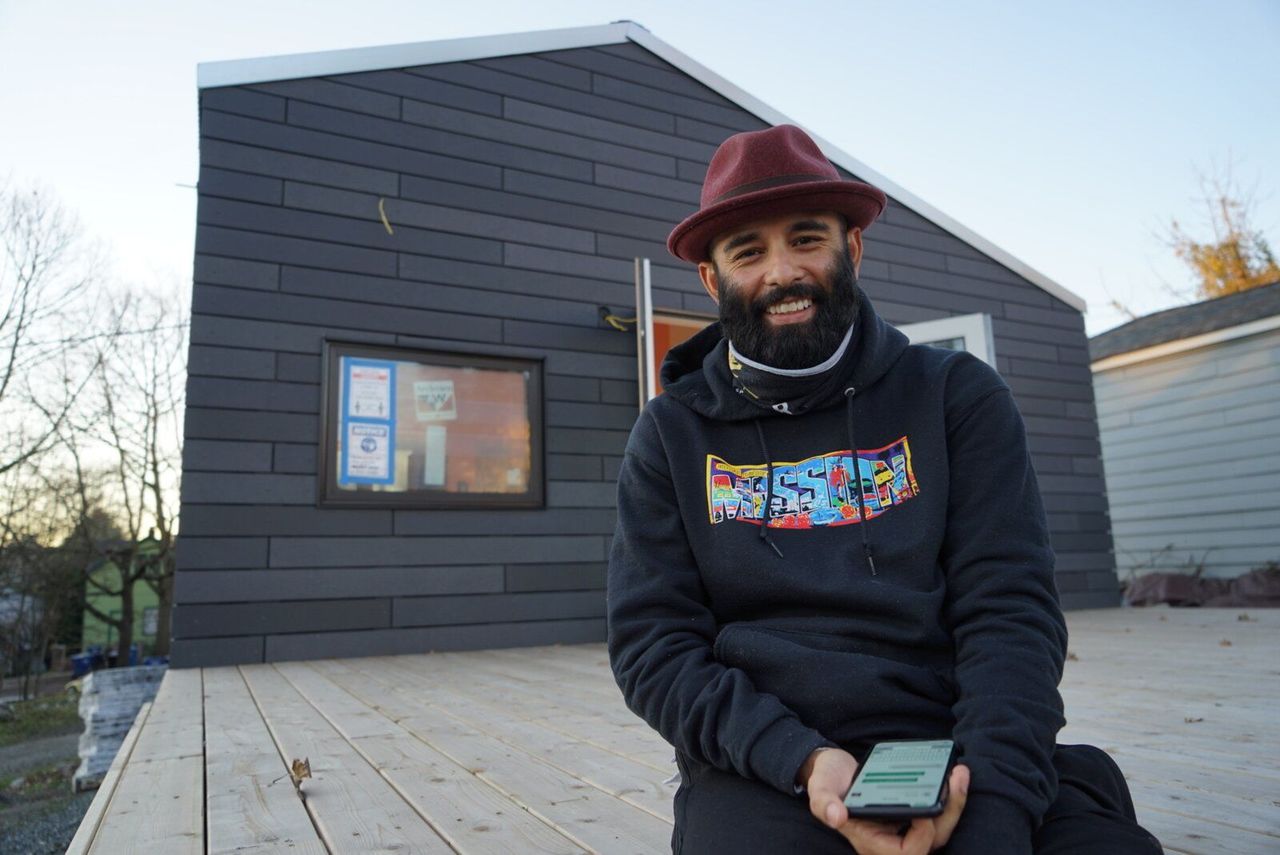 Edwin Lindo, founder of Estelita's Library, sits in front of the 225-square-foot space in Seattle's Central District neighborhood. Labor and materials were donated for the construction of the library by local companies, including Rieder Facades, who donated the Oko glass fiber siding with a custom color.

Estelita's new space is a 225-square-foot, saltbox-roofed structure designed and built by Sawhorse Revolution-a local non-profit that teaches high school students architecture and carpentry with hands-on community projects.

"We strive to team youth furthest from educational justice with professional carpenters and architects so they can build for their own neighborhoods," says Sawhorse's executive director, Sarah Smith, who partnered with architect Olson Kundig and three other local builders to lead 20 young people.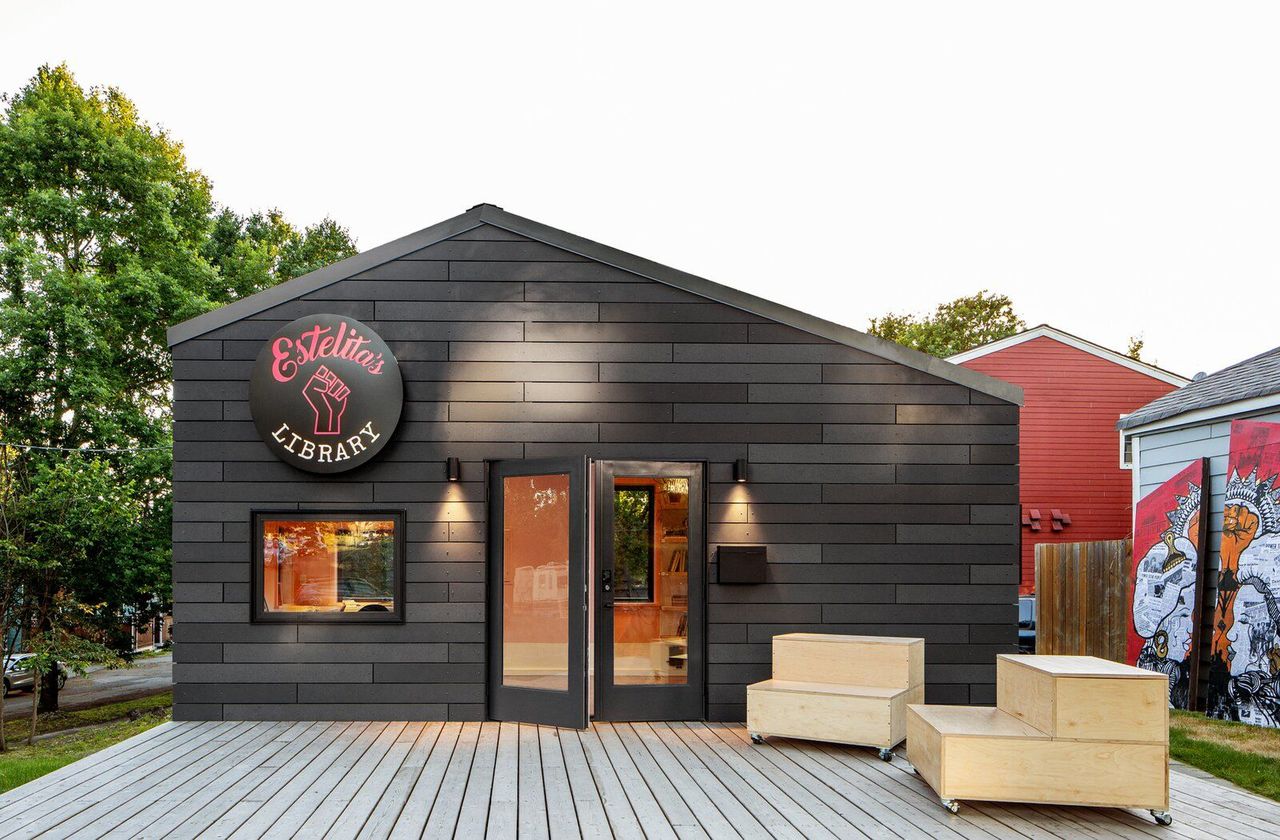 Estelita's Library is the first recipient of a new program launched in 2018 by Seattle's Office of Arts & Culture called Tiny Cultural Spaces. The program pairs worthy cultural organizations with tiny snippets of unused City-owned land. "The purpose is to beautify the city, and radically empower arts and cultural organizations with the gift of property ownership," says Smith.

"For Estelita's, the students' core idea was to create a space that was welcoming for all people, and that brought together the activism of the past, present, and future," says Smith of the young design/build team. That translated to a bright, colorful interior that opens via double doors to an adjacent deck, with rolling bleacher storage benches that can move seamlessly from inside out.

Inside are built-in desks on one end and U-shaped bookshelves lining the opposing walls. Outside, a 330-square-foot cedar deck serves as multi-purpose gathering and event space, visually linking Estelita's to the surrounding neighborhood. "The library can open up for a public lecture, reading, or whatever the community wants," says Smith. "Our goal was to design the most generous communal space."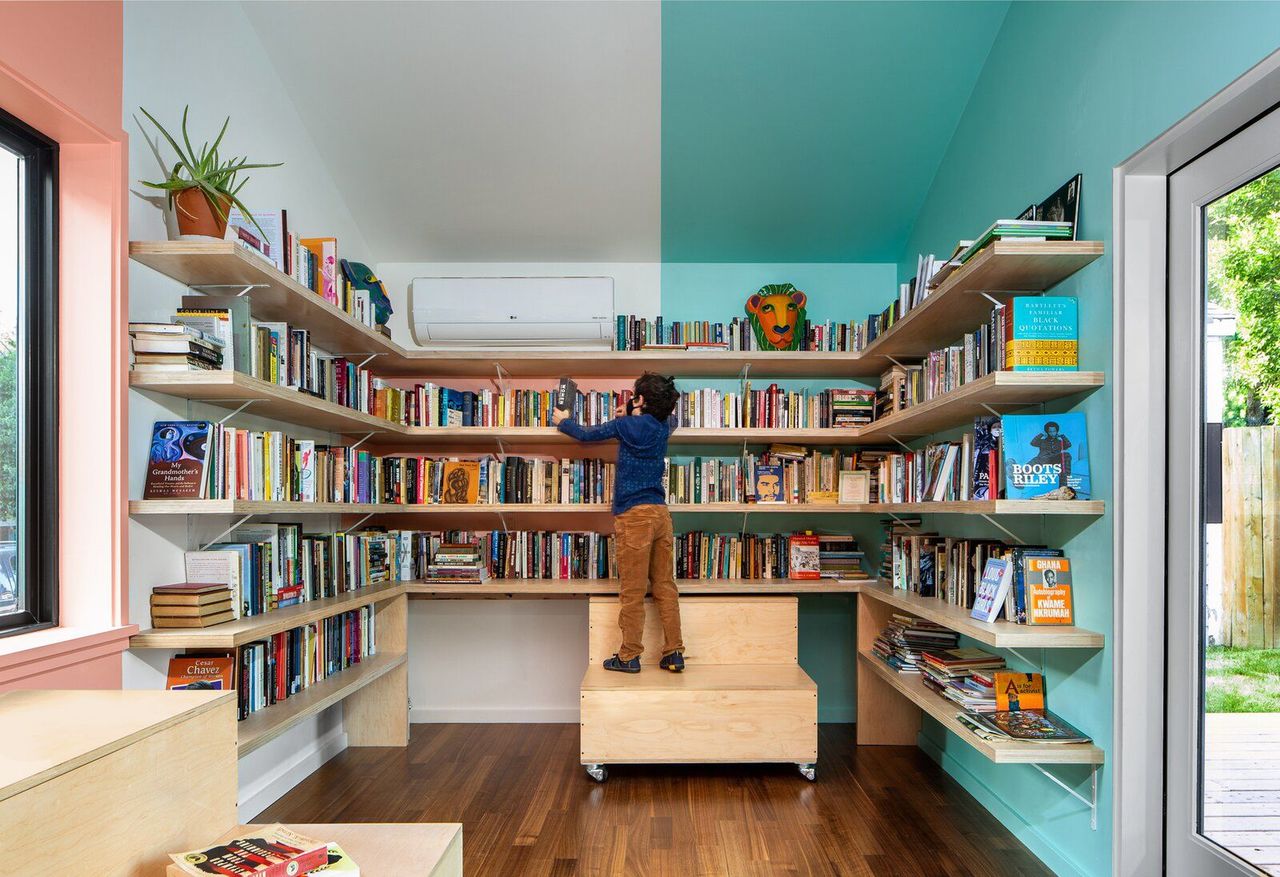 A colorful pastel palette and warm walnut floors help make Estelita's Library kid-friendly and welcoming to all community members. Rolling, bleacher-style seating doubles as storage and can move to the outdoor deck for events and gatherings.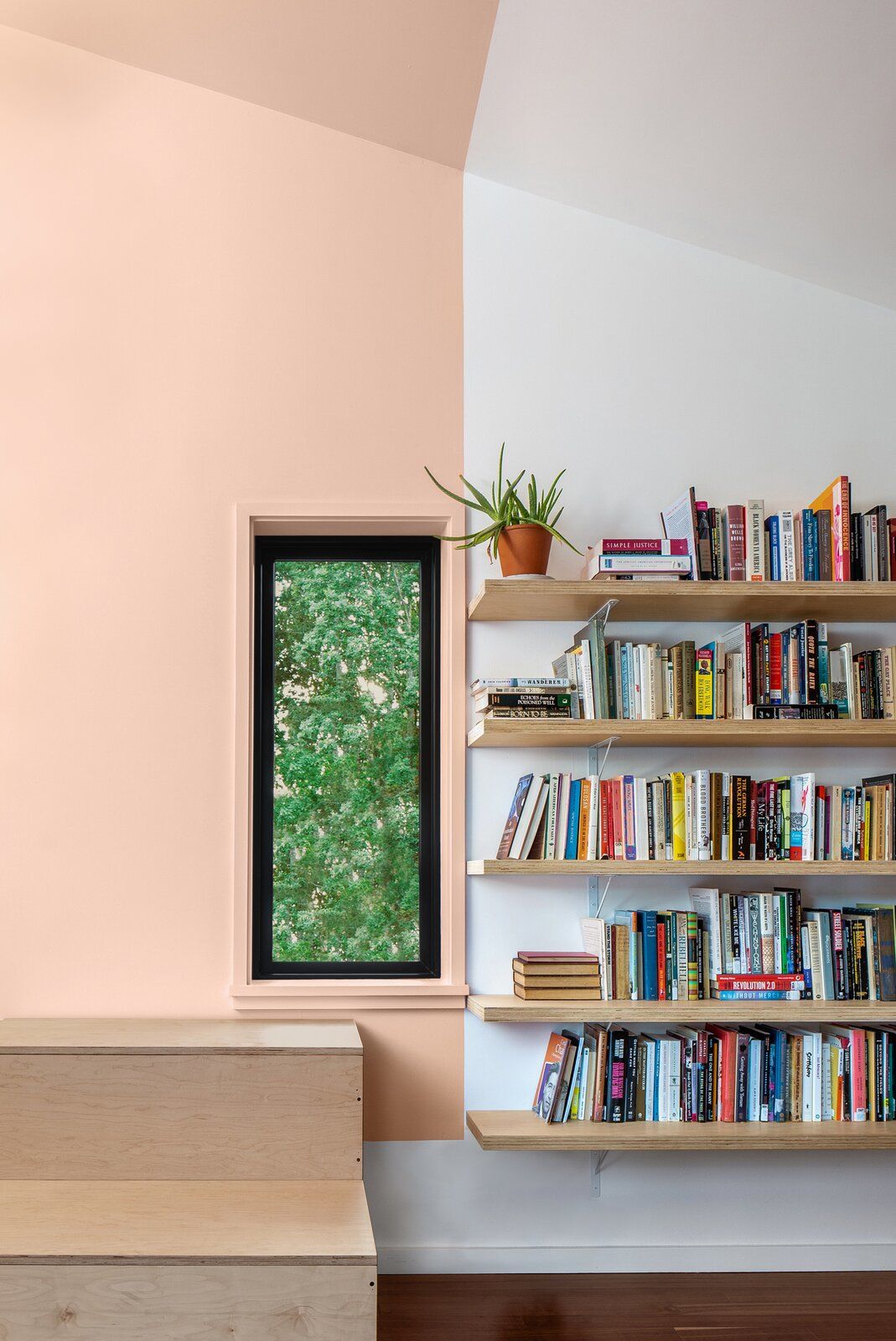 Estelita's Library houses a collection of over 1,500 books, and founder Edwin Lindo's collection of Black Panther newspapers, which is one of the largest in the country. For Lindo, the books are a catalyst for community conversations and dialogue. "The goal is for you to start thinking about worlds that seem impossible," he says.

Unlike most libraries, Estelita's was always meant to encourage out-loud thinking. "Our goal was to be a complement and ancillary to [the Seattle Public Library]," says Lindo. Named for his daughter Estella, Lindo envisioned Estelita's as a place for transformative dialogue around topics like race, poverty, and activism. "What Estelita's tries to do is give us space to think critically and to think with freedom," he says.




Adjacent to the bookshelves is a built-in desk area, with moveable chairs and low windows that help increase accessibility.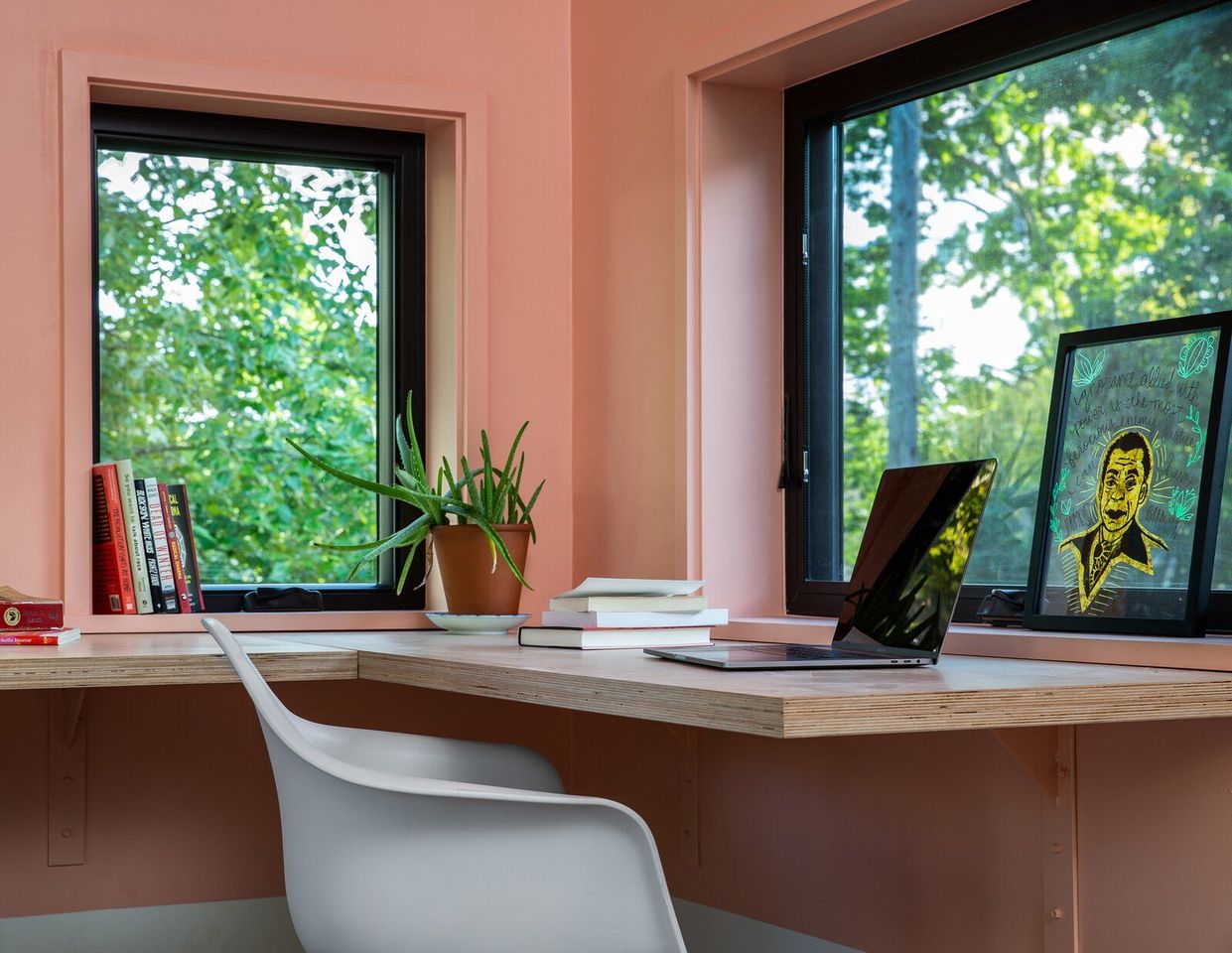 For Seattle, Estelita's is a hint of things to come. The city's Office of Arts & Culture is planning to issue a second call for Tiny Cultural Space projects in Fall 2021, with intentions to develop it into an annual program. "Arts and culture generally punches way above its weight," says Richter. "With Estelita's, you're talking about a 225-square-foot space that's going to redefine the neighborhood."

Smith agrees: "Perhaps more than any other project, Estelita's has taught our students how creative design and construction projects can change your perspective, and your community."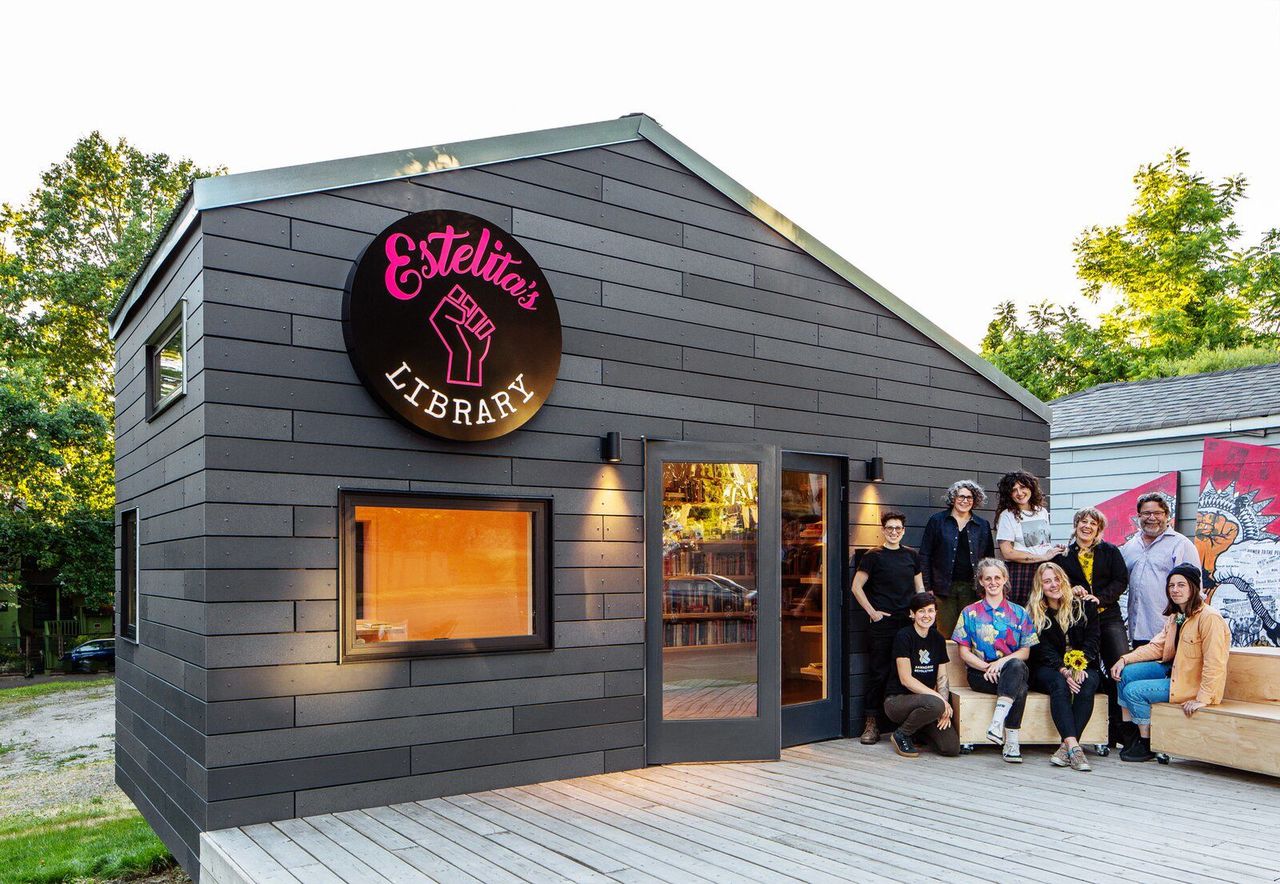 Sarah Smith of Sawhorse Revolution sits in front of Estelita's with Sawhorse Revolution volunteers and representatives from Seattle's Office of Arts & Culture. "One thing we've found in the last decade of this cultural-space work is that it's not just about the length of your lease or the scale of your occupancy costs, it's about gaining a sense of agency," says Matthew Richter, the Seattle's cultural space liaison.