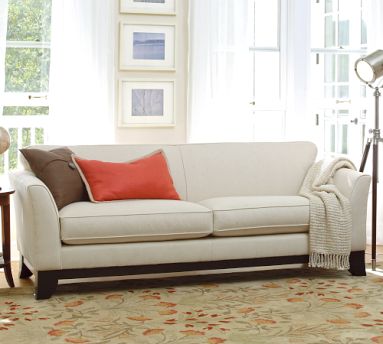 More Colors Available
More Details

* 86" wide x 37" deep x 34" high
* Thickly cushioned arms and back.
* Down-blend-wrapped seat cushions; extra-thick foam core.
* Kiln-dried hardwood frame.
* Espresso-stained solid hardwood rails and feet.
* Care varies depending on fabric type.
* This item can also be customized with your choice of over 89 custom fabrics and colors. For details and pricing on custom fabrics, please call us at 1.800.840.3658 or click Live Help above.
* This is a special-order item and ships directly from the manufacturer. To see fabrics available for Quick Ship and to view our order and return policy, click on the Shipping Info tab above.
* View and compare with other collections at Upholstery Furniture Facts.
* Watch a video about the high quality of our upholstered furniture.
* Watch a video about our exclusive North Carolina Furniture Workshop.
* Crafted by our master upholsterers in North Carolina.


Features
Generously padded with a thick layer of cushioning on the arms and back for extra comfort. Two throw pillows are filled with a plush, hypoallergenic blend of fiber, feather and down.
Seat cushions have a highly resilient 5-inch-thick foam core that is wrapped with a hypoallergenic fiber-feather-down blend.
Solid hardwood rails and feet are finished with a rich espresso stain.
Frame is constructed using only kiln-dried hardwood, and is reinforced with mortise-and-tenon joinery and corner blocking for structural integrity.
Eight-gauge sinuous steel springs provide exceptional support.
Available in over 90 upholstery fabrics meticulously selected for beauty, durability and softness.
Expertly crafted by master upholsterers at the Pottery Barn furniture facility in the heart of North Carolina.
Details
Overall: 86" wide x 37" deep x 34" high
Seat: 71" wide x 23" deep x 19" high
Seat Back: 12" high
Diagonal Depth: 31"
Arms: 6" wide x 27" high
Legs (removable): 5" square, 7" high
Seat Cushions: 36" wide x 23" deep x approximately 10" thick
Throw Pillows: 20" wide x 22" high x 6" thick
Weight: 150 pounds
Packaged Weight: 160 pounds
Packaged Dimensions: 95" wide x 42" deep x 38" high
No assembly required.
Replacement Cushions & Slipcovers
When you choose Pottery Barn furniture, you're not just getting exceptional quality; you're also choosing exceptional customer service. Should you ever need to purchase a replacement cushion or slipcover, our associates can place that order for you at any time. For assistance, please call 1.888.779.5176.
Quick Ship on select fabric choices:
everydaysuede™ in Oat
Please allow approximately 6 to 10 weeks for delivery of furniture that does not have quick ship.
General Shipping Information
Quick Ship Delivery
Our Quick Ship delivery means that upholstered furniture orders quickly arrive in the following cities within 7 to 10 business days: On the West Coast, San Francisco and Los Angeles. On the East Coast, New York City, Baltimore, Boston, Dallas, Atlanta, Chicago, Detroit, Columbus, Cromwell, CT, Raleigh/Charlotte, NC, and Tampa/Fort Meyers/Orlando and Miami/Fort Lauderdale, FL. For other metropolitan areas, your furniture will be delivered within 2 to 3 weeks.

Surcharges
Furniture, rugs and other large items are bulky, and can be heavy, so these items have a delivery and processing surcharge; this charge is listed in parentheses after the price and is an additional charge.

In-Home Delivery Service
We are proud of our exclusive In-Home Delivery Service. When indicated, these items are brought into your home, unpacked and assembled, and the packaging is taken away. Delivery is by appointment; Monday - Friday in all areas; Saturday delivery in some areas. In-Home Delivery is available in the contiguous 48 states as well as Maui, Oahu and the Island of Hawaii.


Standard Delivery and Processing Charges
Order Total:
Up to $15.00 = $4.95 charge
$15.01 to $25.00 = $6.00 charge
$25.01 to $45.00 = $8.00 charge
$45.01 to $65.00 = $11.00 charge
$65.01 to $90.00 = $14.00 charge
$90.01 to $125.00 = $17.00 charge
$125.01 to $200.00 = $21.00 charge
$200.01 & over = 10% charge
$3,000.01 & over = 5% charge
Add $4.25 for each gift wrap.
For rush delivery, add $15.00 per address

Return Policy
At Pottery Barn, we take great pride in the quality and craftsmanship of our products. Attention to design, materials, safety and construction is our priority. We carefully inspect your order prior to shipment. Upon receipt, please inspect your purchase and notify us of any damage; we will arrange for a prompt replacement. If, within 7 days for Quick Ship upholstery and 30 days for all other products, you are dissatisfied for any reason, you may return your purchase for a refund of the merchandise value.

We cannot accept returns on monogrammed, personalized, special-order items, or on items damaged through normal wear and tear. We also cannot accept returns of final-sale items which are identified by a price which ends in .99.

For returns of items purchased from your Pottery Barn registry, we will gladly provide a refund or exchange for the merchandise within 90 days of your event or within 90 days of purchase, whichever date is later.

You may return merchandise through the mail for a refund or replacement. For detailed procedures for returning items through the mail, please contact Customer Service at 1.888.779.5176, 7 days a week, 5:00am - 9:00pm (PT).