Green is the dominant paint colour trend for this spring, and we're thrilled. The colour of nature and new life, it's the hopeful, primal colour we all need more of in our lives right now.

The antidote to the seemingly unending Covid winter, green is also a very versatile colour that comes in an impressive variety of shades. Last year, dark forest green was everywhere. This year, green is back fresher and more radiant than ever, in a range of calming new shades.

We've consulted with paint specialists and colour psychologists about the green shades to be in the know about for 2021 and how to use them in your home.


Lower stress levels with a splash of green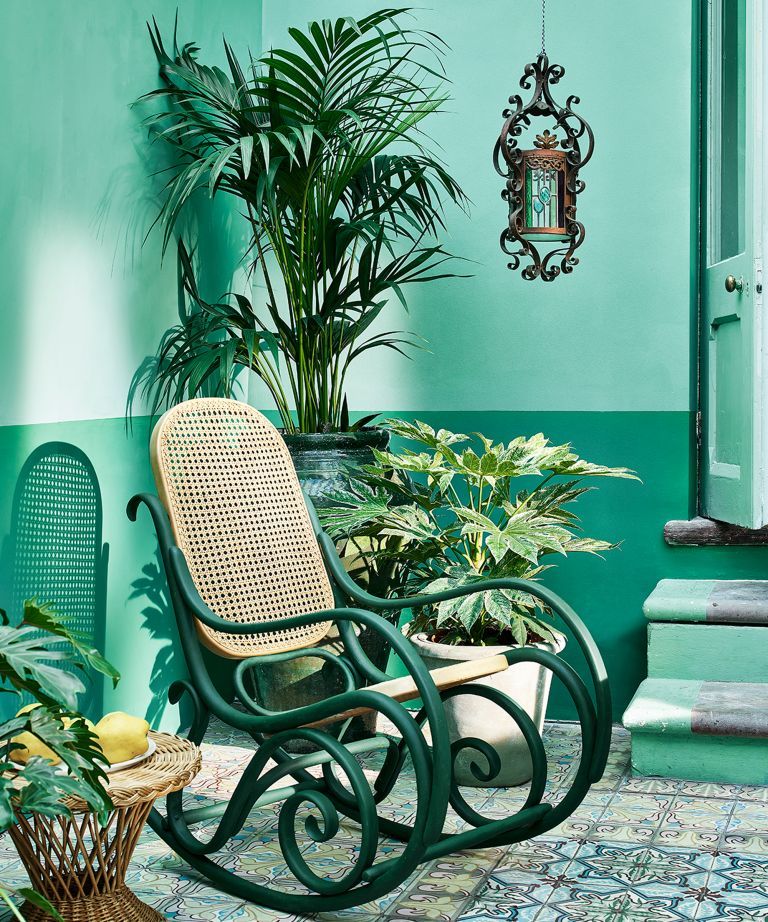 You will hear colour psychologists talk about the calming and soothing properties of the colour green, with cognitive psychologist Hailey van Braam calling green 'the key colour that represents purity, health, and freshness'.

Moreover, there is a solid physiological underpinning to these claims. A 2019 study found that being in a green environment reduces your heart rate. Another study, from 2016, reached even more profound conclusions about the effect of green on human health. It was discovered that being surrounded by green was found to lower stress and even extend our lives.


Emerald and verdigris are the shades for 2021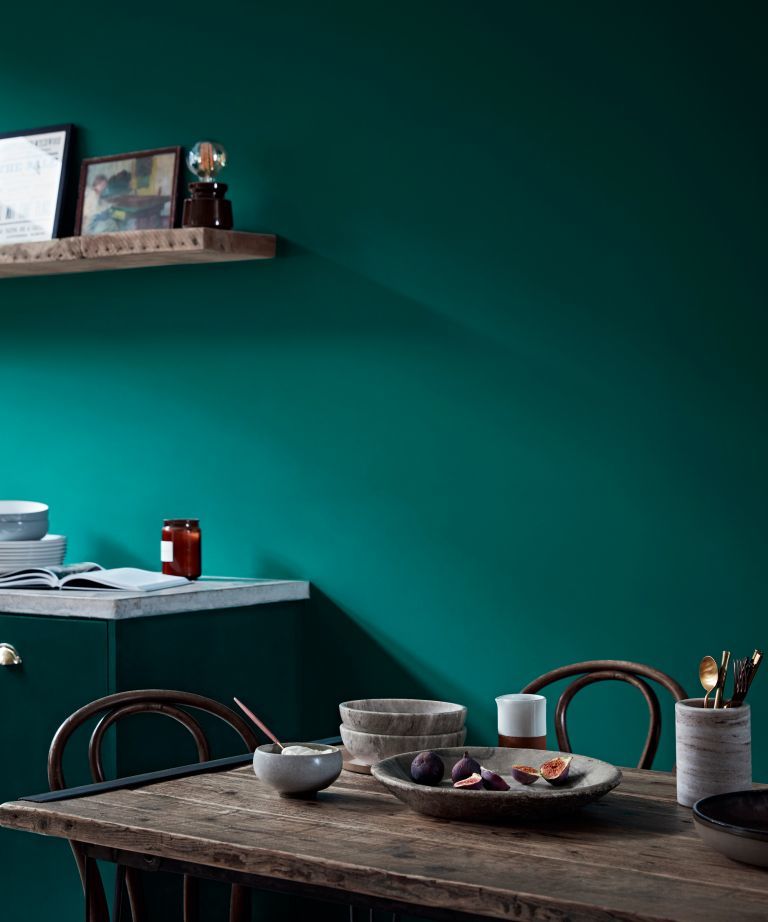 While pre-pandemic greens were dark and warm, this year's green paint shades are vibrant and radiant. Emerald and verdigris tones are the ones to watch this year. These greens have quite a bit of blue in them, which gives them a jewel-like, clear quality.

'Blue-toned greens such as mint and verdigris can look really sleek if combined with lots of white and light woods and simple modern furniture,' explains Judy Smith, Colour Consultant at Crown Paints. 'Keep everything really pared back and bring in the merest touches of soft orange, pale mustard or black in accessories.'

'Greens with a blue base are impactful colours, so introducing softer tones of clay white and chalky grey in furniture and accessories and keeping to a light natural flooring will help to balance a scheme and add a calming quality. For definition, bring in touches of pure white or deep charcoal. For a dramatic effect, try painting a feature wall with a 3D art piece or sculpture to make a statement.'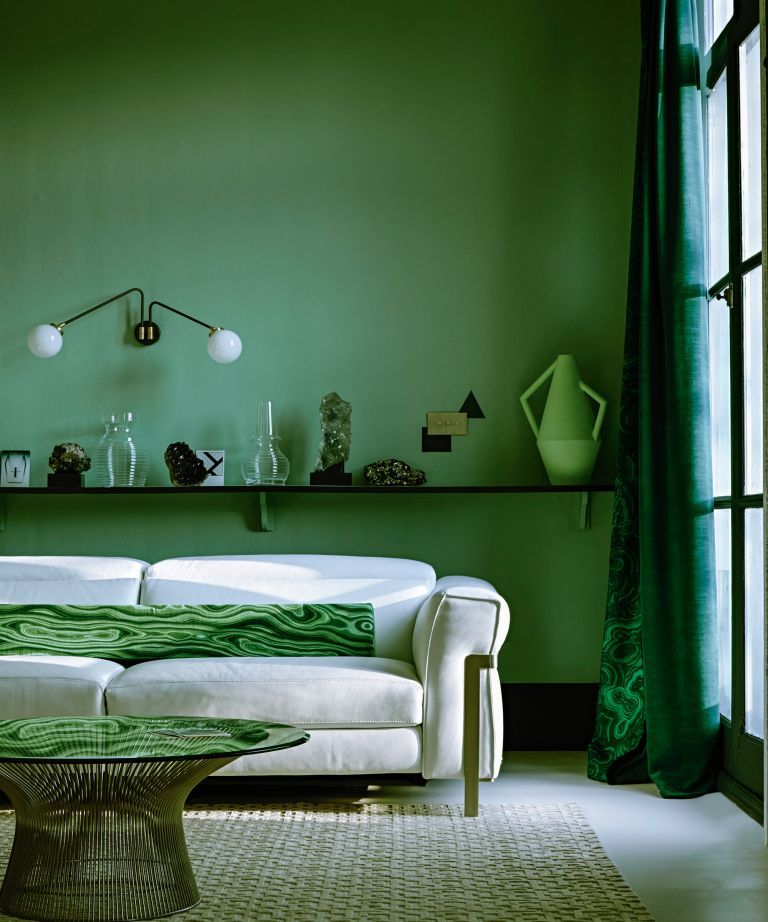 How to use green in your home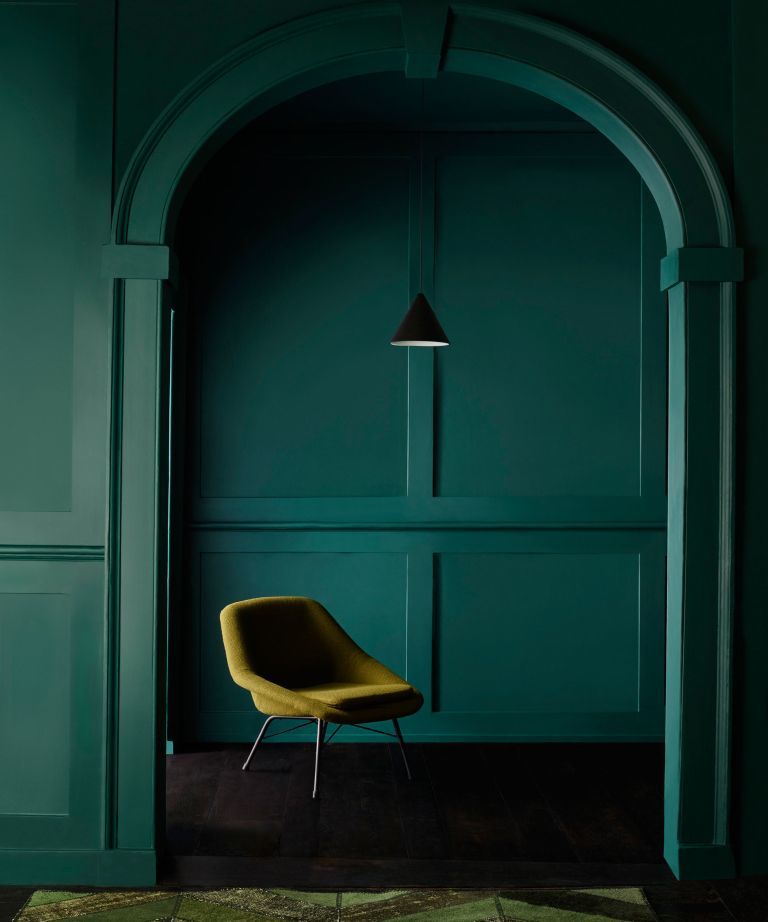 Green can work in any room, any Judy says. 'Of all the colours, green is perhaps the most versatile. There are so many colour combinations and moods you can create with it, from bold and sophisticated to fresh and calming.'

'It also works in any room of the house – my only rule is to consider how much light comes into the space when decorating,' she adds. 'Green really comes to life with plenty of natural light, but can work in a dark, narrow space too, when paired with terracotta shades and mid-tone wood to bring in warmth. Alternatively, a crisp white or softer ivory can brighten up the room and create a sharp contrast.'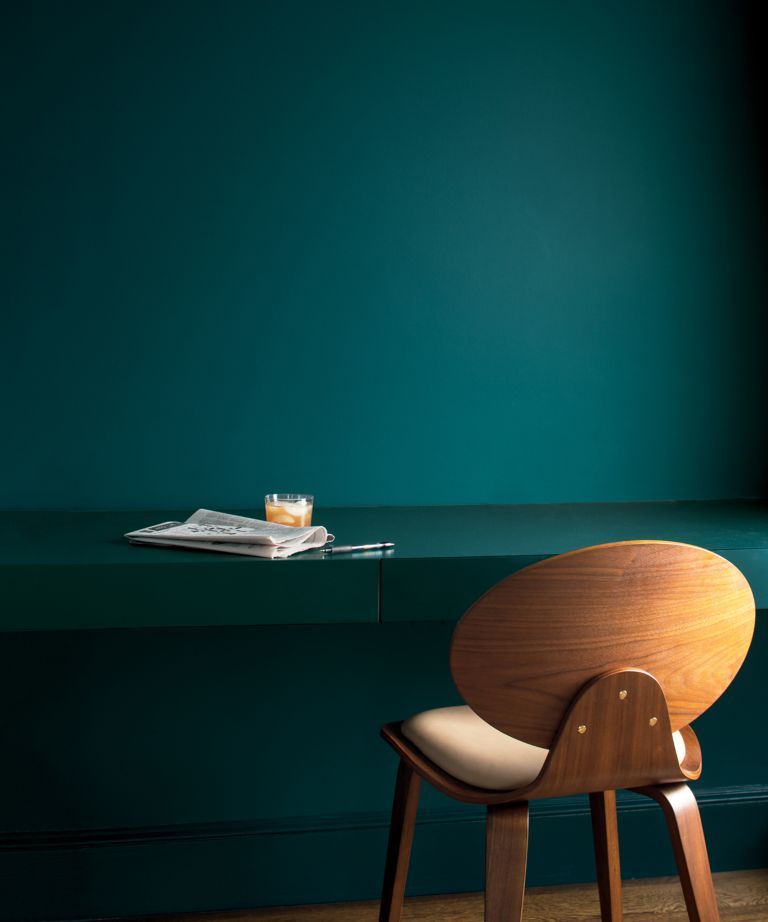 Helen Shaw, Benjamin Moore UK Director, advises to use green in a similar way to a neutral tone, even going as far as to say that green is a 'new neutral on the block'.

'Soft, muted shades of green can create a relaxing, sanctuary feel to the room and evoke a healing energy so are perfect for using in a bedroom,' she explains.

'Whereas a more saturated green such as deep forest greens can often feel grounding for home office as they encourage a connection with nature. The classic tone is a reminder of our environment which can help us feel inspired as well as bringing life to a room.'

'reen is a versatile hue and works well across the home, green sits in the centre of the colour wheel and can effectively tie together eclectic schemes of varying hues.'