Green living room ideas are having a bit of a moment right now. We are seeing more sage, olive, and emerald spaces than we are grey and we are being drawn in by these soothing, mood-lifting hues. It's such a versatile color to go for too, with so many different shades on offer and so many different color pairings that will work. But what green to choose?

Elegant sage greens seem to be the green du jour. Also a neutral this soft shade has all the versatility of going for grey or cream or even white but it just looks more... interesting and different. A refreshing color that works well in any living room no matter what the style or size. Then you have the very dark and dramatic forest greens, which started life in the kitchens of Pinterest but have since seeped onto living room walls and plush velvet sofas. This look is a tad more daring but still surprisingly easy to get right.

'The possibilities for incorporating shades of green into your décor are endless. You can use it as your foundation colour at home or add in various green accents to complement your main pieces of furniture. It's such a calming colour and pairs so nicely with neutral creams and beiges and woody shades often already in a home.' says Noemie Deed, founder of Cosy Coco.

So whether you are after just a dash of green in the form of some accent furniture or want to go all over your walls with this on-trend shade, here are plenty of green living room ideas to get you inspired...


1. Hang a bold green wallpaper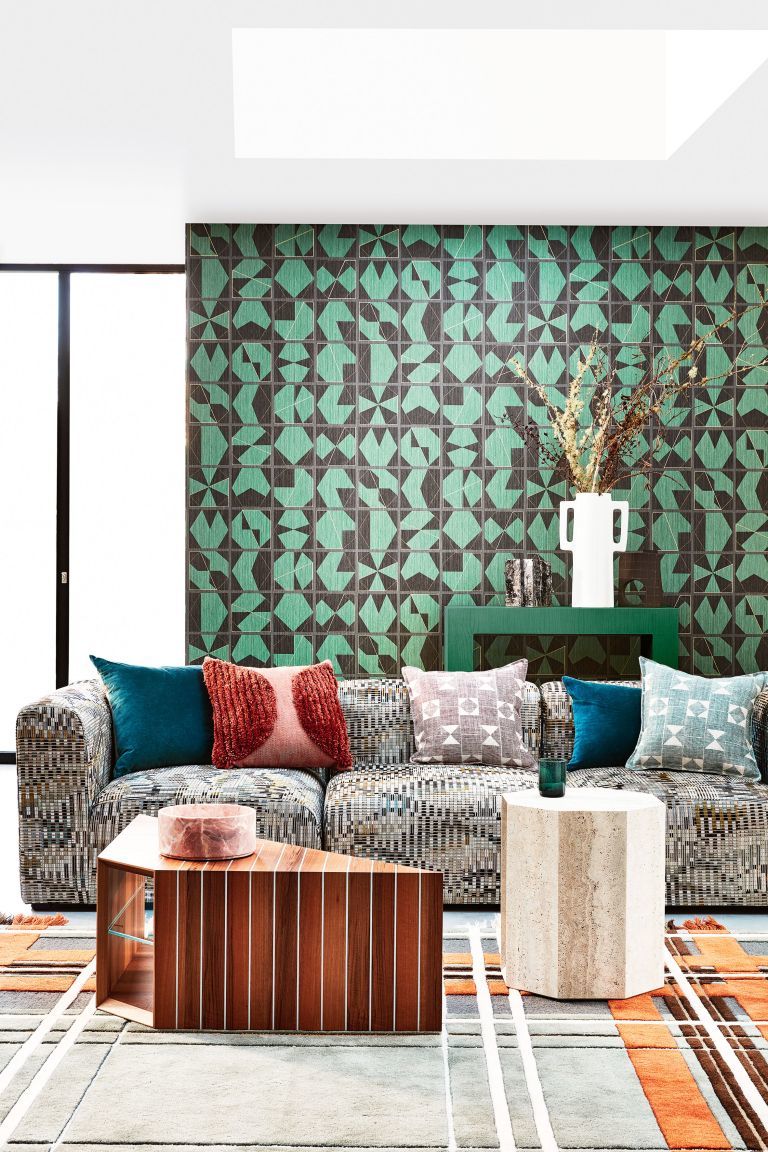 Want to bring pattern as well as color into your living room? Wallpaper is a sure-fire way to do both. You'll find prints to suit all styles from soft, whimsical floral prints to bold tropical-inspired murals, but we love the retro feel of this textured geometric wallpaper. There's a vintage vibe there but it's kept very modern and fresh feeling paired with the crisp white walls and quirky furniture.


2. Pair olives greens with a fresh white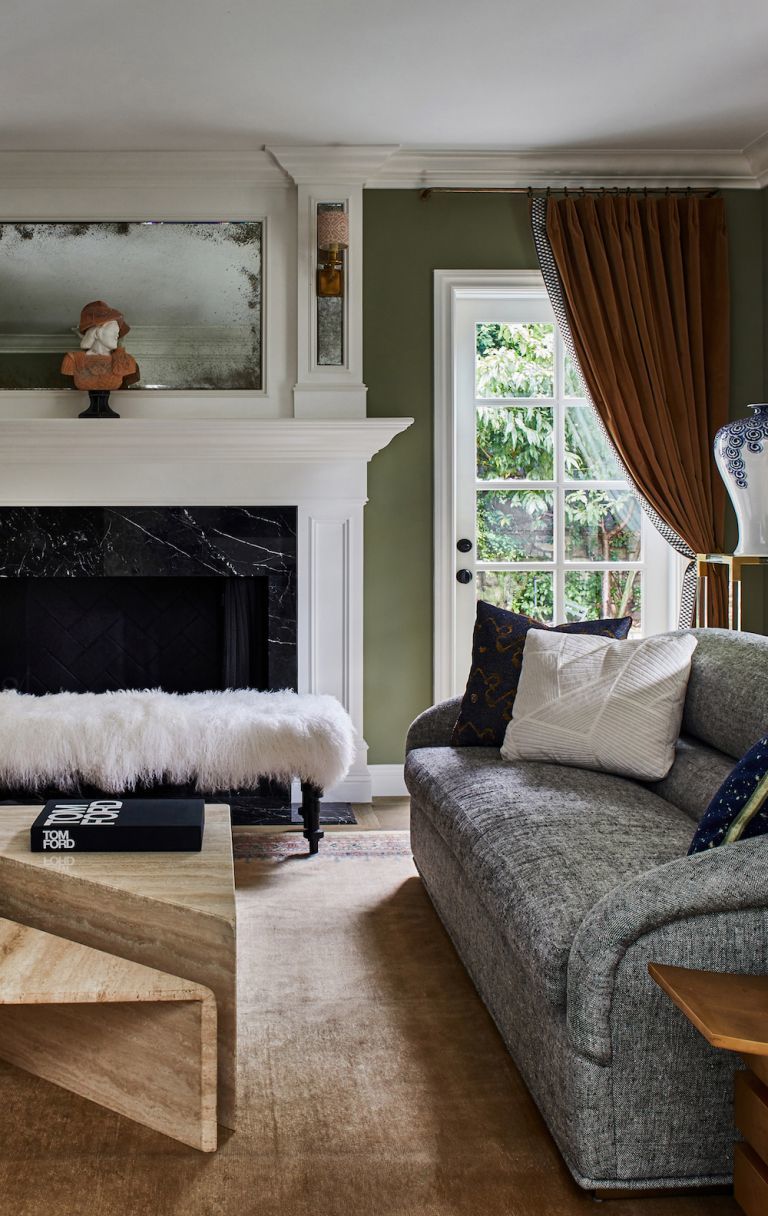 Olive green is a really easy shade to work with in a living room, it works with both natural and artificial light so you don't have to worry about your room's aspect. It's a very elegant shade too and potentially the easiest green to live with so ideal if you are looking for a four-wall color.

However, olive can look a bit drab if paired with the wrong colors. It often needs the contrast of a clean white on the ceilings and woodwork to make it feel fresher and brighter.


3. Go for an emerald green and black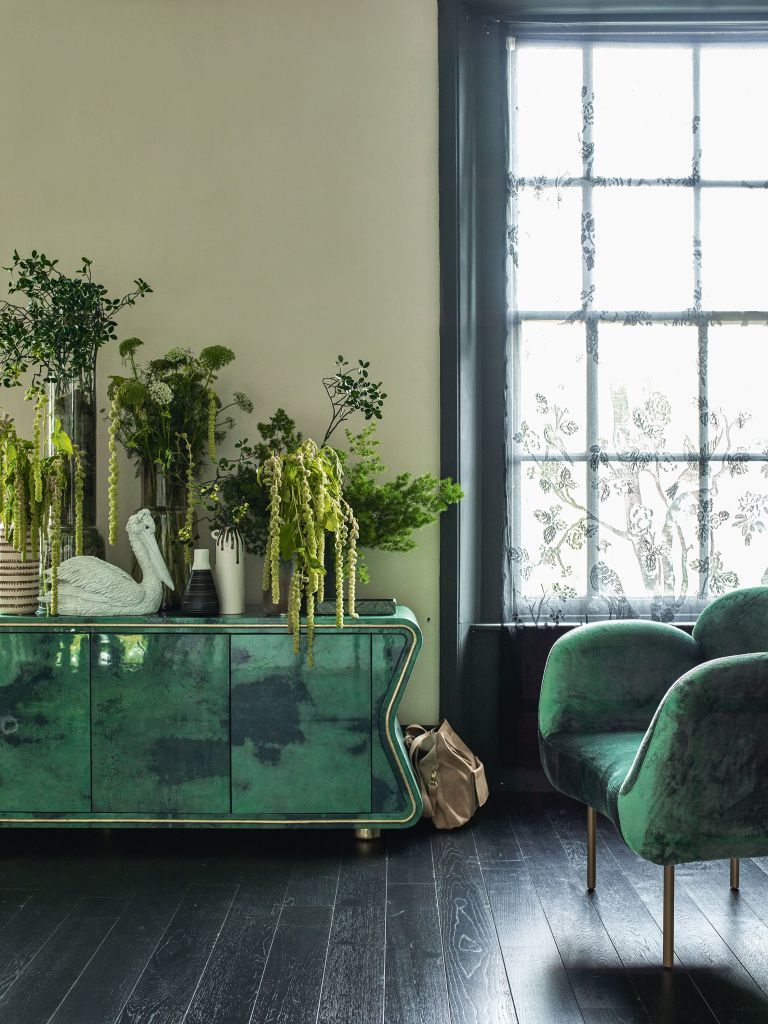 And for a more dramatic look pair green with black. Emerald green brings even more drama when paired with darker colors, so pair emerald green furniture with black accents, or even copy this green living room idea and paint the floorboards and woodwork black. Do keep the walls light for some contrast though, we love how this pale sage lifts those more sumptuous hues, adding an extra layer of green tones.


4. Pick the classic pink and green combo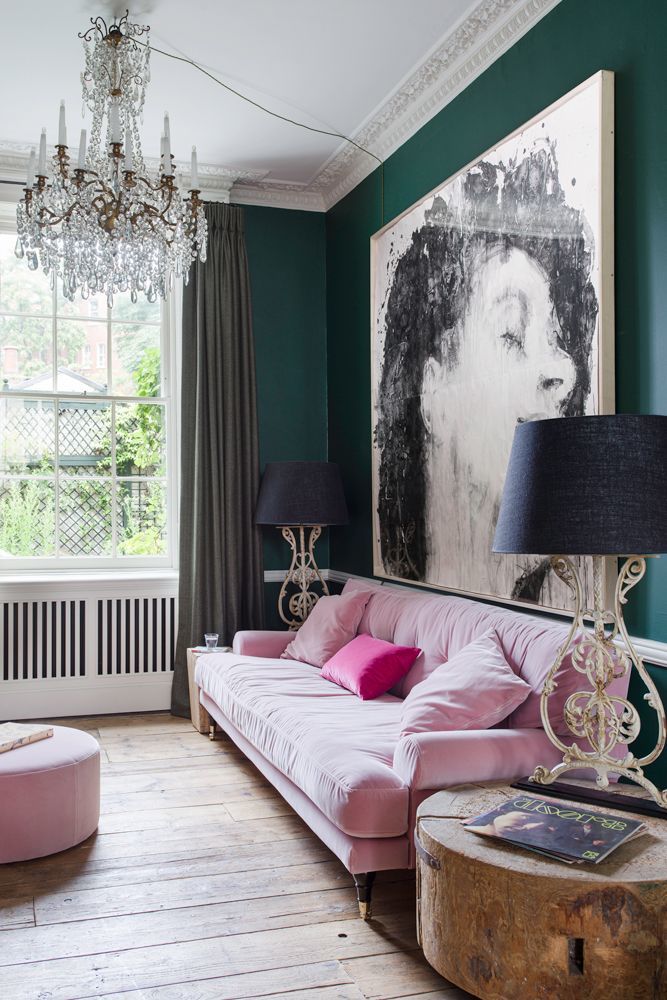 Pink and green must never be seen, right? Couldn't be more wrong, pink is in fact one of the best colors to pair with green. And really it's and is not as dramatic a combination as it sounds, they might sit opposite each other on the color wheel, but depending on the shade you go for you can go as subtle or as bold as you like.

'Green and pink are complementary colors, sitting opposite each other on the wheel. This means that the scheme is high impact.' explains Sarah Spiteri, Editorial Director of Livingetc. 'Get your proportions right for a truly restorative space - a generous amount of green against touches of pink is gorgeous. Nature-inspired patterns, such as florals or botanicals, are particularly effective when decorating with this combination.'


5. Swathe walls in watery greens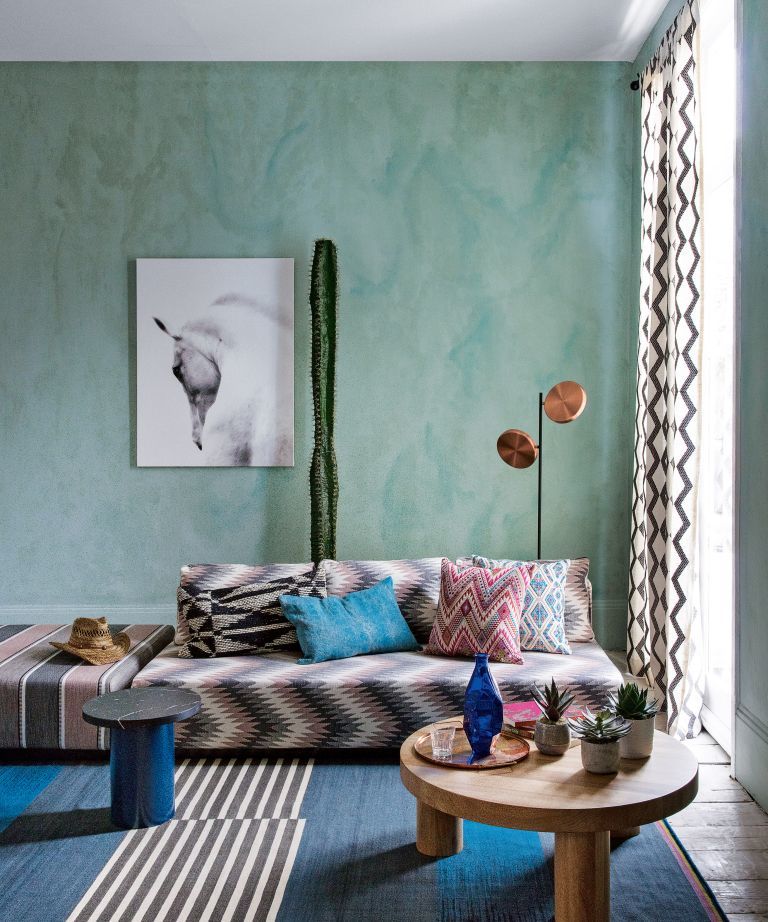 How beautiful is this mottled green living room wallpaper? It looks like a watercolor with a lovely mix of green and blue tones. It's the perfect subtle backdrop to all the prints going on in this space and yet adds a depth that a single color wouldn't.


6. Paint the woodwork to match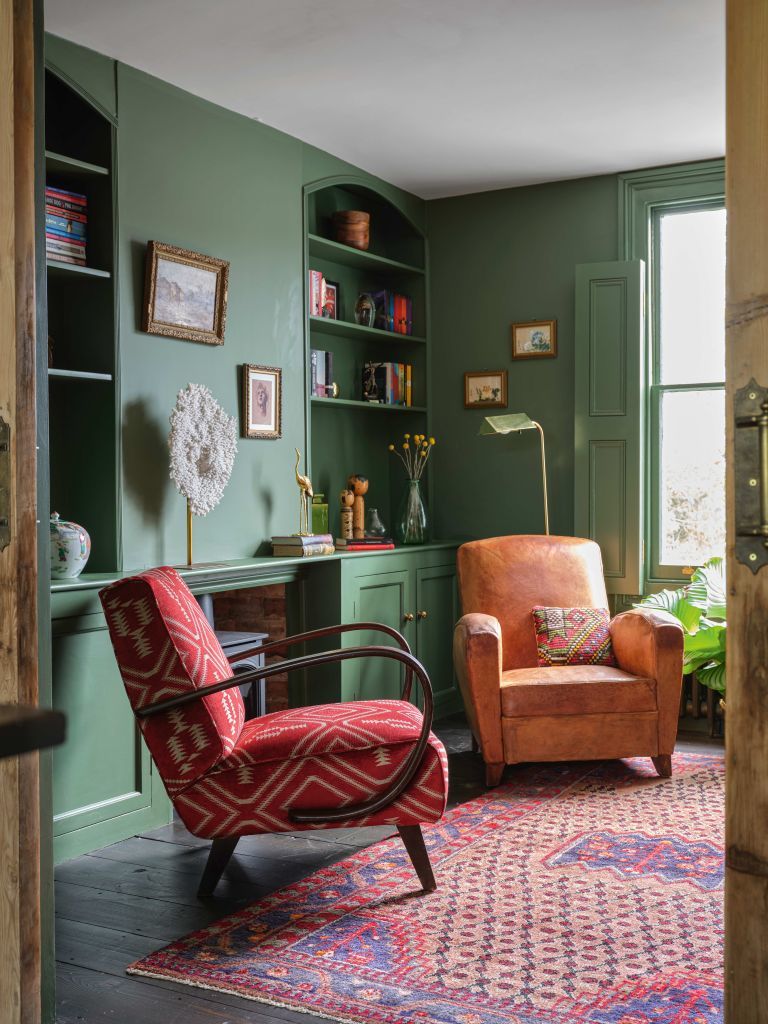 Going all over with one shade – woodwork, windows, cabinetry, the lot – works wonders in a small living room, plus looks very sophisticated and minimal. Sticking to just one shade reduces the visual clutter at the walls, meaning you can bring in more decor, colors and patterns with your furniture. See how it works in this space? Despite the busy mix of prints, the room feels cozy and inviting, not overwhelming.


7. Opt for a modern look with green and grey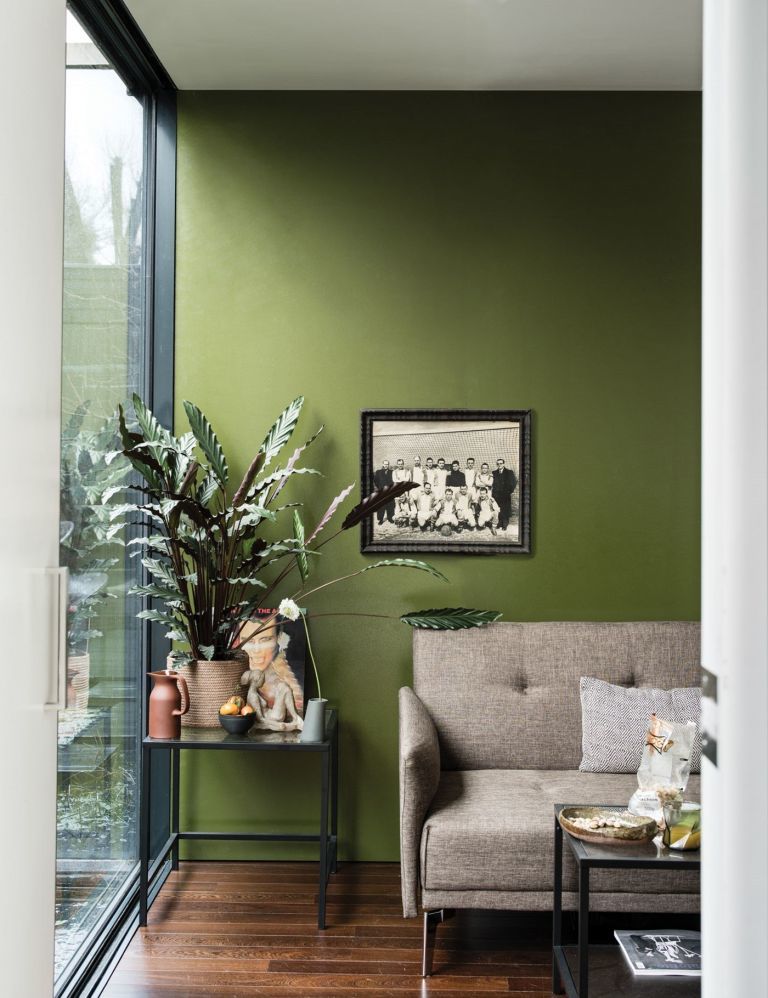 Grey works with lots of different tones of green (just look out for shades that have a more cool grey undertone) but for a simple, contemporary scheme pair a deep, cocooning olive green with a soft mid-grey. Bring in some dark wooden tones too for a slightly retro, Mid-century modern vibe.


8. Pair green shades with warm wood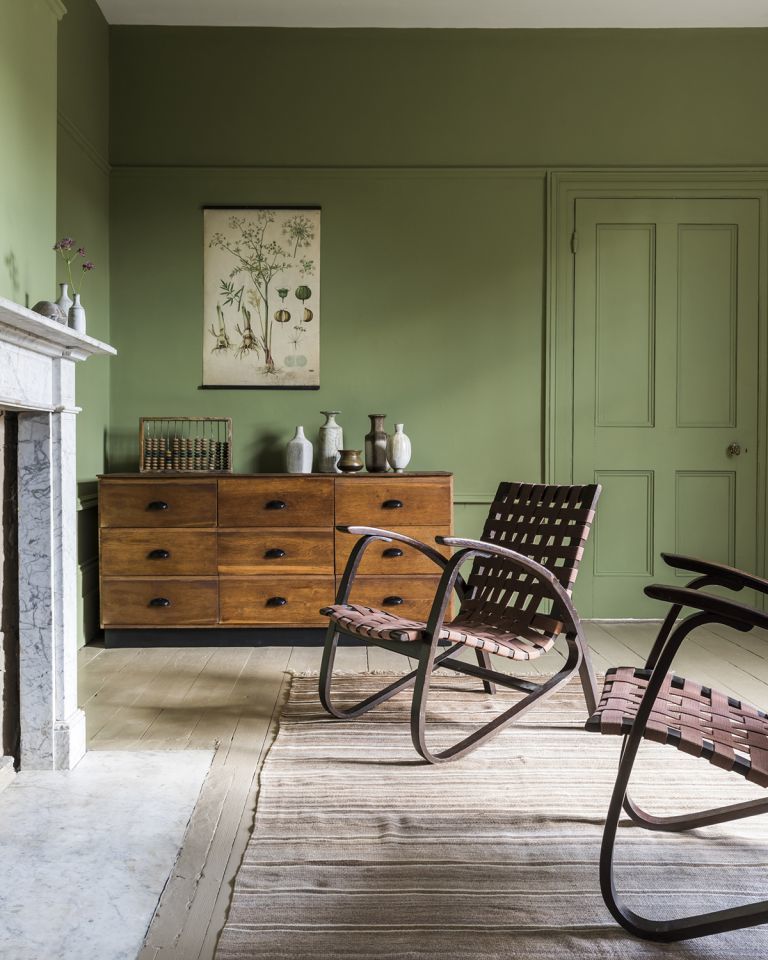 Create a very natural, serene vibe in your living room by pairing muted green walls with warm wooden pieces. In this large living room, the wooden tones bring outs out the warmer side of this quite cool olive green – the perfect combo if you are decorating a north-facing room.


9. Go half way up with a bold emerald green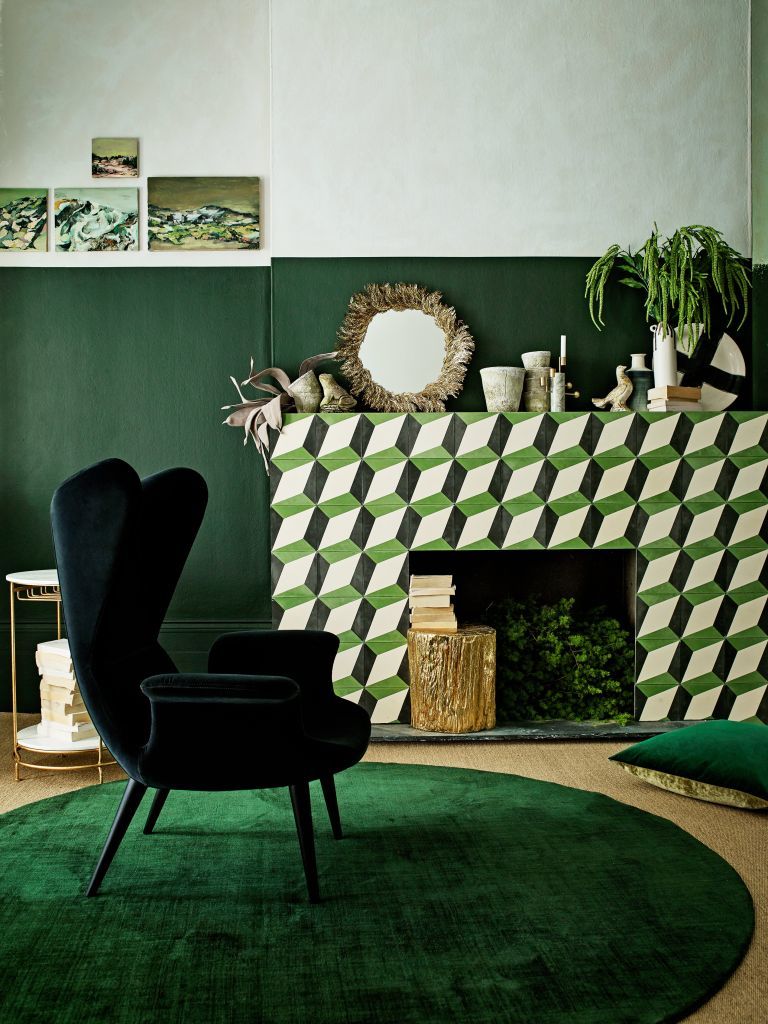 Color blocking is a great way to introduce more dramatic shades to your living room without having to fully commit. See how in this green living room a really deep forest green comes just halfway up the wall, the rest is kept neutral so as not to overwhelm the space. This design works really well in small spaces too as it creates the illusion of height.


10. Use a grey green as a neutral backdrop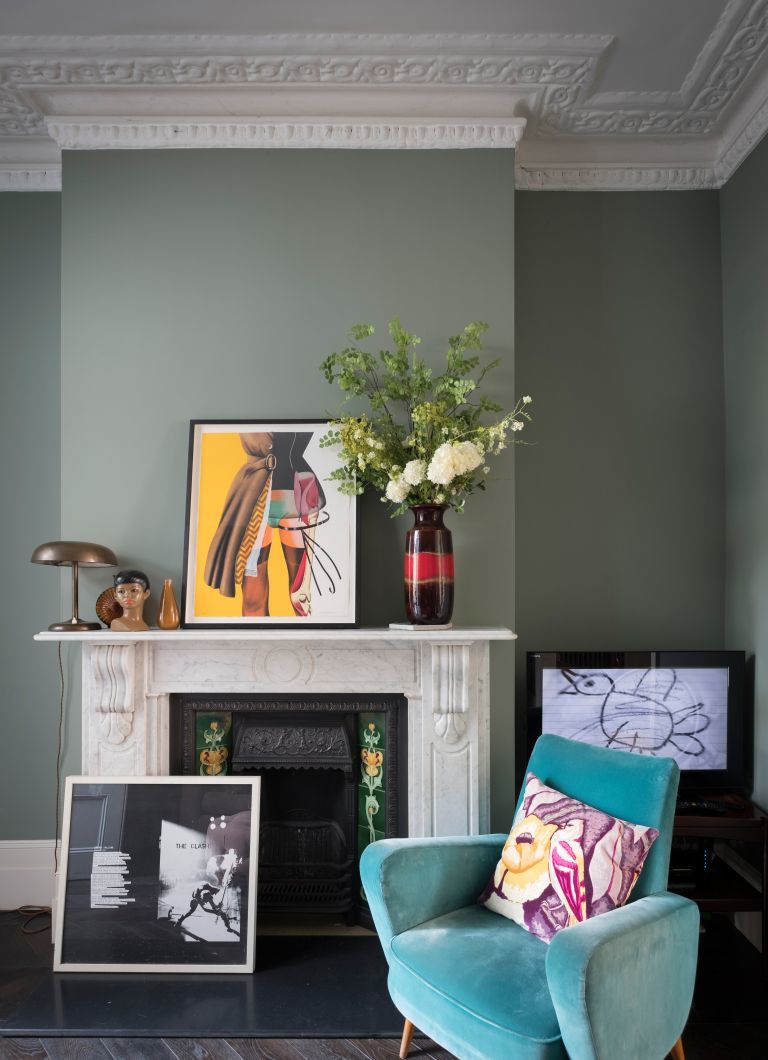 Pick the right green and you can treat it almost like a neutral, as you would grey or white. A pale grey/green can work as a backdrop for any other color you throw at it and actually can make colors pop more than a white wall would. We love the very simple, matte green walls of this living room pair with the yellow, blues, and reds going on in the rest of the room.