It's no surprise subway tiles are popular for kitchen backsplashes. They're cheap, easy to clean, endlessly versatile, and arguably the most timeless option on the planet-no matter what environment they're in, subway tiles never seem to look dated. Whether you're renovating your kitchen, or you're just hungry for interior design inspiration, this batch of subway tile kitchen ideas and backsplash ideas will do the trick. From creative layout ideas to colorful variations, cool grout trends, and classic looks, you'll find something to recreate or Pin ahead.


Try Allover Tile

Subway tile on all of the walls (and up to the ceiling!) makes for easy cleanup in this kitchen by designer Philip Mitchell. The unlacquered brass hood and butcher block countertop add warmth to the space.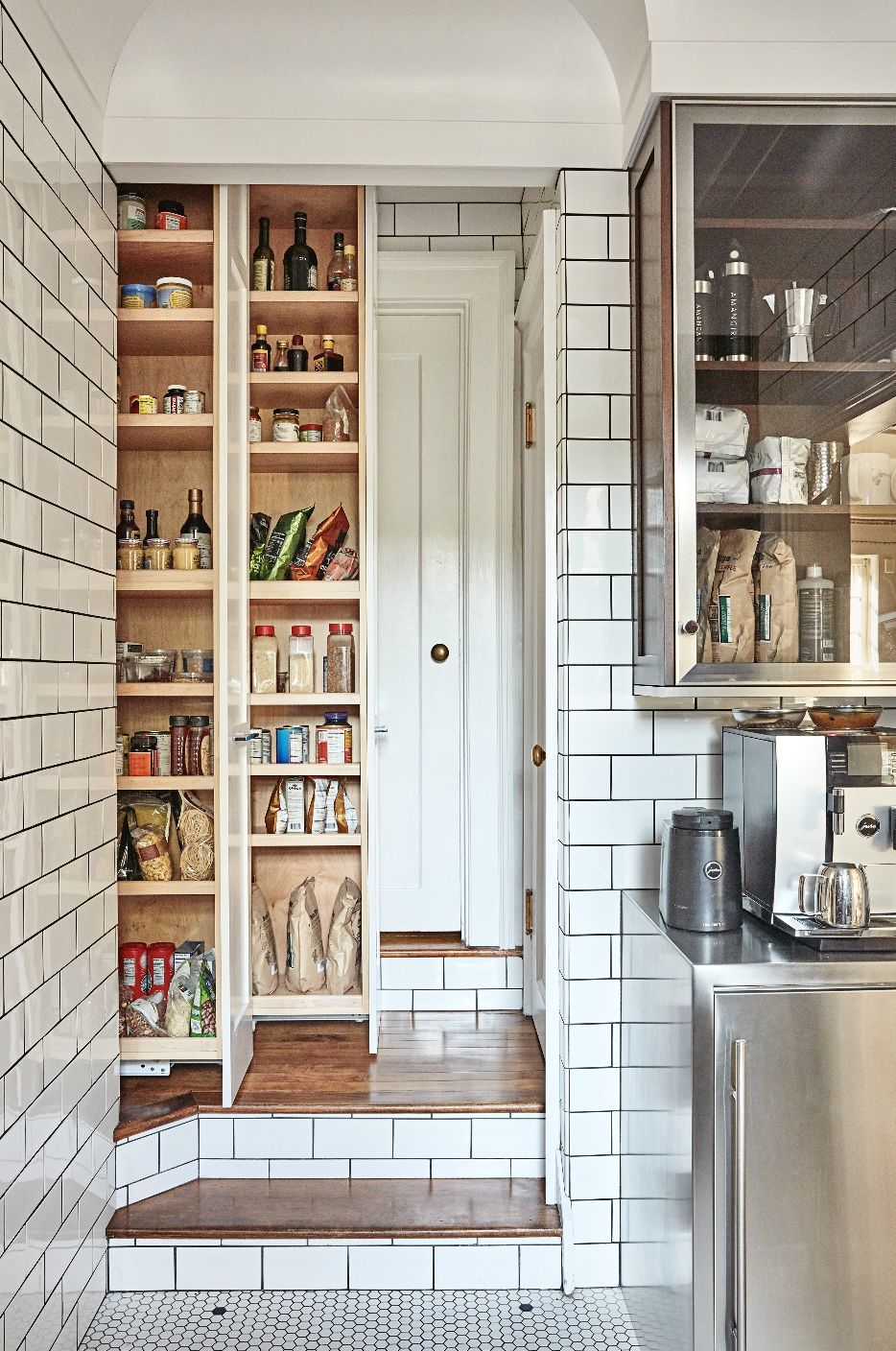 Extend to Your Pantry

In this entryway by designer Jim Dove, tiles extend to the mini staircase and onto the walls for a seamless look. Double pantry pullouts on one wall allow for sleek kitchen food storage.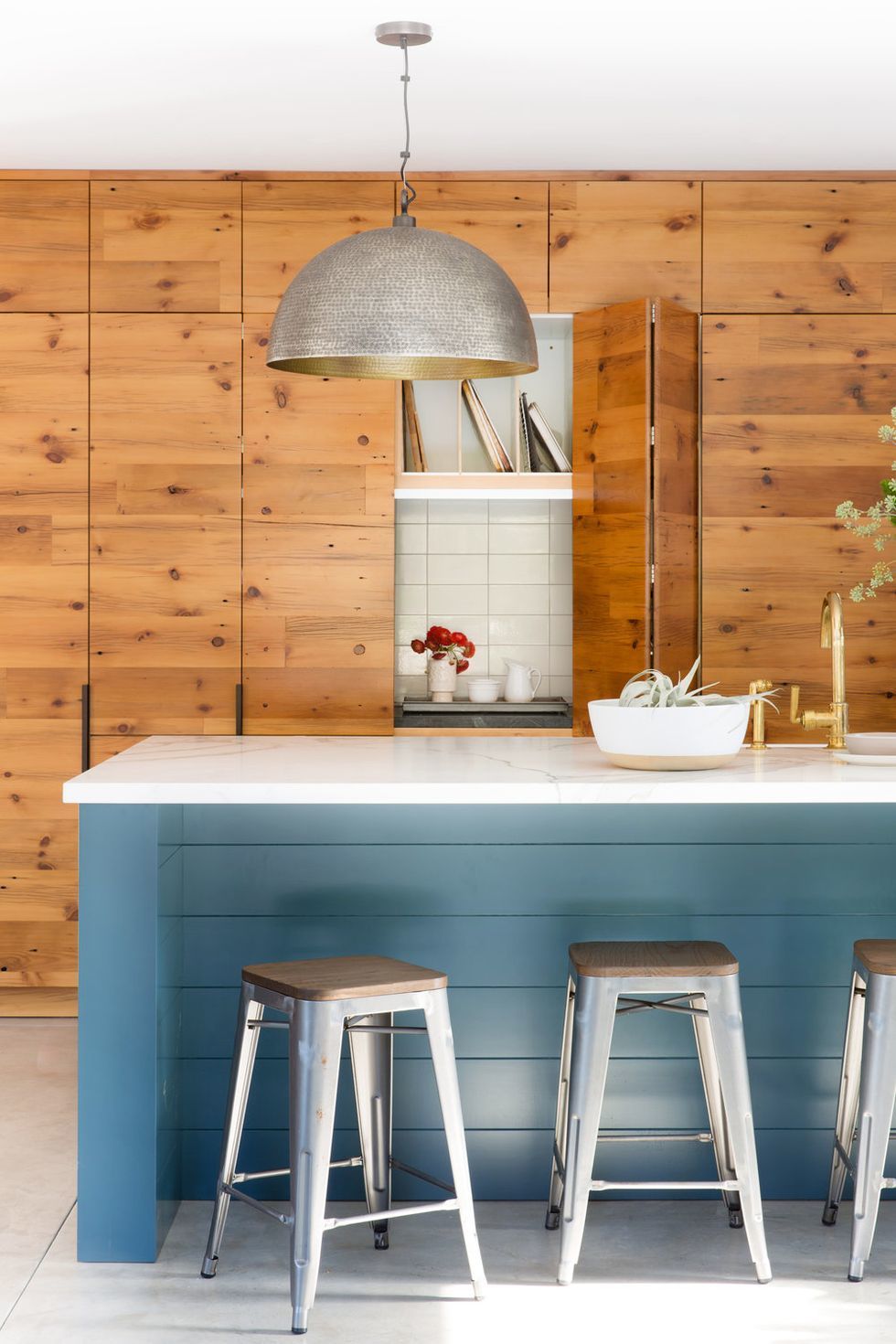 Hide Your Subway Tiles

In this kitchen by Regan Baker Design, the floor-to-ceiling wood facade conceals the cabinets and countertops. If you want to use tiles as a backsplash but have something more sleek and modern in mind, too, consider a similar design concept. That way, you can feature both materials.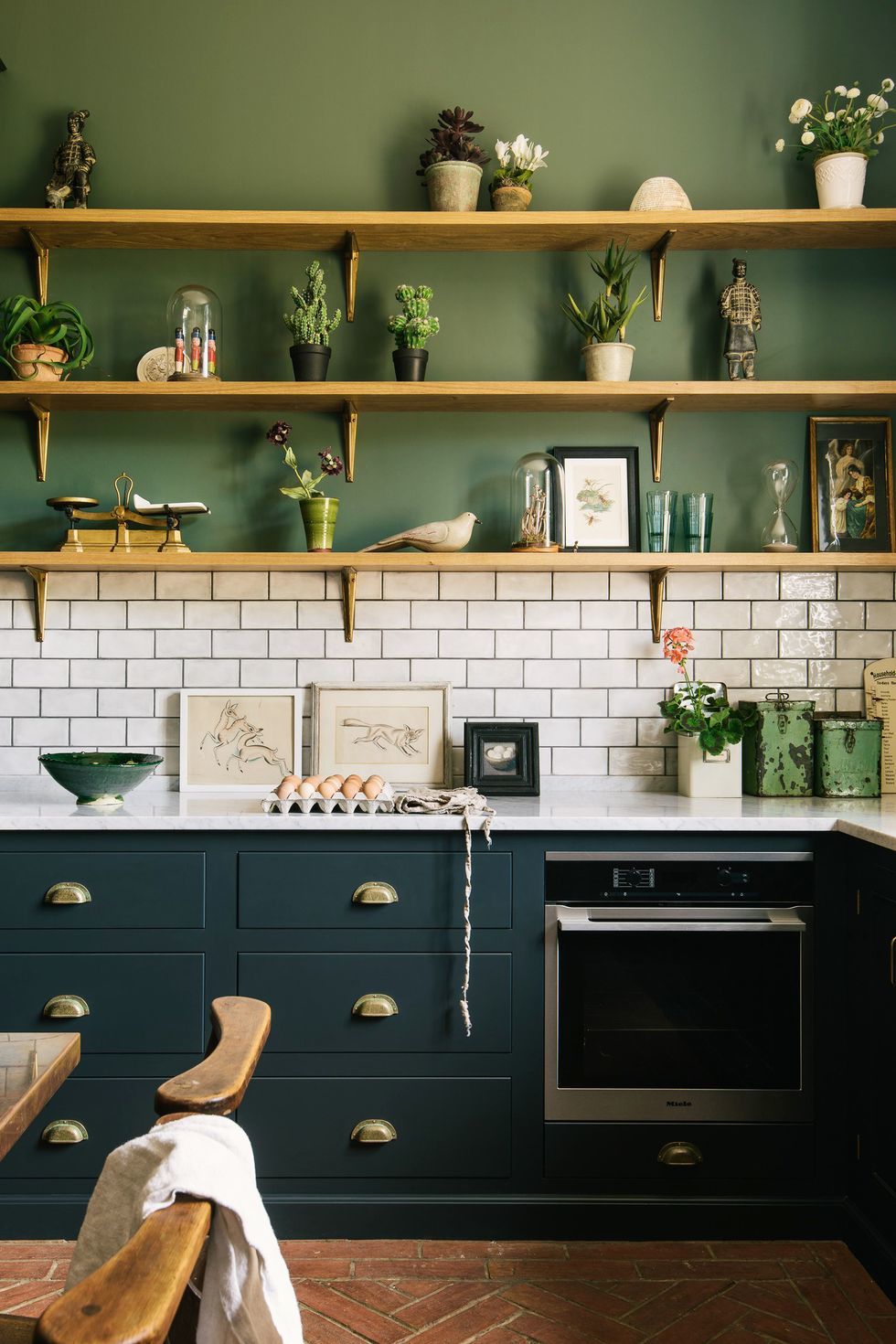 Only Go Half Way

In this space designed by deVol Kitchens, deep turquoise lower cabinets ground the spaec while the sage walls add a touch of levity. Between them, the subway tiles feel like a natural addition, thanks to the dark green grout instead of a classic white option.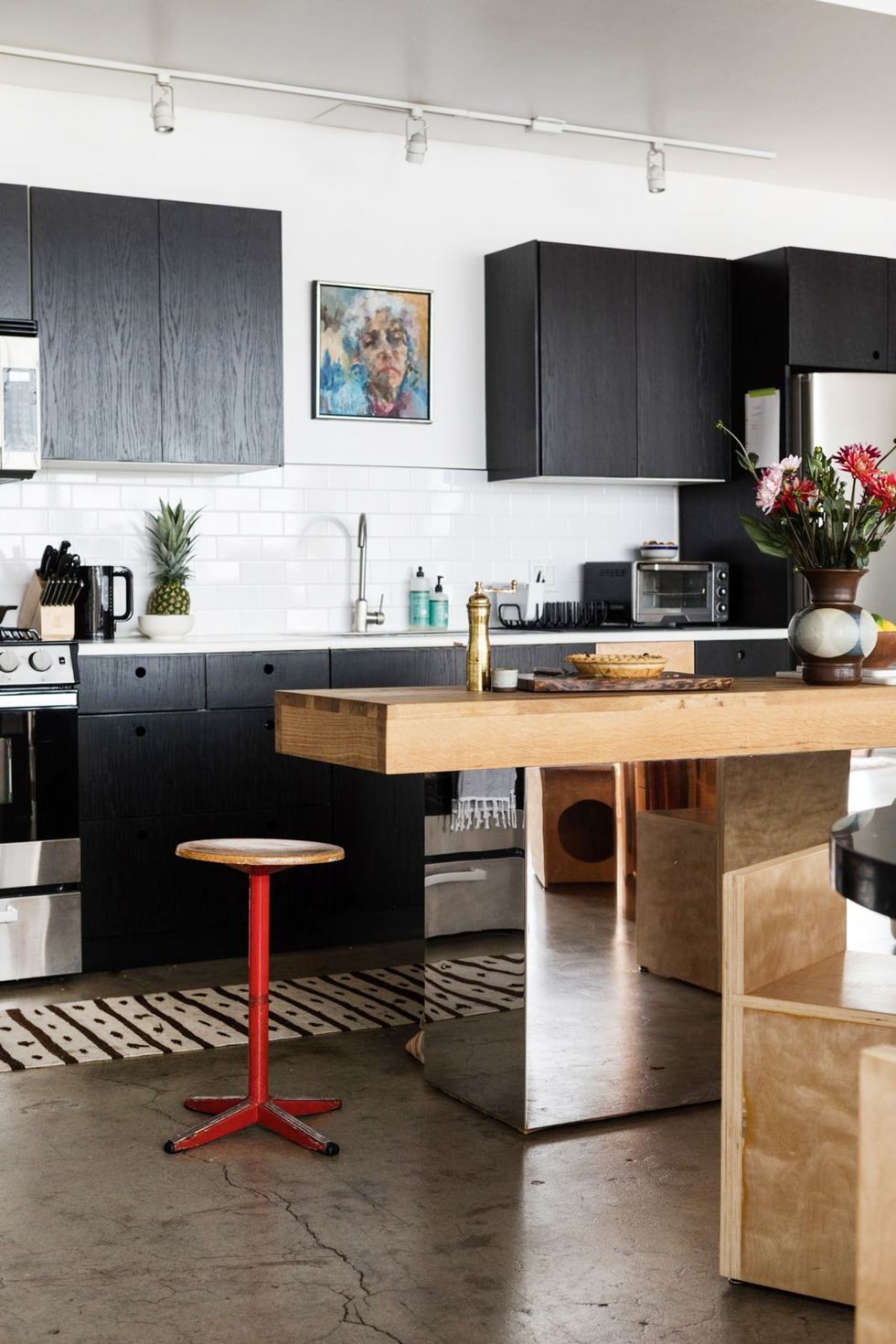 Be Eclectic

Here's proof that subway tiles can even blend in with an industrial, modern environment. This kitchen designed by ETC.etera features edgy concrete floors, a retro red stool, classic black stained-wood cabinetry, an ultra-sleek island, and simple subway tiles. All together, they create an eclectic yet cohesive whole.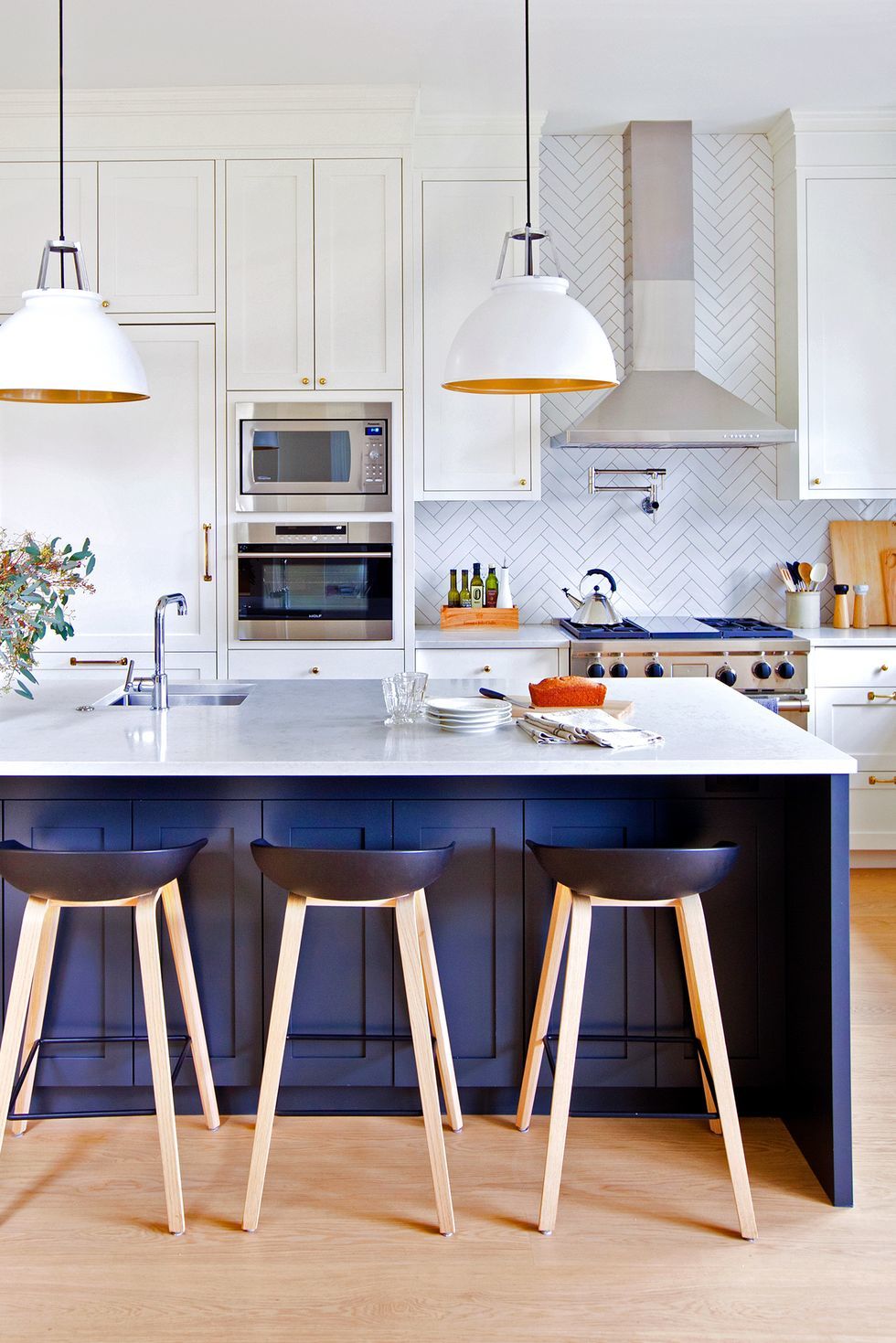 Switch Up the Pattern

If you were looking for ways to switch things up, look no further than this kitchen designed by Janis Nicolay. She went the traditional route with classic white subway tiles, but then opted for a chevron pattern for an understated but fun twist.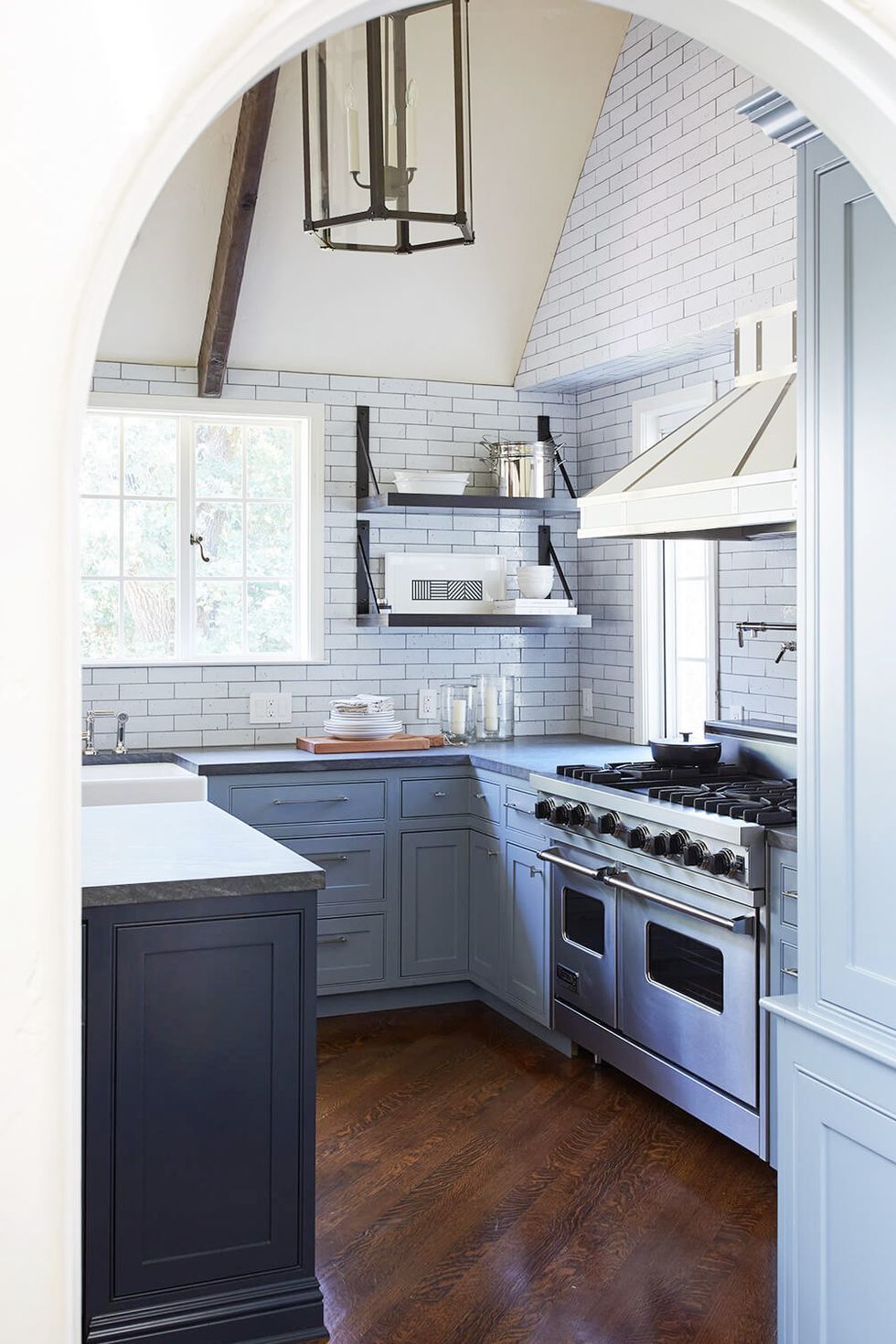 Reach for the Ceilings

Though subway tiles are most popular as a backsplash in the kitchen, they can also stretch all the way to the ceiling. In this Catherine Kwong-designed space, the subway tiles complement both the formal, sophisticated elements as well as the more casual and approachable parts.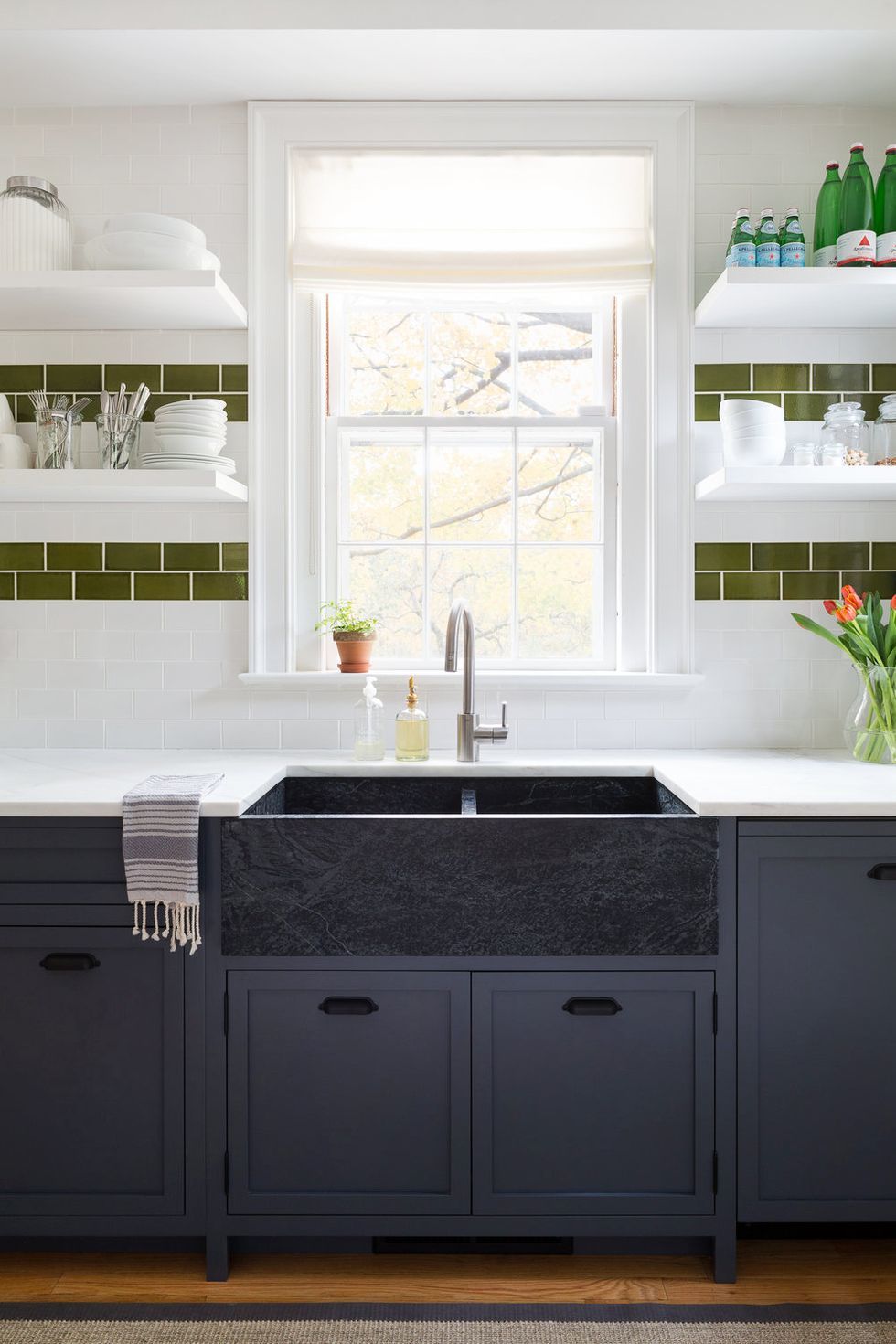 Color-Block

Subway tile offers tons of room for creativity in the kitchen. Here, Chango & Co. created two stripes of olive green to add color and break up the white backsplash. They're placed under the white floating shelves, playing up the linear motif further.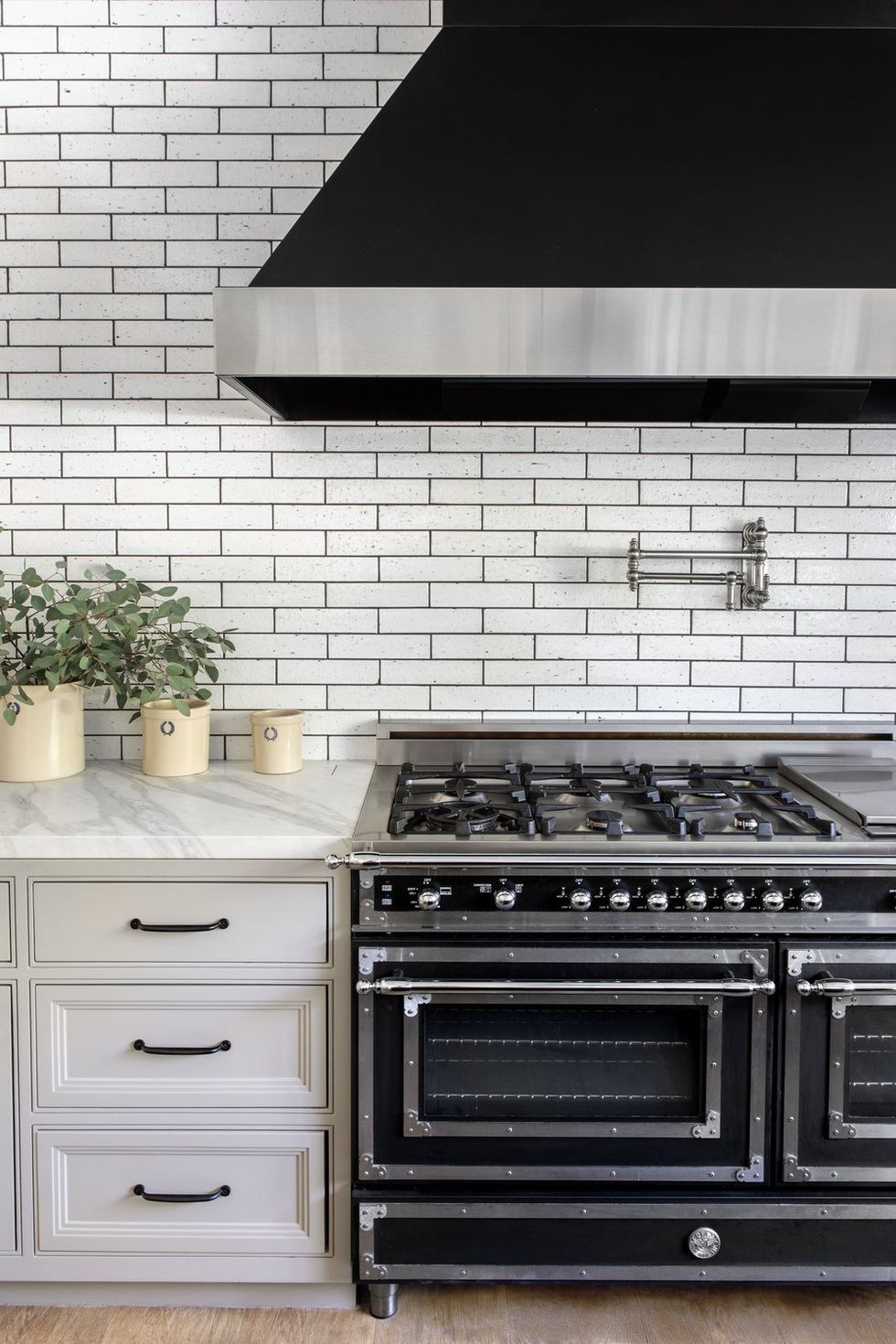 Stay Neutral

Subway tile is great for going grayscale. In this kitchen designed by Chango & Co., the black grout pops against the white tiles. The graphic and geometric repeating bond pattern lends itself nicely to the monochrome color scheme.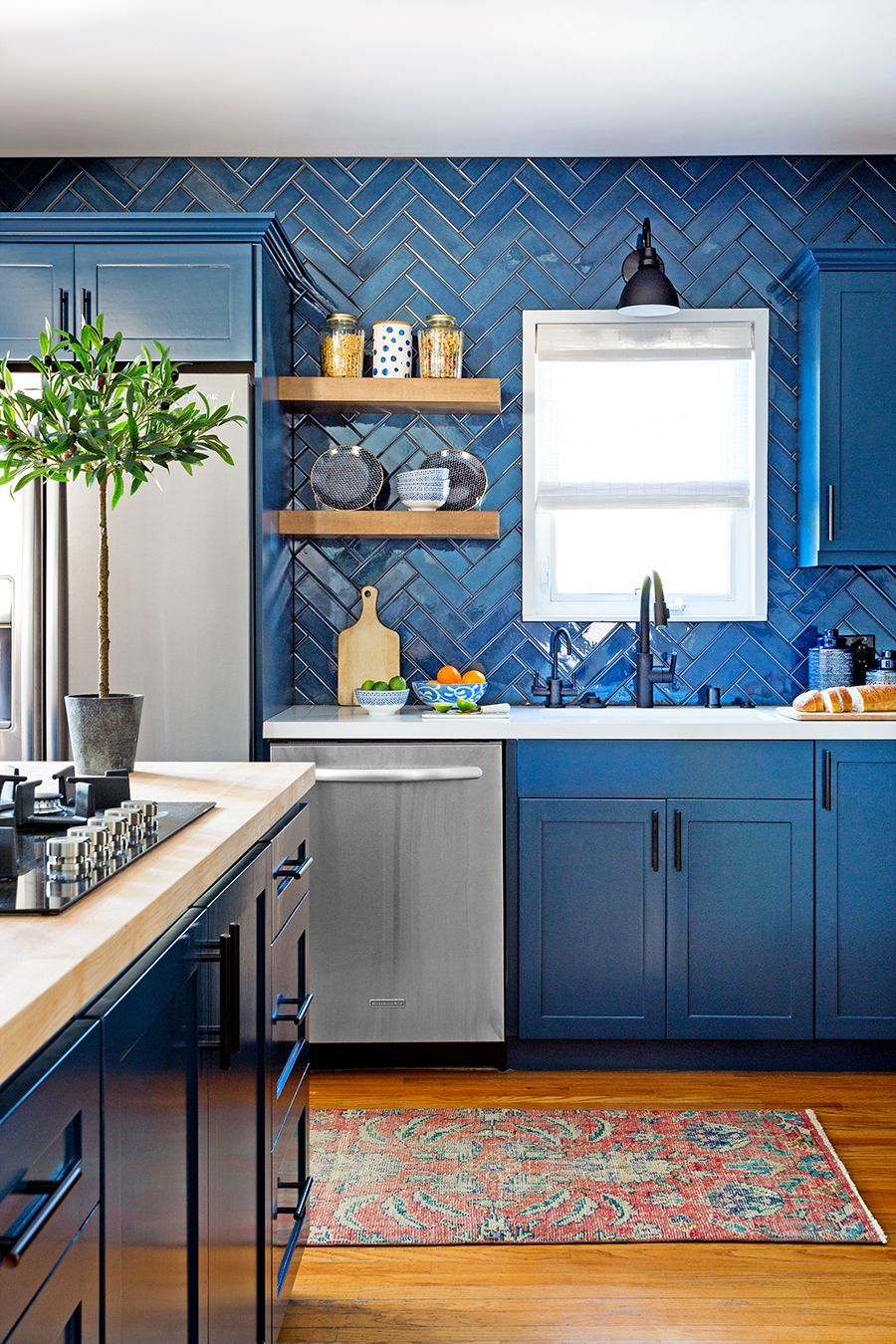 Switch Up Your Grout

For this Los Angeles kitchen, Jenn Feldman Designs chose a tonal grout to blend in with the navy tile, which is set in a refreshingly unexpected chevron pattern.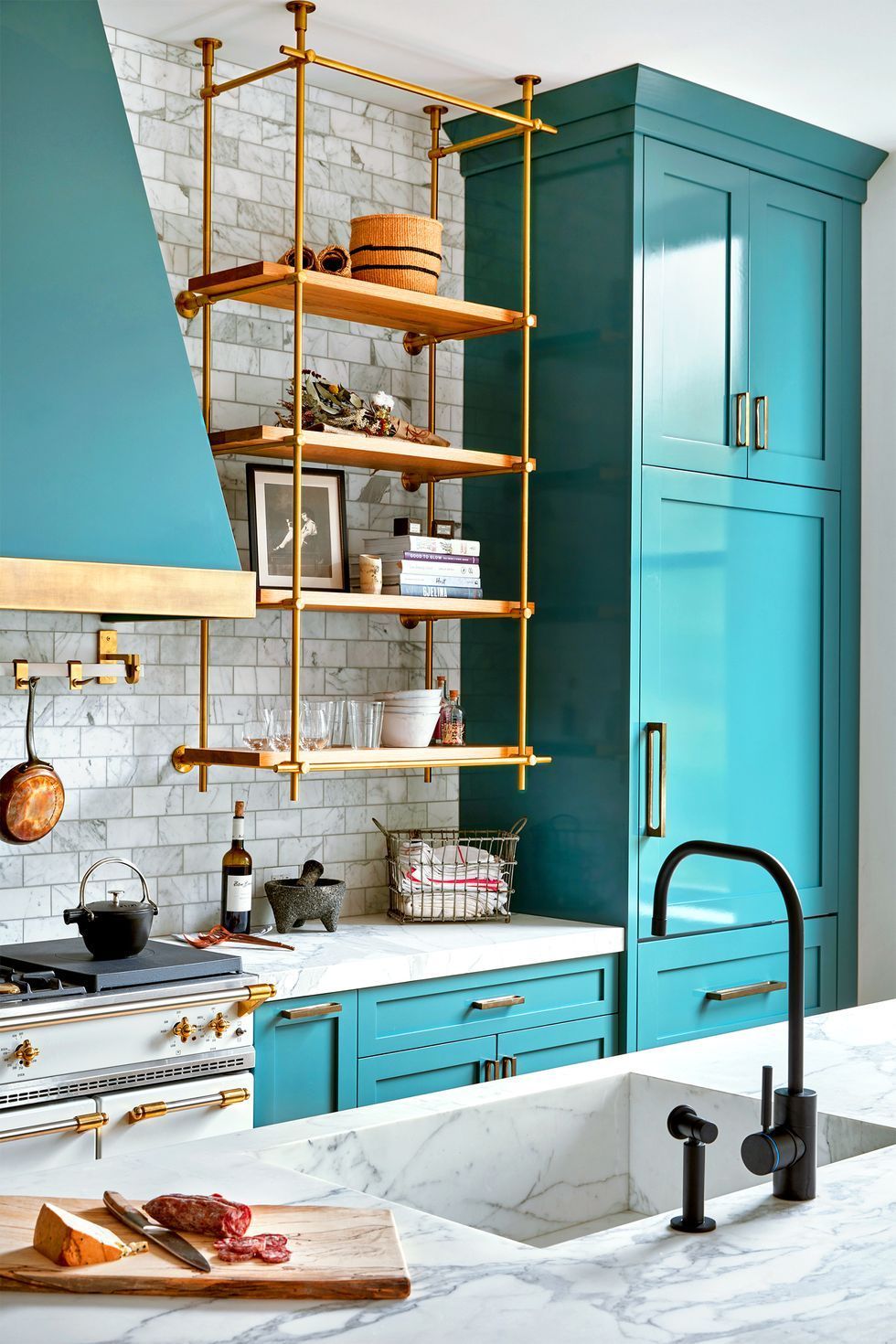 Mimic Natural Stone

If you love the look of marble and other natural stones but don't want to splurge on a marble slab for the entire kitchen wall, opt for marble tiles instead. As you can see in this kitchen from @amuneal, it boasts that same coveted look.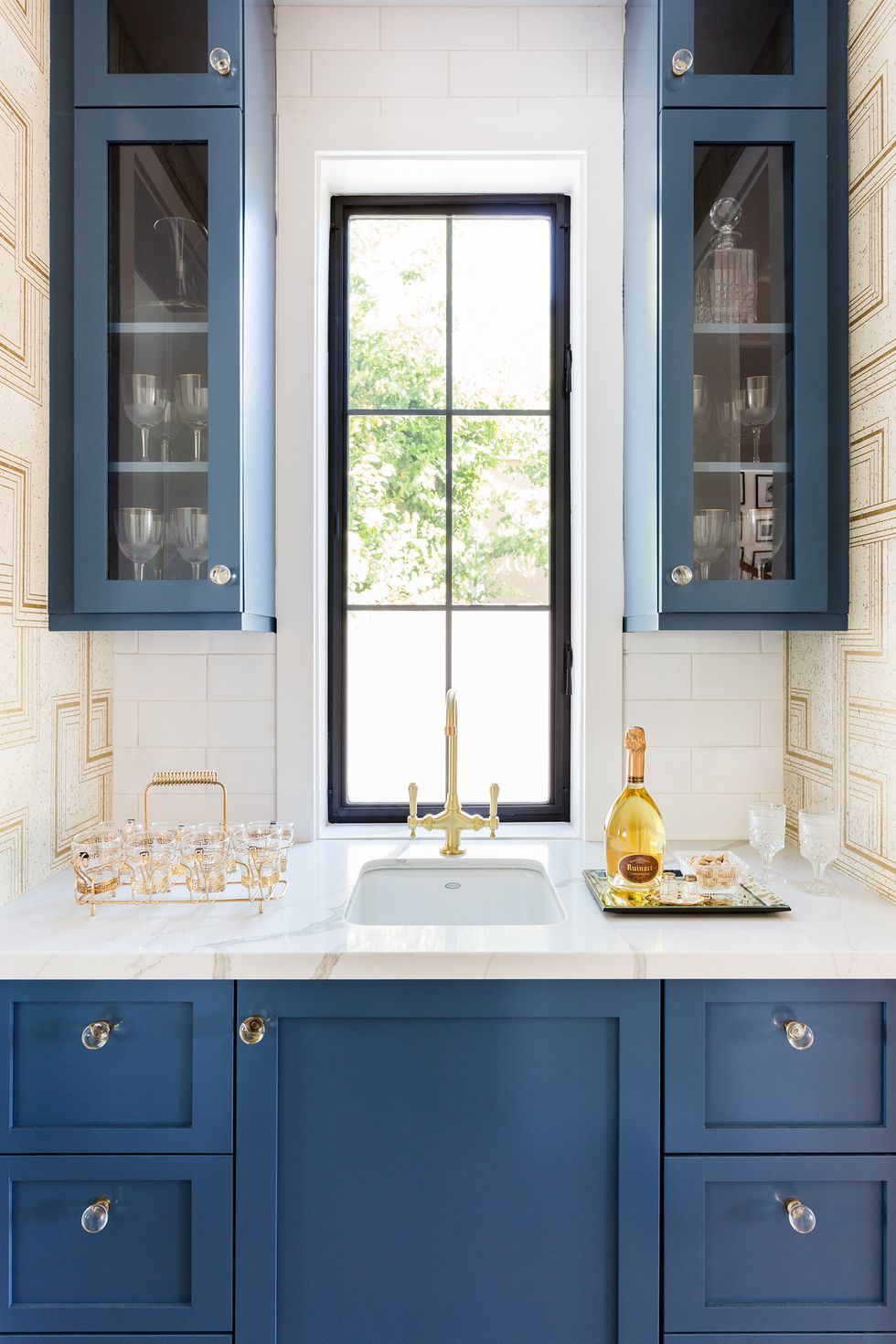 Protect Your Wallpaper

If you can't resist a good wallpaper moment and want it in every room in the house, we support you. But one thing to keep in mind when decorating with wallpaper in the kitchen is how well it will resist moisture. It's best to just keep it out of splashing range all together. That's where subway tile comes in.