The best garden fence ideas can bring structure, texture, definition and joy to your outdoor space. After a long winter, it's lovely to be able to get out into the garden again. But if you're to enjoy the space at its very best, some work will be involved, whether it's replacing or maintaining a garden fence, weeding and mowing, or redesigning some key features to give your garden a whole new look.

The garden fence is one element of a garden that's often overlooked and relegated to the realms of the practical. A fence's main function might be to separate one garden from another, providing a handy boundary that we all respect, but we shouldn't underestimate its importance. The type of fence you have can really affect the look of your garden.
Stylish garden fence ideas


1. Take it up a level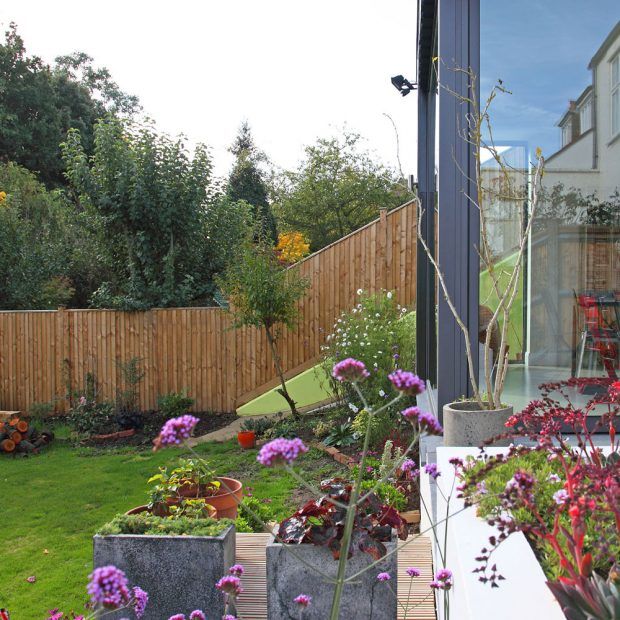 Use traditional lap fence panels to align the different levels of the perimeter of a garden. Run the design alongside an incline or stepped paving to create a continuation of the fence, rather than adding different height levels – making it feel disjointed. Rather than staining or painting the panels, simply seal them with a coat of wood preserving varnish for an understated finish.


2. Paint a feature wall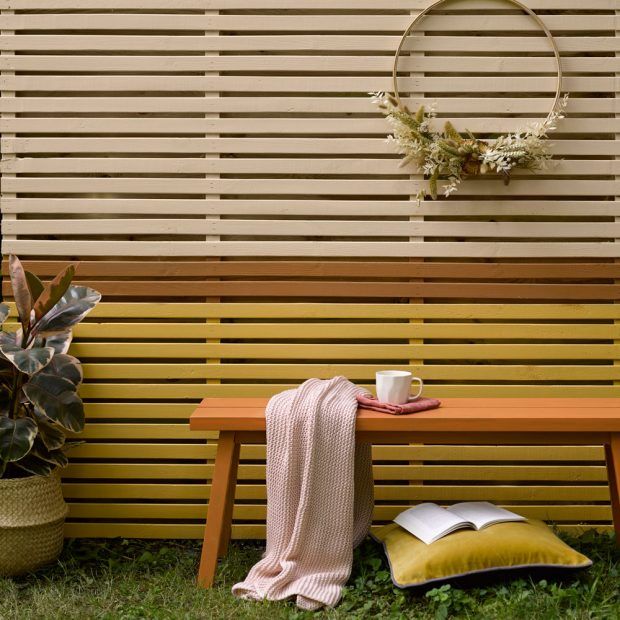 Update an old fence with new season trends with a splash of paint, creating a feature wall within your garden. Try creating an ombre effect by choosing several colours in the same paint family. This delicious earthy colour palette is a mix of 'Bleached Rose'; 'Sandbank'; 'Gingerbread' and 'Sharon Fruit' all by exterior paint specialists Sadolin.


3. Make a playful statement with a two-tone panel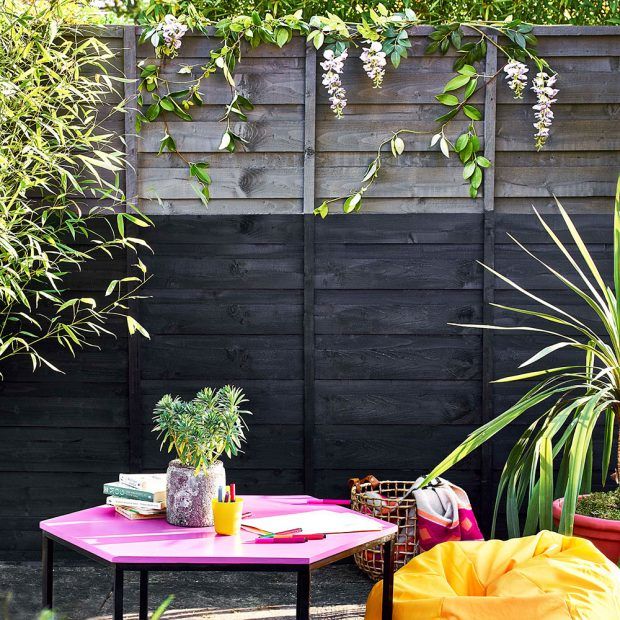 'Create a striking look for your fence in two tones,' advises Cuprinol & Dulux creative director, Marianne Shillingford. 'Keep the darker colour at the bottom to show off brightly coloured furniture and to make floral arrangements pop. All it takes is a bit of masking tape to get a sharp line between the divide.'


3. Soften the look with spacing to provide a view beyond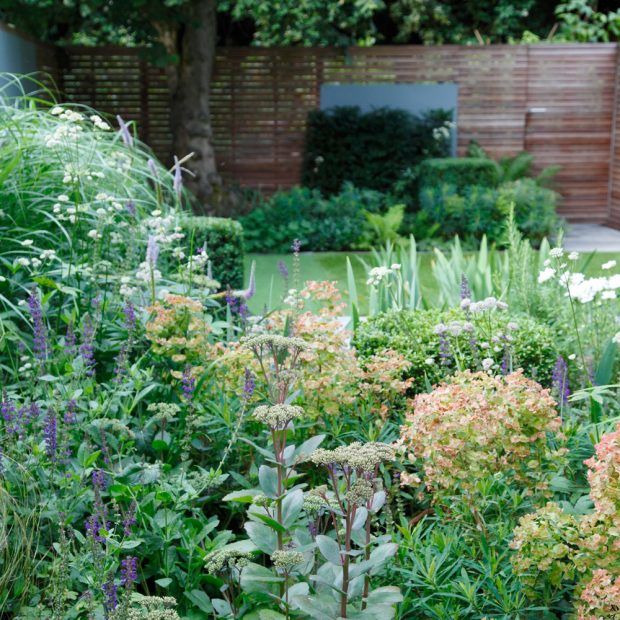 If your property is not over looked you may not wish to erect a solid fence panels. This slatted fence is a soften approach to setting the boundaries of a garden, without making it feel enclosed. The slim gaps between the slats allows a glimpse of the greenery beyond, in a sense extending the view of the garden – while still framing the grounds.


4. Create a country vibe with woven willow twigs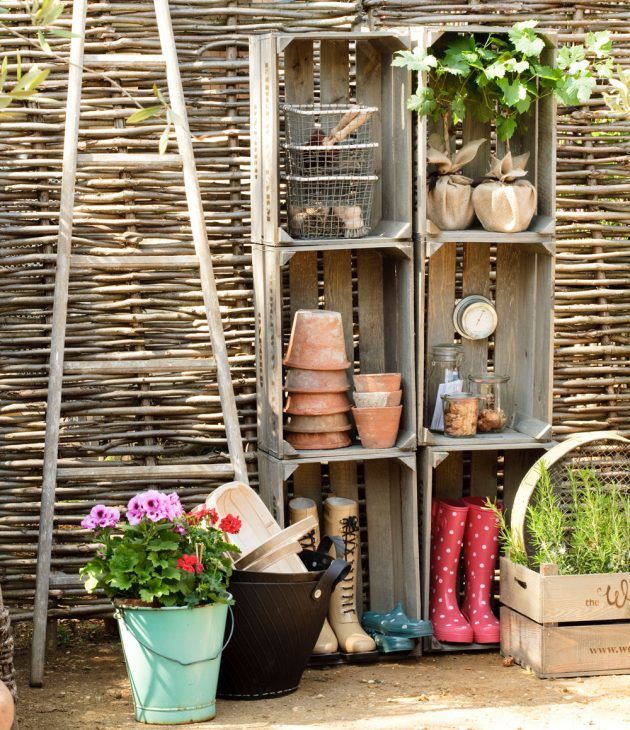 Give your garden a country-style feel with the addition of woven willow branch garden fence panels. Enhance the look by using vintage fruit boxes and crates stacked to form open storage shelves, storing, flowerpots and wellies.


5. Bolt-on a neon pink trellis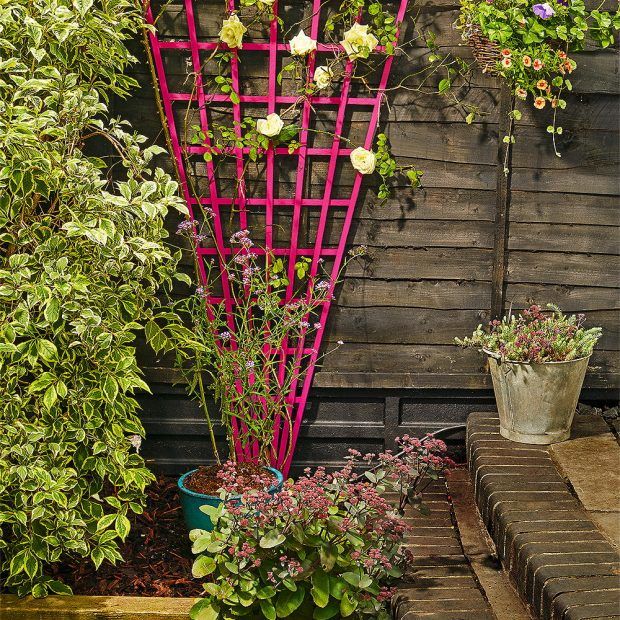 Give an old brown wooden fence a splash of colour with a colourful trellis. Fences are perfect for attaching trellis for climbing plants too. A vibrant trellis is a cheap and easy way to give your fence an easy, yet practical facelift.


6. Repurpose old shutters as fences and paint them your favourite colour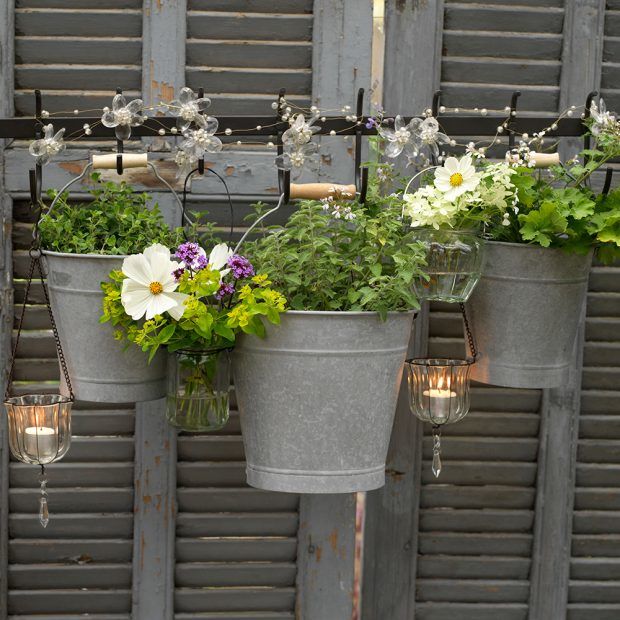 Create an innovative garden fence that has plenty of eco credentials by repurposing old shutters. Start by giving the shutters a coat of paint. Grey is a good colour for a backdrop, as it pretty much goes with everything, but white would look fab, too, especially when it starts to become rougher and less pristine. Add hooks to your shutter fence and use them to display pretty potted plants – buckets work well, as their handles make them easy to hang.


7. Pick trellis-style fencing that climbers will love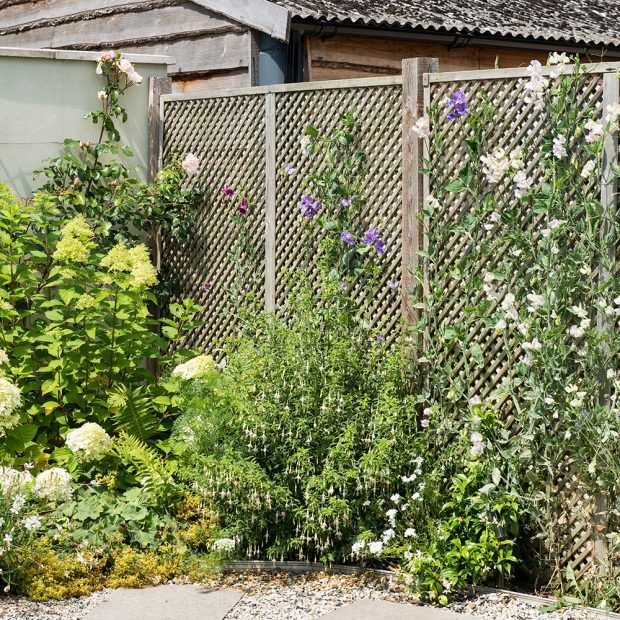 A trellis fence is ideal screening one part of a garden from another without losing too much light. And if you're a fan of climbers like magnolia, it's also a cost-effective two-in-one option.


8. Create privacy with a fence extension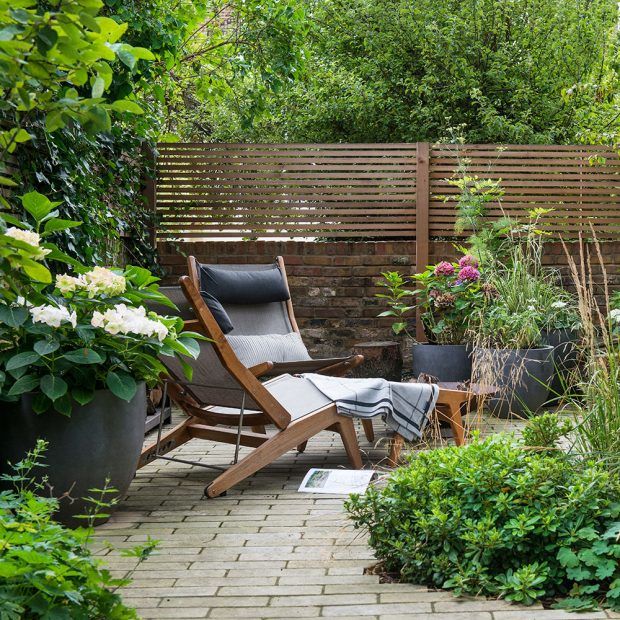 This beautiful low wall has so much character, it would be a shame to cover it up with full fence panels. Similarly, building it higher to give the owners more privacy would be costly and could make the space feel too institutional. This fence 'extension' has been carefully selected in a colour that complements the brickwork, and its horizontal slats have a contemporary feel to chime in with the landscaping's mix of traditional and modern.


9. Mount on an outdoor kitchen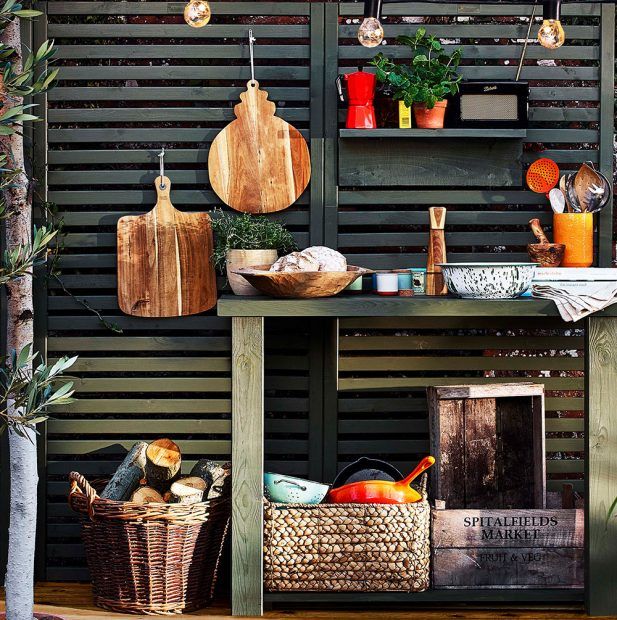 A slatted fence panel can be so much more! By adding a protective pergola above, a countertop and a shelf for storage, you can build up an outdoor kitchen for next to nothing. A little imagination, basic DIY skills and some timber can go a long way – add baskets for storing pots, pans and fuel for your outdoor cooker, and hang festoon lights so that you can cook well into the evening.


10. Paint your garden fence to make it colourful and cheery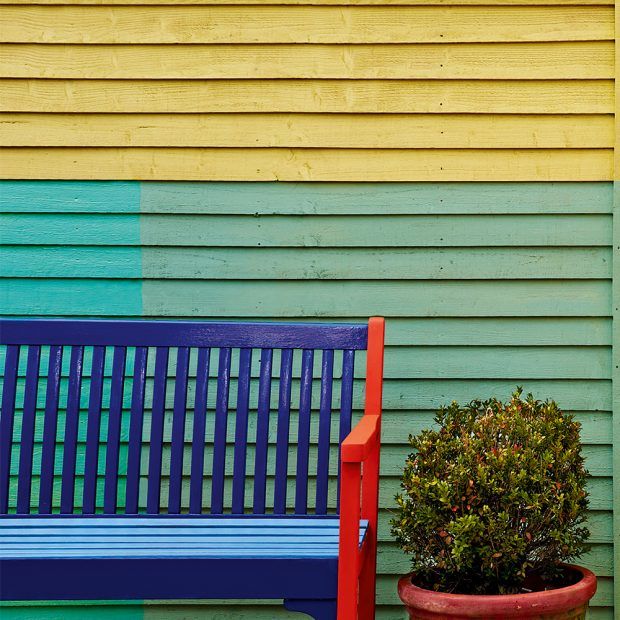 Let your garden fence stand out from the crowd with a stylish colour clash. If you're a brave sort, give your garden furniture a makeover at the same time. This picture shows that there are no rules. You could go for just one bold shade or divide your fence up into multiple panels – make masking tape your friend to achieve a perfectly straight line.