After nearly a year of spending more time at home, are you daydreaming of a new outdoor space to enjoy the fresh air and relax, or to safely congregate with friends and extended family? Wintertime may not seem like the obvious time to start planning such a project, but the months before the weather begins to turn warm provides plenty of time to consider all the options-from layout and style to materials and cost. If you're contemplating a new deck, TimberTech capped polymer and composite decking products check all the boxes: looks, variety, durability, and sustainability.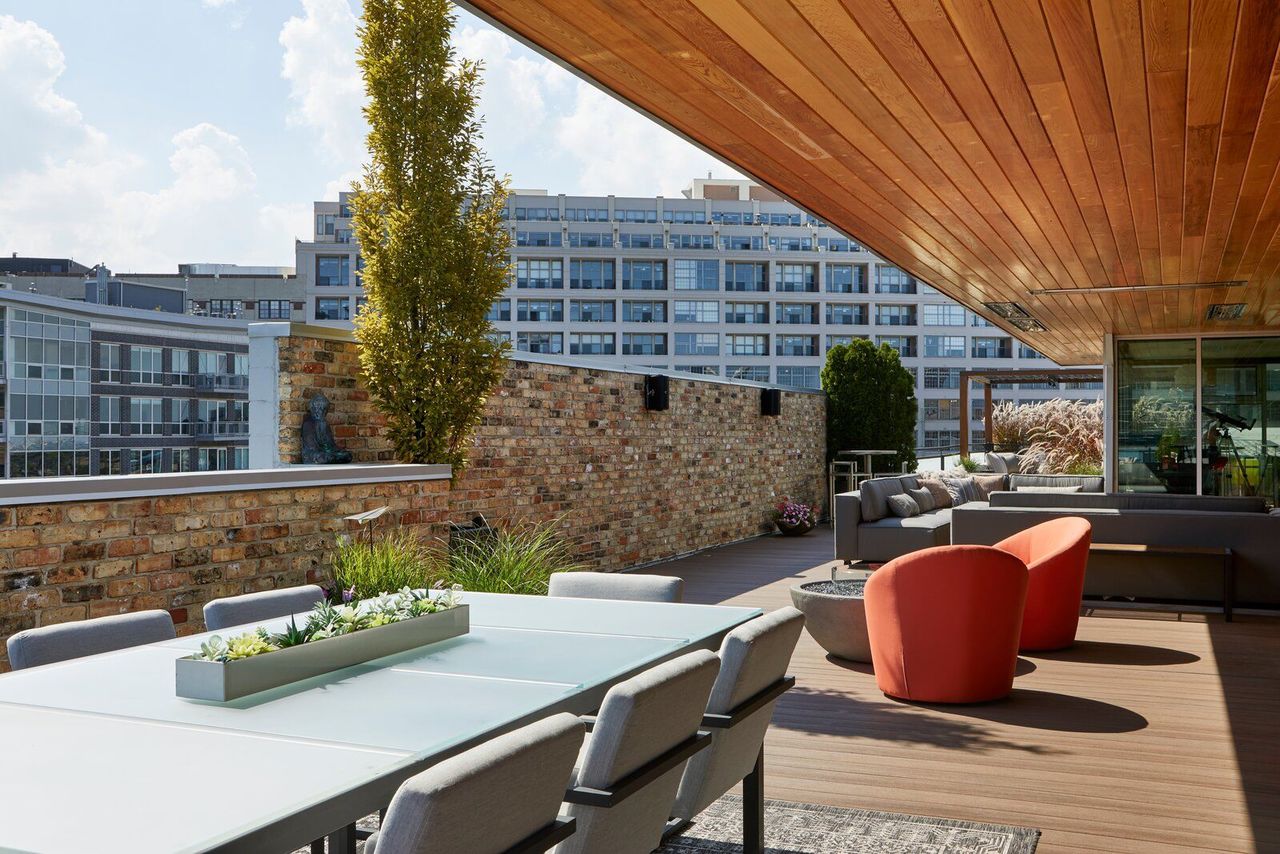 This penthouse apartment in Chicago comes with a dreamy rooftop that is clad in TimberTech AZEK capped polymer decking. An expansive overhang provides shade for the dining area and outdoor kitchen.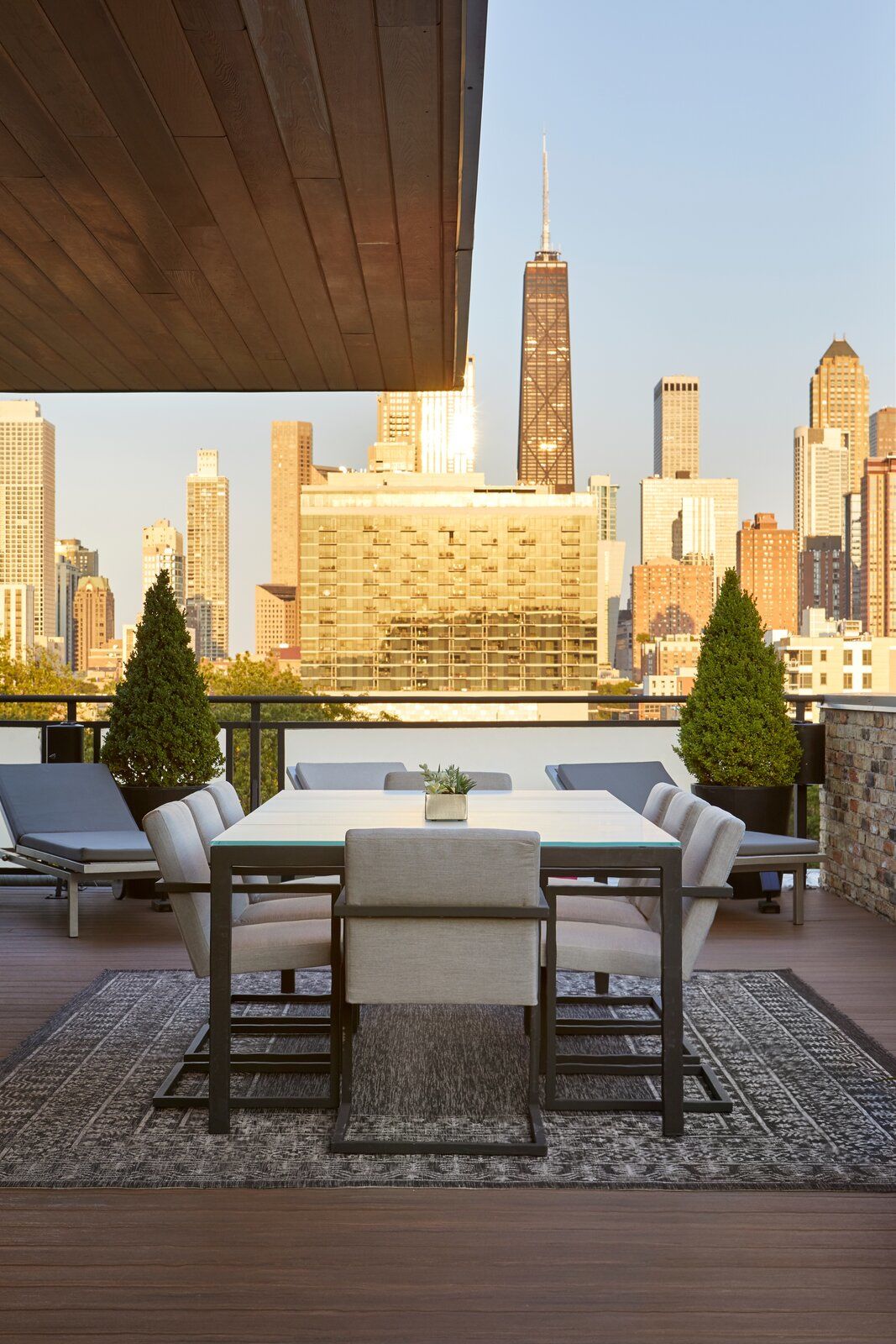 Views from the rooftop also overlook the world-famous Chicago skyline, including sights such as the 100-story skyscraper at 875 North Michigan Avenue, colloquially known as the John Hancock Center.

Thanks to recent product enhancements, the market for composite decking has been growing-with even more interest throughout the ongoing COVID-19 pandemic. "This was a trend that began even before the pandemic but we're continuing to see increased interest in outdoor living design, including decks, as people seek places to escape and, in general, want to spend more time outdoors," says Bethany Sanker, VP of Integrated Marketing at the AZEK Company, the group behind TimberTech decking. "Our contractor partners reported stronger than normal demand throughout 2020 and indicate they expect this to continue in 2021."




Along the opposite side of the rooftop, a seating area is topped by a large pergola. TimberTech's composite boards are manufactured using a multi-stage color blending system that adds subtle highlights and low-lights to convincingly recreate the look and feel of real wood.

Depending on the scale and location, it can sometimes take up to six months to design and build a deck, factoring in time for the initial research and material selection, as well as the extended lead time many contractors and designers now require. "Construction typically occurs in warmer months, which makes winter the perfect time to start the process so you can enjoy your deck as early as spring," Sanker adds.

Whether you're renovating an outdoor space or creating it from scratch, consider this: even a consistently maintained wooden deck has a service life of around 15-20 years. In comparison, TimberTech AZEK's low-maintenance capped polymer decking-which bears a striking resemblance to real wood-comes with a lifetime warranty and won't rot, warp, or splinter like traditional pressure-treated wood. All of this is possible even as each decking product is engineered with majority recycled material, which allowed the company to utilize nearly 400 million pounds of scrap and waste-such as sawdust and plastic bottles-in their manufacturing process just last year.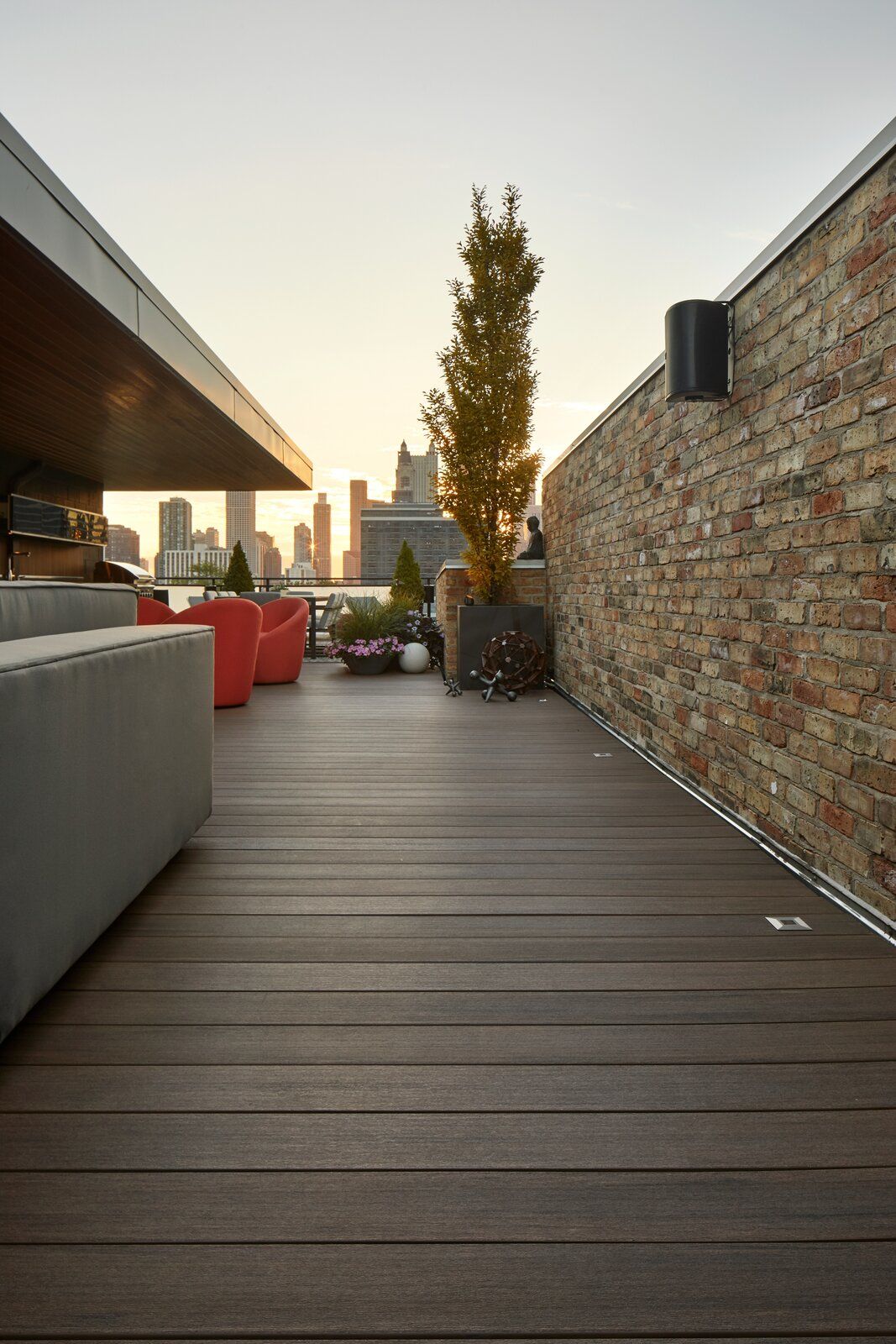 For this project, the designers selected boards from the TimberTech AZEK Vintage Collection in English Walnut. The Vintage Collection also includes a variety of other sizes and colors-from Weathered Teak to Dark Hickory-while the alternative TimberTech PRO and TimberTech EDGE product lines provide additional options.

Wondering where to get started? Sanker first suggests considering whether you can tackle the project yourself or need to hire a contractor, whom you'll want to involve during the design phase as well. "TimberTech offers a project checklist, which covers the major steps from design ideas to scheduling your deck installation," she explains. "Our free online deck design tool also allows you to review 3D plans and templates or create a virtual model from scratch."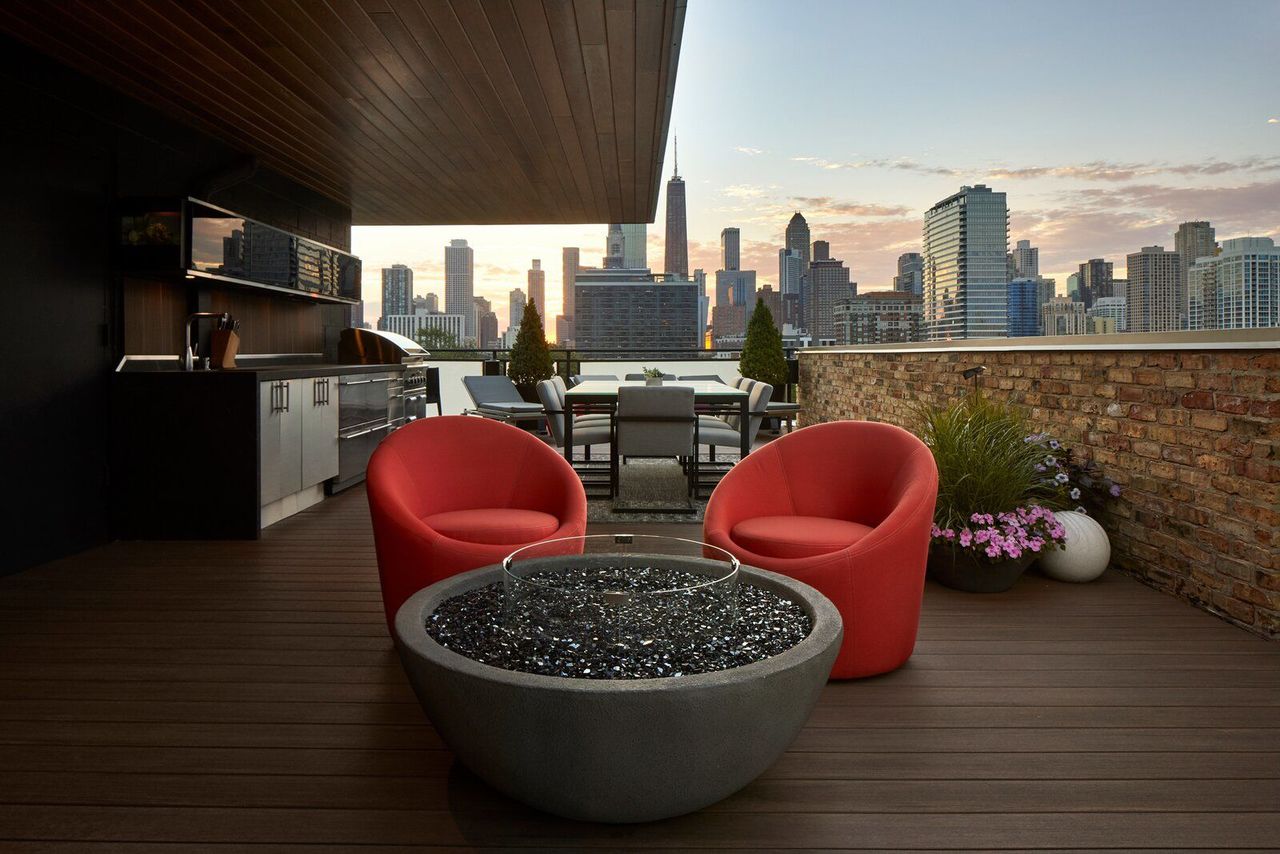 TimberTech AZEK products utilize industry-leading technology for better slip resistance and fire safety, as well as exterior finishes that help to keep the boards cooler to the touch.

Other tips from Sanker include considering multi-width boards to mimic wood flooring inside your home or adding a perimeter board in a different color to provide an accent. "Popular trends for the new year also include distressed and weathered finishes that recreate the randomness of wood grain as compared to composite boards in a repeating pattern," she says.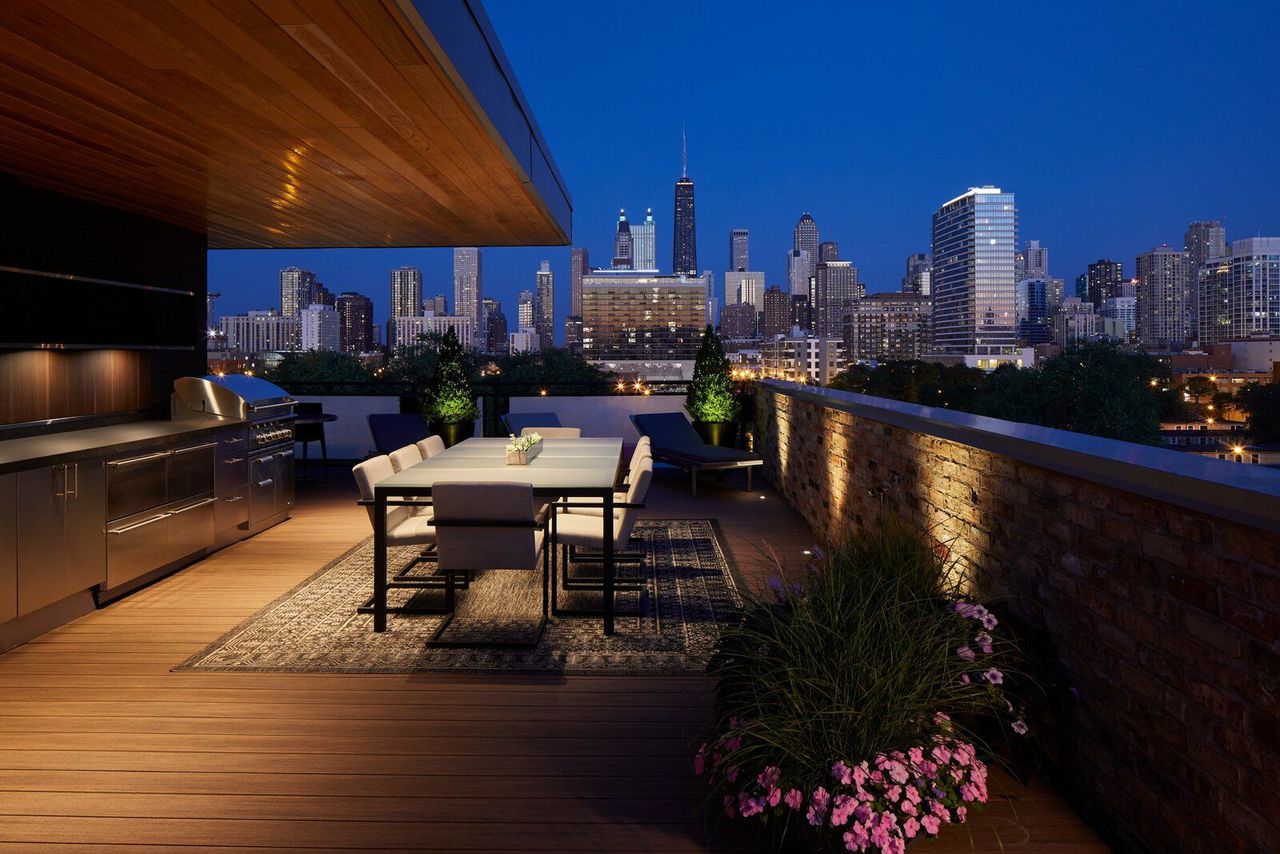 At night, lights along the rooftop create a cozy atmosphere for observing the cityscape.

"Ultimately, it's important to remember that you're building an outdoor living area, not just a deck," Sanker adds. With a variety of colors, wood grain finishes, and sizes, TimberTech offers a myriad of options for creating your own dream space. If you're feeling inspired, go ahead and order free samples to see the colors, materials, and textures in person and get a sense of how they look in your space.


Take a Dual-Application Approach-Use TimberTech Composite Boards as Cladding

For those already working on a composite deck installation, the time couldn't be better to integrate deck boards into premium-performance exterior cladding as well. TimberTech's wide range of boards-available in various widths, colors, grain patterns-can also be used to create durable and eye-catching accent walls along your home's facade. Not only would the cladding be low-maintenance just like your new deck, but the dual-application approach can also boost the overall curb appeal of your home.