Designing your own French country style dining room requires some planning and organization, here's some tips to design your dining room into luxury French country style and we'll also give you some inspirational photos for your reference.
1. Choose color schemes with natural tone that fit French country décor before purchasing anything and make sure that your color schemes match the patterns for any drapery or furniture in the dining room or if you want to contrast the natural tone, you can choose a cyan blue or a pale yellow.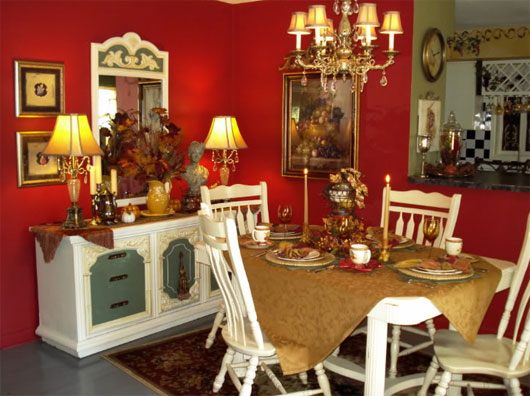 2. If you have been found a suitable color scheme with your taste you can add a wallpaper. Wallpaper with a continued pattern of a floral design, or a natural toned paint is common in French country design.

3. As for the flooring, wooden floor or a rough tile floor are both excellent choices, especially red clay tiles to accompany the red clay foundation of French country homes.

4. Over-sized, light-colored furniture with a distressed antique look, long dining tables and high backed chairs are ideal choice for the room.

5. Don't forget to include wrought-iron lighting fixtures, decorative wall plates and luxurious table linens as the accessories.