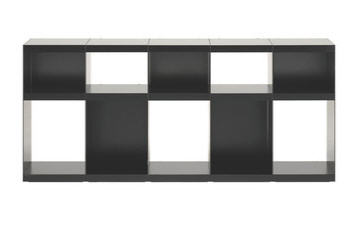 More Details


5 bay low shelving unit
954415, W173 x H75 x D35cm
Particleboard dividers and innovative Elubond panels, which are sandwiches of plastic and aluminium.
Black
State at delivery: Home assembly
Care instructions: Wipe with a damp cloth and washing up liquid. Rinse and allow to dry. Regular dusting with a dry cloth will keep your units clean. Do not use abrasive cleaners. Don't let household cleaning agents, such as bleach, sit on the surface for a long period of time. Do not use Solvent based cleaners. Avoid contact with alcohol based substances. Avoid contact with abrasive materials as they can damage the surface. Avoid sharp objects. Do not strike with hard or pointed items. Although the product is protected with lacquer, it remains possible to scratch the finish and care should be take during use.