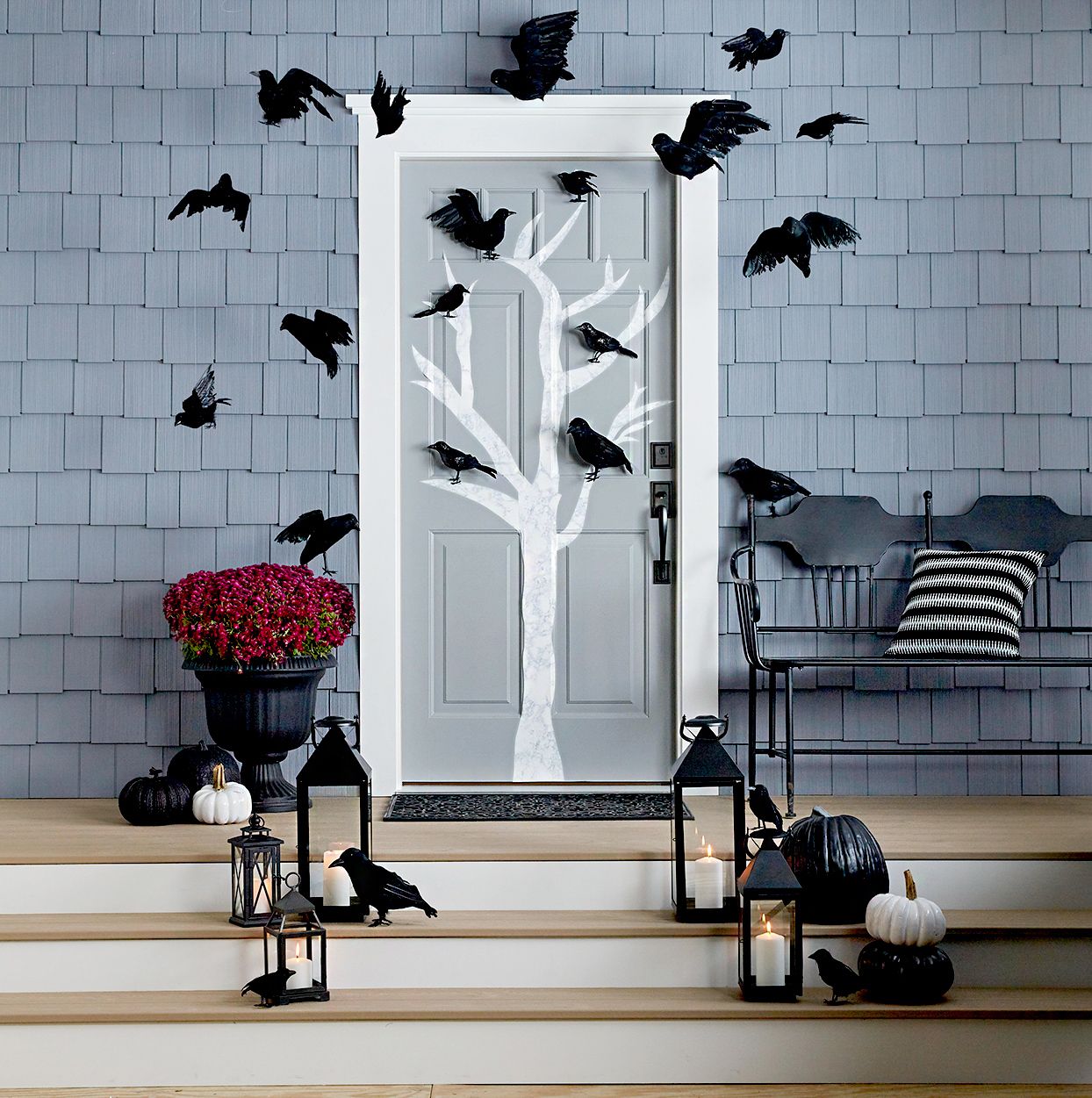 Crows Front Porch

Gather a murder of crows at your door for a spooky Halloween front porch. Use a combination of crows created from black contact paper and artificial crows ($23, Oriental Trading) hung from fishing line to create an immersive experience that even Moira Rose would appreciate. Add a twiggy tree made from contact paper to your front door to give these feathered fiends a place to perch. Fill out the front steps with black lanterns, pumpkins and urns filled with mums.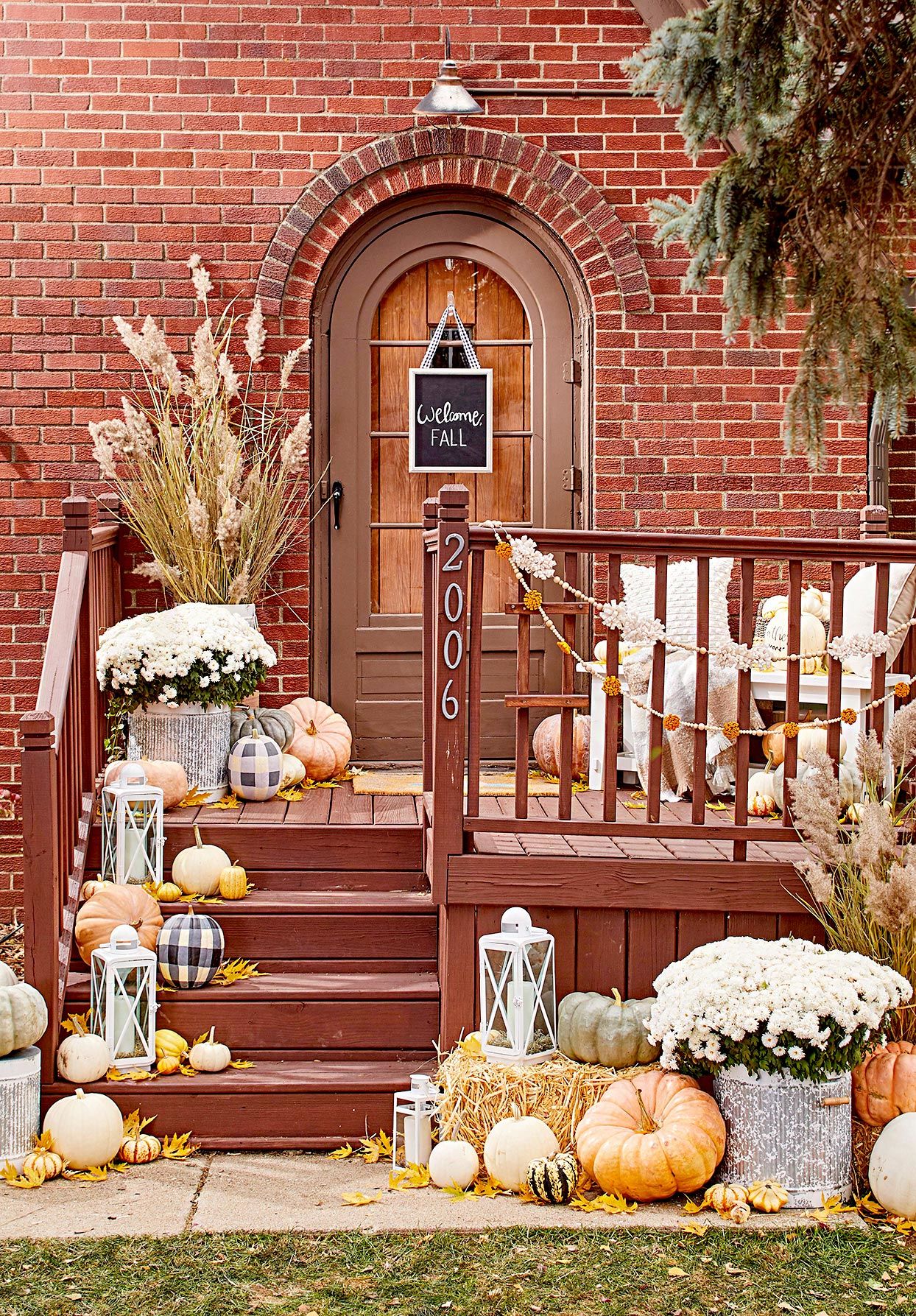 Fall Festival Front Porch

Capture the charm of a fall festival on your doorstep with a stylish arrangement of dried grasses and white mums in large metal bins. Fill out the look with hay bales and the muted tones of heirloom pumpkins. For a little farmhouse style, paint white pumpkins with black and gray squares to create a buffalo check pattern. String beads and felt poms to create a simple and sweet garland.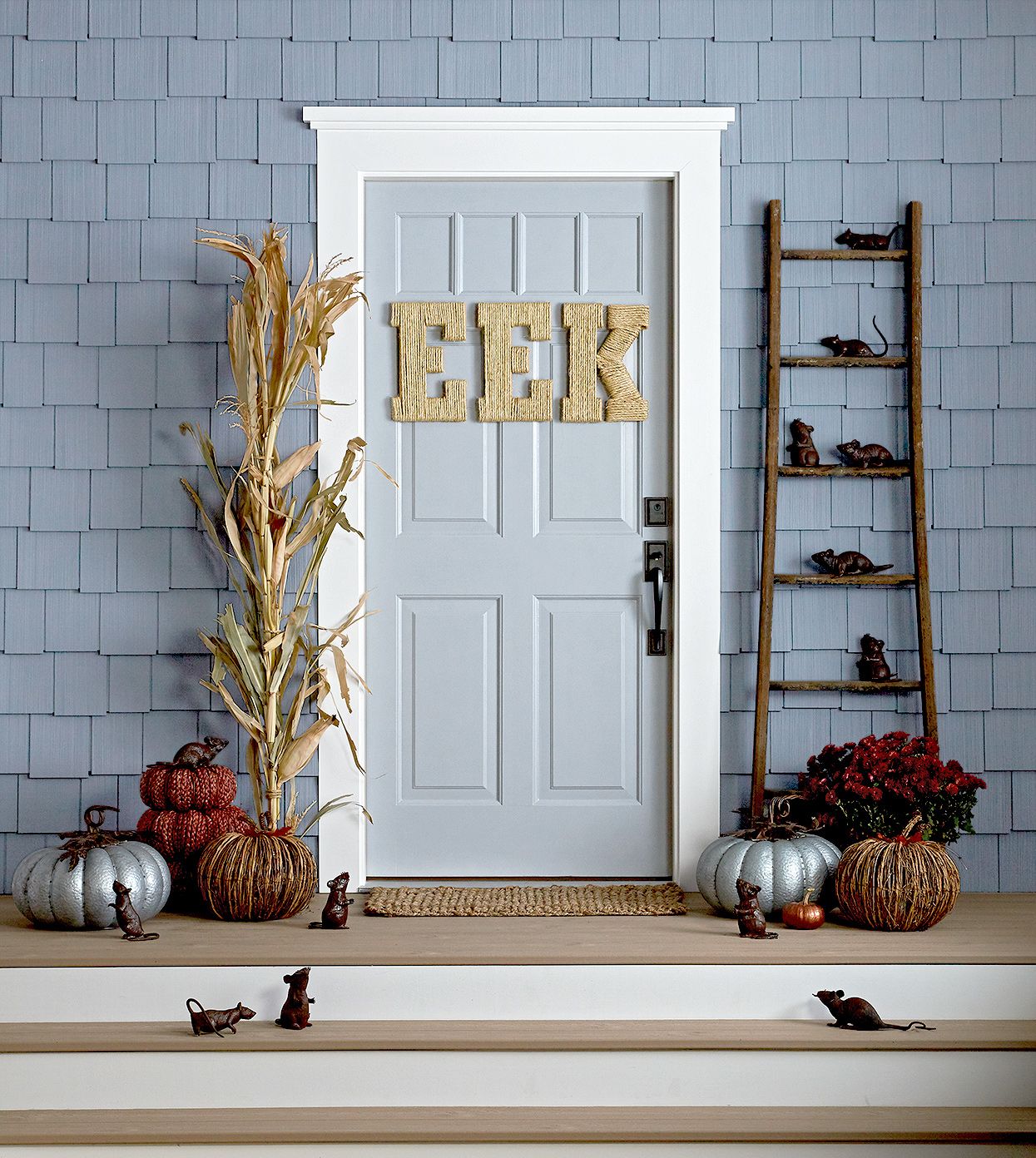 Simply Creepy Front Porch

All it takes is a few plastic rats ($7, Party City) scurrying about to create a front porch display that would make anyone squeamish. Place the rodents around your front door and let them climb a ladder or perch on outdoor furniture for an infested feel. Wrap sisal rope around letter frames to craft an alarming welcome message to your door. After Halloween, swap out the door decor for a wreath and remove the rats to make your front porch guest-ready for Thanksgiving.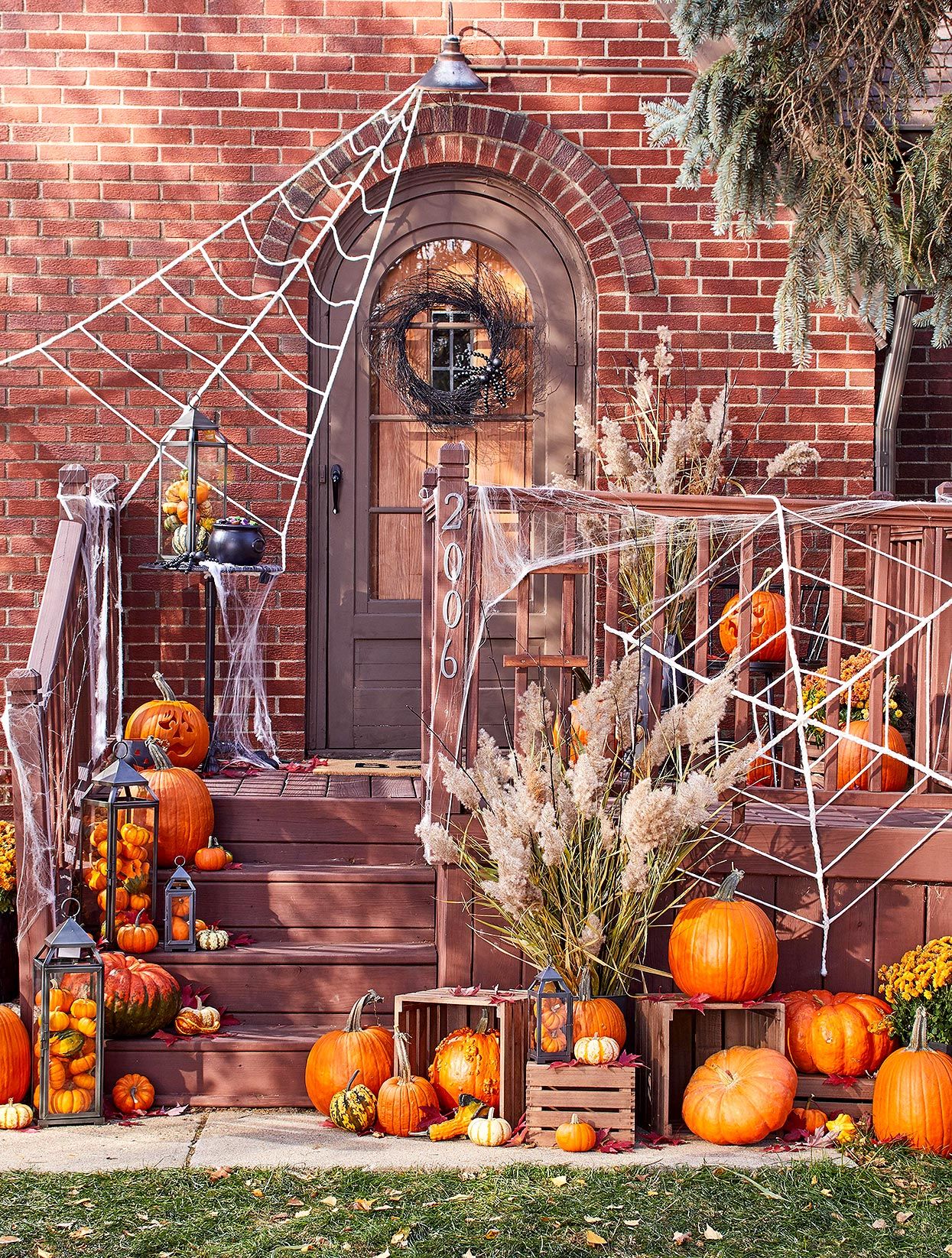 Spider Web Front Porch

Giant spider webs instantly give a charming front porch a haunted house vibe. Made with braided yarn, these large webs can be reused year after year. Stretch spiderwebbing along the railing. Fill out the rest of the fall front porch with a variety of carved pumpkins tucked in wooden crates and large lanterns.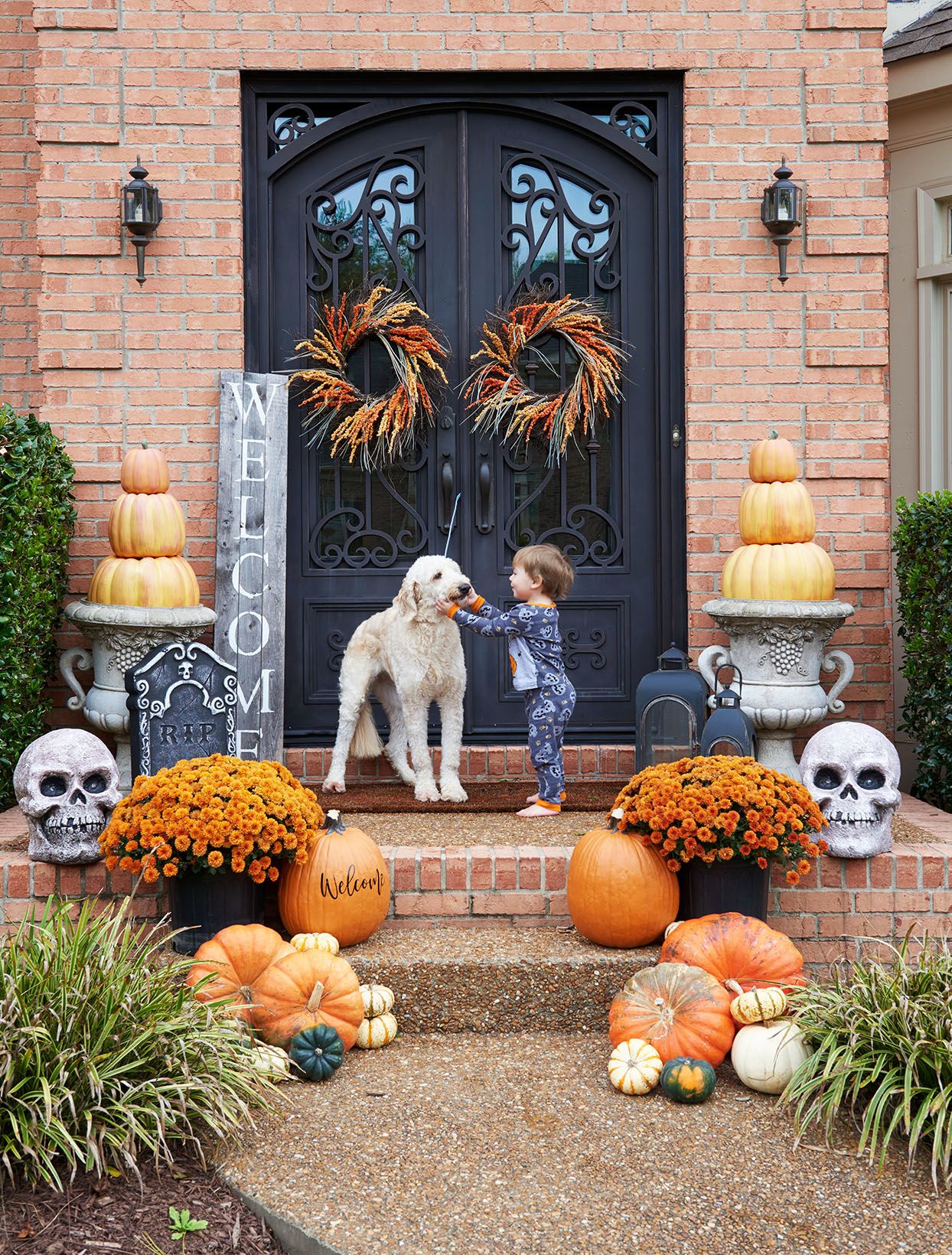 Haunted House Front Porch

Imposing skulls and faux gravestones ($20, Party City) give the front porch the ominous energy of a haunted mansion. Large urns holding a tower of artificial pumpkins add height to the front door display. Stick wreaths and a collection of pumpkins and mums round out this scary Halloween porch idea.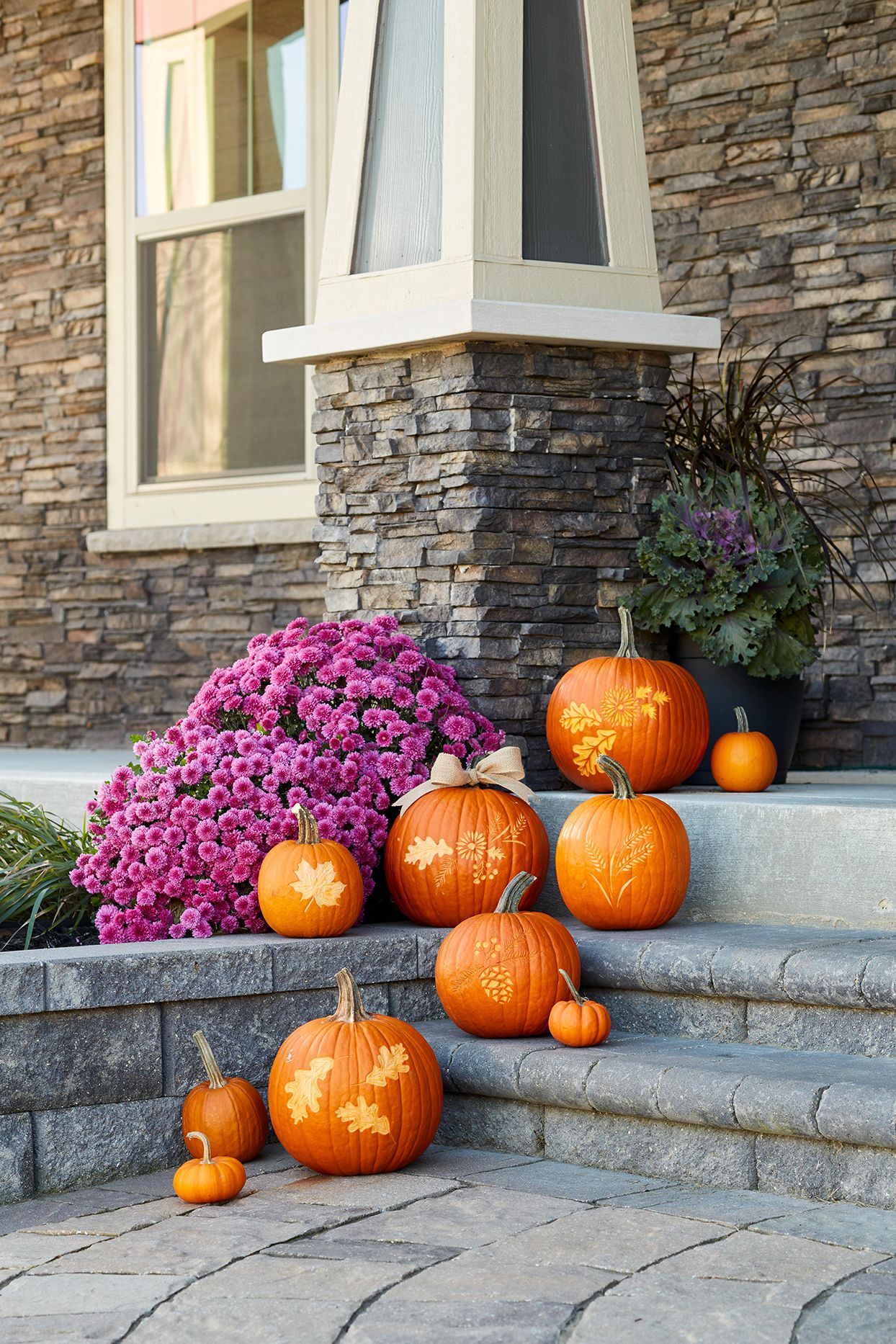 Crafty Halloween Front Porch

Etch leaves, flowers and other natural woodland designs onto pumpkins for an enchanted fall display that will last all season. Group the pumpkins on your porch steps and adorn a few with jute or gingham bows. Add pots of fall flowers or decorative vegetables and grasses to complete this delightful Halloween porch decor idea.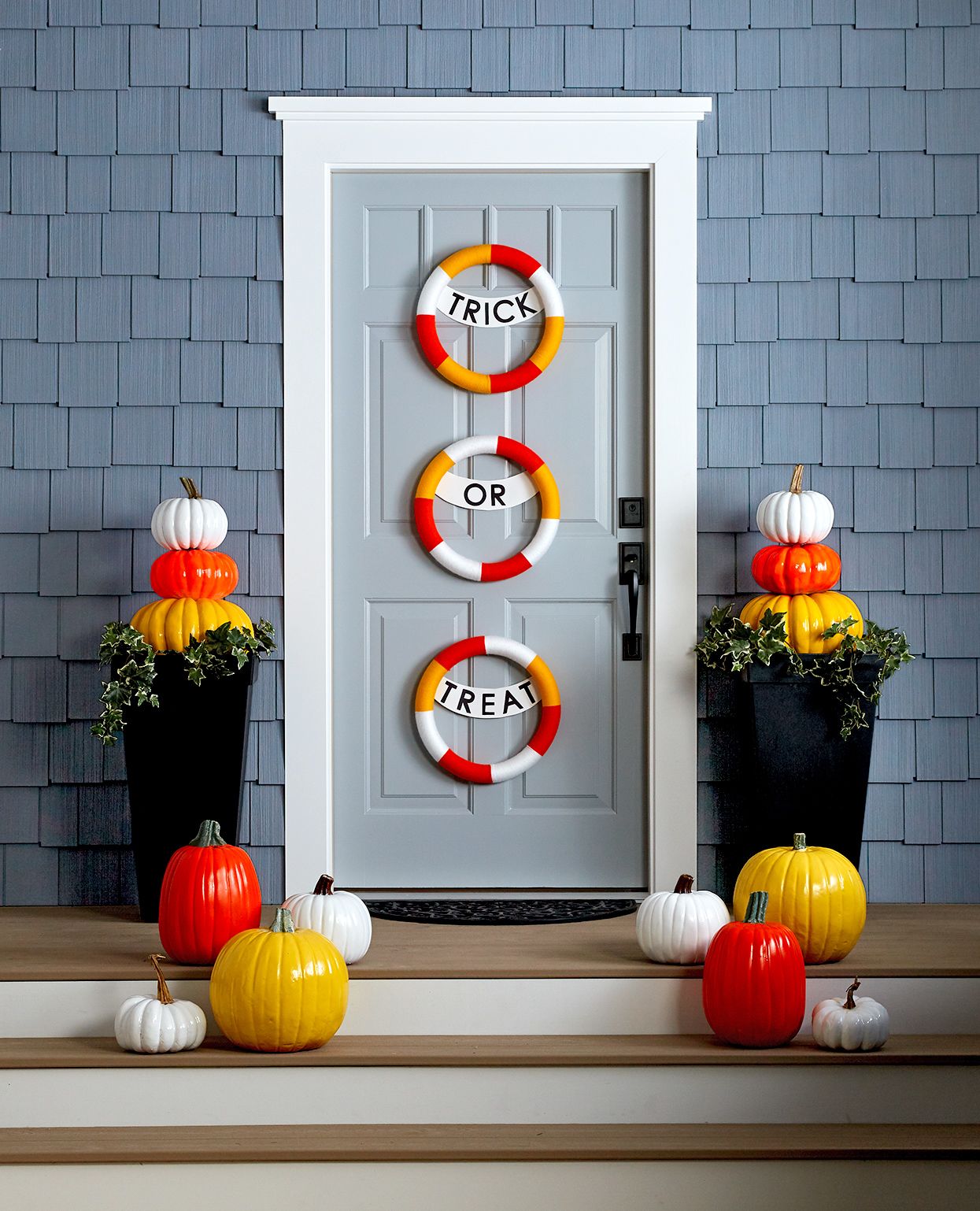 Candy Corn Front Porch

Embrace a fall favorite-candy corn-and make it the inspiration for your front porch with a yellow, orange and white color scheme. Spray paint real or artificial pumpkins. We used artificial pumpkins so they can be used again and again. To create the tower of pumpkins, drill a hole through the center of each pumpkin, and secure them a dowel. Wrap yarn around foam wreath frames to create this bright trio of wreaths. Print a message and affix each word to a wreath.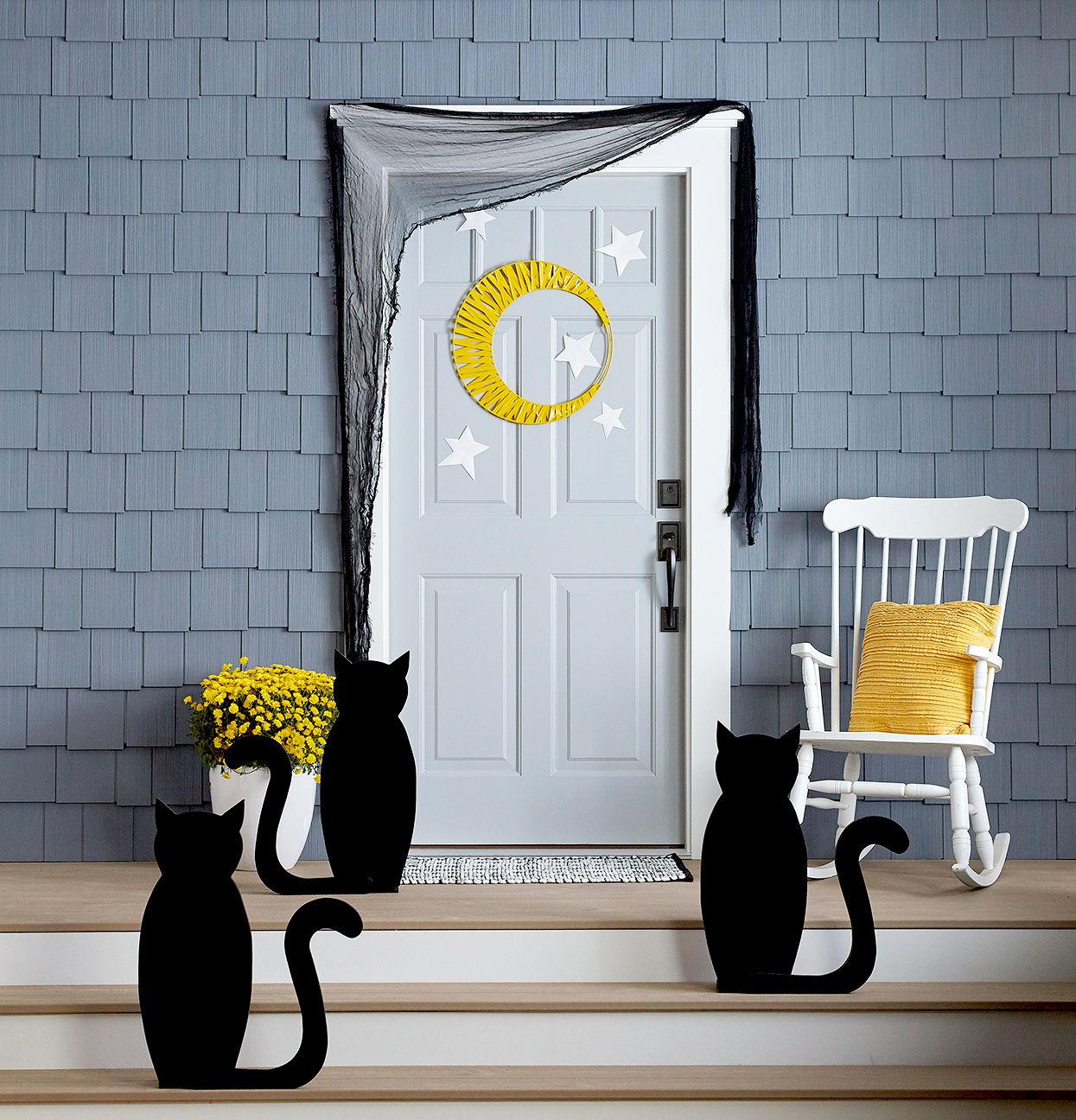 Black Cats Front Porch

Treat yourself to a crafternoon! This fall front porch design is made with a couple of easy Halloween DIY projects. Cut out the cat silhouettes on medium-density fiberboard and spray paint them black. While they are drying, craft the crescent moon with two metal wreath frames. Use yellow electrical tape to secure the frames in this offset design. Then wrap the tape around the crescent as desired. Finish the look with black gauze and a few paper stars on the door.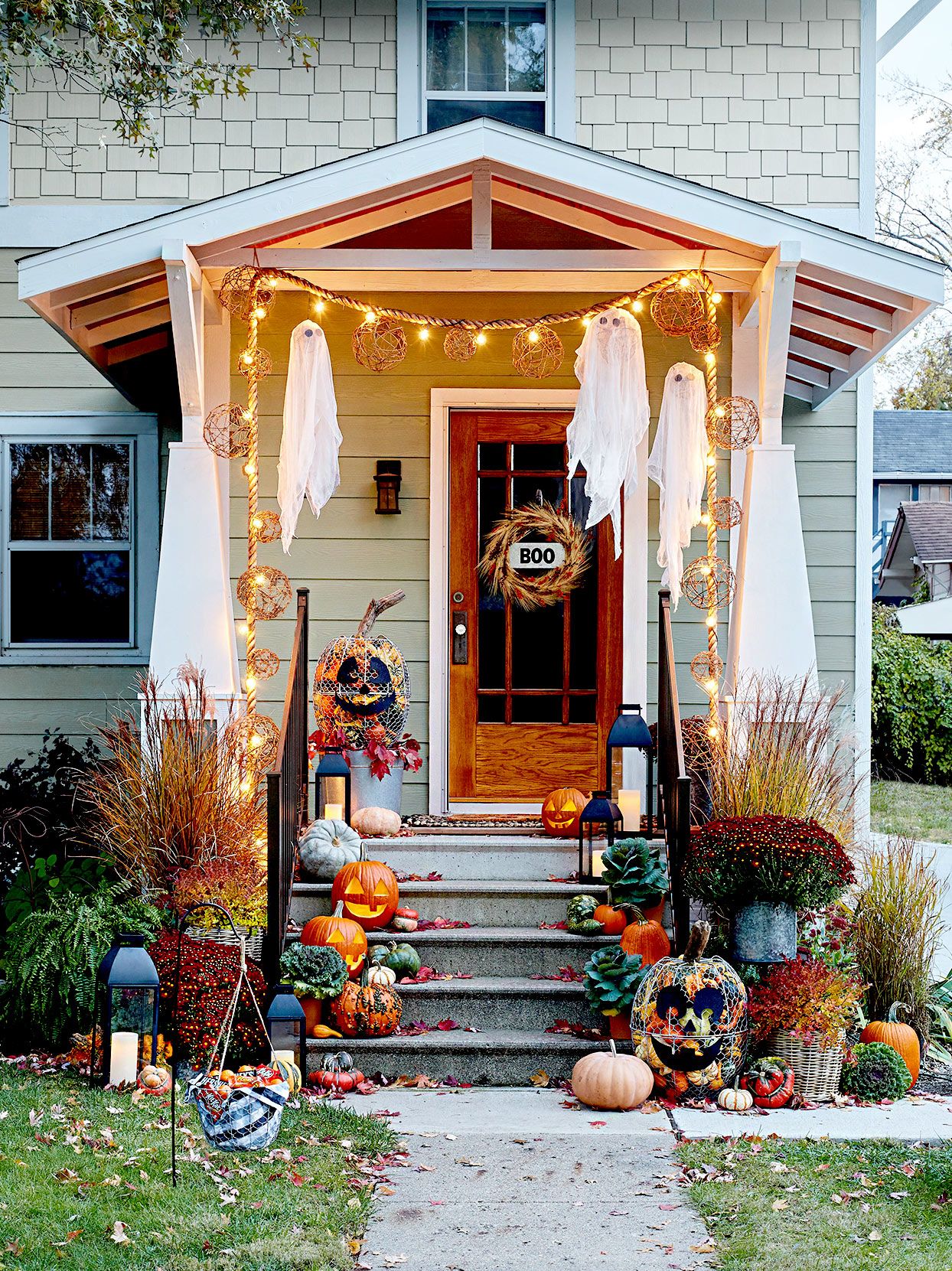 Ghostly Front Porch

Decorate a thick rope with grapevine twig balls ($10, Target) and a strand of outdoor lights to create a draped Halloween porch light garland. Create ghosts by putting white gauze over a few of the twig balls and add black felt circles for eyes. Hang your ghosts with fishing line from the porch ceiling. Dress up the steps with tall lanterns, potted cabbage, baskets of mums and grasses, and an assortment of pumpkins.


Fall Foliage Front Porch

Incorporate the natural colors of your landscaping into the autumnal color scheme on your Halloween front porch. Dress up a stick wreath with artificial leaves. Use urns, metal bins, and hay bales to create layers of color with pumpkins and fall flowers. For a subtly spooky effect, string a giant spider web across the front porch.