And you know what that means: New house, new spaces to Dabify! We got a little cottage that's about 860 sq. ft. What's even more exciting is that I got to partner with one of my favorite brands, Crate and Barrel, to dress up our new living room.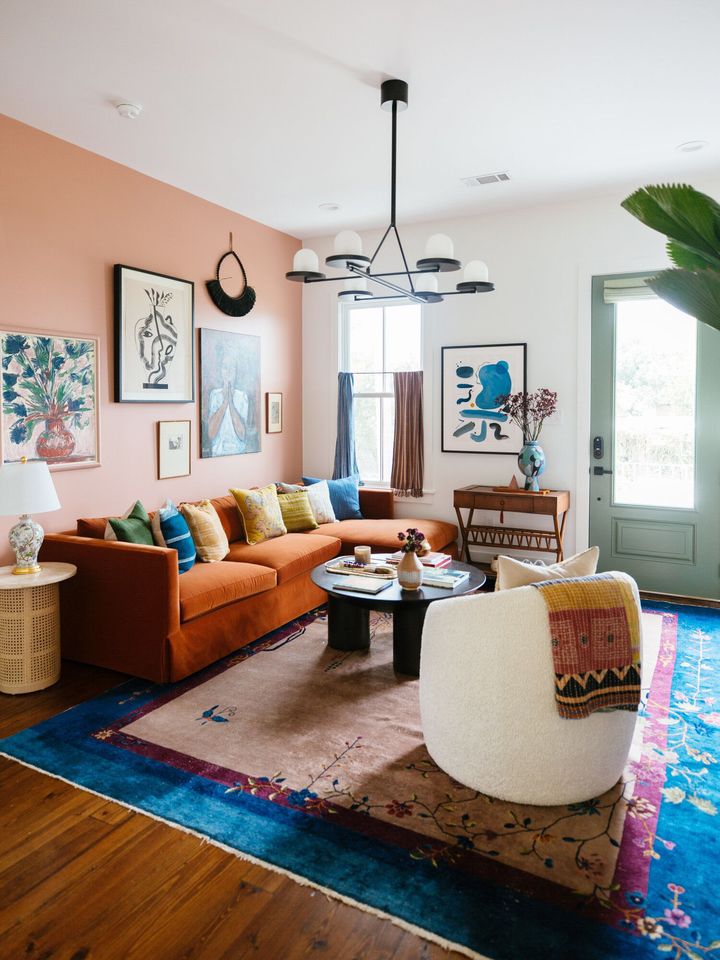 The move happened in a flash and I realize that for some people it might be less stressful to take a little more time to decorate. But for me, it was important to make it feel like a home as soon as possible. I like to decorate fast.
To make it cozy and personalized, I love to combine new pieces with vintage ones. So to balance out my flea market and antique store finds (you know I've been loving hunting for them in a different city!), Crate and Barrel's fall collections, Urban Retreat and Modern Prairie, have added the perfect touch.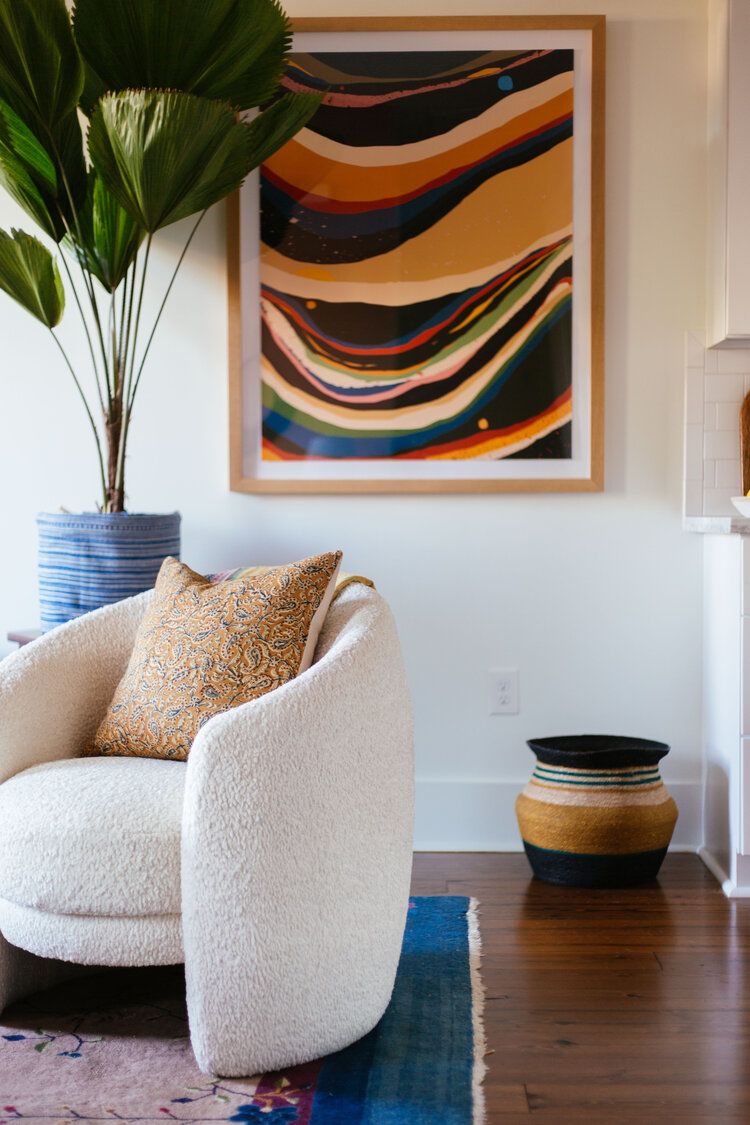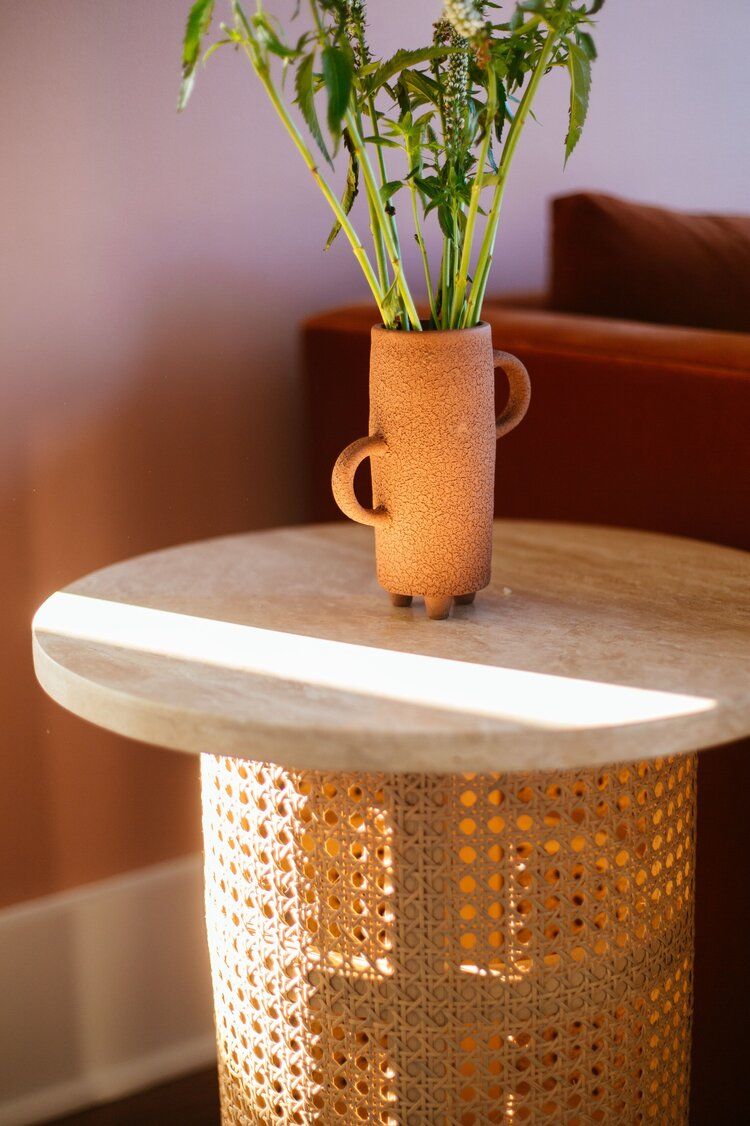 The Urban Retreat collection is full of pieces that have soft silhouettes, luxurious textures, and a neutral, calming palette! Modern Prairie is warm and nature-inspired. It's ideal for fall (imagine colors like amber and russet), but everything is neutral enough to work year-round as well.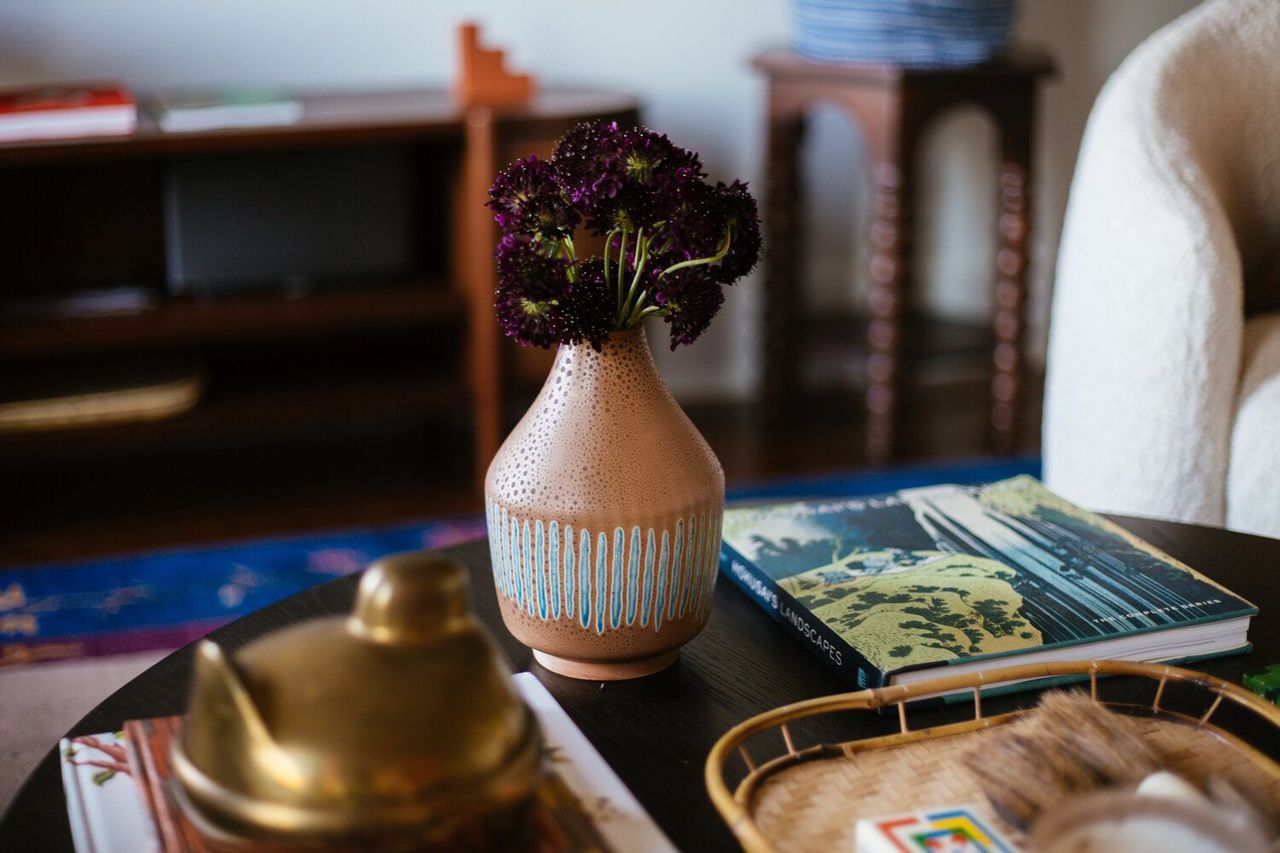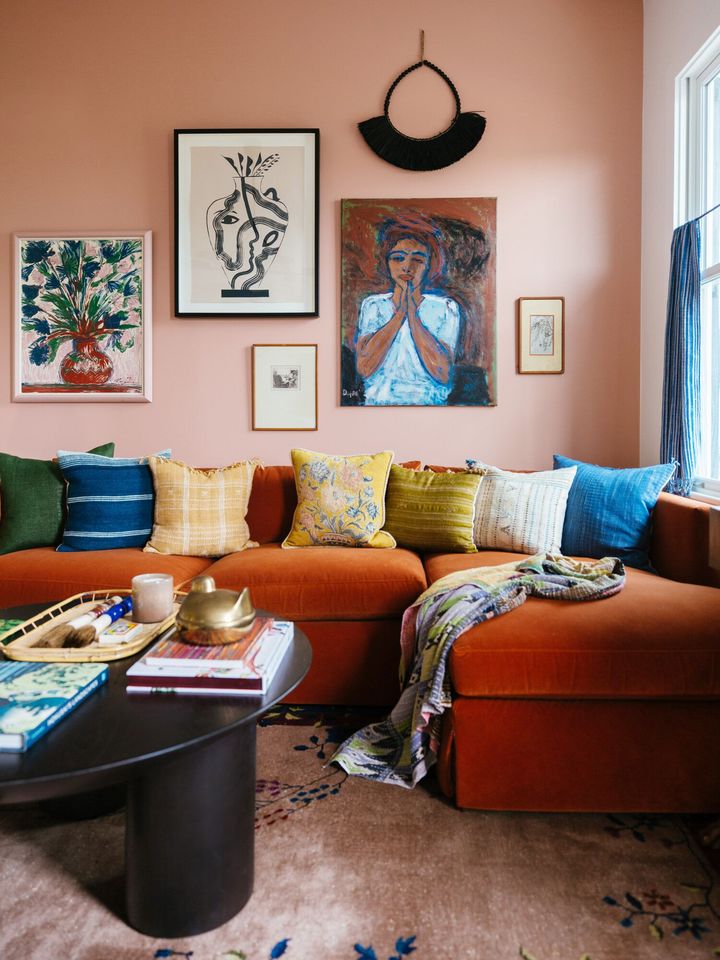 And speaking of color, the first piece I gravitated to was this Magritte sectional in Variety Tangerine velvet. I knew I wanted a rust-colored sofa, and this one was the perfect balance of bold and versatile.
I've never been afraid of going wild with color in my spaces, and I think a sectional like this one proves that it's possible to go big with statement pieces and still have the overall room feel very balanced. And because seating is really the most important part of any living room (and certainly gets the most use!) it's worth your while to splurge a little.
This is the perfect firmness and deep enough to get cozy. To play off the sofa's warm color, I picked up some blue and green colored pillows that were made from 100% wool blanket hand woven in Gujarat, India from Xasmin Interiors.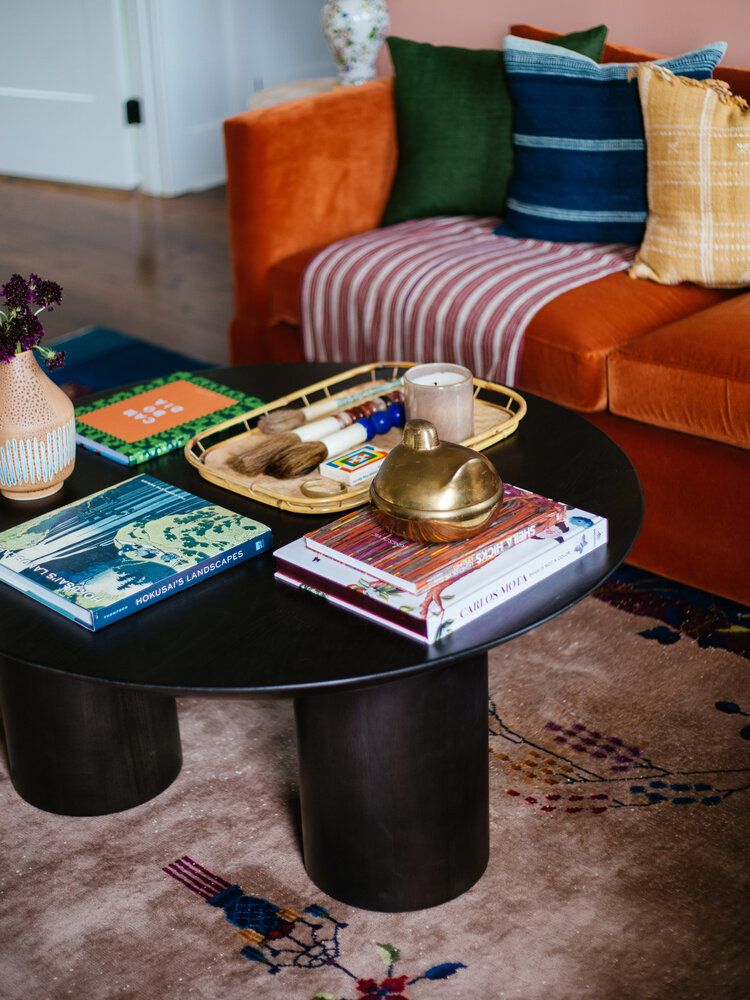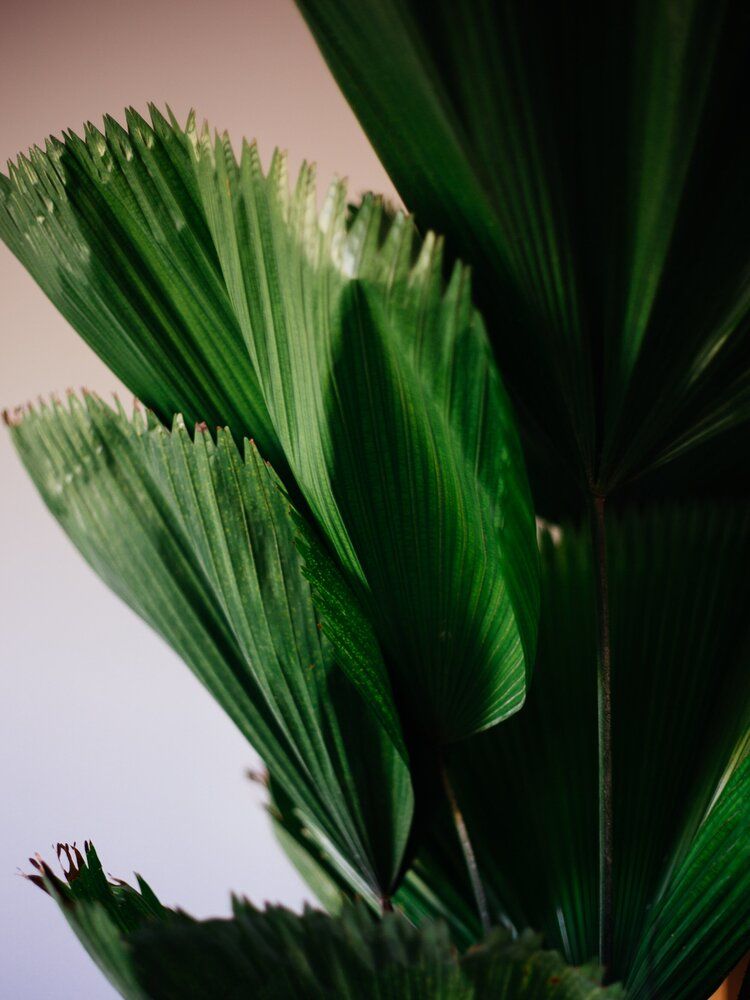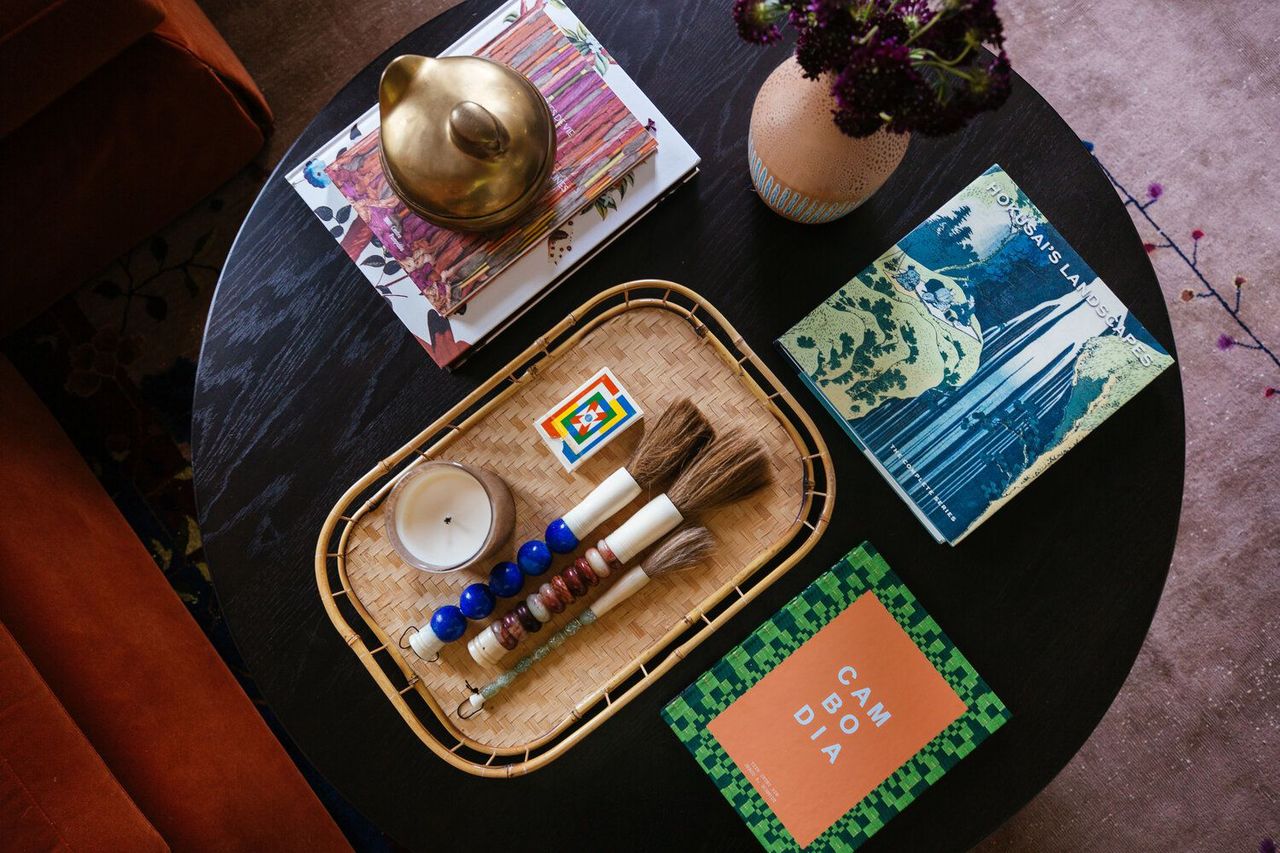 I picked the round Tom three-legged coffee table because I love the simplicity of its form. It's also crafted from sustainably sourced oak. I wanted to add a bold piece of black to ground the space a bit. And to zhuzh up the coffee table, I picked out art and travel books, accessories, and Crate and Barrel's Scoville small tan and blue vase with some florals.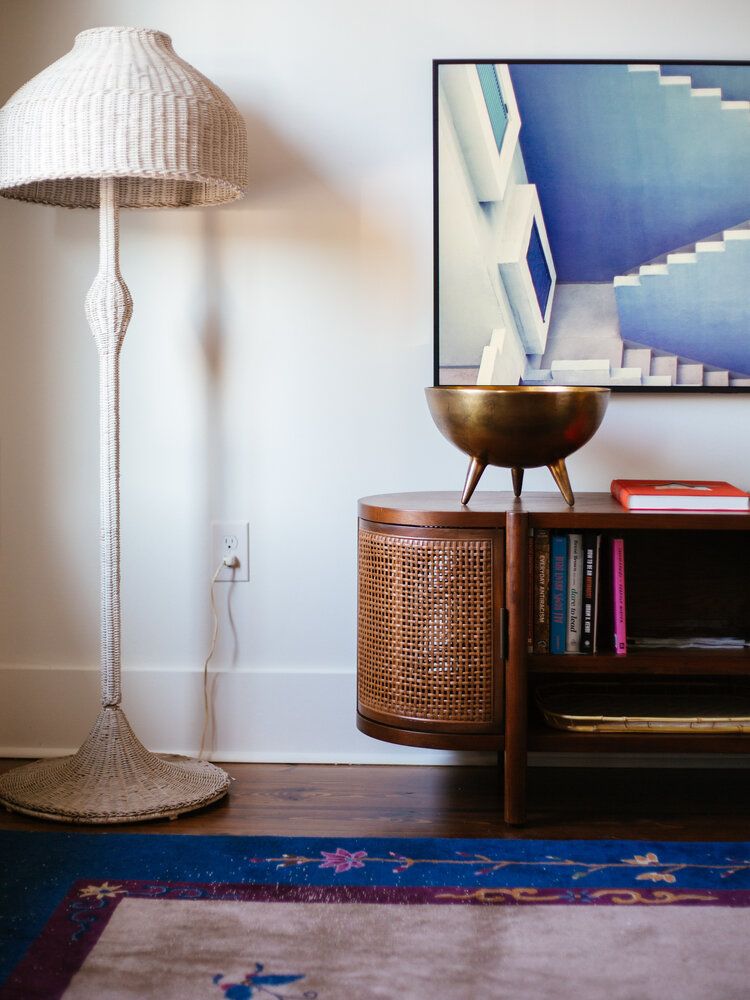 One detail I totally fell in love with from the Modern Prairie collection was all the cane! Cane has been a huge fall trend but I also don't see it going anywhere anytime soon, so I was really excited to add this Vernet travertine end table and bring a bit of that texture into the new living room.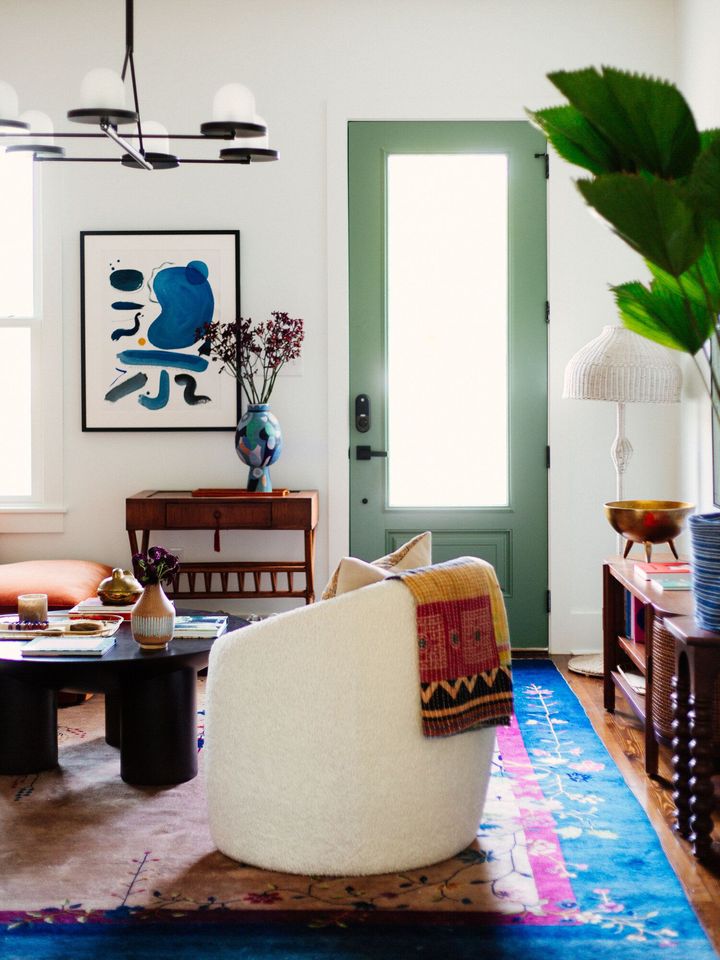 Another signature piece is the white boucle Calder chair — it just screams cozy but is still very chic and sculptural. It feels like you're cuddling with a polar bear! And it's made from vegan sheepskin. I can already foresee many evenings snuggling up there with a cup of hot tea.
A few more new finds that rounded out the room are the Picardy brass footed bowl on the TV stand. It's basically a big catch all. Hung up the large, colorful Diumalidad print (which reminds me of Saturn's rings), and obviously the Siren pendant.
I honestly don't like ceiling fans blowing on me so it had to be outta there! I love how simple and sculptural the pendant is. You can also adjust the globes pointing down as well but I prefer them up. Even though the space is about the same size as our living room in LA, we have really high ceilings here, which makes using such a large piece like this a lot easier. It also helps draw your eye up.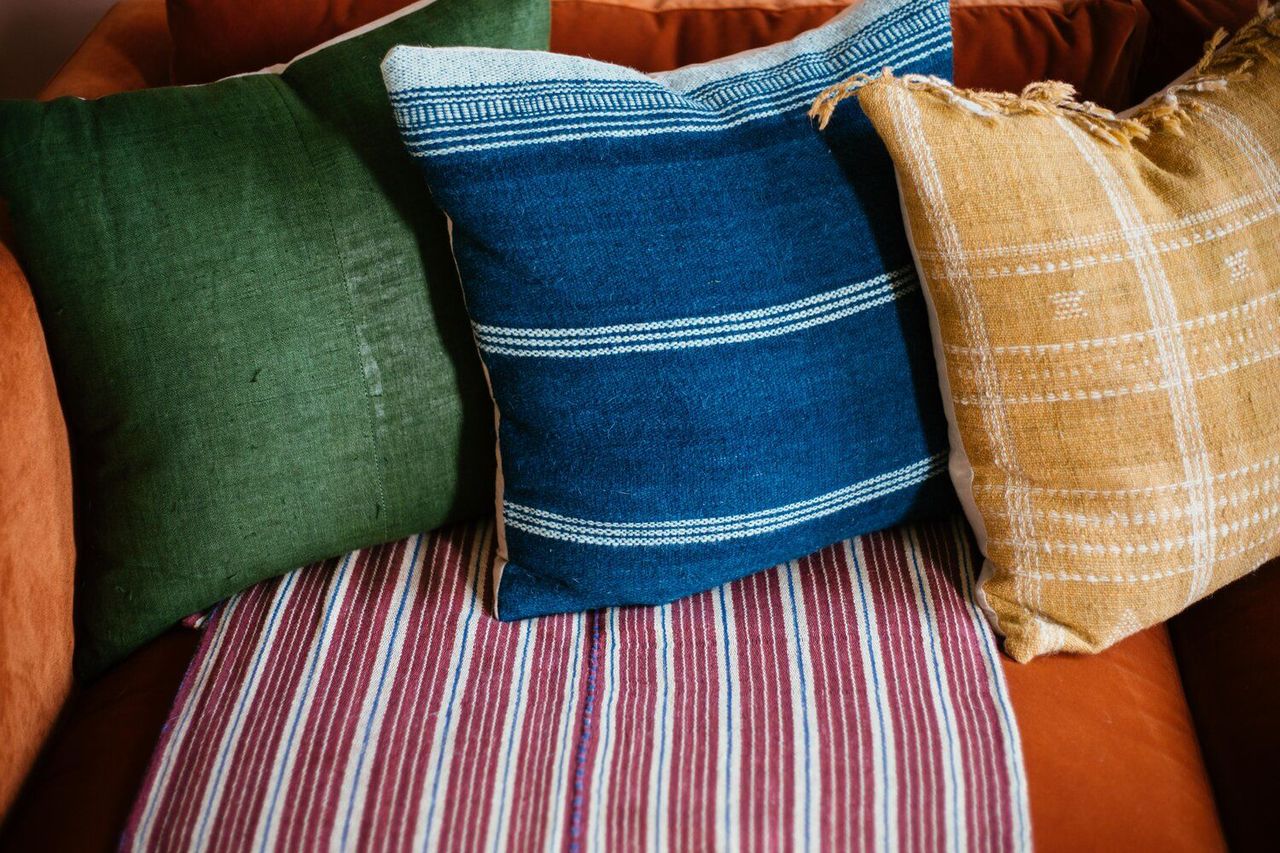 To create the eclectic, worldly vibe I love, I mixed in pieces from local shops like Whitney J Decor and Merchant House. The painting above the sofa was created by a local artist, Blaire Dupre. And the vase print is by Anna Koeferl. I also decided to paint an accent wall to make it more bold. I went with a pale, peachy-pink (BEHR Shiny Kettle) that's in the same color family as the sofa, so it keeps the warmth more continuous through the space. As a finishing touch I added this vintage Chinese art deco rug. I just love the florals!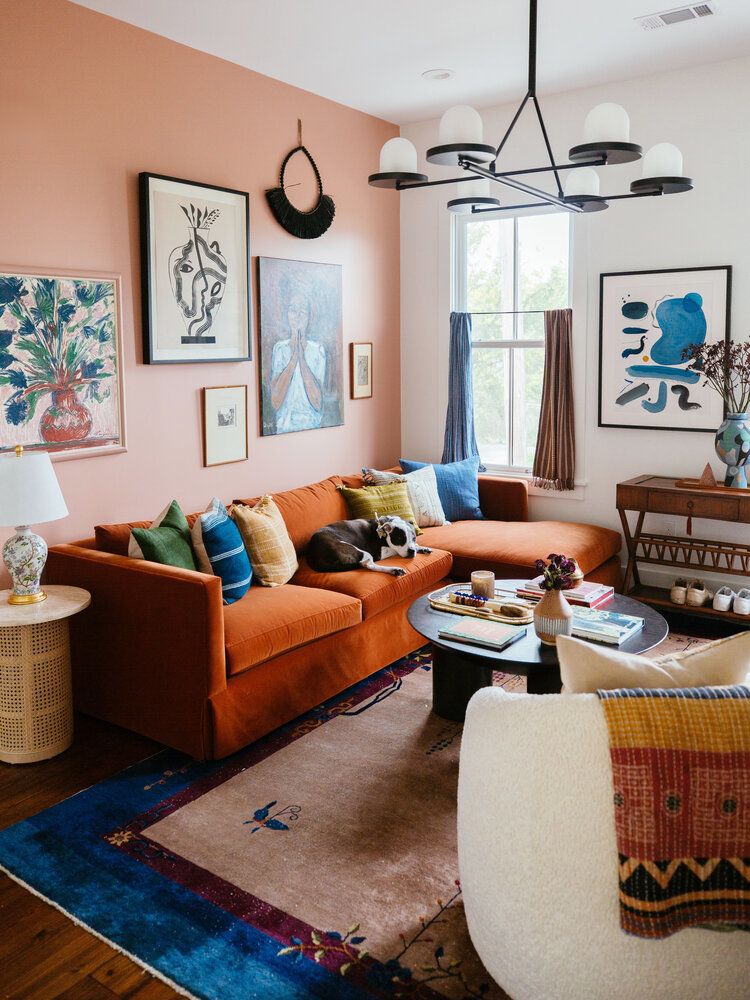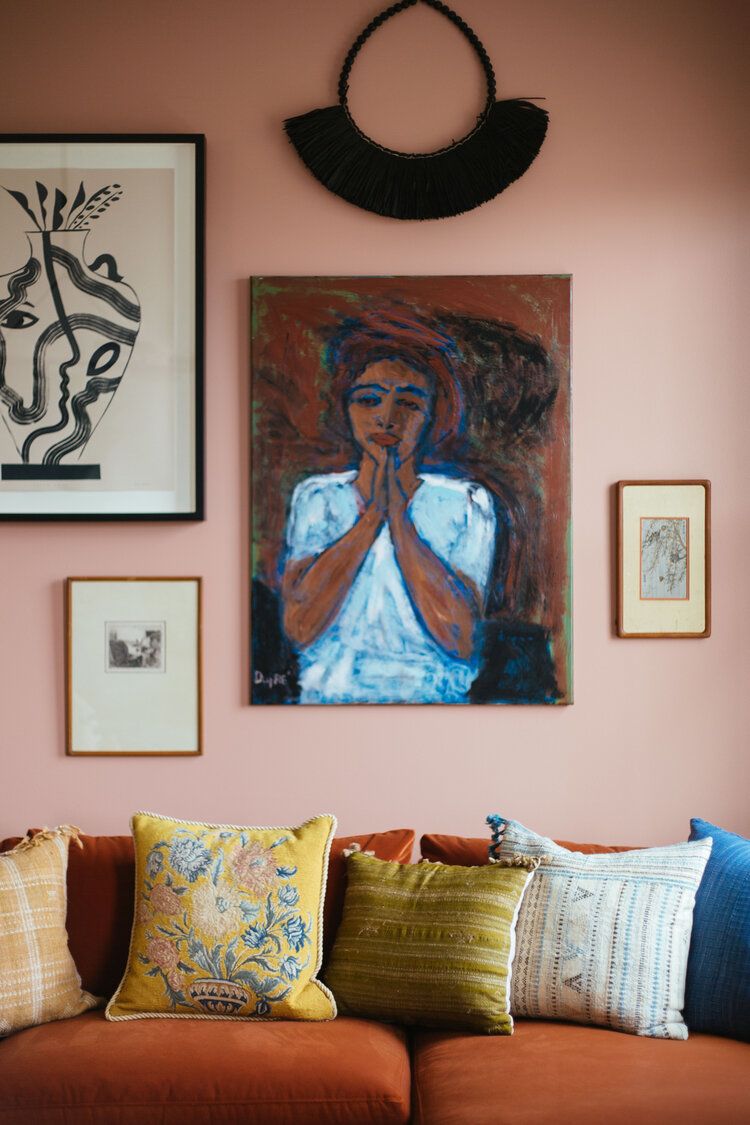 Because we're still getting acclimated again, there are a few things here and there that I want to add to the space, like maybe better window treatment. But with the help of Crate and Barrel's newest fall furniture and decor, it's feeling a lot more like home. And that's making this transition a whole lot easier. I can't wait to keep you all updated on my design journey in New Orleans!